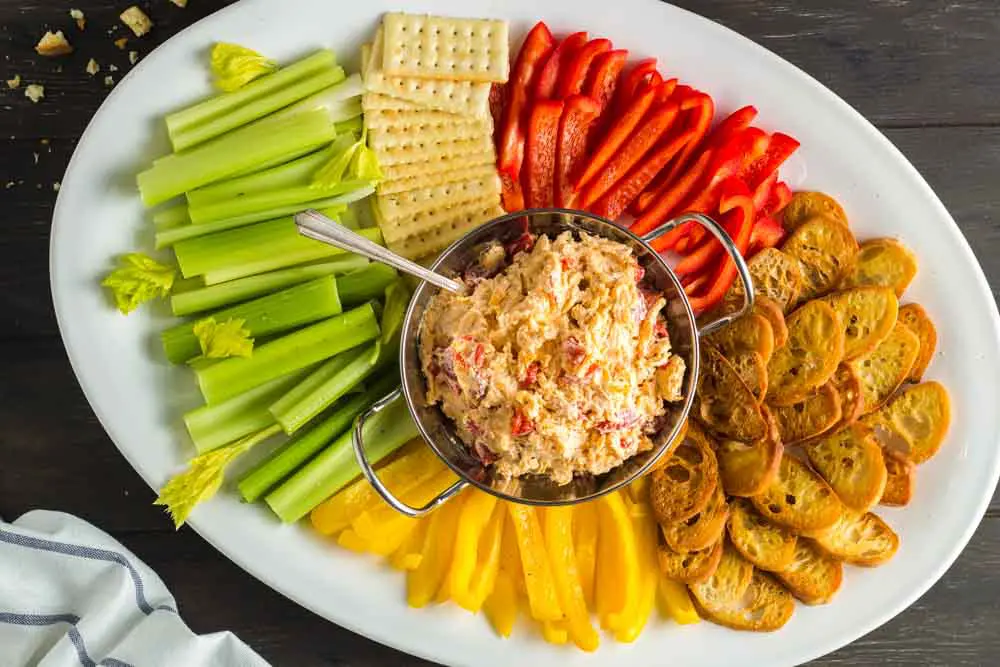 This Pimento Cheese recipe seriously is the best recipe you will ever find. The addition of cream cheese and Boursin cheese makes the texture rich and creamy and ensures my Pimento Cheese is packed with flavor.
If you don't like the pimento cheese that they sell in the grocery store, don't shy away from trying out this recipe. It's in a completely different stratosphere. Seriously, it's AMAZING.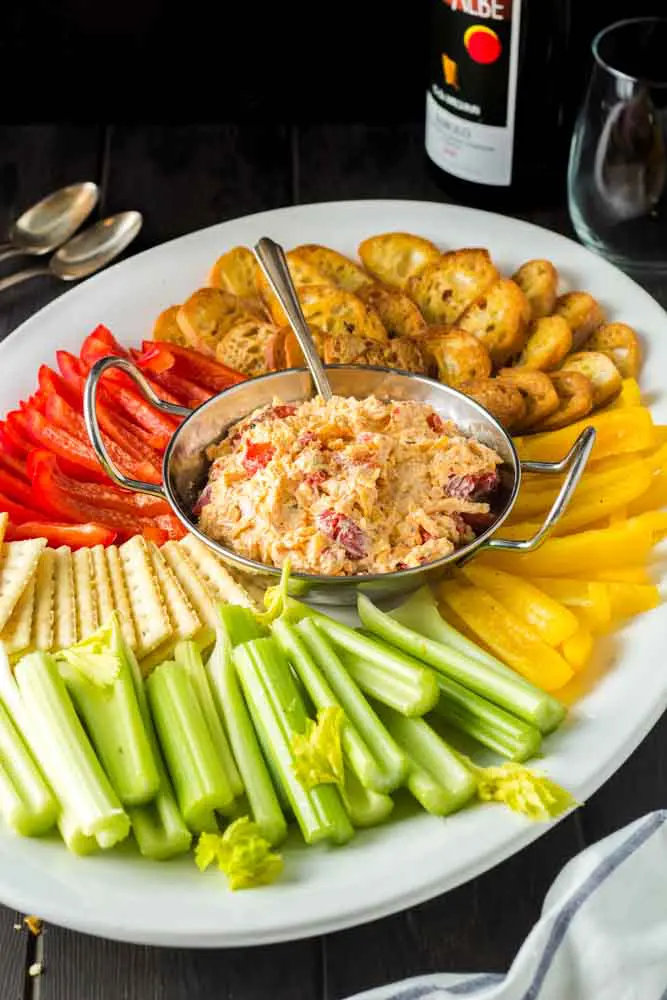 What is Pimento Cheese?
If you've arrived at this blog post and don't know what Pimento Cheese is, I admire your curiosity!
Traditionally, Pimento Cheese is made with shredded cheese, mayonnaise and pimentos. Pimentos are Spanish cherry peppers which I'm sure if purchased in the right form from the right place would be delicious, but in my experience, the version you buy from the store leaves a lot to be desired.
Instead, I use jarred roasted red peppers that you can find with the pickles and olives at the store. They have more flavor than pimentos but are readily available and inexpensive. That's not the most important ingredient in this recipe though.
Boursin Cheese is the secret weapon in my Pimento Cheese recipe
Boursin Cheese may not be something you're familiar with, but it's nothing fancy. In fact, famed French chef Ludo Lefebvre once called it the Velveeta of France which immediately made Boursin that much more endearing to me.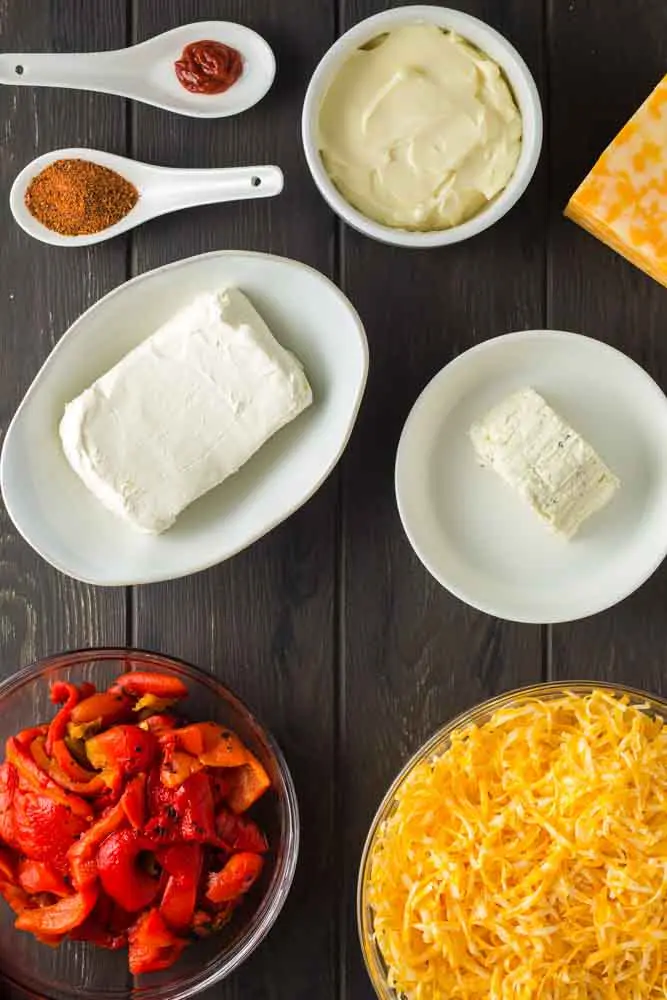 Boursin is a creamy cheese made in the commune of Gournay in France. It has a texture that is sort of like whipped cream cheese; it is creamy while also being light. There are lots of different flavors, but I love the original garlic and herb variety. You can find Boursin with the other specialty cheese at the store.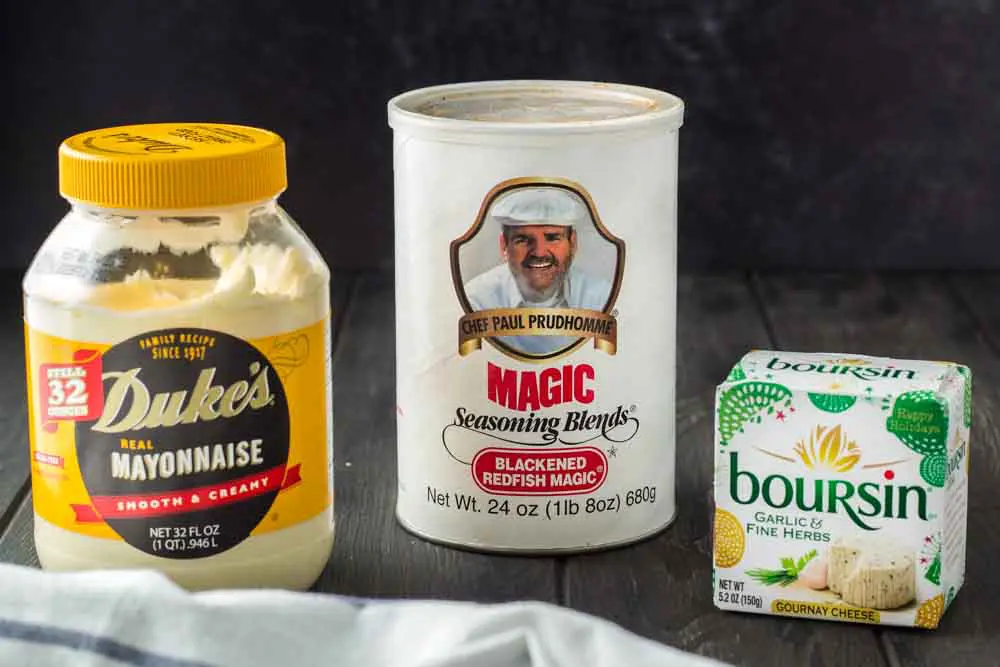 I also included Duke's Mayonnaise and Paul Prudhomme's Blackened Redfish Magic Seasoning in the photo above because if you can source them, they are the shit and make this recipe extra tasty.
We can't forget the importance of cream cheese
Many a recipe on Cooking and Cussing utilize the deliciousness that is cream cheese. A few that come to mind are Green Chicken Enchiladas, Mexican Chicken Lasagna, and Pork, Bacon and Apple Pasta Bake. Notice that all of those recipes are savory? I'm a big fan of cream cheese to impart creaminess to sauces and soups, but I also love it in desserts like my Thin Mint No-Bake Chocolate Cheesecake and Lemon Yogurt Cake.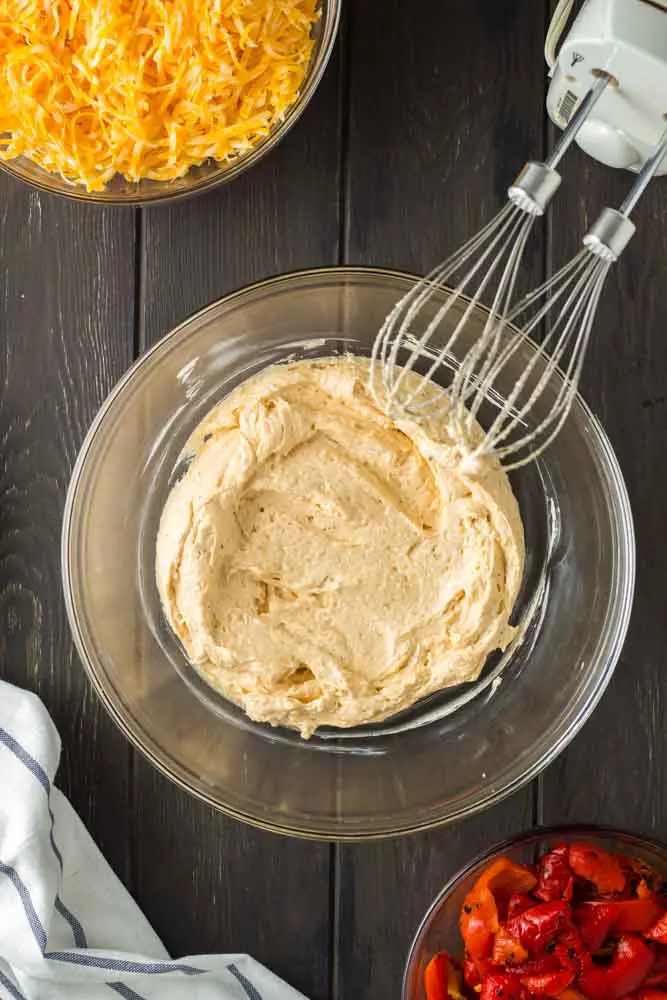 Of all of the recipes that call for cream cheese on the blog, it is probably the most essential to the awesomeness of Pimento Cheese. It gives the recipe a perfect creamy texture but provides more tang and zip than mayo alone would.
The Pimento and Cheese are less important than you think
You might think that the type of pepper or cheese you use in Pimento Cheese would be the most important selection. Not really…the type of cheddar cheese is less important here given you're going to douse it in cream and Boursin cheese too.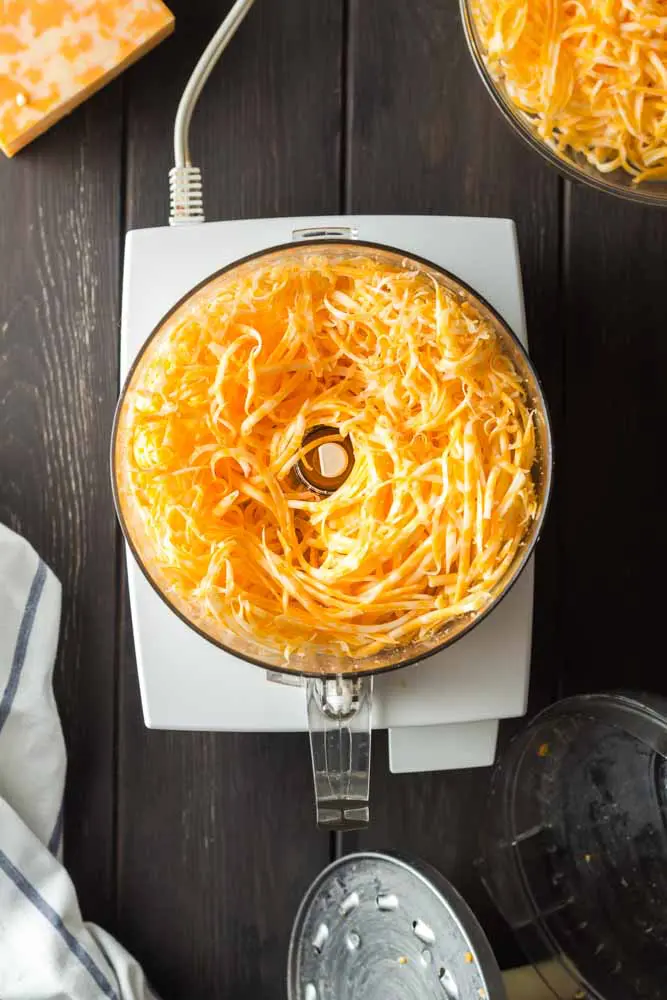 If you're a cheese monger, feel free to use whatever cheddar makes you like, but I typically buy my local grocery store's inexpensive brand of block Colby cheddar for this recipe. Just please don't try to cheat and buy the kind of cheese that comes shredded for you.
The pre-shredded cheese is coated in starch to keep it from sticking together in transit – not delicious in Pimento Cheese- so please shred it yourself!
I really like to use a food processor for this job. My Cuisinart food processor has been around for over a decade and is still going strong. I have linked to one below if you're interested in purchasing one. A shredder attachment is a standard inclusion and makes the job of shredding large quantities of cheese fast and easy!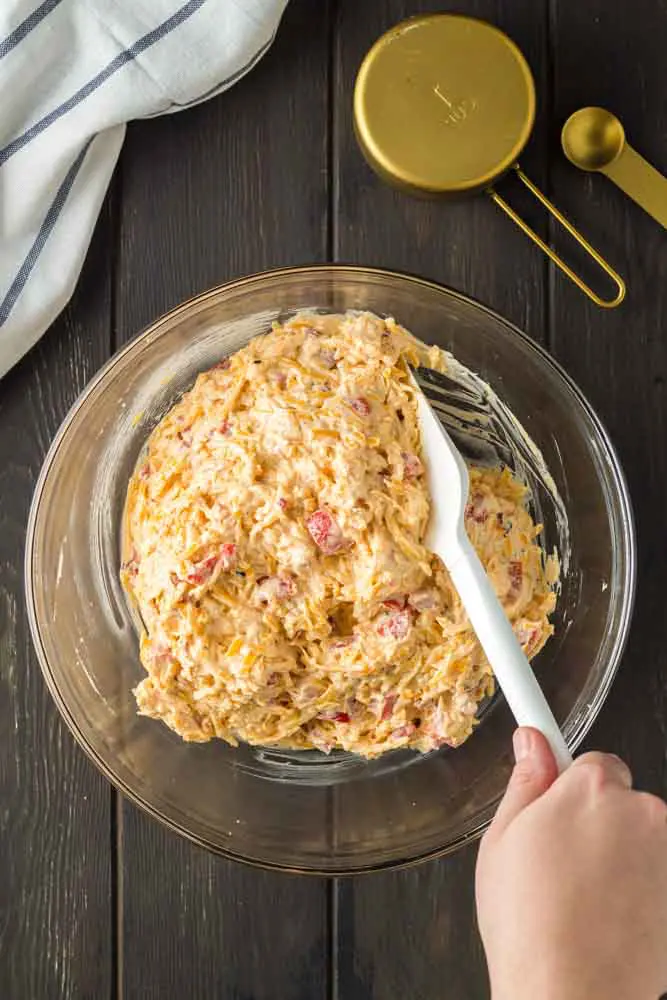 What to serve with Pimento Cheese?
You can't go wrong with a classic Pimento Cheese sandwich. Feel free to get fancy and add some deli ham, crispy bacon, or tomato slices, but I love it plain jane with bread and cheese.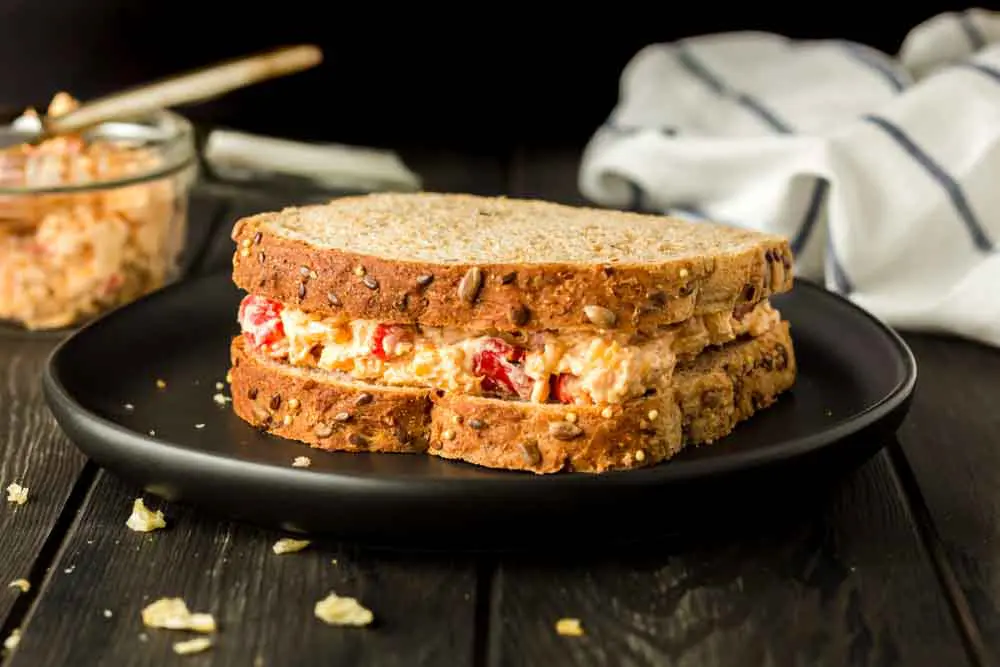 Pimento Cheese also makes a delightful cheese board, one that none of your guests will feel intimidated by. It is perfect for guests of all ages too! Thick slices of bell pepper and celery both bring color to the board and offer different dipping options than your standard crackers and toast pieces.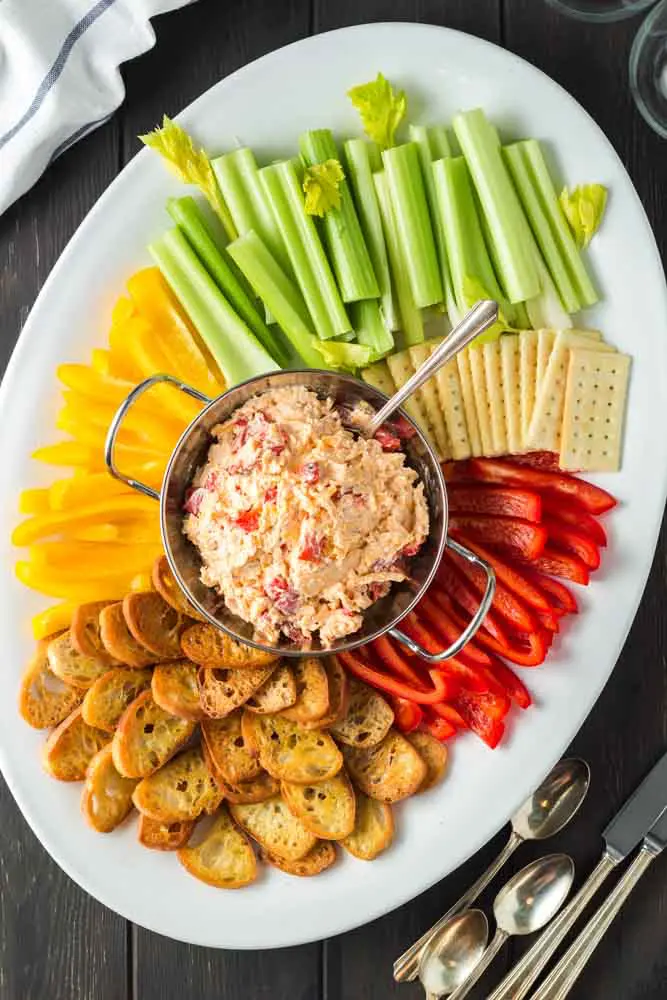 How long can you keep Pimento Cheese?
If kept cold in an airtight container, the recipe will keep for about 2 weeks so you can try it in all sort of ways.
Pimento Cheese is a standard appetizer at our holiday functions. My stepmom's family always serves it on celery before Thanksgiving Dinner, and we adopted this tradition when blending our families. It's the perfect way to keep hungry mouths out of the kitchen as you finish up the main event.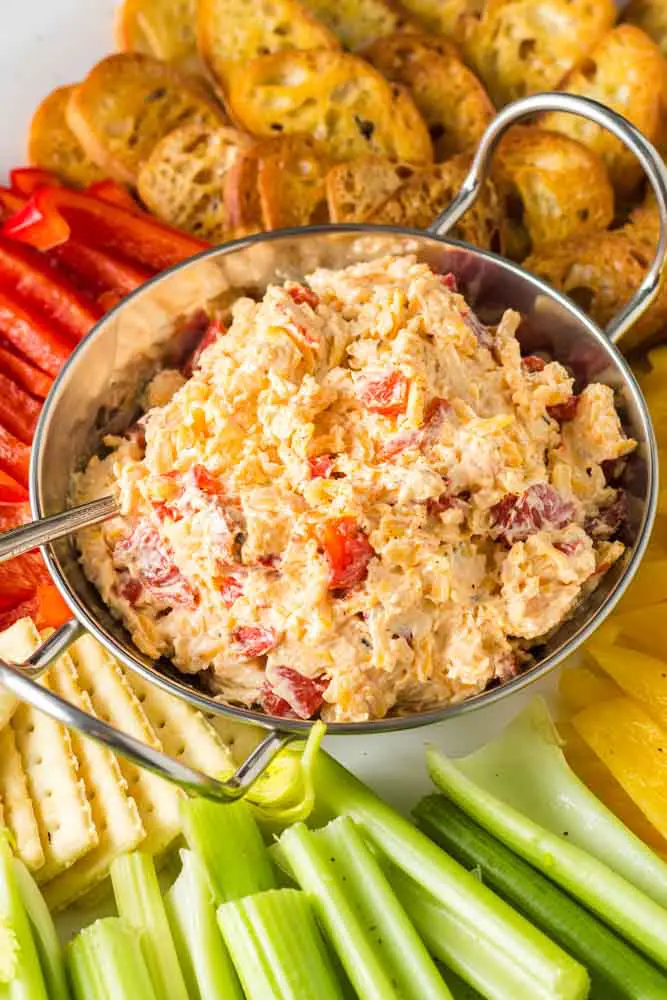 I hope you'll find a moment to make this quick and easy Southern staple. I would love to hear your feedback too in the comments section below!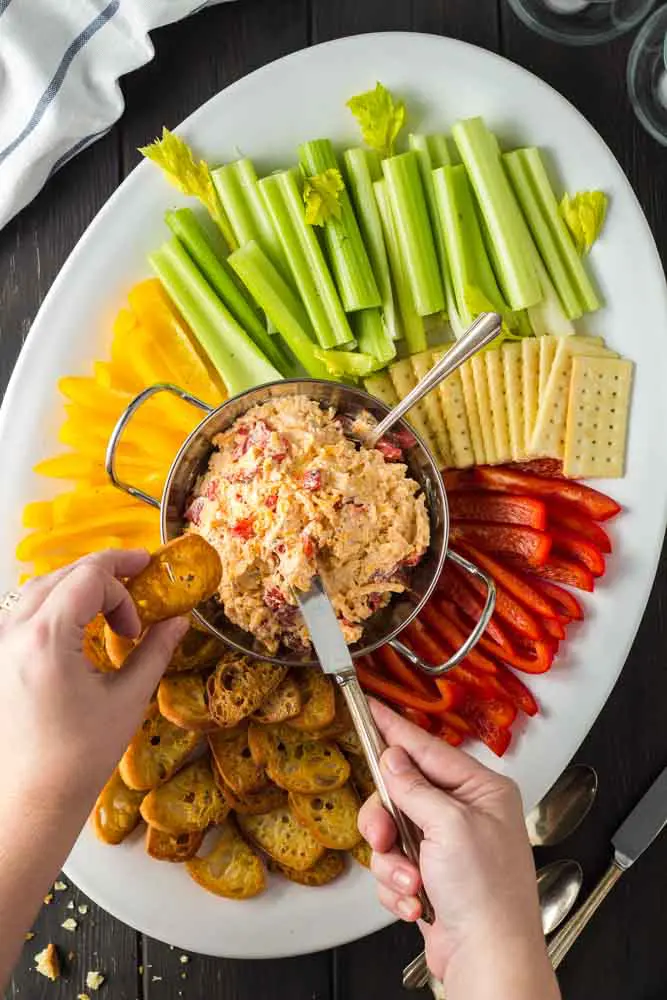 HELPFUL UTENSILS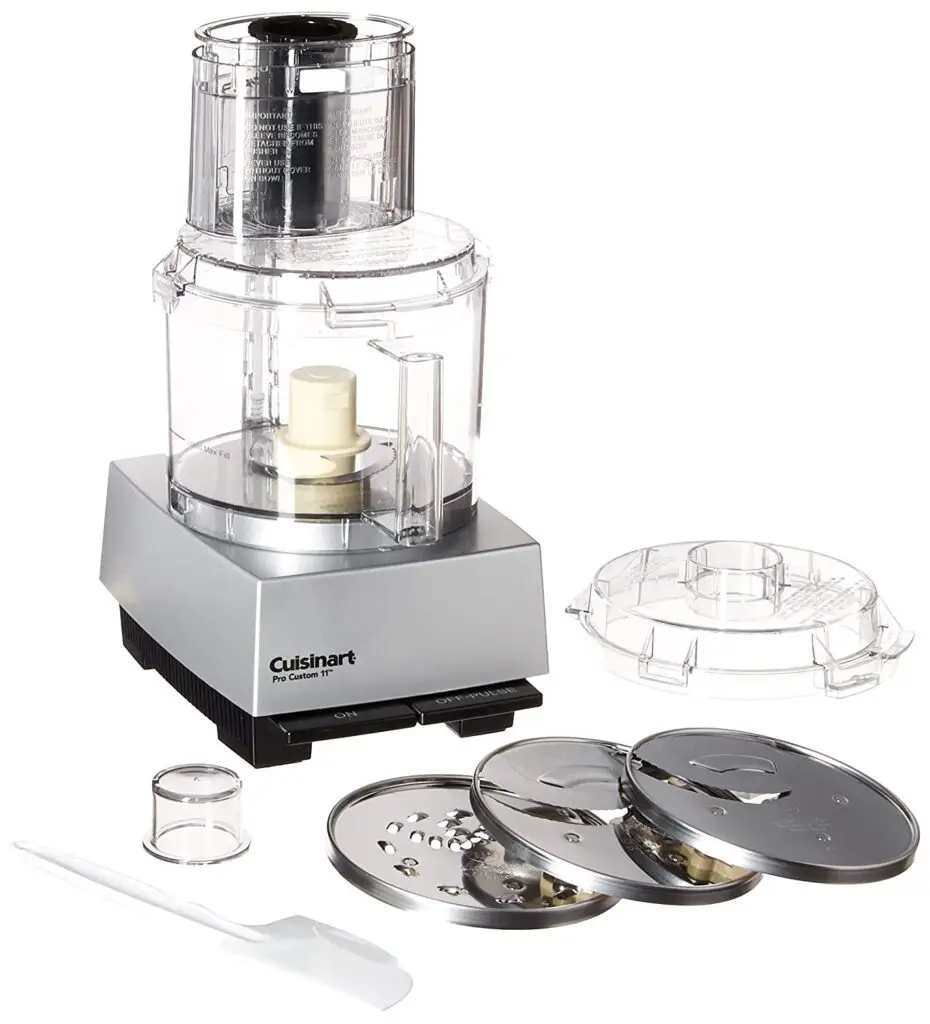 Cuisinart 11-Cup Food Processor
There is no other gadget I use in the kitchen as much as my food processor. I've had mine for over a decade, and it's still going strong!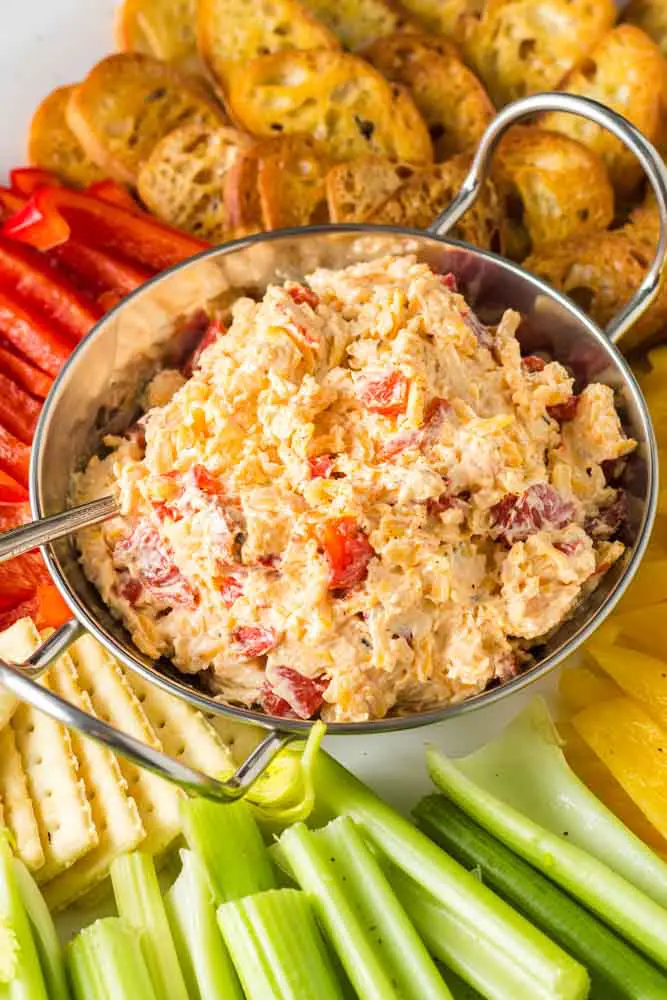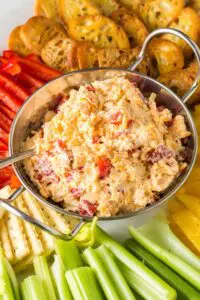 The Best Pimento Cheese Ever
No, really though...it's the best damn Pimento Cheese ever. It's not just your typical mayo base. Cream cheese and Boursin cheese are in the mix which means the flavor is tangier and richer than your standard Pimento Cheese. I love it on celery or crackers, but it also makes a great addition to a sandwich or burger.
Ingredients
8

oz

cream cheese

room temperature

3

oz

Boursin cheese

garlic and herb flavor

¾

C

mayonnaise

2

tsp

blackening seasoning

1

tsp

sriracha hot sauce

16

oz

colby jack cheese*

or 4 cups shredded

1

12oz

jar roasted red bell peppers

drained
Instructions
Put cream cheese, Boursin cheese, mayonnaise, blackening seasoning, and sriracha in a large mixing bowl and using a hand mixer or a whisk, combine until thoroughly mixed.

Roughly chop the peppers into about ¼-inch pieces. Add the shredded cheese and chopped peppers to the mayo mix. Stir with a wooden spoon until well mixed.

Put into an airtight container and place in the fridge to chill for at least an hour before serving.
FREQUENTLY ASKED QUESTIONS
What is Boursin Cheese and where do I find it?
I've included more details in the post above, but in short, it's a delicious, creamy cheese that you can find in the specialty cheese section of any major grocery store. Be sure to get the garlic and herb flavor.
Can I use the kind of cheese you buy already shredded?
You can, but it will impact the recipe. It will still be tasty, but the texture will not be as creamy as when you shred your own cheese from the block.
How long can you keep Pimento Cheese?
Pimento Cheese can be stored cold in an airtight container for up to two weeks.
The following two tabs change content below.

Hey-ooo! I'm Hailey, and I'm a number cruncher by day and cussing cook by night. I created this site to share my love for delicious food that feeds the soul as well as the belly. I hope my recipes have you running to the kitchen to cook some damn good grub!