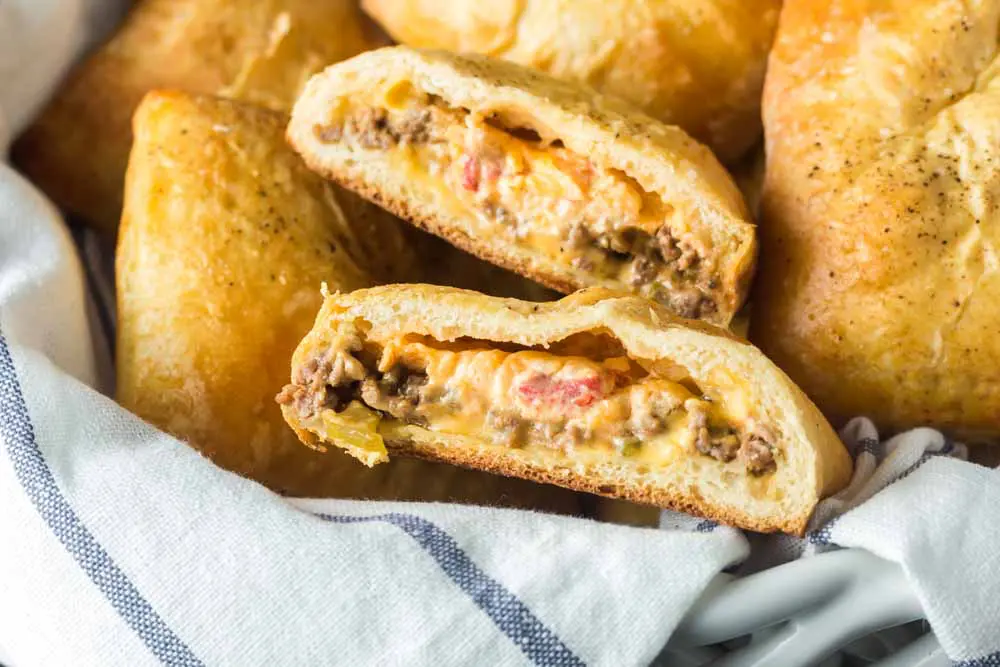 Pimento Cheeseburger Hand Pies are a combination of some of my favorite foods- Best Ever Pimento Cheese, burgers, and Pillsbury Crescent Dough. What could possibly go wrong with a mashup of those classic flavors?!
Layers of soft, flaky Crescent Dough are filled with a ground beef mixture. This is no ordinary beef mixture. It includes all the flavors of a classic cheeseburger- white onions, ketchup, yellow mustard, and dill relish. These flavors meld together with the ground beef for a cheeseburger in paradise experience minus the bun.
What makes these hand pies crazy delicious is the use of one of my favorite recipes on the blog- Best Ever Pimento Cheese.
Check out the post for more details. Just know the recipe includes cream and Boursin cheese and is f*cking incredible.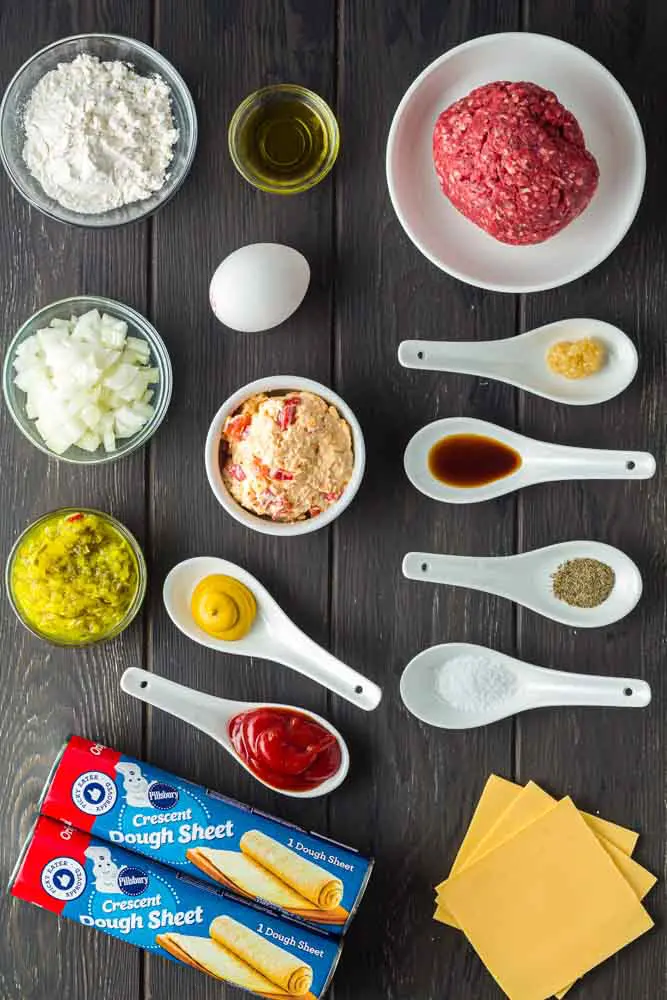 Do I have to use Best Ever Pimento Cheese or can I buy premade?
Per my note above, Best Ever Pimento Cheese is no ordinary pimento cheese. It's way more delicious than anything you can buy in the store. If you're in a pinch and desperate to make the recipe quickly, then feel free to purchase it from the store.
Can the filling for Pimento Cheeseburger Hand Pies be made ahead of time?
Absolutely! The filling can be prepared up to 3 days in advance and kept in an airtight container in the fridge. You want the filling to be totally cooled when you fill the hand pies, so it's a great idea to make it ahead of time.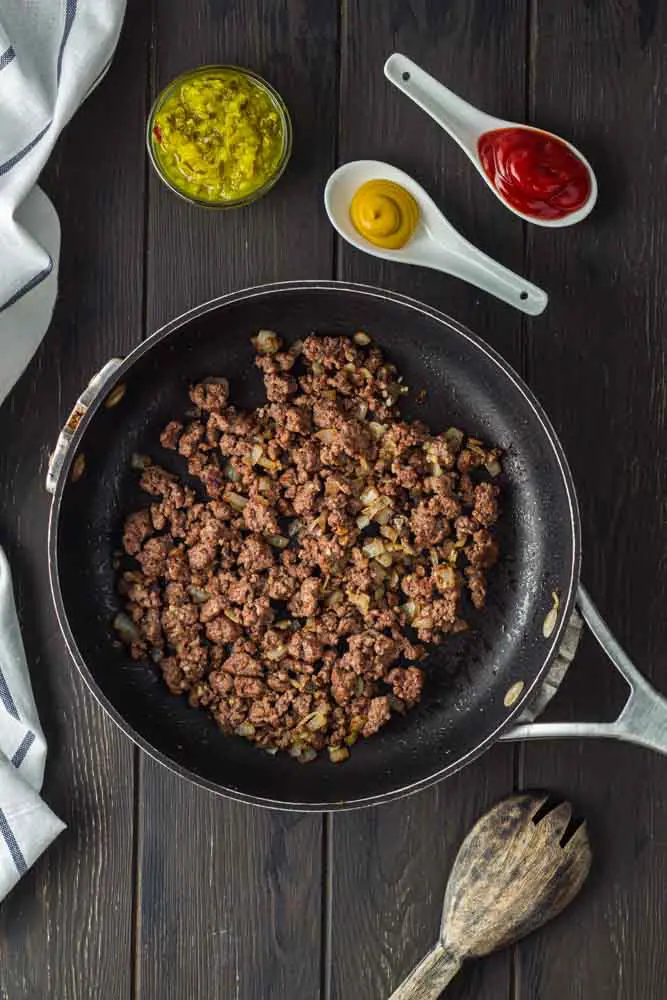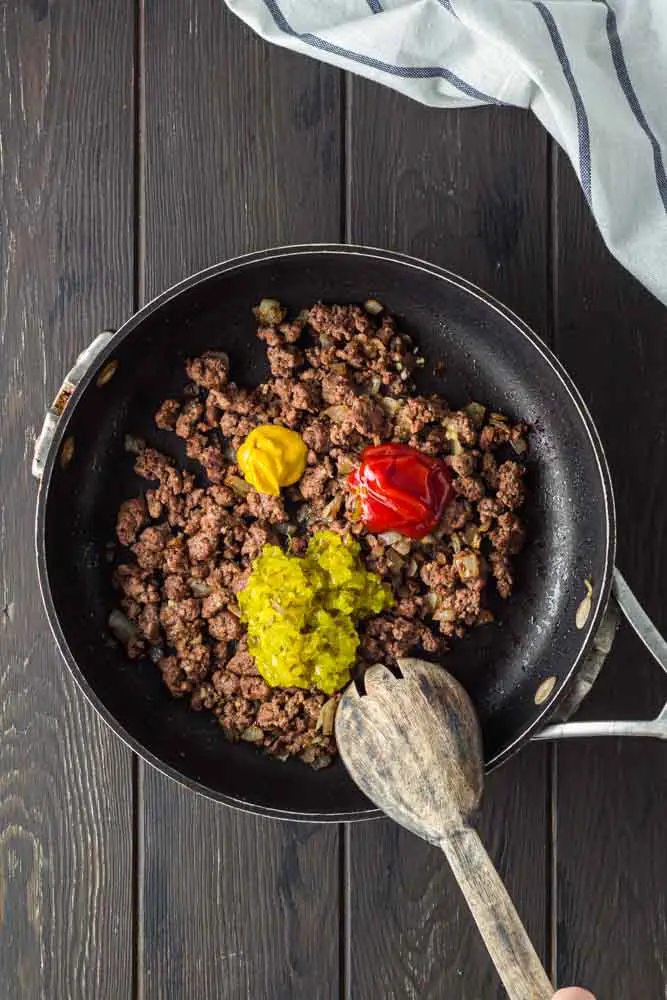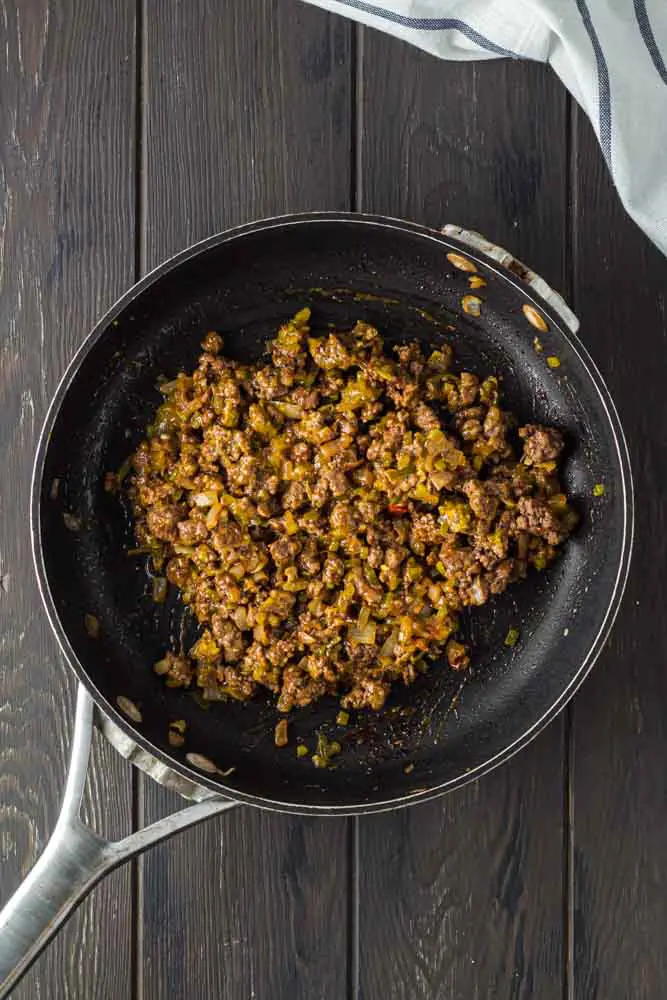 What is a Crescent Dough Sheet?
In the same section of the store that carries Crescent Rolls, you can now find Crescent Dough Sheets. They are the same size but not perforated. Purchasing the dough sheet makes this recipe really quick and easy. If you can't find it, Crescent Roll Dough will also work.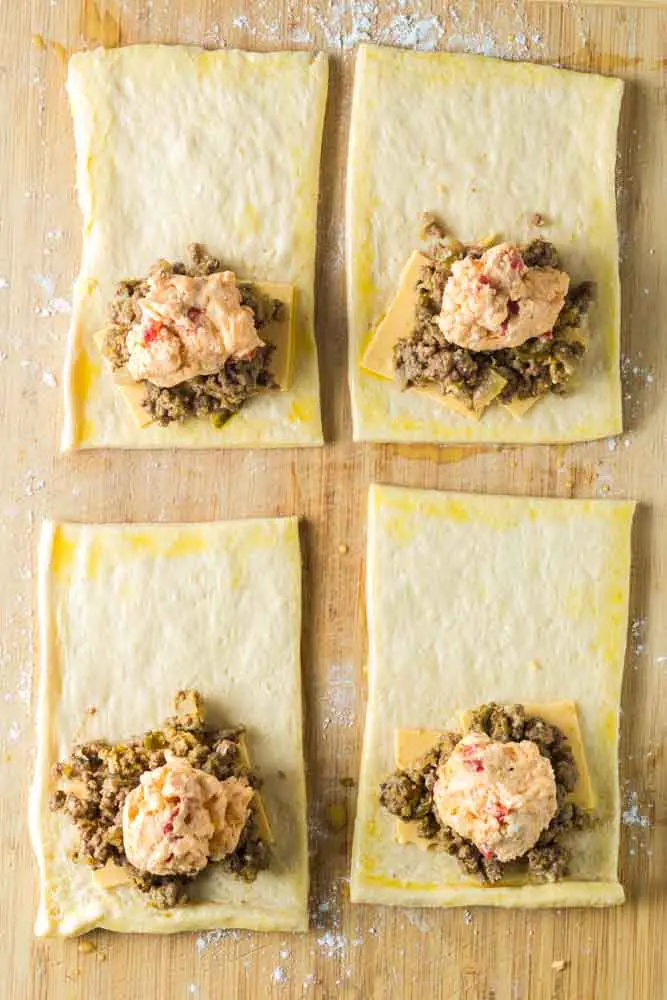 You'll just need to pinch the seams closed before cutting the squares. Check out my Louisiana Meat Pies for some images of how that works.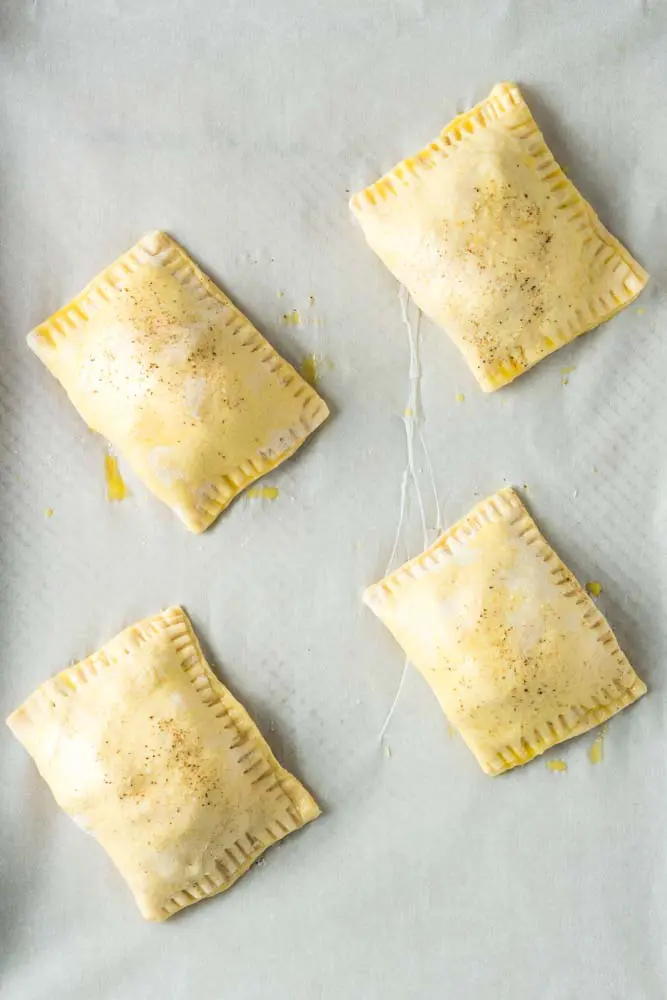 What to serve with Pimento Cheeseburger Hand Pies?
Hand Pies make a delicious snack as a stand-alone treat. They can be served with any dipping sauce you like or are great without any. Anything from fry sauce (a mixture of equal parts ketchup and mayo) to barbecue sauce would make a tasty dipping sauce.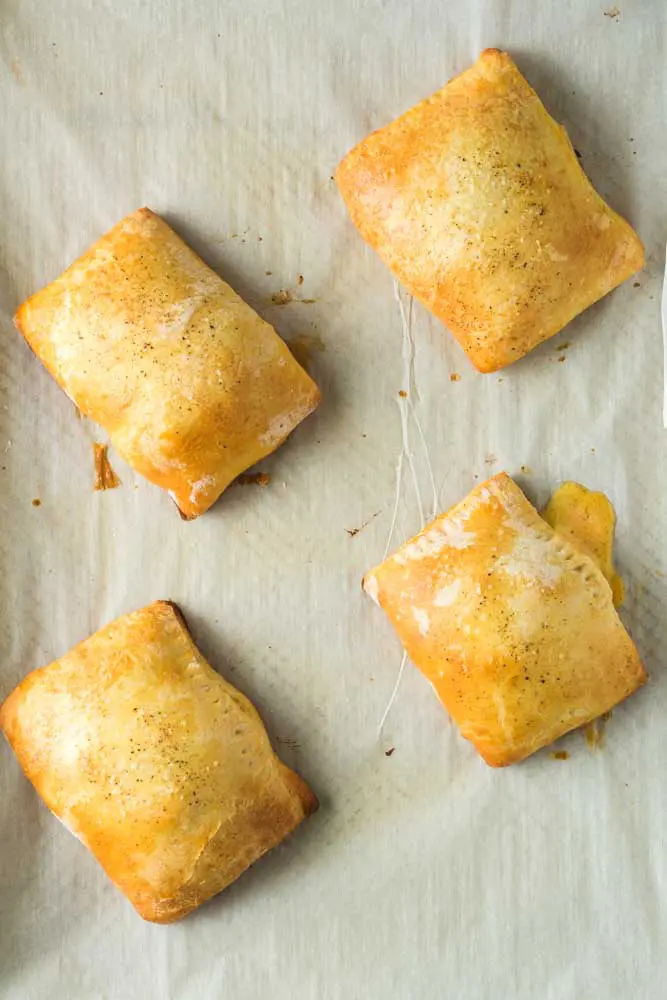 Pimento Cheeseburger Hand Pies also make a fun dinner idea. Pair them with some frozen fries prepared in the air fryer or baked in the oven for a dinner your tribe will beg for again and again.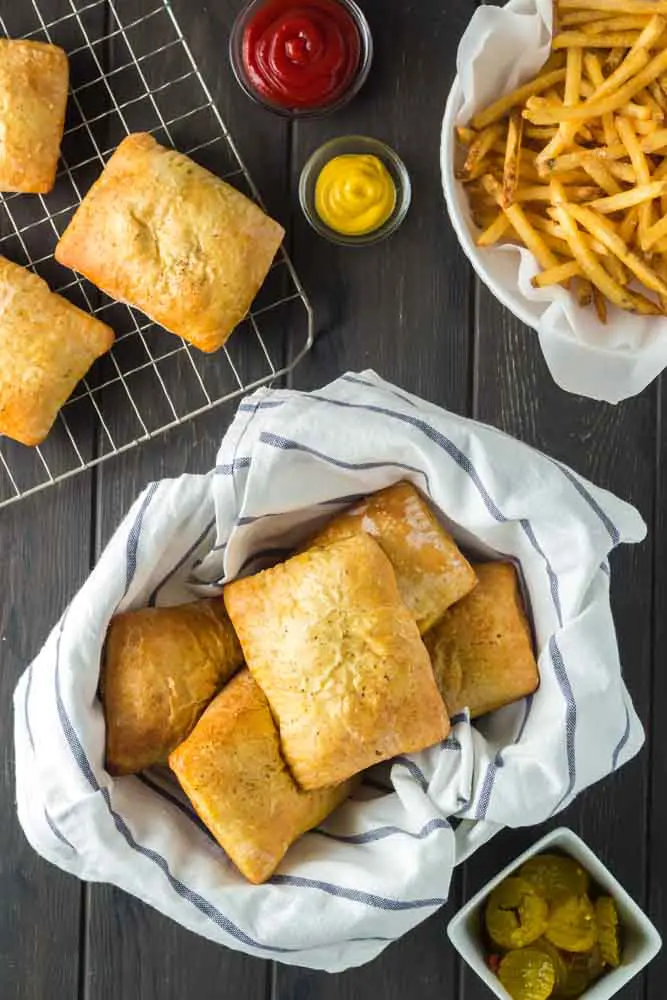 HELPFUL UTENSILS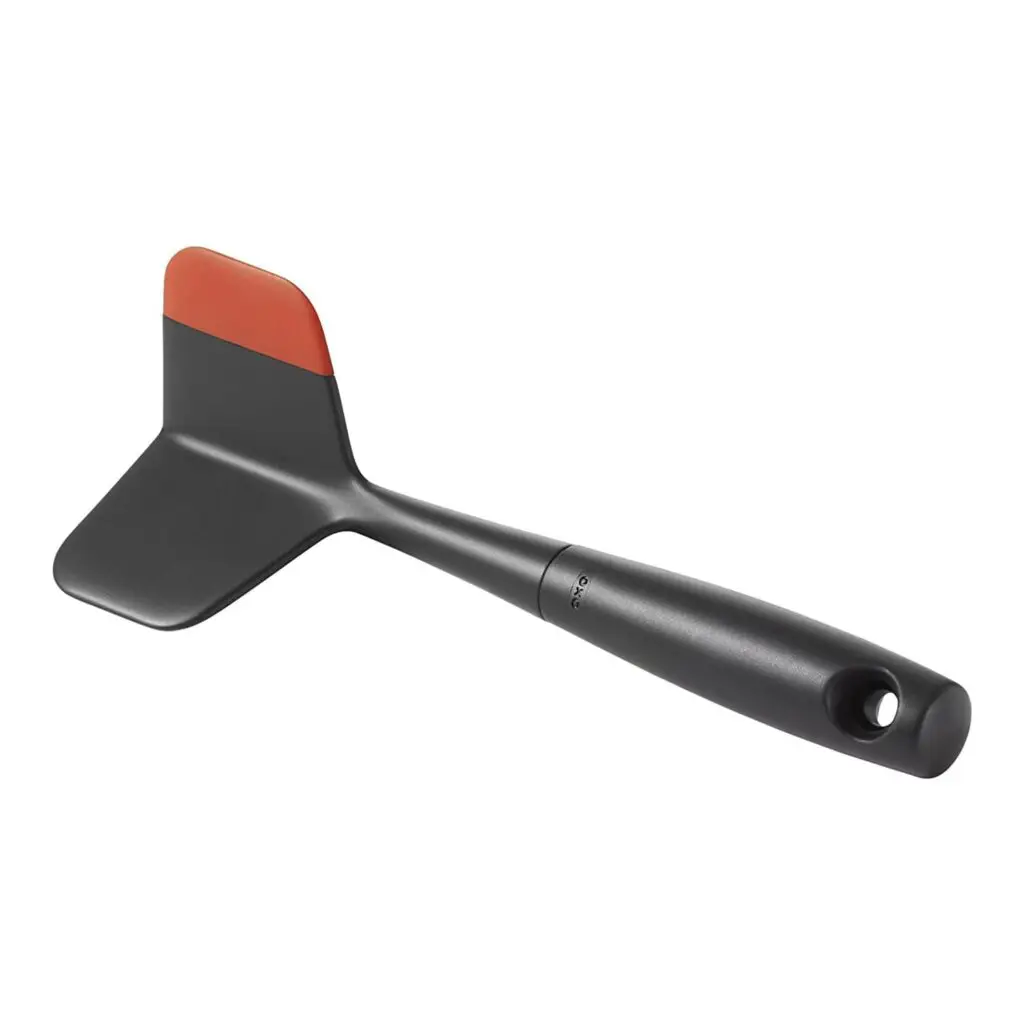 This little gadget is the thing you never knew you needed until you had it, and then you'll find yourself using it all the time! Breaking up ground meat while cooking is quick and simple with this chopper.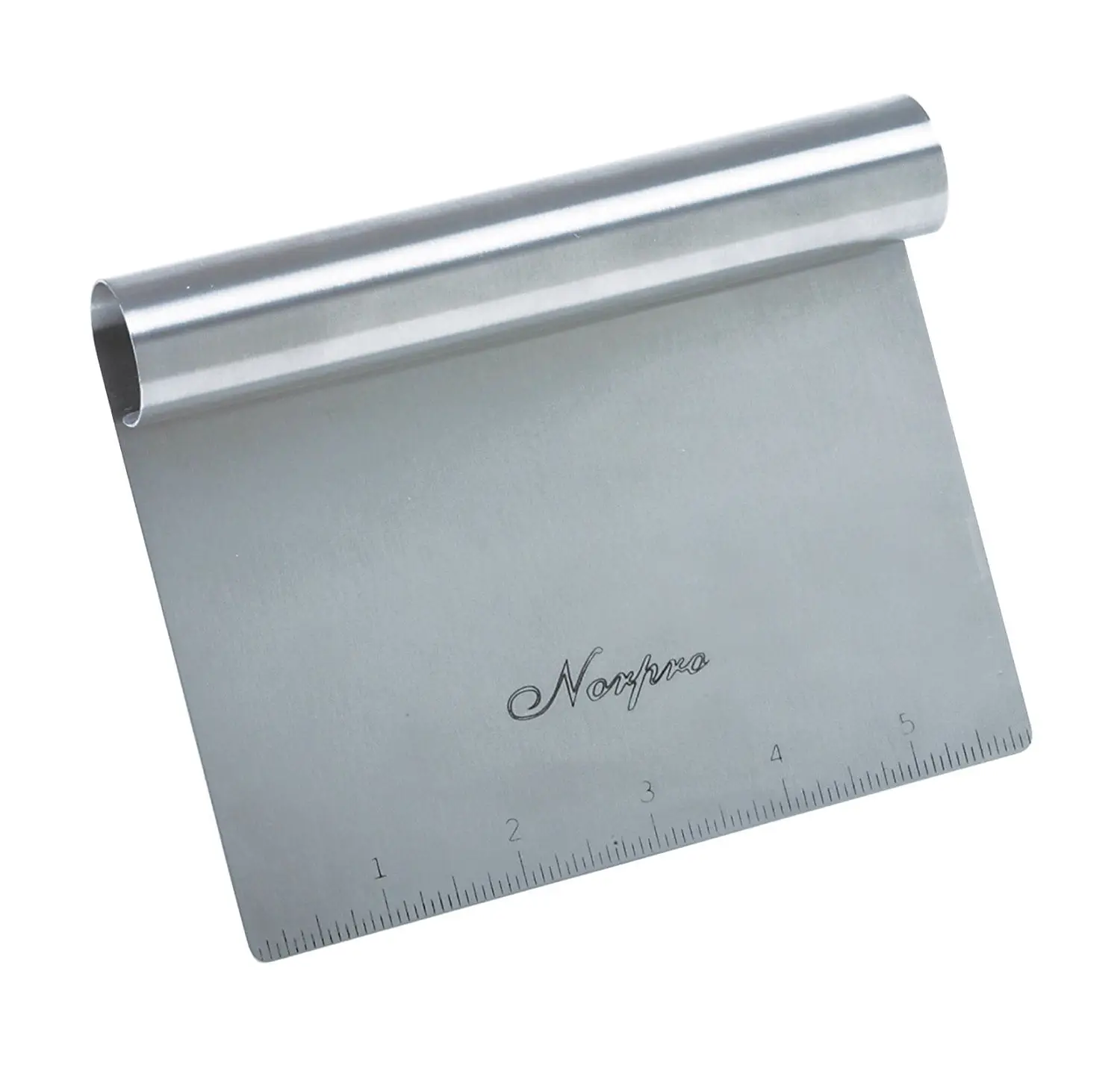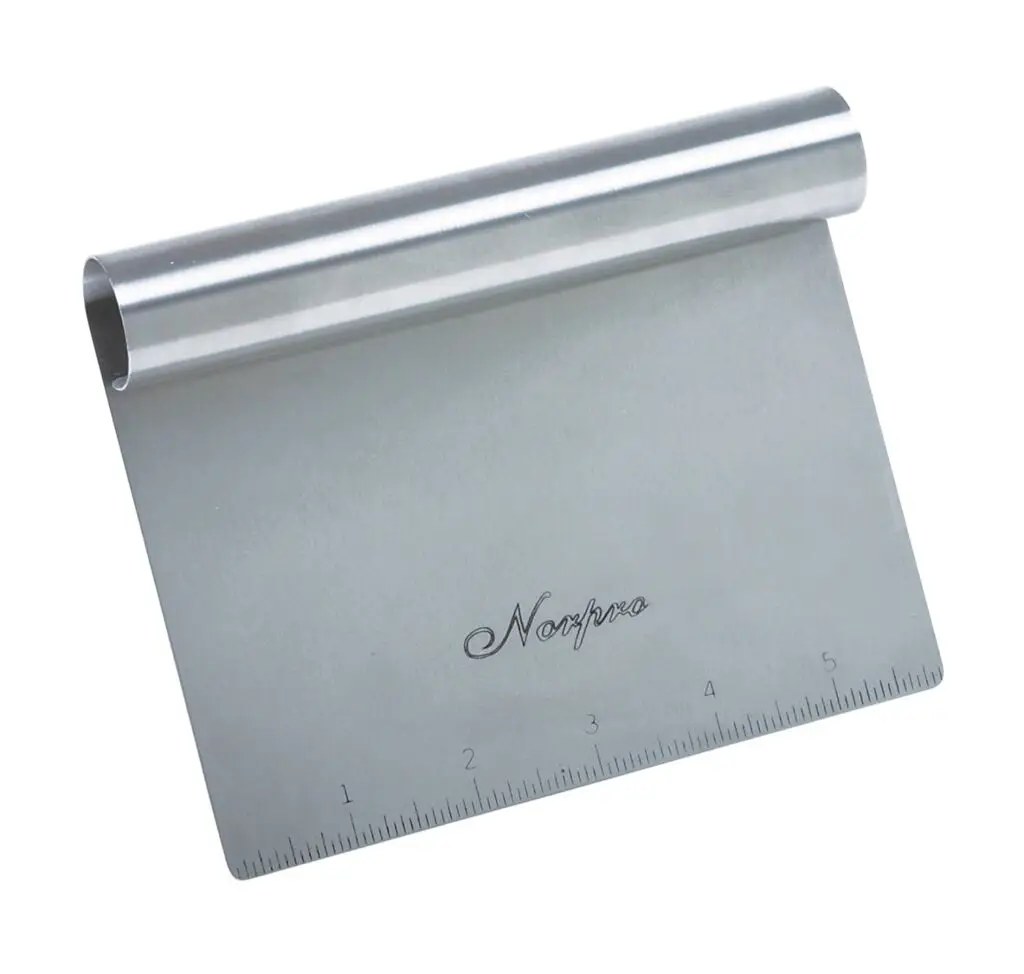 Anytime you're working with dough, a bench scraper is your best friend. If you're like me and have hot hands, a bench scraper makes handling dough so much easier and less messy.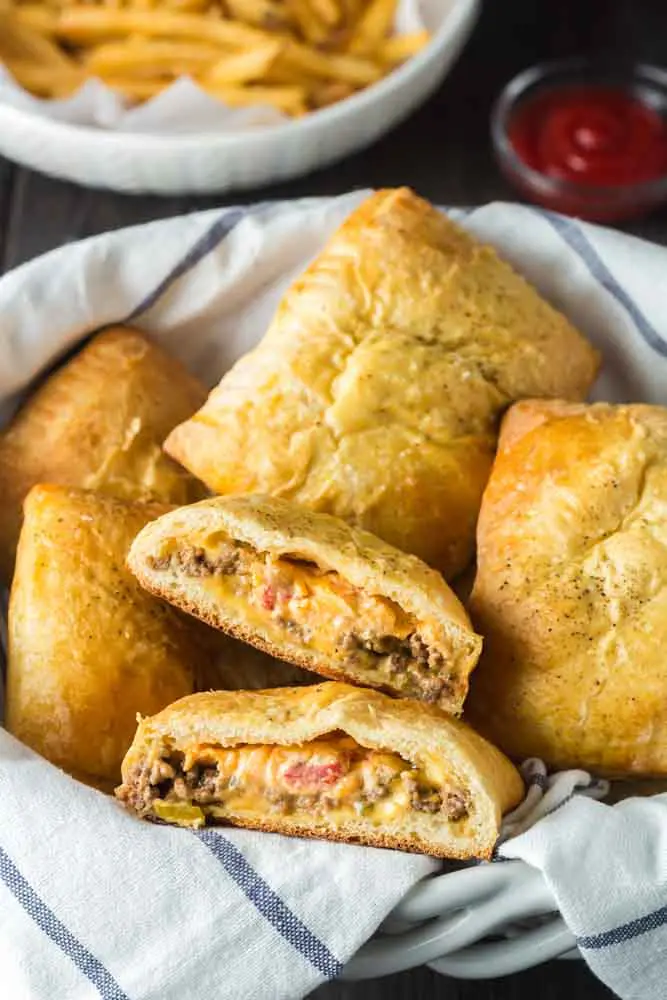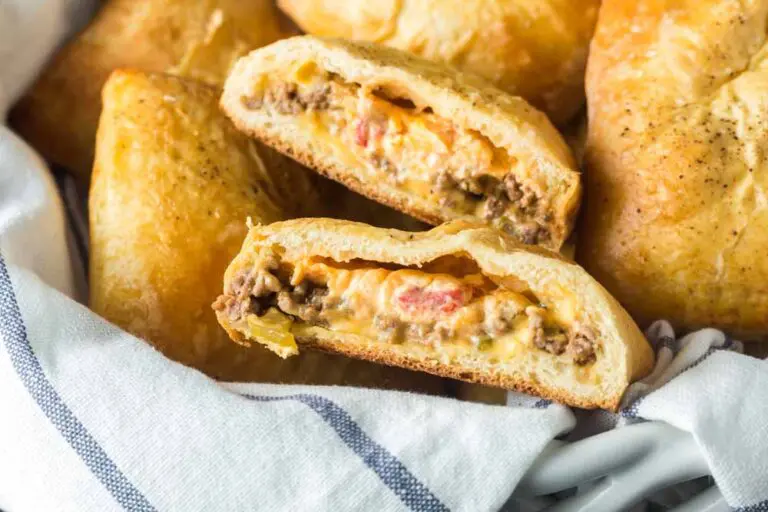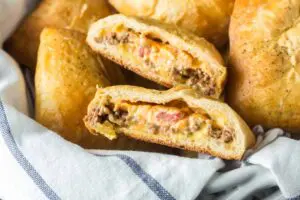 Pimento Cheeseburger Hand Pies
Crescent roll dough filled with a mixture that has all the classic cheeseburger flavors and the added kick of pimento cheese
Ingredients
½

C

Best Ever Pimento Cheese*

1

Tb

olive oil

½

lb

ground beef

93/7 or lean

½

white onion

finely diced

1

tsp

minced garlic

⅓

tsp

Worcestershire sauce

1

Tb

yellow mustard

2

Tb

ketchup

2-3

Tb

dill relish

½

tsp

salt

¼

tsp

ground black pepper

2

crescent roll dough sheets

4

slices

deluxe American cheese

quartered

1

egg

¼

C

all-purpose flour
Instructions
Preheat oven to 375 degrees. Prepare two baking sheets with parchment paper.

Add 1 Tb of oil to a medium nonstick saute pan and turn the stove on to medium heat. Once hot, add the minced onion and cook for one minute.

Add the ground beef. Break up the meat into fine crumbles using a ground meat chopper or wooden spoon. Cook for 5-7 minutes or until browned.

Add the minced garlic and cook one more minute. Remove the pan from the heat.

Add the Worcestershire, mustard, ketchup, relish, salt, and pepper to the meat and mix to combine. Set aside to cool. If you're short on time, you can spread the meat out on a sheet pan or plate and place it in the fridge to speed up the cooldown.

Crack an egg into a small bowl and add one tablespoon of water. Whisk to combine and set aside.

Once the filling has cooled, lightly flour your work surface. Unroll one crescent roll dough sheet at a time. Lightly flour the top of the dough and roll out gently to create an even rectangular shape. Cut the dough into four even rectangles.

Lay two quarter of slices of American cheese on one side of the dough, top with two heaping tablespoons of cooled filling and one tablespoon of pimento cheese. Brush all four edges of each dough piece with egg wash. See above for a picture.

Seal the hand pies by folding half the dough over the top of the other. Use a fork to crimp the edges. Brush the top of the pies with egg wash and sprinkle with salt and pepper.

Repeat this process with the second dough sheet. Place the prepared pies on parchment-lined baking sheets. Bake for about 15 minutes or until golden brown. Let cool for at least 5 minutes before serving.
FREQUENTLY ASKED QUESTIONS
Do I have to make pimento cheese or can I buy it premade?
Best Ever Pimento Cheese is way more delicious than anything you can buy in the store. It's also really easy to make. You can use store-bought, but do yourself a favor and try the damn recipe.
Can the ground beef mixture be prepared in advance?
Yes, up to three days in advance. Store it in an air-tight container in the fridge.
I can't find Crescent Dough Sheets. What should I use?
Crescent Dough Sheets are the same size as Crescent Roll Dough; it's just not perforated. You can use Crescent Roll Dough if you can't find the Sheets. Just pinch the perforated seams closed before cutting into rectangles.
The following two tabs change content below.

Hey-ooo! I'm Hailey, and I'm a number cruncher by day and cussing cook by night. I created this site to share my love for delicious food that feeds the soul as well as the belly. I hope my recipes have you running to the kitchen to cook some damn good grub!