Bacon Pesto Pasta is the perfect quick weeknight dinner. Store-bought pesto makes this recipe simple and easy to put together. Bonus- a healthy dose of greens means you can feel good about eating it too!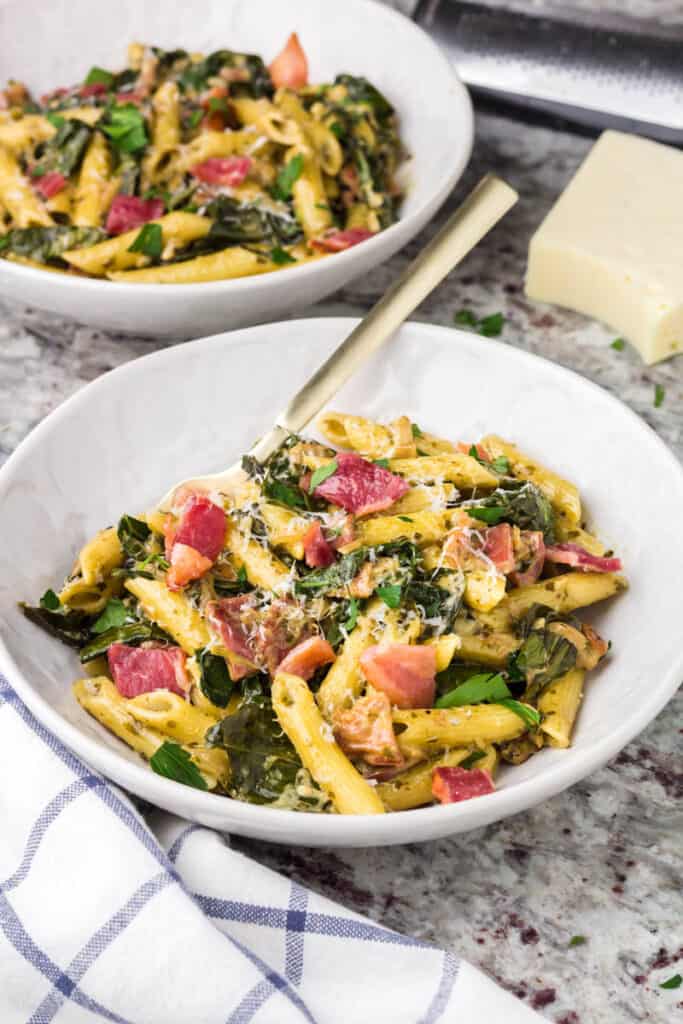 Bacon and greens are a delightfully classic duo. The smoky and salty flavors of bacon are the perfect complement to earthy greens. The pesto cream sauce brightens up the flavor and a dash of balsamic vinegar brings it all to life.
If you're a fan of easy pasta dishes, Bacon Pesto Pasta is right up your alley.
Ingredients
To make Bacon Pesto Pasta, you'll need:
Bacon
Pasta- I used penne but any type will work.
Pesto
Cream
Greens- I used collard greens but any green works. See the 'Substitutions' sections for ideas.
Pecorino Romano cheese- Parmesan would also work.
Onion
Garlic
Butter
Balsamic vinegar
Red pepper flakes
Black pepper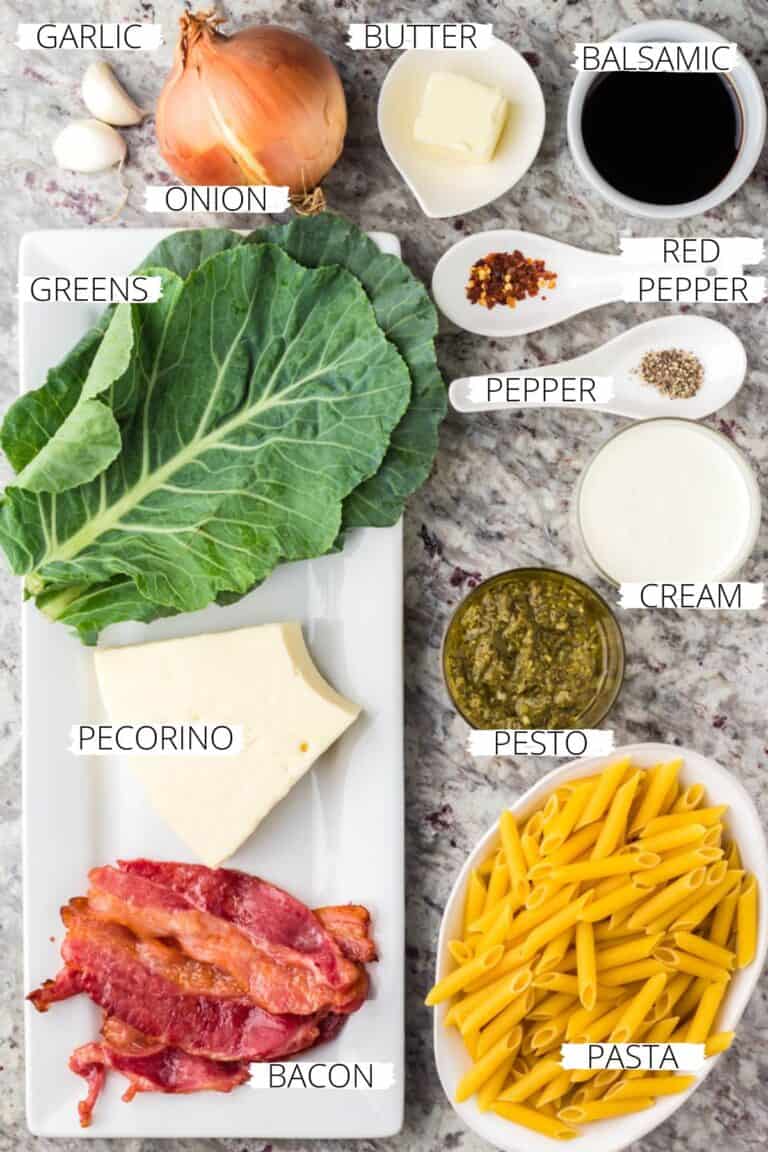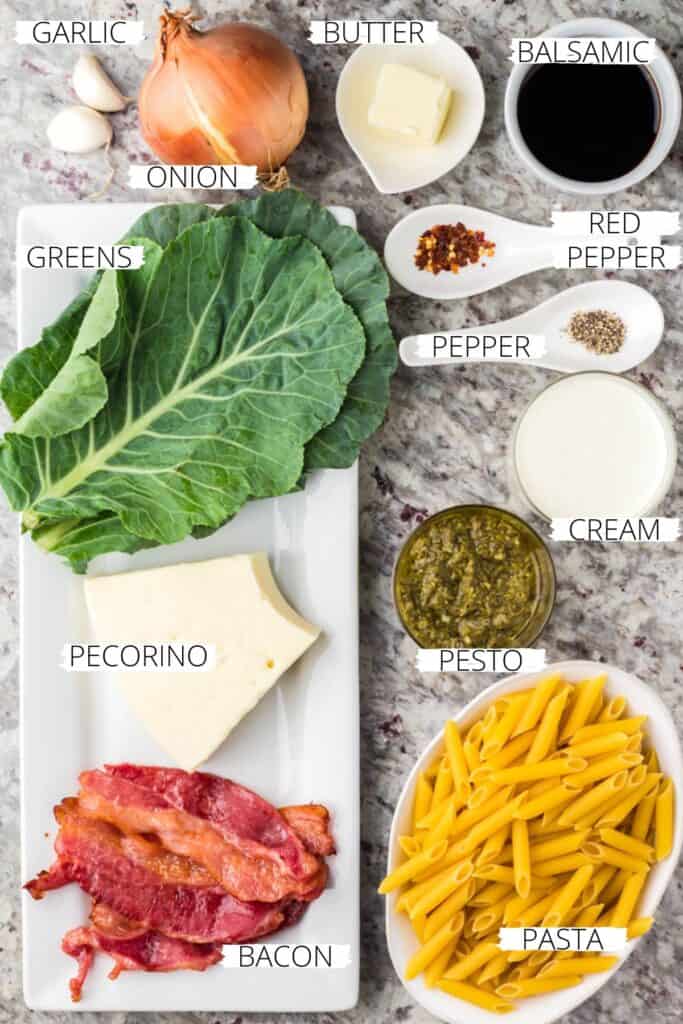 Instructions
Making this recipe is unbelievably easy. A couple of steps ahead of time can make the recipe even faster. Knock out steps one and two beforehand for an extra speedy dinner. To create Bacon Pesto Pasta, you need to:
Clean and cut your greens. Most greens have a lot of dirt on them, so be sure to clean them well. My favorite way to clean them is to soak the leaves in a few inches of water. Toss the greens a bit to loosen any dirt and let the greens sit for a few minutes so that the dirt settles to the bottom. Once clean and dry, remove the stem and cut the greens into pieces. Check out the image below for a visual on how to trim. This article also includes more details on cleaning greens.
Cook the bacon. I like to cook bacon in the oven (400° for 20 minutes, flipping halfway through), but use whatever method you like.
Prepare the pasta according to package instructions.
Cook the onions and garlic in butter. Once soft, add the greens and vinegar.
Add the pesto, cream, cooked pasta, and half of the grated cheese.
Serve it up and garnish with extra cheese and red pepper flakes.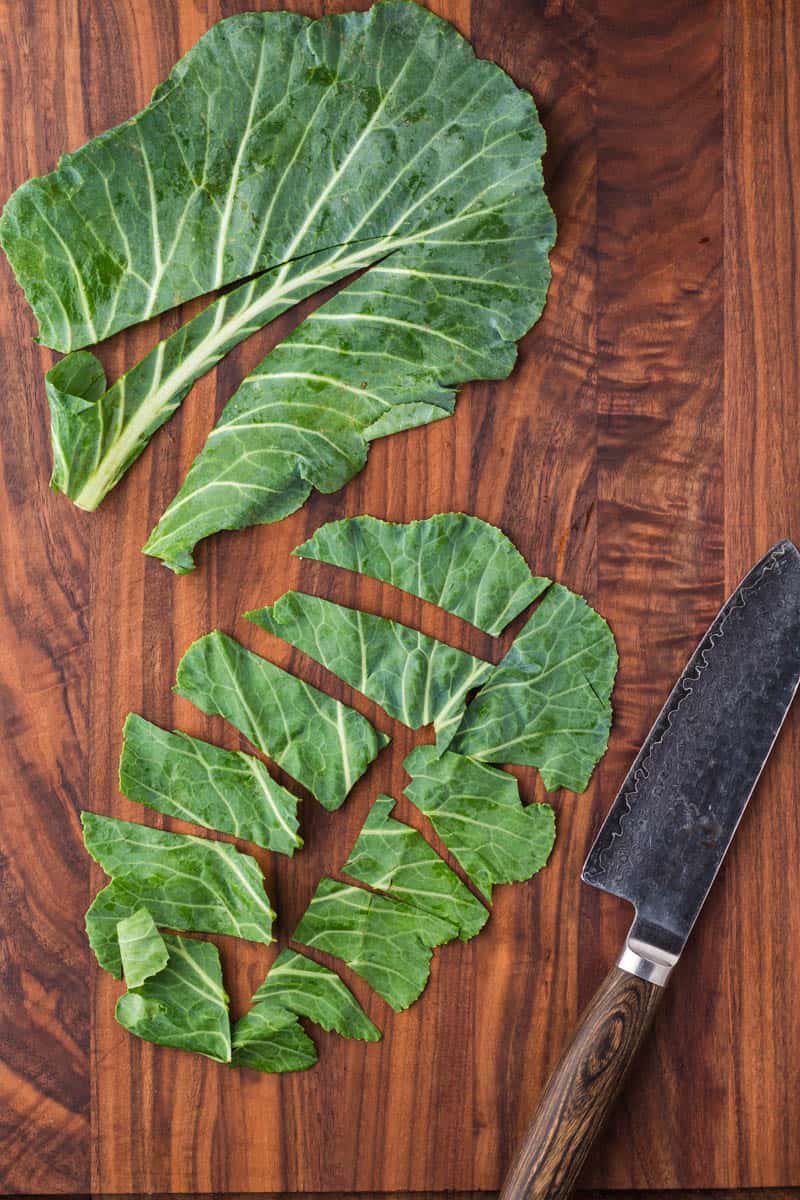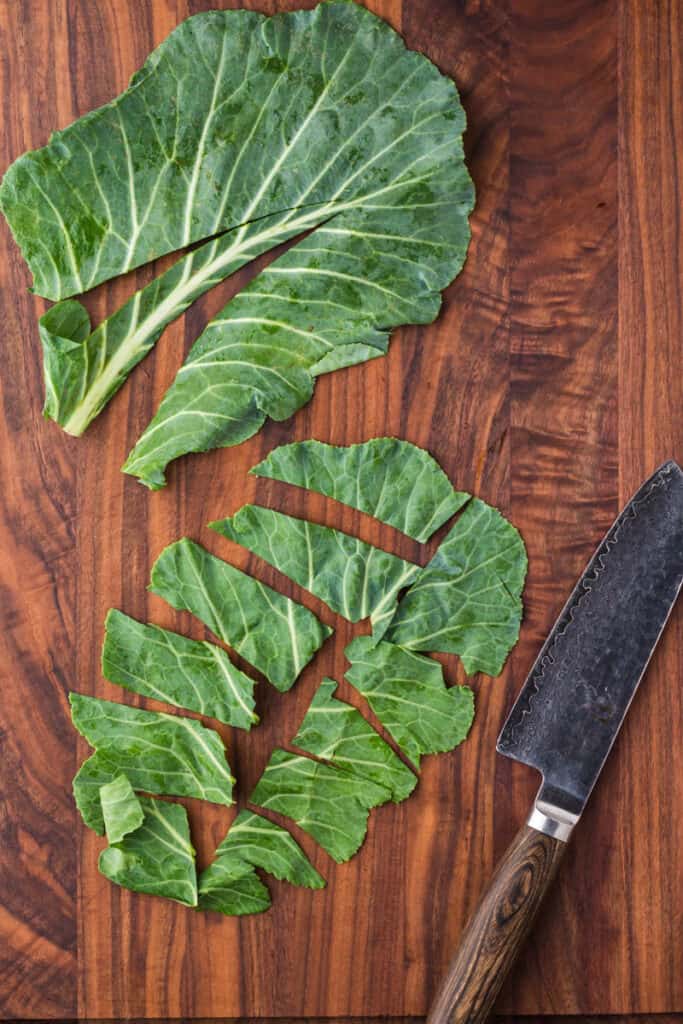 Substitutions
You can get creative with your Bacon Pesto Pasta. There are a few different ingredients that you can make substitutions for to suit your preferences. First, if you'd rather use Canadian or turkey bacon to cut down on the fat and salt, feel free! I don't use bacon fat from cooking in the recipe, so any variety of bacon or ham will work.
Next, there are so many different options for dry pasta. I used penne pasta, but bowtie, rotini, or elbow macaroni would all work as substitutes. You could even switch out the short pasta for a longer style like spaghetti or fettuccine if you prefer. There isn't a wrong pasta choice for this dish.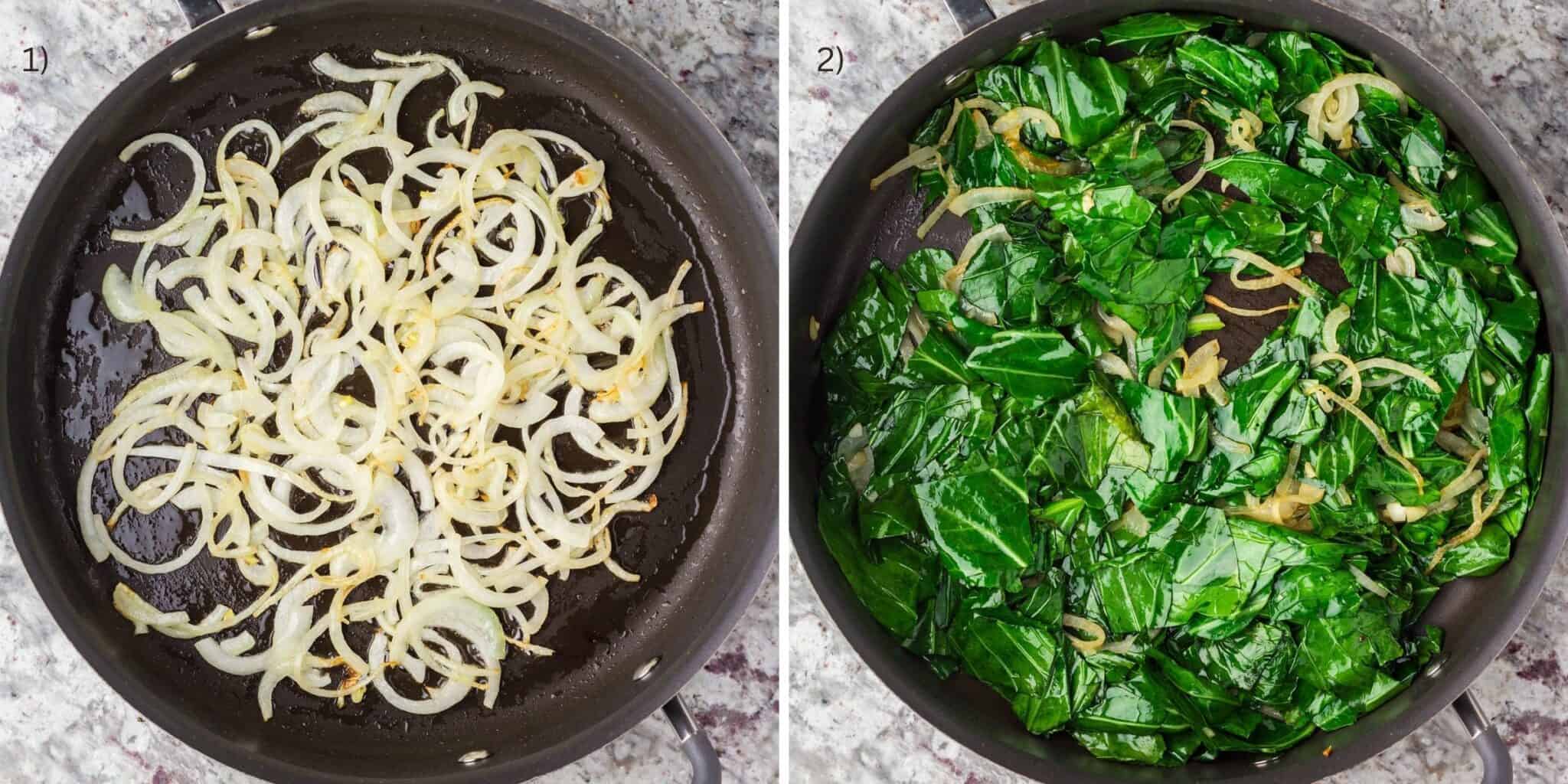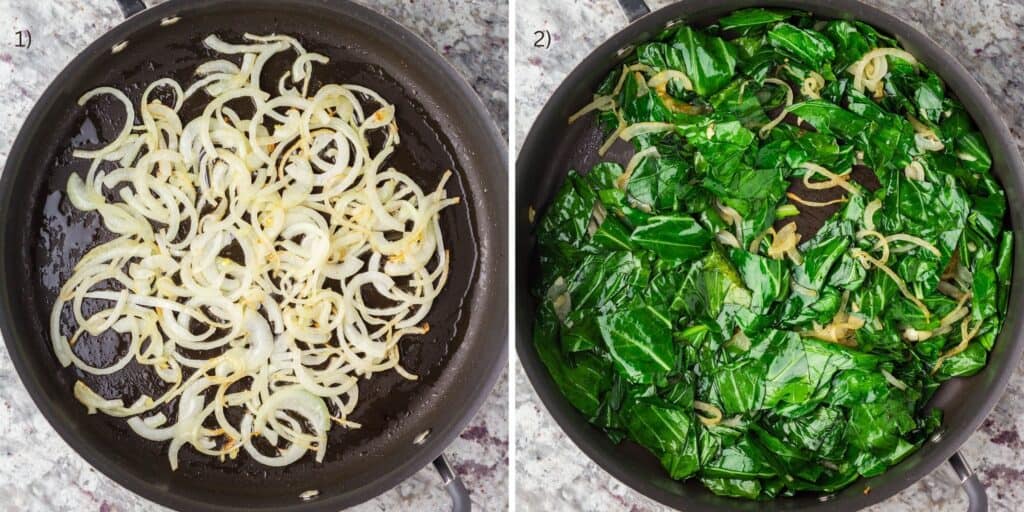 Last, the greens you pick for this recipe should suit your taste. I use collard greens because I like the texture they keep after cooking. Mustard or turnip green as well as kale would work as a substitute if you want to maintain some bite to your greens.
Alternatively, you can use baby spinach or baby kale as a sub if you want the greens to be softer after cooking. Baby greens like these will wilt more quickly and have the added benefit of coming clean and ready to use. If you don't want to include the greens, omitting them completely is also an option.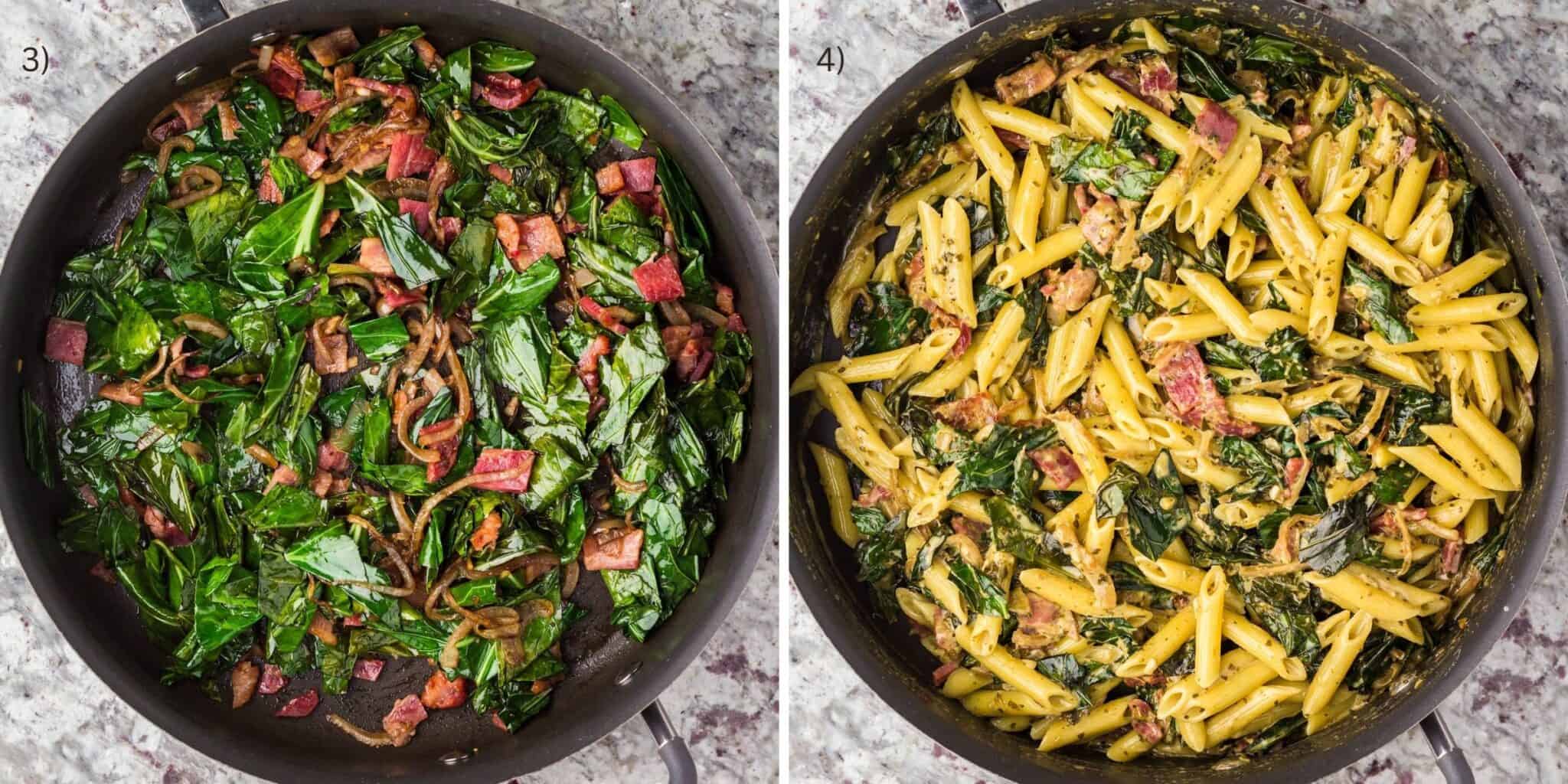 Variations
If you want to bulk up the protein in your Bacon Pesto Pasta, feel free to add chicken or shrimp to the pasta. Cook the protein in bacon fat if you want to up the bacon goodness.
Storage
Serve: Best served hot and fresh garnished with red pepper flakes and grated Pecorino Romano.
Store: Can be kept in an airtight container in the fridge for up to three days before eating.
Freeze: I don't like the way pasta freezes so I would not advise freezing.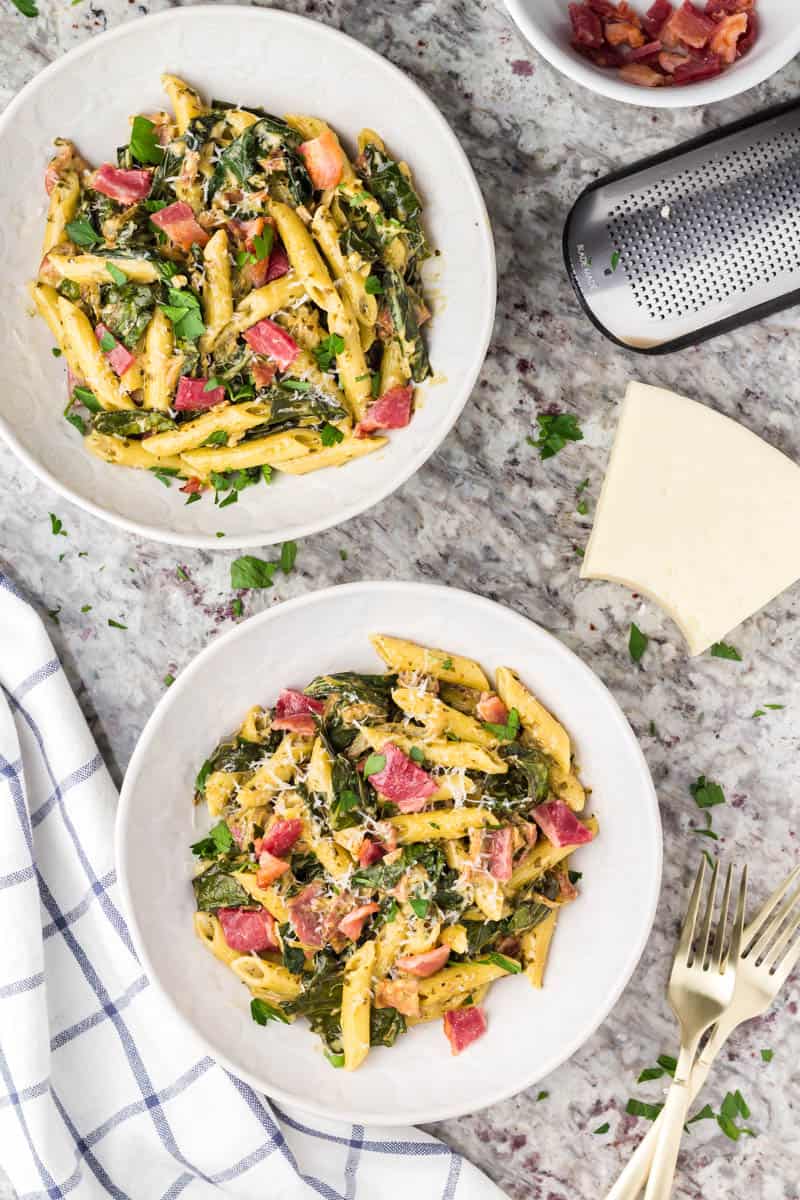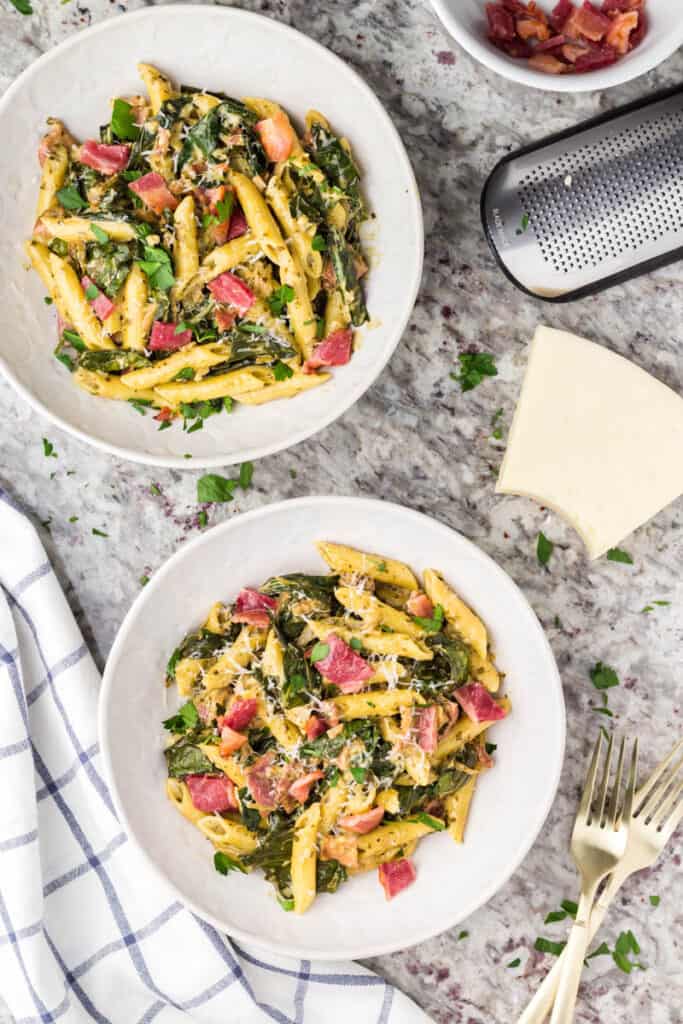 Top tip
Bacon Pesto Pasta is a quick recipe no matter how it's made, but if you want to speed up the prep time, cook the bacon and prepare the greens (including cleaning and chopping) beforehand. If you knock out these prep steps ahead of time, you can easily make the entire recipe in 20 minutes.
If you're a fan of Bacon Pesto Pasta, be sure to check out all of my other delicious pasta recipes like Creamy Garlic Chicken Pasta and Cajun Shrimp and Sausage Pasta.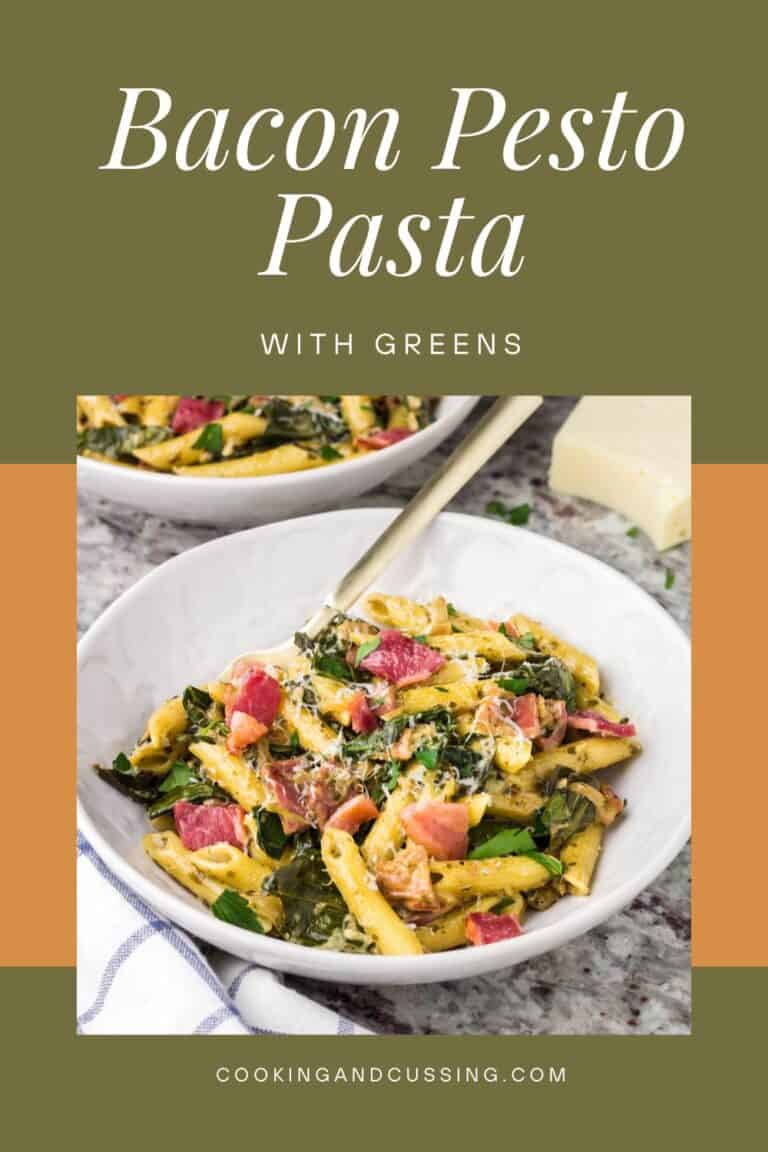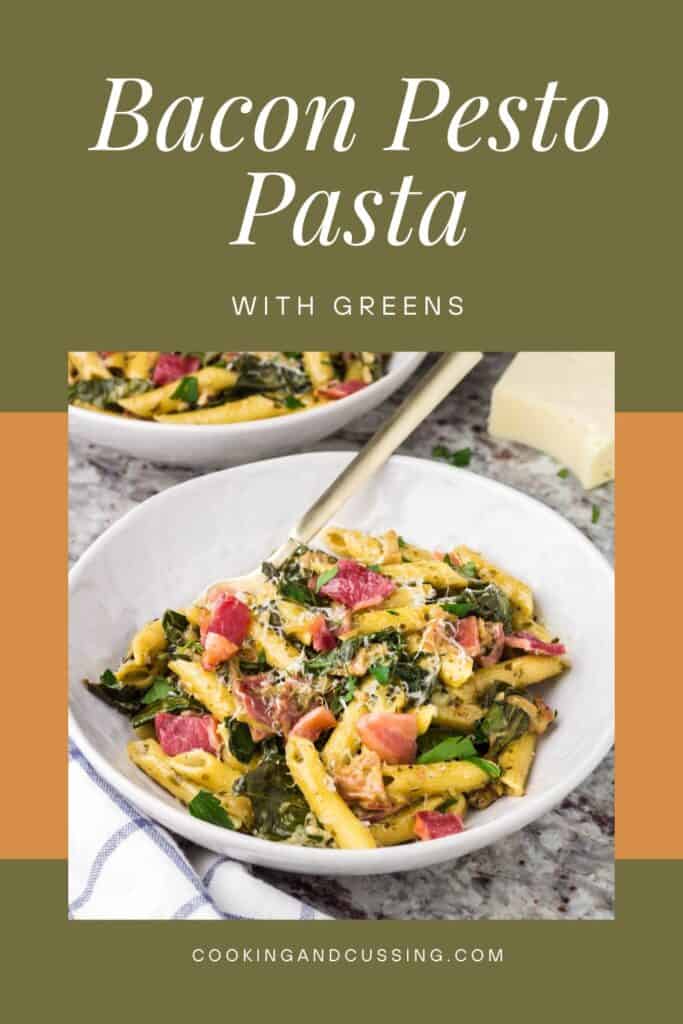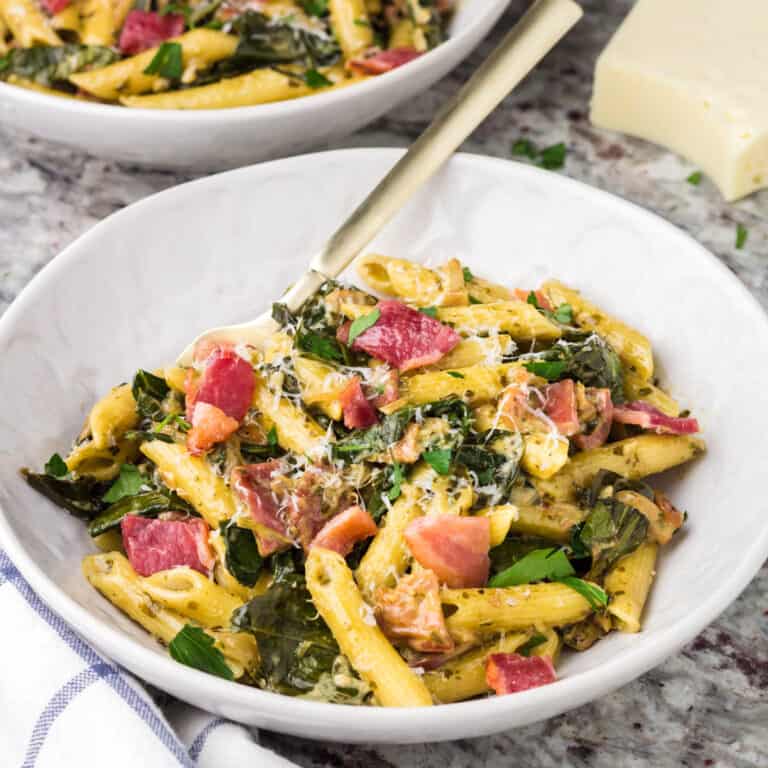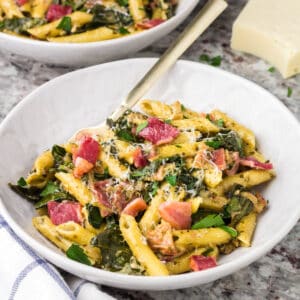 Bacon Pesto Pasta
Bacon Pesto Pasta is a quick and simple weeknight dinner. Store-bought pesto keeps the recipe easy and greens keep it healthy
Ingredients
8

slices

thick cut bacon

cooked and drained of excess fat

4

cups

collard greens*

cleaned, destemmed and roughly chopped

8

oz

dry penne pasta

2

Tb

salted butter

1

Tb

olive oil

1

yellow onion

thinly sliced

2

cloves

garlic

finely minced

2

Tb

balsamic vinegar

6.5

oz

pesto sauce

1

cup

heavy cream

¼

tsp

ground black pepper

¾

cup

grated Pecorino Romano cheese

divided

red pepper flakes

optional garnish
Instructions
Prepare the pasta according to package instructions. Reserve one cup of pasta water to thin out the sauce, if necessary.

Roughly chop the cooked bacon. Set aside ¼ cup to be used as a garnish.

Add the butter and oil to a large saute pan over medium heat. Once hot, add the sliced onion and minced garlic. Cook until soft or 3-5 minutes.

Add the chopped greens and balsamic vinegar. Cover the pan with a tight lid. After a minute, remove the lid and stir well. Place the lid back on for another minute or until the greens are totally wilted.

Once the greens have reached your desired texture, reduce the heat to low and add the chopped bacon, pesto sauce, heavy cream, and black pepper. Mix well to combine.

Add the cooked pasta and ½ cup of grated Pecorino. Toss until well combined.

Garnish servings with additional chopped bacon, grated cheese, and red pepper flakes.
Notes
* You can substitute any type of greens you like. Mustard or turnip greens will be similar to collard greens. If you prefer a more tender green, try baby spinach or baby kale.
Frequently Asked Questions
I don't like collard greens. Do I have to include them?
No. You can use any kind of greens you like or omit them. See the 'Substitutions' sections for more details on options.
The following two tabs change content below.

Hey-ooo! I'm Hailey, and I'm a number cruncher by day and cussing cook by night. I created this site to share my love for delicious food that feeds the soul as well as the belly. I hope my recipes have you running to the kitchen to cook some damn good grub!