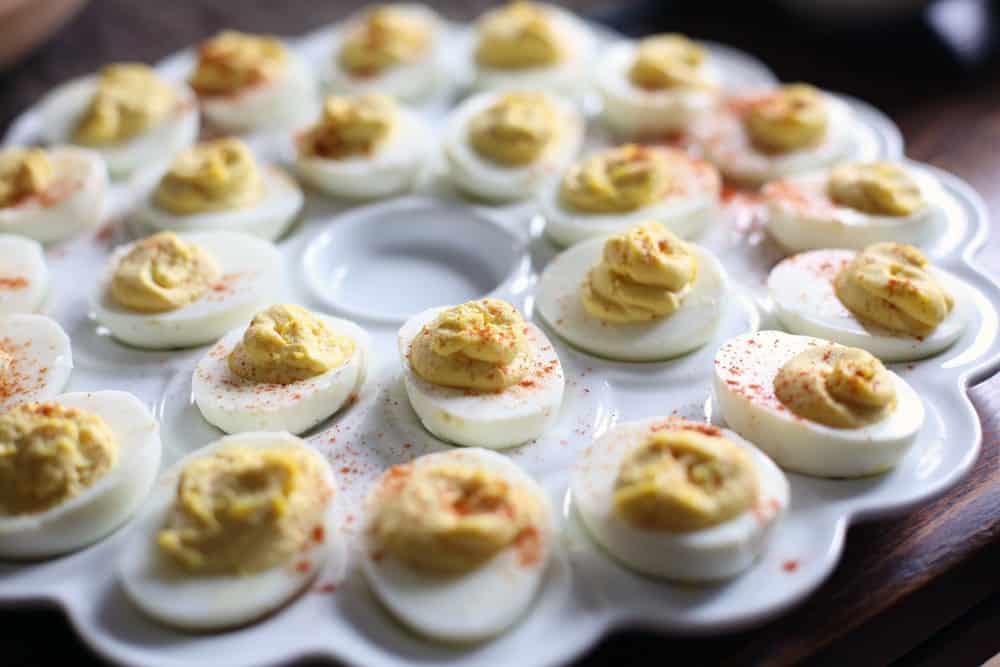 Deviled Eggs are the perfect appetizer for any party or holiday gathering. There is a reason that every family gathering we have whether it's Thanksgiving, Christmas or someone's birthday, everyone always requests that Chris' mom, Beverly, brings her Deviled Eggs. As soon as she arrives and sets them down, those bad boys disappear at lightning speed. The best part of about it is how simple they are.
Bev's Deviled Eggs have a total of 4 ingredients in them!
The yolks are mixed with mayonnaise and flavored with mustard and a little dill pickle juice. I've tried different recipes for deviled eggs with all kinds of things mixed into the yolks like bacon, ham, green onions, herbs, etc but no recipe beats Bev's.
To put into perspective how good these are, let me tell you a little secret that I'm pretty sure Bev doesn't even know. My family is not hard-boiled egg people. I often tell Chris that I really didn't grow up eating eggs unless they were mixed with potatoes, bacon, and cheese and wrapped in a tortilla (IE breakfast tacos… see my Chorizo and Potato Breakfast Tacos post for more info).
I don't recall ever seeing anyone in my family enjoy a deviled egg, and they weren't part of our holidays until my stepmom started making them when I was a teenager. But Bev's Deviled Eggs are different.
They are so simple and satisfying. You'll seriously have a hard time not eating too many. My older niece Elle who is 7 often has to be pulled away from them at some point! I always tell Bev she must have some secret, but after making multiple different batches trying to get the recipe just right, I can also tell you this it's also about your own taste preferences.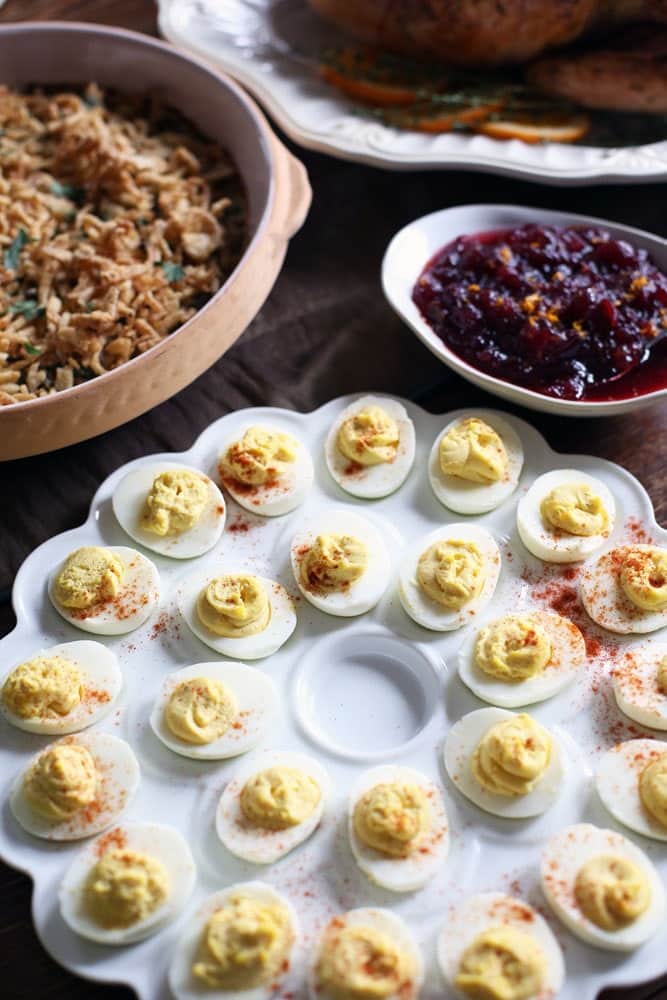 Start with the recipe as provided, but if you like a little extra zing than feel free to add a little more pickle juice and mustard. Just be careful not to add too much pickle juice or the filling will be loose.
Bev's Deviled Eggs recipe is the perfect balance of the pure and pronounced flavor of egg yolk with creamy and tangy accents.
They're not overly fussy or complicated. It's just a wonderfully simple pleasure. I love making these for Thanksgiving as they are a great way to keep all the hungry mouths out of the kitchen before the food is ready!
Give this recipe a try, and you'll find a whole new appreciation for the humble Deviled Egg. Let me know how it goes in the comments section below and be sure to check out my Thanksgiving post for my full menu and helpful planning tips.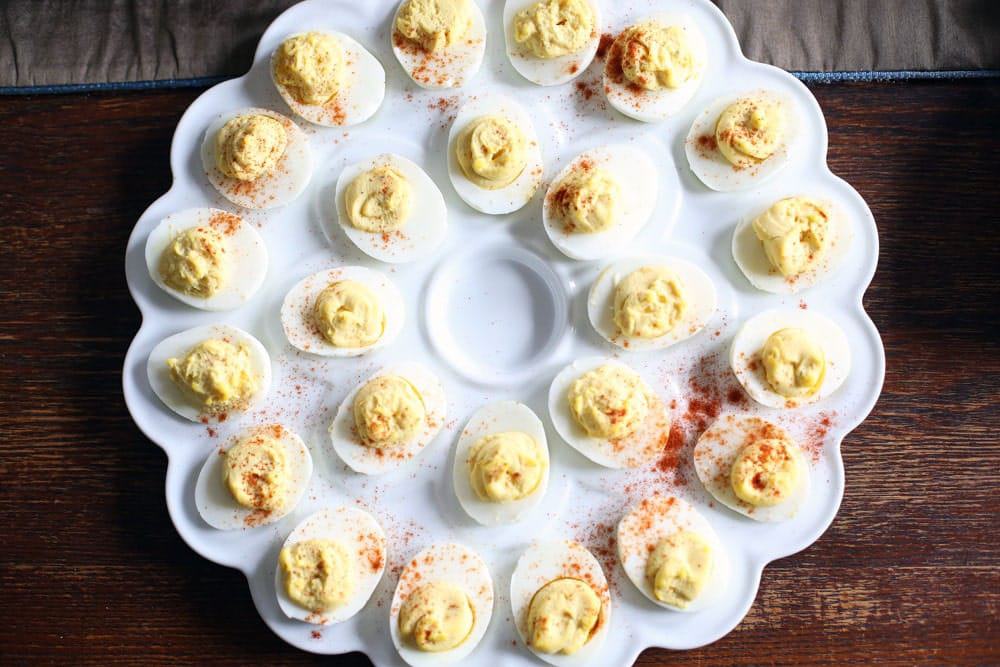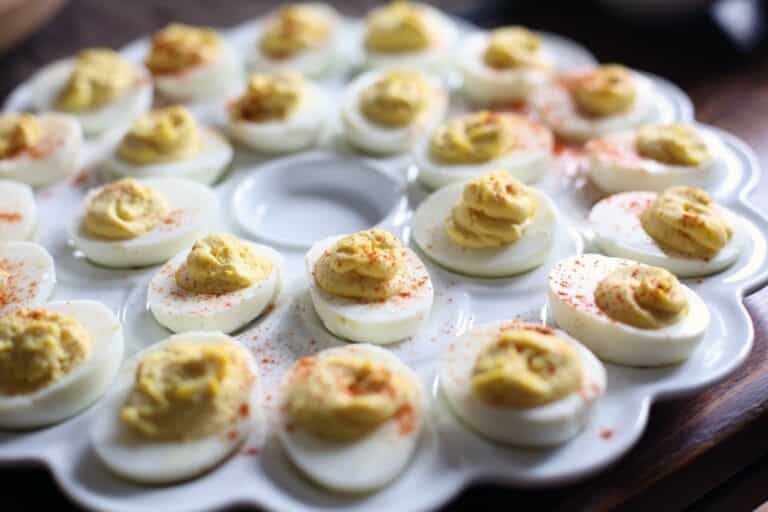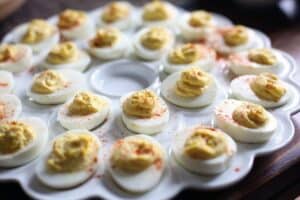 Bev's Deviled Eggs
Deviled Eggs are best when the ingredients are simple and complement the flavor of the egg yolk instead of covering it up. These Deviled Eggs are a crowd pleaser. Everyone loves the tangy flavors of these creamy deviled eggs!
Ingredients
1

dozen eggs

1.5

Tb

French's yellow mustard

⅓

C

mayonnaise

1.5

Tb

dill pickle juice

Salt and pepper to taste

2

Tb

white vinegar
Instructions
Cover cold eggs with enough cold water to be about 1-inch above the eggs and add the white vinegar. The vinegar helps the eggs peel easier once boiled. Put a lid on the pot and bring to a boil. Once boiling, remove the lid and boil for 8 minutes exactly.

As soon as the 8 minutes is up, place the eggs in an ice bath with enough cold water to cover completely. Let sit for 15 minutes in the ice water before peeling.

Once the eggs are completely cool, crack the shell all over the egg and start peeling from the bottom of the egg. There is usually a gap between the egg white and the shell at the bottom of the egg. I usually peel with the bowl of water close by so I can dip my hands and the eggs into the water to get all the little pieces of shell off.

Once all the eggs are peeled, place into a bowl and top with plastic wrap. Place in the fridge for a minimum of 30 minutes and up to 8 hours to chill completely.

Once chilled, split each egg vertically so half of the yolk is in each half. Pop the yolk out of the white and into a medium mixing bowl. You can do this easily by turning the egg over and gently pinching the egg. The yolk usually pops right out.

Once you have all your yolks in a bowl, use a fork to smash the yolks into a smooth paste. Add the mayonnaise next and continue to smash until the mix is nice and smooth. Next add the pickle juice, mustard, and salt and pepper to taste and stir to combine.

Fill each egg white with the yolk mixture and place back in the fridge to set up for about an hour. I use a Ziploc bag with the corner cut off like a piping bag to fill each egg white.
The following two tabs change content below.

Hey-ooo! I'm Hailey, and I'm a number cruncher by day and cussing cook by night. I created this site to share my love for delicious food that feeds the soul as well as the belly. I hope my recipes have you running to the kitchen to cook some damn good grub!