Thin Mint No-Bake Chocolate Cheesecake is just as dreamy as it sounds. If you're a chocoholic, you've come to the right place because this recipe is filled with rich, chocolaty flavor. Not only is this recipe overflowing with chocolaty goodness, but it's also a celebration of the glory that is the Thin Mint- one of the best Girl Scout Cookies.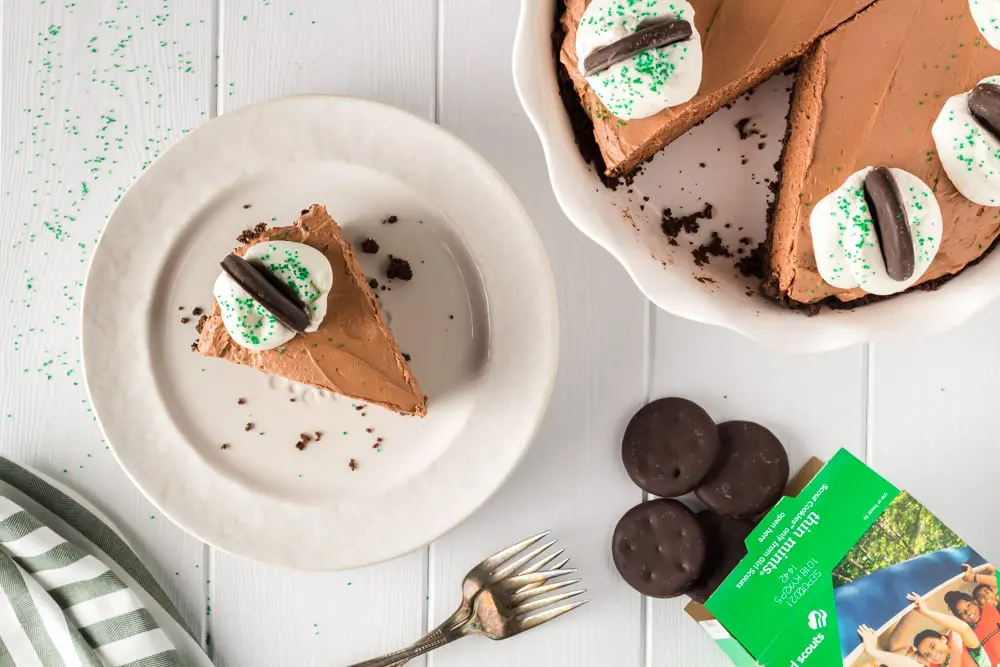 Damnit if I don't love me some Girl Scout Cookies. Samoas are my favorite, but a very close second is Thin Mints. Thin Mints are so wonderfully uncomplicated. They're the perfect balance of mint and chocolate with a smooth, creamy outside and a crunchy cookie inside. I can easily eat a whole sleeve in one sitting.
Ingredients
Let me first set the record straight that this recipe is not like a traditional cheesecake recipe. There are no eggs in the recipe meaning the texture of the filling is different. The chocolate cheesecake filling in this recipe is velvety smooth, thick, and creamy.
It is not as light as traditional cheesecake, but it still melts in your mouth. More importantly, the recipe takes a fraction of the time to make when compared to traditional cheesecake. To make the recipe, you need:
Thin Mint cookies
Butter
Cream cheese
Sweetened condensed milk
Semisweet chocolate chips
Vanilla extract
Peppermint extract
Salt
Heavy cream
Powdered sugar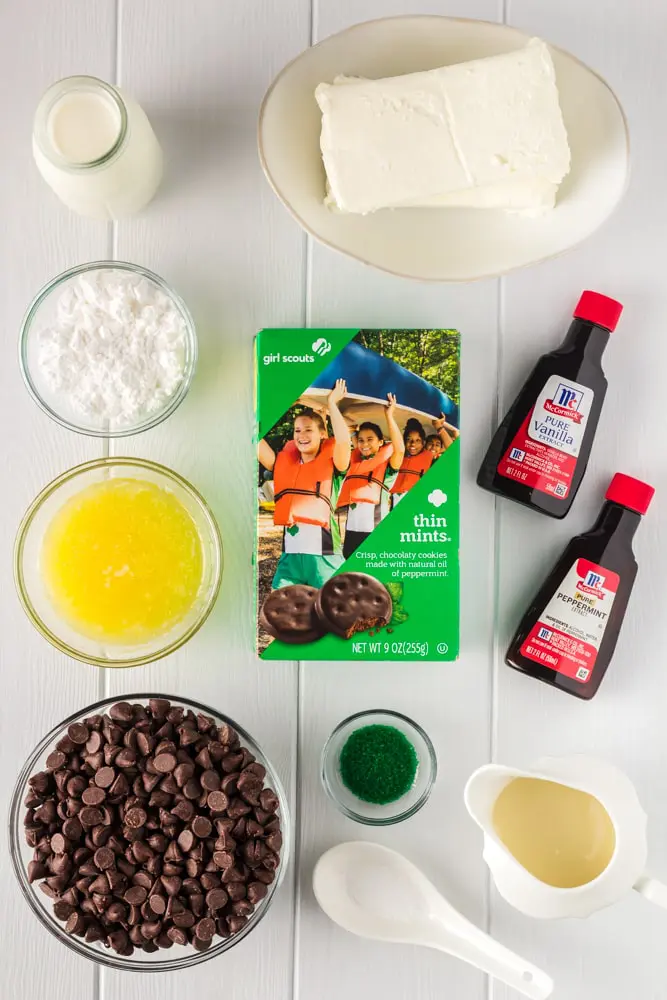 Instructions
The entire cheesecake is no-bake, both the crust and the filling. I love traditional cheesecake but hate all the baking and cooling time that most recipes require. Thin Mint No-Bake Chocolate Cheesecake gets you to next-level cheesecake satisfaction way faster. To make it, follow the instructions that follow.
Grind cookies into a fine crumb and combine with melted butter. Press into a pie plate.
Whip cream cheese until light and fluffy. Combine with sweetened condensed milk, melted chocolate, salt, and vanilla and peppermint extracts.
Pour the filling into the crust and chill overnight.
Make whipped cream by whisking cream, vanilla, and powdered sugar.
Serve a slice of cheesecake with a dollop of whipped cream and a cookie.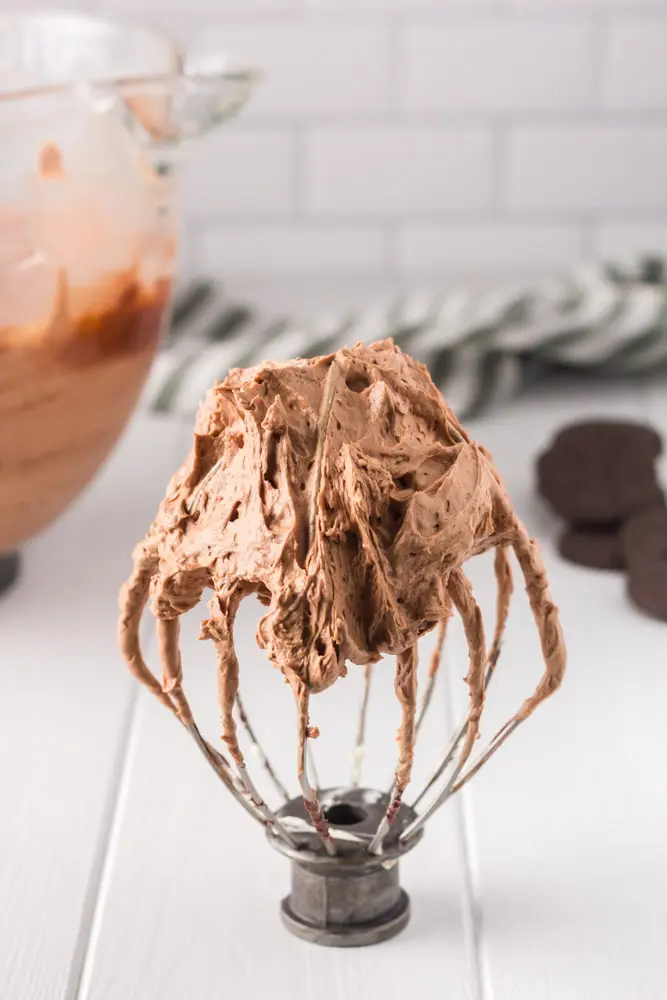 Equipment
No special equipment is required! Most cheesecakes require a springform pan for baking, but Thin Mint No Bake Chocolate Cheesecake can be made in a standard pie plate. If you have a springform pan and want to use it, go right ahead.
Making a Thin Mint Cookie Crust is a breeze, particularly if you have a food processor to grind the crumbs. If not, don't worry! You can also crush the cookies by placing them in a secured plastic bag and use a rolling pin to pulverize the cookies.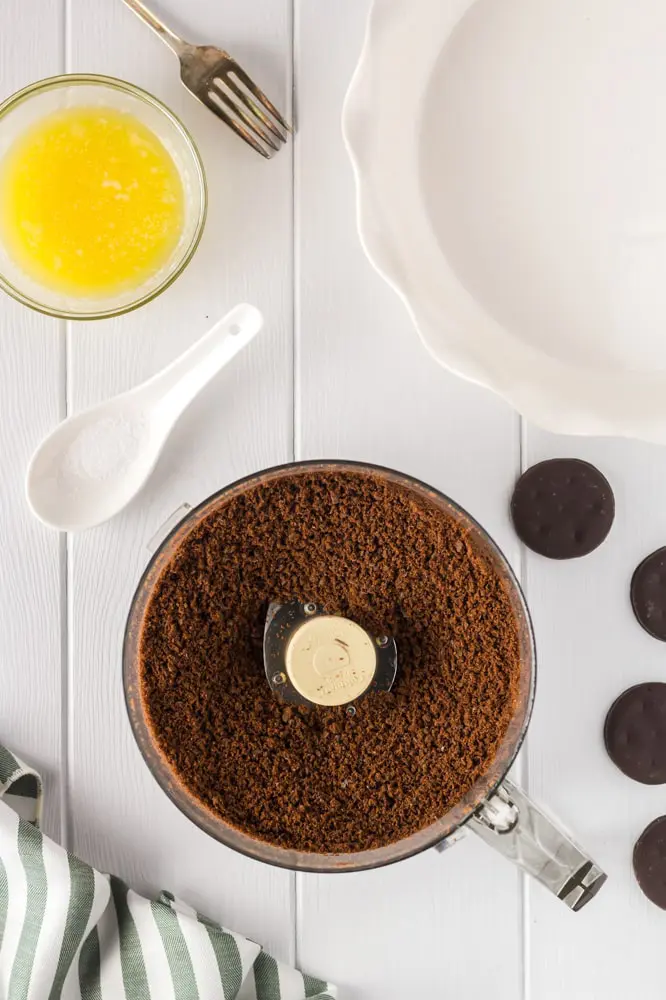 Substitutions
If you have stumbled upon this recipe outside of Girl Scout cookie season, not to worry! You can always find Keebler Grasshopper Cookies year-round which are very similar in flavor and texture. They would be a perfect substitute for Thin Mints.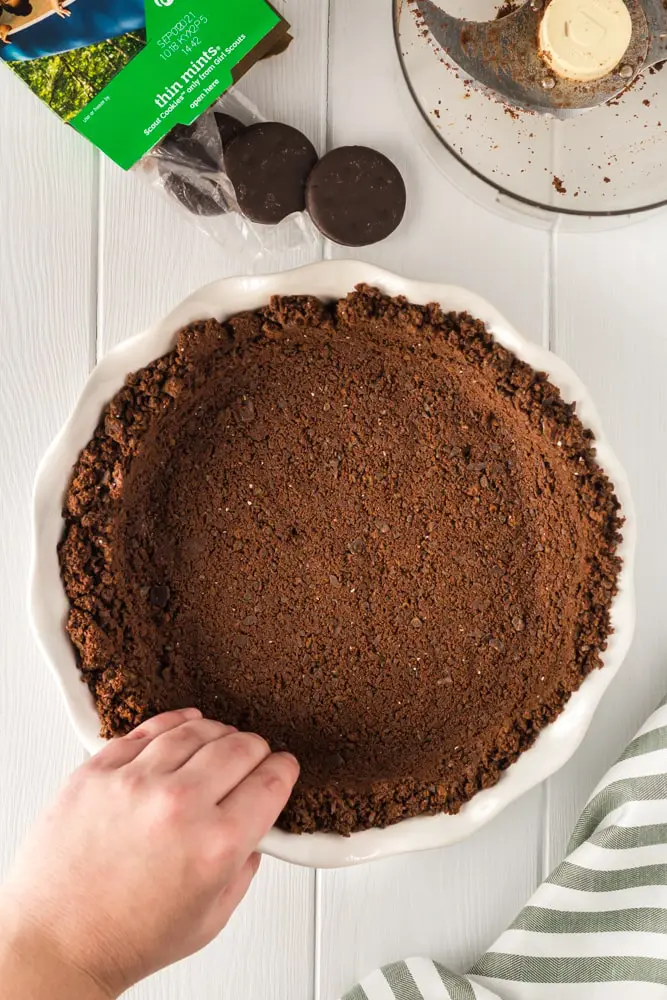 The type of chocolate you use in this recipe is totally up to you. The recipe calls for semisweet but dark or milk chocolate would also be delicious.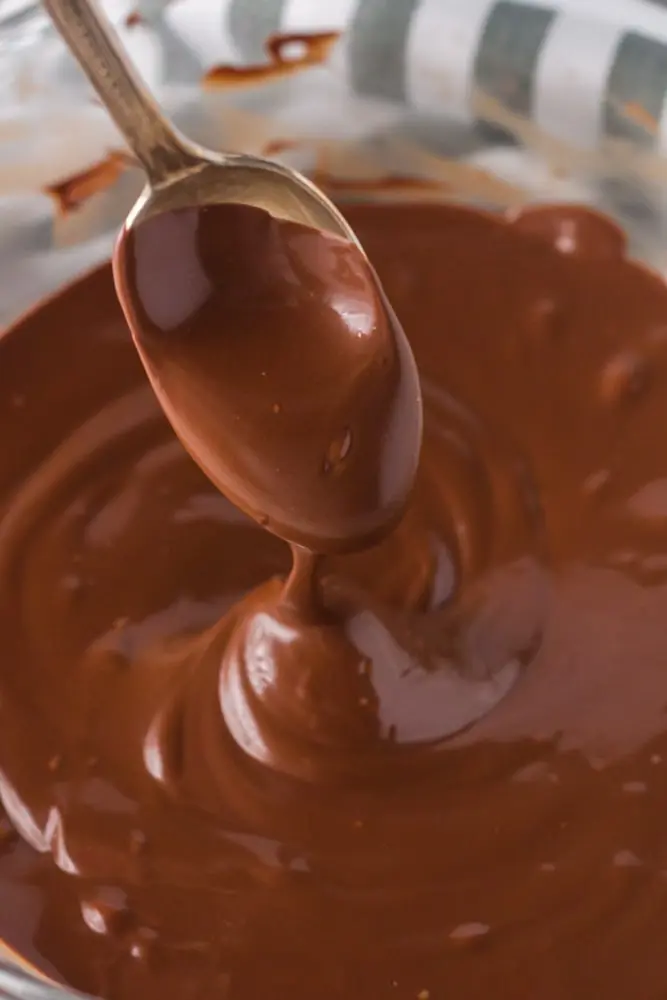 Top Tip
The filling is super simple. The base is made up of cream cheese, sweetened condensed milk, and a sh*t ton of chocolate to make sure this no-bake cheesecake is unmistakably CHOCOLATE.
Because the filling is so simple, it's important to get all the ingredients right. Don't try to skip properly softening your cream cheese. If you do, you'll end up with little white flecks, or worse yet white lumps, in your lovely cheesecake filling. Not cute. I usually leave my cream cheese out overnight to make sure it's completely soft.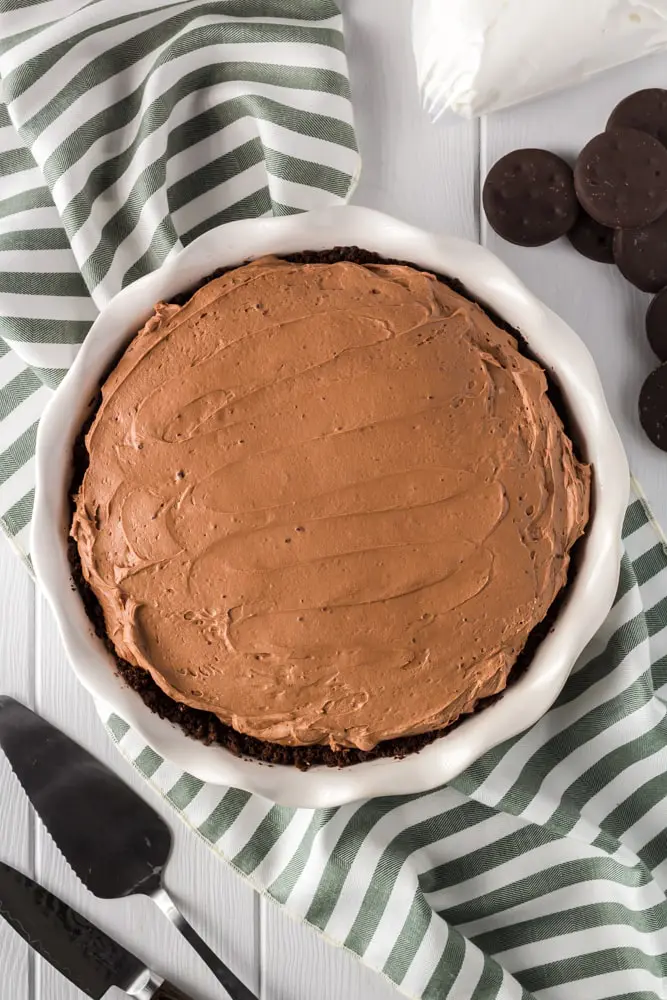 Storage
Serve: Garnish the cheesecake with whipped cream, a Thin Mint cookie and a sprinkle of green sanding sugar.
Store: The cheesecake can be kept in the fridge for up to a week. Cover tightly with plastic wrap before storing.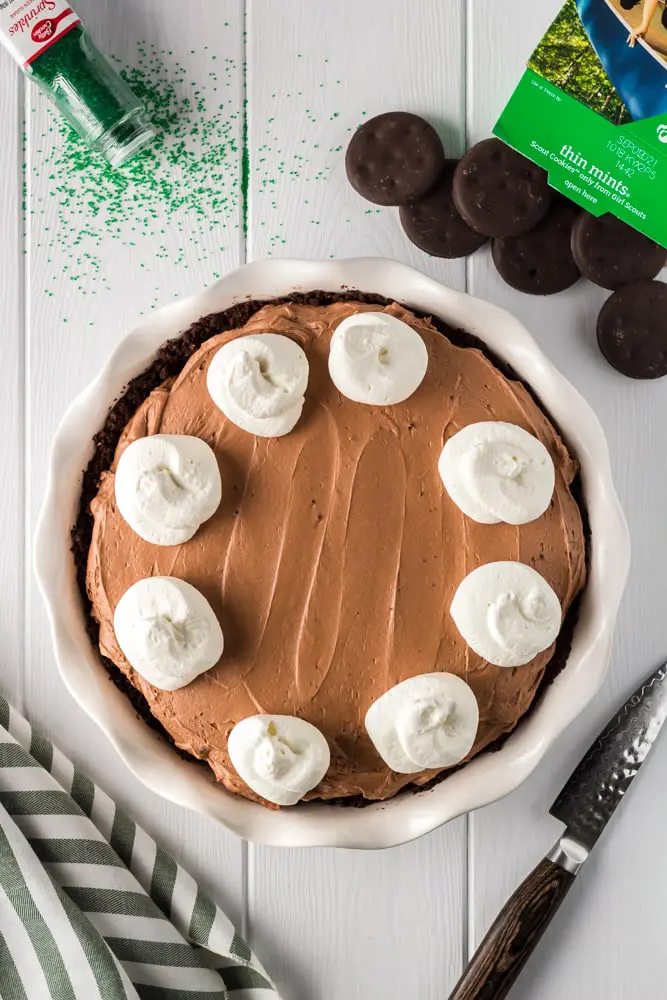 Both the sanding sugar and extra cookie are completely optional. I recommend only using the sanding sugar right before serving. The sugar will lose its crunch and the color will start to bleed into the whipped cream after a few hours.
Thin Mint No-Bake Chocolate Cheesecake gives you all the yummy crunch of Thin Mint cookies with smooth, creamy, chocolaty cheesecake and fluffy whipped cream. It doesn't get much better than that!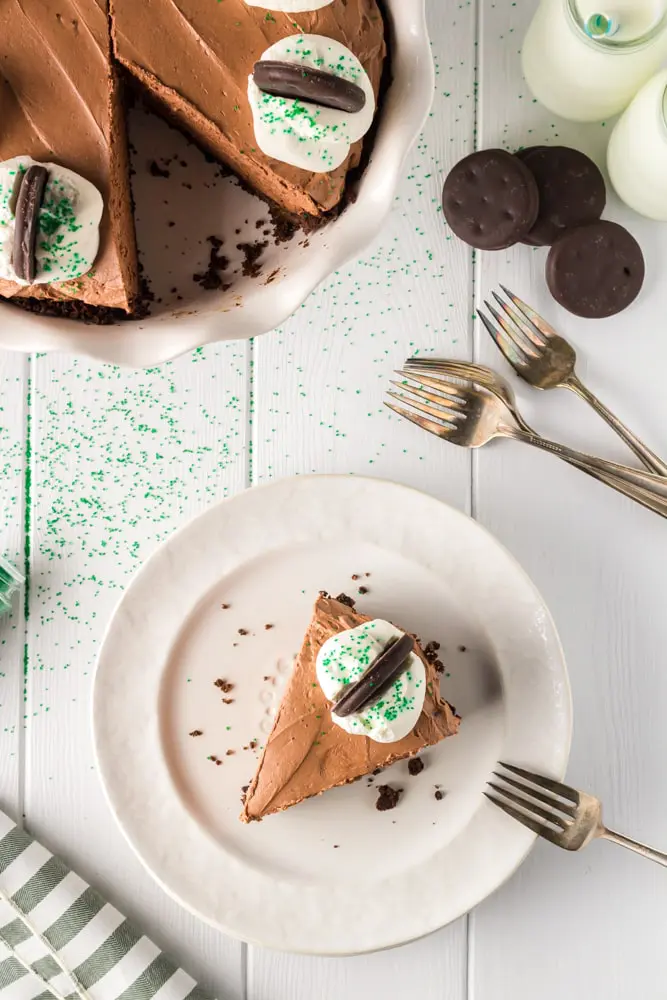 Make this for a special occasion or for no reason at all. You really don't need a reason to enjoy this delicious treat! Be sure to check out my No Bake Peanut Butter Bars and No Bake Chocolate Cheesecake if you're looking for more delicious and easy desserts. Let me know what you think in the comment section below.
Helpful Utensils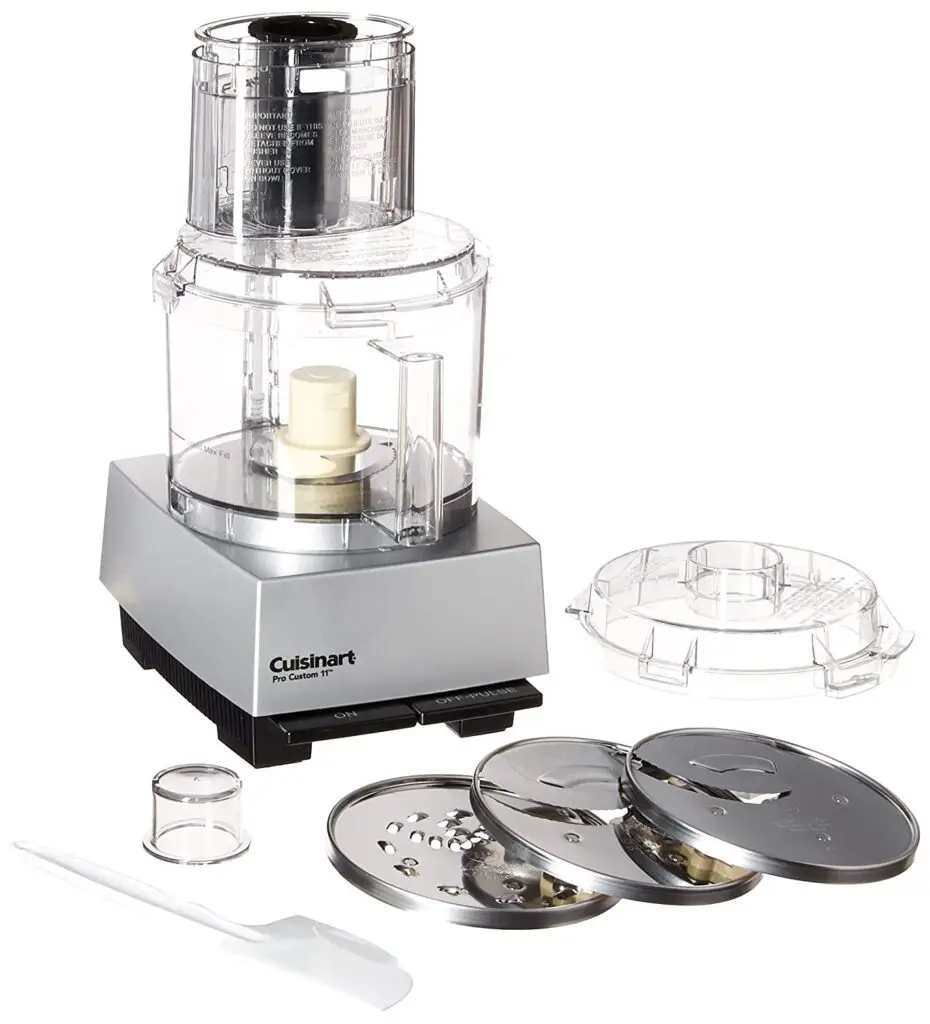 I link to a food processor constantly because it's so essential to my kitchen. If you don't have one, it's a great investment.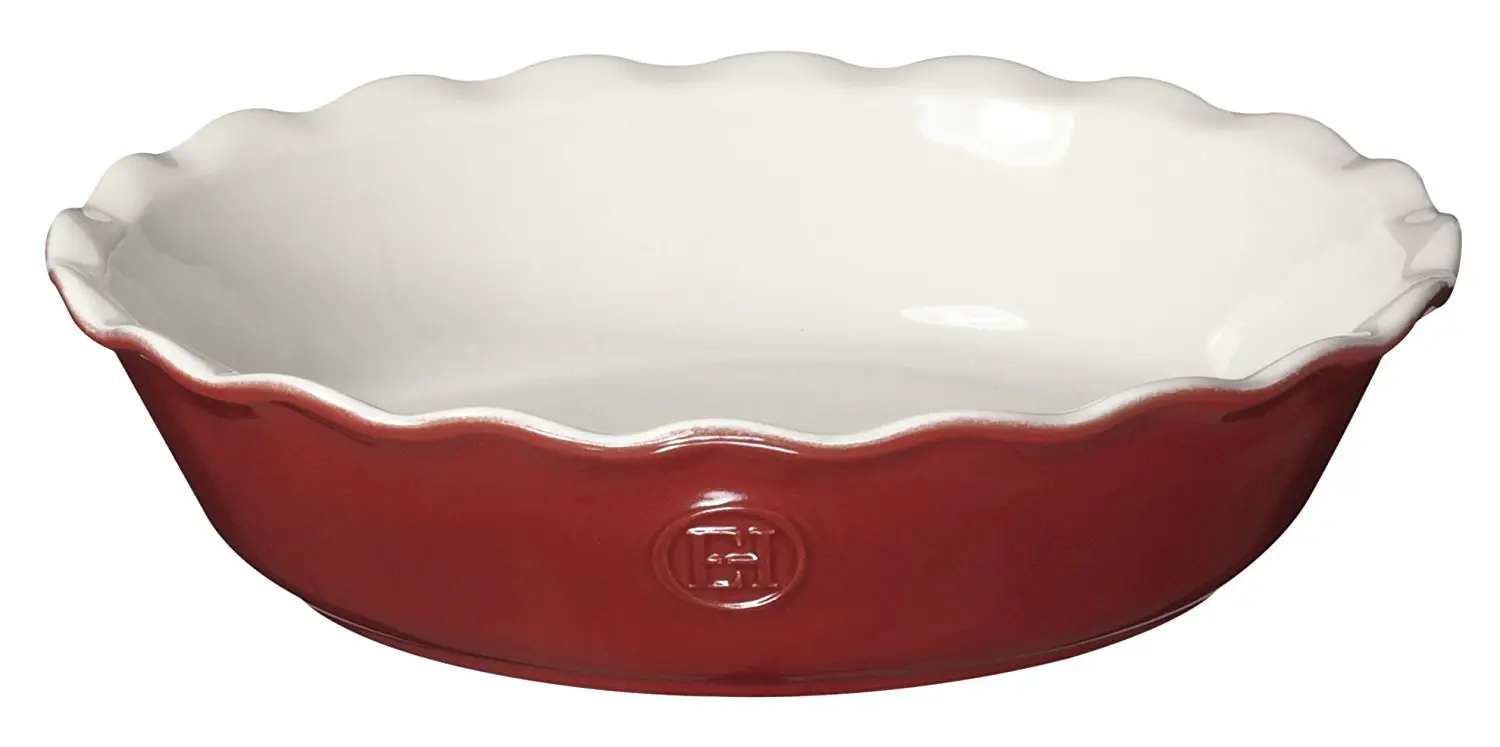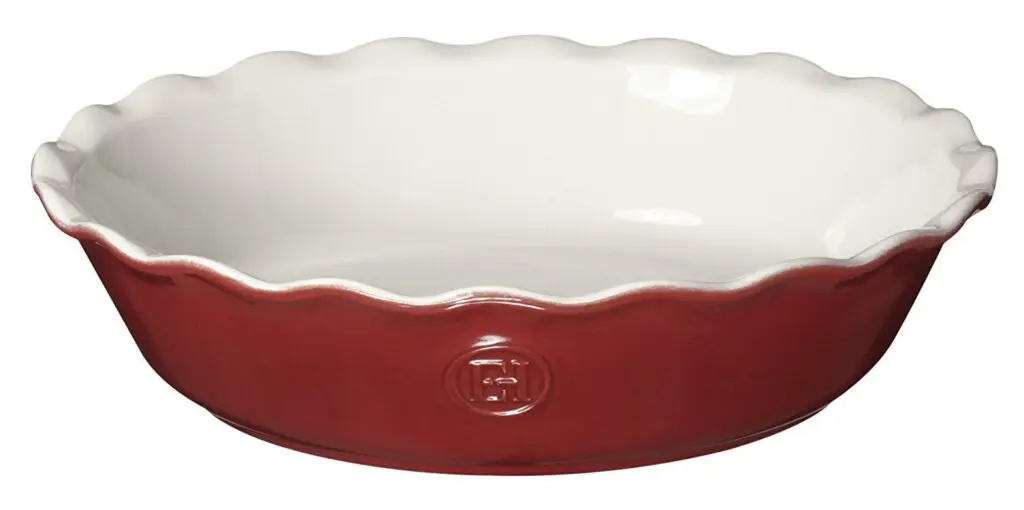 Beautiful and well made, Emile Henry Pie Plates provide even cooking every time.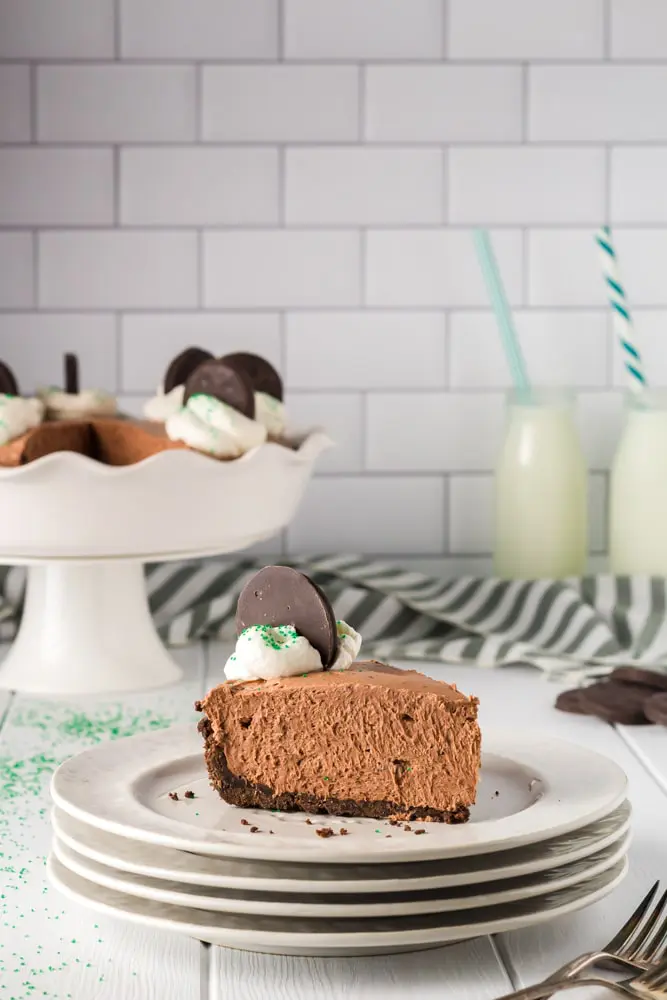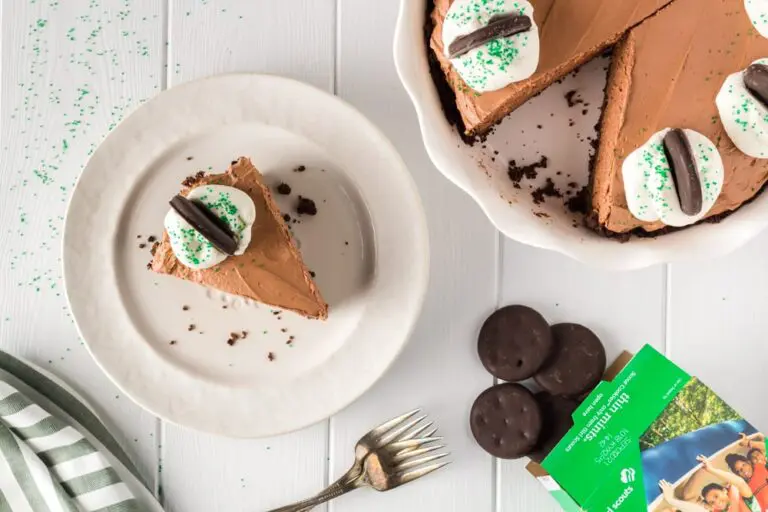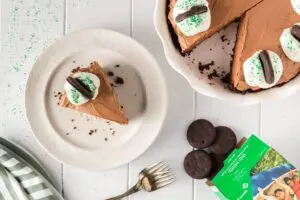 Thin Mint No-Bake Chocolate Cheesecake
Thin Mint Cookies are crushed to form a cookie crust that is filled with velvety smooth and thick chocolate cheesecake filling. It is so easy to make and completely no-bake
Ingredients
Thin Mint Cookie Crust
24

Thin Mint cookies

¼

C

salted butter

melted
Filling
12

oz

semisweet chocolate chips

14

oz

sweetened condensed milk

8

oz

cream cheese

room temperature

1

tsp

vanilla

¼

tsp

peppermint extract

¼

tsp

kosher salt
Whipped Cream
1

C

heavy cream

¼

C

powdered sugar

1

tsp

vanilla extract
Garnish
8

Thin Mint cookies

green sanding sugar
Instructions
To make crust
Using a food processor, grind the Thin Mint cookies to a fine crumb. If you don't have a food processor, I've included a link to purchase one above, or you can break up the cookies by-hand by placing the cookies in a plastic bag and crushing with a rolling pin.

Once the cookies are a fine crumb texture, add the melted butter and pinch of salt and combine. Press the crumbs into an even layer in a pie plate.
To make the filling
Melt the chocolate in a microwave-safe bowl. Microwave in 15-second increments stirring in between each. Continue microwaving until the chocolate is totally smooth. Set aside to cool.

Place the cream cheese into a large mixing bowl and whip the cream cheese on medium-high speed until light and fluffy. Add the sweetened condensed milk and turn the mixer back on medium until well mixed.

Turn the mixer off, scrape down the bottom and sides of the bowl, and add the vanilla and peppermint extract and cooled melted chocolate. Turn the mixer back on to medium and mix until the cheesecake is smooth and well combined.

Once the pie shell has cooled, pour the cheesecake filling into the pie and smooth out the top. Put in the fridge for at least 8 hours to cool.
To garnish
Make the whipped cream by combining the heavy cream, powdered sugar and vanilla in a small mixing bowl and whip on high speed until the cream reaches soft peaks.

Garnish each of the 8 slices of cheesecake with a dollop of whip cream and optionally, a sprinkle of green sanding sugar and a whole Thin Mint cookie.
Notes
* You can also substitute with Keebler Grasshopper Cookies if it's not the Girl Scout Cookie time of year
FREQUENTLY ASKED QUESTIONS
I can't get Thin Mint Cookies. Is there any alternative?
Yes, Keebler Grasshopper Cookies are very similar in taste and texture to Thin Mints and can be used as a substitute in this recipe.
I don't have a food processor. Can I still make the Thin Mint Cookie Crust?
Yes, just place the cookies in a secured plastic bag and using a rolling pin to crush the cookies.
Do I need a special pan to make the recipe?
No. This recipe is prepared in a standard pie plate.
The following two tabs change content below.

Hey-ooo! I'm Hailey, and I'm a number cruncher by day and cussing cook by night. I created this site to share my love for delicious food that feeds the soul as well as the belly. I hope my recipes have you running to the kitchen to cook some damn good grub!