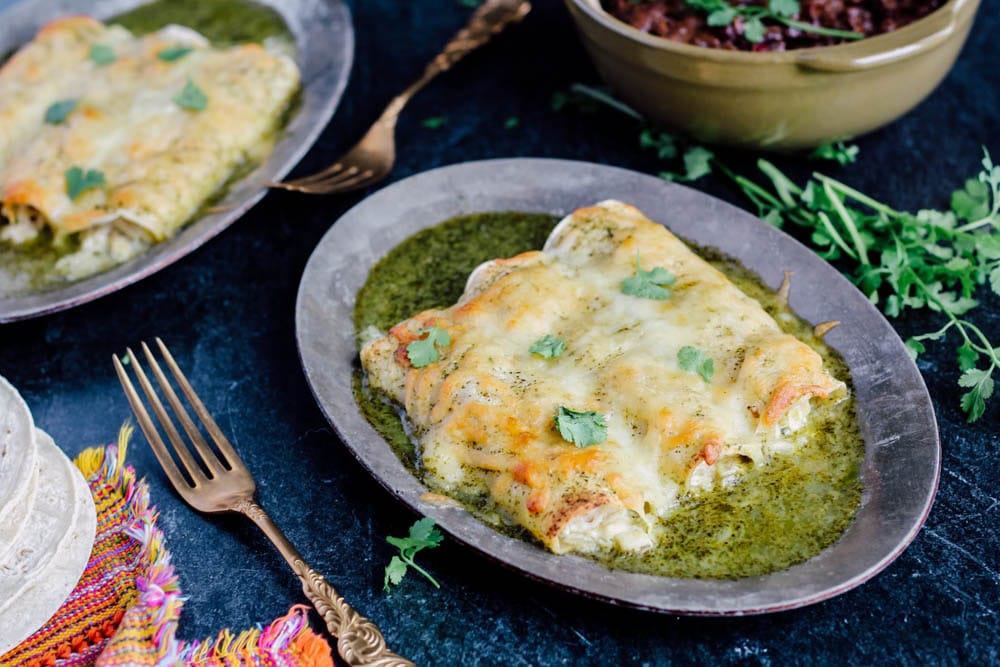 My Green Chicken Enchiladas are seriously the shit, or the bomb for those of you who prefer a less cussworthy description. The cream cheese and Monterey jack-based filling is creamy and tangy and more flavor-filled than any other chicken enchilada recipe I've made or eaten. The use of chicken thighs also amps up the flavor, but the real star is the homemade enchilada sauce. I cheat a bit and start with a canned enchilada sauce, but I turn the volume way up.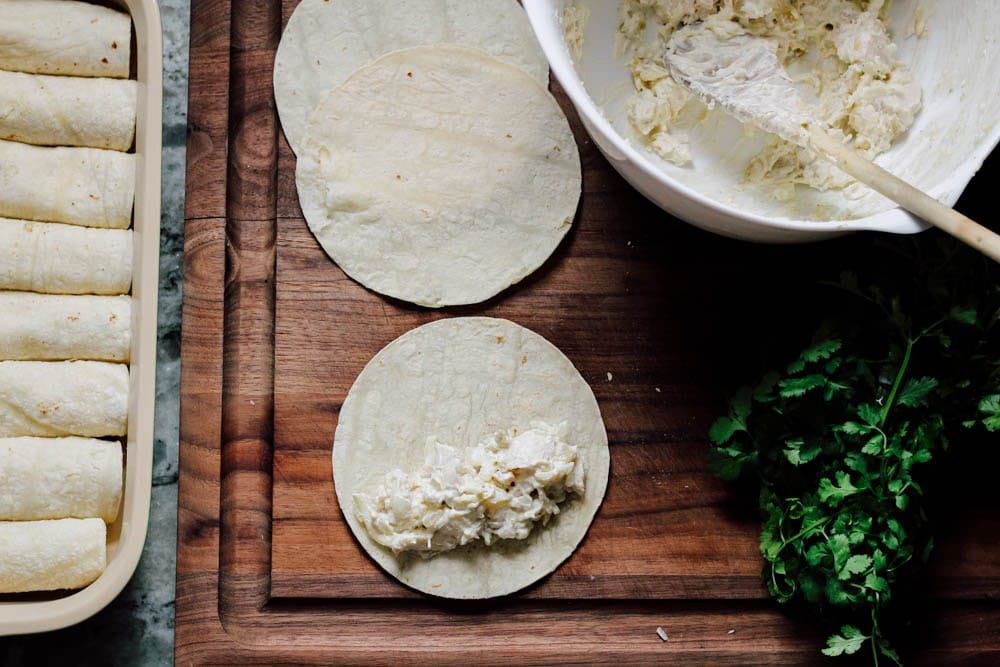 I have always been more of a beef enchilada girl prior to creating these chicken enchiladas. I'll share our family recipe for beef enchiladas as we get into the cooler temperatures, but there is something about these chicken enchiladas with a side of fresh tomato and avocado that just screams summer while also filling your tummy with rich cheesy goodness.
These enchiladas were one of the first dishes I made for Chris that got him truly excited. Now Chris is not a food snob at all even though most people assume all chefs are. In fact, he was living with just an electric flat top grill and an electric kettle when we first met. He wasn't roughing it, just living his bachelor life in a normal apartment.
He cooked so much all day long (when I met him he was working 2 different kitchen jobs) that the last thing he wanted to do was cook when he got home. Most of my life I had prepared meals for family and friends who were endlessly dazzled with my culinary skills. Things as simple as a crisp, pan-fried chicken breast would usually delight the masses, but this was just not the case with Chris.
He is not hard to please in a sense that he loves to eat all food, but generally, "it's good" is about as much as I'm going to get from him. So when I get a "holy shit this is really good!" or something like that, I know I have f**king nailed it!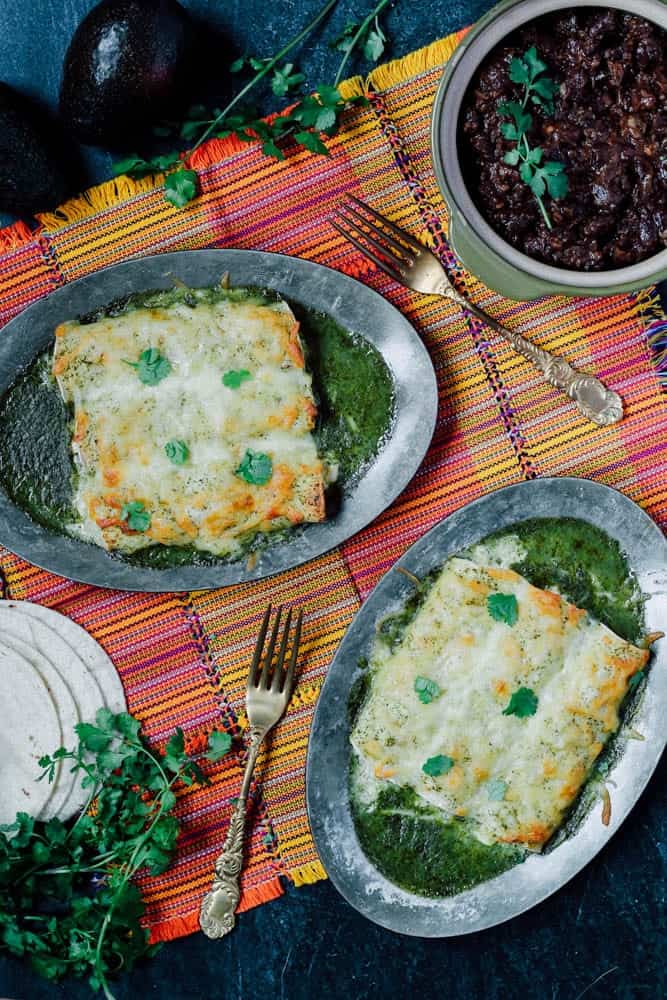 Chicken enchiladas were one of the first savory items I ever made for him that got that reaction. I researched a variety of different recipes before piecing them all together to land on this one.
As soon as I saw cream cheese in one recipe I thought that must stay! I then switched to chicken thighs where many use breasts mostly because Chris and I prefer dark meat, but I really like to cook with them in anything with a long oven cook time. Chicken breasts can just dry out so much.
But every recipe I came across used a canned enchilada sauce. Now I'm not judging as I clearly use a canned sauce in my recipe. It's a great starting place, but what I craved was the creamy restaurant style green sauce that so many taquerias in my hometown of Corpus Christi, TX served. I had tried to get the same result with sour cream as many creamy-style recipes include it, but I could never get the texture just right. The recipe below is the result of several tries, and I personally think it was totally worth all the effort.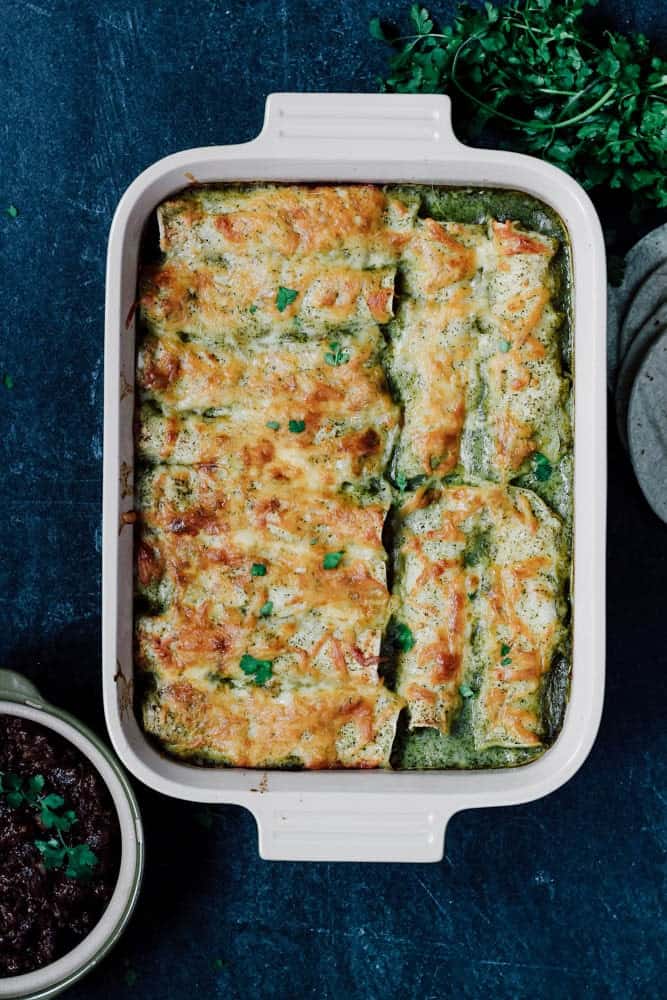 If you're not a big fan of cilantro, feel free to omit the bunch from the sauce. I love cilantro. I think it's my south Texas background, but I can literally eat it by the handfuls like a salad. But Chris only likes it in mild doses, and he loves this sauce recipe. I encourage you to try the recipe with the cilantro before ruling it out, but the final product will still be super tasty without it.
During the summer, I love to serve these enchiladas with a simple side of sliced avocado and tomato seasoned with salt and pepper and pinto beans. I call these my Weeknight Pinto Beans as they can be made in less than 30 minutes and pack a great punch for how little work they are. I can't wait to hear what you guys think of this recipe! Please let me know how it goes below.
Helpful Utensils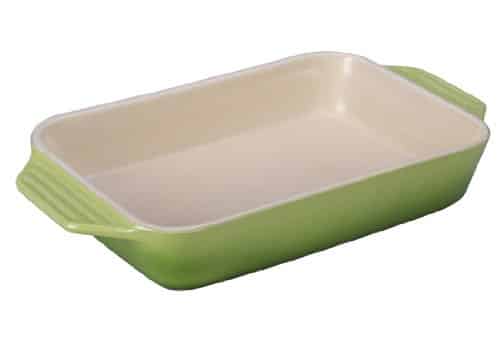 This dish is a regular on my family's dinner table. It's a great dish for savory items like these enchiladas but also for baking all types of sweets like bars and brownies. There are also tons of different color options available. I really believe that Le Creuset Stoneware provides some of the best heat distribution that you can find. This dish can also be found on my Kitchen Essentials page.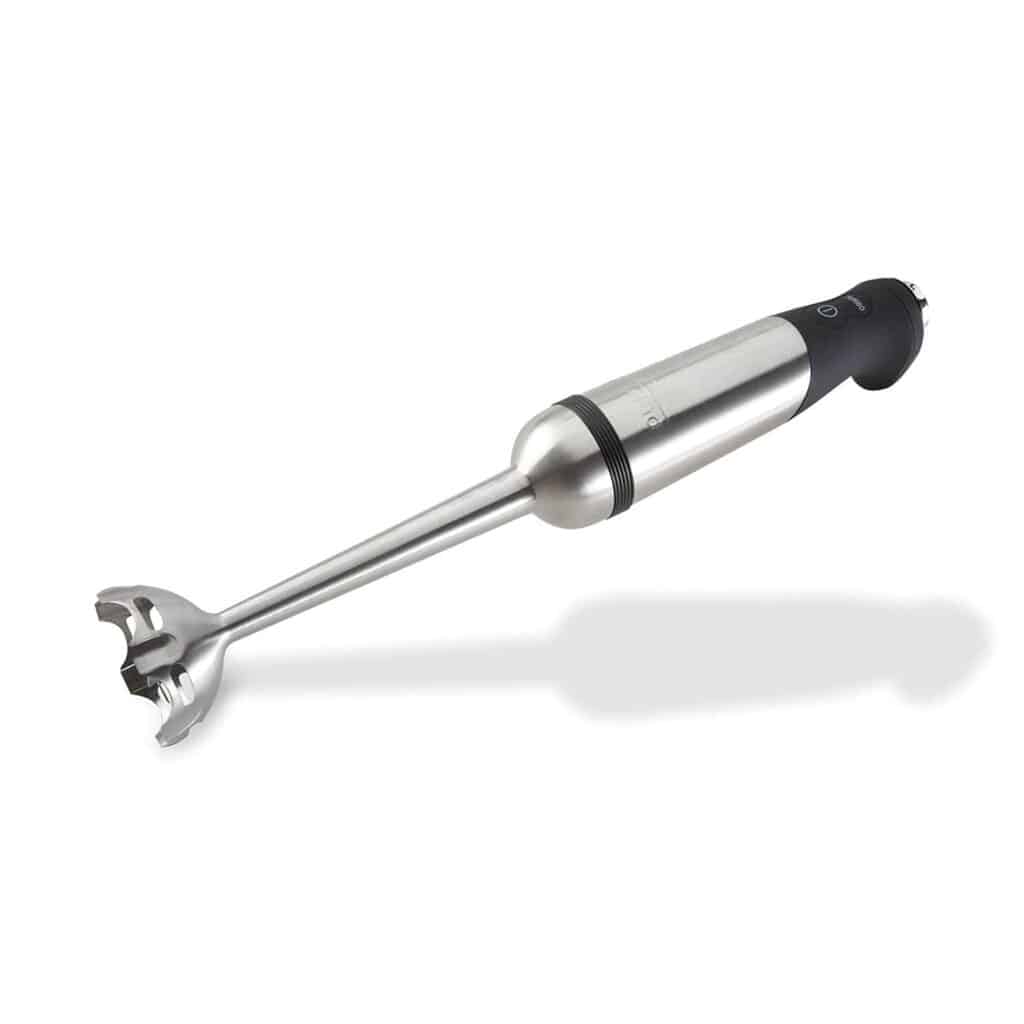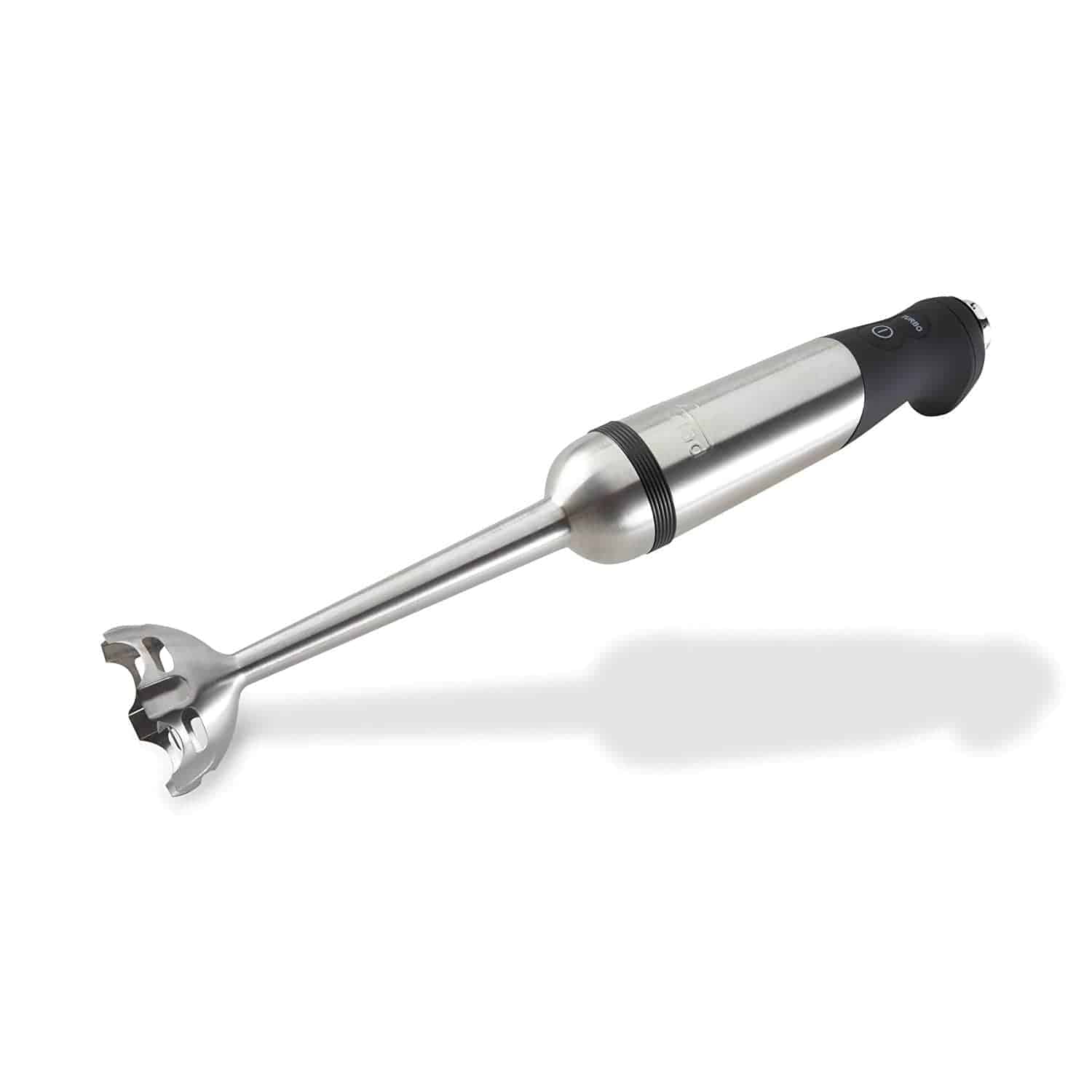 This recipe is the perfect example of when an immersion blender is super handy. An immersion blender makes blending the cilantro into the hot green enchilada sauce a breeze. Any kind of hot soup or sauce that needs to be blended is easily handled by this piece of equipment. I feature it on the Kitchen Essentials page for just that reason.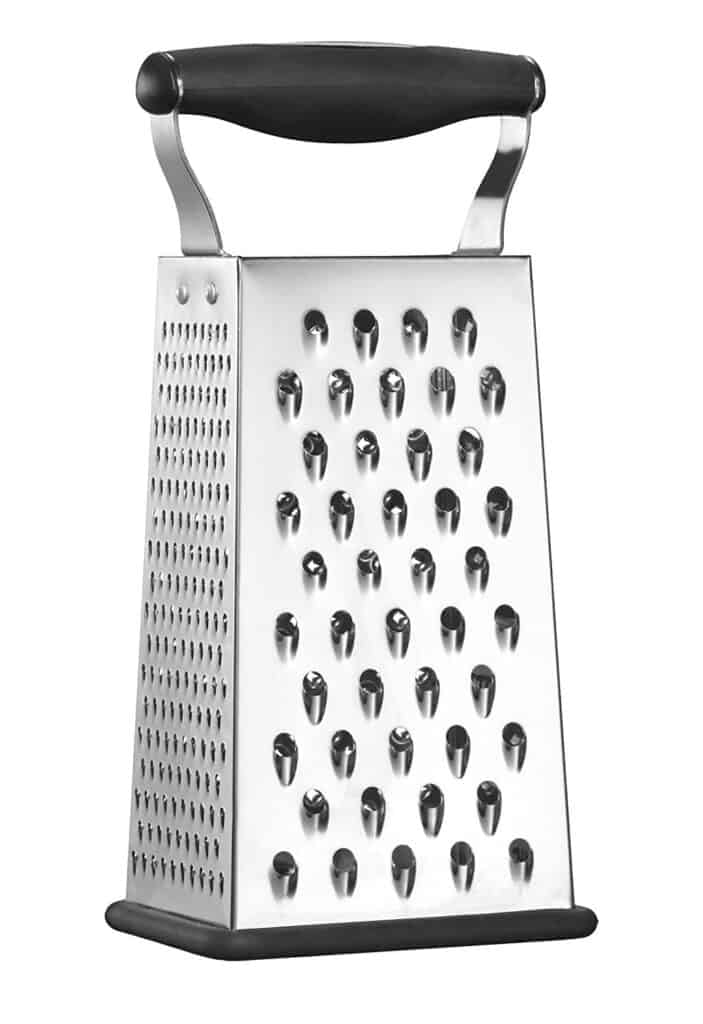 Cheese that is freshly grated from the block is hands-down so much better than the stuff you buy already grated. I'm guilty of using it when in a serious time crunch, but if you have five extra minutes in your life, it's worth grating your own cheese for the ultimate ooey-gooey melt.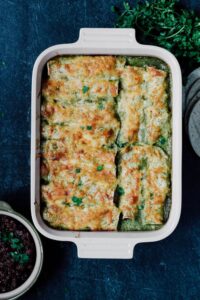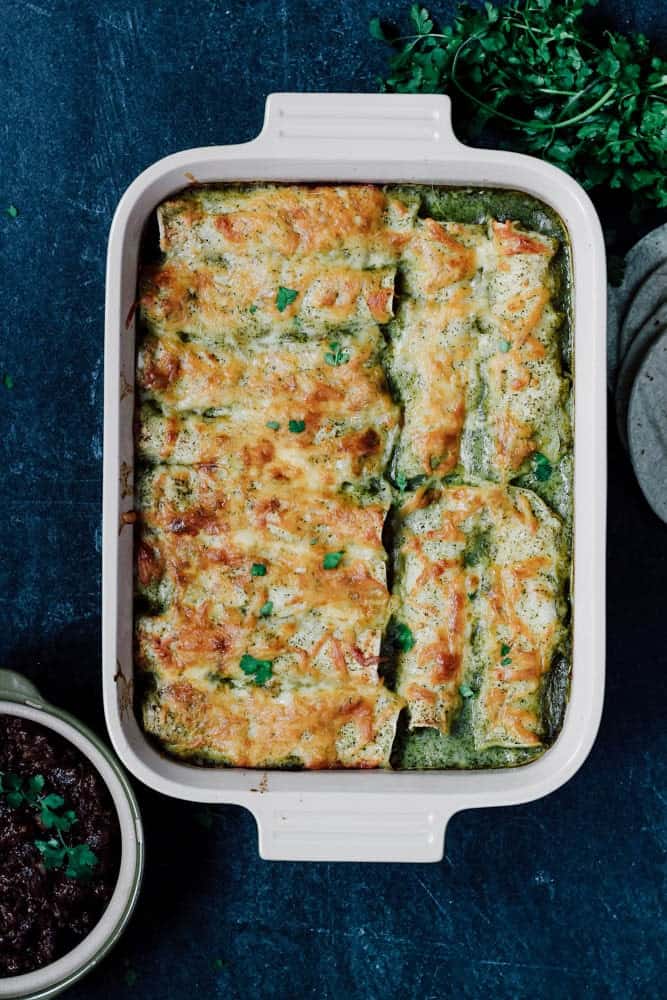 Green Chicken Enchiladas
Green Chicken Enchiladas made with a filling from cream cheese, chicken thighs and shredded jack cheese and then smothered in a scratch-made green sauce. The green sauce is packed with fresh cilantro for a bright, authentic flavor. This recipe can easily be made ahead for an easy weeknight dinner.
Ingredients
1

lb

boneless skinless chicken thighs

2

Tb

olive oil

1

onion

2

Tb

flour

2

tsp

salt

divided

1/2

tsp

garlic powder

1/4

tsp

dried oregano

1/2

tsp

cumin

3/4

tsp

black pepper

divided

1

bunch cilantro

2

C

chicken stock

10

oz

can green enchilada sauce

4

oz

can diced green chiles

12

oz

Monterrey jack cheese

grated

8

oz

cream cheese

18

white corn tortillas
Instructions
Preheat oven to 375 degrees. Season chicken thighs with cumin, oregano, 1 and 1/2 tsp salt, and 1/2 tsp pepper. Bake for 20 minutes and set aside to cool. Lower oven heat to 350 degrees. Prepare a 9×13 baking dish with cooking spray.

Peel 1 onion, half and dice into 1/4-inch pieces. Add 2 Tb of olive oil to a medium saucepan and heat over medium heat. Add the onion and saute until softened or about 5 minutes. Once softened remove half of the onion and put in a large mixing bowl. Set aside. Add 2 Tb of flour to the remaining half onion in the pan. Cook, stirring constantly for about 2 minutes or until flour starts to smell slightly nutty and there is no visible white flour in the pan.

Add chicken stock. Add 2 Tb of the enchilada sauce to onions in the mixing bowl and pour the rest into the saucepan. Bring to a boil. Boil for 5-6 minutes or until thickened slightly. Add 1 bunch of cilantro and puree with an immersion hand blender or add to a blender. If you're adding to a blender be very careful! Place a dishtowel over the blender and hold down firmly so steam doesn't send the lid flying and hot sauce everywhere.

Dice cooled chicken. Add any accumulated juices from the chicken, a 4oz can of green chiles, and 8oz cream cheese to the onion. Add 1/2 tsp salt, 1/4 tsp pepper, and diced chicken. Mix well to combine. Fold in half of the grated cheese.

Put a cast iron skillet or a flat top griddle on medium-high heat. In batches, heat the tortillas to make them pliable for rolling enchiladas which should only take about 30 seconds per side. As soon as you remove from stove, stuff each enchilada with about 1/4 cup of the filling. Roll tightly and place seam side down in a prepared baking pan. It will take approximately 12 enchiladas to fill the pan. Top with 2C of your prepared enchilada sauce and the remaining half of the grated cheese.

You will have leftover sauce and filling. The sauce is great on really any kind of protein for the next week. The filling makes amazing quesadillas or flautas. Or you can use all of it to prepare a small extra pan of enchiladas for a friend or coworker who is certain to be a great friend after they eat these enchiladas.

Bake for 45 minutes at 350 degrees or until golden brown. Enjoy immediately!
The following two tabs change content below.


Hey-ooo! I'm Hailey, and I'm a number cruncher by day and cussing cook by night. I created this site to share my love for delicious food that feeds the soul as well as the belly. I hope my recipes have you running to the kitchen to cook some damn good grub!