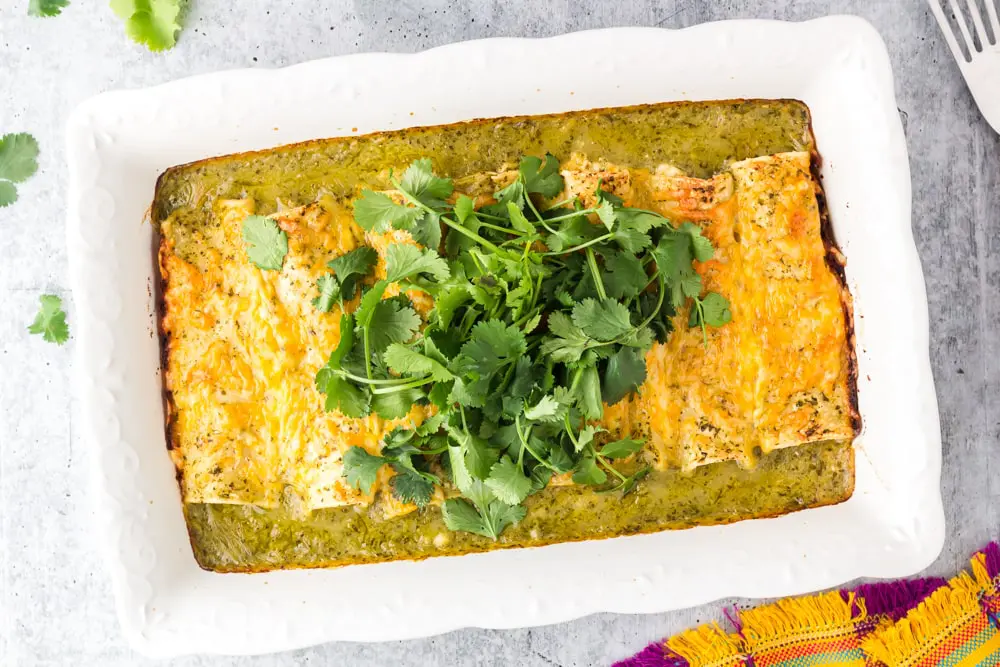 Green Chicken Enchiladas with Cream Cheese are easily one of my favorite recipes on the blog. Corn tortillas are filled with a delicious mixture of spiced chicken, cream cheese (uh yea…I said cream cheese!!), shredded cheddar, and sauteed onions before being smothered in a homemade enchilada sauce.
The ingredients and techniques required are simple, but the finished dish is nothing short of incredible.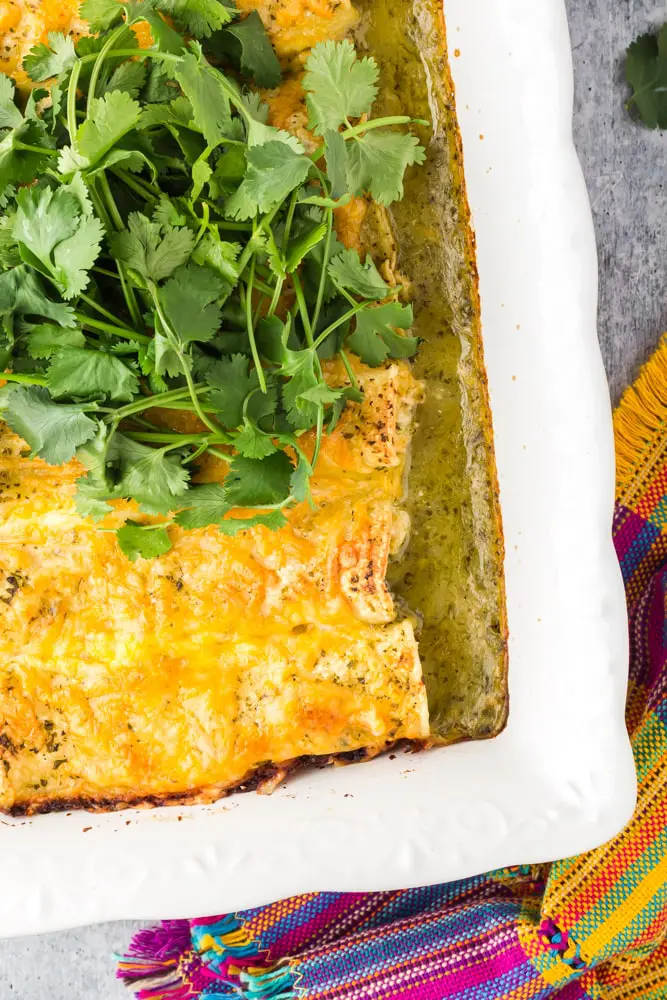 If you have never had Chicken Enchiladas with Cream Cheese, I am about to change your life.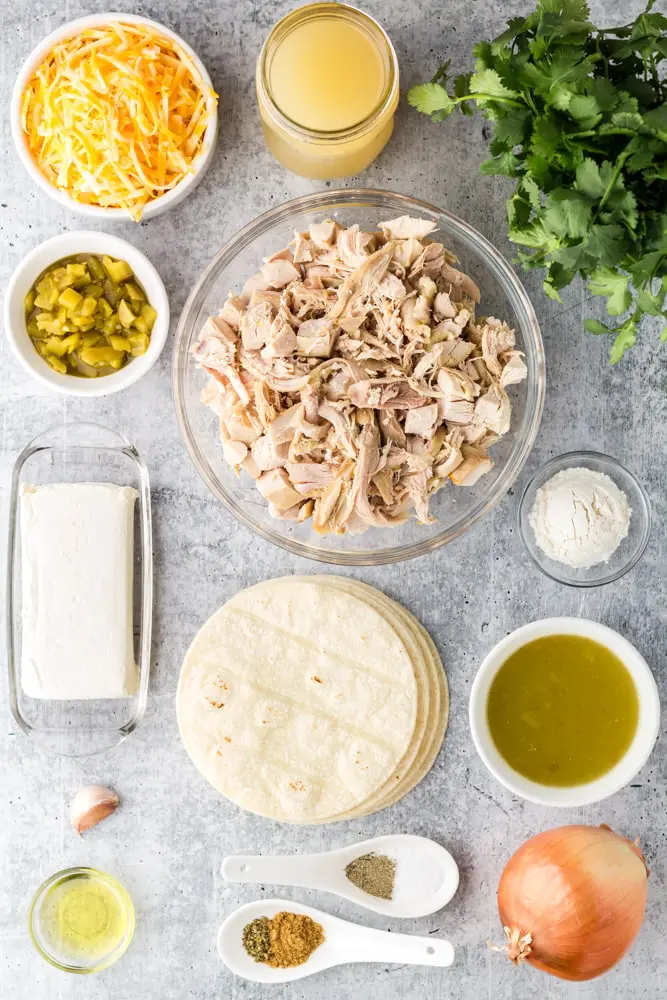 The tangy flavor and creamy texture of cream cheese is the perfect start to enchilada filling. Cream cheese works so well in enchiladas that you'll ask yourself why you never thought of including it before!
Can chicken breast be substituted?
Chicken breast can easily be used in this recipe. I've made Green Chicken Enchiladas before using boneless skinless chicken breast when I'm feeding people who prefer white meat only. Just season the chicken breast with the same spices listed in the recipe before baking and cook at 375 degrees for approximately 20 minutes. Allow the chicken to cool completely before cutting.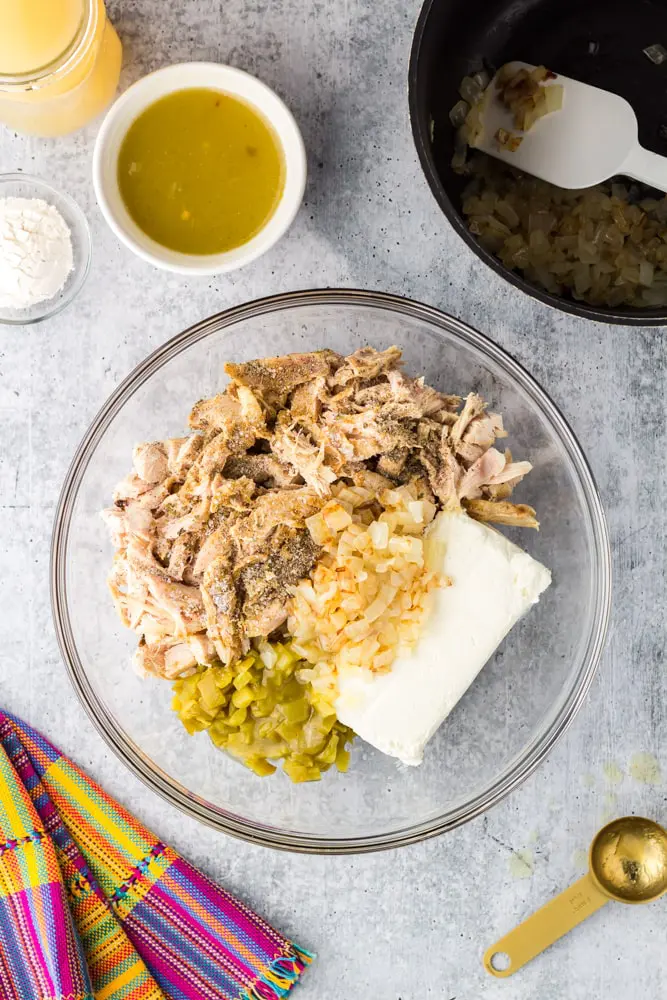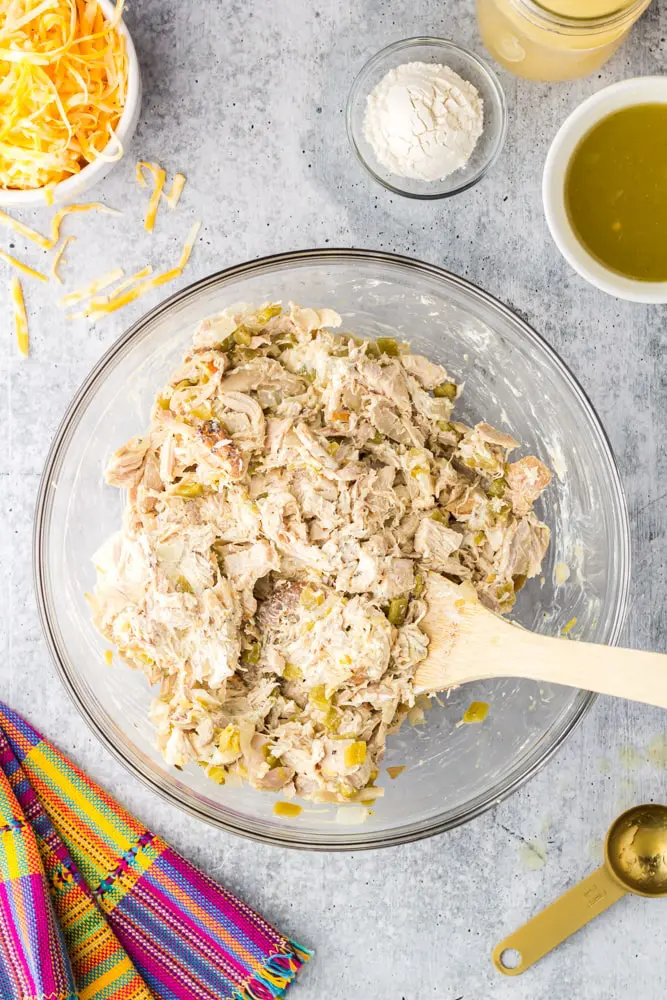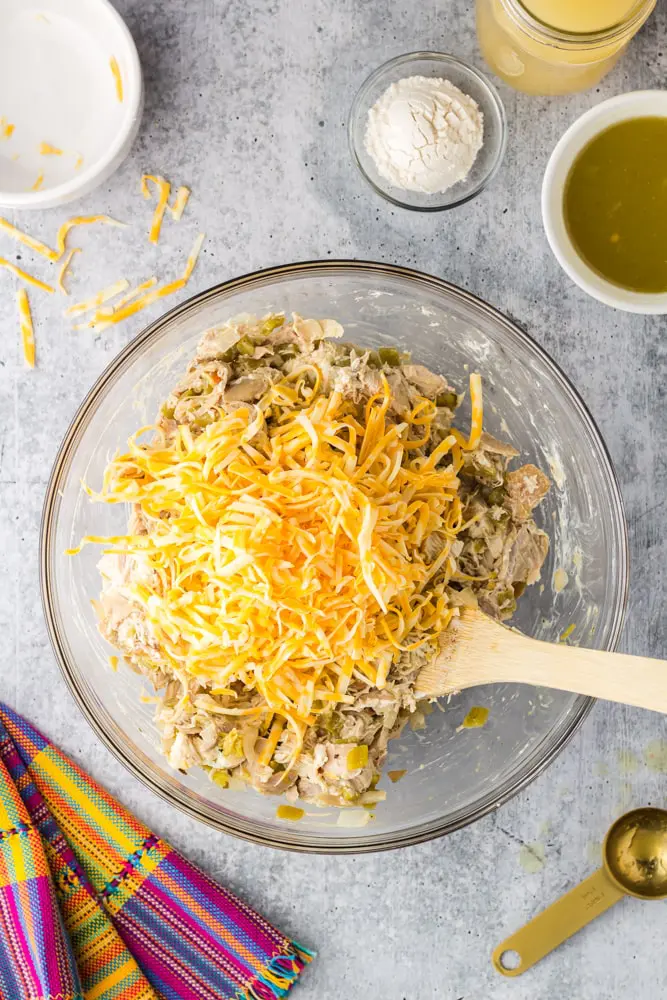 Can flour tortillas be used in Green Chicken Enchiladas?
This is a no. Enchiladas are not enchiladas with flour tortillas. They also tend to become gummy when soaked in a liquid. I don't like when my enchiladas stick to the roof of my mouth, so I only recommend corn tortillas when making Green Chicken Enchiladas.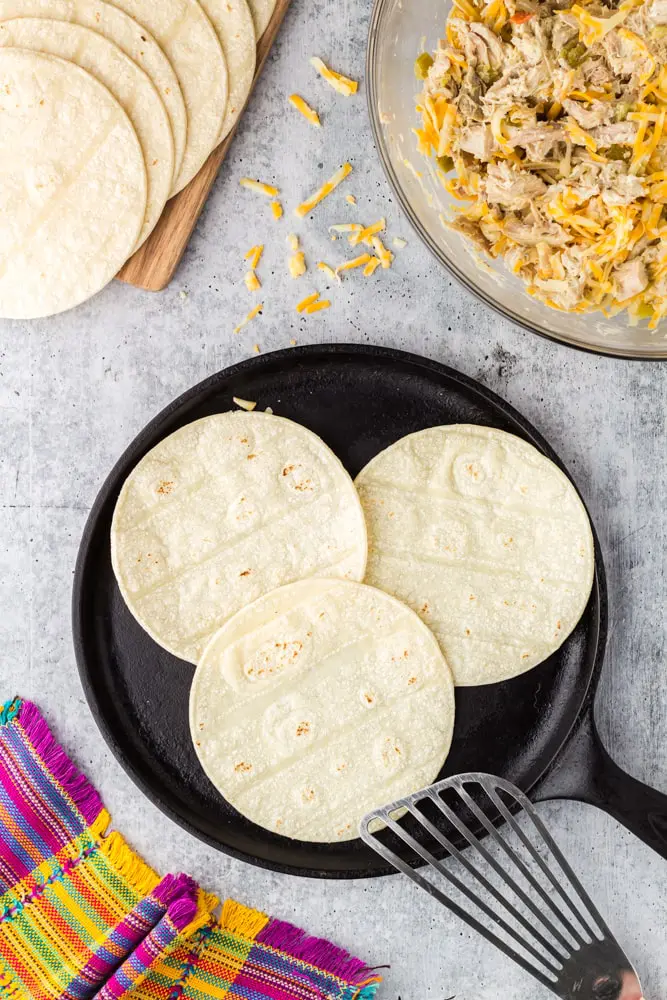 Is the recipe good without cilantro?
If you're not a fan of cilantro, feel free to omit it from the recipe. I think it's my south Texas roots, but I can literally eat it by the handfuls like a salad. I encourage you to try the recipe with the cilantro before ruling it out, but the final product will still be super tasty without it.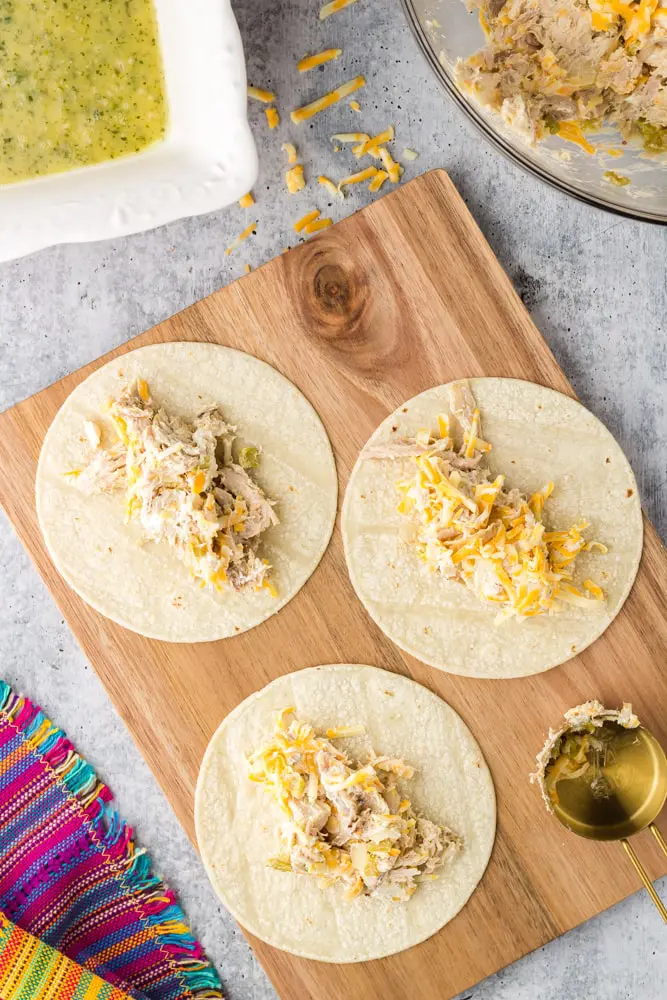 Can the enchilada sauce be made without special equipment?
You can easily make the sauce without a blender. You'll just want to take the time to finely mince the cilantro before adding it the sauce. Also, be sure to whisk the sauce well to ensure there are no lumps in the finished sauce.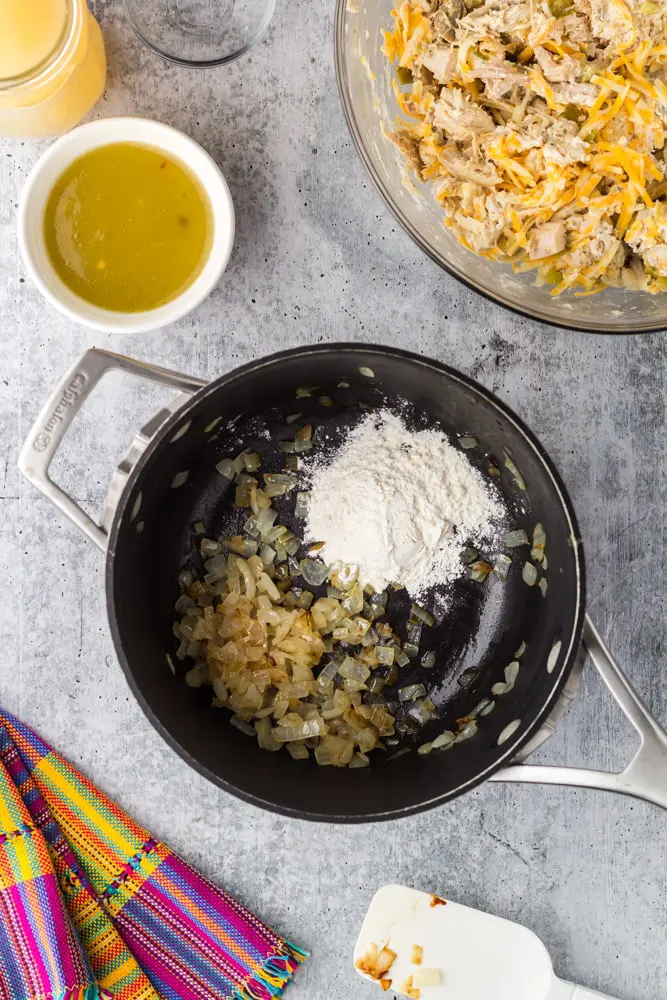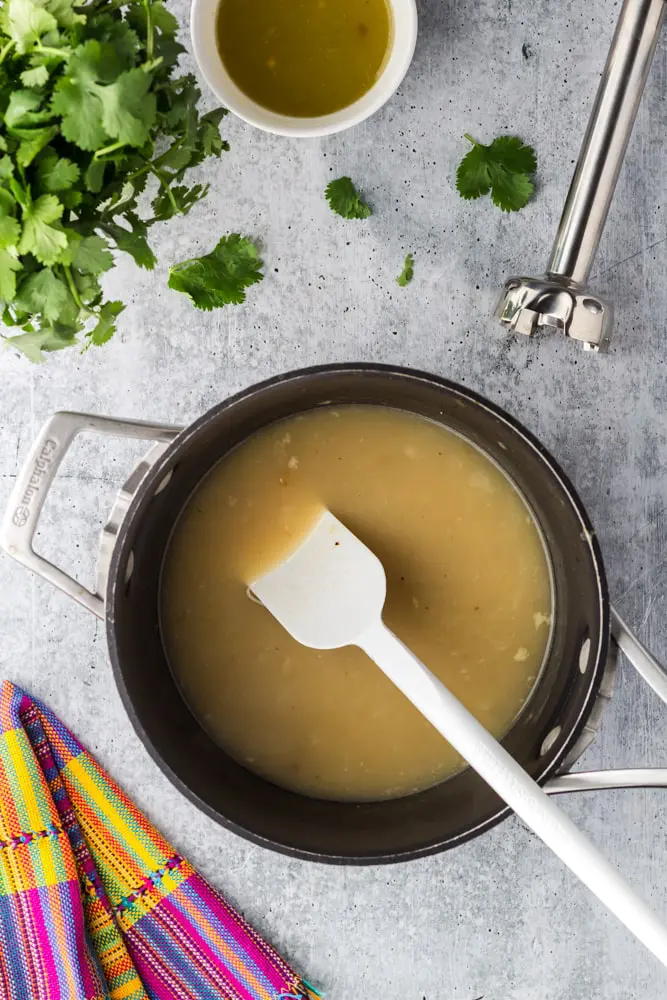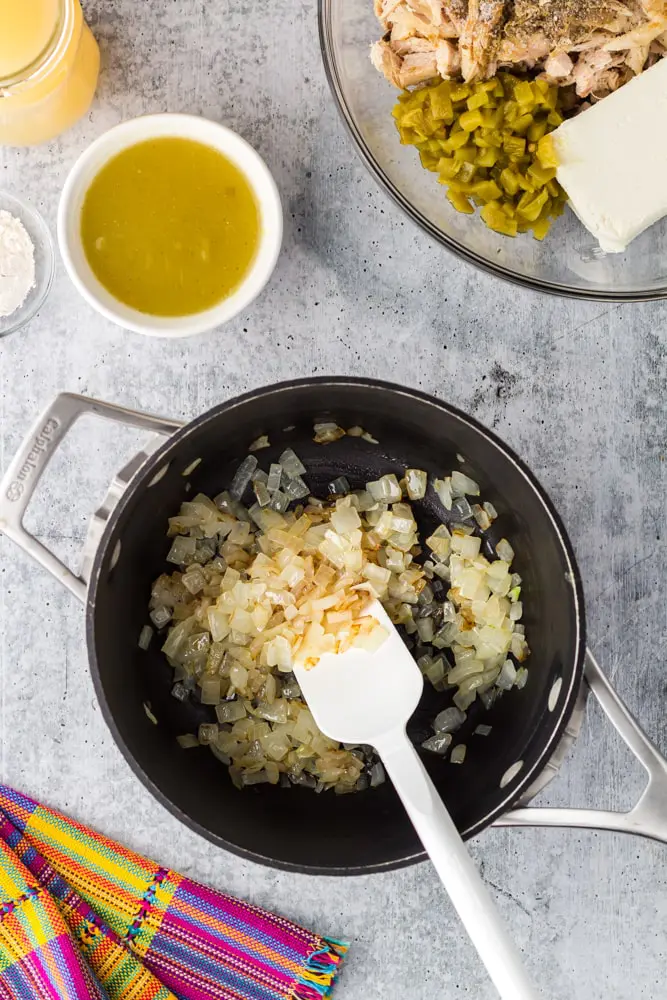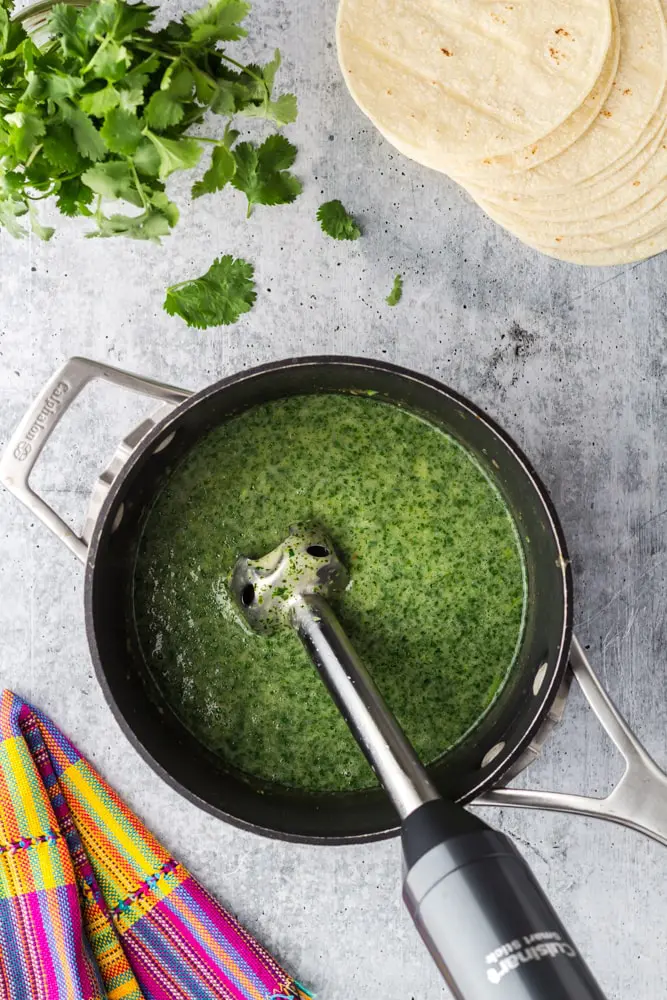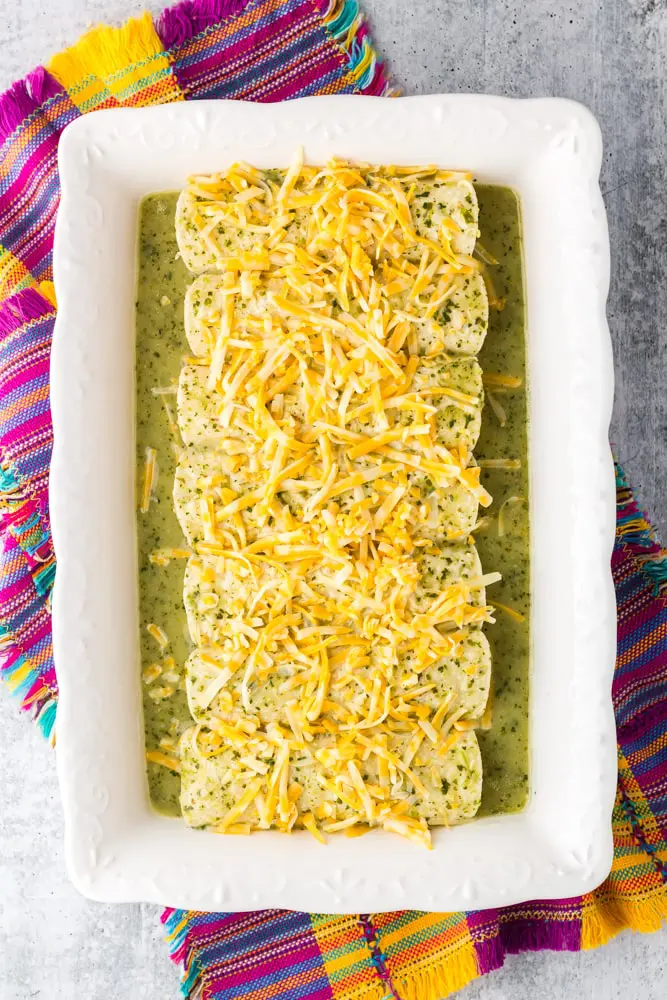 What to serve with Green Chicken Enchiladas?
Refried Beans are a natural side dish with Green Chicken Enchiladas with cream cheese. I have a recipe on the blog that I love. Check it out here. You also can't go wrong with chips and dip, whether that's queso or guacamole.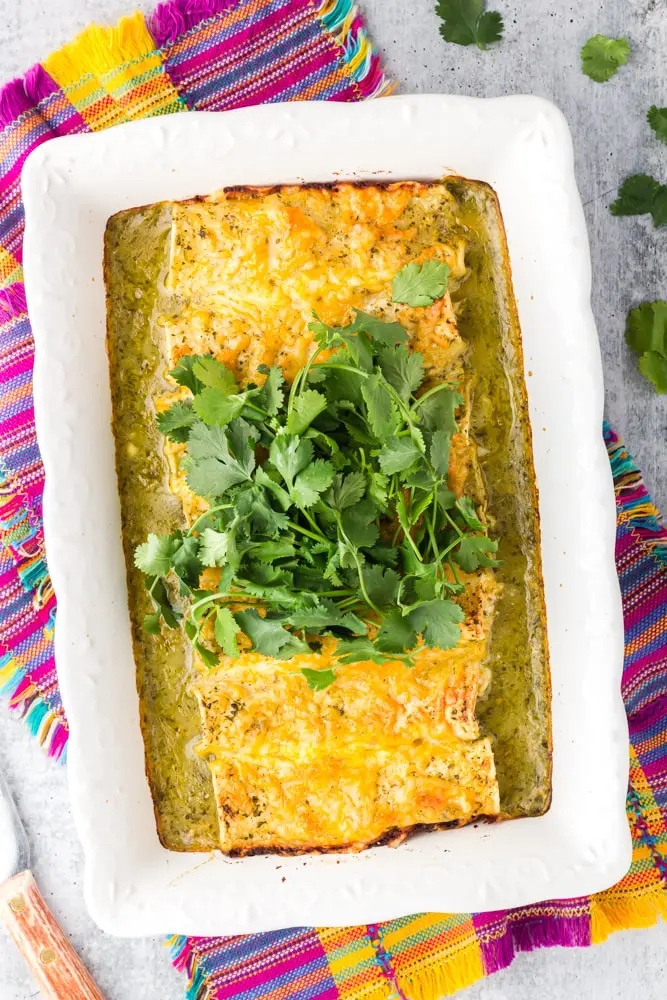 I hope you get a chance to try out my Green Chicken Enchilada recipe. Chicken Enchiladas with cream cheese are guaranteed to brighten up any day.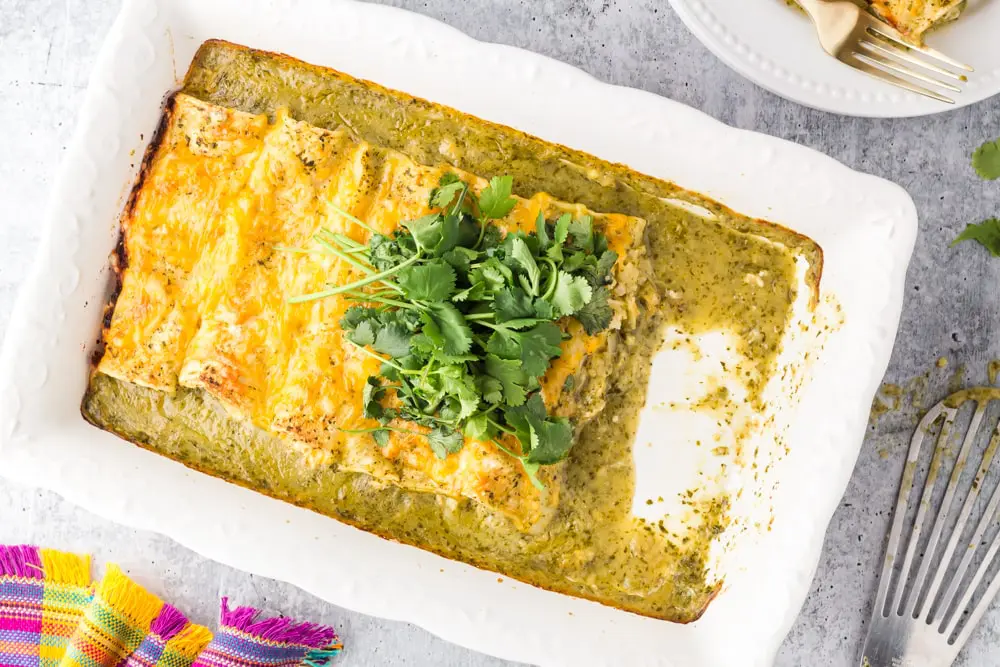 Helpful Utensils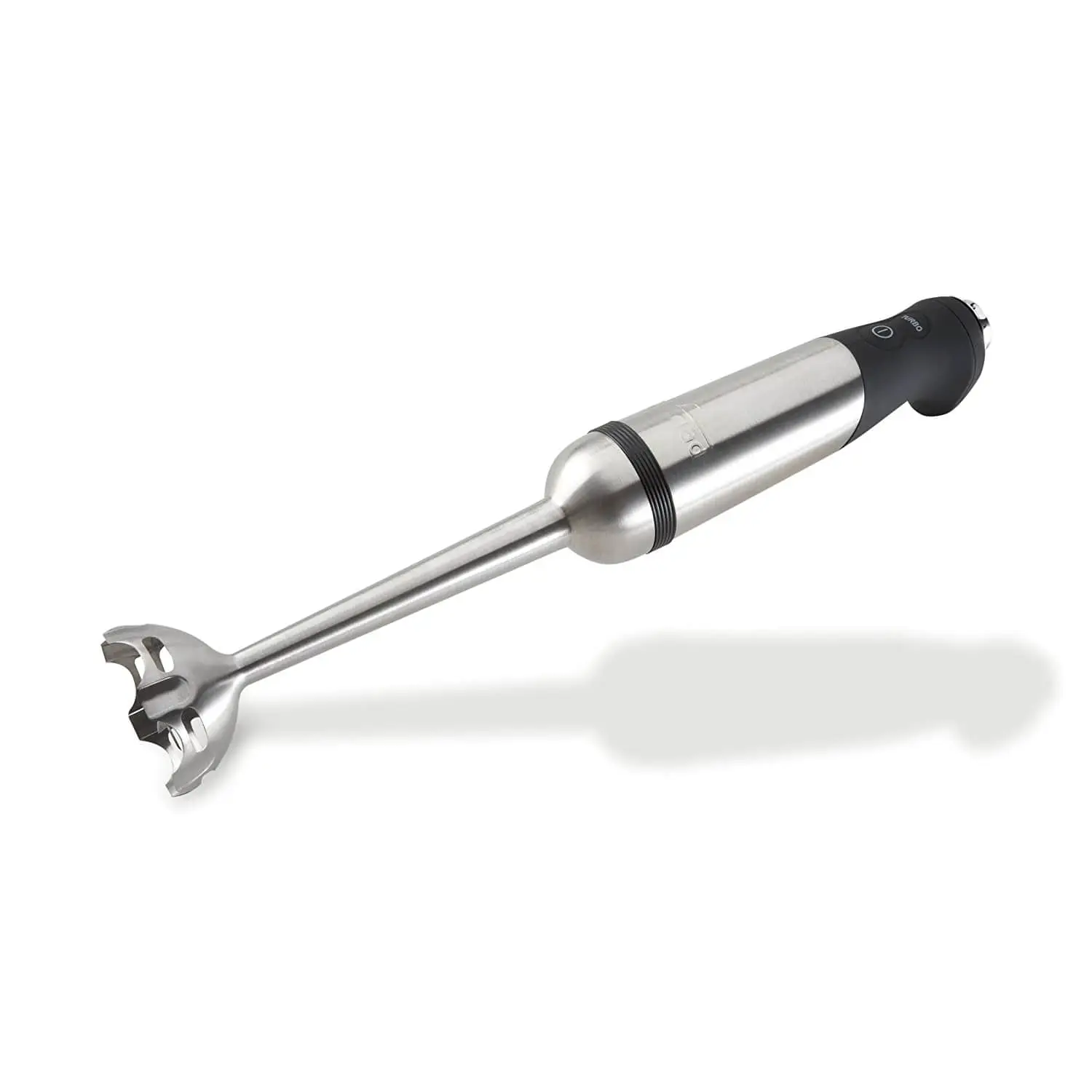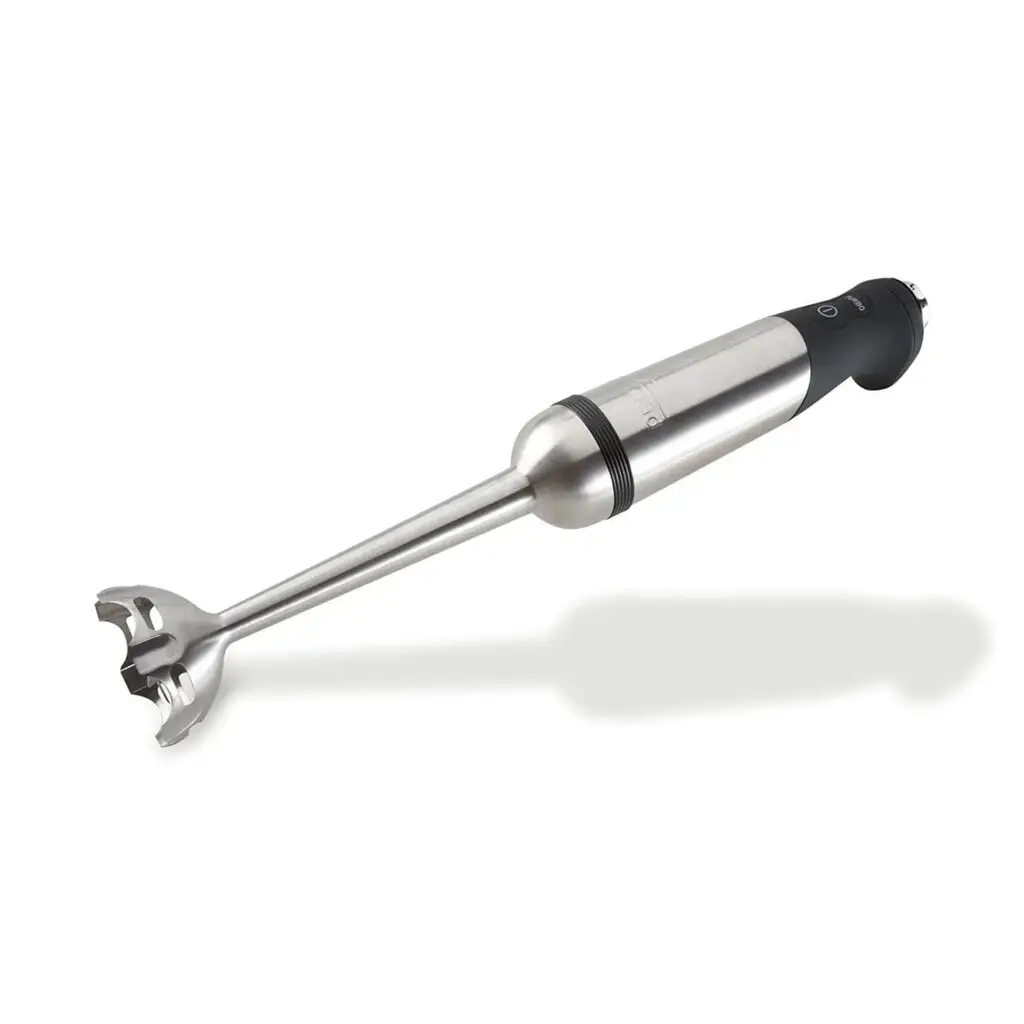 An immersion blender makes blending sauces in the pan easy and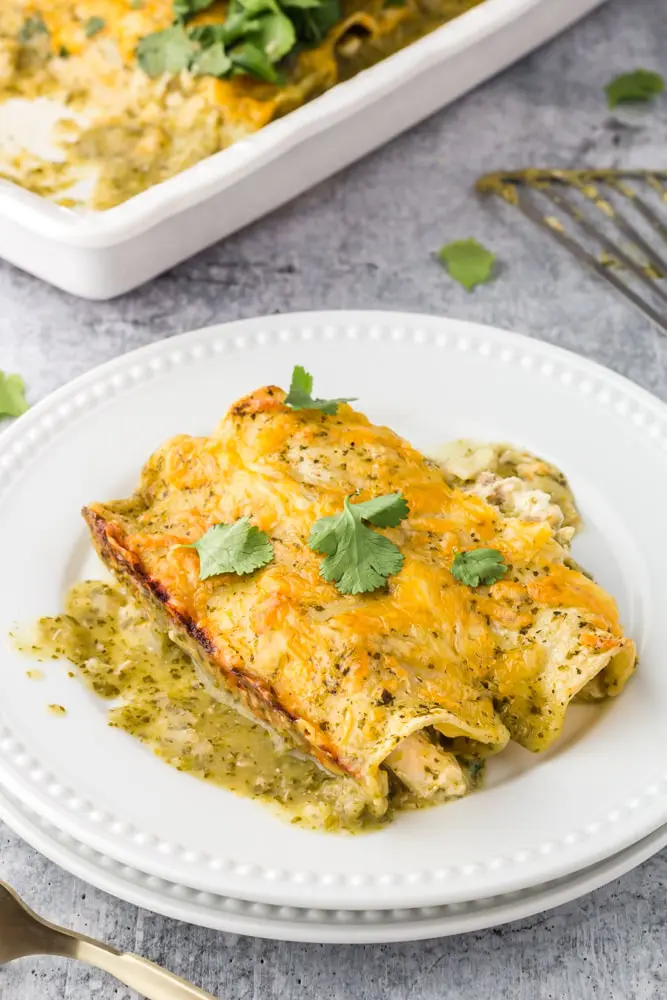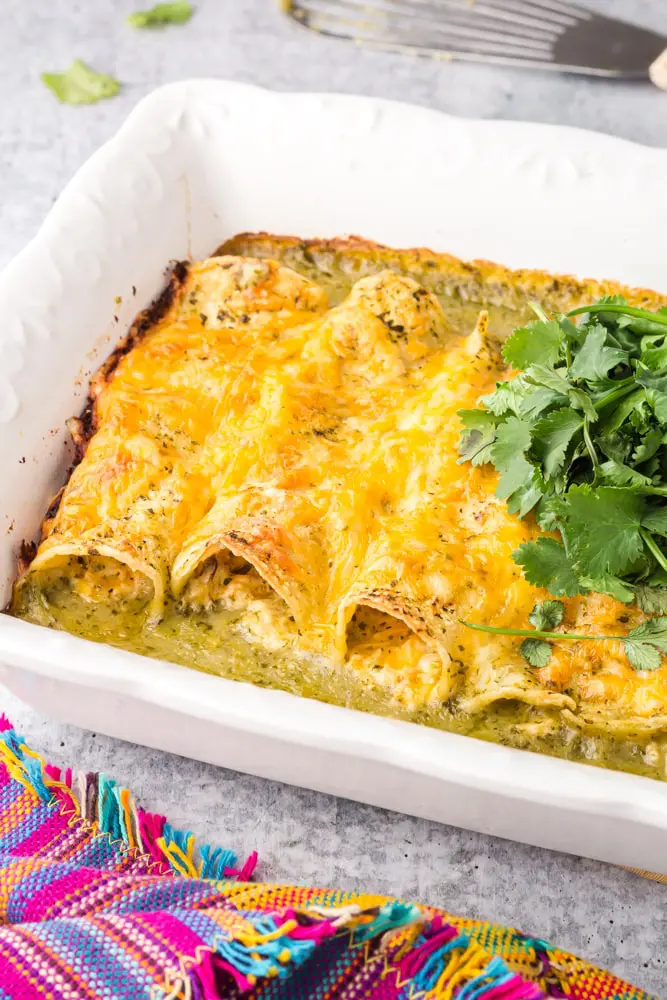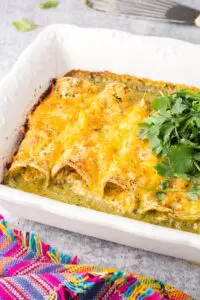 Green Chicken Enchiladas with Cream Cheese
Green Chicken Enchiladas with cream cheese are creamy, cheesy and delicious. These Tex-Mex enchiladas are made with rotisserie chicken and smothered in a homemade green enchilada sauce.
Ingredients
1

rotisserie chicken

skin and bones removed and pulled

2

Tb

olive oil

1

onion

2

Tb

flour

½

tsp

salt

½

tsp

garlic powder

¼

tsp

dried oregano

½

tsp

cumin

½

tsp

black pepper

1

bunch cilantro

2

C

chicken stock

10

oz

can green enchilada sauce

4

oz

can diced green chiles

12

oz

colby jack cheese

grated

8

oz

cream cheese

18

white corn tortillas
Instructions
Preheat oven to 375 degrees. Prepare a 9x13 baking dish with cooking spray.

Season the pulled rotisserie chicken with cumin, oregano, ½ tsp salt, and ½ tsp pepper.

Dice the onion into ¼-inch pieces. Add 2 Tb of olive oil to a medium saucepan and heat over medium heat. Add the onion and saute until softened or about 5 minutes.

Add half the cooked onions to a large mixing bowl and leave the rest in the saucepan. Set the saucepan aside.

Add 2 Tb of the enchilada sauce to onions in the mixing bowl and reserve the rest. Add the green chiles, cream cheese, and pulled chicken. Mix well to combine.

Grate the cheese from the block. Add half to the chicken mixture and reserve the rest for on top.

Add 2 Tb of flour to the remaining half onion in the pan. Cook over medium heat, stirring constantly for about 2 minutes.

Pour the chicken stock and the remaining enchilada sauce into the saucepan. Bring to a boil. Boil for 5-6 minutes or until thickened slightly.

Add 1 bunch of cilantro and puree with an immersion hand blender or add to a blender. Season with salt to taste.

If you're adding to a blender be very careful! Place a dishtowel over the blender and hold down firmly so steam doesn't send the lid flying and hot sauce everywhere.

Put a skillet or griddle on medium heat. In batches, heat the tortillas to make them pliable for rolling enchiladas which should only take about 30-60 seconds per side.

As soon as you remove it from the stove, stuff each enchilada with about ¼ cup of the filling. Roll tightly and place seam side down in a prepared baking pan. T

Top the enchiladas with enough enchilada sauce to come halfway up the enchiladas. Top with the remaining half of the grated cheese.

Bake for 45 minutes at 350 degrees or until golden brown. Let the enchiladas sit for at least 5 minutes before serving.

A 9" x 13" baking pan will comfortably hold 12 enchiladas. This recipe makes two 9" x 13" casseroles of enchiladas. The casserole freezes and reheats well.
FREQUENTLY ASKED QUESTIONS
Can chicken breast be used instead of rotisserie chicken?
Yes. Just season the chicken the same way but bake it at 375 degrees for 20-25 minutes, allow it to cool and then chop before adding to the filling.
Can I omit the cilantro?
Yes, but the recipe is best with the cilantro.
Can I use pre-shredded cheese instead of grating myself?
Yes, but the block cheese melts better and makes for a more gooey cheesy enchilada.
I don't have an immersion blender. Can I make the sauce?
Yes. You'll want to finely chop the onion and finely mince the cilantro. The sauce will have a bit more rustic texture but will taste just as good.
Can the recipe be made ahead of time?
Yes, but it is best to bake right before serving. It can be assembled and stored covered in the fridge for up to three days before baking.
The recipe makes two casseroles. Can one be frozen?
Yes before being baked. Be sure to seal it well with plastic wrap and foil. Allow the casserole to completely thaw before baking. It will keep in the freezer for up to 3 months.
The following two tabs change content below.

Hey-ooo! I'm Hailey, and I'm a number cruncher by day and cussing cook by night. I created this site to share my love for delicious food that feeds the soul as well as the belly. I hope my recipes have you running to the kitchen to cook some damn good grub!