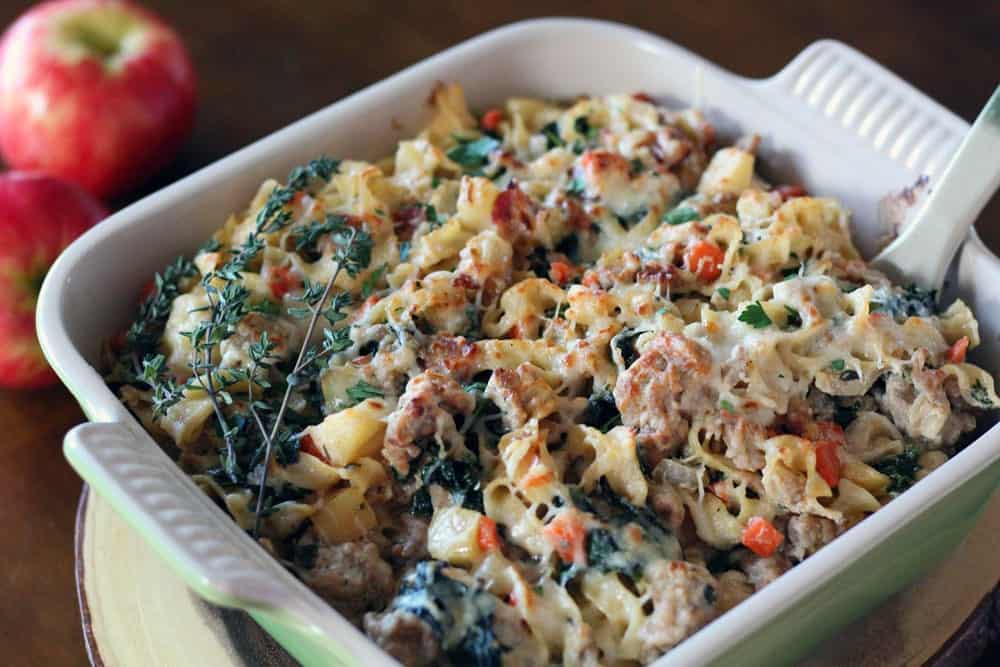 Pork and Apple Pasta Bake combines ingredients you know and love in a way you've probably never had before. You may be thinking apple and pasta, WTF? But really this combination is amazing. Pork chops and apples are a classic combination and this dish builds on those salty and sweet flavors with the earthy vegetables making it an epic party in your mouth.
So what makes this pasta dish so unique? There is a lot that is special about this recipe, but the use of apple cider for the base of the pasta sauce is what makes this so cool! You might think that the apple cider would be too sweet, but I was sure to balance out the sugar in the cider with other ingredients.
You will taste tons of apple flavor without being overwhelmed by sweetness.
To balance out the cider, I've cut it with half chicken stock. This ensures that flavor of the sauce reads as savory. I've also added one of my favorite ingredients of all time…cream cheese! Those of you who follow all of my recipes are probably thinking this bitch needs cream cheese rehab, but it really is perfect in this sauce.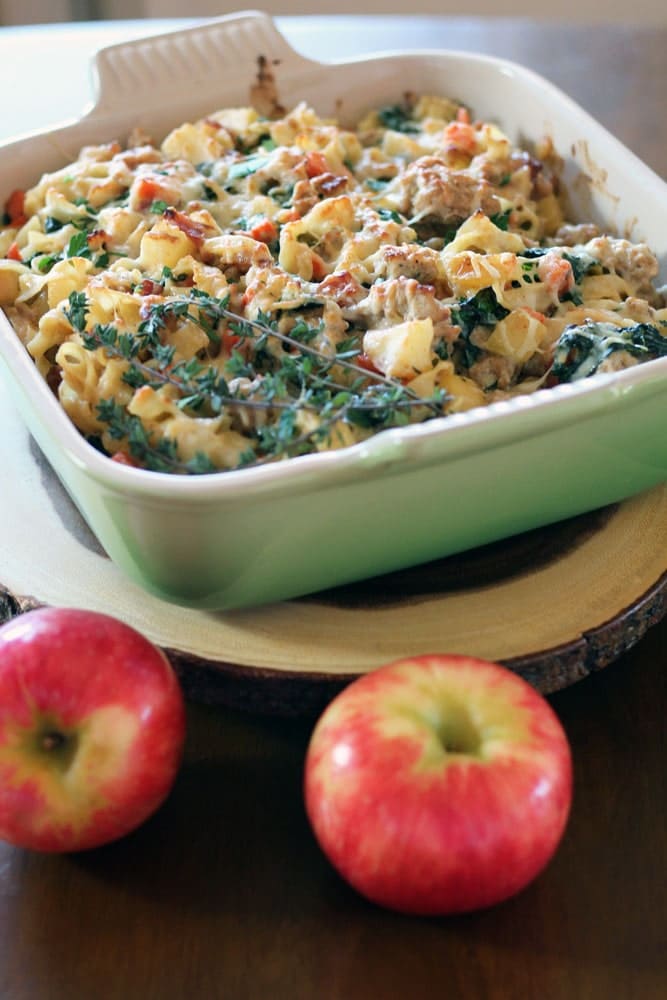 The cream cheese brings the creaminess to the sauce without the addition of heavy cream and the tang is perfect with the sweet notes from the cider. I also season the sauce with some thyme to provide an herbaceous note that helps bring up the earthy flavors in the sauce.
Bacon is also a key ingredient in the recipe. Bacon and cream cheese…seriously what could possibly go wrong here? Bacon was an ingredient I added after trying out this recipe for the first time. The sauce needed more of a smoky, dark flavor to balance all the brightness from the apple, le, on and thyme. Just a little bit of bacon was all that was needed to bring the perfect balance to this dish.
I also love this recipe because it's a one-pot dish (if you ignore the need for a pot to boil pasta but come on…you don't even really have to clean that pot).
I built this recipe to be about layering flavors. Each ingredient is added in a certain order to ensure that each is cooked perfectly at the end and that the combination of all the ingredients is harmonious and more importantly, tasty.
The bacon is the first addition so that it can permeate the entire dish. I also add a variety of dry spices early in the recipe so that they really penetrate the ground pork and vegetables. You could easily substitute pork loin for ground pork if you prefer. Even leftover roasted pork tenderloin would work perfectly. Honeycrisp apples and kale are the last addition before starting the sauce so that they keep some of their crisp texture and bright, fresh flavor.
Not only is this recipe essentially a one-pot recipe, but it also makes an awesome make-ahead.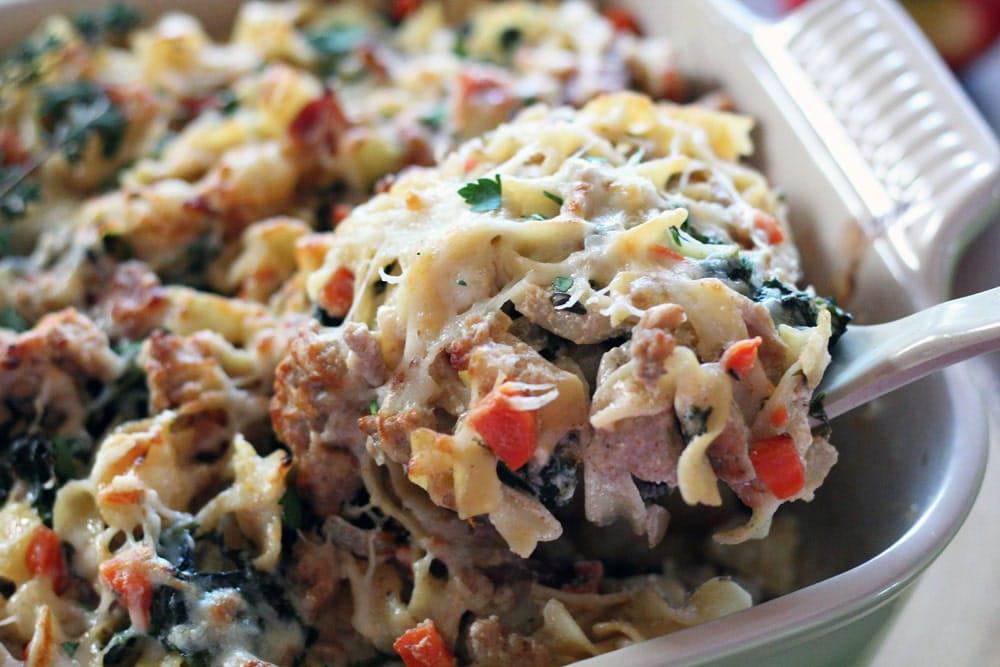 The entire recipe takes about 45 minutes to prepare so it wouldn't be out of bounds to make and eat it right away on a busy weeknight. If you're a weekend prepper like I am though, you can easily pour the prepared recipe into a casserole dish and reheat when you're ready to have a pig and pasta party!
Pork and Apple Pasta Bake is a crowd-pleasing recipe. Kids will definitely gobble it up. I made this dish for my young nieces, and they loved it. It's also inexpensive to prepare and will feed a big crowd or give you plenty of leftovers. Basically, there are tons of reasons to love this recipe, especially how tasty it is! Try it out and you'll see. Let me know what you think in the comments section please.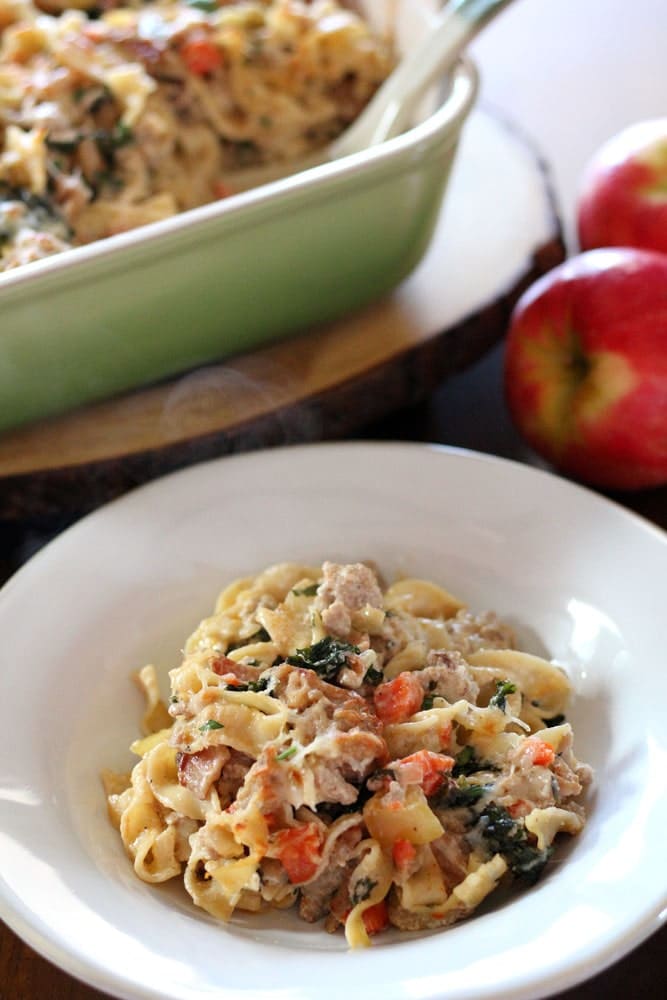 Helpful Utensils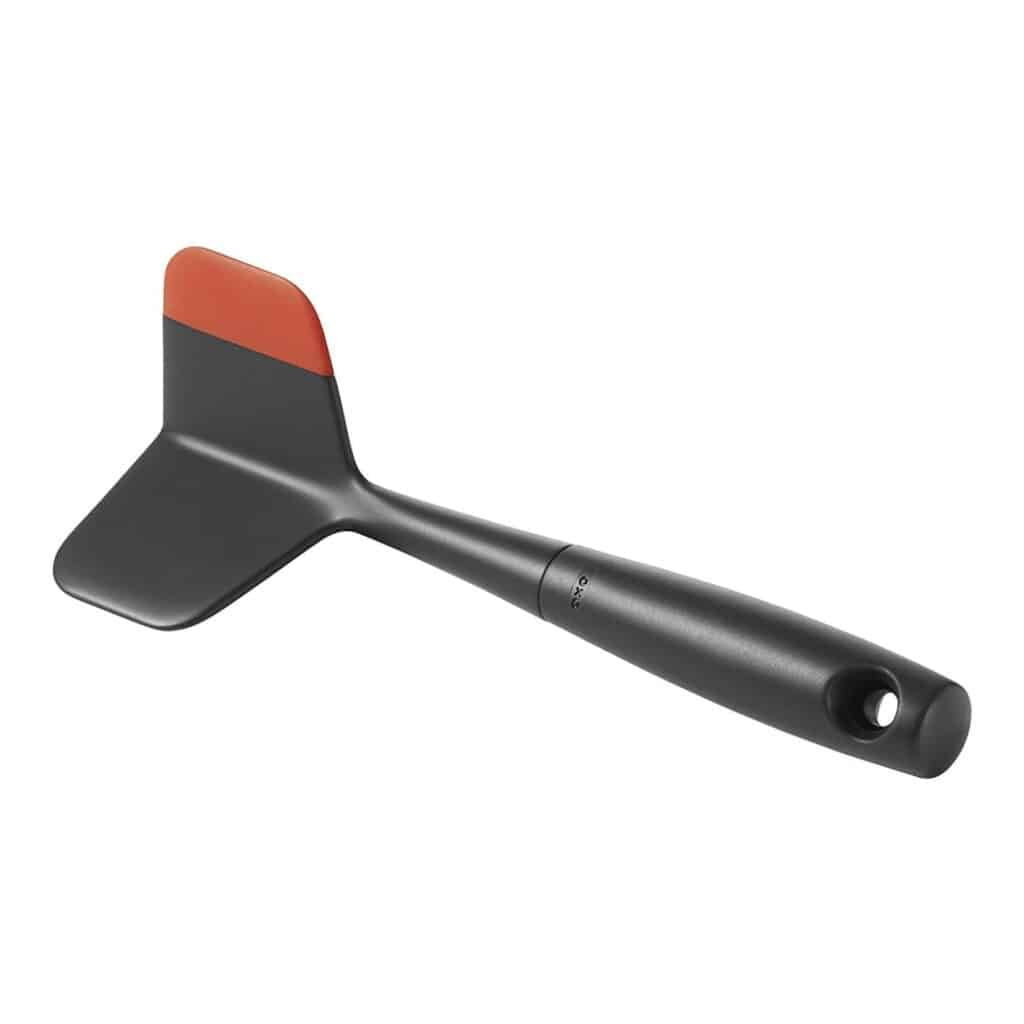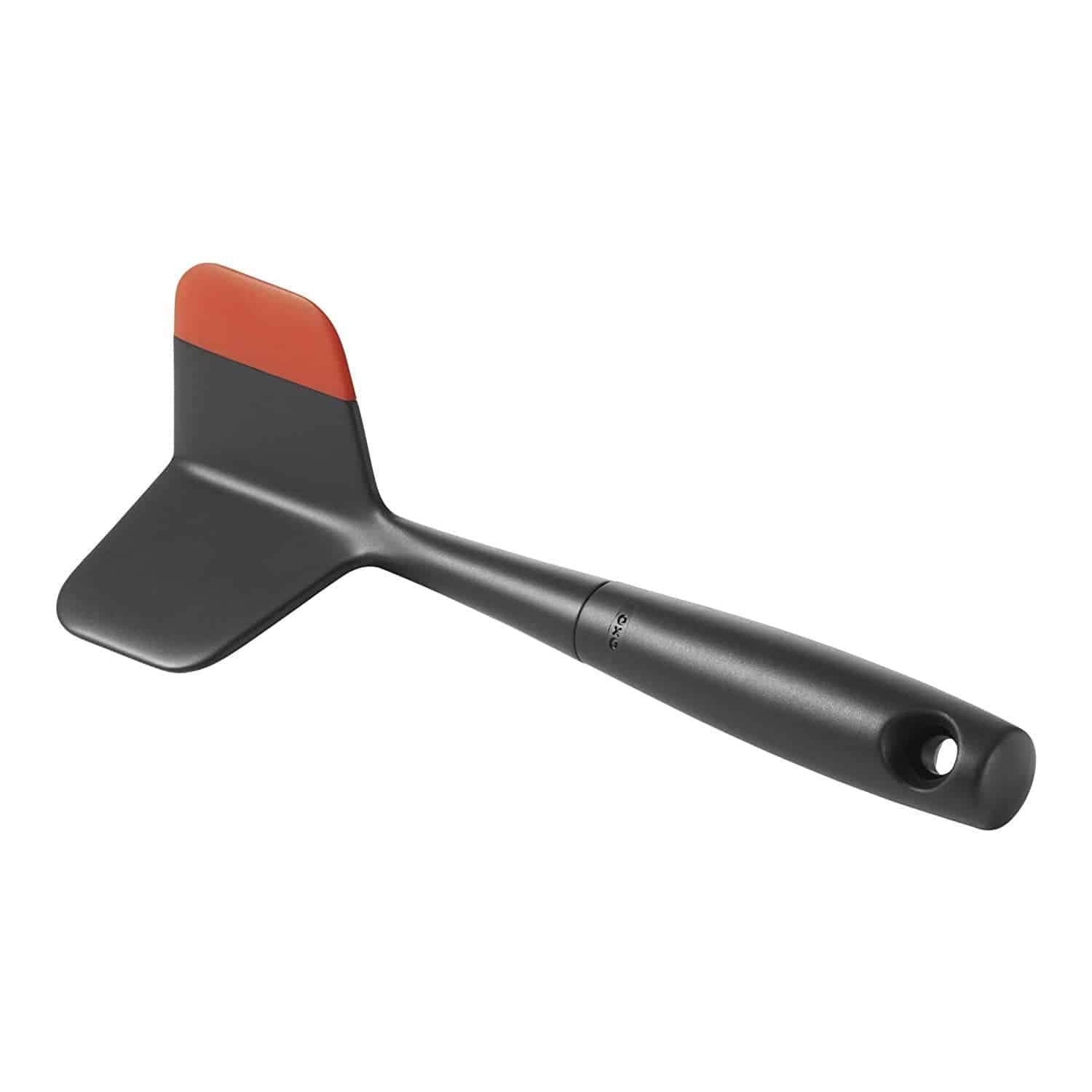 This may seem like a one-trick pony, but I use mine ALL THE TIME. It makes breaking up ground meat in a saute pan so fast and easy!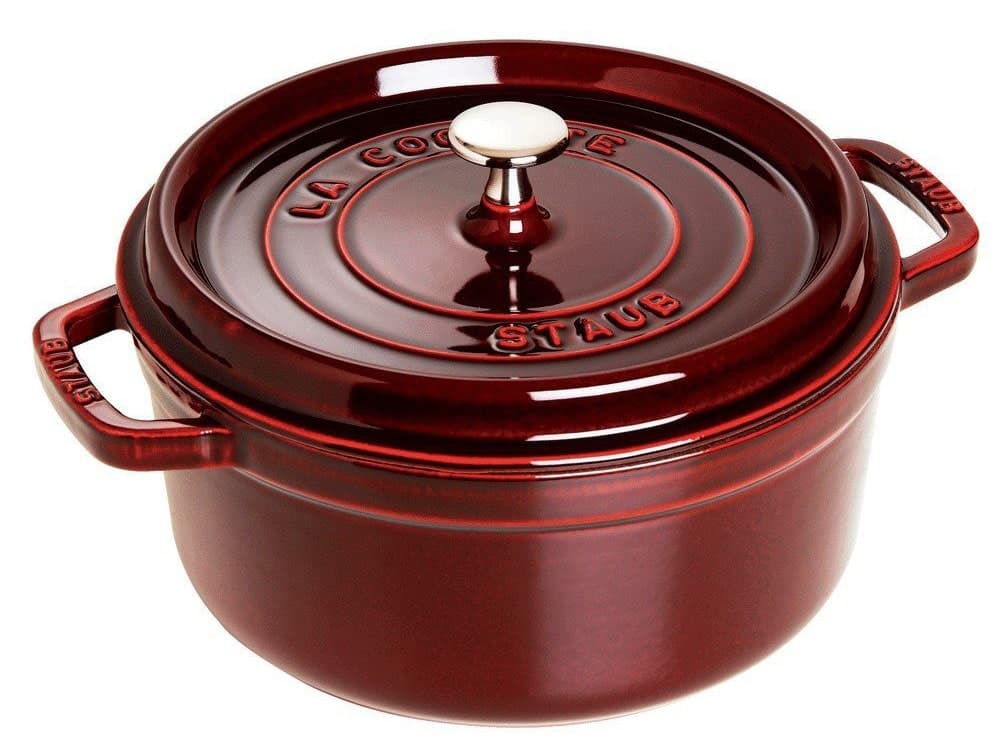 Staub makes cookware of exceptional quality, and this size is perfect for one-pot meals like this recipe. There are tons of colors available too!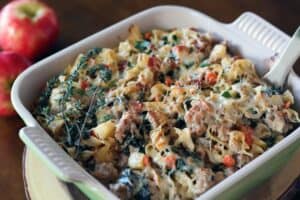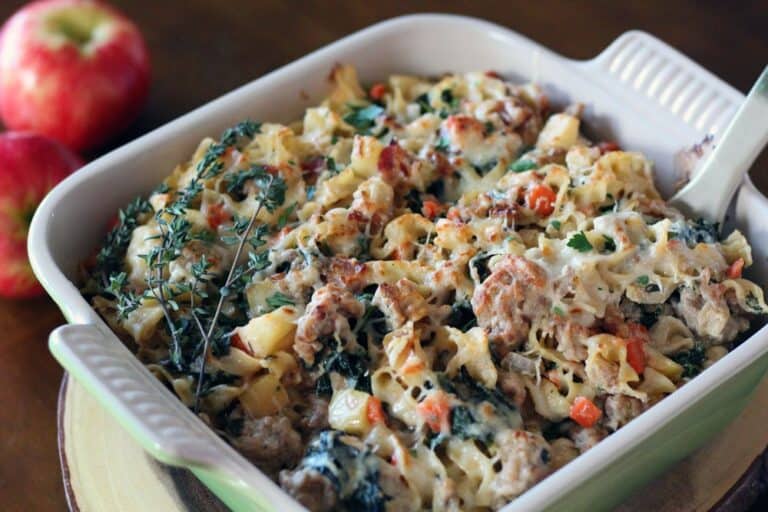 Pork, Bacon and Apple Pasta Bake
Salty bacon and ground pork cooked with apples and earthy kale and carrots for a sweet and salty experience like none other. This recipe is unique because the pasta sauce is made from apple cider balanced with chicken stock and cream cheese. You've got to try this amazing combination.
Ingredients
2

strips bacon

1

lb

ground pork

1

onion

2

carrots

1

tsp

fresh thyme

1.5

C

non-alcoholic apple cider

4

oz

garlic and chive cream cheese

room temperature

1.5

C

chicken stock

8

oz

egg noodles

2

honey crisp apples

6

oz

kale

1

lemon

1

Tb

olive oil

1.5

tsp

salt

1/2

tsp

black pepper

1

tsp

dry mustard

1

tsp

paprika

1

tsp

garlic powder

3/4

C

grated parmesan cheese
Instructions
Bring a large pot of water to a boil. Season the water with a generous tablespoon of salt.

While the water comes to a boil, dice the onion and peel and dice the carrots. Rinse the kale well and remove from the stem. Cut into large strips. The kale will wilt down quite a bit after being cooked so don't cut it too small. Cut the bacon strip in half vertically and then cut into 1/2-inch pieces.

Once the salted water has come to a boil, add the egg noodles and cook until al dente based on package instructions. Drain the pasta once cooked and coat with a bit of olive oil to avoid sticking. Set aside.

In a large dutch oven or heavy bottom pan, add 1 Tb of olive oil and the bacon pieces. Turn the heat on to medium-high and sauté the bacon, stirring occasionally, until well browned or for 5-7 minutes. Next, add the onion and carrot. Cook for another 5-7 minutes until the vegetables have softened and begun to brown on the edges.

Add the ground pork next and break up the meat into bite size pieces. You can use a wooden spoon for the job or check out the awesome gadget I've linked to above. A ground meat chopper is so handy! Cook the pork for about 10 minutes until it is cooked through and no pink remains.

While the pork is cooking, dice the apple into half-inch chunks. There is no need to peel the apple. The skin will soften while the sauce cooks. Next add the salt, pepper, dry mustard, paprika, and garlic powder. Mix well to combine. Add the apple and cook for about 3 more minutes or until the apple barely start to soften.

Last, add the chopped kale and cook for another 2-3 minutes until the kale is wilted and well combined.

To begin making the sauce, add the apple cider and chicken stock to the pan. Stir well so that you lift all the yummy pan drippings from the bottom of the pan. Cut the cream cheese into chunks to help it break down faster in the sauce. Add to the pan and stir occasionally until well combined. Reduce the heat to medium and let the sauce low boil for about 12 minutes or until it has reduced by about half.

Last, add the juice of 1 lemon, thyme, and 1/2 C grated parmesan to the sauce. Reserve the remaining 1/4 parmesan for garnish. Stir to combine and continue to cook until the cheese is melted. Add the cooked pasta and mix well to combine.

At this point, the pasta is ready to serve or you can make the dish ahead. If eating right away, garnish with the remaining 1/4 C grated parmesan and enjoy!

If you're making ahead, pour the pasta mixture into a lightly greased 9″ x 13″ casserole dish. Top with the grated parmesan and cover with foil. The dish will keep in the fridge for up to 3 days before baking. When ready to eat, place the covered dish into a preheated oven at 350 degrees and cook for 30 minutes. Uncover and bake an additional 15 or until golden and bubbly.
The following two tabs change content below.


Hey-ooo! I'm Hailey, and I'm a number cruncher by day and cussing cook by night. I created this site to share my love for delicious food that feeds the soul as well as the belly. I hope my recipes have you running to the kitchen to cook some damn good grub!