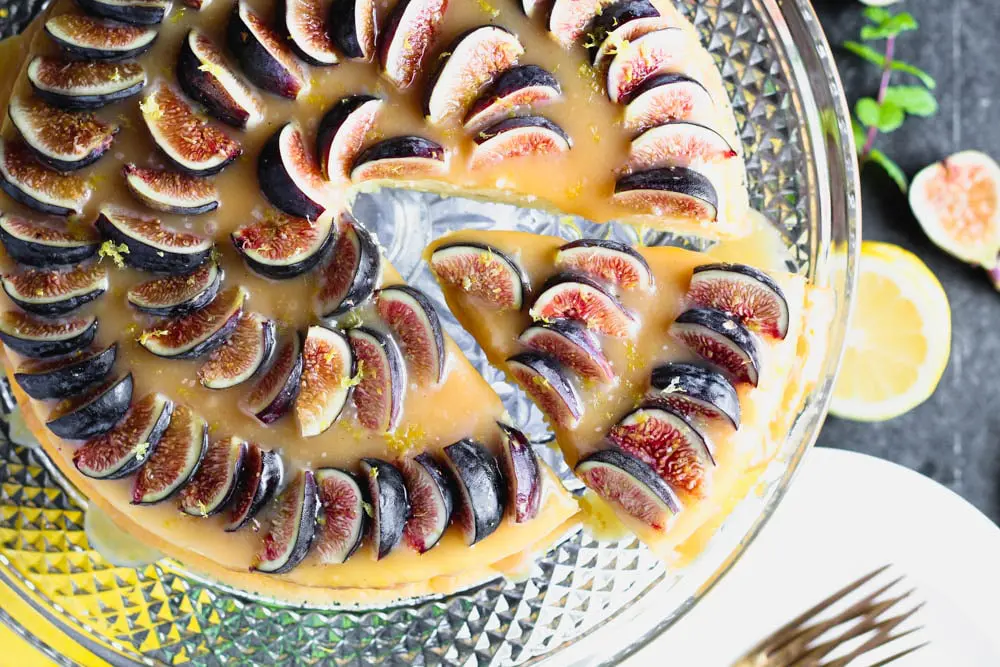 The first time I walk into the grocery store and see figs, I know there is hope yet…the end of summer is near! Fall is my favorite season of all, and figs are always one of the first fruits of this amazing time of year for cooking and baking. My Lemon Yogurt Cake with Honey Caramel and Figs was born out of the need for the most delicious vessel possible to transport figs to my mouth.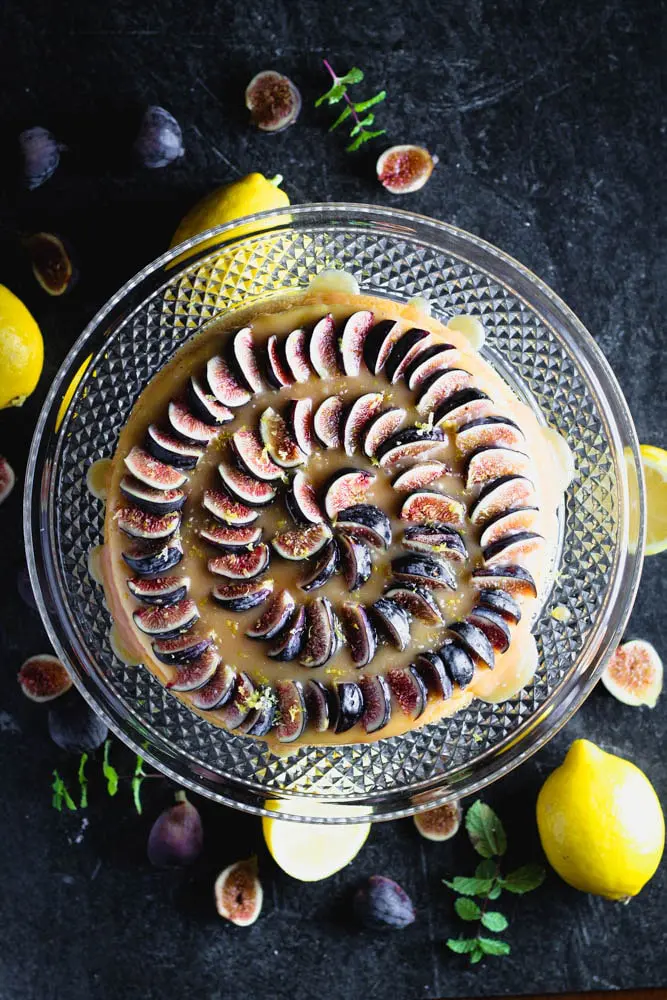 Figs make me think of all the flavors of the Mediterranean. Their exotic, jammy flavor and texture pair perfectly with tangy yogurt and lemon. Figs are not overly sweet so I also like the idea of combining them with a velvety smooth caramel. This Yogurt Cake recipe takes all of those ideas and combines them into one light but decadent dessert.
The star of the recipe in photos is definitely the gorgeous sliced figs, but the Lemon Yogurt Cake that acts as a base for all of the other accoutrements is the taste you'll crave.
Yogurt Cake could best be described as a super light, crustless cheesecake.
Compared to cheesecake, Lemon Yogurt Cake feels less decadent but still o-so-satisfying. Eggs supply the richness to this recipe instead of cream cheese, while Greek yogurt gives the tang we all expect. I also made sure this recipe packed a serious lemon punch by doubling my initial recipe's use of the zest of only one lemon.
The only step in this recipe that takes any real effort is folding the beaten egg whites into the yogurt. It just takes times so don't say "fuck it" and start stirring the hell out of it to make the lumps go away. I promise, if you keep folding, you'll get to a smooth result eventually. The series of images below shows you the progression you can expect.
Initially, I just dressed the Lemon Yogurt Cake with fresh figs. Although it was beautiful, it lacked the sweetness I personally like in my desserts. It needed a sauce to tie it all together. I returned to my initial thought process of Mediterranean flavors and thought that honey was just what this recipe needed.
But a straight honey drizzle seemed too clunky for this stunner of a dish. Caramel on the other hand is sexy as fuck and right in line with the look I was going for. I started playing around with different ratios of sugar, both white and brown, to honey to get just the right caramel consistency with plenty of honey flavor, and the recipe below was the final output.
It's sooo damn good. I could put this Honey Caramel on anything, and it would be divine.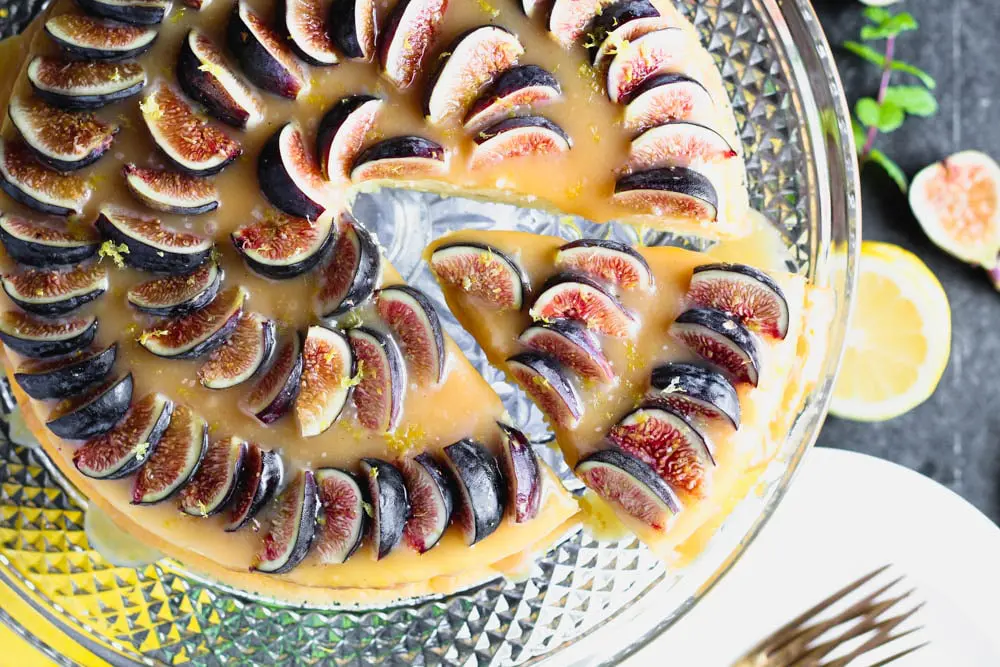 If I didn't have to clean up after the mess, I might even want to just soak in a tub full of it and garnish myself with lemon zest and a sprinkle of salt, just like I finish off my slices of Lemon Yogurt Cake. ?
Now, if I lost you at my first mention of figs, fear not. I also tried this exact recipe with fresh blueberries, and it was equally delicious with the Yogurt Cake and Honey Caramel. Really any kind of fresh fruit you fancy would be delightful with this cake. Feel free to choose whatever seasonally appropriate fruit that looks good at the market.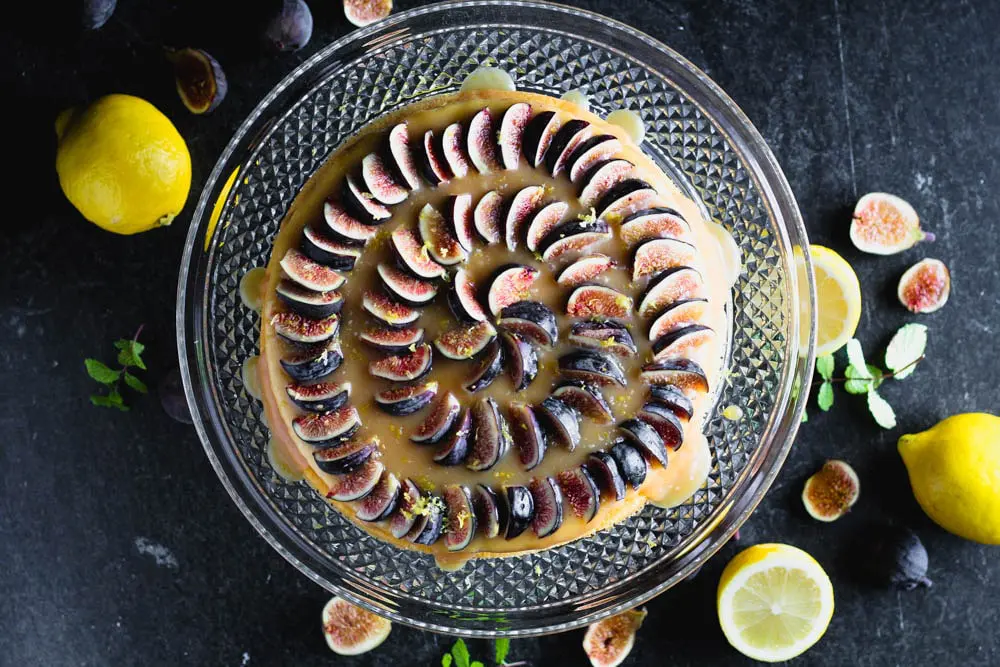 I love this recipe for entertaining because it seems so glamorous when in fact it's a breeze to make. The stand mixer does all of the heavy lifting, and the ingredient list is made up of items you likely already have in your fridge.
If you want to make this recipe in advance, just plan to dress it with the caramel and fresh fruit just before serving. If you cover the cake in caramel and then leave it to sit, the caramel can get grainy from the moisture in the cake. Instead, you can also make the caramel up to a week ahead of time and store it in an airtight container in the fridge.
When you're ready to serve, let the caramel sit out at room temperature for a couple of hours to allow to become a pourable consistency. If it's still too thick, try microwaving in a microwave-safe container in 10 second increments, stirring in between, until the caramel is easy to pour but not too warm.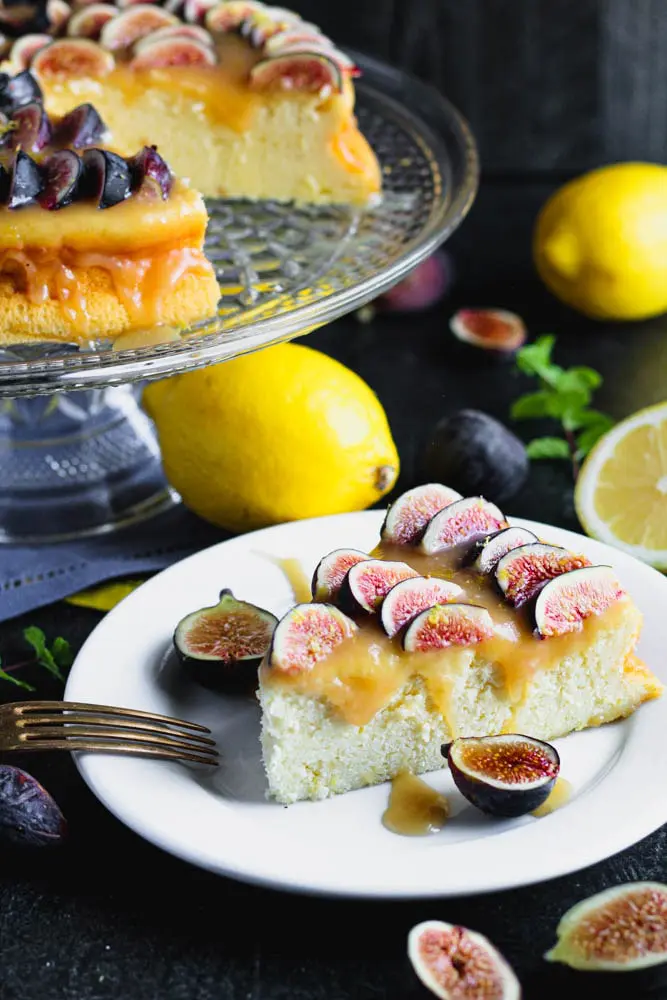 After dressing each slice with caramel and fruit, I like to finish the plating with a little bit of extra lemon zest and a sprinkle of salt. Caramel always needs a final touch of salt in my opinion and the extra zest brightens up the fruit for a perfect bite.
Lemon Yogurt Cake with Honey Caramel and Figs is the best way to kick off the fall season. Try this recipe with your favorite fruit, and let me know how it goes.
Helpful Utensils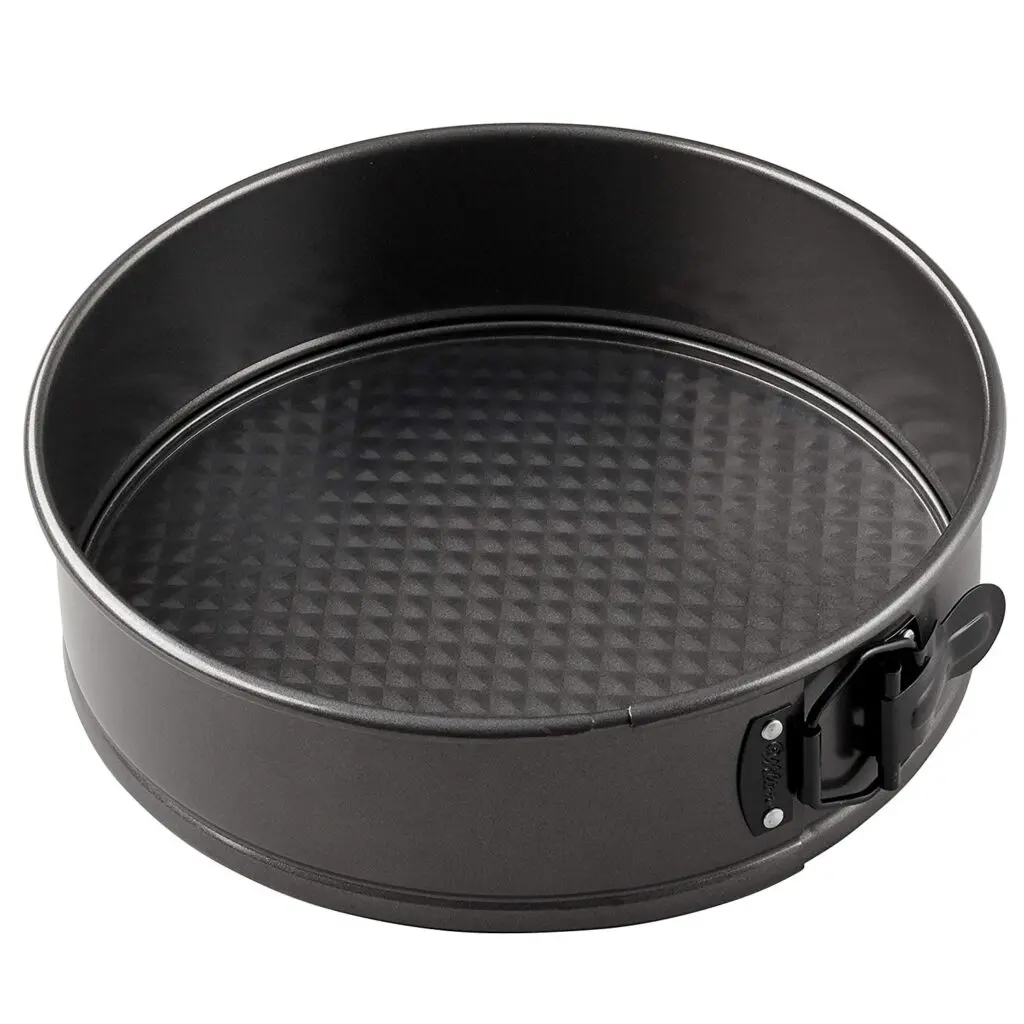 An essential for baking cheesecakes, tarts, and delicate desserts like this Lemon Yogurt Cake.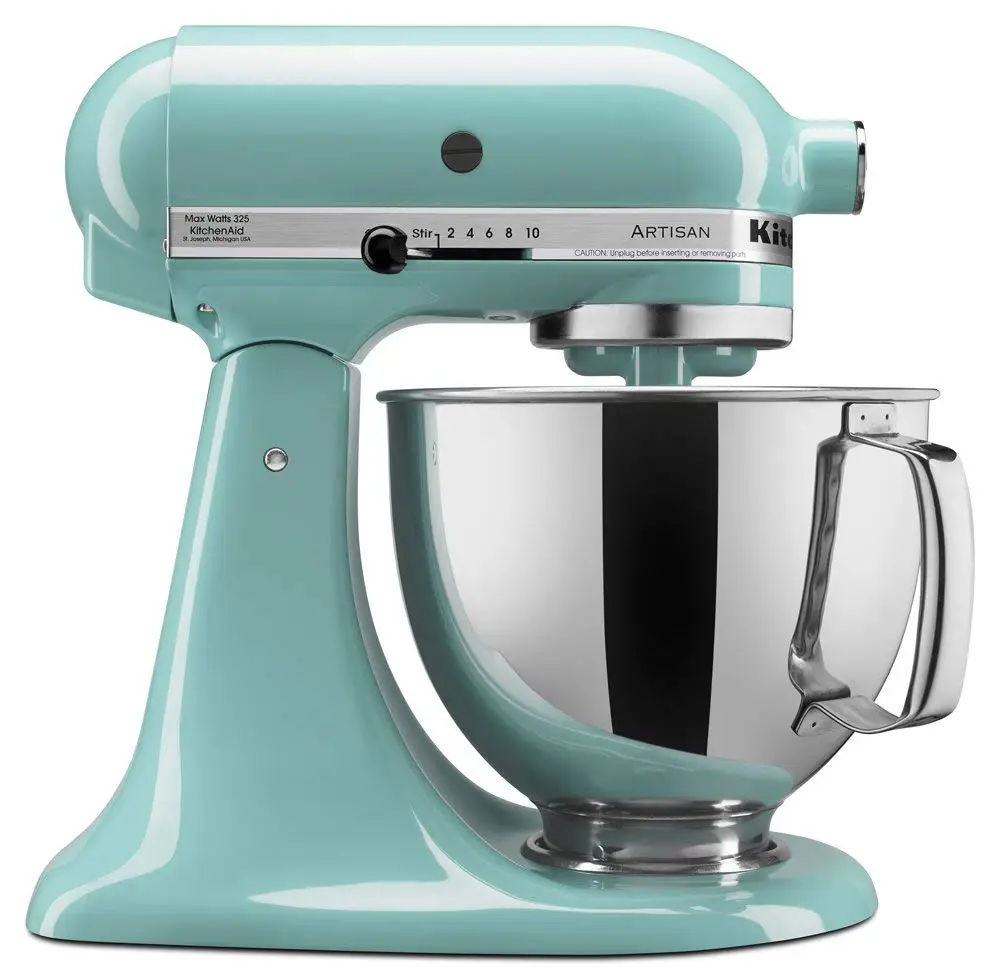 You'll never, ever regret this purchase. It's a cook's best friend and essential for baking!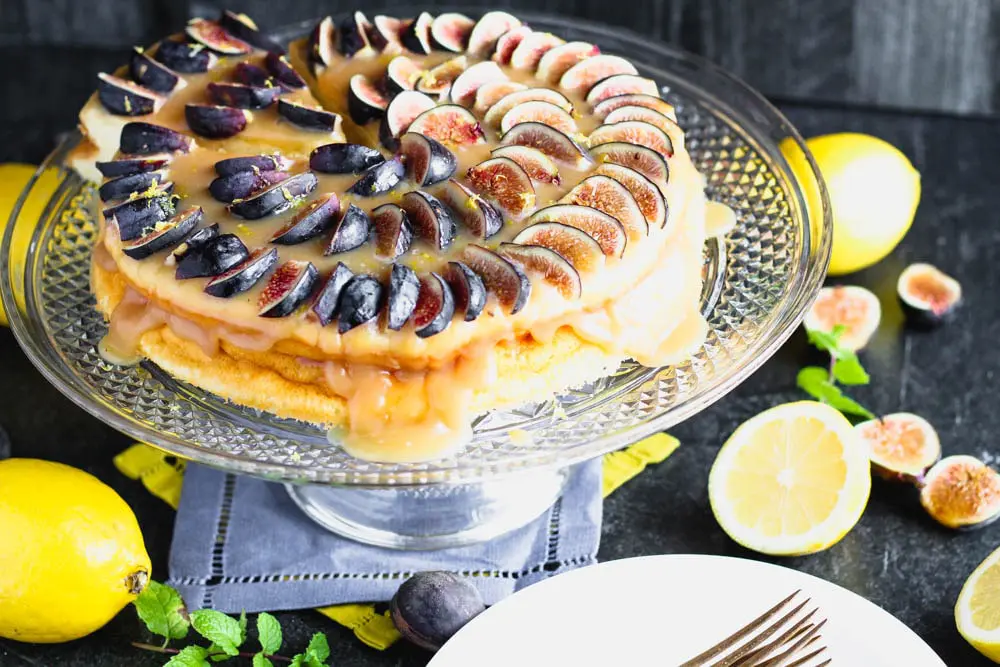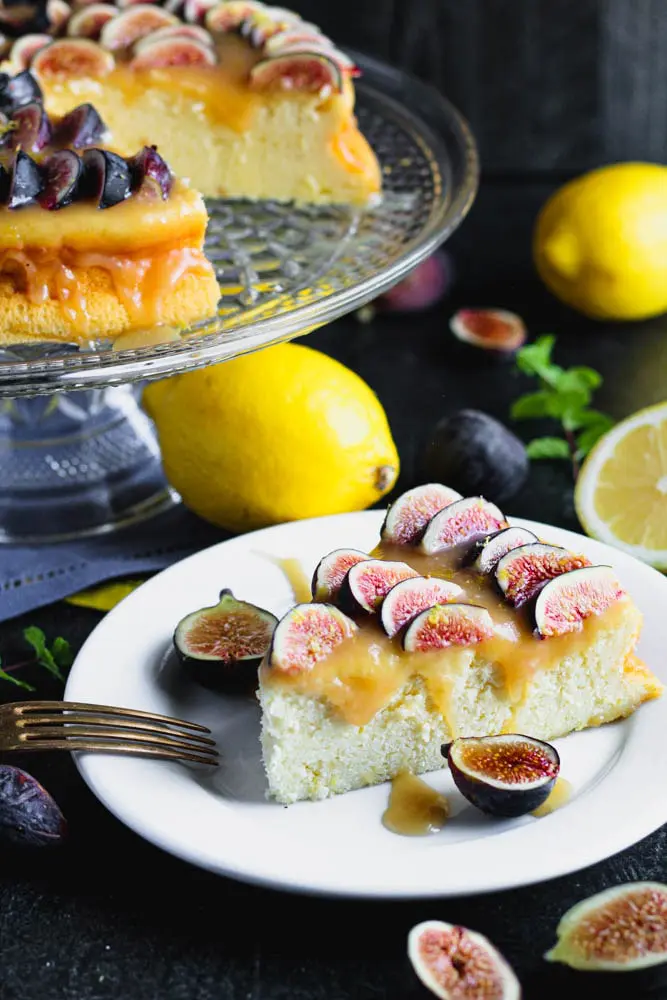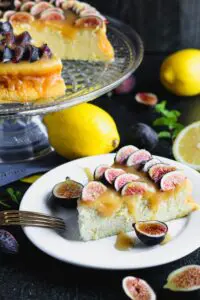 Lemon Yogurt Cake with Honey Caramel and Figs
Yogurt cake is best described as an incredibly light, crustless cheesecake. The texture is light and fluffy but the taste is still rich and creamy. Topped with homemade honey caramel and fresh fruit, this easy dessert recipe is beautiful for entertaining but simple enough for a family dinner.
Ingredients
Lemon Yogurt Cake
6

eggs

separated

¾

C

sugar

2 and ½

C nonfat Greek yogurt

strained

2

lemons

½

tsp

kosher salt

1

tsp

vanilla extract

½

C

flour

sifted

1

tsp

baking powder
Honey Caramel
½

C

honey

½

C

brown sugar

½

C

white sugar

½

tsp

kosher salt

1

C

heavy cream

1

tsp

vanilla

⅛

tsp

fresh nutmeg*

fresh figs

or other fruit**
Instructions
To make the cake
Preheat the oven to 350 degrees. Place the yogurt in a fine strainer and set the strainer over a bowl to catch the liquid that runs off. Let the yogurt sit for about 10 minutes as you prepare the other ingredients.

Start by separating eggs. Place the egg yolks in a stand mixer bowl with a whisk attachment. Place the eggs whites in a small mixing bowl. Using a hand mixer or whisk, beat the egg whites until they reach stiff peaks. Add the sugar to the egg yolks.

Turn the stand mixer on to medium speed and whisk the egg yolks and sugar until thick and pale in color. Be sure the scrape down the sides and bottom of the bowl halfway through the process.

Once the egg yolks have reached the ribbon stage, turn the mixer off. Scrape down the sides and bottom of the bowl again. Zest both lemons, reserving 1-2 tsp of zest for garnish. Add the strained yogurt, salt, vanilla and the zest of both lemons and the juice of one to the yolks. Turn the mixer back on to medium speed until well combined.

Last, add the sifted flour and baking powder, and mix on low until just combined. Scrape the sides and the bottom of the bowl one more time before adding the beaten egg whites.

Gently fold the egg whites into the mix until there are no lumps remaining. This will take a few minutes, but don't give up on folding. You want to keep as much air in the mix as possible so resist the urge to stir. Keep folding until the mixture is smooth!

Once smooth, pour the batter into a 9-inch springform pan (I've linked to one above for purchase if you don't already have this cheesecake essential in your kitchen). Place in the oven to bake for 50 to 60 minutes or until the edges are just lightly golden and the middle is still a little wiggly.

Remove from the oven once cooked and let cool at room temperature until completely cooled. Place in the fridge for at least 4 hours or preferably 8 hours until cold.

To serve, slice the cake into 8 slices. Top each slice with a healthy pour of honey caramel, fresh fruit (if you're using figs, just wash and quarter them, and you're ready to go), and a sprinkle of kosher salt and lemon zest.
To make the caramel
Place the honey, brown sugar, white sugar and salt in a medium saucepan. You want enough room for the cream to bubble up so don't choose too small of a pan. Turn the heat onto medium. Let the sugars cook until completely dissolved and the mixture just starts to bubble.

Being careful, add the heavy cream. The mixture will bubble up vigorously and then settle down. Continue to cook over medium heat until the consistency is thick enough to coat a spoon or about 5 more minutes.

Turn off the heat and add the vanilla and nutmeg. Pour into a heat-proof, airtight container and allow it to cool to room temperature. This caramel will keep in the fridge for a few weeks, but it won't last that long.
Notes
* Fresh nutmeg is purchased whole and then ground using a microplane. It has a more subtle flavor than the nutmeg you buy already ground. If you're using ground, use it very sparingly as it can be strong.
** If figs aren't your thing or aren't in season, any fruit you like would work. Some of my other favorites are blueberries, raspberries, or peaches.
The following two tabs change content below.

Hey-ooo! I'm Hailey, and I'm a number cruncher by day and cussing cook by night. I created this site to share my love for delicious food that feeds the soul as well as the belly. I hope my recipes have you running to the kitchen to cook some damn good grub!