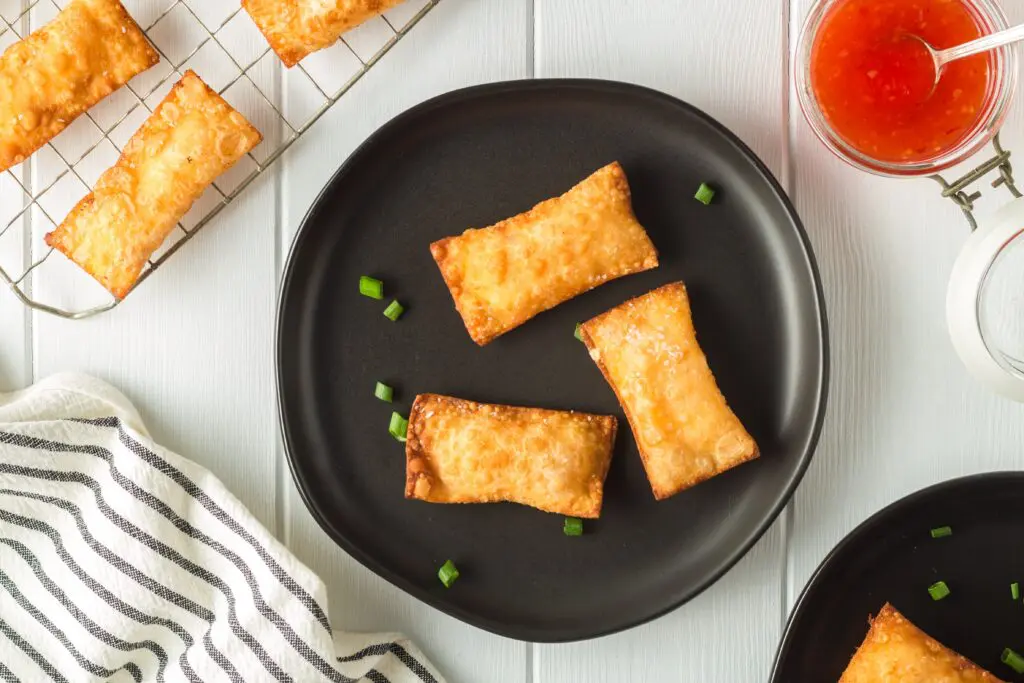 Pimento Cream Cheese Wontons a new twist on the beloved classic of fried cheese. Thin and crispy wonton wrappers are the perfect vessel for pimento cheese blended with cream cheese. The filling is super creamy and downright addictive. Served with a side of sweet Thai chili sauce, these fried cheese snacks pack serious flavor punch.
Best Ever Pimento Cheese is one of my favorite recipes on the blog. Lately, I've been on a mission to discover new and interesting ways to use up leftovers from the recipe. My BFF and stepsister made the amazing suggestion of stuffing wonton wrappers with leftover pimento cheese, similar to cream cheese wontons you often find in Chinese restaurants.
When I started testing the recipe, I used only Best Ever Pimento Cheese as the stuffing for my wontons. After frying, the filling wasn't ooey-gooey enough. I revamped the filling to consist of 50/50 pimento cheese and cream cheese. The result is perfection!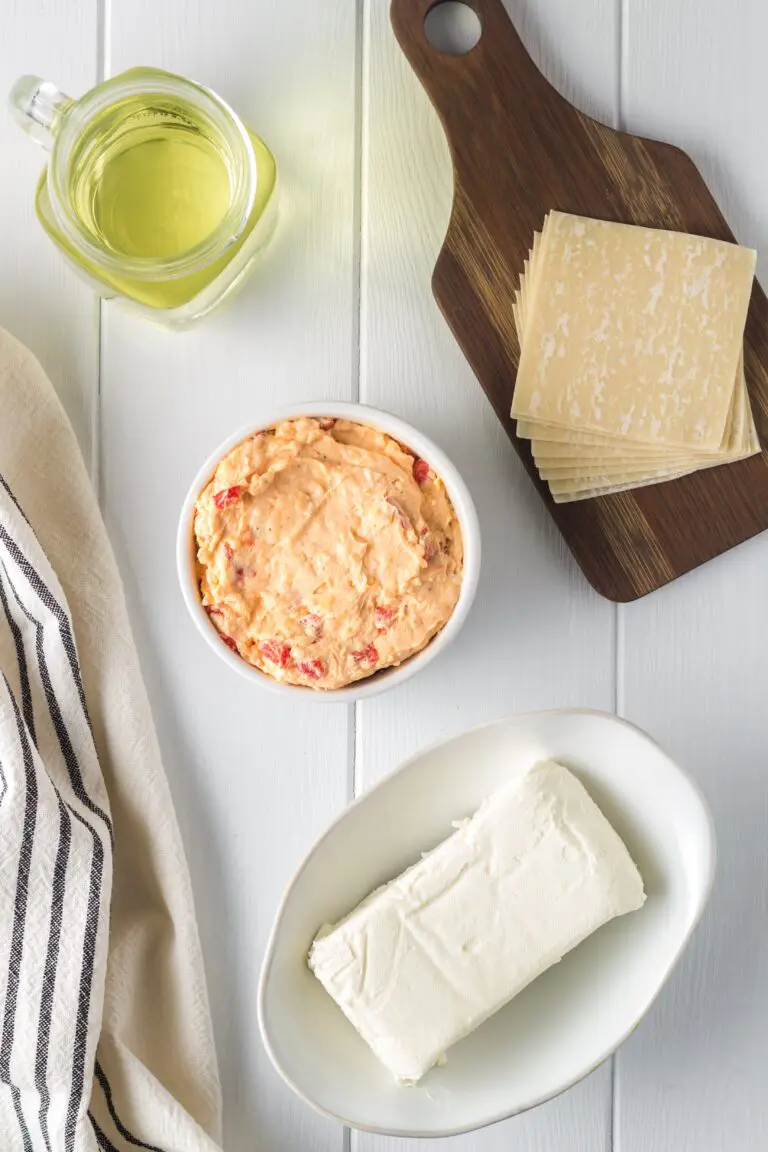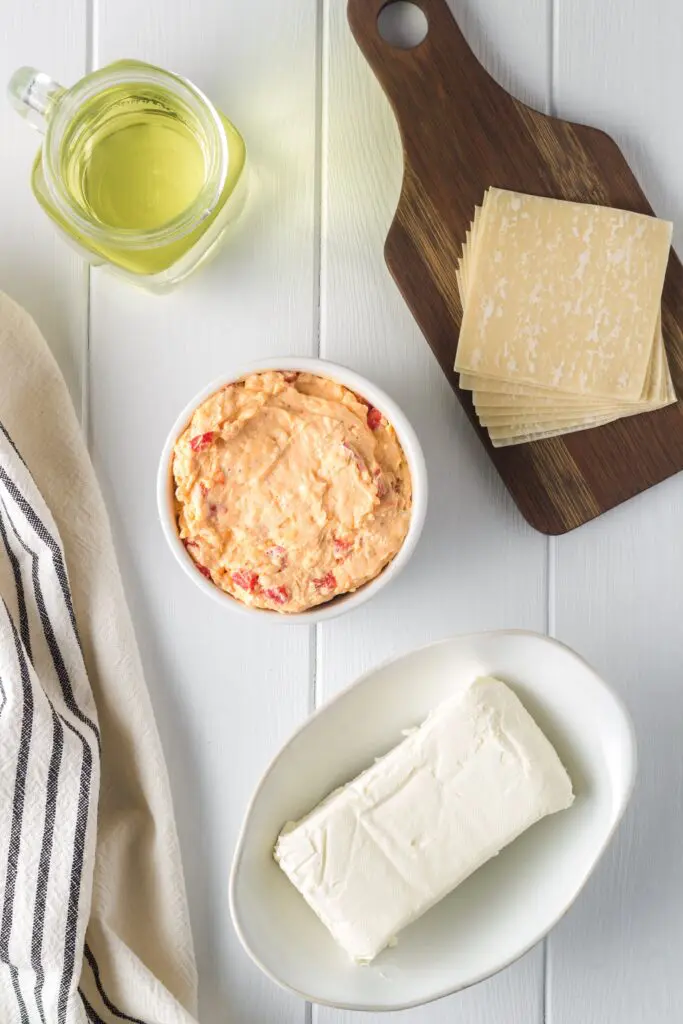 The outside layer of fried wonton wrappers is perfectly crunchy while still being light. The filling is cheesy and creamy spiked with the added tang of cream cheese and flavor of roasted red bell peppers. Together, they make for fried cheese magic!
Where to find wonton wrappers at the grocery store
Wonton wrappers are actually quite common at the grocery store these days. Typically, they are found near the produce section in the refrigerated area.
Wonton making doesn't require any special equipment
If you've never made wontons before, you may be thinking Pimento Cream Cheese Wontons is not the recipe for you but fear not! They are simple to make and do not require any special equipment. Your fingers are the only tool you need.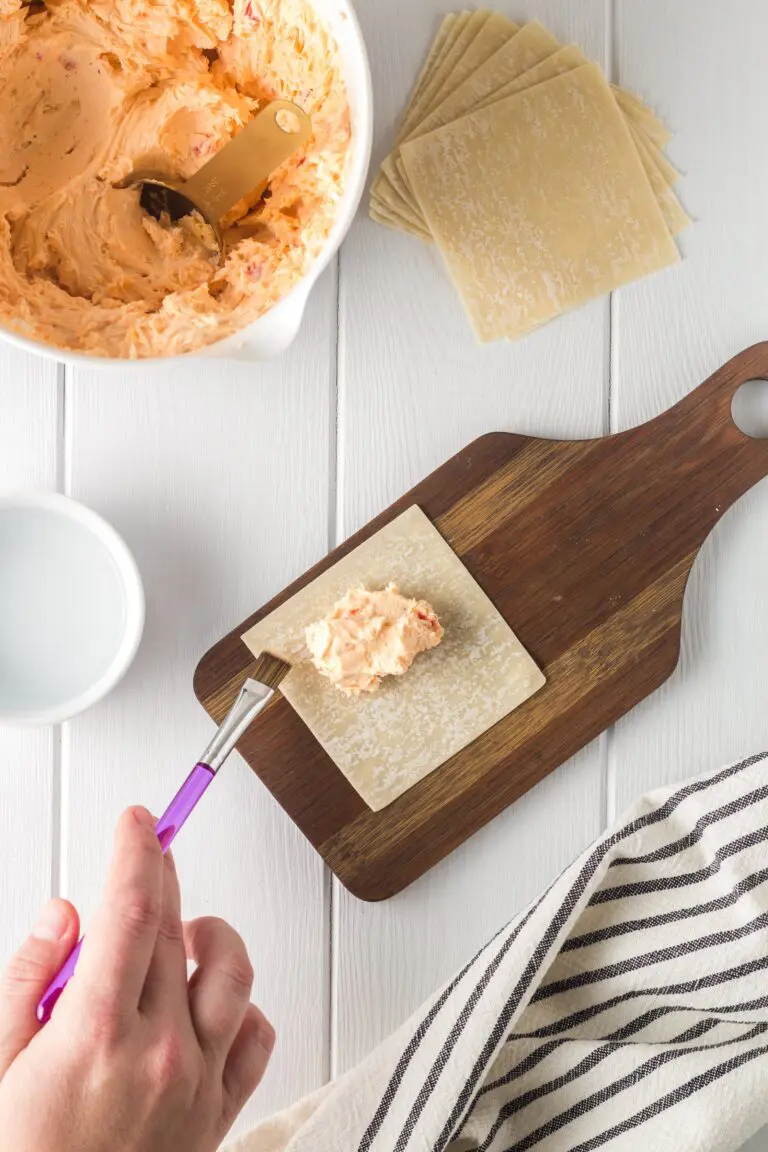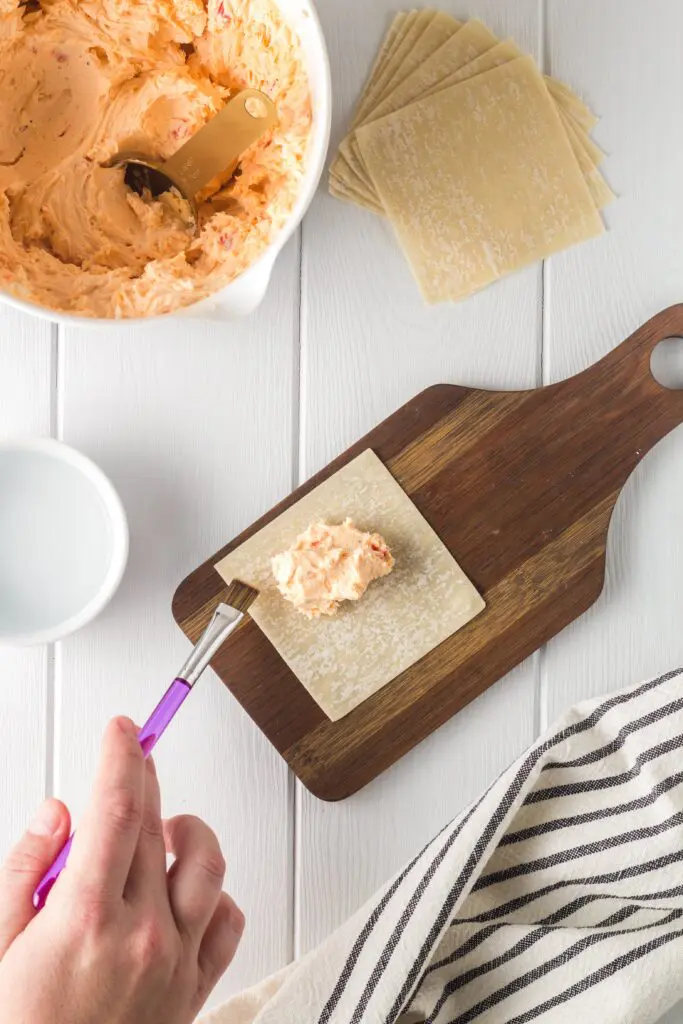 Is store-bought pimento cheese acceptable in the recipe?
Best Ever Pimento Cheese is, as advertised, the best pimento cheese I've ever tasted. That being said, if you're in a hurry and want to try this recipe with store-bought pimento cheese, the technique would definitely still work.
Tips for working with wonton wrappers
Working with wonton wrappers is so fun and easy! You can stuff them with almost anything you desire. I've even used them to make homemade ravioli (blasphemy to true Italians I'm certain).
The only thing you need to remember when work with wonton wrappers is that they dry out really quickly.
When I say REALLY quickly, I mean it happens fast, and the wrappers are ruined once dried out. To prevent that from happening, you just need to make sure you keep them covered with a damp cloth in between batches.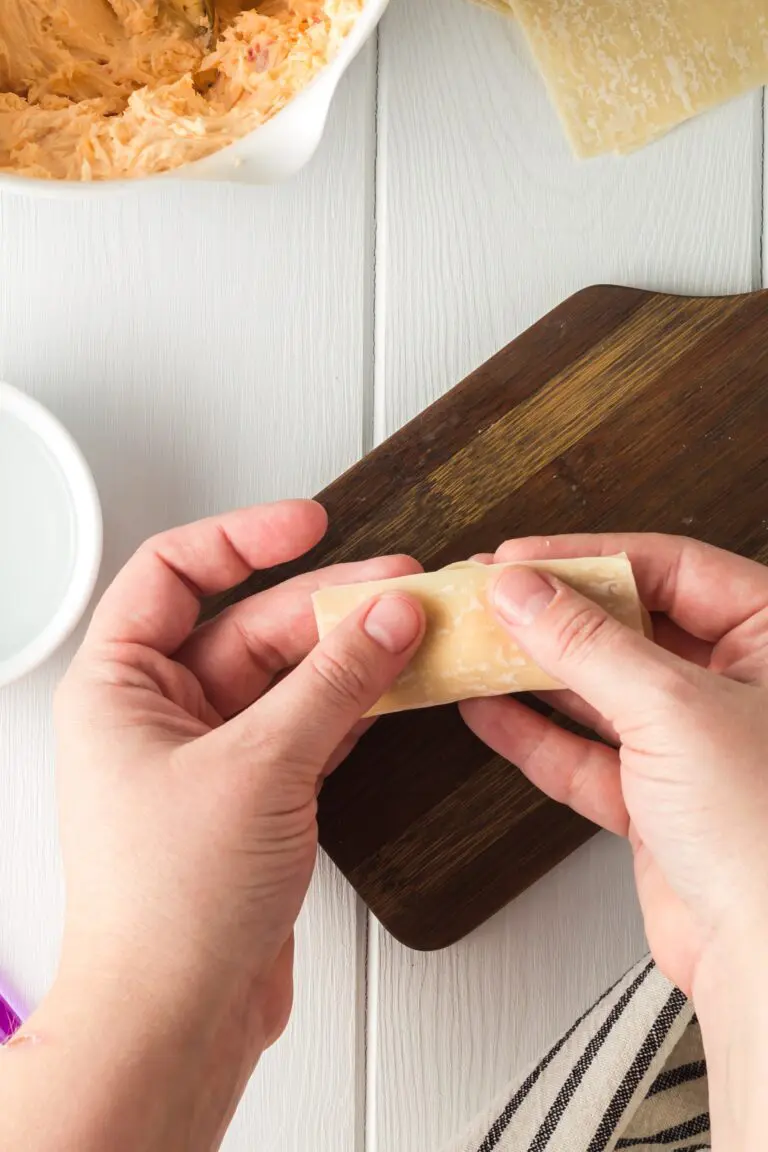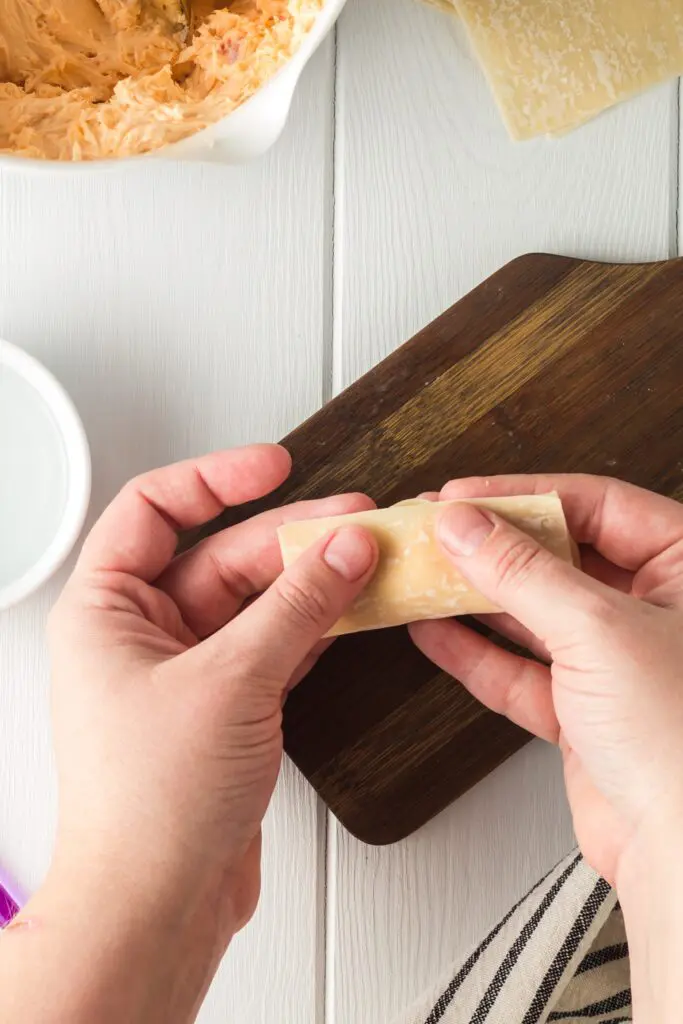 I usually stuff and seal four wontons at a time and keep the other wrappers in the package and covered with a damp cloth as a I work. Only once I'm ready for four more wrappers do I then uncover the package and take four more out.
When it comes to wonton folding, I am no expert. Truth be told, I tried a few different fancier folds when making Pimento Cream Cheese Wontons, but every time they leaked in while frying or cracker while folding.
The most important step in this recipe is making sure your wontons are properly sealed around the edges. It is essential that you completely seal the wonton wrappers around the filling. If not, the filling will spill out during frying and oil will leak into the wontons which makes for very soggy and greasy wontons.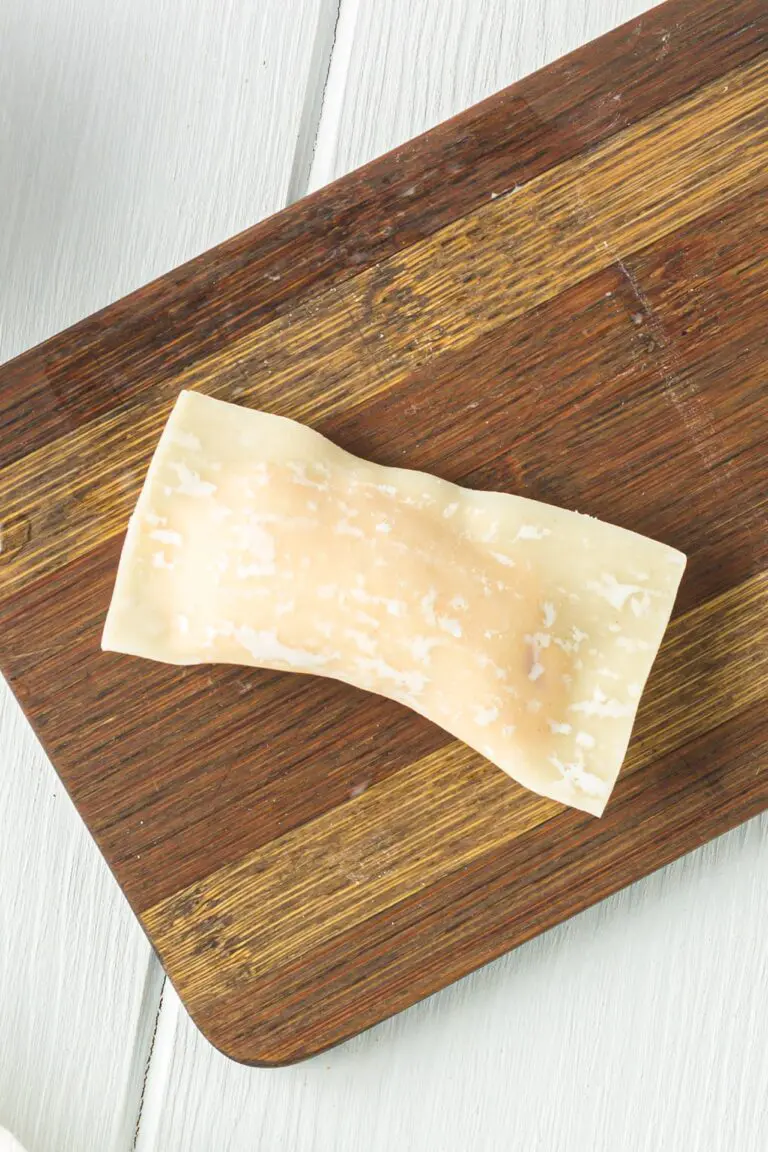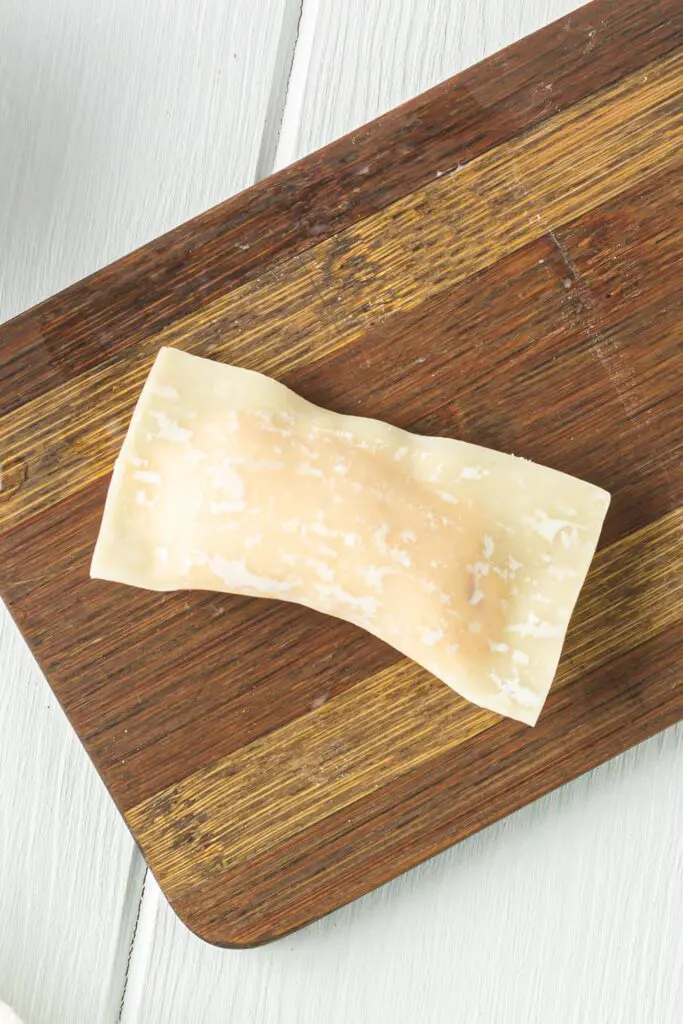 If you've made wontons before or want to try out some of the fancier folding techniques, don't let me stand in your way! Check out this video if you're interested in learning more about different authentic wonton folding techniques (the folding starts about 2 minutes into the video).
I keep it super simple with this rectangle fold because the seal never failed me. I can also stuff the wonton end-to-end with filling when using the rectangle fold. If it means more cheesy filling, that's a good enough reason for me to forego a cooler looking fold technique.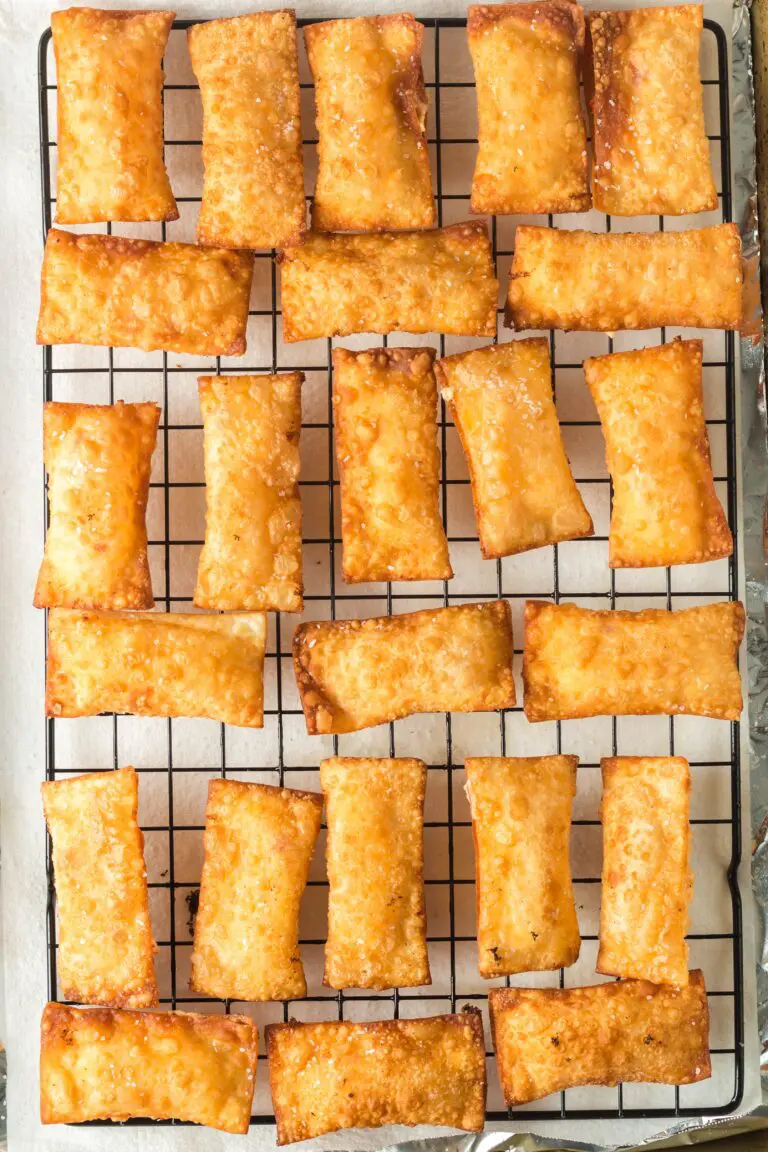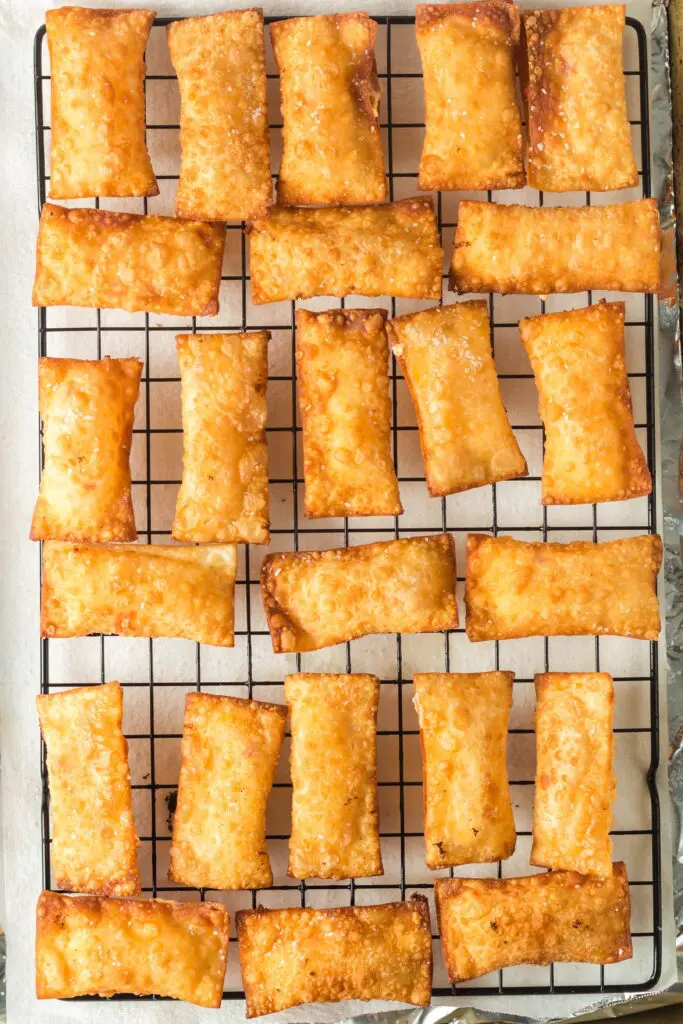 Can Pimento Cream Cheese Wontons be made ahead of time?
This is a hard no. Like most fried items, Pimento Cream Cheese Wontons are best when fresh from the fryer. That is particularly true for these tasty snacks because the filling is moist and the wonton wrappers are delicate. After about 30 minutes, the wontons start to lose their crunch.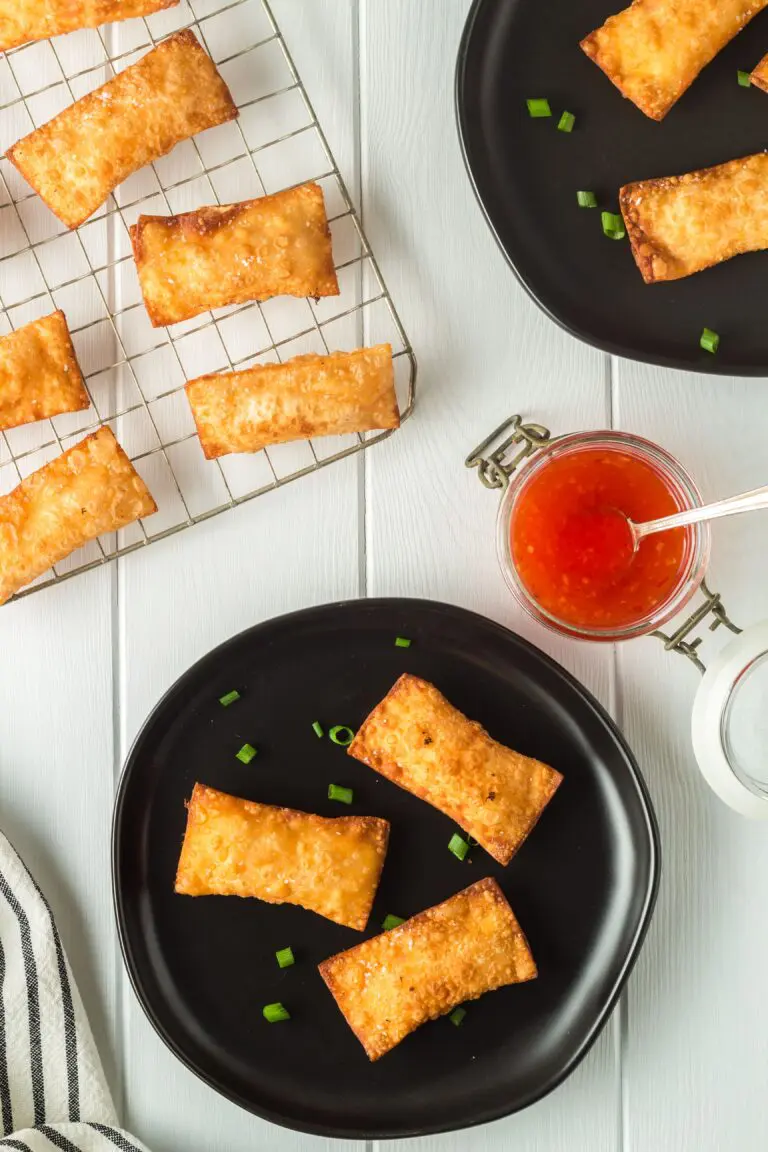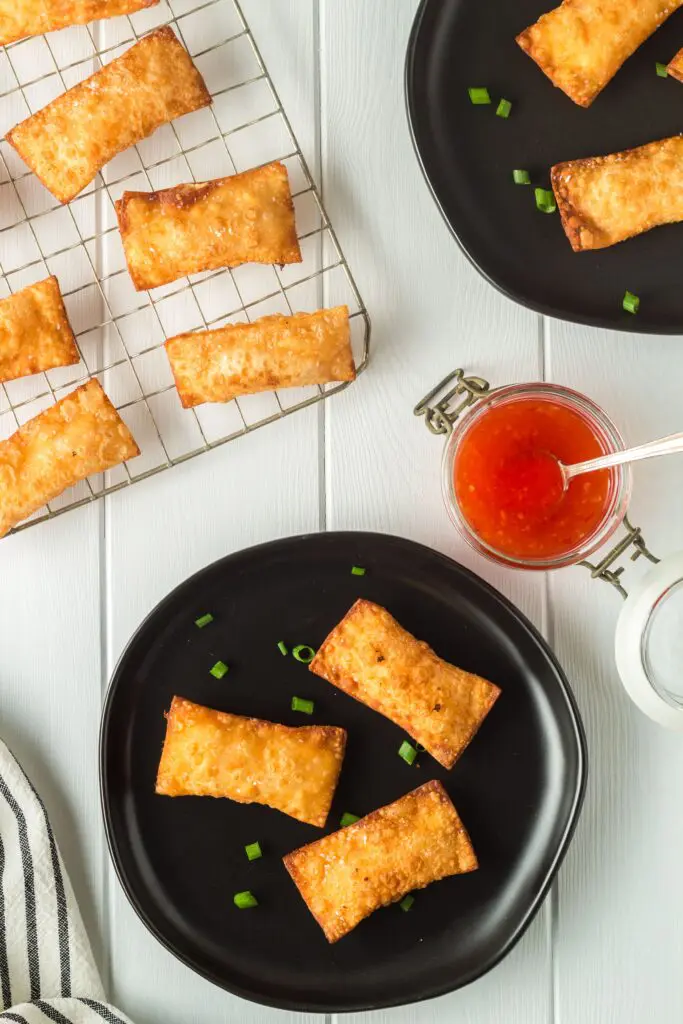 What to serve with Pimento Cream Cheese Wontons
I like to serve the wontons with a side of sweet Thai chili sauce. You can find this condiment in the Asian specialty section of the grocery store. If you don't like any heat, sweet and sour sauce would also be a good choice.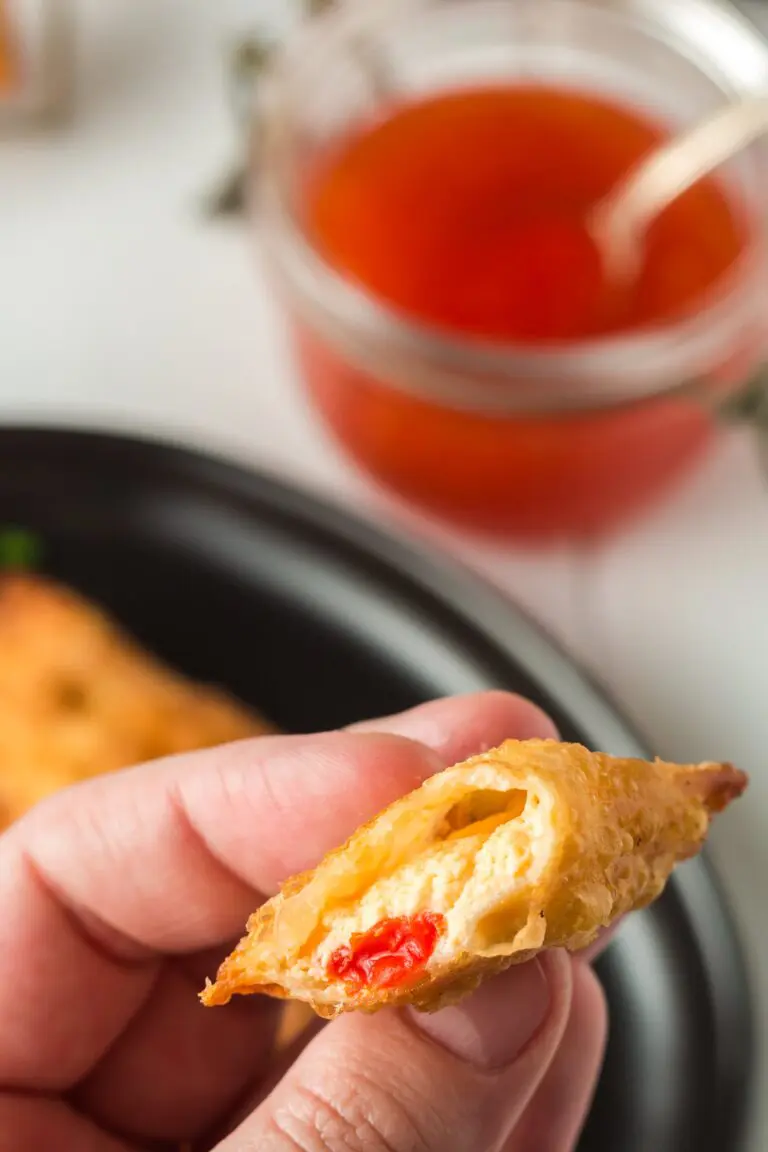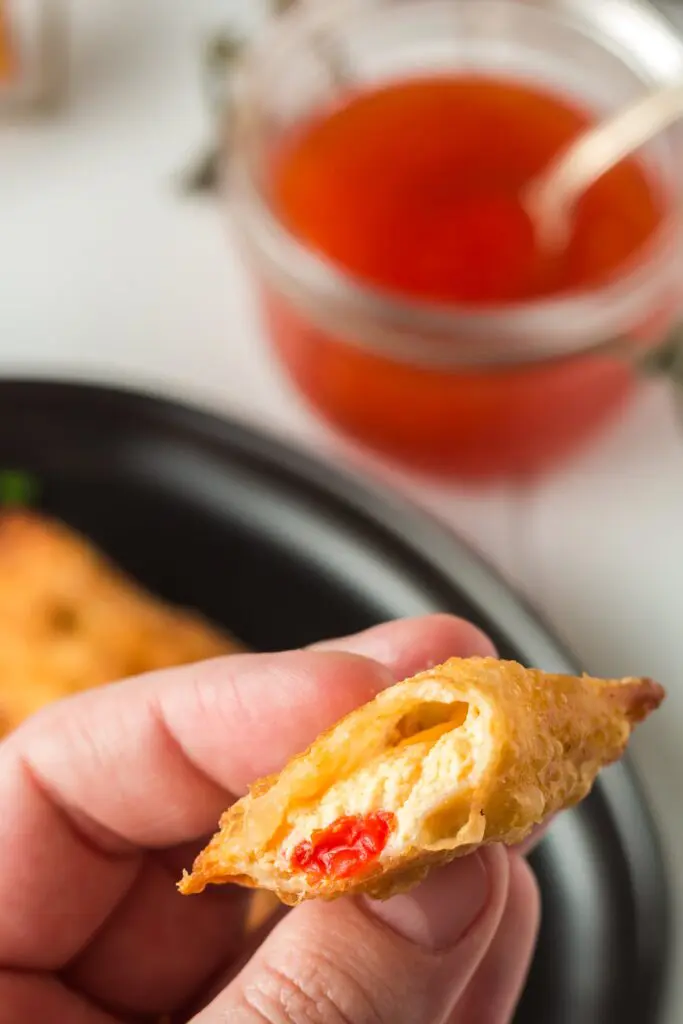 Pimento Cream Cheese Wontons are the perfect party snack. Whether you're gathered around a TV for the big game or celebrating one's of life's moments, Pimento Cream Cheese Wontons are the dish your guests will be talking about long after the party is over.
HELPFUL UTENSILS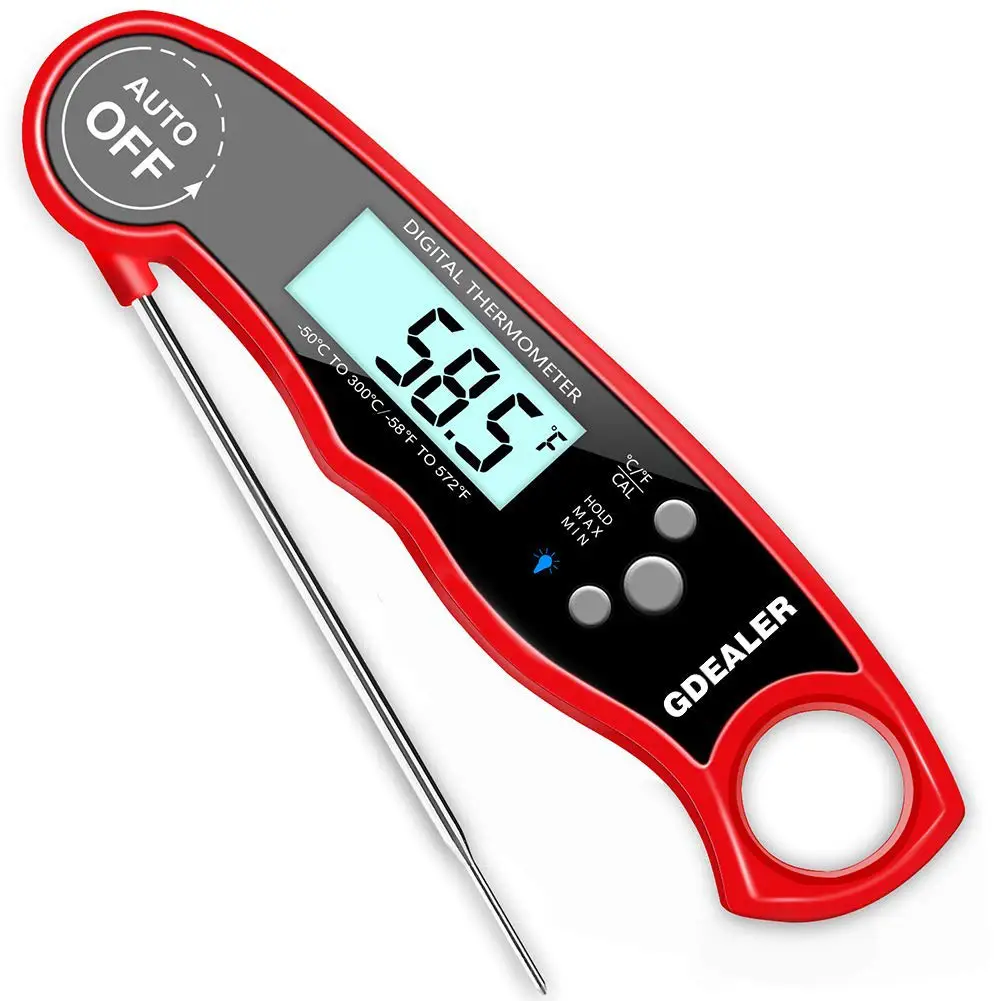 Digital Thermometer- Increase your frying confidence and be sure you have the right oil temperature every time with a digital thermometer.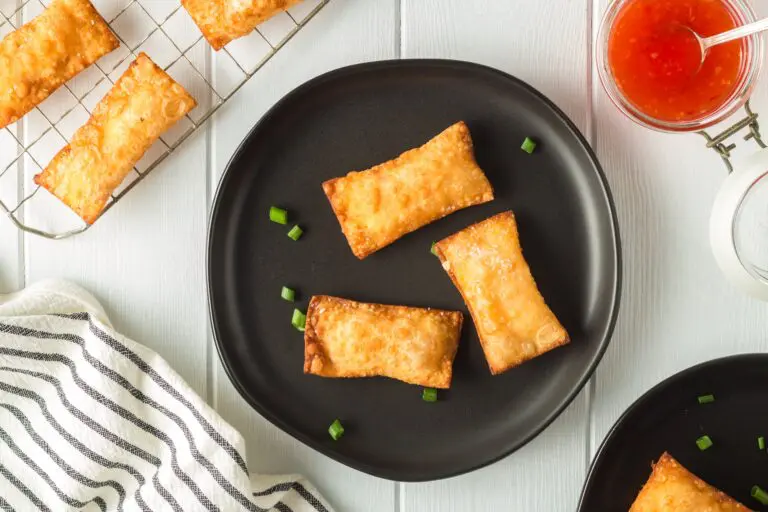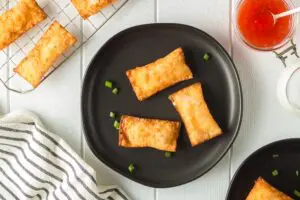 Pimento Cream Cheese Wontons
Fried cheese in a whole new way! Homemade pimento cheese mixed with cream cheese, wrapped in wonton wrappers, and fried until golden brown and perfectly crisp.
Ingredients
48

wonton wrappers

1

C

Best Ever Pimento Cheese*

8

oz

cream cheese

room temperature

water

kosher salt to taste

vegetable oil for frying

sweet Thai chili sauce for dipping
Instructions
Using a hand or stand mixer, mix the pimento cheese and cream cheese until completely combined. Line two baking sheets with foil and top with wire racks.

Lightly dampen a kitchen towel and remove wonton wrappers from the fridge. Open the package and immediately cover with the damp kitchen towel. Keep the wonton wrappers covered whenever you're not working with them or they will dry out and become brittle. Fill a small bowl with water.

Take 4 wonton wrappers out of the package at a time. Fill each wonton wrapper with 1 heaping tablespoon of pimento cheese mixture. Using a piping bag or a plastic storage bag with the corner cut off to fill each wonton wrapper is helpful but not necessary.

Using your finger or a small clean paintbrush, brush all four edges of the wrapper with water. Seal the edges by pinching the two sides together using whatever shape you desire. I like to keep it simple with rectangles, but if you've got skills, use them! The most important thing is that the edges are sealed so if you're a novice, use the shape I've shown here.

Set the completed wontons aside at room temperature and continue until all of the pimento cheese mixture has been used up. Fill a large saute pan with about 1 inch of oil. Heat oil to 325 degrees over medium heat. If you don't have a thermometer, test the oil with a wonton wrapper. The wrapper should rise to the top and sizzle right away but not brown too quickly.

Fry the wontons in bathes for roughly 2 minutes, moving often and watching closely. Don't overcrowd the pan or the wontons will steam and become soggy. Remove from fryer once golden brown, place on the prepared wire rack, and immediately season with a pinch of salt to taste.

Serve immediately. Like any fried cheese, these taste best when they are hot and fresh.
FREQUENTLY ASKED QUESTIONS
Where do I find wonton wrappers?
They are found at most grocery stores in the cold section of the produce area.
Can the wontons be made in advance and kept warm in the oven?
No. Pimento Cream Cheese Wontons are best fresh from the fryer.
The following two tabs change content below.

Hey-ooo! I'm Hailey, and I'm a number cruncher by day and cussing cook by night. I created this site to share my love for delicious food that feeds the soul as well as the belly. I hope my recipes have you running to the kitchen to cook some damn good grub!