If you love homemade biscuits but hate the mess it makes in your kitchen, you're going to love skillet biscuits. Skillet biscuits have the same crunchy outside and soft, fluffy interior as biscuits but with half the effort. Sour Cream and Onion Skillet Biscuits are good any time of day with any meal. Breakfast, lunch or dinner, you're going to love them.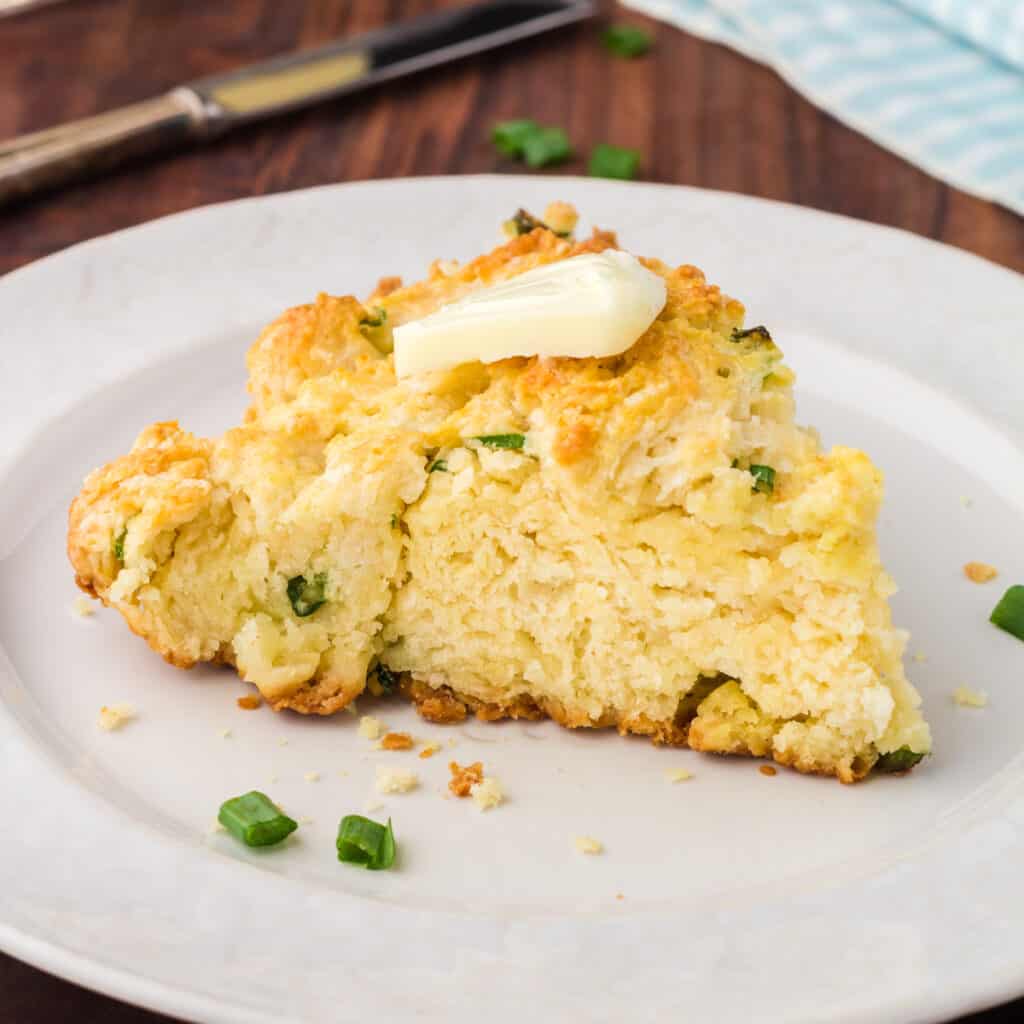 I love making homemade biscuits. Making the dough with my hands is so enjoyable, but I hate the mess it makes on my countertop. Biscuit dough is supposed to be messy. Having a loose, shaggy dough is what ensures a fluffy interior.
Unfortunately, when you dump biscuit dough onto your counter, it makes a mess, and if you're clumsy like me, half of it also ends up on the floor. This recipe simplifies things by doing the work in one single bowl, no countertop mess required!
Ingredients
The ingredients for this recipe are simple and like most biscuit recipes. To make the recipe you need:
Flour
Sugar
Baking soda
Baking powder
Salt
Butter- ice cold!
Sour Cream
Green onions- green parts only
Egg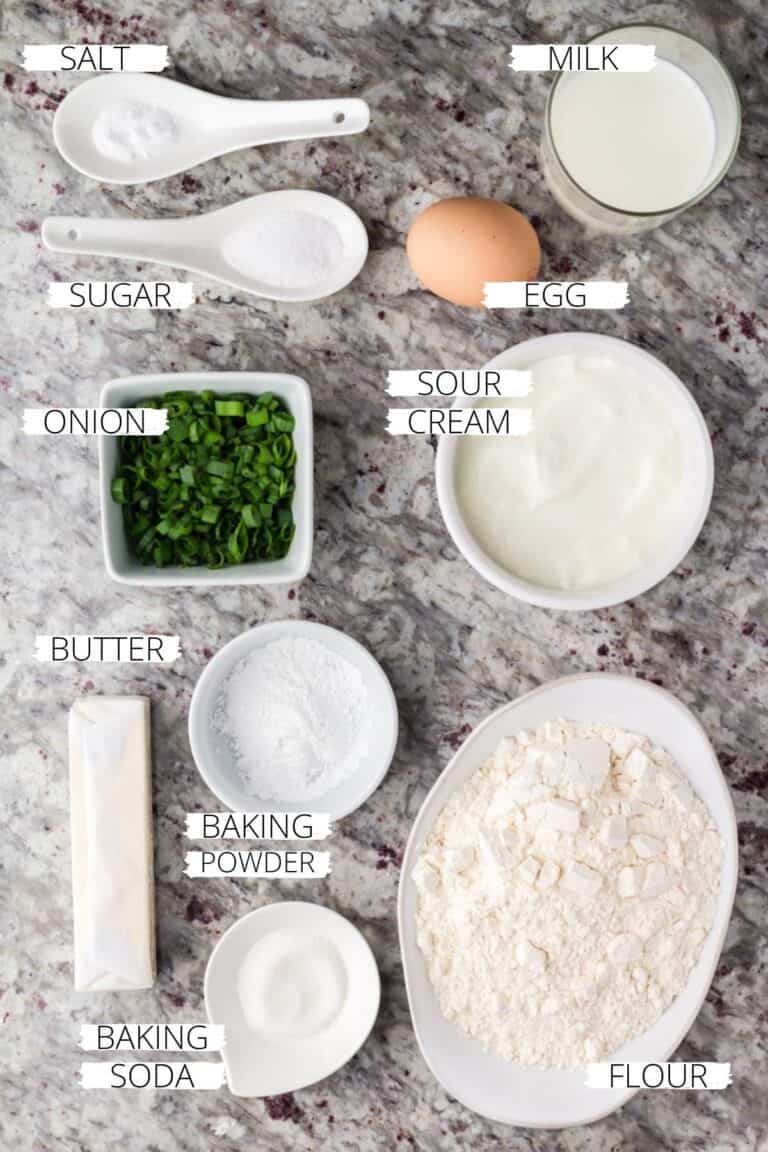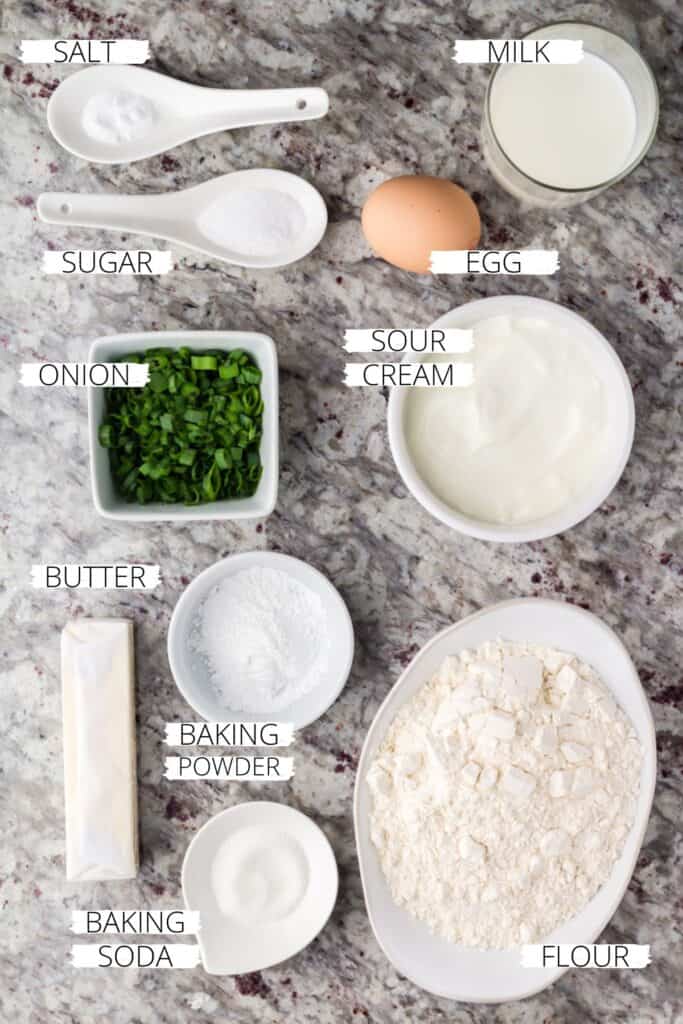 Instructions
To make Sour Cream and Onion Skillet Biscuits, you need to:
Sift the dry ingredients into a large bowl, and grate the butter into the same bowl. Mix very lightly until just combined.
Make a well or an indentation in the flour-butter mixture, and pour the sour cream, milk, and green onions into the well
Using your hands, very gently mix together the ingredients. You want a shaggy crumble that looks like it almost won't hold together. Trust me, it will.
The secret to a fluffy skillet biscuit is in the folds. Once you have a shaggy dough, form it into a loose ball in the bowl. Use a butter knife to cut the ball in half. Stack each half on top of the other and gently press to combine. Repeat this process two more times to create a total of six layers. Take a look at the TikTok video posted right before the recipe for a better visual.
Once you have completed the folds, place the dough into a greased 9-inch skillet. This is the most important step… Do not press or smash the dough. You want to gently spread it across the pan. If you smash the dough, you will end up with a tough and dense biscuit. If you want a light fluffy texture, spread, don't smash.
Bake and enjoy!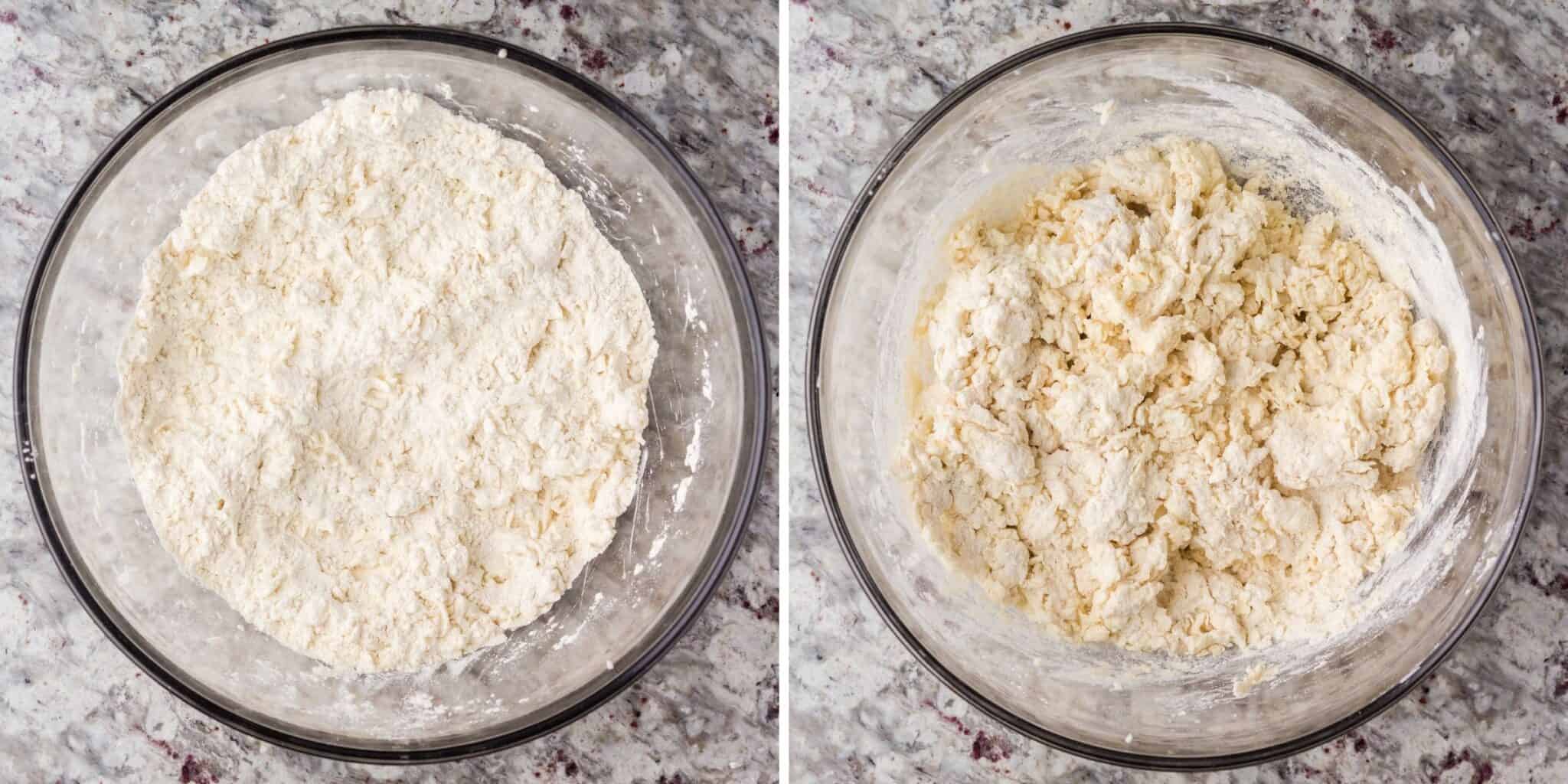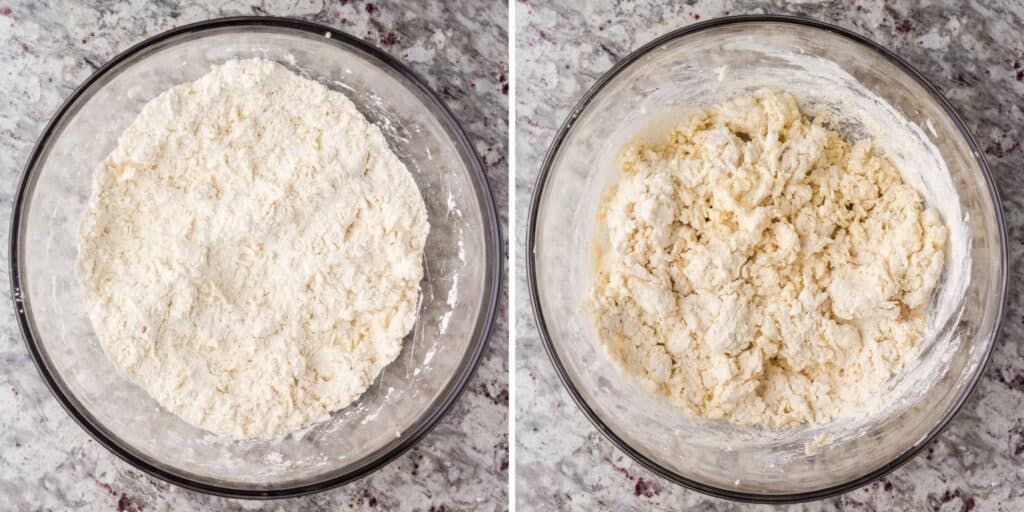 Variations
If you're looking to mix up your skillet biscuit flavors, there are a couple of variations that work well with this recipe. Add chopped bacon and/or shredded cheese (¼ cup each) to the recipe for a fully loaded skillet biscuit.
If you prefer your biscuits plain, feel free to omit the green onions from the recipe. Do not omit the sour cream though; it's important to the texture of the cooked biscuits.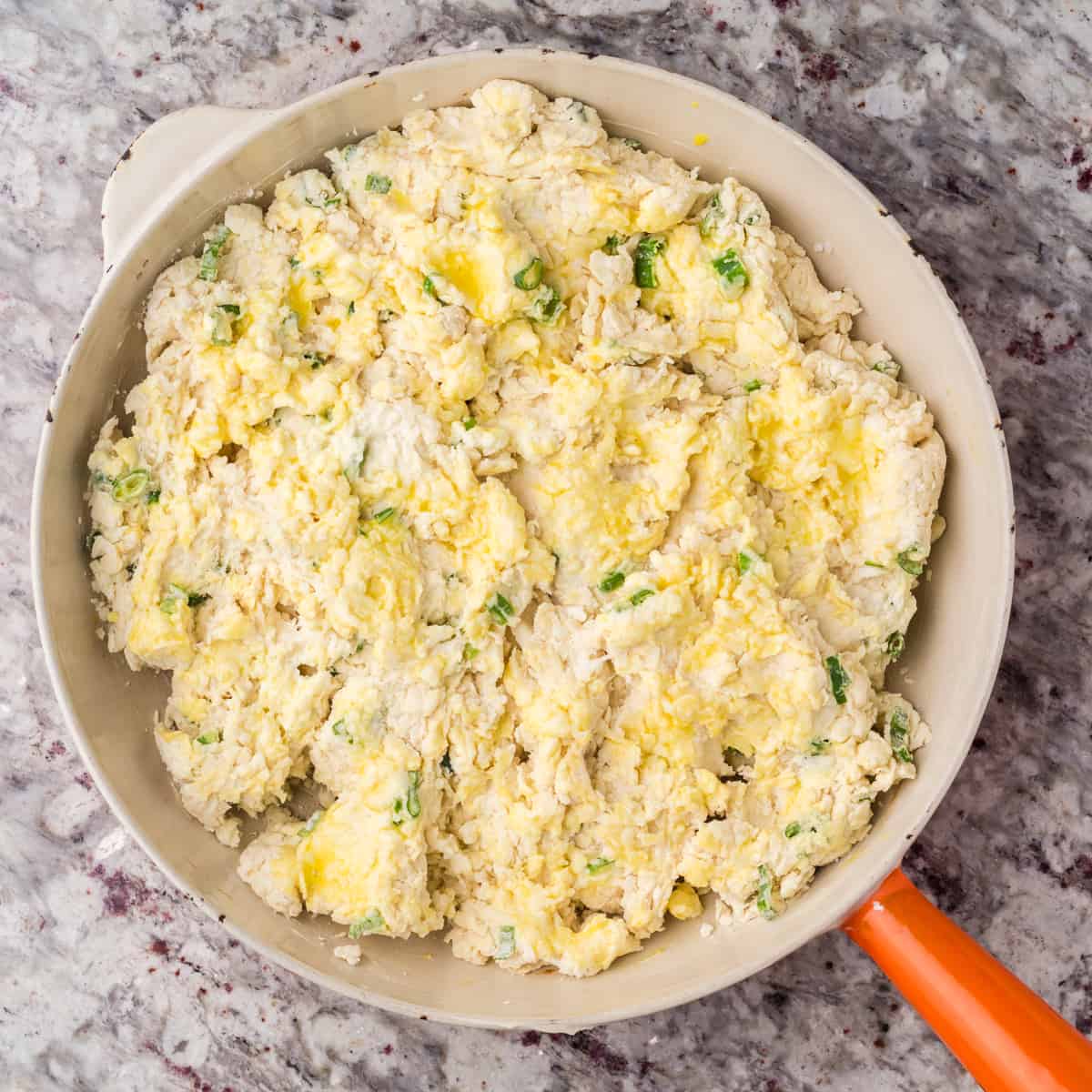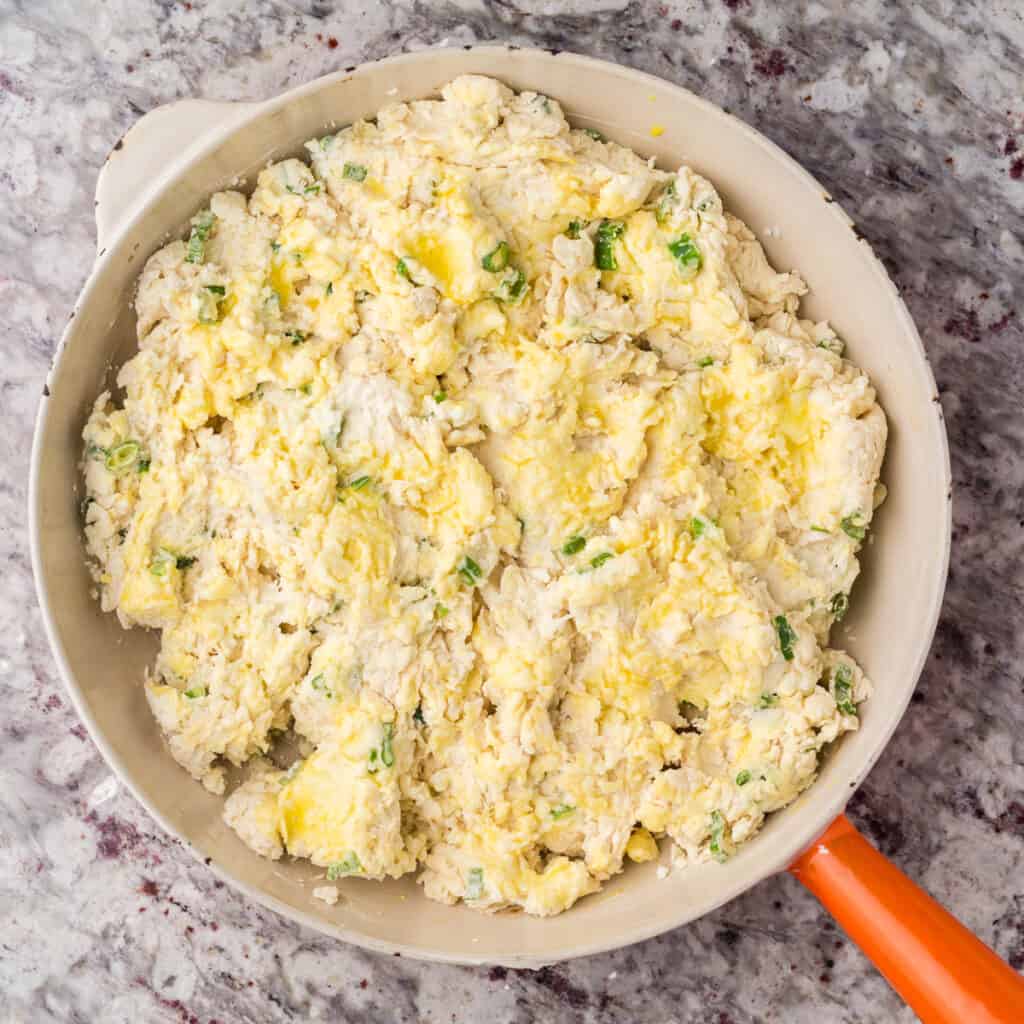 Equipment
Any heavy-bottomed skillet will work for this recipe. Cast iron is a fail-proof choice for baking biscuits, but anything similar will work. Lodge makes my favorite cast iron pans. If you don't have one, it's worth the investment. Check out this Lodge 9-inch skillet. I have the same one, but because I'm sentimental, I always use my mammaw's orange skillet when making biscuits or cornbread.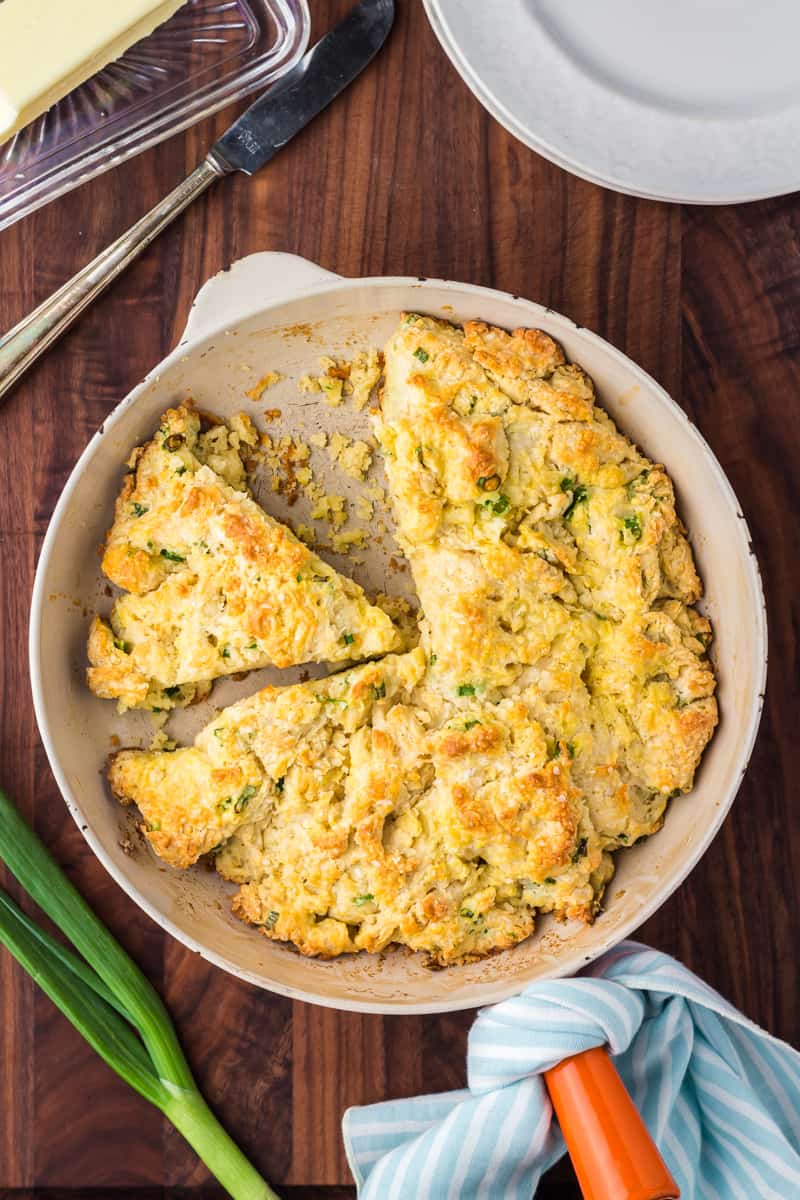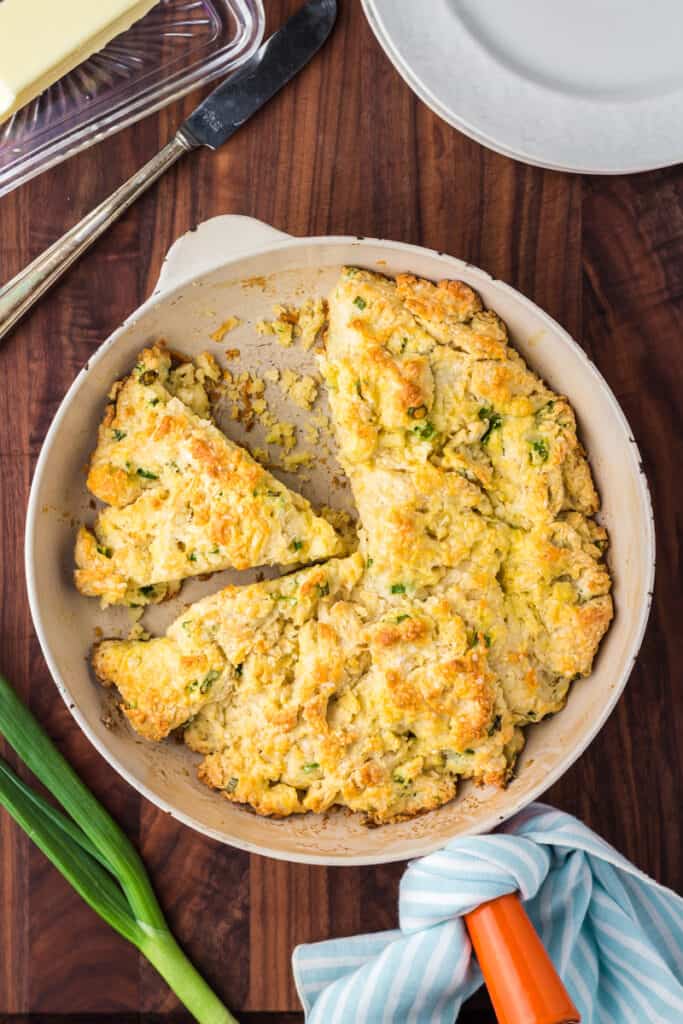 Top tip
There is one crucial step to fluffy, tender skillet biscuits. I've already stated it above and on the recipe card, but it's so important that it's worth repeating.
DO NOT SMASH THE DOUGH INTO THE SKILLET.
The first time I made this recipe I pressed the dough down, and the result was a tough biscuit. Since then, I learned to gently spread the dough instead to keep the biscuit light and fluffy. Also, don't forget to sift your dry ingredients!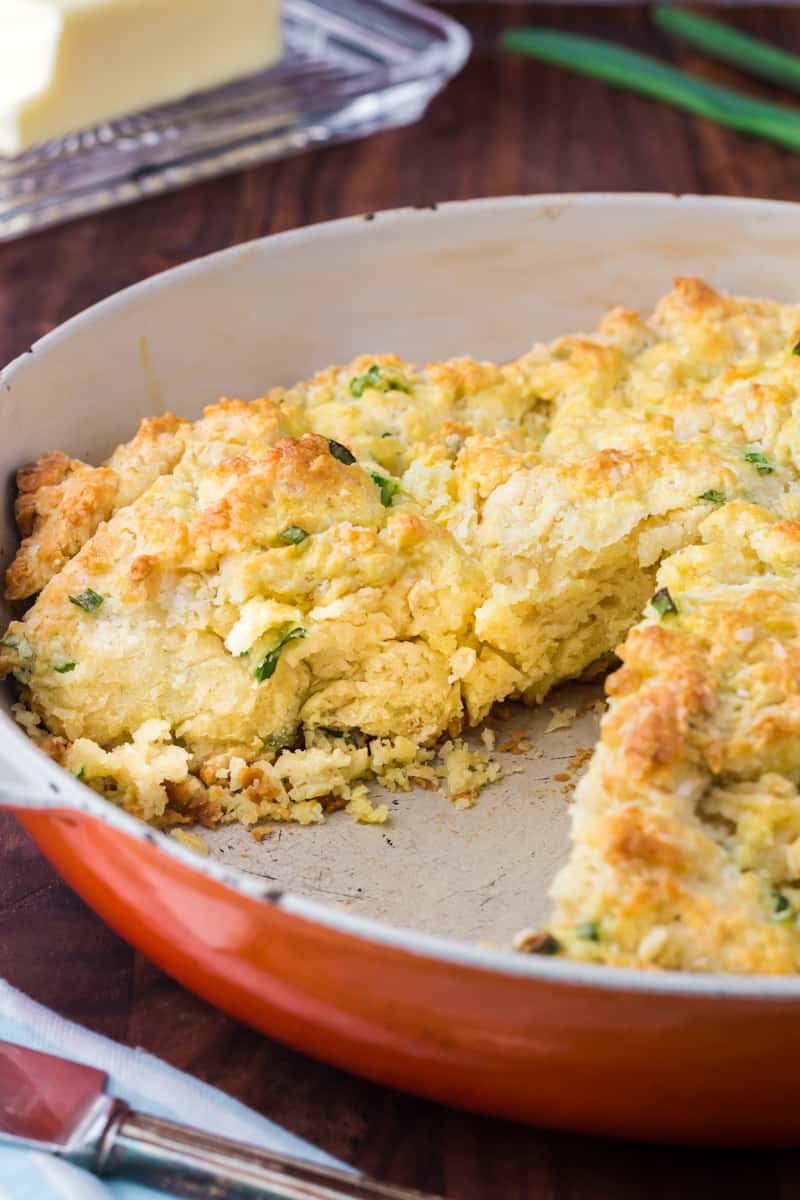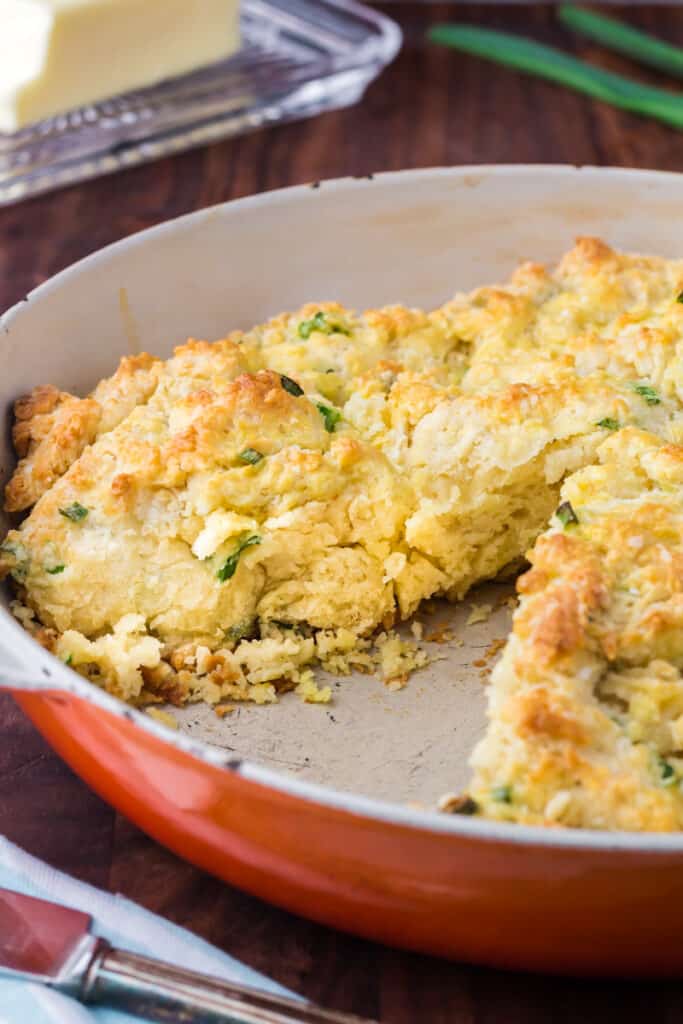 If you love biscuits, be sure to check out my Buttermilk Biscuits and Biscuits and Sausage Gravy recipes. Sour Cream and Onion Skillet Biscuits are packed with flavor but simple to make. Give the recipe a try and let me know what you think in the comments section below.
Helpful Equipment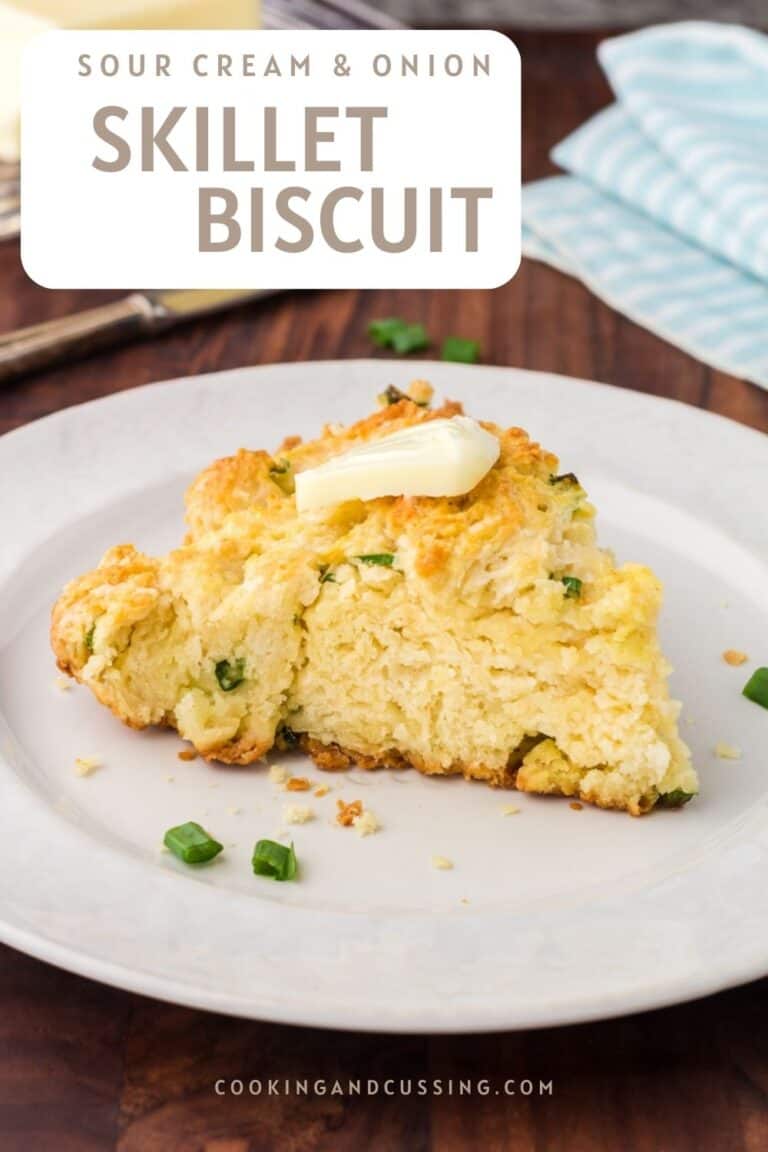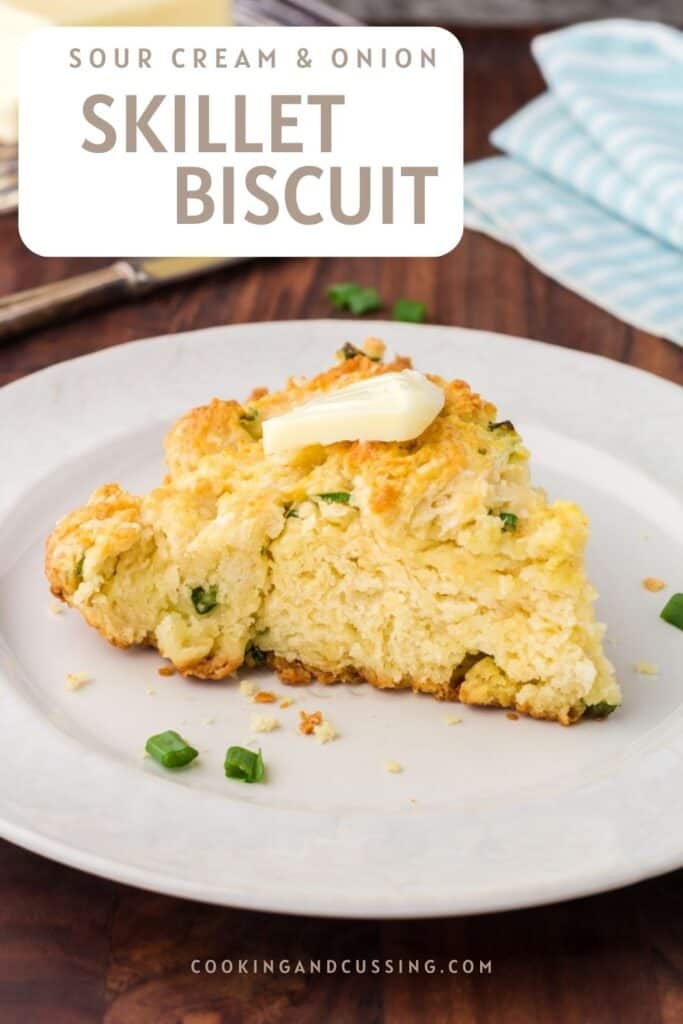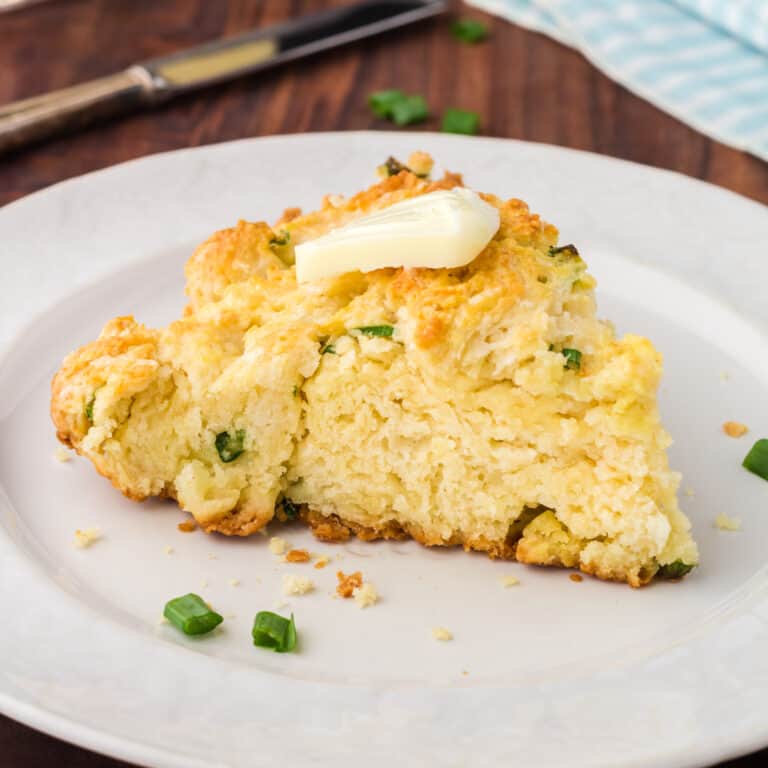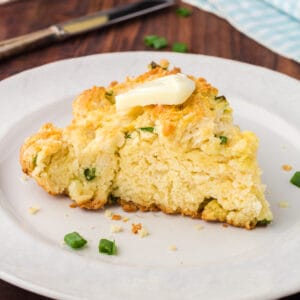 Sour Cream and Onion Skillet Biscuit
Flavorful and fluffy biscuits without messing up your countertop! Sour Cream and Onion Skillet Biscuits come together in one bowl.
Equipment
1 9" skillet

cast iron or similar
Ingredients
2½

cups

all purpose flour

2

tsp

white sugar

2½

tsp

baking powder

¼

tsp

baking soda

1

tsp

salt

plus more for top

½

cup

butter

cold, plus more for greasing

¾

cup

sour cream

cold

¾

cup

whole milk

cold

¼

cup

green onions

green only, finely chopped

1

egg
Instructions
Preheat the oven to 425°F. Grease a 9-inch skillet with butter.

Sift the flour, sugar, baking powder, and soda into a large mixing bowl. Add the salt and mix. Grate the cold butter into the same bowl.

Gently mix together until the dough forms large crumbles. Add the green onions and lightly mix.

Using your hand, make a well in the center of the dry ingredients and add the sour cream and ½ cup plus 2 tablespoons of milk. Reserve 2 tablespoons to be used if needed.

Combine the wet and dry ingredients using your hands until the dough just starts to come together. Use the reserved milk if necessary, adding one tablespoon at a time. Bring the dough together into a loose ball in the center of the bowl.

Using a butter knife, cut the dough ball in half and place one half on top of the other. Gently press down to combine the two halves. Repeat this two more times.

Place the dough into the prepared skillet. DO NOT SMASH THE DOUGH. Instead, gently spread the dough to fill the skillet. If you push down on the dough, the biscuits will be tough. The dough spreads when baking so don't fuss too much about filling every nook of the skillet.

Beat the egg with 1 tablespoon of water. Brush the top of the biscuit dough with egg wash and sprinkle with a pinch of extra salt if desired. Bake for 25 minutes. Cool for 5-10 minutes before serving.
Frequently Asked Questions
I don't like onions. Do I have to include it?
No, you can leave the onions out but don't exclude the sour cream.
Can I make my skillet biscuit ahead of time?
Biscuits are best when eaten fresh from the oven. I don't recommend making it too long before serving.
My biscuit turned out tough. What happened?
There are two most common reasons skillet biscuits go tough. First, make sure your butter, milk and sour cream are all really cold. Try to work quickly when making the dough so the heat from your hands doesn't warm up the ingredients. Second, did you smash the dough down before baking? Be sure to spread the dough, not smash it, to fill the skillet.
The following two tabs change content below.

Hey-ooo! I'm Hailey, and I'm a number cruncher by day and cussing cook by night. I created this site to share my love for delicious food that feeds the soul as well as the belly. I hope my recipes have you running to the kitchen to cook some damn good grub!