Chipotle Sour Cream Sauce is easy to make while packing a huge punch of flavor. It's the perfect dip for almost everything including tacos, nachos, grilled meats, and fried snacks. The combination options are almost endless!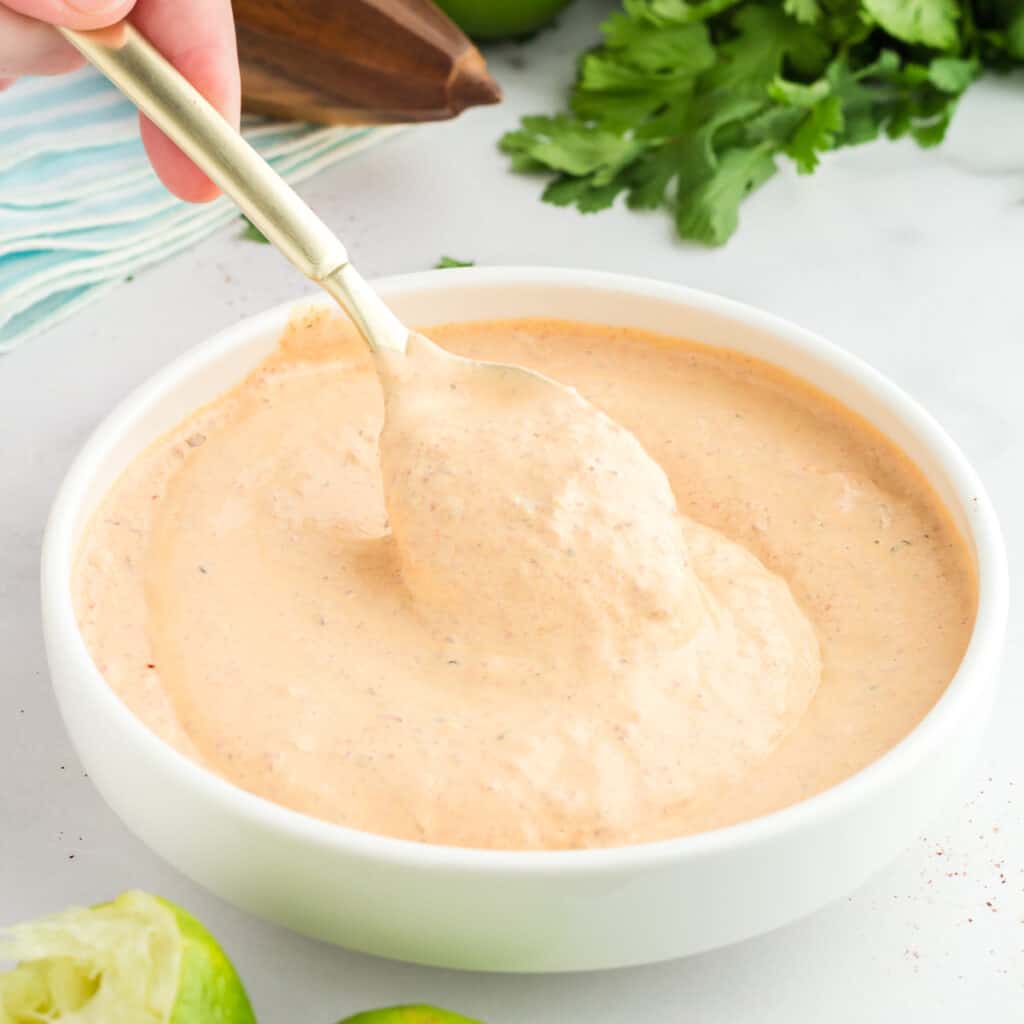 With only six ingredients and five minutes, you can make a delicious sauce from scratch that goes with almost any Latin-flavored dish. I've paired this sauce with my Sheet Pan Chicken Fajitas, Braised Salsa Verde Pork Tacos, and Taco Cornbread Pie. It was so tasty with all of them!
The sauce is a classic combination of lime, sour cream, and chiles. It could have easily been called Chipotle Lime Cream Sauce or Sour Cream Sauce for Tacos too. Whatever you want to call it, it's yummy.
Ingredients
Only six ingredients stand between you and Chipotle Sour Cream Sauce.
Sour Cream
Chipotles in adobo- Chipotles are smoked, dried jalapenos, and adobo is a spicy and tangy mix of tomato, vinegar, garlic, and spices.
Lime- zest and juice
Cumin
Mexican oregano – Regular oregano can be substituted.
Salt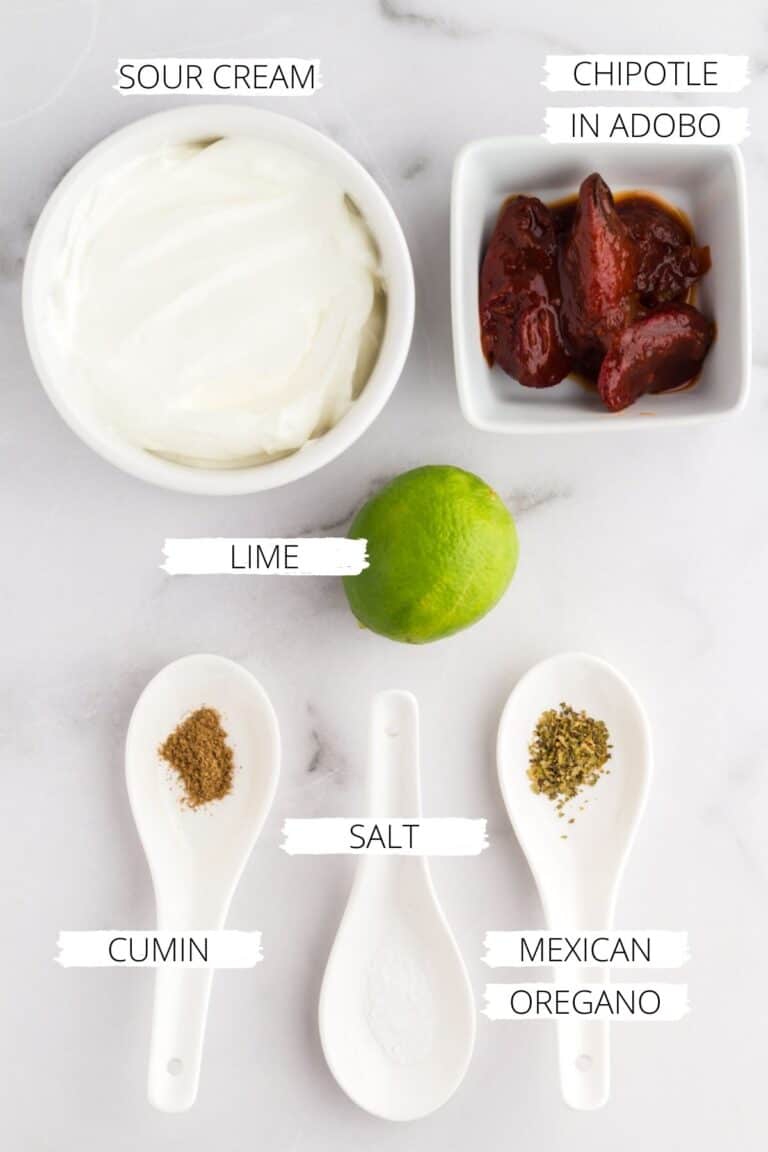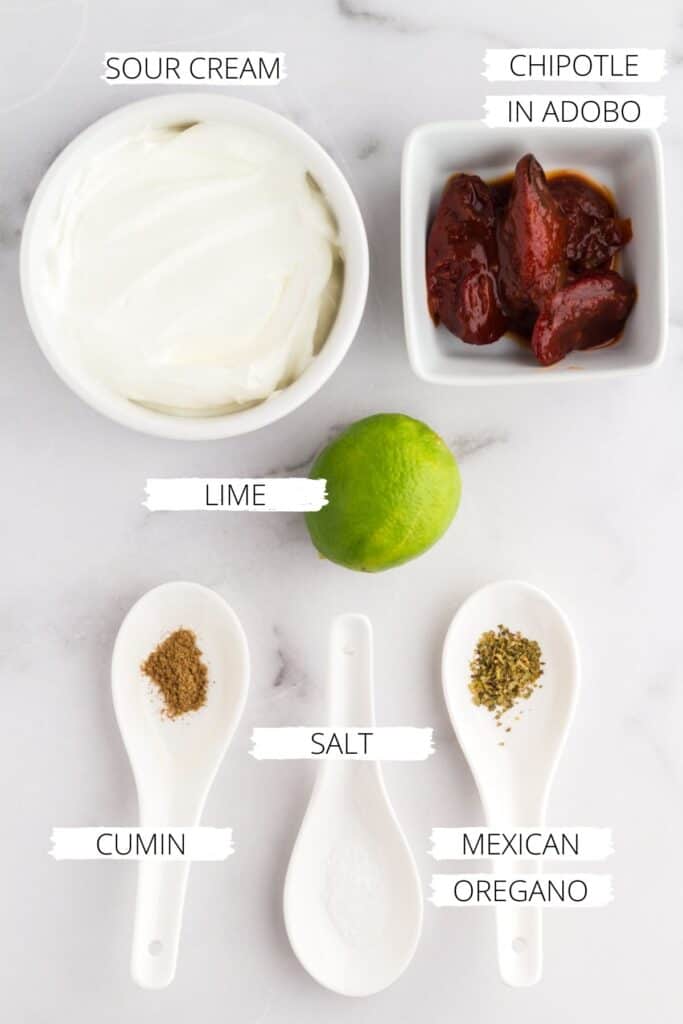 Instructions
It feels ridiculous to dedicate a section to instructions for this recipe, but in the spirit of consistency, I've included it. All this recipe required is pureeing all the ingredients together in a small food processor. I also like to let the sauce chill for about 30 minutes to allow the flavors to combine.
If you don't have a food processor or blender to use, you can also finely mince the chipotles into a paste and stir the ingredients together. The texture may be a bit rougher, but the taste will still be epic.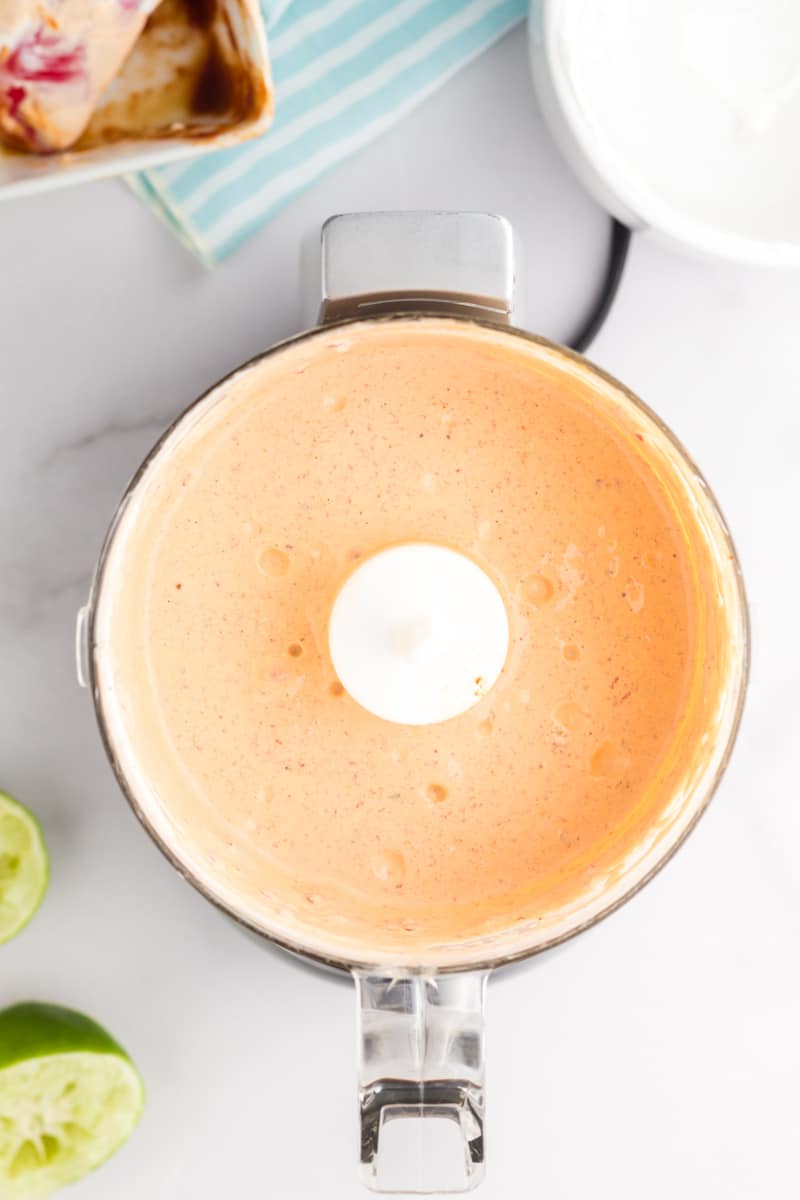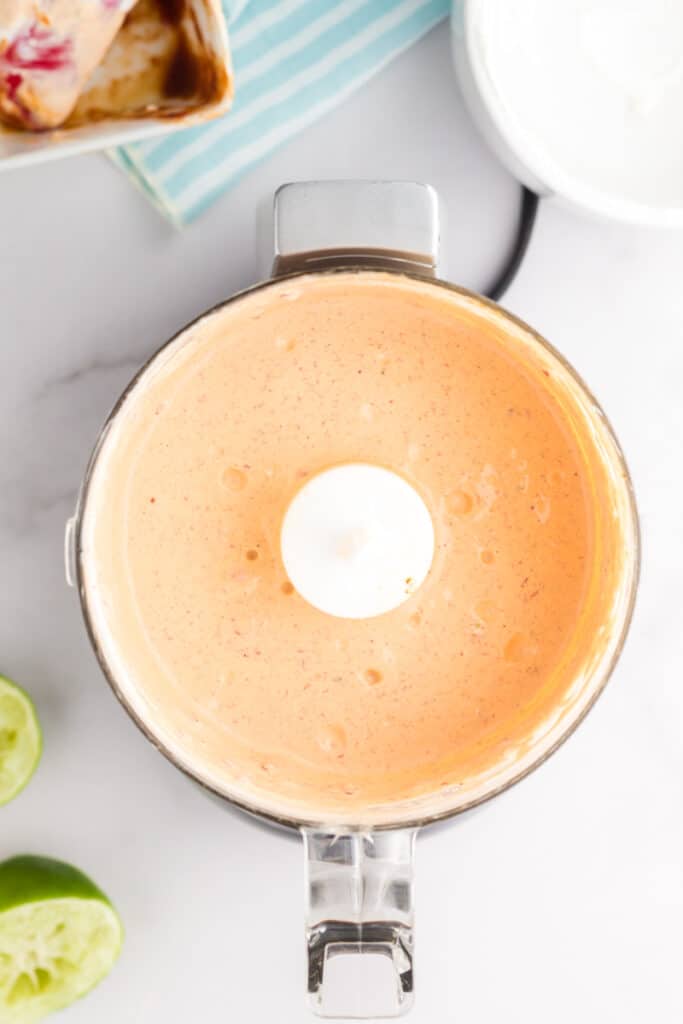 Substitutions
There are a few different substitutions you can use when you make Chipotle Sour Cream Sauce.
Sour cream- You can use light sour cream instead of full fat. I don't think fat-free sour cream offers the right texture, so I would stick with light. Mexican crema would also work in this recipe; the texture will be a bit looser.
Chipotles in adobo- Here is an article with some recommendations for options.
Mexican oregano- Check out my Substitutes for Oregano for more details on the difference between Mexican oregano and other varieties. Regular oregano works in this recipe.
Variations
You can absolutely play with the flavors in this recipe to suit your taste. If you like a stronger smoky flavor, you can increase the number of chipotles in adobo you add. I've doubled the amount before, and the sauce maintains its creamy texture.
If you want to thin out the sauce and add a little extra acidity, use two limes instead of one. You can also make the texture thinner by adding water, 1 teaspoon at a time.
Like your food extra spicy? I recommend adding some cayenne pepper to the recipe. You could also add a few dashes of your favorite hot sauce.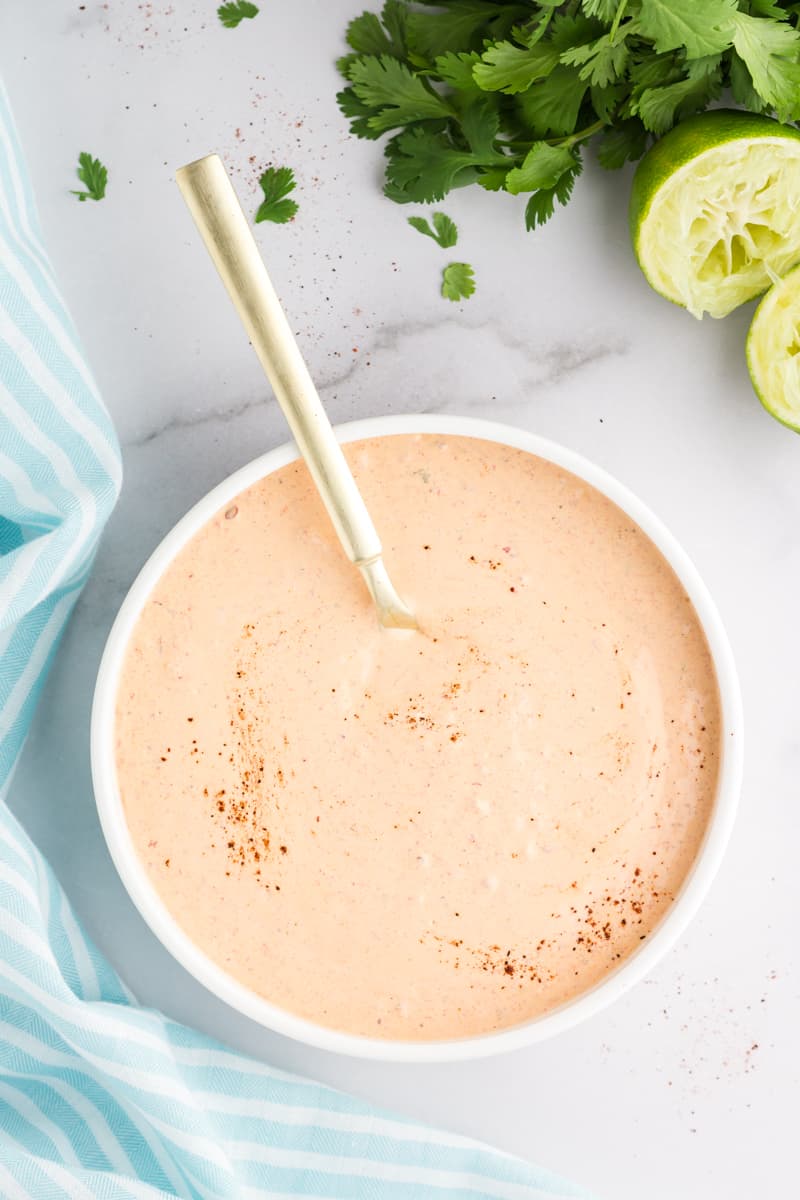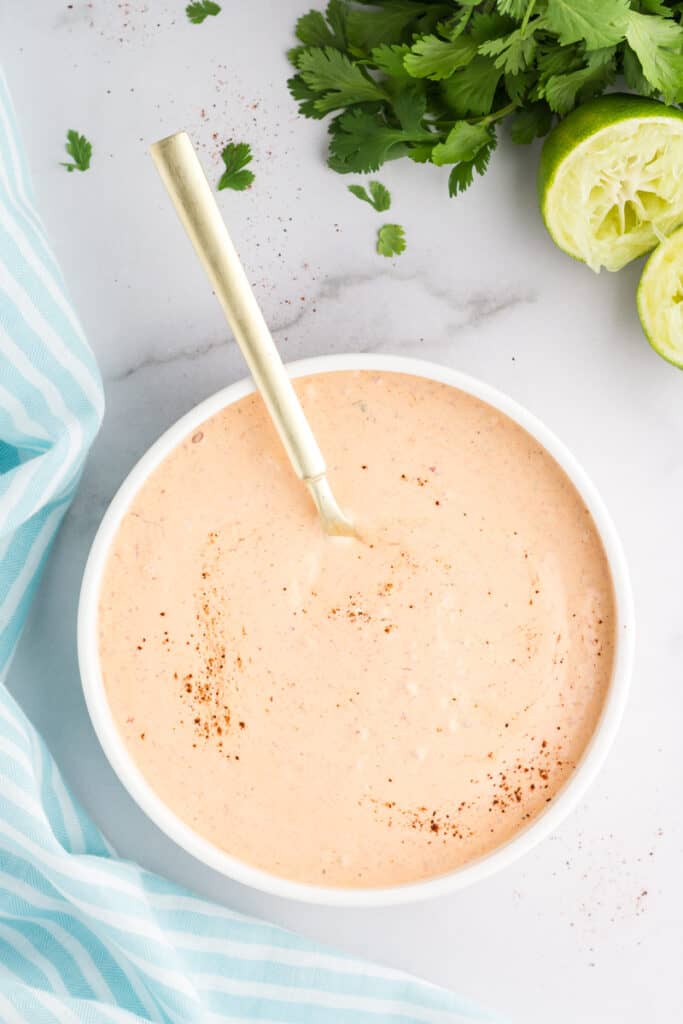 Equipment
A small food processor or blender is not required to make the recipe, but it does speed the recipe up a bit. You can definitely make it without any special equipment though. Just finely mince the chipotles into a paste before adding to the other ingredients.
Storage
Serve: The sauce is best served cold. I like to let it sit for 30 minutes in the fridge after mixing it together, but it's not required.
Store: Once prepared, the sauce can be kept for up to one week in an airtight container in the fridge.
Freeze: Sour cream doesn't freeze well. The texture gets weird, so I don't recommend it.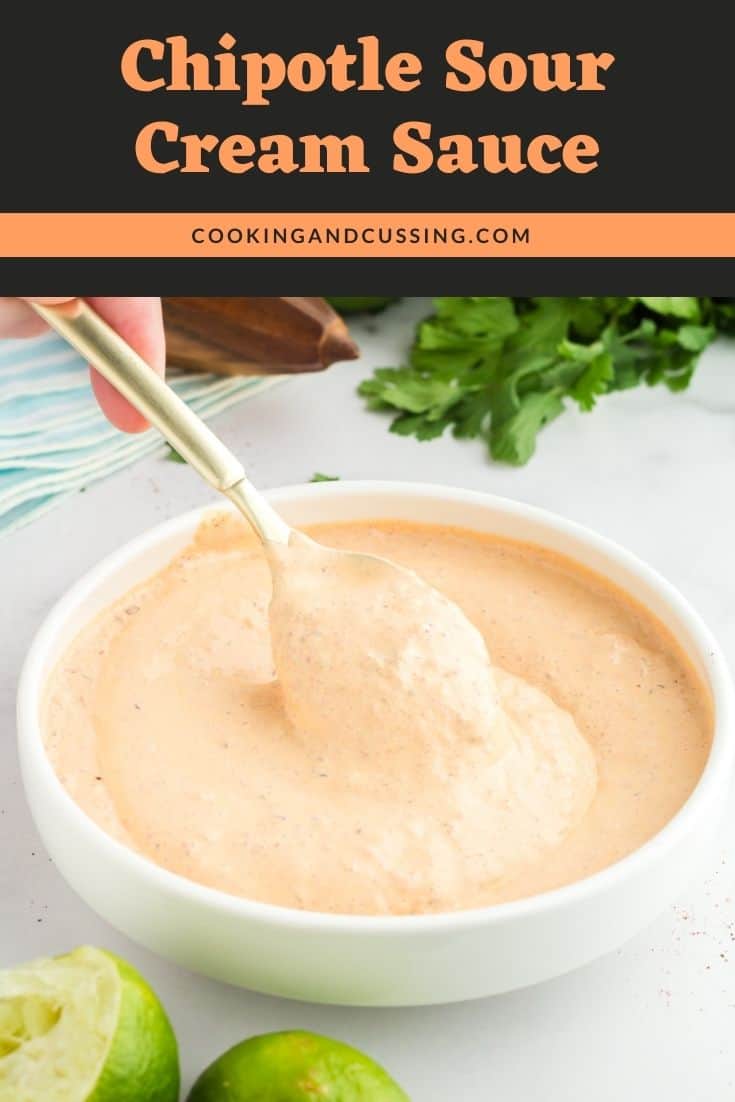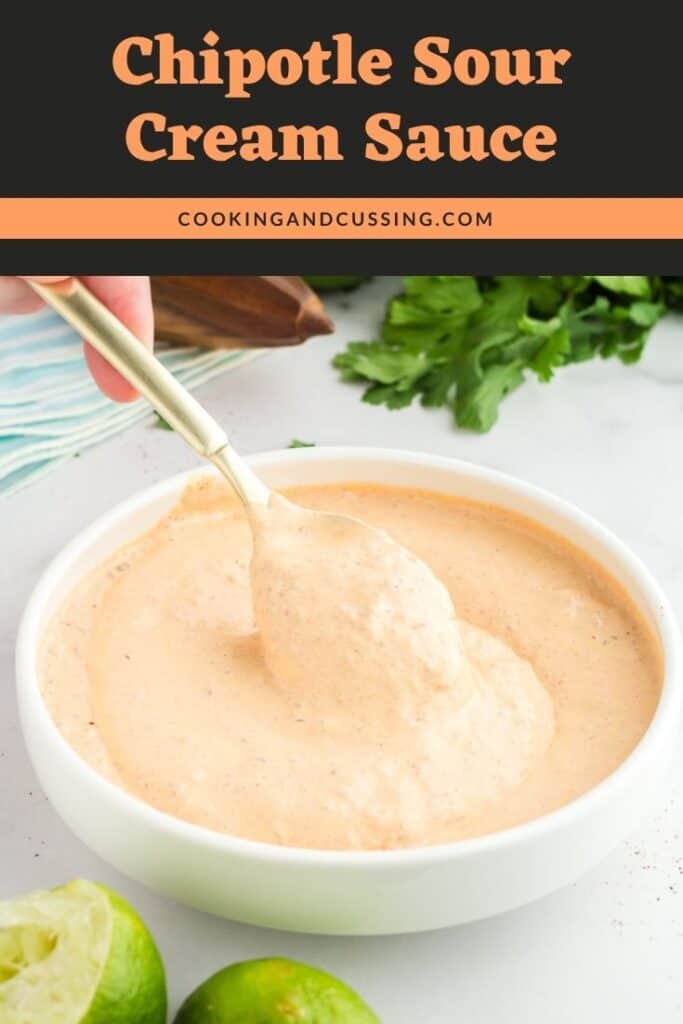 I love to keep my fridge full of flavorful, simple condiments like Chipotle Sour Cream Sauce because they take dinner from boring to bomb. It's not just a taco sauce- get adventurous with what you eat it with! Try out this recipe and let me know what you think by leaving a recipe rating below.
HELPFUL UTENSILS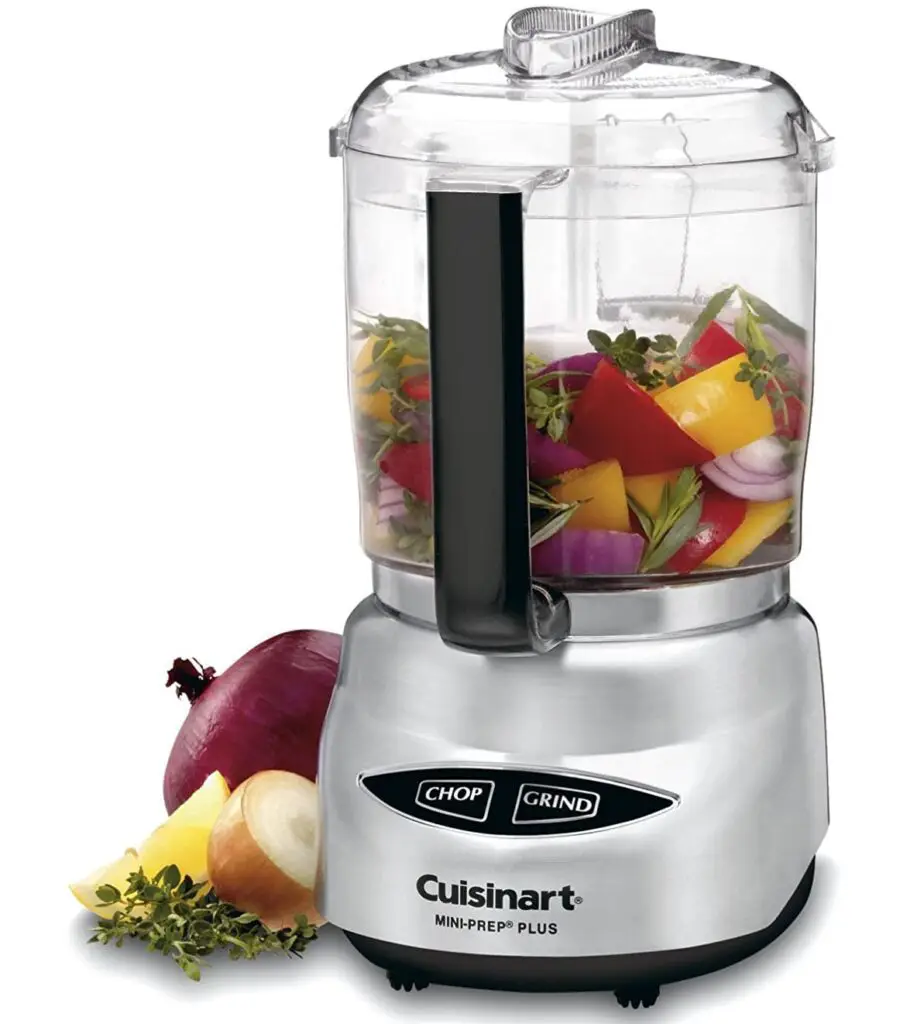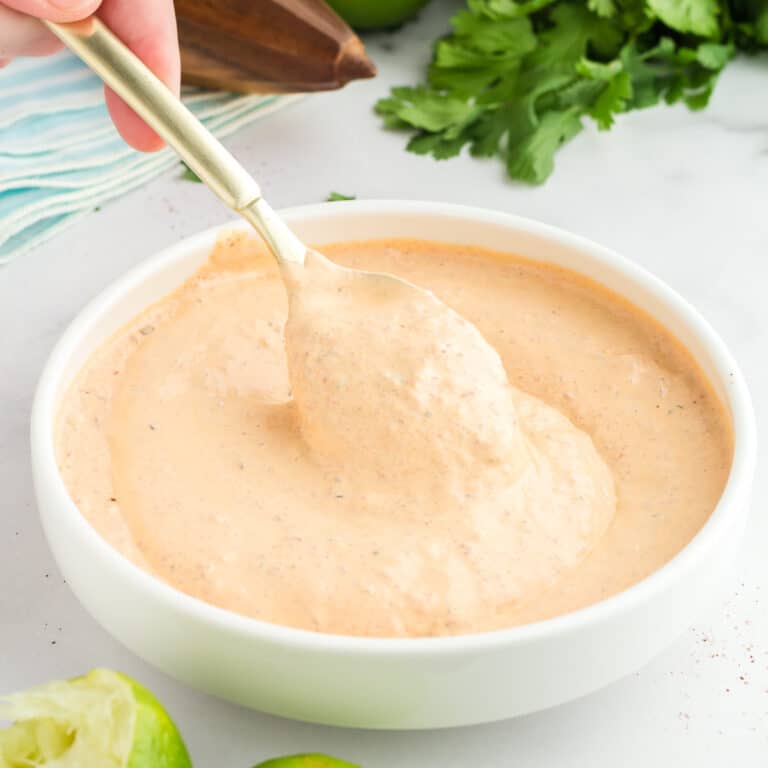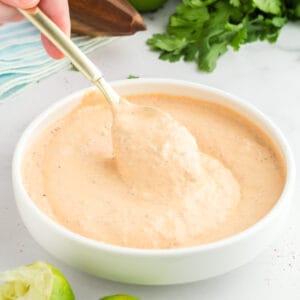 Chipotle Sour Cream Sauce
Chipotles in adobo and fresh lime juice are the keys to this quick and easy sauce. Chipotle Sour Cream Sauce is delicious on everything from tacos to grilled meats.
Ingredients
1

cup

sour cream

¼

cup

chipotles in adobo

~3-4 peppers

1

lime

juice and zest

¼

tsp

ground cumin

¼

tsp

Mexican oregano

¼

tsp

kosher salt
Instructions
Add all the ingredients to a small food processor or blender. Blend smooth. Serve.
FREQUENTLY ASKED QUESTIONS
Can I substitute light or fat-free sour cream?
Light sour cream will work, but I don't like the texture of fat-free for this recipe.
Is Mexican oregano different than the spice labeled "Oregano"?
Yep. My Substitutes for Oregano article has more details on the difference. You can, however, use either in the recipe.
Can I make the recipe without a food processor or blender?
Yes! Mince the chipotles in adobo as finely as you can until they resemble a paste then combine with the other ingredients. The texture may be a bit rougher, but the flavor will be the same.
The following two tabs change content below.

Hey-ooo! I'm Hailey, and I'm a number cruncher by day and cussing cook by night. I created this site to share my love for delicious food that feeds the soul as well as the belly. I hope my recipes have you running to the kitchen to cook some damn good grub!