Donut Bread Pudding is super simple to make and insanely delicious! It only takes a few refrigerator staples and a dozen donuts to create magic in the form of bread pudding.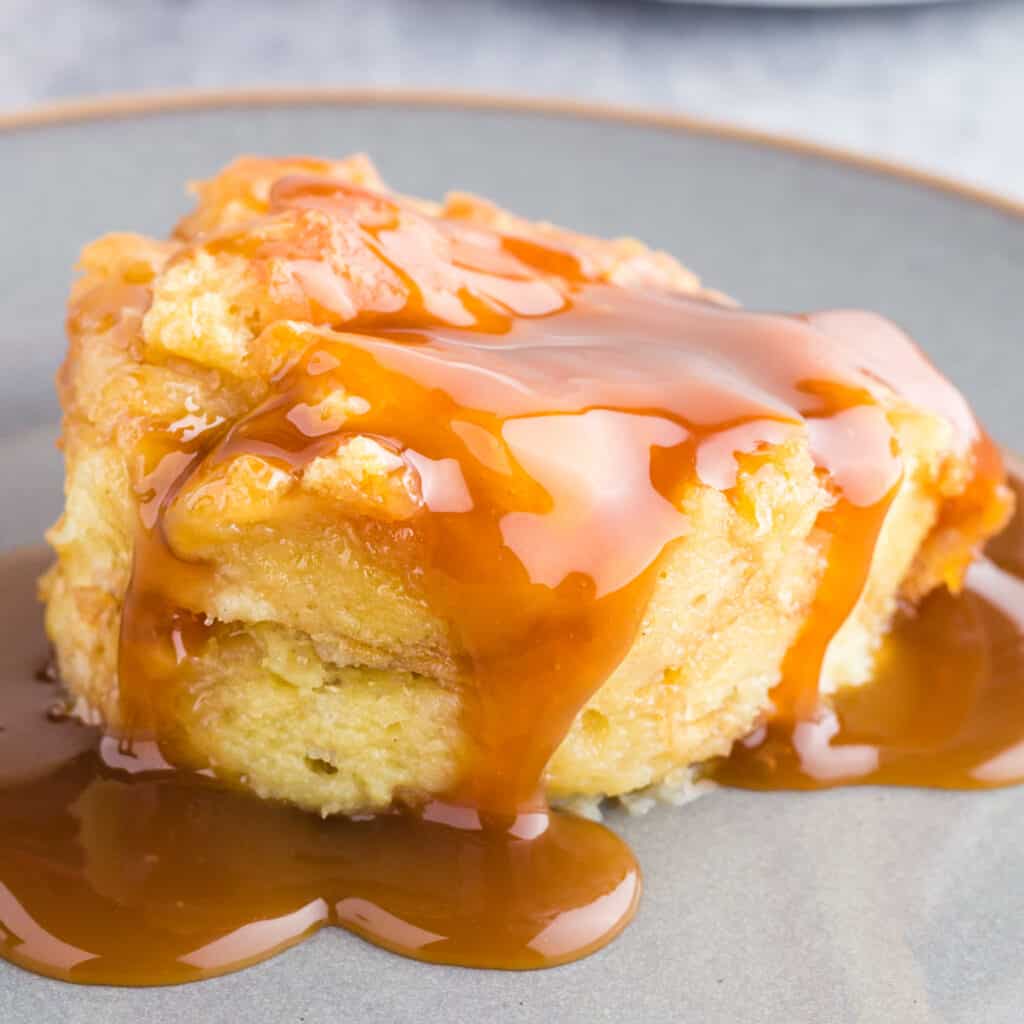 If you're already a fan of bread pudding, welcome to a new stratosphere of bread pudding delight. On the other hand, if you've tried bread pudding before and found it heavy in texture and underwhelming in flavor, I'm about to blow your mind.
Donut bread pudding is the creamiest and lightest bread pudding I have ever tasted. The texture is fluffy in your mouth while also being decadent from the eggs and cream. The flavors of nutmeg and vanilla make you feel warm inside. Donut Bread Pudding is the ultimate comfort food.
Ingredients
The ingredients for this recipe are most likely already in your house. Okay, so maybe you don't always have a dozen donuts in the house, but the rest of the ingredients are staples in my kitchen.
I have also made this recipe from leftover office donuts. They often get thrown out at the end of the day, but instead, you can turn them into bread pudding.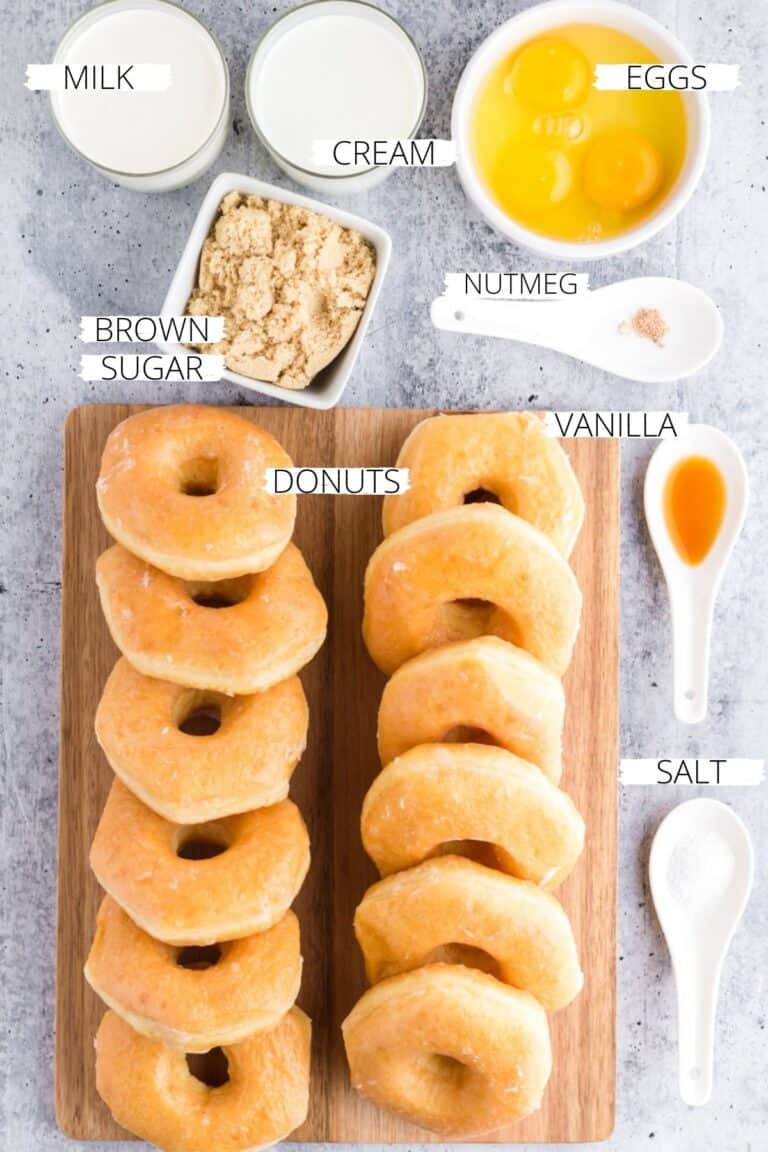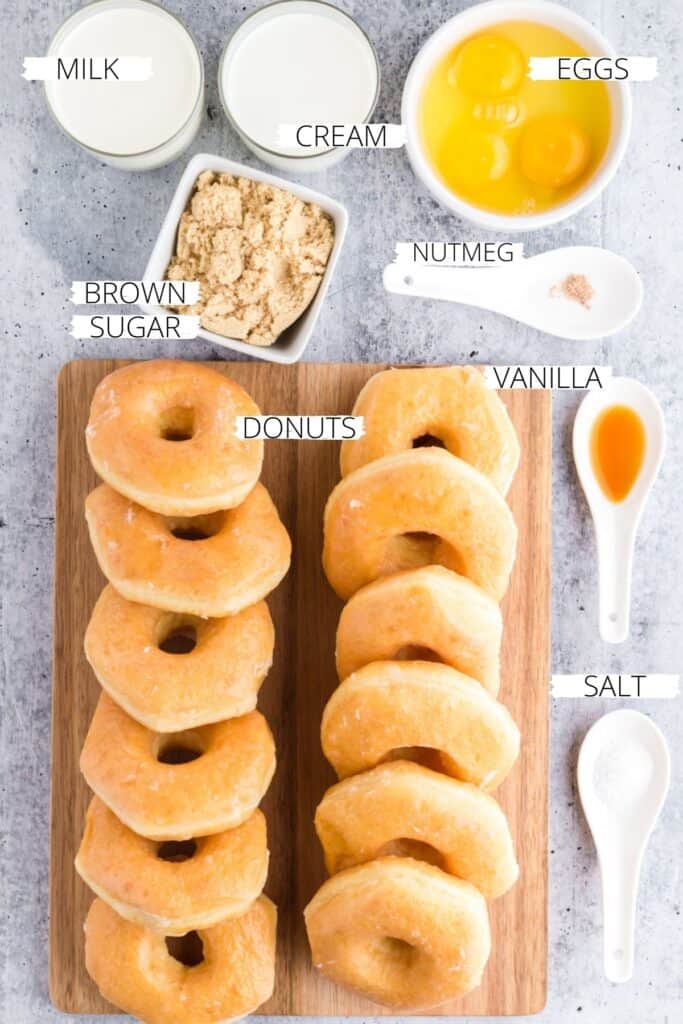 Dozen glazed yeast donuts- cake donuts don't work as well as yeast; they tend to fall apart when combined with the custard, and the finished recipe isn't as light in texture. Stick with yeast donuts for this recipe. You could be adventurous and use donuts with flavored icing, but I would avoid any kind with filling.
Eggs
Whole milk
Heavy cream
Brown sugar
Vanilla
Salt
Nutmeg
Caramel Sauce- this is totally optional.
Instructions
Bread puddings are easy to make and can be made with a variety of ingredients. I may be partial, but donuts are the best "bread" I've ever found for pudding. The big flavor that donuts offer also means you don't need to do much for the recipe to turn out amazing.
There are three main steps to making Donut Bread Pudding.
Cut each donut into six equal pieces.
Combine the eggs, milk, cream, brown sugar, salt, vanilla and nutmeg to create a custard.
Pour the custard over the donuts.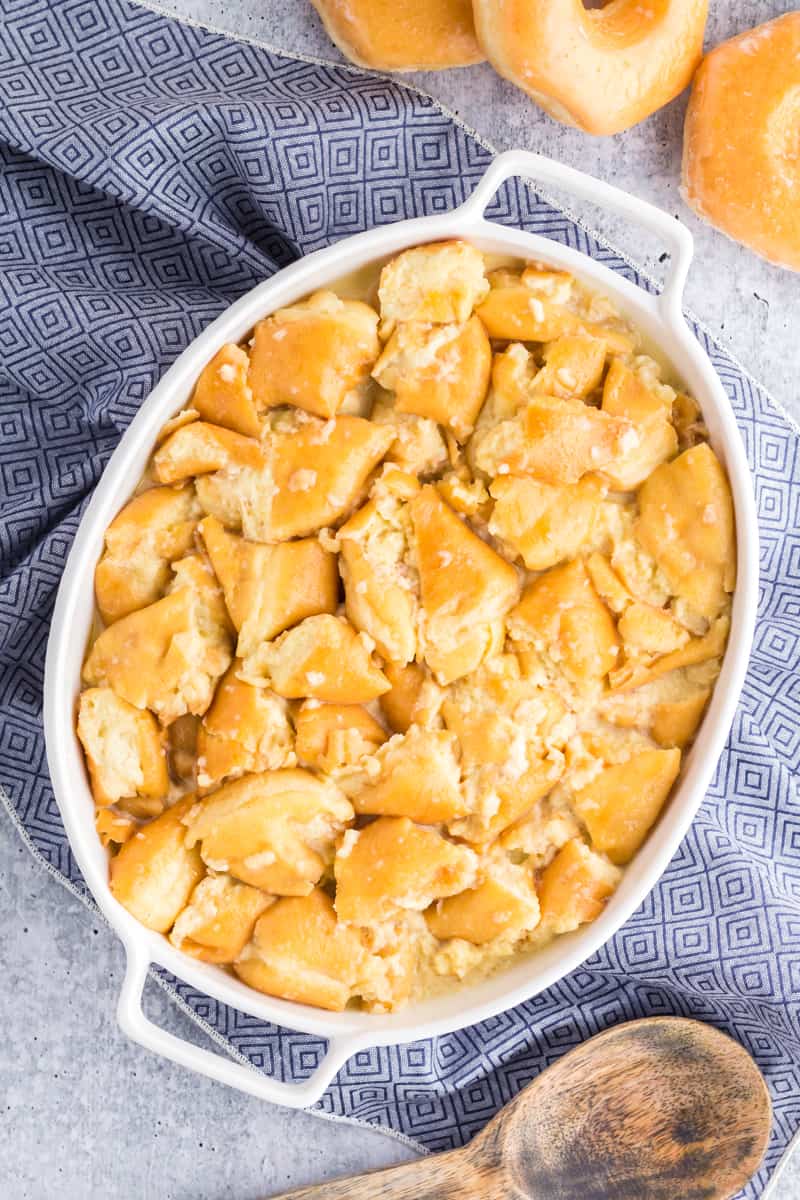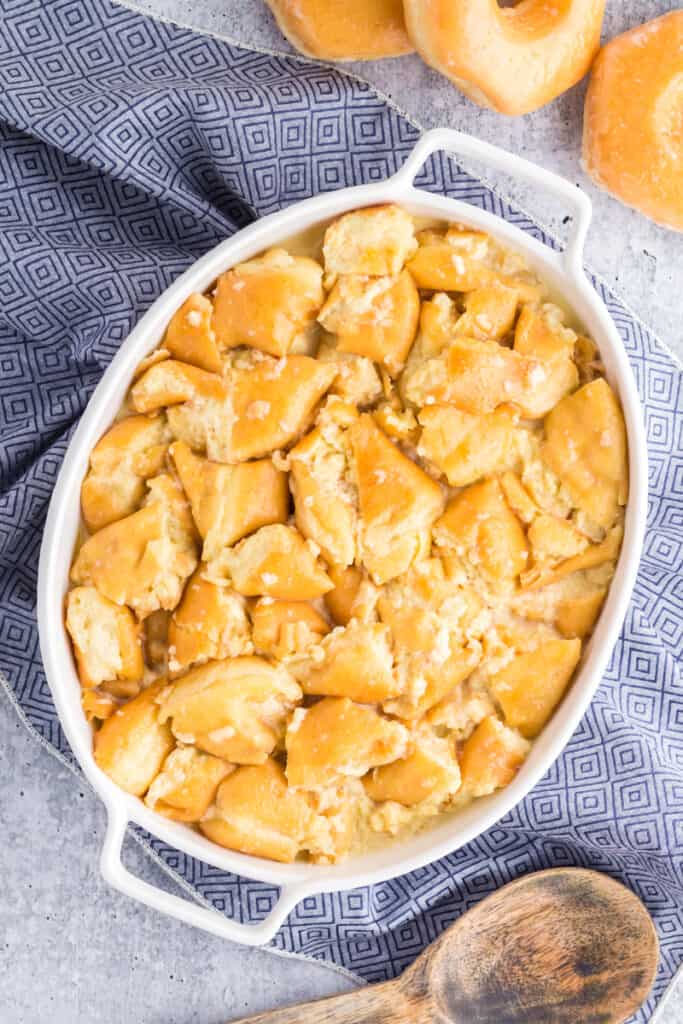 After that, the bread pudding needs to bake, and it will be ready to serve in less than an hour. There is no need for a water bath for baking (if you don't know what that is, don't give it another thought- just keep on reading!). This recipe stays very moist with a standard baking process.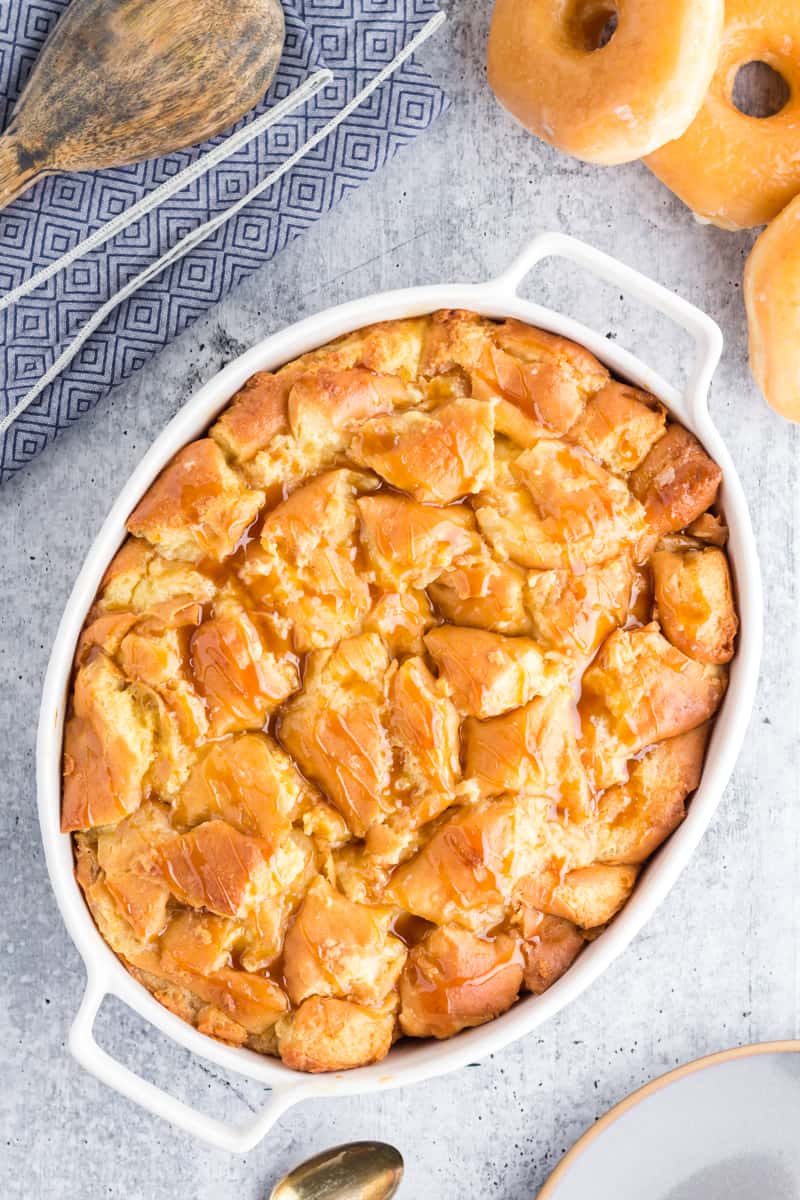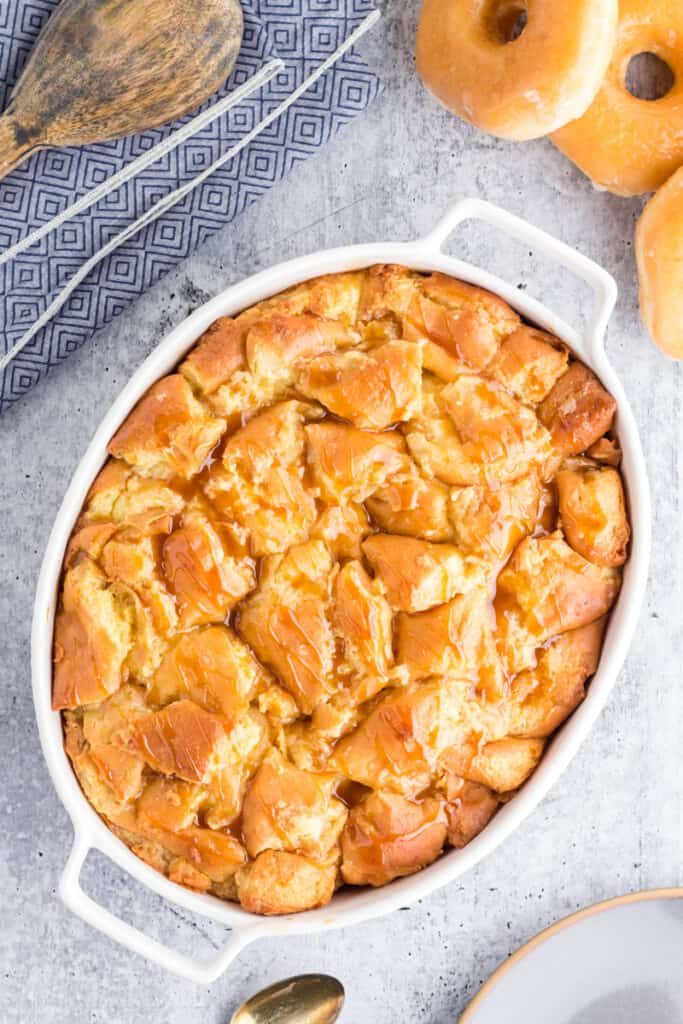 I like to serve my Donut Bread Pudding with a drizzle of caramel sauce, but chocolate sauce would be totally delicious as well. If you really want to make this dessert over the top decadent, you can also top each serving with a scoop of vanilla ice cream.
Substitutions
Donut Bread Pudding is so simple that it does not leave a lot of room for substitutions. A few that come to mind are:
Whole milk- 2% milk would be okay in place of whole milk, but if it's to save calories remember there is also heavy cream in the recipe. If it's because you don't want to commit to a large container of whole milk and you keep 2% in the fridge, I support that substitution.
Donuts- Yeast donuts are the only type I would recommend for bread pudding. Cake donuts, while delicious, do not give you the same light and fluffy texture. Cake donuts also tend to fall apart when being mixed with the custard.
Brown sugar- You can use white sugar, but the flavor won't be as complex.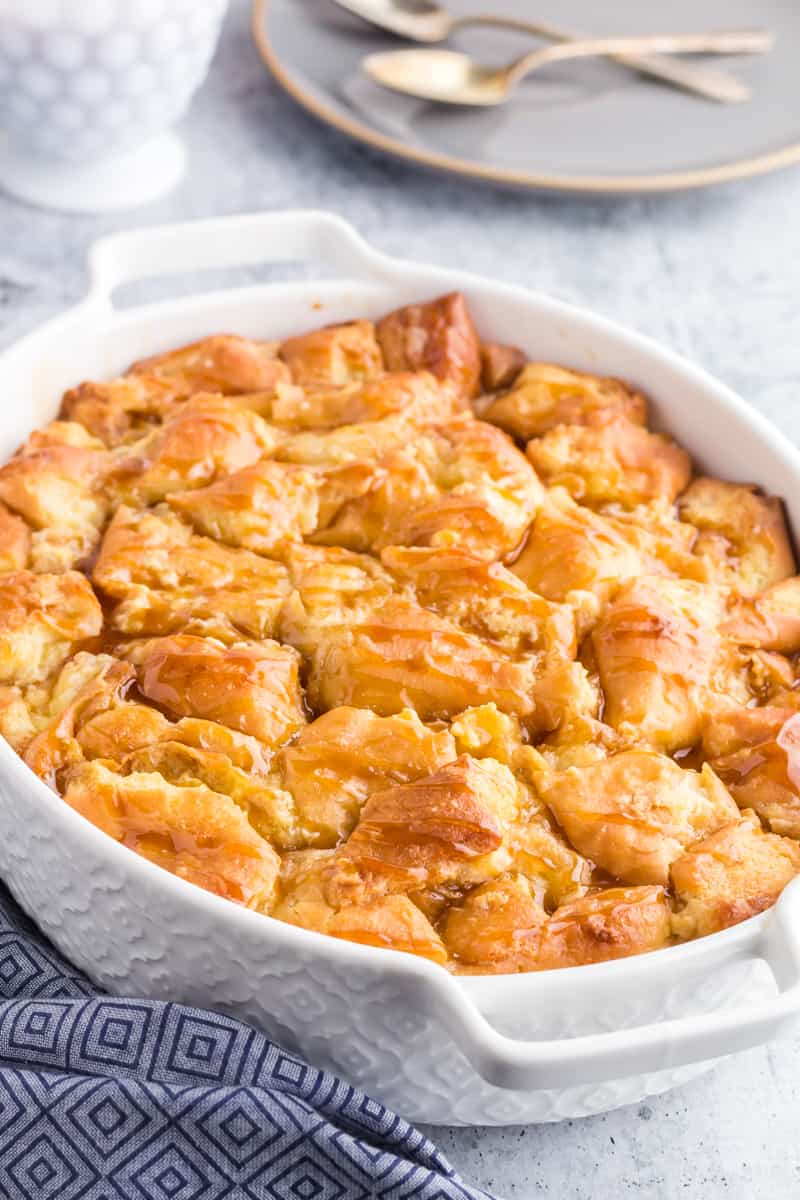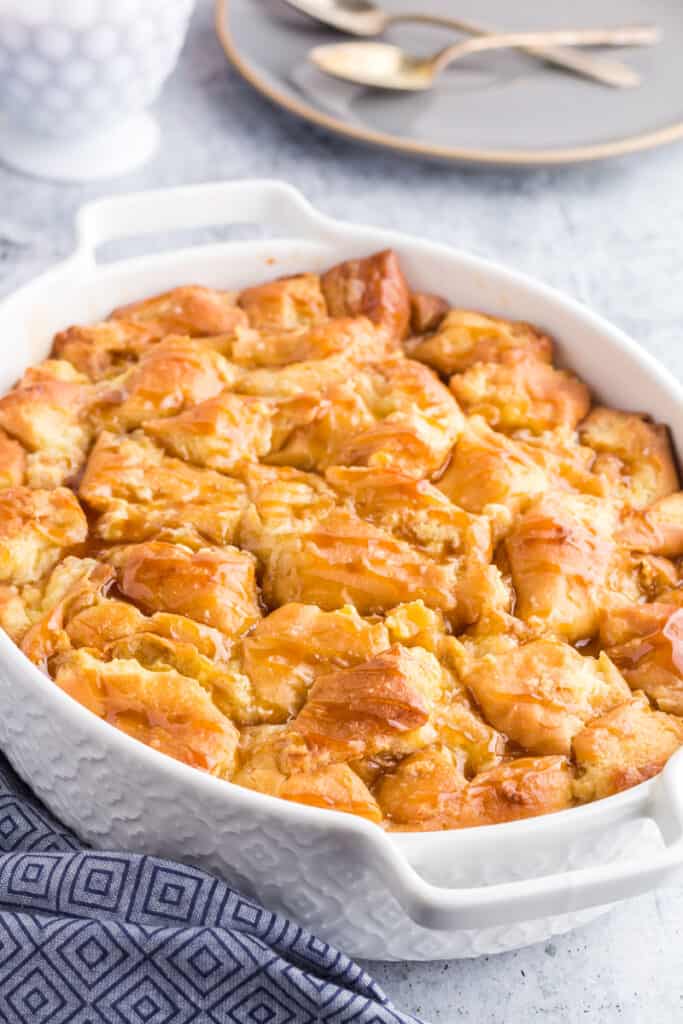 Variations
Any of the flavored iced donuts (like chocolate or cherry) would be a fun twist on this recipe. Choose your favorite donut variety and give the recipe a try! I would love to hear about other flavors of Donut Bread Pudding in the comments below.
A word of advice though is to avoid any filled donuts. They may throw off the balance of liquid ingredients in the custard and leave you with runny bread pudding.
Storage
Serve: Donut Bread Pudding is best served fresh out of the oven.
Store: The dish can be kept in the fridge for up to three days. Reheat before serving.
Freeze: To freeze, allow the dish to cool completely and separate it into individual portions. The portions can be kept frozen in an airtight container for up to 30 days.
Defrost: Leave the frozen bread puddings in the fridge overnight to thaw.
Reheat: Use a microwave on half power to reheat. Heat for 2 minutes at 50% and then work in 30-second increments until the bread pudding is warmed through.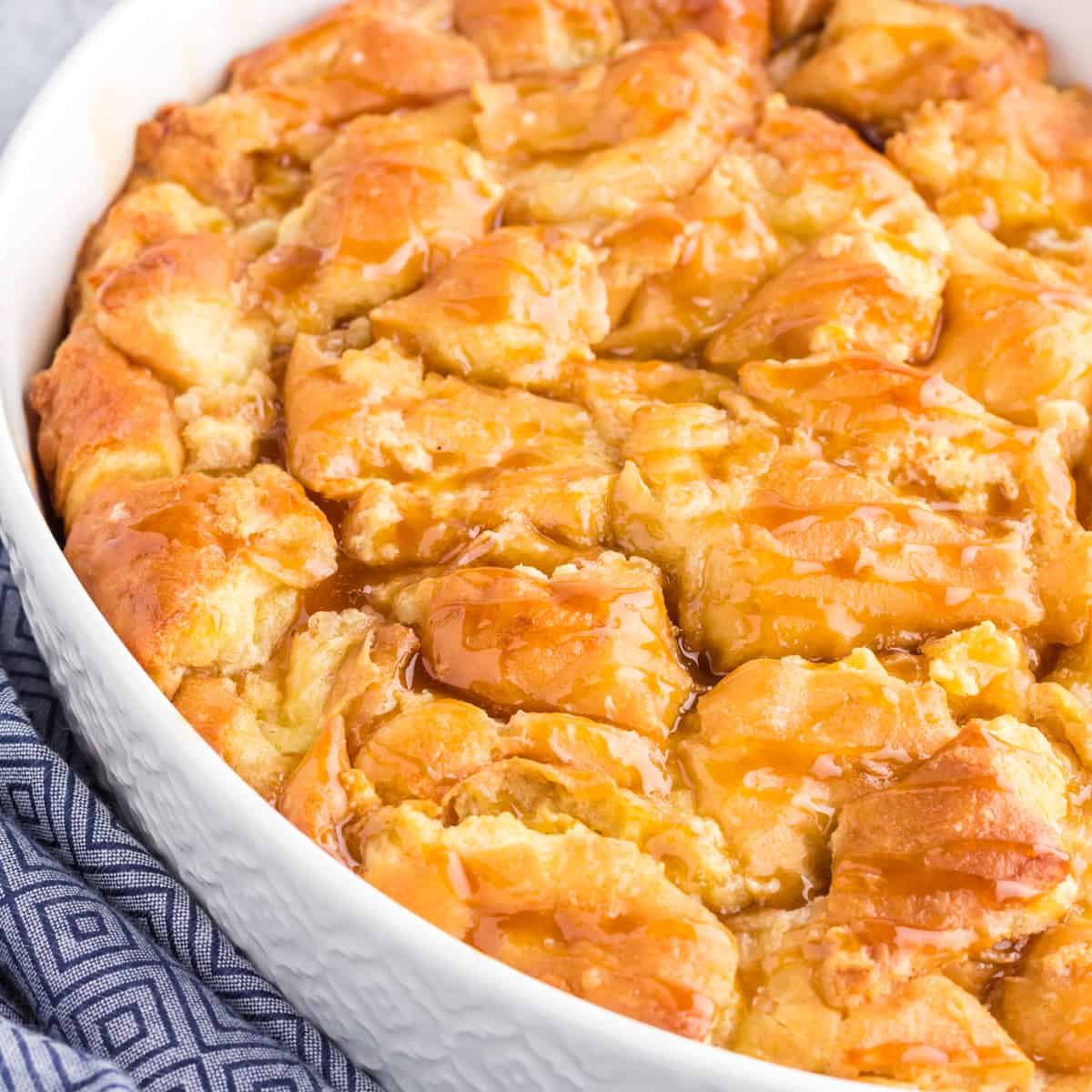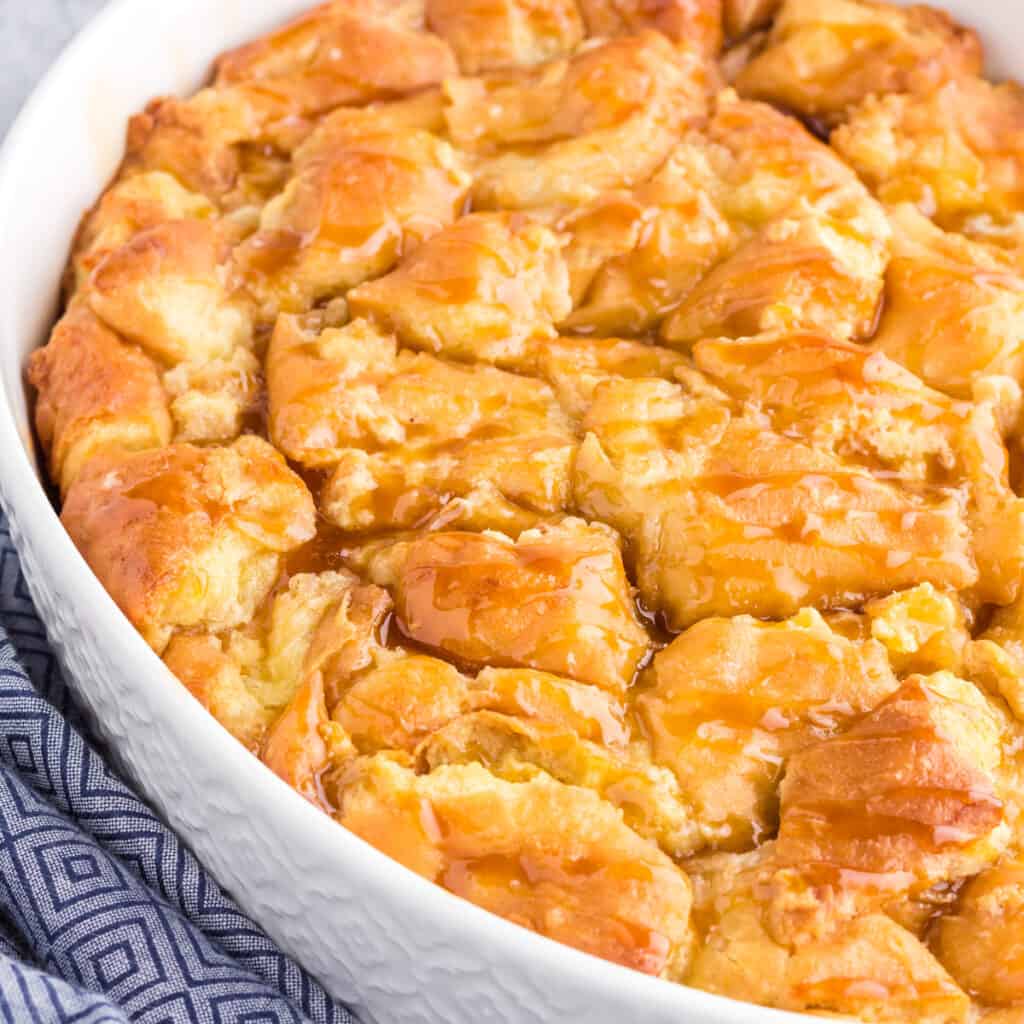 Top tips
Old, leftover, or stale donuts work best for this recipe. I realize those words do not sound all that delicious, but the donuts really need to be a little bit dried out so that they soak up the custard.
If your only option is fresh donuts, I recommend cutting them into pieces, placing the pieces on a baking sheet, and bake at 250°F for about 30 minutes to dry them out. Let them cool completely before adding the custard.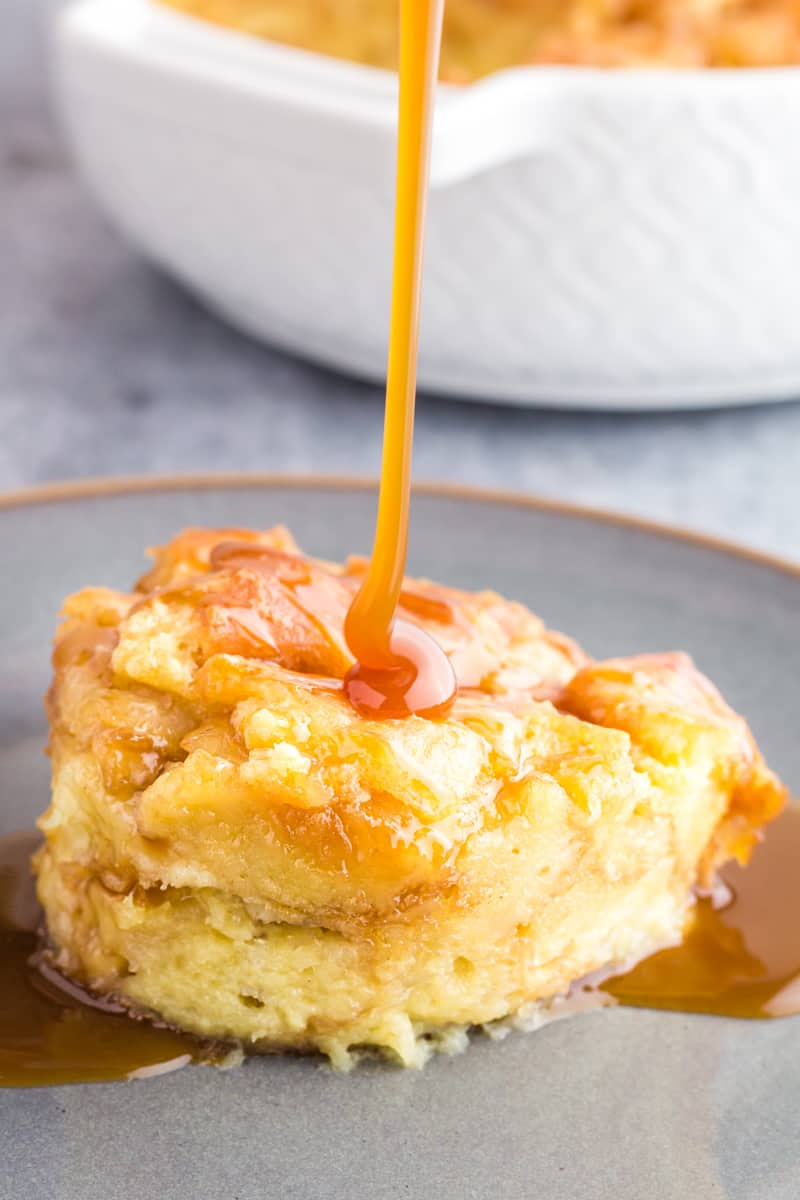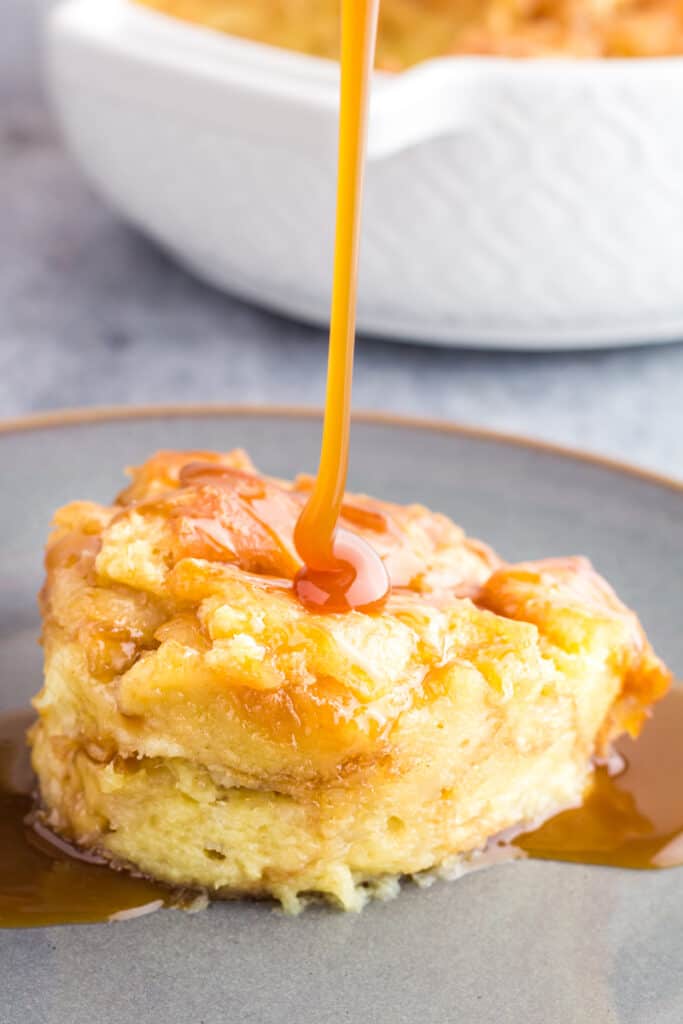 Whether you use Krispy Kreme donuts or a dozen from your favorite local chain, Donut Bread Pudding is sure to be one of your favorite new dessert recipes. Something this easy and delicious can't be passed up so give it a try. Let me know how it goes with a recipe rating, please.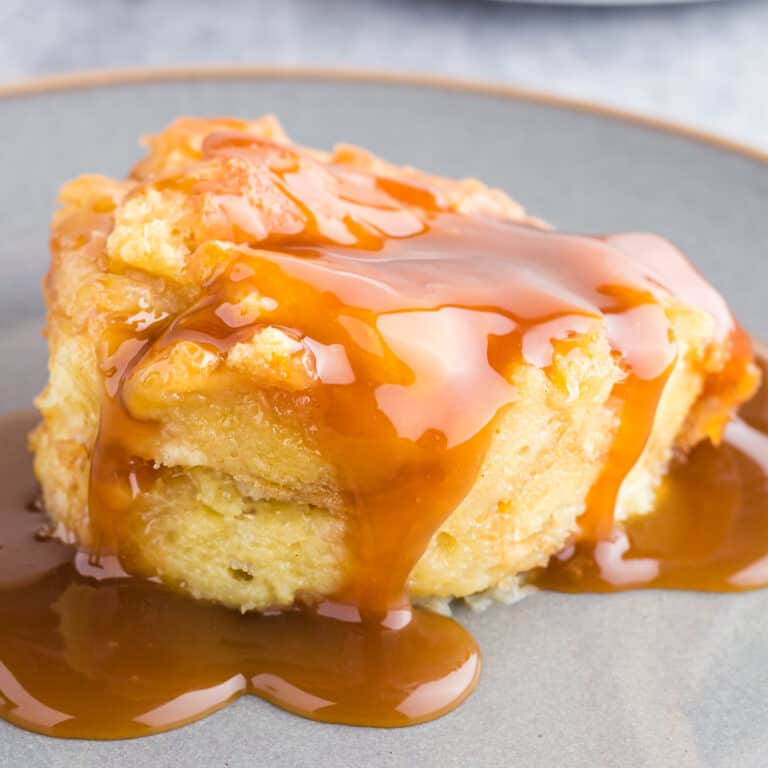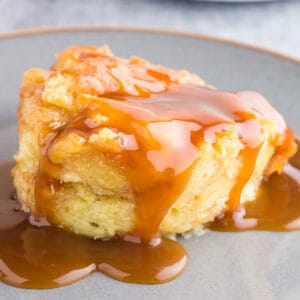 Donut Bread Pudding
Donut Bread Pudding combines the flavor of your favorite glazed donut with the creamy texture of bread pudding for an easy-to-make, decadent dessert.
Ingredients
12

glazed yeast donuts

at least one day old*

3

eggs

lightly beaten

1

cup

whole milk

1¼

cup

heavy cream

½

cup

brown sugar

½

tsp

kosher salt

½

tsp

vanilla extract

pinch

nutmeg

caramel sauce

optional
Instructions
Preheat the oven to 350°F. Prepare a 3 quart or deep 8" x 8" baking dish with baking spray.

Cut each donut into 6 equal pieces. Place in a the prepared baking dish.

In a large liquid measuring cup, combine beaten eggs with the milk, cream, brown sugar, salt, vanilla and nutmeg.

Pour the liquid over the donut pieces.

Bake for 40-45 minutes. The top should be golden brown.

Optional to serve with caramel sauce and ice cream.
Notes
* Fresh donuts will not absorb the liquid as well as older donuts. I typically make this recipe with one-day-old donuts but you could use up to 3-days-old donuts. If you only have fresh donuts, cut the donuts into pieces first and place them on a baking sheet in a 250

°F oven for about 30 minutes to help dry them out. Let the pieces cool completely before adding the custard.
FREQUENTLY ASKED QUESTIONS
Can I use cake donuts instead of yeast?
I do not recommend it. The cake donuts fall apart when combined with the custard, and the cooked bread pudding will be less light and fluffy.
Can I use donuts with flavored icing instead of glazed?
Sure, but I don't recommend any filled donuts. Iced donuts like cherry or chocolate iced will work in the recipe.
Can I use fresh donuts instead of old ones?
Yes, but see my tip in the recipe notes above to dry out the donuts.
The following two tabs change content below.

Hey-ooo! I'm Hailey, and I'm a number cruncher by day and cussing cook by night. I created this site to share my love for delicious food that feeds the soul as well as the belly. I hope my recipes have you running to the kitchen to cook some damn good grub!