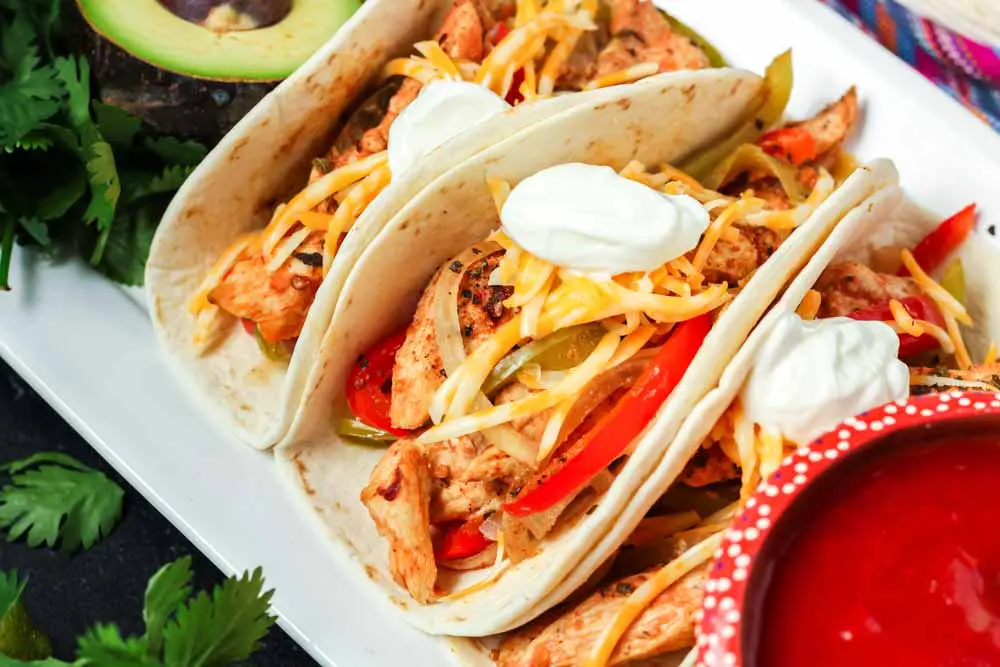 Sheet Pan Chicken Fajitas is a quick and satisfying sheet pan dinner, and the recipe could not be easier. It is perfect for a busy weeknight. You could have it ready for the oven in the time it takes the oven to preheat. Once you've sliced the peppers and onions, lay them on a baking sheet with the chicken breasts and season with the spice mix. That's it! Dinner is in the making.
I love fajitas for their simplicity but also because they offer all the flavor we love in Mexican food with a fraction of the calories of our favorites that are smothered in chili con carne or cheese.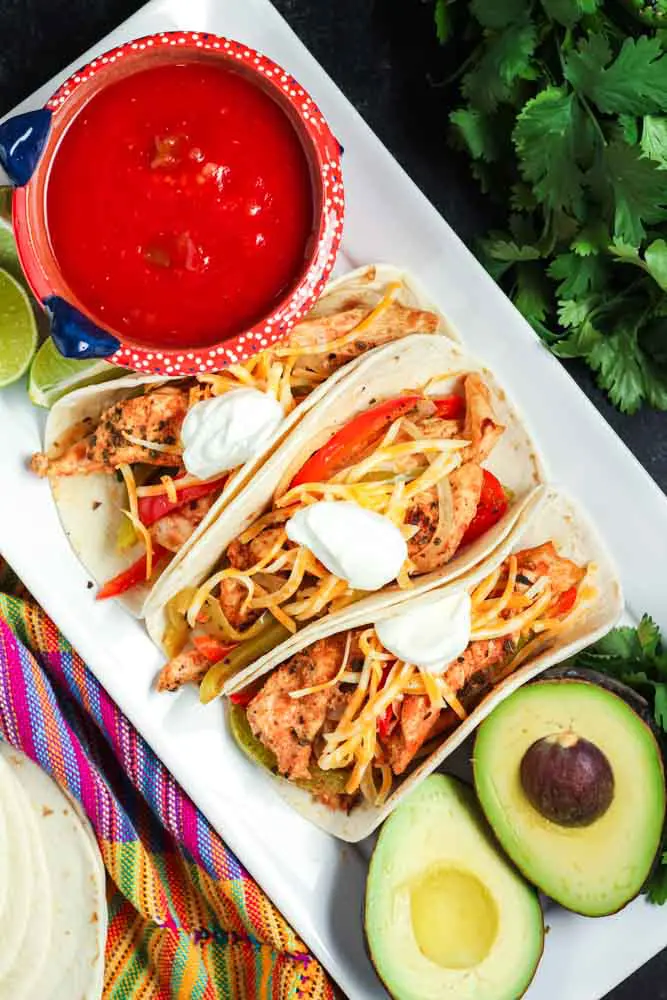 Fajitas are also a great option for a crowd since everyone selects their own toppings.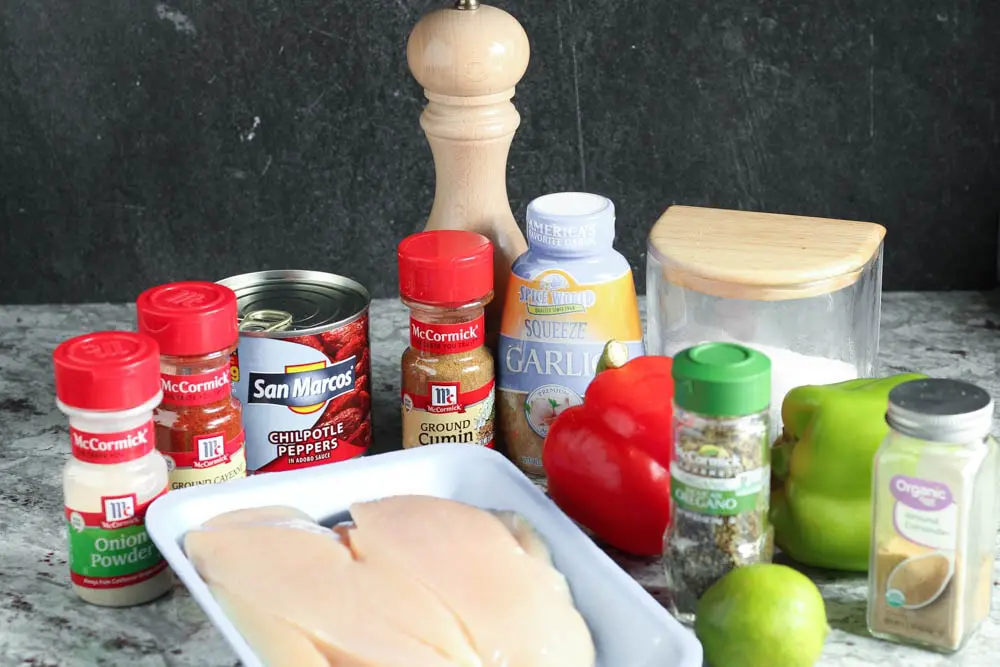 Not only is this a great weeknight dinner, I also love this meal for lunches during the week. I often make this sheet pan meal on Sundays, and then have the chicken and veggies over greens as a quick fajita chicken salad for weekday lunches.
What is a Sheet Pan Dinner?
A Sheet Pan Dinner is the equivalent to a one-pot recipe, but instead of a pot, the recipe calls for a sheet pan. If you line the sheet pan with parchment paper or nonstick foil, it's even better than a one-pot recipe. It's a zero-pot recipe!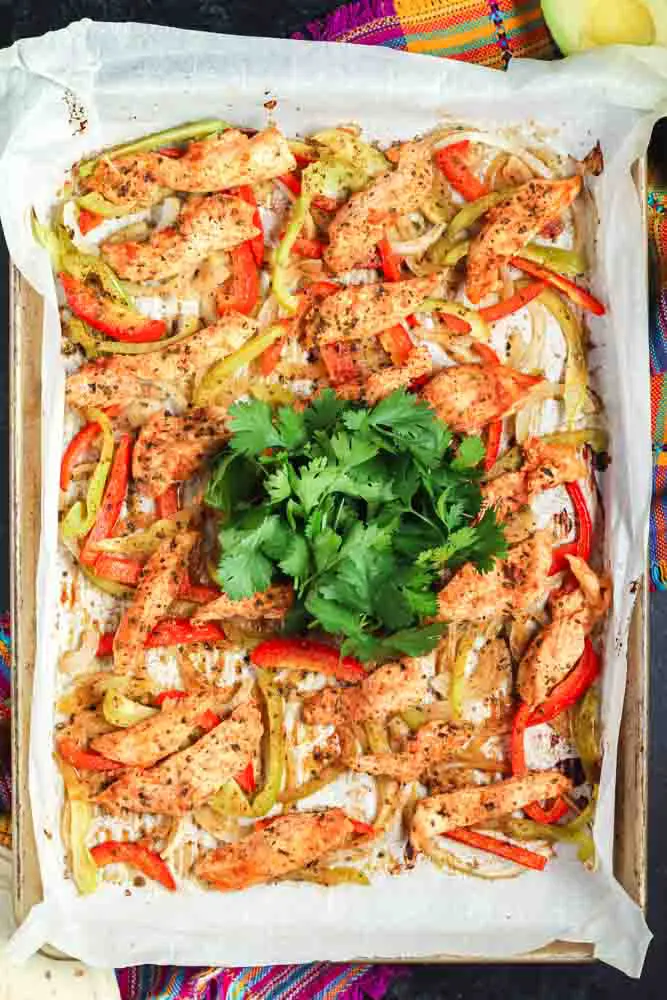 Sheet pan dinners are loved by busy home cooks for a reason. They are stupid easy but still offer a well-rounded meal. Chicken Fajita Sheet Pan Dinner is no exception. The most difficult part of this recipe will be slicing the onions and peppers, so try not to break a sweat during that prep step.
Sheet Pan Chicken Fajitas are the easiest fajitas you ever made!
Typically, when making fajitas we have to stand over the stove and add the varying ingredients at certain times to end up with everything cooked right at the end of the process. That is not the case for these easy fajitas. Sheet Pan Chicken Fajitas are totally set it and forget it. Well, don't totally forget it because they take less than 30 minutes to cook.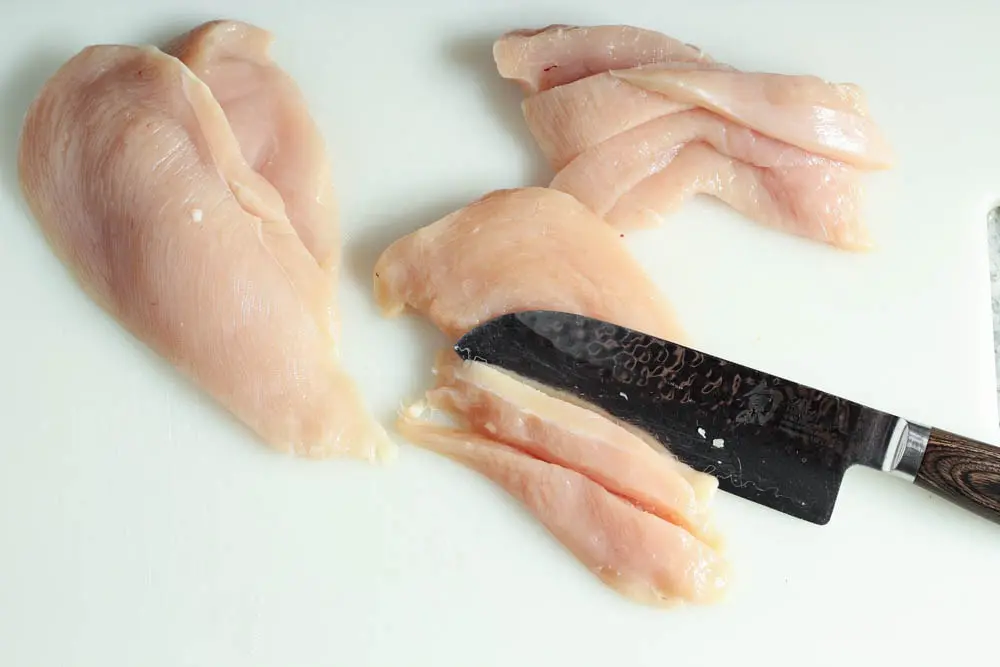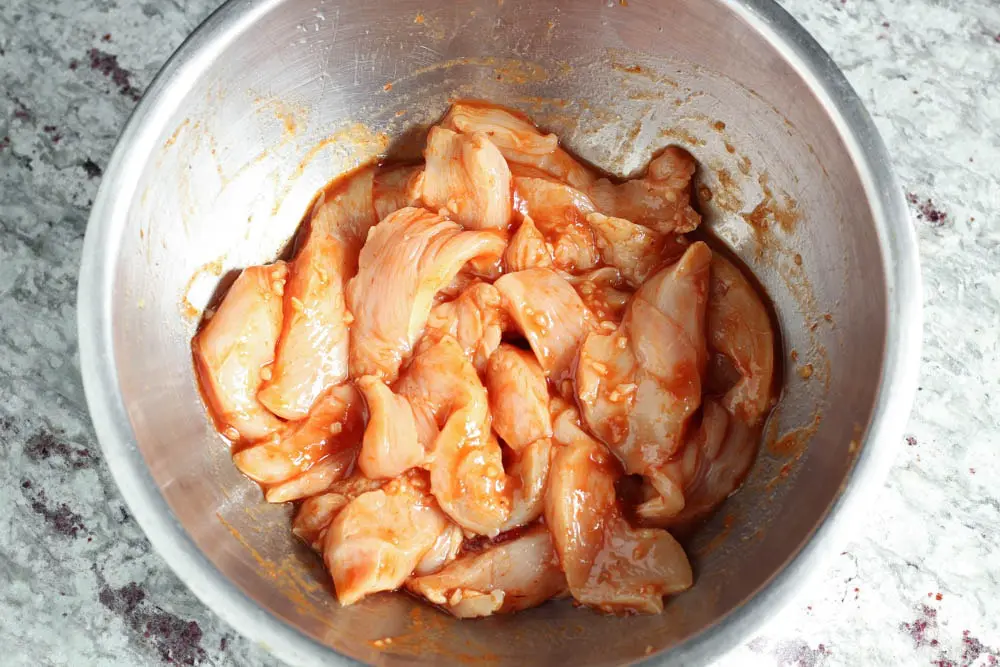 Can I use a premade packet of taco seasoning instead of the spices in the recipe?
No, I would not recommend taco seasoning because it usually has some sort of thickening agent included hence why the directions usually call for water. You can look for a premade seasoning blend for Fajitas though, and that would be a fine replacement.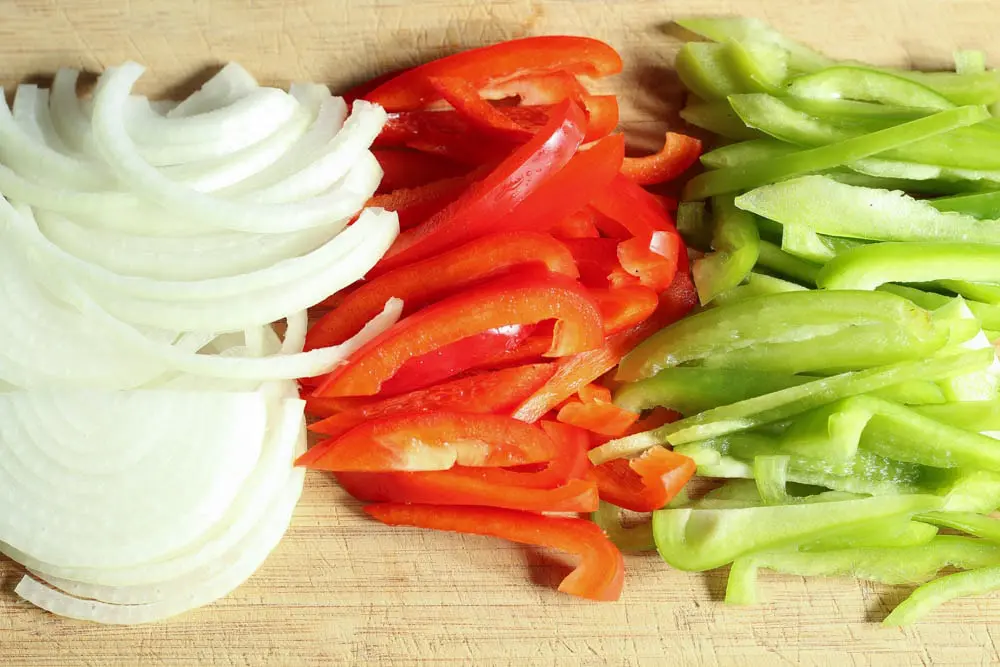 What are chipotles in adobo?
Fun fact, chipotle peppers are actually jalapeno peppers that have been smoked and then preserved in a tomato-based sauce. They are spicy, smoky and delicious. They can be found near the salsa or other Mexican specialty items in your grocery store.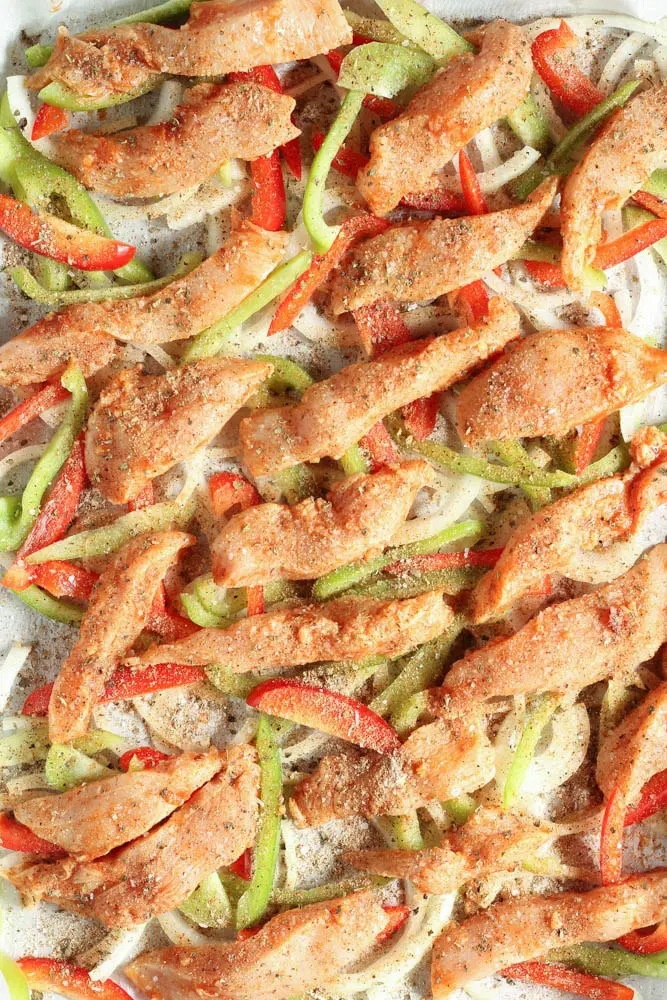 Sides to have along with your easy Sheet Pan Chicken Fajitas?
Everybody loves rice and beans with fajitas, so definitely check out my Perfect Basmati Rice and Refried Beans recipes for some options. Sheet Pan Fajitas are all about the garnishes so feel free to keep it super simple and have tortilla chips to enjoy with the salsa, guacamole or other toppings you prepare.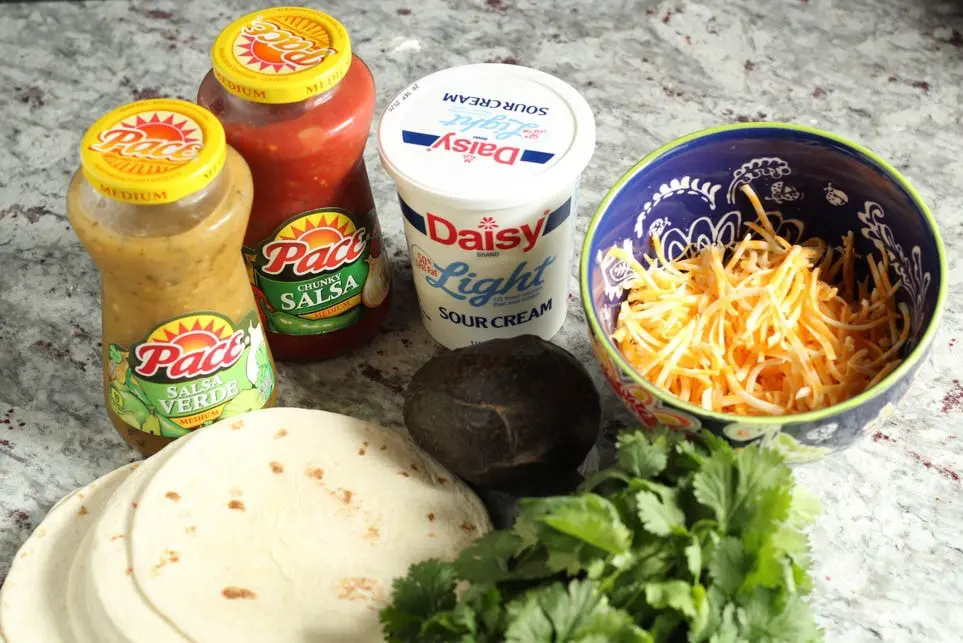 Tortillas and salsa or pico de gallo are an absolute must for my fajitas spread, but the number of garnishes I prepare is somewhat dependent on who I'm serving it too. If I'm going for a full fajita spread for friends and family, I serve up my Sheet Pan Fajitas with:
Tortillas
Shredded cheese
Sliced avocado or guacamole
Salsa
Pico de gallo
Sour cream
Lime wedges
Shredded lettuce
White onion
Cilantro
Tomato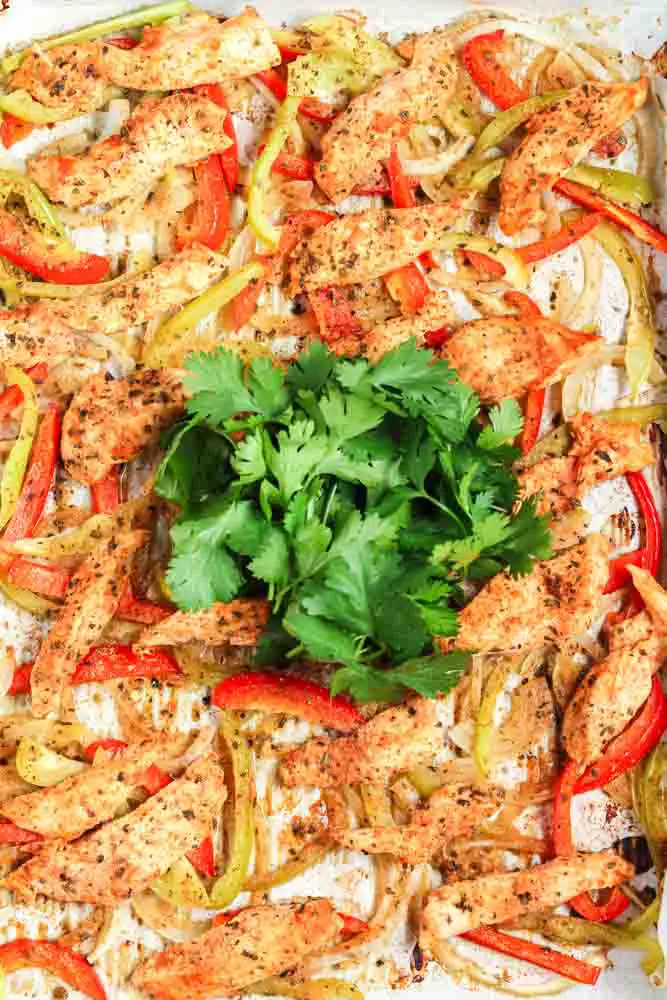 Now, to be honest, if I'm making this as a quick weeknight dinner then may only serve some of these garnishes depending on what I have in my fridge. They are still totally delicious!
If you're always looking for fast dinner options that fit into your hectic schedule and leave everyone happy and full, Chicken Fajita Sheet Pan Dinner is for you. Cook yourself up a pan of this goodness and let me know how it goes in the comments section below.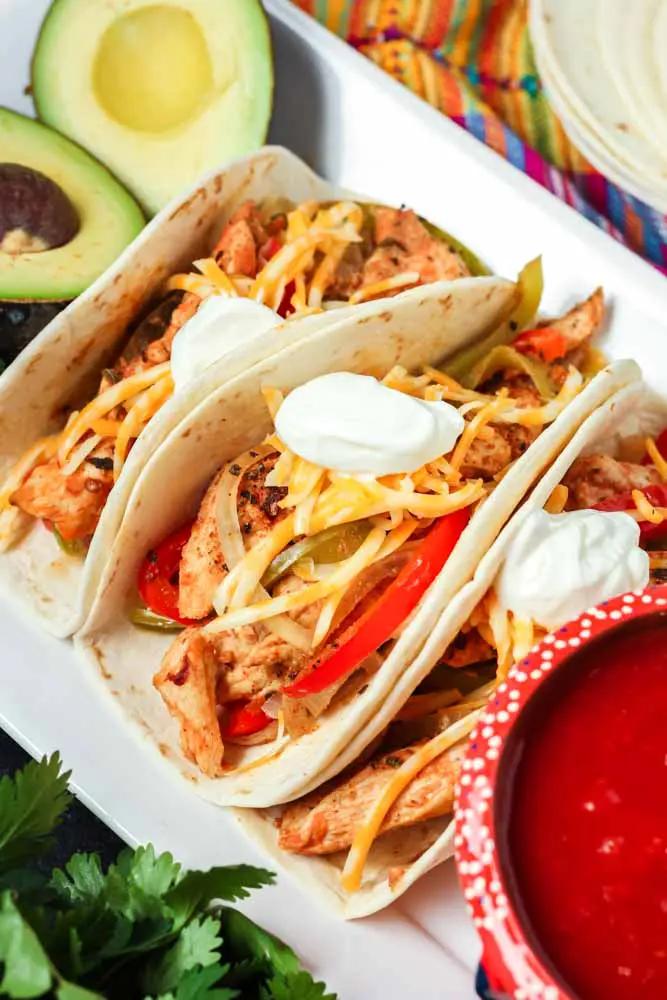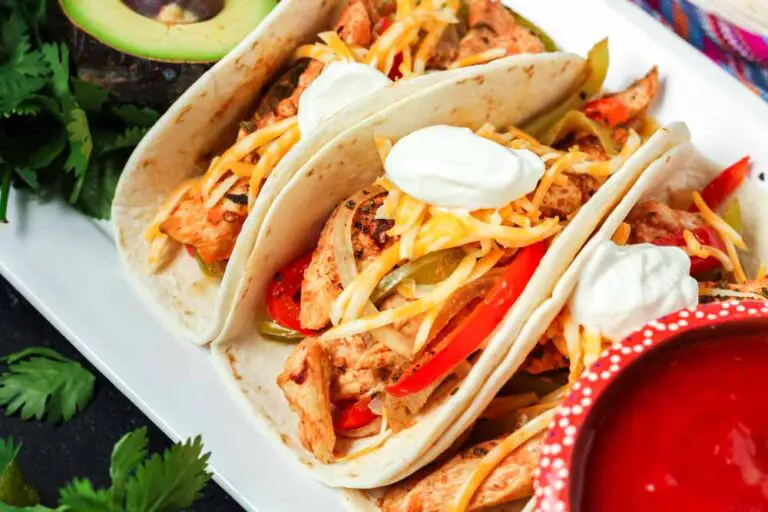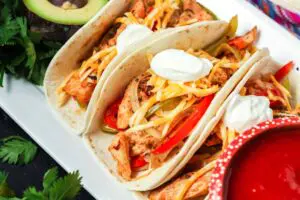 Sheet Pan Chicken Fajitas
Sheet Pan Fajitas made fast and easy for a simple weeknight dinner! Sliced peppers and onions and chicken breasts seasoned with a blend made from scratch are the perfect start to fajita night.
Ingredients
1

clove

garlic

2

Tb

chipotle peppers in adobo sauce

1

lime

1

tsp

dried oregano

1

tsp

salt

½

tsp

pepper

¼

tsp

cayenne

optional

1

tsp

cumin

½

tsp

coriander

1

tsp

onion powder

1

lb

chicken breast

1

green bell pepper

1

red bell pepper

1

onion
Garnish:
cilantro

grated cheese

sour cream

avocado

flour tortillas
Instructions
Preheat oven to 425 degrees.

Mince garlic. Add garlic, adobo, and juice of 1 lime to a large mixing bowl. Toss with chicken and set aside. Mix together all of the spices. Slice the peppers and onions. into quarter-inch strips

Line a baking sheet with nonstick foil or parchment paper for easy cleanup. Remove the chicken breasts from the marinade and shake off excess. Place on the baking sheet. Surround with sliced peppers and onions. Drizzle everything with olive oil.

Season chicken and vegetables liberally with seasoning blend. Cook for 15-20 minutes or until chicken is browned and cooked through.

Serve with the garnishes suggested above for a build your own fajita buffet.
Frequently Asked Questions
Can I use premade taco seasoning instead of the spices in the recipe?
No, because taco seasoning usually has a thickening agent. Look for a fajita seasoning blend if you want a premade seasoning mix.
Where do I find chipotle peppers in adobo sauce?
Chipotle in adobo can be found near the salsa or with other Mexican specialty items at the store.
The following two tabs change content below.

Hey-ooo! I'm Hailey, and I'm a number cruncher by day and cussing cook by night. I created this site to share my love for delicious food that feeds the soul as well as the belly. I hope my recipes have you running to the kitchen to cook some damn good grub!