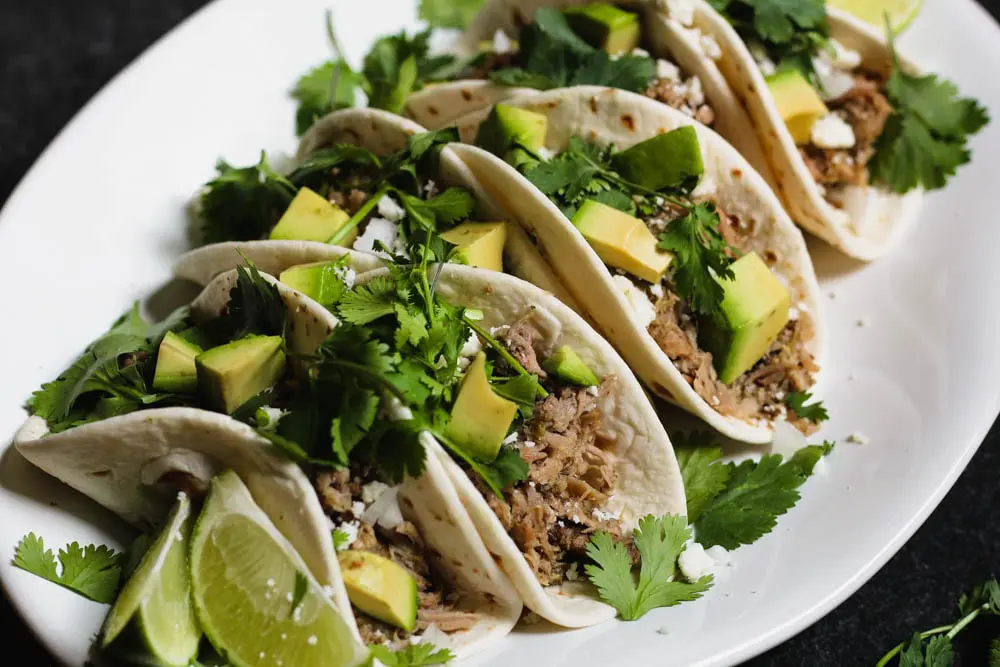 Braised Salsa Verde Pork is a simple crockpot dinner that is completely set it and forget it! Rich pork shoulder is cooked until fall-apart tender in a homemade salsa verde that is a little bit spicy and super fresh. You can use your pork verde in so many different ways! The options are almost endless.
When featured in a simple taco like the recipe I have included here, Braised Salsa Verde Pork becomes a quick weeknight dinner. Next week, I'll show you a super fun brunch recipe that utilizes the same delicious pork. But don't let me limit your imagination. Quesadillas, burritos, breakfast tacos, taco salad, or flautas would all be a great use for this recipe.
I f*cking love me some pig. Pork is my second favorite protein (chicken is my numero uno if you're curious…I know, very basic bitch of me).
I prefer pork to beef in any braised or slow-cooked recipe. In my opinion, pork maintains a perfectly succulent texture after slow cooking that comes from the glory that is pork fat.
I trim off a lot of the fat cap from my boneless pork shoulder before searing so that the finished pork isn't too fatty but be sure to leave some behind. That's where all the flavor is, and it's what gives you a moist and fall-apart tender finished product.
Speaking of flavor, let's take a moment to discuss the importance of searing the meat well before putting it in the crockpot. Whatever you do, don't you dare skip this step! It's really the only cooking required in the entire recipe, so do it, damn it.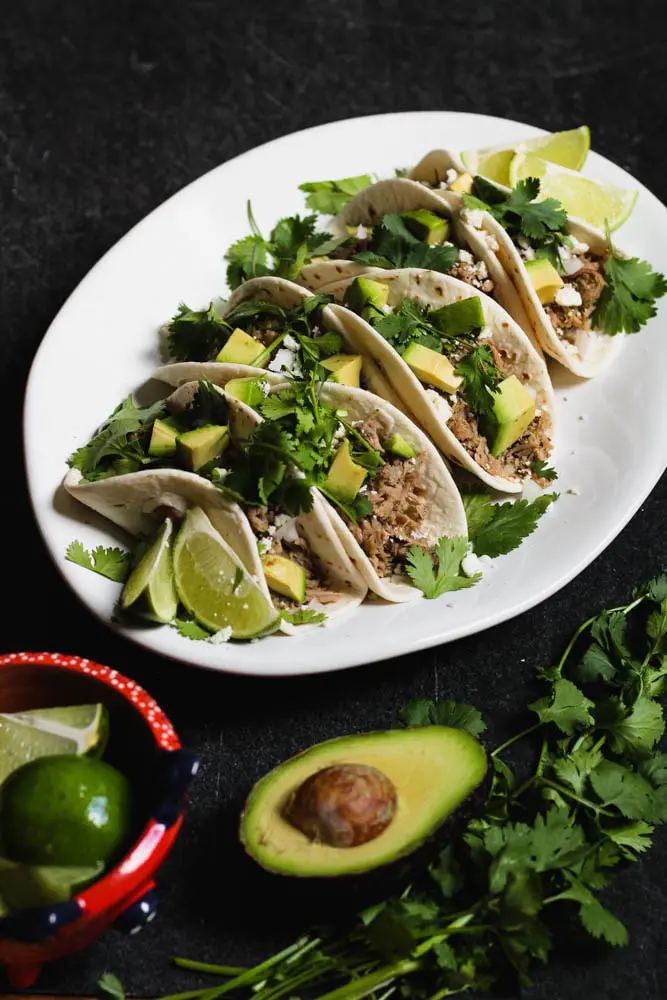 Before searing, also be sure to season the entire outside of the pork shoulder well with salt and pepper. This is a big piece of meat. You want enough seasoning to penetrate throughout. Also, be sure to sear on every single side. That usually means 3-4 turns one way and then the other two remaining sides.
By sealing up all the edges with a hard sear, you lock in juices, fat, and FLAVOR. This picture should give you an idea of the color you should look for after searing.
The salsa verde that the pork is braised in is super easy to make and requires no cooking!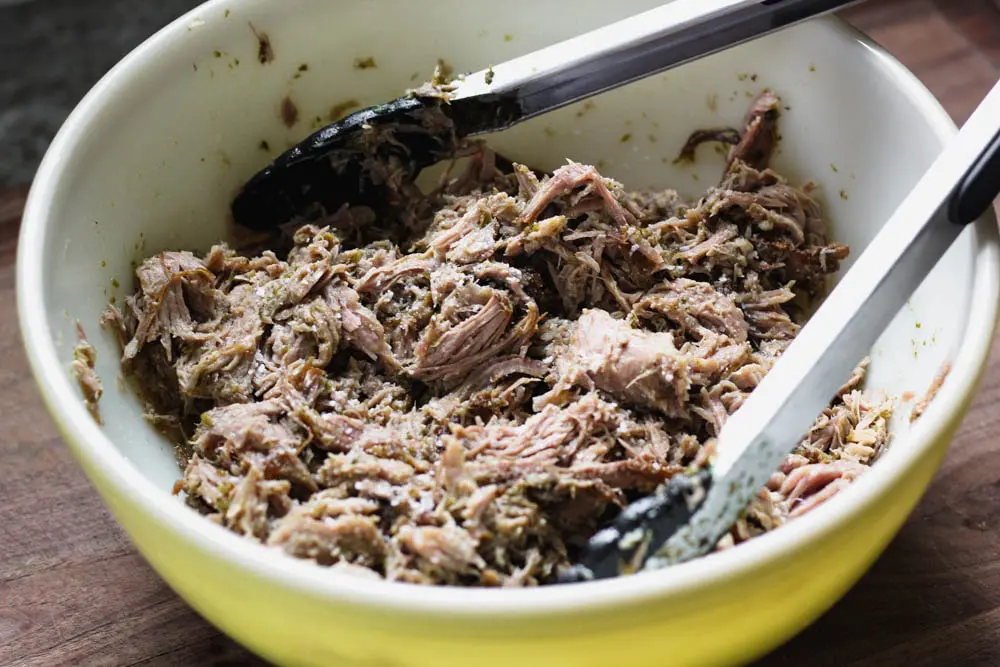 I love this recipe for hot summer nights because I don't have to stand over a stove to prepare it! You just throw all the ingredients into a food processor and process until smooth. Pour the salsa over the seared pork, and you're in business.
Time is another required ingredient in this recipe. You want to braise the pork for a minimum of 12 hours or up to 18. It may seem like a lot, but if you put it in the crockpot before bed, it's ready in the morning. This meat can easily be made in advance and kept for up to 3 days in the fridge before shredding.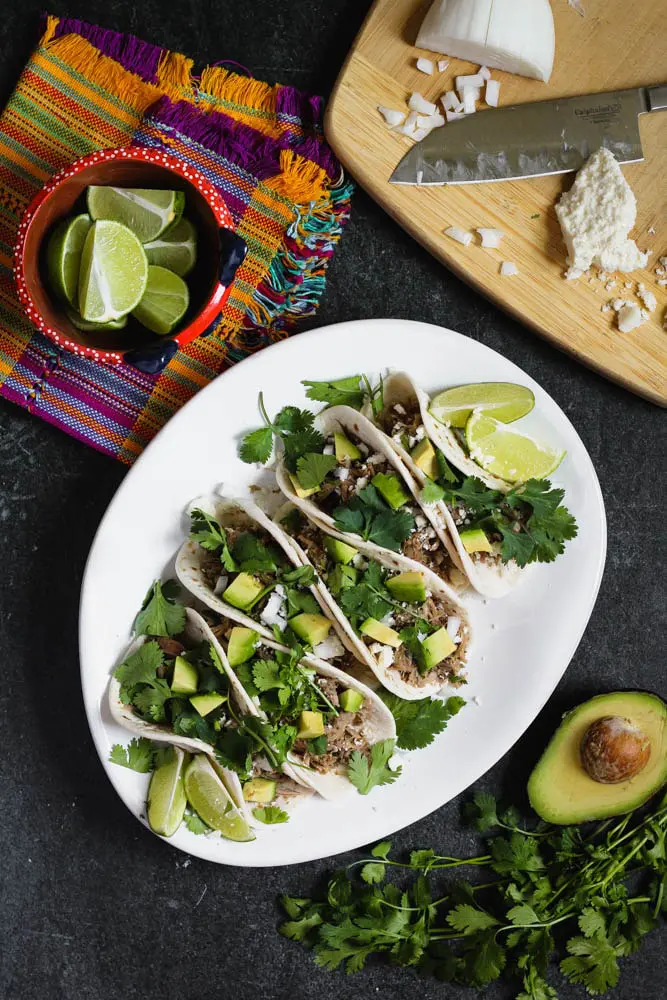 For unctuous, slow-cooked meat like my Braised Salsa Verde Pork, I like to keep my taco toppings simple and fresh. Cilantro is a must in my taco game. Diced white onion, fresh lime juice, crumbled cotija, and avocado complete these humble Green Pork Tacos.
You could easily add sour cream, salsa, or guacamole if that's what you're feelin' that night. My Creamy Avocado Sauce for Tacos would also be perfect!
There are so many fun possibilities for how to use this Braised Salsa Verde Pork recipe. I can't wait to here how you use it! Let me know what you think of the recipe. Oh, and stay tuned for another fun recipe include my green pork recipe next week!
Helpful Utensils
11-Cup Cuisinart Food Processor
If you don't have a food processor, check out the link above. You need this piece of equipment in your kitchen!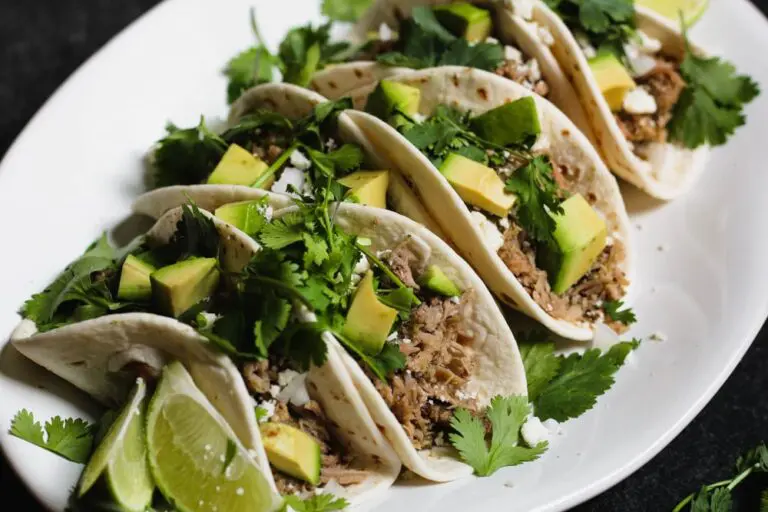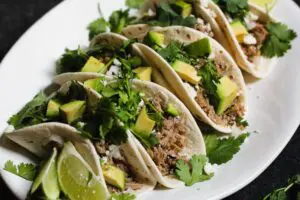 Braised Salsa Verde Pork Tacos
Boneless Pork Shoulder braised in a homemade salsa verde that is a little bit spicy and super fresh. This recipe is so easy. It's a true Crock Pot recipe that is set it and forget it! You can make the pork in advance and use it in so many different ways. Tacos, quesadillas, burritos, and more can all be made with this simple green pork.
Ingredients
3.0-3.5

lb

pork shoulder roast

3.5

tsp

kosher salt

divided

1

tsp

coriander

1

tsp

cumin

1

tsp

chili powder

2

bay leaves

1

tsp

black pepper

2

large or 3 small jalapeños

2

green bell peppers

1

poblano pepper

1

yellow onion

2

cloves

garlic

1

C

chicken stock

1

bunch cilantro

1

Mexican beer

such as Corona or Dos Equis
Garnish for Simple Green Pork Tacos:
flour or corn tortillas

cilantro

roughly chopped

avocado

diced

cojita cheese

crumbled

white onion

diced

lime wedges
Instructions
Trim the pork shoulder to remove any thick layer of fat. You want fat on the pork so definitely don't trim it all, but you want the flavors to penetrate the meat so if there is a thick fat cap, trim it down to show the meat.

Season the pork shoulder on all sides with 1 tsp black pepper and 2 tsp kosher salt. Heat a heavy bottomed sauté pan over medium high heat. Add a drizzle of olive oil and place the pork shoulder in the hot pan. Cook on all sides for about 2-3 minutes each or until well browned all the way around.

While the pork is searing, make the salsa verde. Core and cut the bell peppers and poblano into 2-inch pieces. Remove the seeds and stem from the jalapenos and cut into 1-inch pieces. Roughly chop the onion and smash the garlic cloves. Roughly chop the cilantro.

Place the peppers, onions, garlic cloves and cilantro in a food processor with the remaining 1.5 tsp of salt, cumin, coriander, and chili powder and puree until smooth or when the peppers are very finely minced. If you don't have a food processor, I recommend purchasing one like the Cuisinart I've linked to above. It's an essential utensil in my kitchen.

Pour the salsa verde into a crock pot and add the beer, chicken stock, and bay leaves. Mix with a wooden spoon. Add the seared pork shoulder. Turn the crock pot heat on to low and cook for at least 12 hours or up to 18 hours. Turn the pork over in the Crock Pot roughly halfway through cooking. No need to be exact, but you want both sides to have time to simmer in the salsa verde. The pork will be fall apart tender when cooked.

Once cooked, remove the pork roast and shred in a large mixing bowl. Add about ½ of the salsa verde cooking liquid to the pork and mix to combine. Season to taste with salt.
Notes
To recreate the tacos I've pictured here, place a generous portion of pork in a tortilla and top with cilantro, avocado, cotija onion, and a squeeze of fresh lime.
The following two tabs change content below.

Hey-ooo! I'm Hailey, and I'm a number cruncher by day and cussing cook by night. I created this site to share my love for delicious food that feeds the soul as well as the belly. I hope my recipes have you running to the kitchen to cook some damn good grub!