Sweet Potato, Apple & Kale Galette is a simple and beautiful combination of sweet and earthy flavors all wrapped up in a flaky pastry crust. The base of the galette is a wonderfully creamy ricotta mixture that is flavored with caramelized onions, thyme and a splash of balsamic vinegar. The rich creamy mouthfeel of ricotta and the tang of the vinegar bring a perfect balance to the veggies.
I could be cute and say that galette is easy as pie, but in reality, it's actually easier than pie!
Simply put, a galette is a French way of saying a freeform crust. There is no perfect shape to achieve when making a galette, and any tears or mishaps with the dough are easily concealed or embraced by the rustic look.
The shape of the galette is formed by the filling. I use my ricotta base as a guide. I spread it out into a circle shape in the middle of the dough, stack the veggies on top and then simply fold the edges up and over the veggies. Voila! You've got a real stunner.

I use store-bought pie dough in this recipe to make it a fast dish to put together, but you could easily make your own pastry if you prefer. Store-bought dough already comes in a perfect circle so no trimming is required. If you use homemade pastry then do your best to trim the dough into a large circle around the filling, but, again, keep in mind it doesn't have to be perfect!
The only real trick to making this pie is to thinly and uniformly slice the sweet potato and apple. I prefer using a mandoline for this job. It takes a fraction of the time to slice the veggies and you get perfectly even, thin slices every time. I've linked to the one I use (which happens to be very inexpensive as well) below.
When I was dreaming up this recipe, I really wanted a warm and comforting baked good that would embody the fall season. I also tried to keep in mind what ingredients most people have around anyways this time of year. Sweet potatoes and apples were the first two items that came to mind. I knew I needed something to break up the sweetness and add a color contrast, and I had just made a kale salad the night before so I thought it would be the perfect addition!

The ricotta base that acts as a bed for the veggies is basically all the stuff that I wanted to incorporate without taking away from the beauty of the layered look on top. The galette also needed some acidity and creaminess to bring a balance to all the strong earthy notes of the sweet potato and kale. I could legit eat this filling by the spoonful.

Sweet Potato, Apple & Kale Galette is a great vegetarian dinner or if you have carnivores in your crew then you can also serve it alongside a simple roasted pork tenderloin or chicken. The galette is so beautiful and tasty, you'll find it hard to believe that you assembled it in less than 30 minutes! This recipe is the perfect expression of fall flavors and one I know everyone in your family, kids included, will love! Let me know how it goes in the comments section below.

Helpful Utensils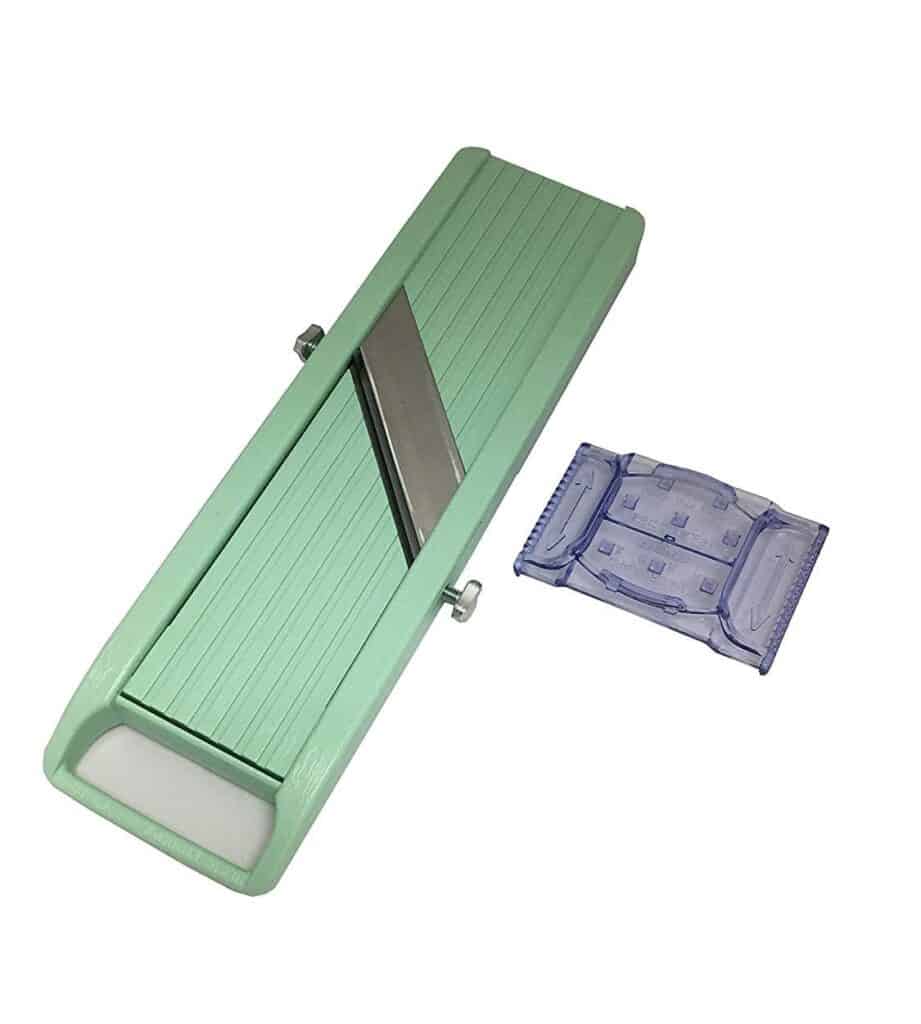 Using a mandoline makes thinly slicing anything a breeze. This is a must in your kitchen if you want an even consistent slice in no time.

Sweet Potato, Apple and Kale Galette
Sweet Potato, Apple & Kale Galette is a simple combination of sweet and earthy flavors all wrapped up in a flaky pastry crust. This recipe is so beautiful and delicious, you won't believe it takes less than 30 minutes to assemble.

Ingredients
1

small sweet potato

1

small yellow onion

2

honeycrisp apples

1/2

bunch kale

2

store-bought prepared pie crust

1/2

C

ricotta cheese

1

Tb

balsamic vinegar

1/4

C

chopped pecans

1

tsp

fresh thyme

1/2

tsp

salt

1/4

tsp

pepper

3

Tb

butter

1

Tb

olive oil

1

egg
Instructions
Preheat the oven to 400 degrees. Prepare a baking sheet with parchment paper.

Add 1 Tb butter and 1 Tb olive oil to a small saute pan over medium heat. Thinly slice the onions and add to the pan. Stirring often, cook the onions for about 15 minutes or until caramelized.

Roughly chop the pecans….I know they're already chopped, but you want them finely chopped so give them a couple of extra passes with a knife. Remove the thyme from the stem and roughly chop. In a small mixing bowl combine the caramelized onions, ricotta, thyme, pecans, balsamic vinegar, salt, and pepper. Mix well until combined. Set aside while you prepare the vegetables.

Peel the sweet potato. Using a mandoline*, slice the sweet potato and apple into thin rounds. Remove the kale from the stem. Tear into large pieces, similar in size to the apples and sweet potatoes.

Lay down the two pie crusts on the sheet of parchment paper. It's okay if they overlap now since you're going to fold the outer edges up. Spread half of the ricotta mixture onto each pie crust in a circle leaving about 2 inches of dough around the edges.

Next, layer a slice of sweet potato, a slice of apple and a piece of kale. You want a little bit of space between each slice to create a fanned-out look. Continue the pattern until you have created a full circle.

Once the veggies are totally assembled, gently fold the edges of the crust up to seal the edges, folding as necessary. See the images above for an idea on how it should look, but there is not right way to fold.

Dot the top of each galette with 1 Tb of butter cut into four pieces. Beat 1 egg with 1 tsp of water. Using a pastry brush, brush the outside of the pie crust to ensure a golden brown color once baked. Bake for 45 minutes or until crust is crisp and golden brown.
Notes
*A mandoline makes thinly slicing potatoes, or anything really, a breeze. If you don't have one, check out the link above for a great inexpensive one.
The following two tabs change content below.


Hey-ooo! I'm Hailey, and I'm a number cruncher by day and cussing cook by night. I created this site to share my love for delicious food that feeds the soul as well as the belly. I hope my recipes have you running to the kitchen to cook some damn good grub!