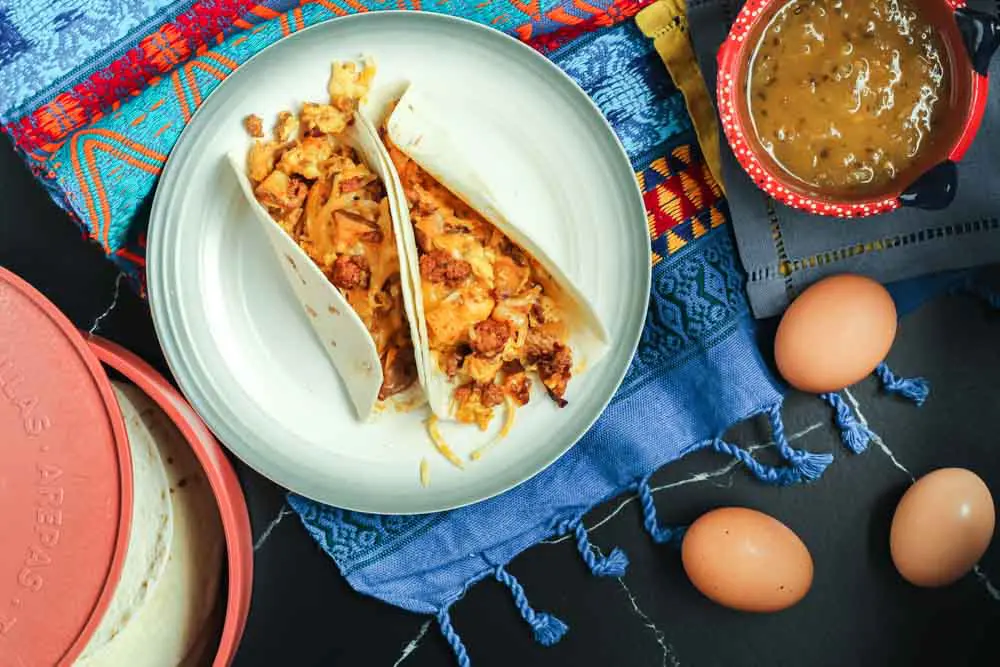 Chorizo and Potato Breakfast Tacos are the best way to start off your day. Rich and hearty, these breakfast tacos will never leave you feeling unsatisfied. Chorizo is a staple in Tex-Mex cooking, and if you've never had it, you are in for a treat!
I make my chorizo from scratch, but don't be scared. It's super easy and packed with flavor. Potatoes are the perfect complement to chorizo because it packs quite a flavor punch. Potatoes are an awesome backdrop to mellow some of the intensity and soak up all the rich flavors.
Breakfast tacos are hands down my favorite breakfast food of all time.
There is nothing better than meat, eggs, potatoes and cheese all nested in a warm flour tortilla. Top it off with bright, fresh salsa, and you've got a nice square meal that checks off all the major food groups…you get your veggies in the form of salsa, duh.
Most people may not crave breakfast tacos in the same way I do, or anybody else in my family does for that matter. There's an obvious reason for that, and it's our South Texas roots. While most kids were eating donuts as their weekend treat, we were eating breakfast tacos. There are more taquerias and taco shops in my hometown of Corpus Christi than you could count in a day.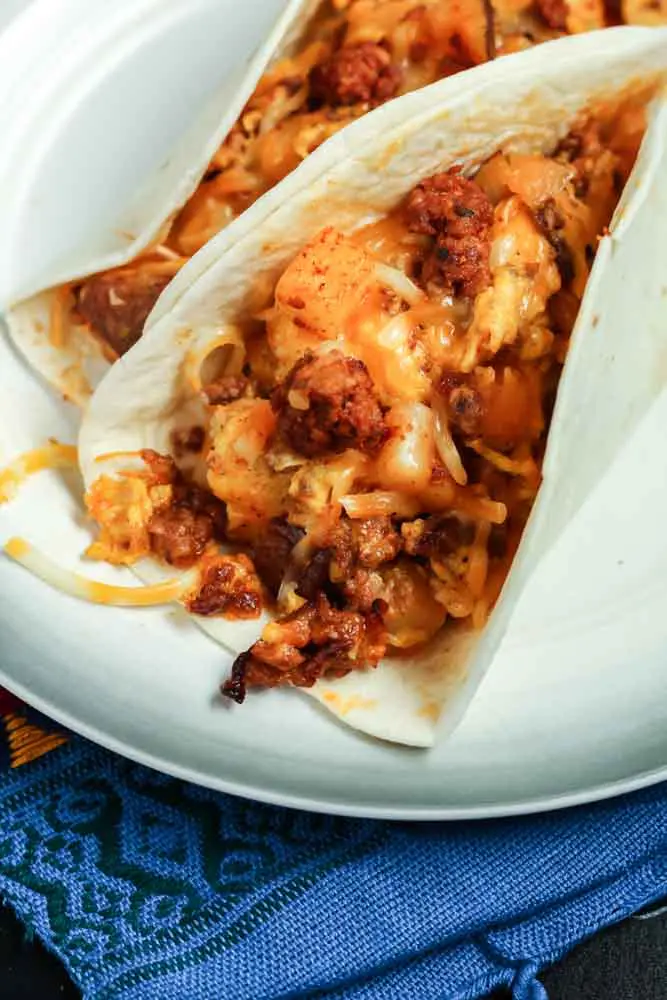 I skipped countless classes in high school (sorry Mom) to head around the corner to a dive known as Elva's where we would stuff our faces with Destroyers and Dynamites, both classic breakfast tacos so jam packed with meat and eggs that red-tinged Chorizo grease would drip out of the tortilla as you ate it.
Every hangover I had before the legal drinking age was soothed by the comforts of a gut bomb of two breakfast tacos with a side of refried beans. Oh, and a nap!
Tacos for breakfast? Say what?!
You heard me right. If you're not familiar with the amazing notion that you can have tacos for breakfast, you're welcome. It's a very common breakfast staple, particularly where I'm from in South Texas.
What is Chorizo?
Chorizo is pork that is really well seasoned. It is often spicy and always smoky. You find chorizo both ground or in links, and I use the ground variety in this recipe. I like to make my own so that I can customize the flavors.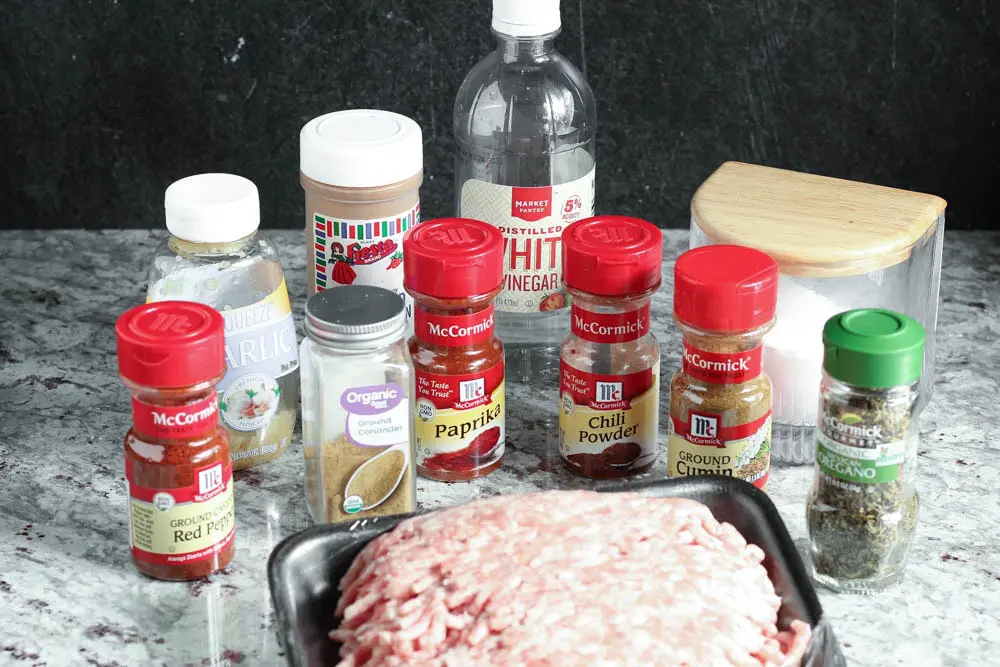 Making chorizo from scratch for your breakfast tacos is way easier than you think!
"Making" chorizo involves nothing more mixing together meat and spices. That's seriously it! The best part about making your own chorizo is that you can customize the flavor to your preferences too.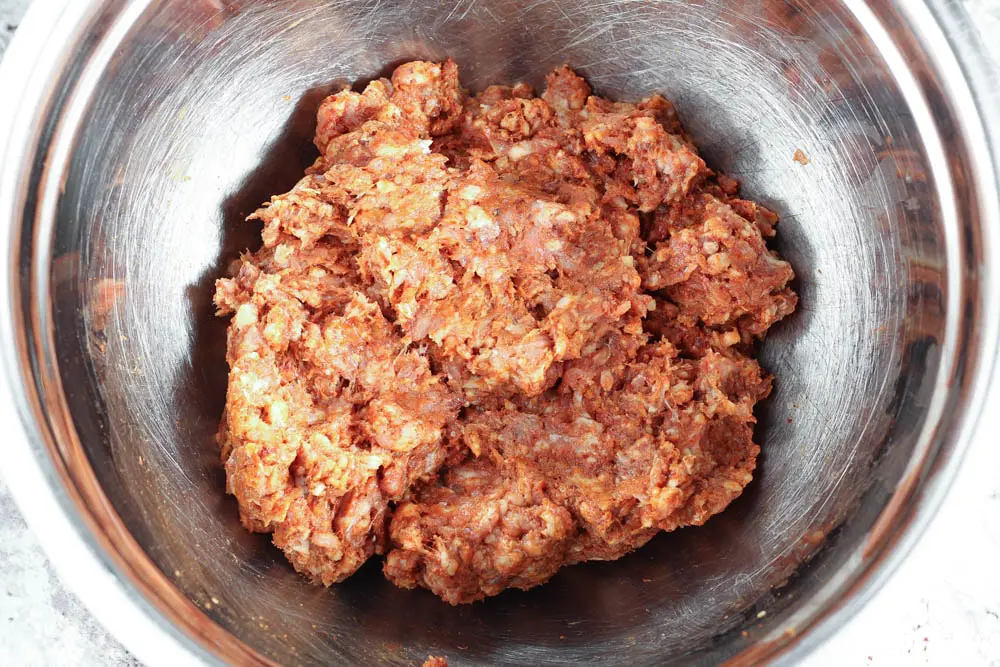 I think you can handle that, but if the idea has you looking for the back button, you can also use a store-bought variety. Some of them can be super greasy though, so I prefer to make my own. Johnsonville is the best store-bought brand that I have found.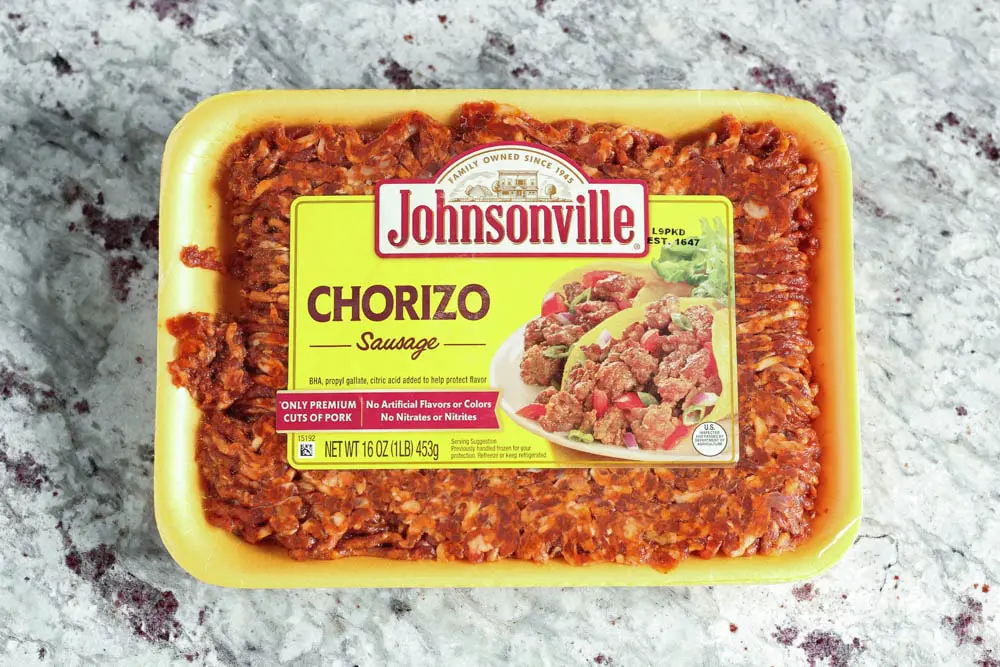 One things to be aware of when making your own chorizo it's the distinct oompa-loompa color it can leave your hands if you choose to mix without gloves.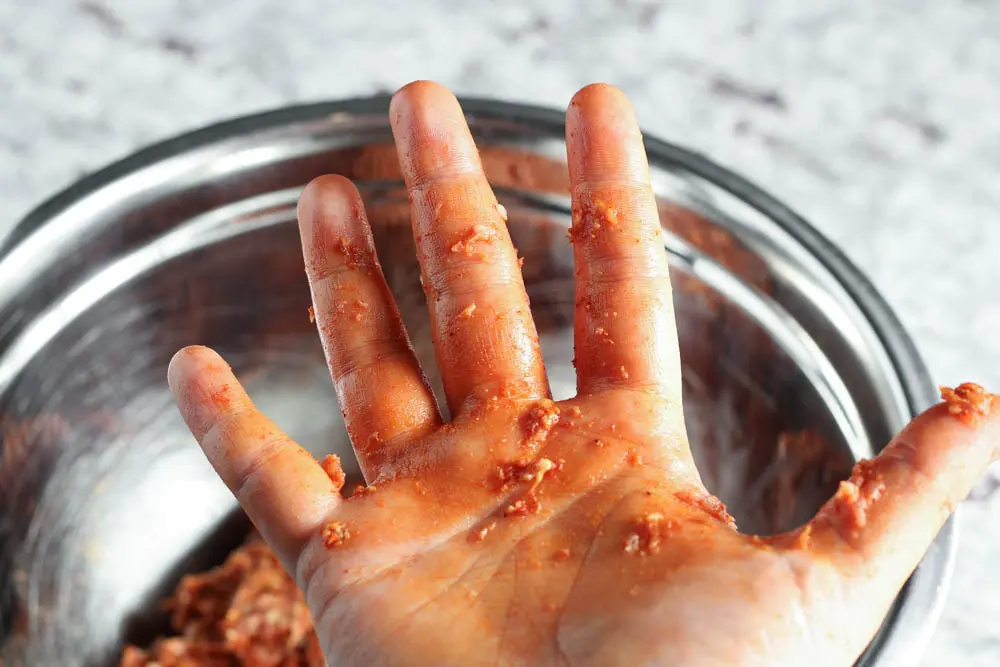 You could also easily substitute bacon or breakfast sausage for chorizo or use refried beans for a meatless option. Canned are just fine but be sure to not mix them in with the eggs; just smear the beans on the warmed tortilla and fill with the eggs.
How long can the raw chorizo last after mixing with the spices?
Once mixed with the spices, the chorizo can sit in the fridge for up to 5 days before cooking.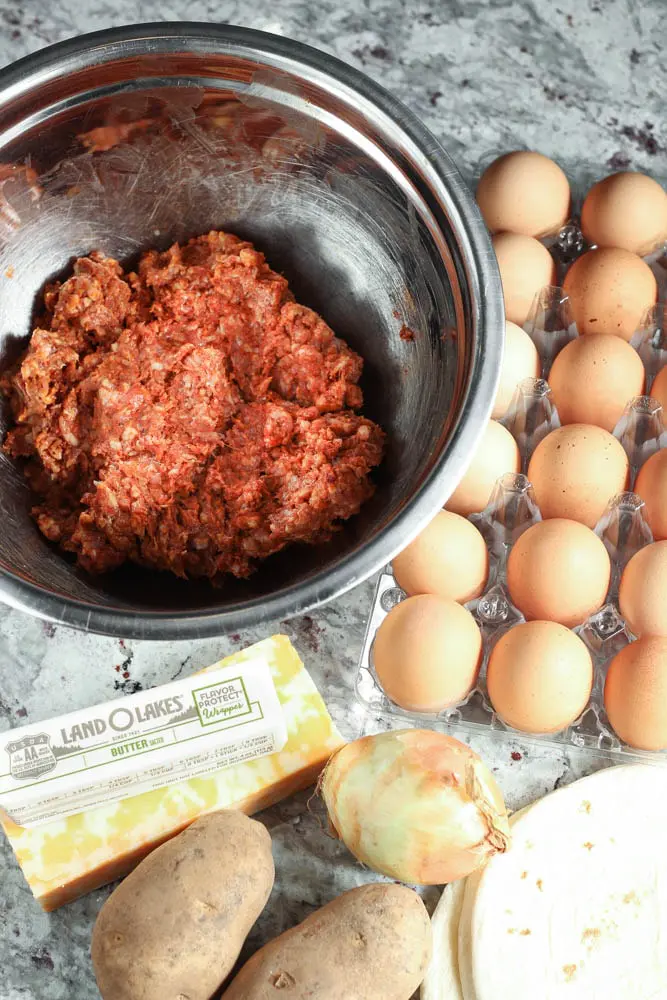 Can I make the recipe ahead of time?
Absolutely. You have a couple of different options here. You can cook the chorizo and potato mixture up to 3 days in advance of assembling your breakfast tacos. Just store it in the fridge after cooking until you're ready to prepare the eggs and assemble the tacos.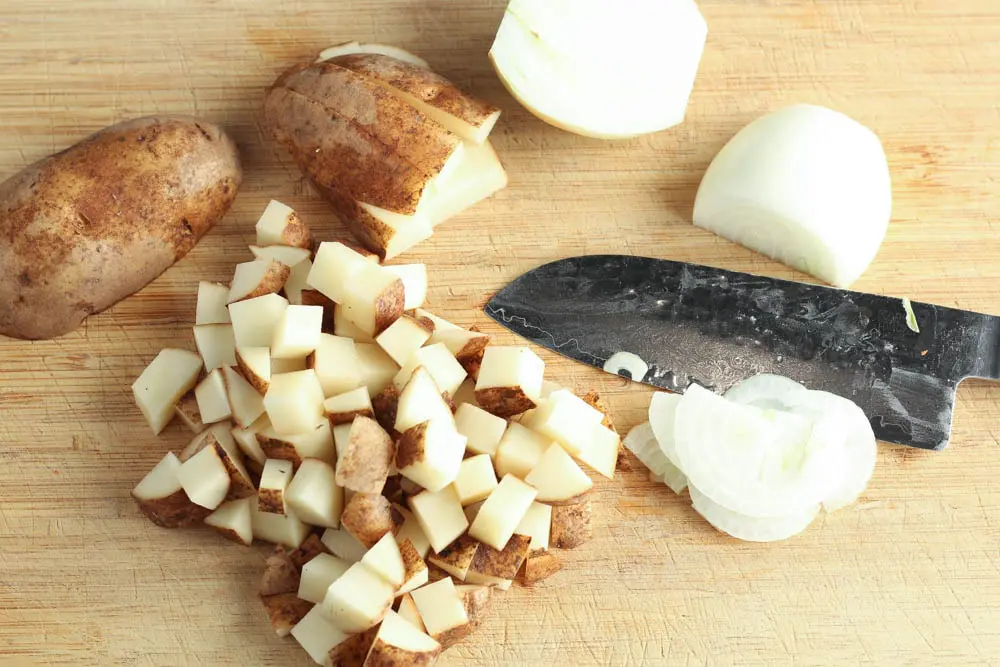 You can also assemble the tacos completely, wrap them in tin foil and store them in the fridge for up to 2 days before reheating. Just be sure to remove the tin foil before giving them a quick zap in the microwave. Also, don't add the salsa until you're ready to eat as it can make the tortilla soggy.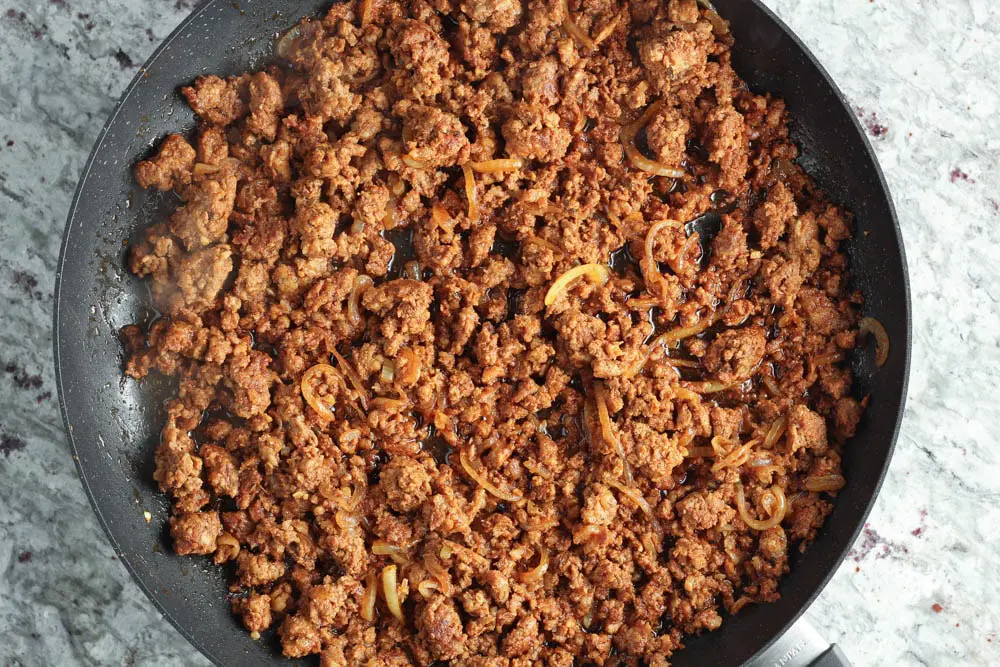 I prefer the first method of making ahead because you can enjoy the best of both worlds; you get fresh, hot eggs but assembling the breakfast tacos only takes about 10 minutes.
Serving suggestions with Chorizo and Potato Breakfast Tacos?
Salsa or hot sauce is a must if you ask me. Even if you don't like spicy foods, a spoonful of mild salsa is crucial to peak breakfast taco enjoyment. I personally like a little heat, so I tend to use a spicy hot sauce along with a spoonful of chunky salsa but use whatever suits your taste.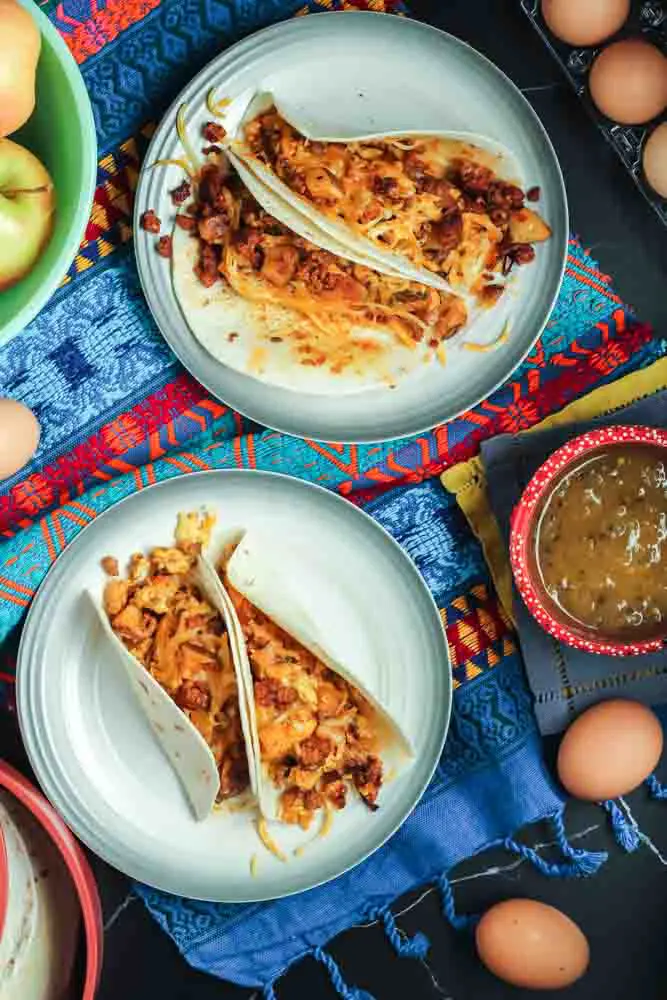 Breakfast Tacos are often served a la carte or with refried beans where I'm from, so be sure to check out my Refried Beans recipe. It also uses chorizo for flavoring, so it's a perfect match with these breakfast tacos.
What to do with leftover chorizo and potatoes?
You may find that you have leftover cooked chorizo and potatoes depending on how many breakfast tacos you make. I love to have breakfast tacos for dinner, so I often just save the leftovers for dinner later in the week. You could also make a delicious omelet or frittata with them if you want a different breakfast item.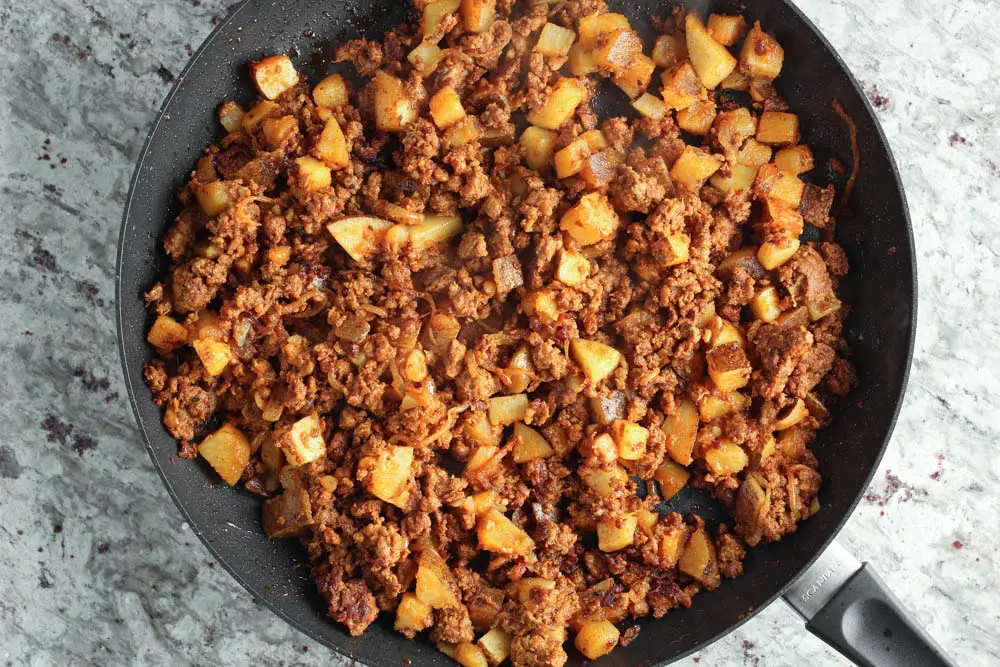 I can guarantee that even if you've never had a breakfast taco or just haven't really found one that blew your socks off that this recipe will be a game-changer. Instead of a tube of biscuits, you'll be reaching for a pack of tortillas on Sunday morning. Please let me know what you think in the comments section below!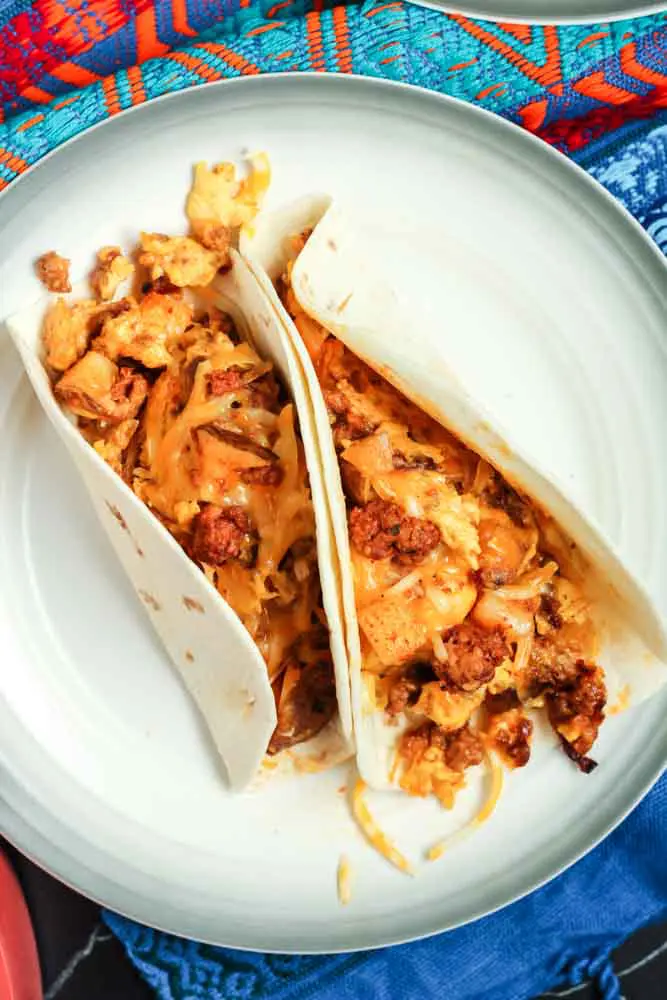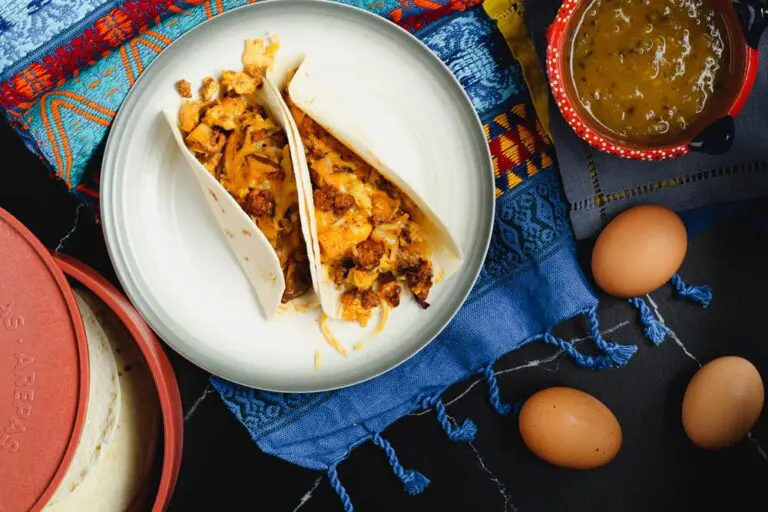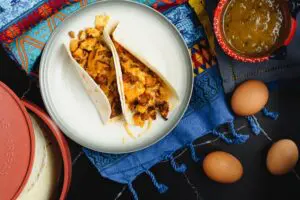 Chorizo and Potato Breakfast Tacos
Tex-Mex breakfast tacos filled with homemade chorizo sausage, potatoes, eggs, and cheese for a satisfying breakfast everyone will love. The perfect way to start your day with a punch of flavor!
Ingredients
Chorizo
1

lb

ground pork

2

Tb

chili powder

3

Tb

white vinegar

4

garlic cloves

minced

⅛

tsp

cinnamon

½

tsp

coriander

1

tsp

cumin

1½

Tb

paprika

1

tsp

dried oregano

¼

tsp

cayenne

1½

tsp

salt
Breakfast Tacos
2

Tb

olive oil

1

Tb

butter

2

russet potatoes

1

yellow onion

grated colby jack cheese*

eggs*

flour tortillas*
Instructions
To make chorizo
Thoroughly combine the ground pork with all the other ingredients. Allow to sit for at least 30 minutes or up to 5 days for the pork to absorb all the flavors.
To make chorizo-potato mix
Wash potatoes and cut into a half-inch dice. Add to a saucepan and cover with water. Bring to a boil for 15-20 minutes or until fork tender. Drain thoroughly.

While potatoes boil, slice the onion into thin strips. Heat a large nonstick pan over medium-high heat. Add 2 Tb olive oil to the pan. Sauté the chorizo until almost cooked through or for about 6 minutes. Add onion to the chorizo and cook until softened or 2-3 minutes.

Once the potatoes have cooked and drained, add to the chorizo mixture and mix well to combine.

Briefly increase heat to high and leave mix undisturbed for 2 minutes to allow a light crust to form on the potatoes. Use your nose as a guide! If you start to sense that the mix is burning, remove from the heat.

Remove from heat once browned and set aside.
To assmble breakfast tacos
For every breakfast taco, you'll need ½ cup chorizo-potato mixture and 2 eggs.

Add the choizo-potato mix to a medium saucepan and heat over medium-low heat. Crack eggs into a mixing bowl and beat until scrambled. Season with a pinch of salt and pepper to taste.

Add eggs to the pan with chorizo and cook until the eggs reach a soft scamble, stirring often.

Heat flour tortillas in a dry cast iron skillet or saute pan over low heat, flipping over to heat both sides evenly. Once the eggs are cooked, fill the tortillas and top with grated cheese and salsa to taste.
FREQUENTLY ASKED QUESTIONS
Do I have to make chorizo from scratch?
No, but it really is so easy! If you prefer to buy it, I like Johnsonville brand.
How long can the prepared chorizo sit before cooking?
Up to 5 days in fridge.
Can I make this recipe in advance?
Yes. The chorizo-potato mixture can be cooked and stored for up to 3 days in the fridge before cooking the eggs and assembling the tacos.
The following two tabs change content below.

Hey-ooo! I'm Hailey, and I'm a number cruncher by day and cussing cook by night. I created this site to share my love for delicious food that feeds the soul as well as the belly. I hope my recipes have you running to the kitchen to cook some damn good grub!