Caramelized onions are a must-have recipe in your arsenal. Onions have plenty of natural sugar, so with a little butter and heat, magic happens. The onions turn a beautiful caramel color, and the flavor intensifies and becomes sweeter. They are fantastic on any burger or sandwich and can be the foundation for all kinds of sauces and dips.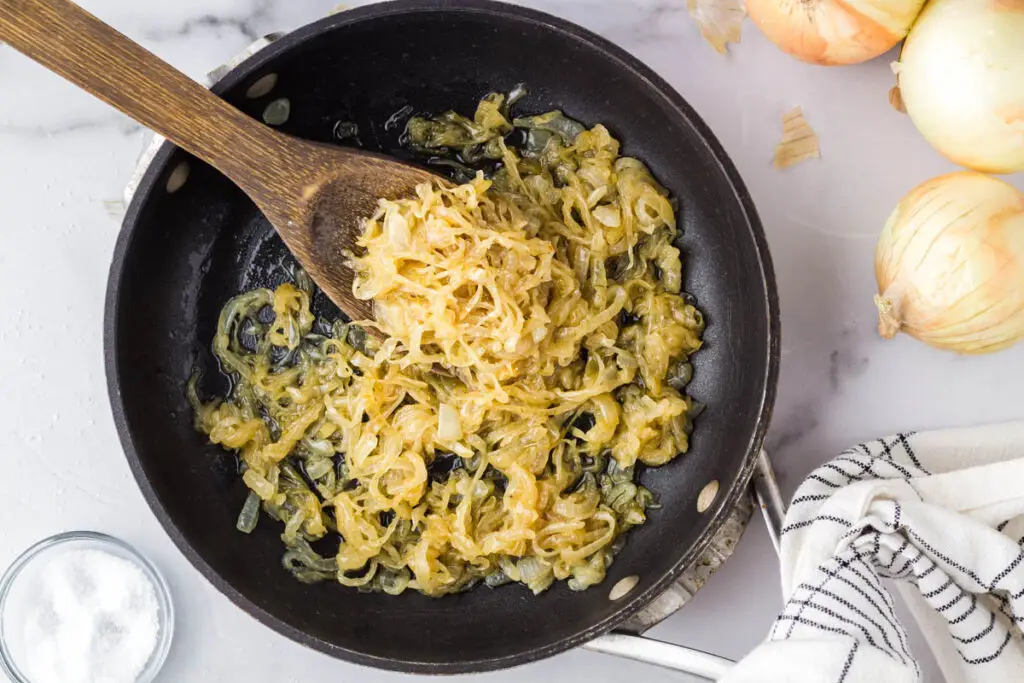 The texture of properly caramelized onions is like a good jam- silky but still with some texture. The flavor is sweet and rich with a hint of salt. Once you've mastered the technique to prepare them, you'll be putting them on everything!
People swoon over the decadent flavor of caramelized onions. They think that making them is somewhat cloaked in mystery. Let me dispel that notion for you here and now. They are actually easy to make- they just take 4 ingredients plus patience.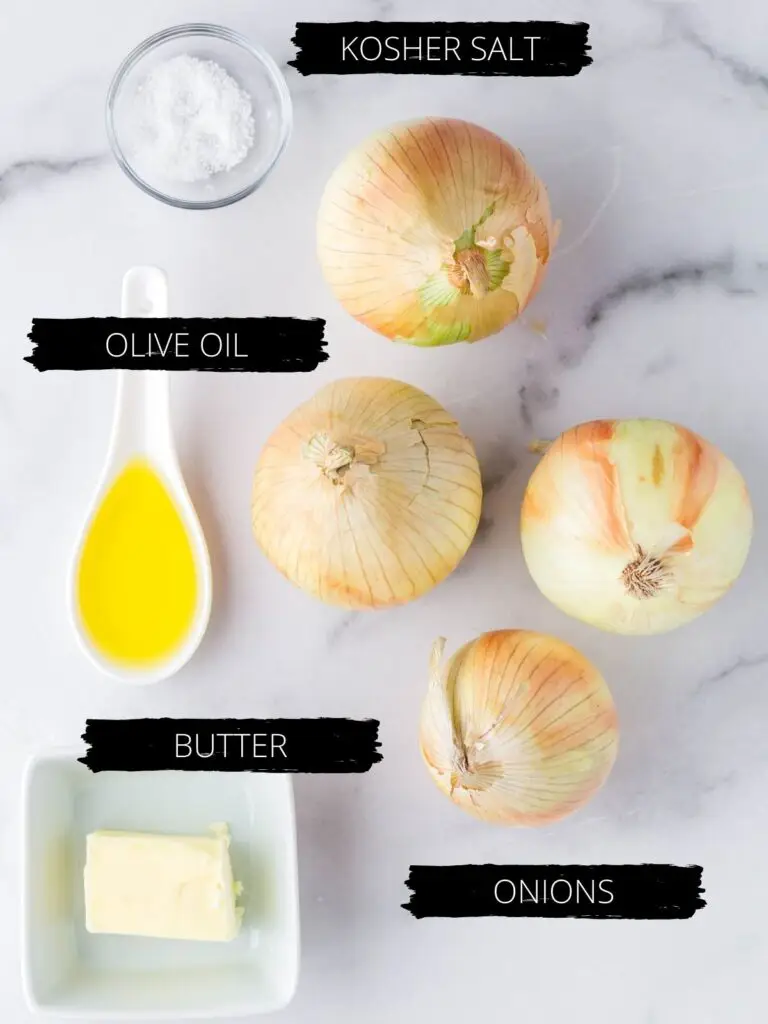 Tip and Tricks for Caramelizing Onions
It takes a lot of onions to make caramelized onions. You may be surprised to learn that a pound and a half of raw onions only cook down to about a cup of caramelized.
White or yellow onions work best for this recipe. Any sweet variety (typically labeled as sweet onions at the store) is a great choice for caramelizing. Avoid red onions.
Use a large pan or pot for caramelizing onions. If you crown the onions in the pan, they will steam which makes any browning almost impossible. Make sure your onions have plenty of surface area to spread out while cooking.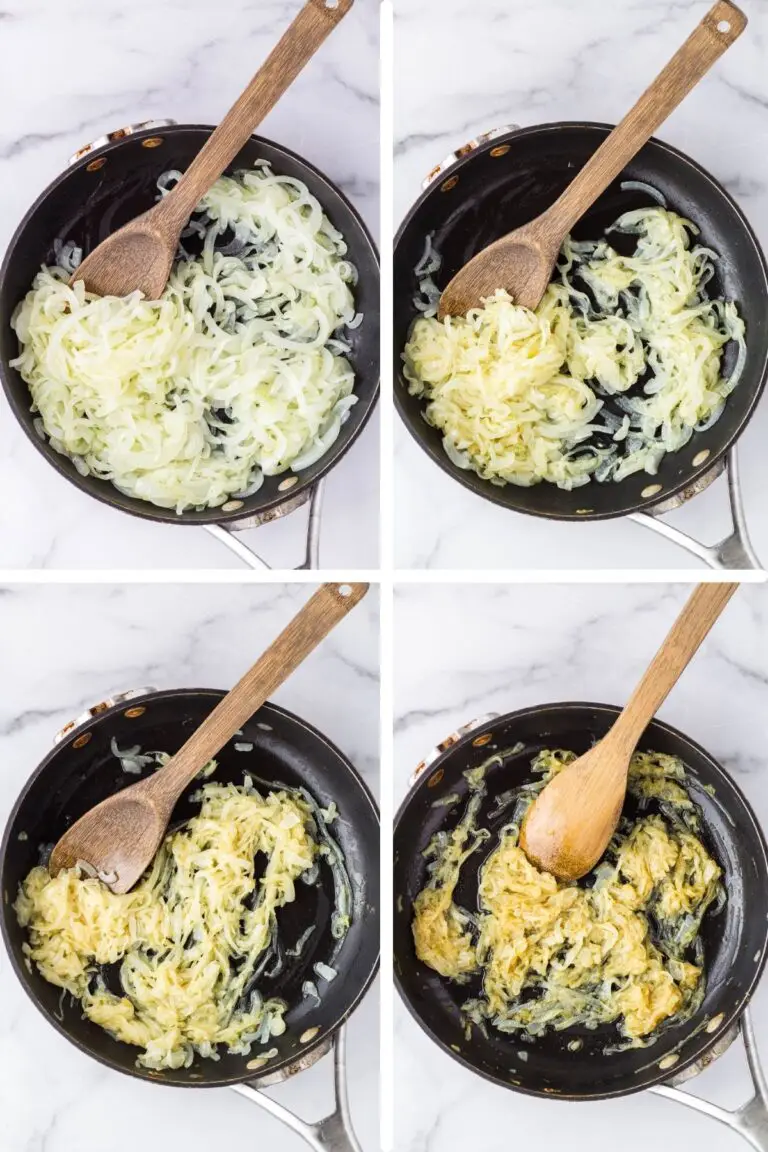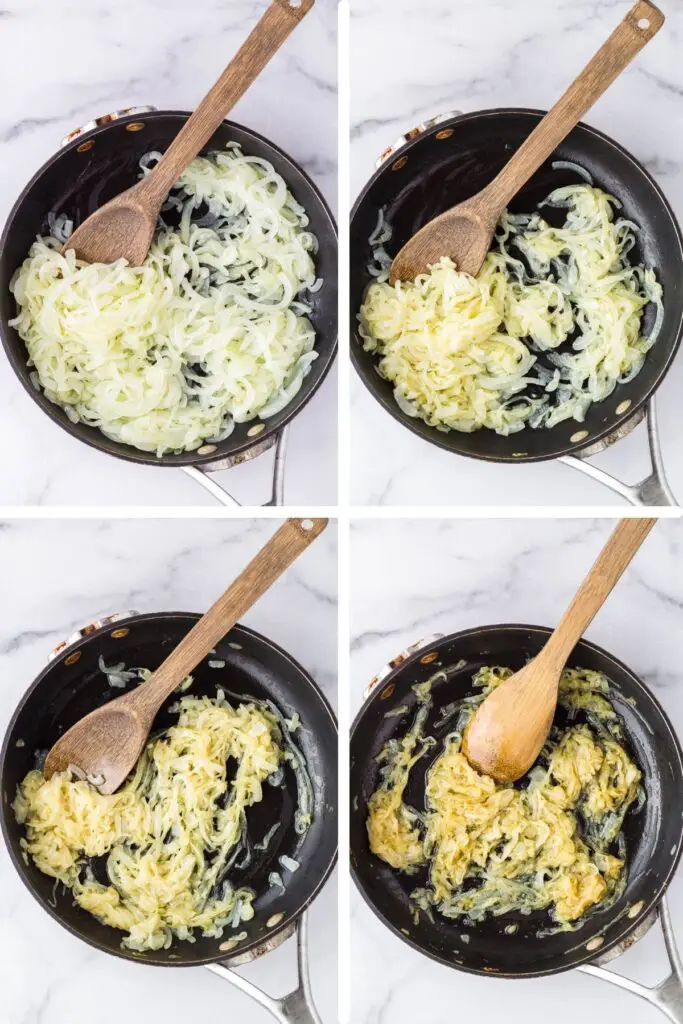 The biggest mistake you can make when caramelizing onions is to rush the process. The highest heat setting I use in this recipe is medium and that's only to help the onions soften early in the process. Properly caramelizing onions take time; there is no way to avoid it. If you try to crank up the heat, you will end up with burnt edges and a bitter flavor that overshadows the subtle sweetness you're after.
Do not leave your onions unattended. Stir them regularly but not too much. The onions need to be left alone so that they can brown properly, but the browning should be very gentle. So gentle that you're stirring the onions before they start to get too brown. I aim to stir the onions about once every 45 seconds during the process.
You do not need any sugar to caramelize onions. End of story.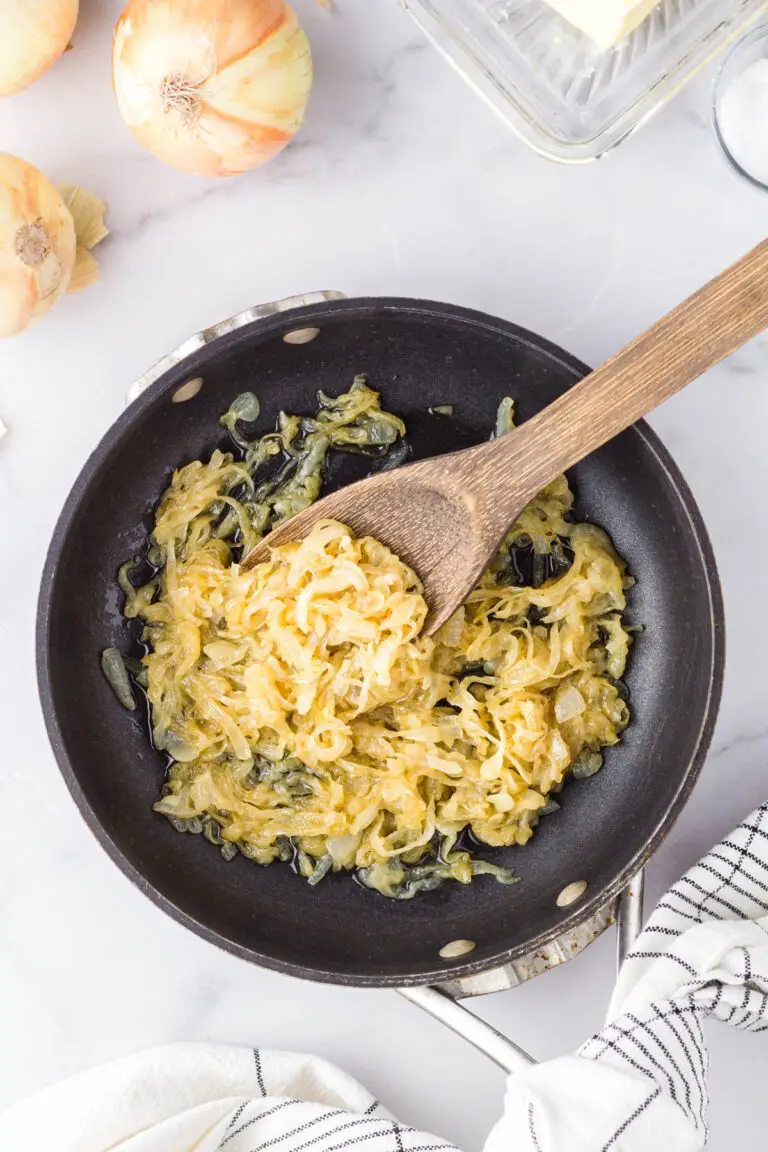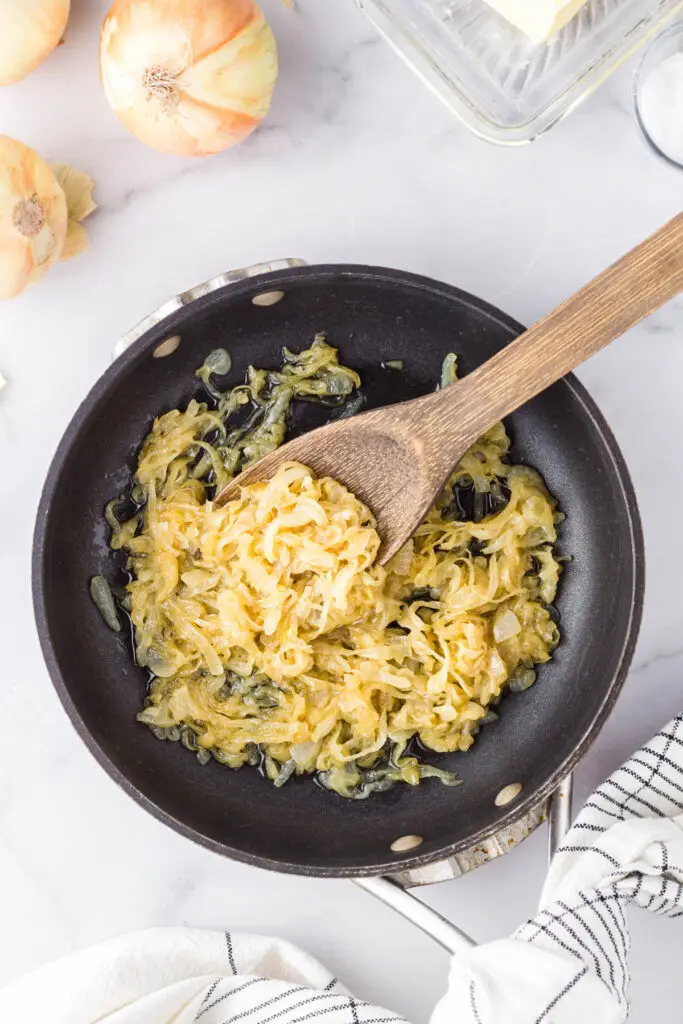 I love butter. The flavor that it gives to caramelized onions is essential. I add a bit of olive oil because butter does have the tendency to burn. Olive oil helps keep the smoking temperature (or the temperature where things start to turn black) higher meaning no black onions.
Salting caramelized onions is like the icing on the cake. They must have salt but don't make the mistake of salting the onions too early. Instead, salt them at the very end of the recipe. Salt makes the onions release moisture which can slow down the caramelization.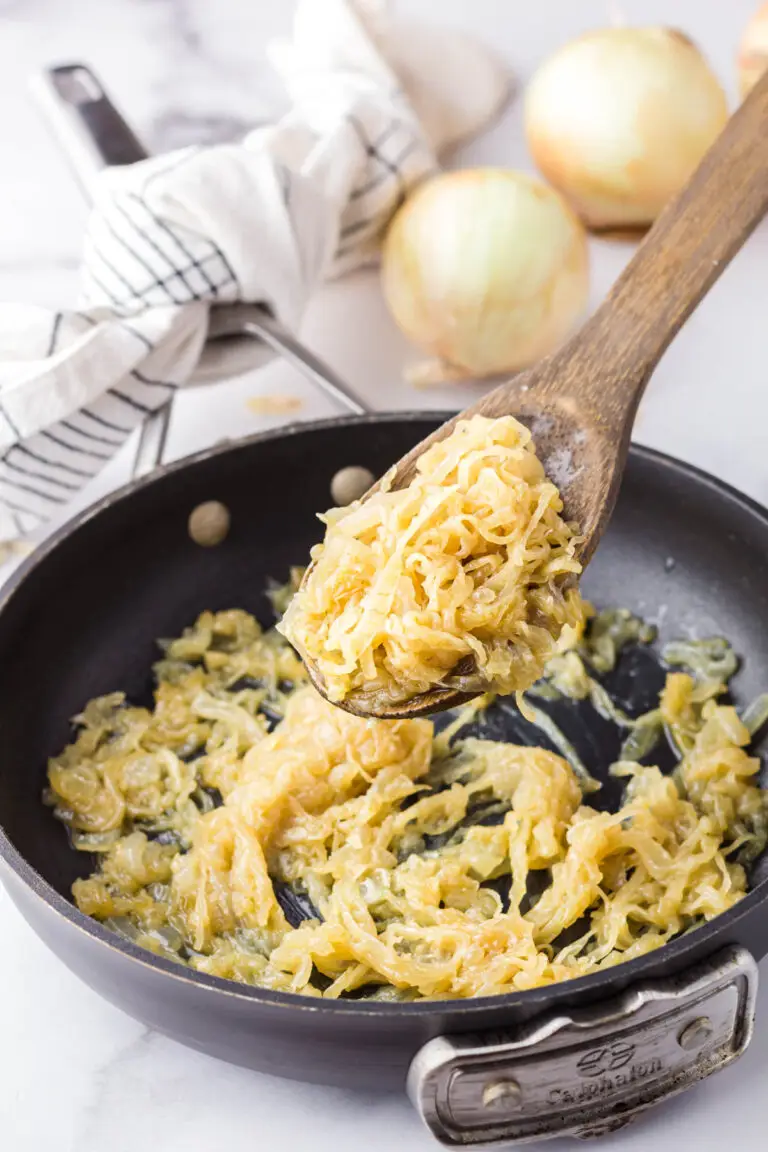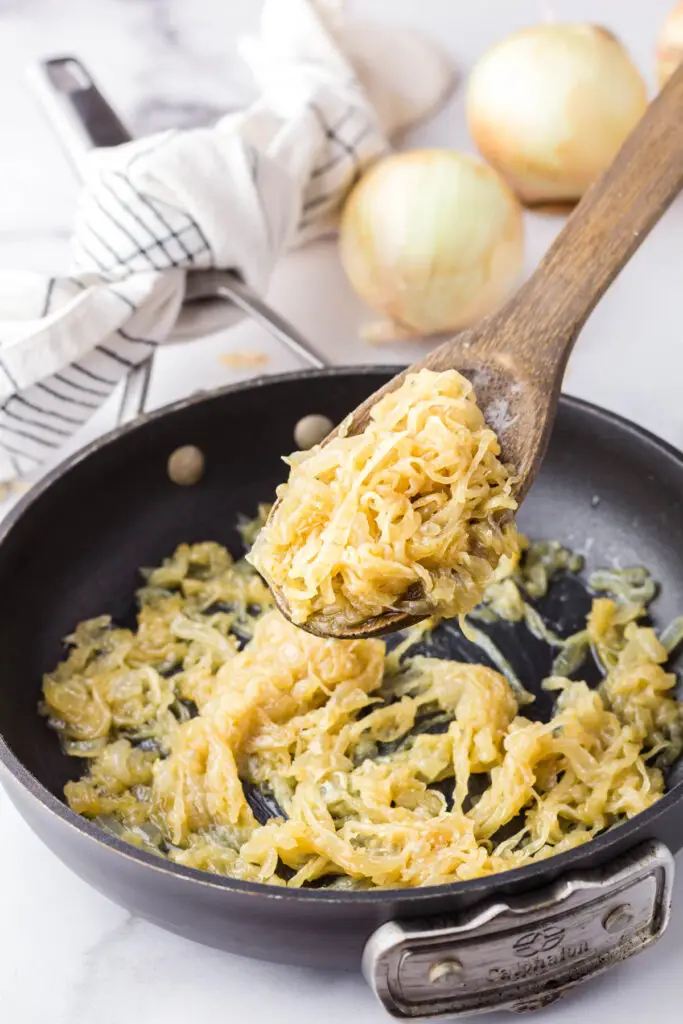 Recipes Ideas
You'll find there are so many different ways to use caramelized onions. These are some of my favorite recipes with caramelized onions.
I also love a good homemade onion dip like Brown Eyed Baker's recipe.
Proper Storage
Caramelized onions will keep for up to 5 days in an airtight container in the fridge. The fat will separate from the onions, but a quick reheat in the microwave or on low on the stove combined with a bit of stirring will revive the texture.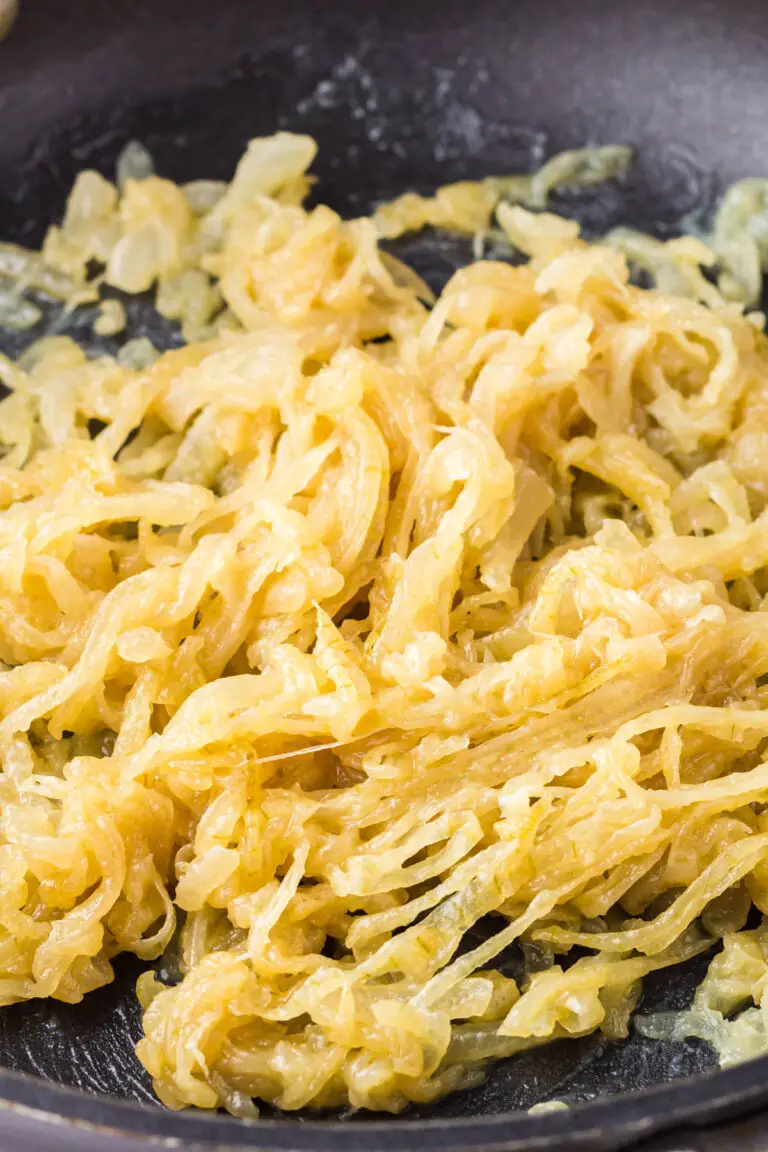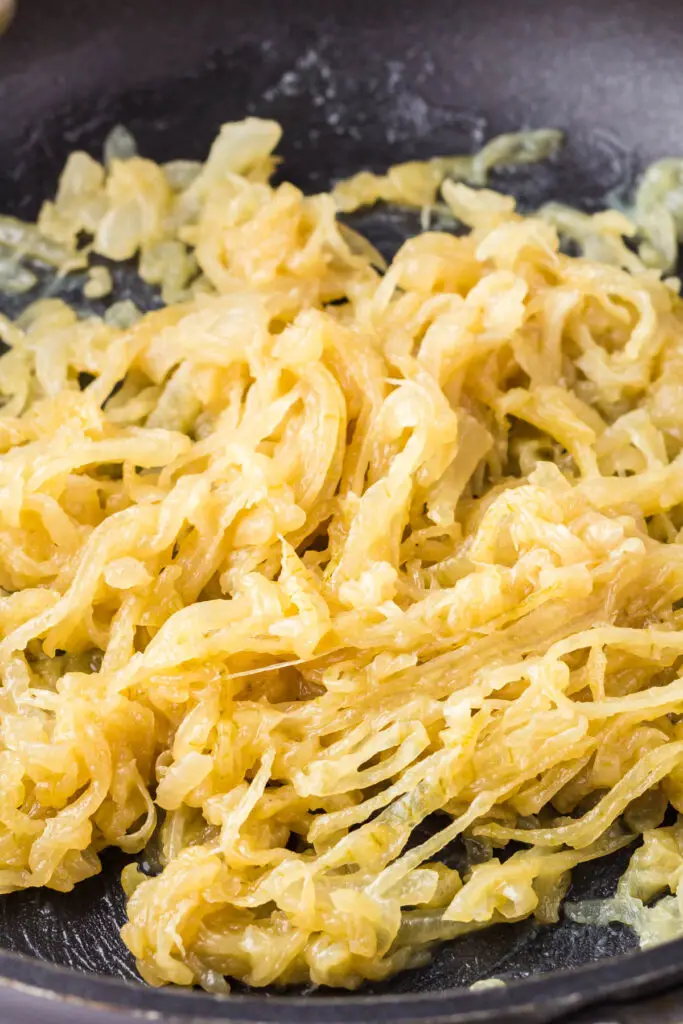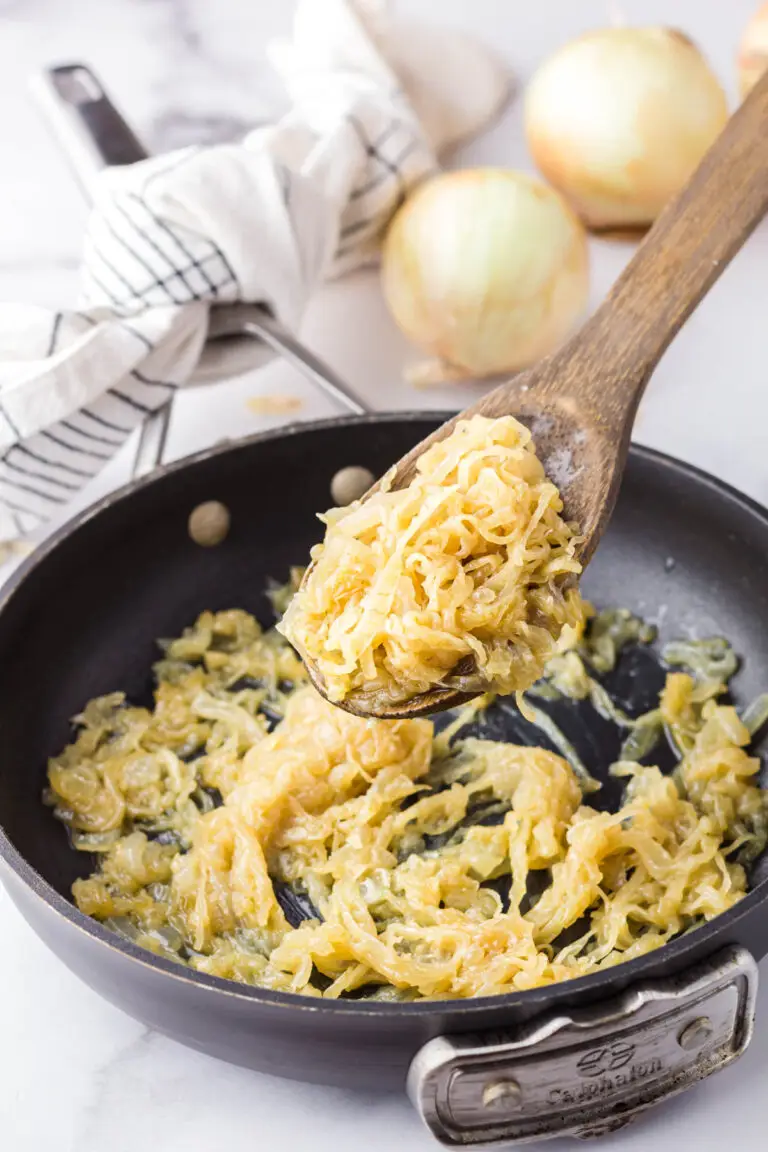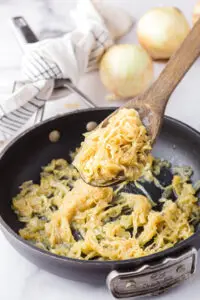 Caramelized Onions
Caramelized onions are the perfect topping for any burger or sandwich or as a starter for a creamy sauce. Anyway you use them, they are sweet, silky and delicious.
Ingredients
1 ½

pounds

onions

4 small or 2 large

3

Tb

butter

2

Tb

olive oil

½

tsp

kosher salt
Instructions
Cut the ends off the onion, split it in half and peel. Thinly slice.

Heat butter and olive oil in a medium saute pan over medium-high heat. Once hot, add the sliced onion. Cook for 5 minutes, stirring often.

Once the onions start to brown, turn the heat down to medium-low. Cook for another 10 minutes, stirring often.

Once the onions are totally softened and golden, turn the heat down to low. Cook for an additional 15 minutes until the edges are beginning to darken and the texture becomes jam-like.

Season with ½ tsp of salt or to taste.
Notes
Caramelized onions can be stored airtight container in the fridge for up to 5 days. The oil will separate from the onions when chilled. Once reheated, stir well and the mixture will come back together.
The following two tabs change content below.

Hey-ooo! I'm Hailey, and I'm a number cruncher by day and cussing cook by night. I created this site to share my love for delicious food that feeds the soul as well as the belly. I hope my recipes have you running to the kitchen to cook some damn good grub!