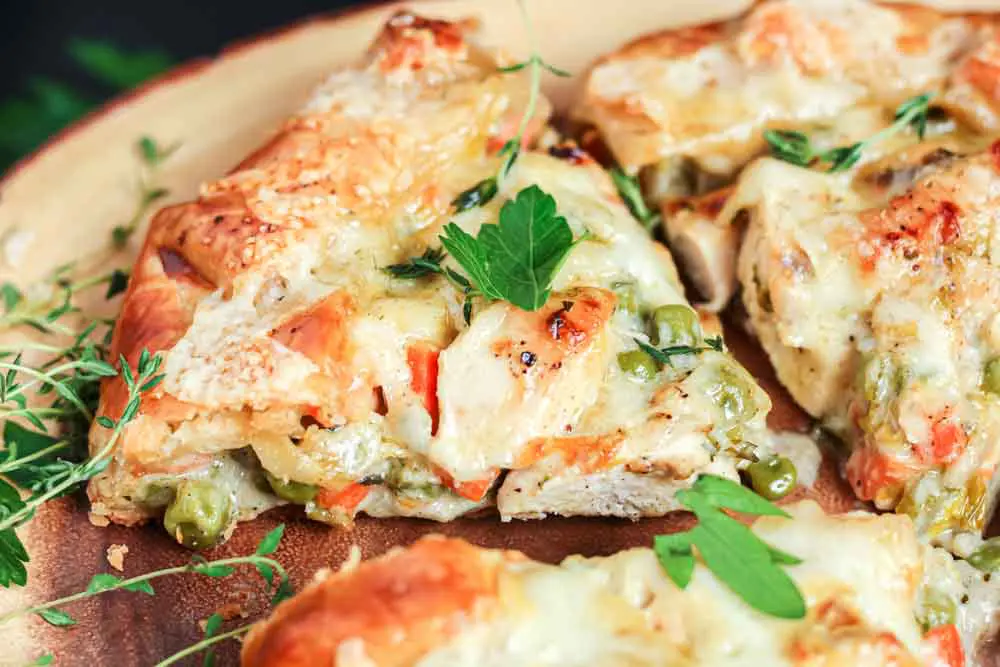 Chicken Pot Pie Crostata is everything you love about hand pies and comforting chicken Pot Pie combined into one. All the traditional ingredients including chicken, carrots, celery and onions are bathed in a creamy sauce before being wrapped in flaky pie crust. My Chicken Pot Pie Crostatas also have a unique finishing touch.
After the crostatas are baked and starting to brown, they are topped with a sprinkle of shredded Fontina cheese because why not?? Melted, browned cheese is one of my favorite things in life so I'm always looking for a chance to incorporate it into a recipe. Chicken and cheese are comfort food 101 in my book.
Chicken Pot Pie Crostata is somewhere between a Pot Pie and a pizza. What could be wrong with that?!
I think the pie crust in this recipe instead of pizza dough makes for a much better flavor complement to the creamy chicken filling, but I kept the portability factor of the pizza by going with a crostata instead a more traditional pie dish.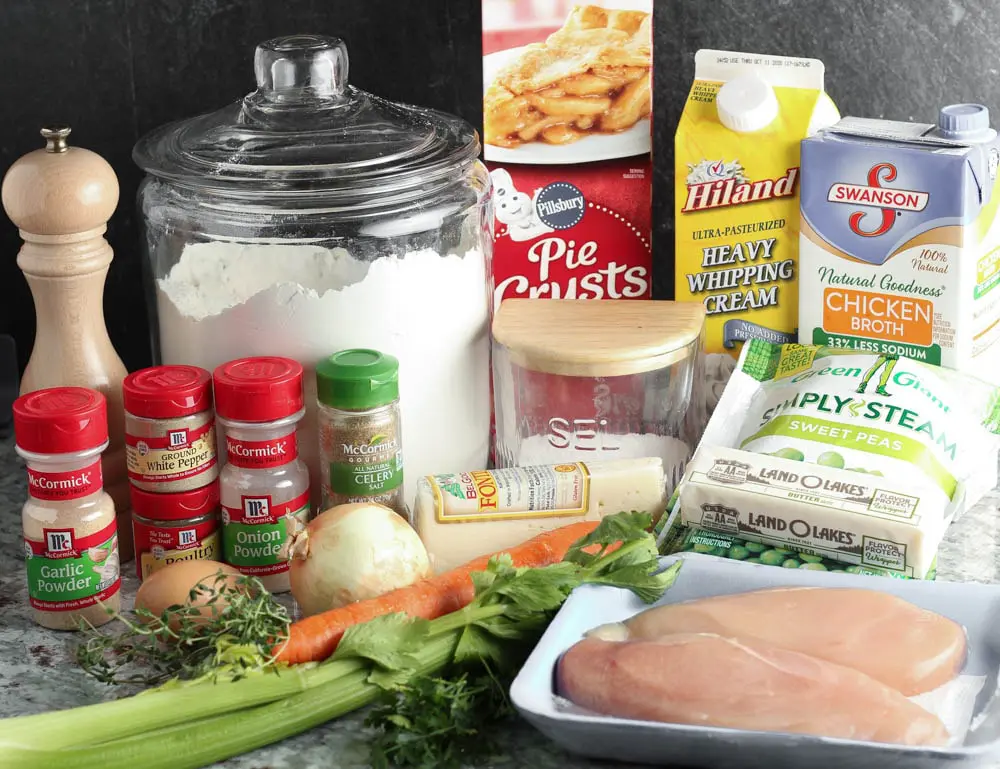 What is a crostata?
If you haven't heard of a crostata before, you may have heard of a galette. Both are a fancy way of saying free form pie, or a pie made without a pie plate. I love to make them because they always come out beautiful in a rustic way without the fuss of a traditional pie.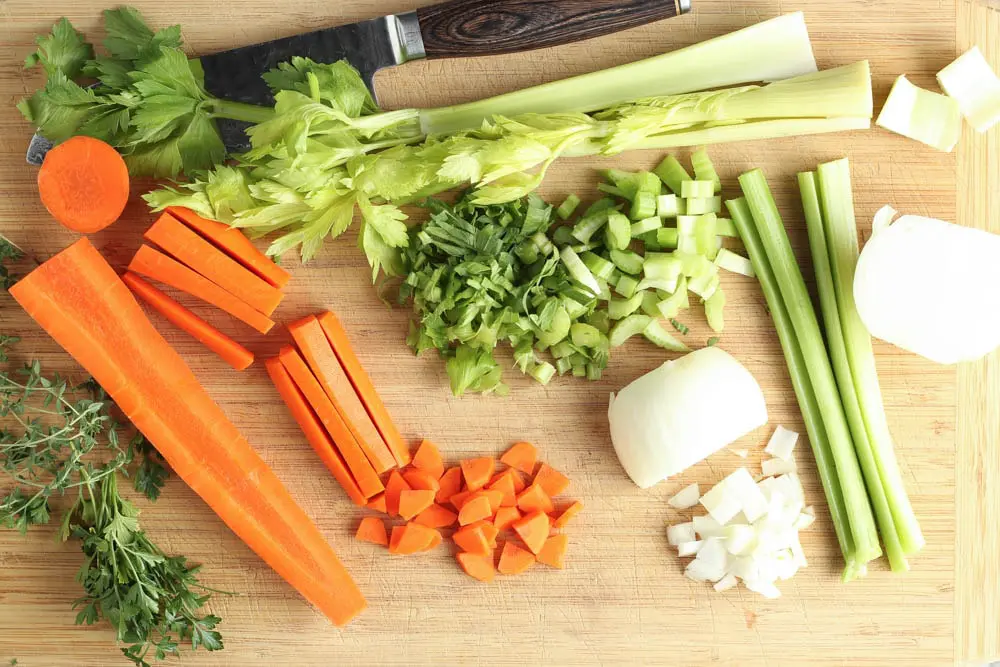 Store-bought pie crust is a great option, but you can make it from scratch if you prefer.
With busy weeknights in mind, I made this recipe easy and simple by using store-bought pie dough. My mom is dying inside somewhere as she reads this, but sometimes a store-bought dough is the way to go. Don't worry mom (or anyone else who would prefer to make their own pie crust), check out my Shepherd's Hand Pies post for my mom's amazing pie pastry recipe.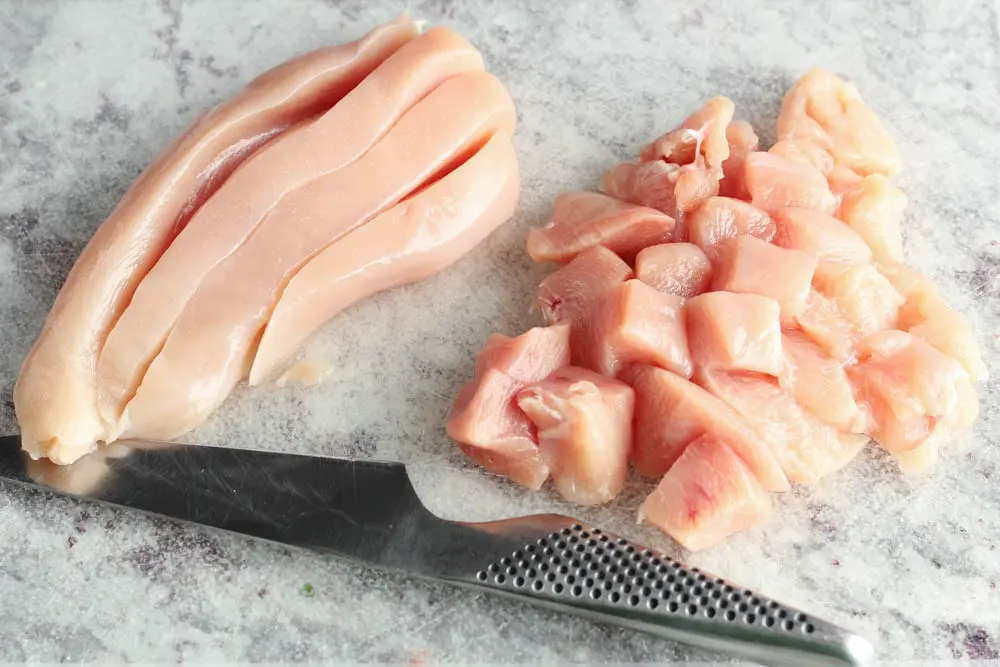 If you can't find fontina cheese, you've got options.
If you're never had Fontina cheese before, this is a great time to try it out. It melts beautifully and has a creamy texture. The flavor is mild but more flavorful than a jack or mozzarella cheese.
Fontina is slightly sweet with an amazing nutty taste, but it is a bit pricey and can be hard to find. If you can't find it or don't want to pay the price, I would recommend smoked gouda, gruyere, or a good quality cheddar cheese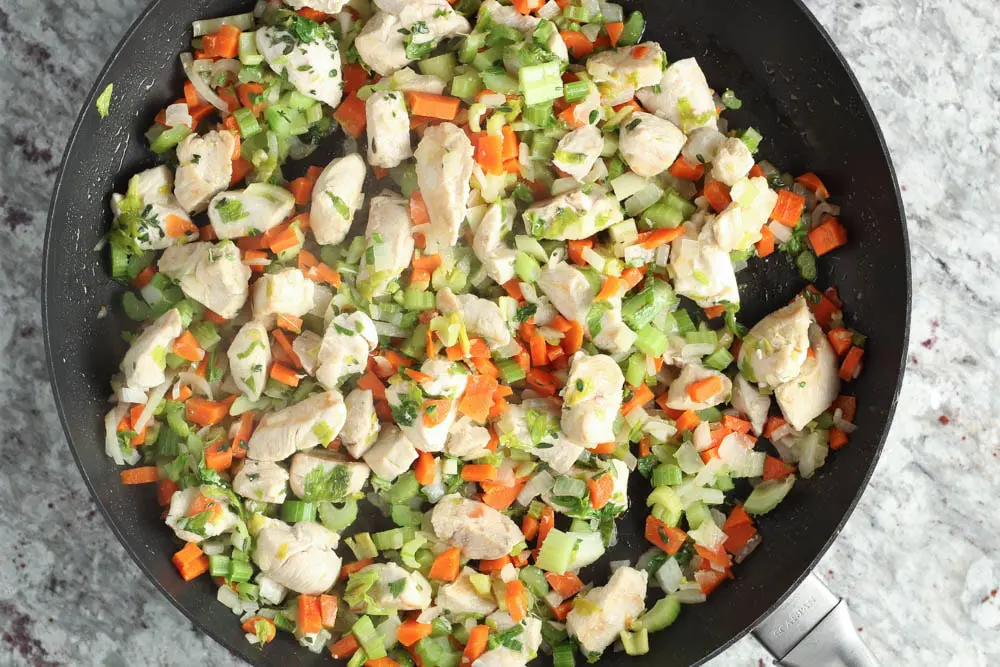 Can Chicken Pot Pie Crostatas be made in advance?
I would not recommend making the crostatas ahead of time because the crust will become soggy but making the chicken Pot Pie filling ahead of time is a great idea. It will keep in an airtight container in the fridge for up to 3 days. Just add a few minutes to the cooking time if the filling is cold when you start baking your crostatas.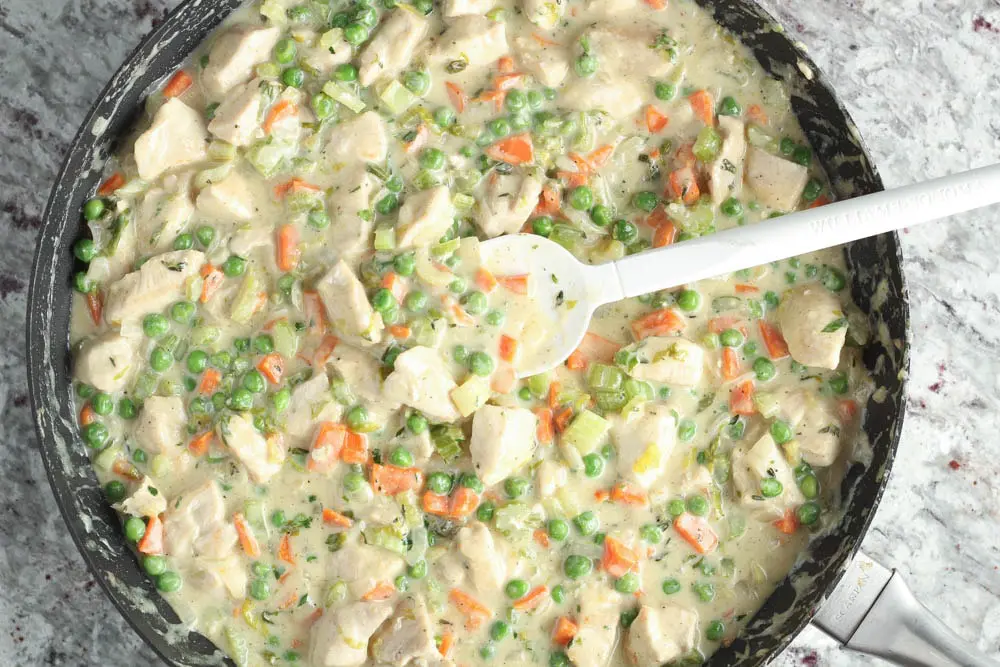 The filling has to be totally cool before putting it into the pie pastry. The first time I tested this recipe, I was in a bit of a hurry and rushed through this step. The end result was still tasty, but the filling leaked out in several places. Not what you want. If you can, make the filling ahead of time for speedy assembly.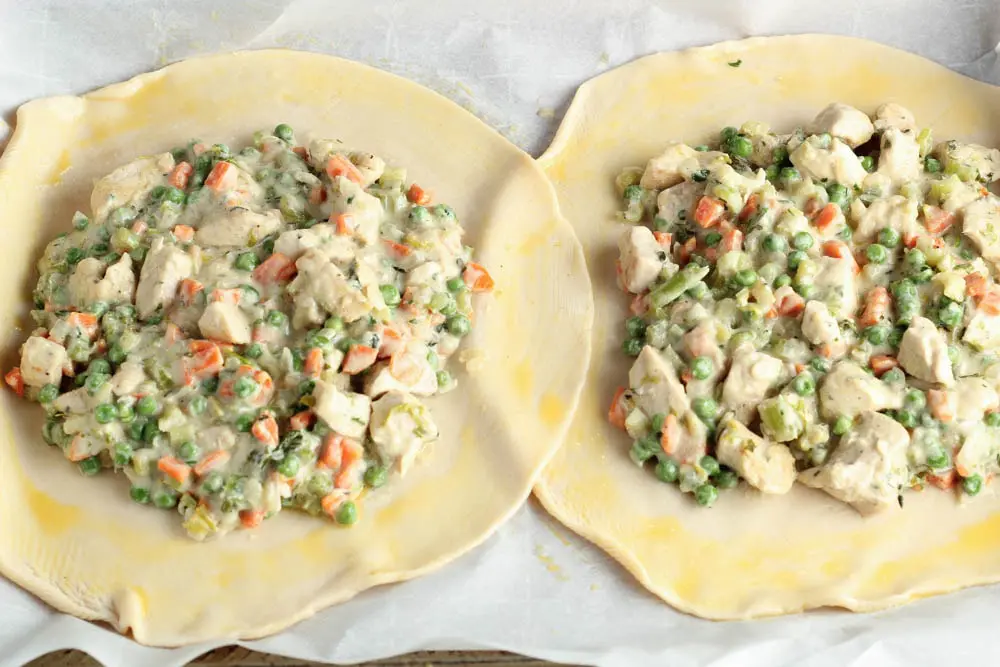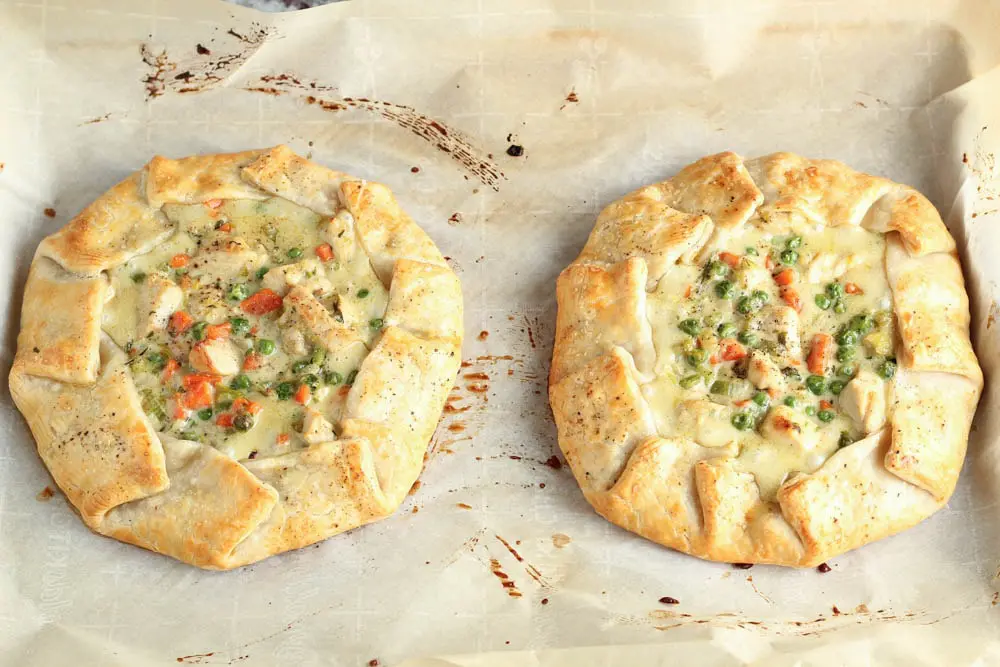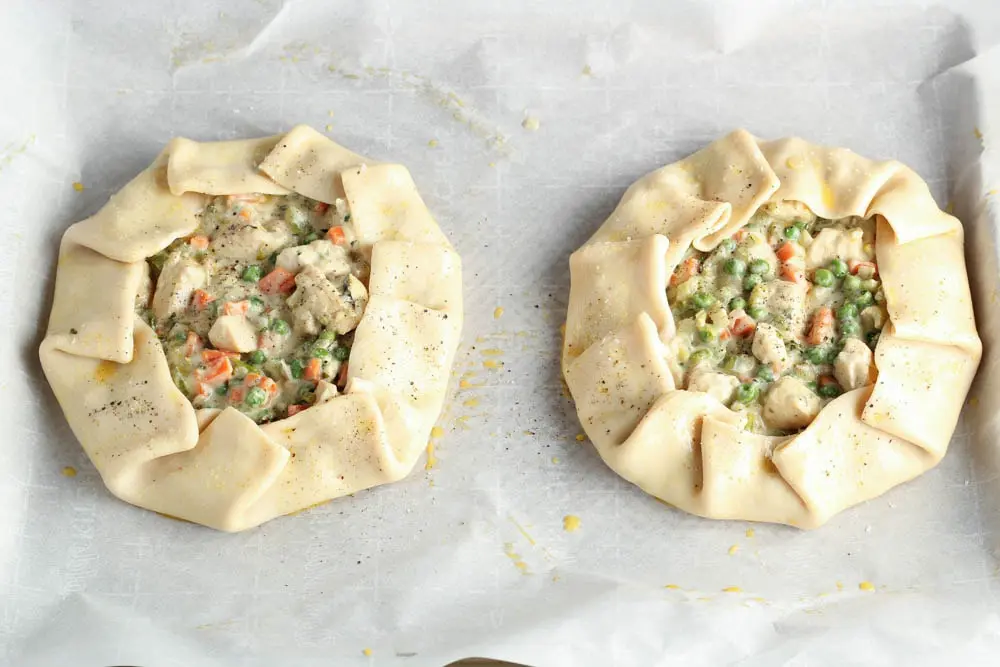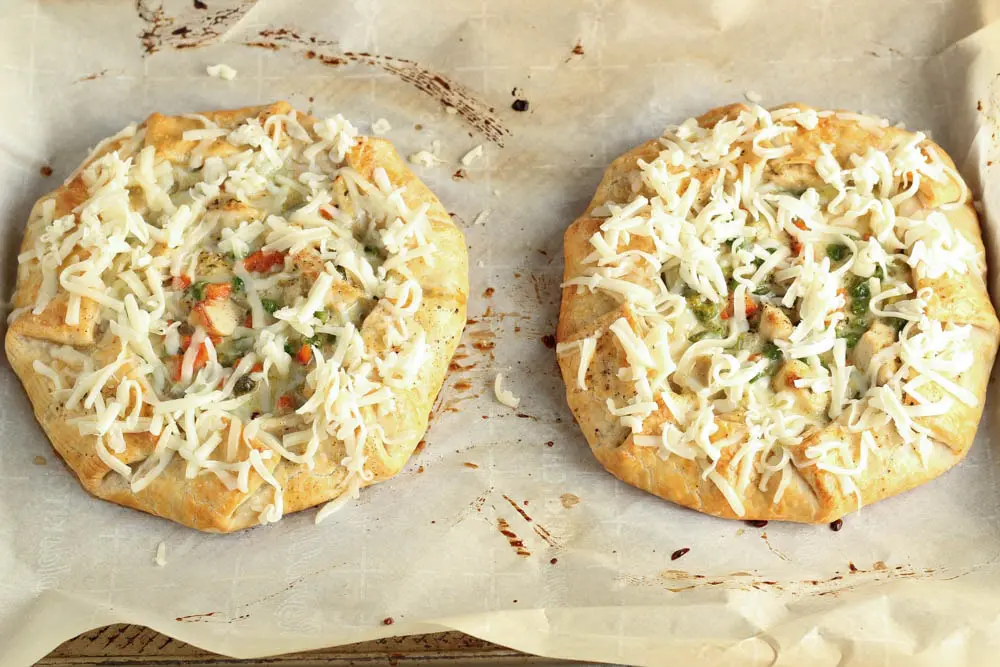 What to serve with Chicken Pot Pie Crostatas?
I love a simple salad with Chicken Pot Pie Crostatas. Cookie and Kate's Little Green Salad is one of my favorite recipes.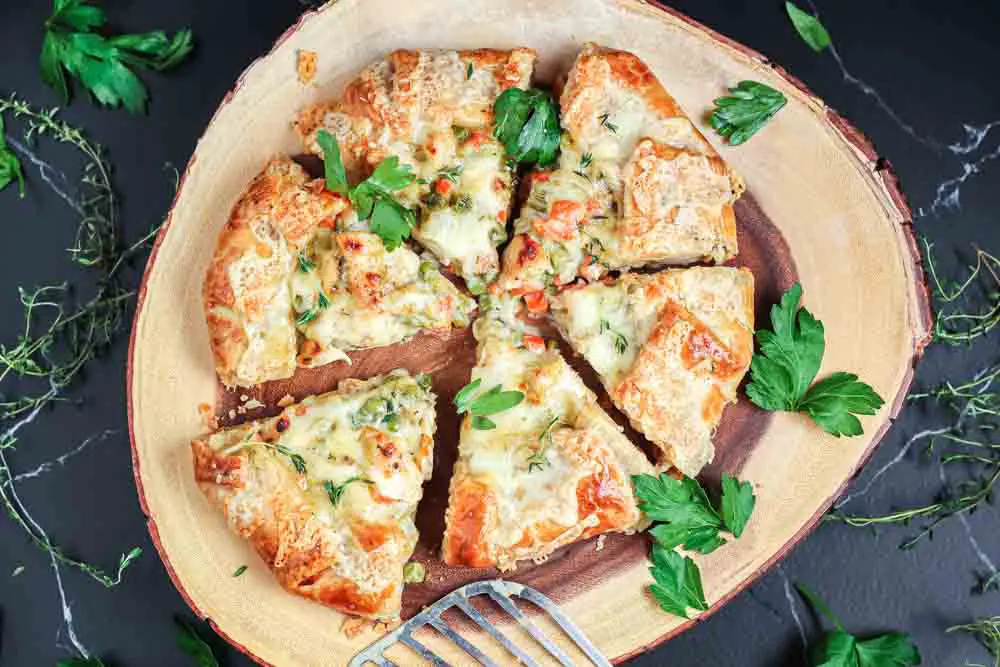 Chicken Pot Pie Crostatas is the dinner your family and friends will be requesting again and again. The combo of flaky pie crust, creamy chicken filling, and a crisp cheesy topping is just as good as it sounds, and you'll be delighted with how easy this recipe is to make!
Try it out and let me know how it goes.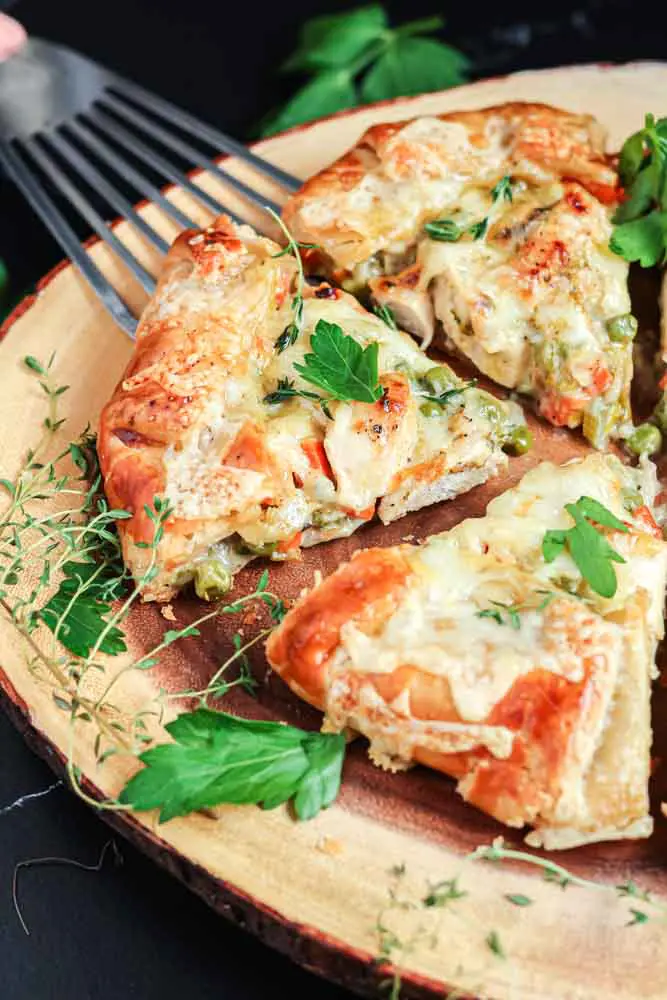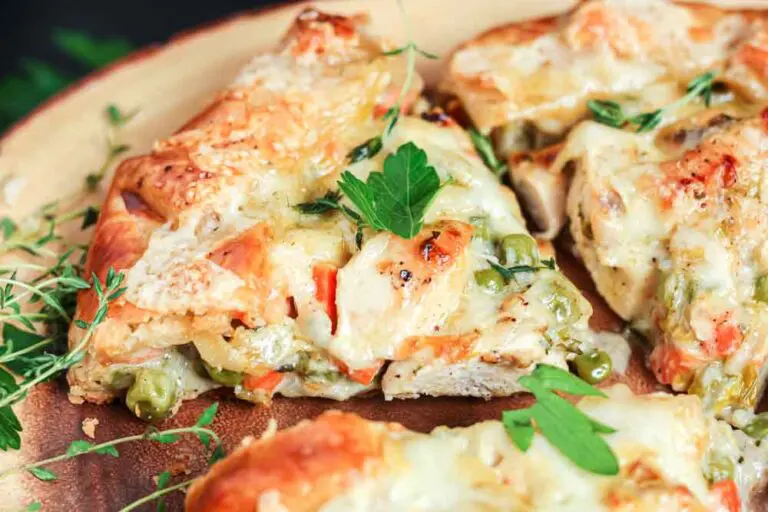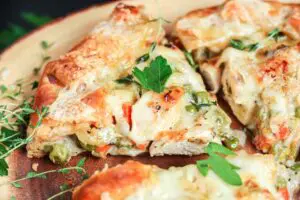 Chicken Pot Pie Crostata
Chicken Pot Pie Crostata features a rich, creamy chicken filling wrapped in a flaky pie crust. This recipe is all flavor no fuss and makes a perfect weeknight dinner.
Ingredients
1

lb

chicken breasts

2

large carrots

1

small celery heart

approximately 4-5 stalks

1

yellow onion

3

Tb

fresh parsley

½

C

heavy cream

½

C

frozen peas

4

sprigs fresh thyme

4

Tb

butter

divided

1

Tb

olive oil

2

Tb

all purpose flour

1

C

chicken stock

1

tsp

salt

½

tsp

black pepper

½

tsp

celery salt

½

tsp

onion powder

1

tsp

garlic powder

1

tsp

Italian seasoning

2

premade pie dough

2

oz

fontina cheese

1

egg
Instructions
Preheat the oven to 425 degrees. Line a sheet pan with parchment paper.

Peel the carrots and dice into ¼-inch pieces. Finely dice the celery, being sure to include all of the leaves. Peel, half and finely dice the onion.

Remove the thyme and parsley leaves from the stem and roughly chop. Cut the chicken breast into 1-inch chunks.

Place 2 Tb butter and 1 Tb olive oil in a large nonstick pan over medium-high heat. Once melted, add the carrots first and cook for 2 minutes. Next, add the chicken breast and cook for 3-4 minutes or until the first side starts to brown.

Turn the chicken over and then add the celery, onions, and thyme to the chicken. Cook for about 5 minutes or until the onions and celery are soft.

Turn the heat down to medium and add the flour to the pan. Stir to combine. Cook for 2 minutes then add the chicken stock, heavy cream, peas, salt, pepper, celery salt, onion powder, garlic powder, and Italian seasoning. Mix well.

Once the sauce has thickened to a creamy, thick consistency (you're looking for thicker than gravy but not quite pudding texture), turn the heat off and add 2 Tb chopped parsley.

Spread the chicken mixture out on a small sheet pan to cool for about 15 minutes. The mix should be room temperature or cooler when you pour it into the pie dough.

Spread the two pie doughs out on the prepared sheet pan. It's okay if the edges overlap since you're going to fold up the edges before baking. Split the chicken mixture between the two doughs. Spread out, leaving about 1½ inches around the edge empty.

Crack the egg into a small bowl and whisk with 1 Tb of water. Using a pastry brush, spread a thin even layer of egg wash on the clean edge of the pie dough.

After the dough edge is coated in egg, start folding the dough back on top of the filling in the center. See the photo above for reference. You should see about 4-5 inches of filling in the center once you'll fold all the edges up. There is no wrong way to fold a crostata so don't worry. Just be careful not to pull too hard or you'll tear the bottom of the crust.

Coat the top of the pie dough with egg wash and season with a pinch of salt and pepper. Place in the oven for 20-25 minutes until golden brown.

Remove from the oven and increase the oven heat to 450 degrees. Grate the fontina cheese. Sprinkle the top of the dough and filling with the grated cheese (1 oz for each crostata) and put the crostatas back in the oven.

Bake for another 7-8 minutes until the cheese is starting to brown. Allow the crostatas to cool for at least 5 minutes before cutting.
Frequently Asked Questions
What is a crostata?
A pie made without a pie plate or a free form pie.
Can I make my own pie dough instead of using store-bought?
Yes.
What is a good substitute for fontina cheese?
Smoked gouda, gruyere, or cheddar.
Can the recipe be made in advance?
The chicken filling can be made up to 3 days in advance, but the crostatas should not be made ahead of time.
The following two tabs change content below.

Hey-ooo! I'm Hailey, and I'm a number cruncher by day and cussing cook by night. I created this site to share my love for delicious food that feeds the soul as well as the belly. I hope my recipes have you running to the kitchen to cook some damn good grub!