Boursin Potato Stacks are easy to make and delicious. You'll barely believe how simple they are to put together. Thinly sliced russet potatoes layered with Boursin butter and baked to golden brown perfection for an unforgettable side dish.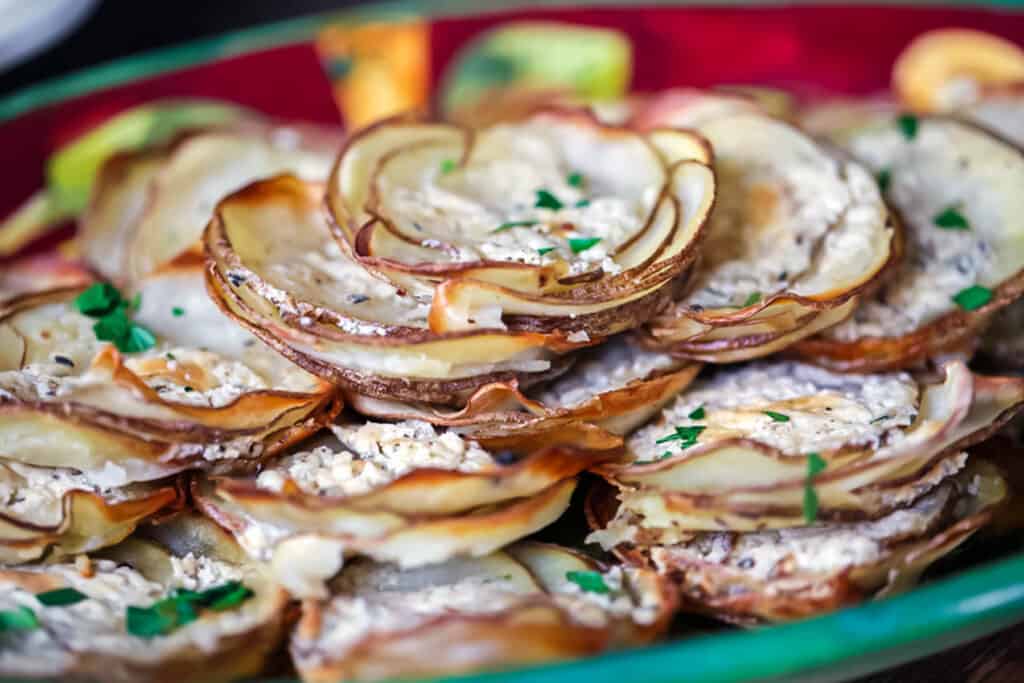 Potatoes and Boursin cheese are a match made in heaven. If you're not familiar with Boursin cheese, it is a light and creamy cheese from France that is mild in flavor. I once heard Boursin described as the Velveeta of France. I will unabashedly proclaim that I am a fan of Velveeta, so this description of Boursin made me an even bigger fan.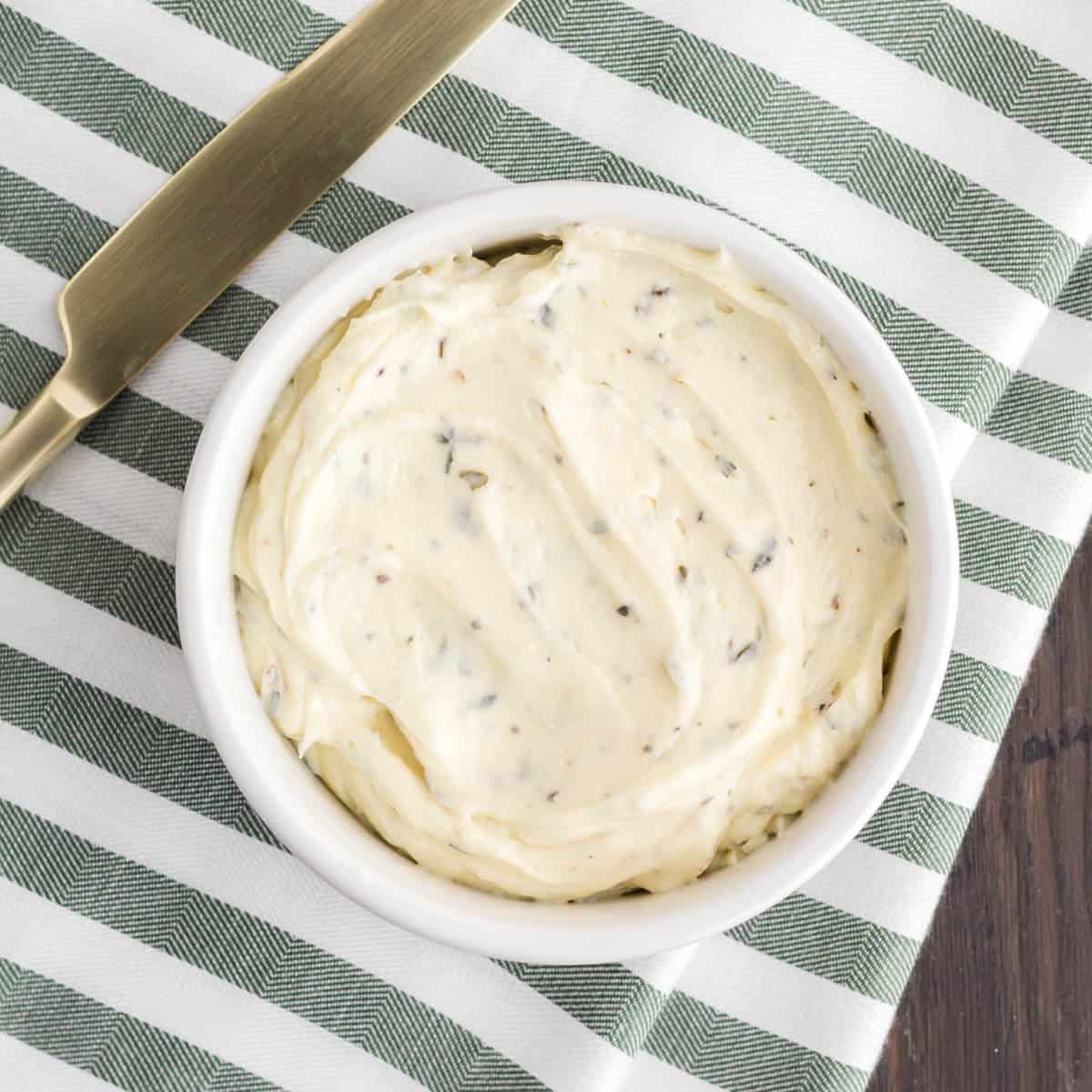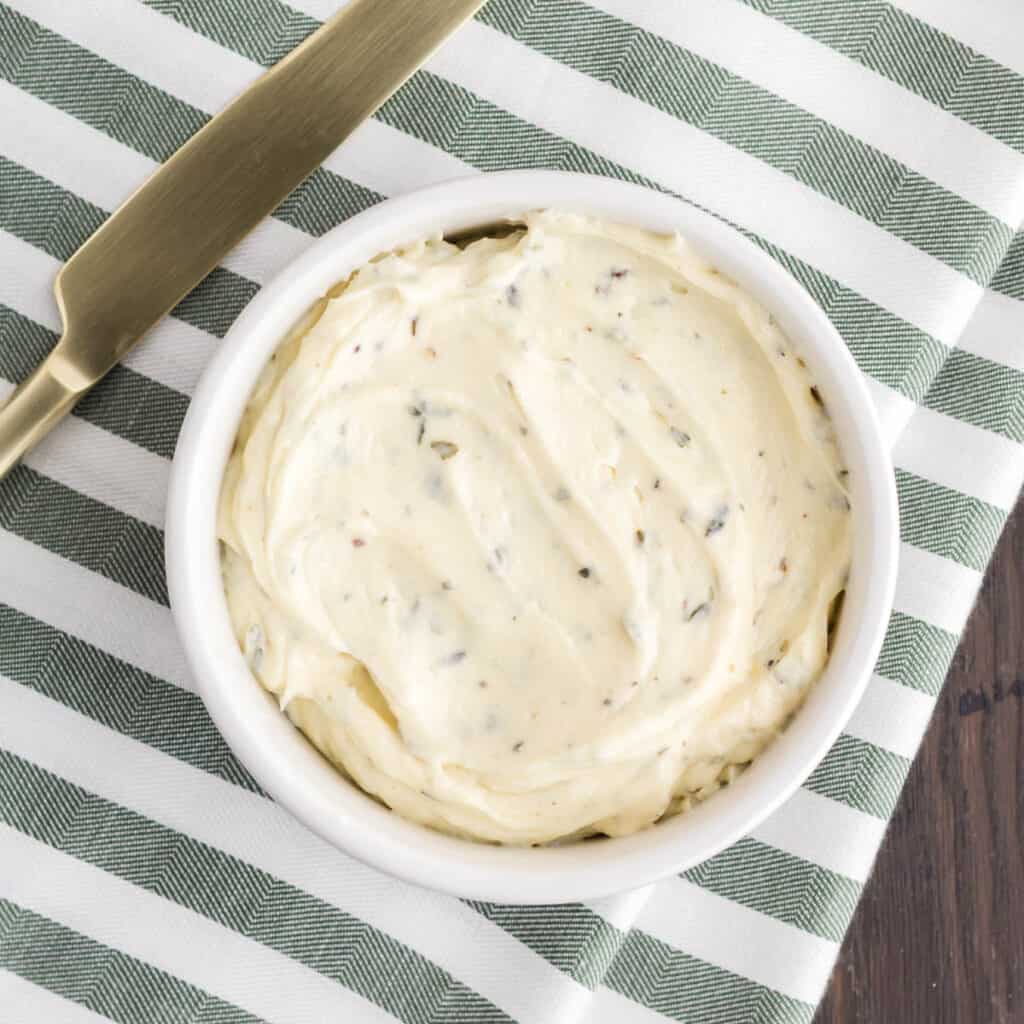 Boursin Potato Stacks are great for serving at a party or as part of a holiday meal. You can make a large batch quickly, and they can be kept warm in the oven without any change in quality. Also, they are super versatile and delicious with any kind of protein.
Ingredients
Many classic American potato dishes can be time-consuming to make or require a long list of ingredients. However, Potato Stacks do not fall into this category. The ingredient list is short and easily accessible.
Russet potatoes- Stick with the standard baking (or russet) potatoes.
Butter- Unsalted butter is the best option for this recipe.
Boursin cheese- The recipe calls for garlic and fine herb flavor.
Fresh thyme
Salt and pepper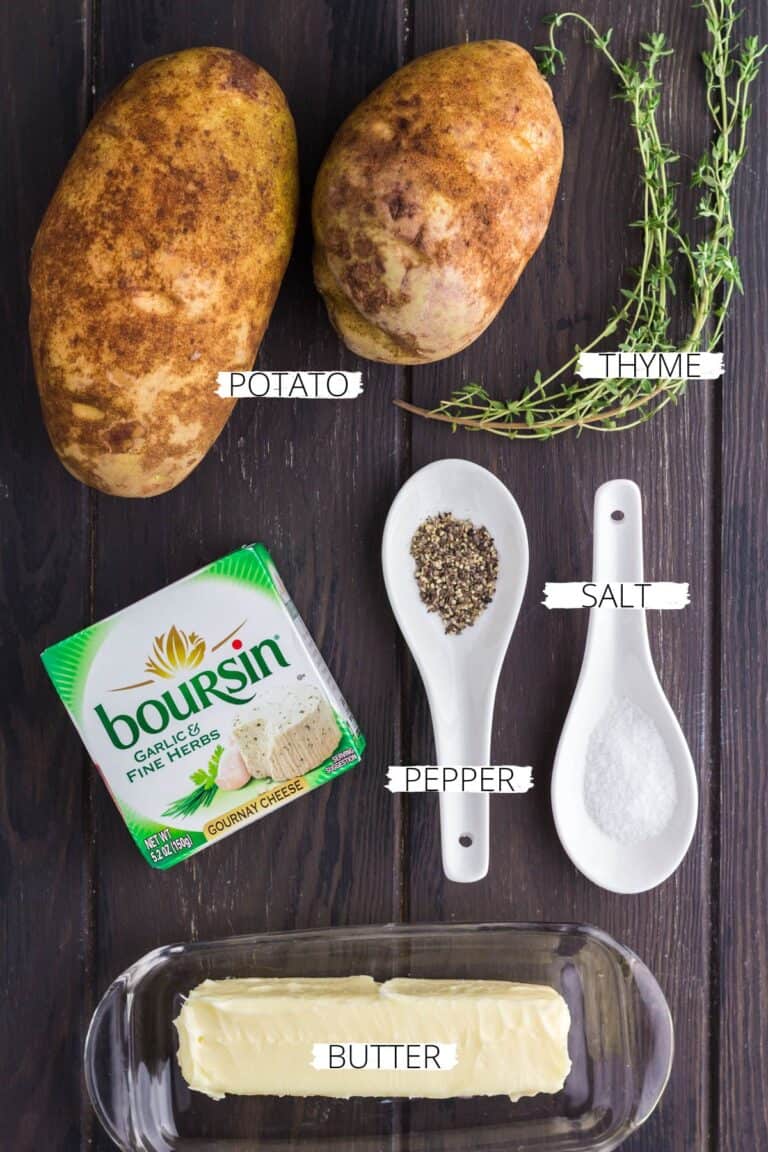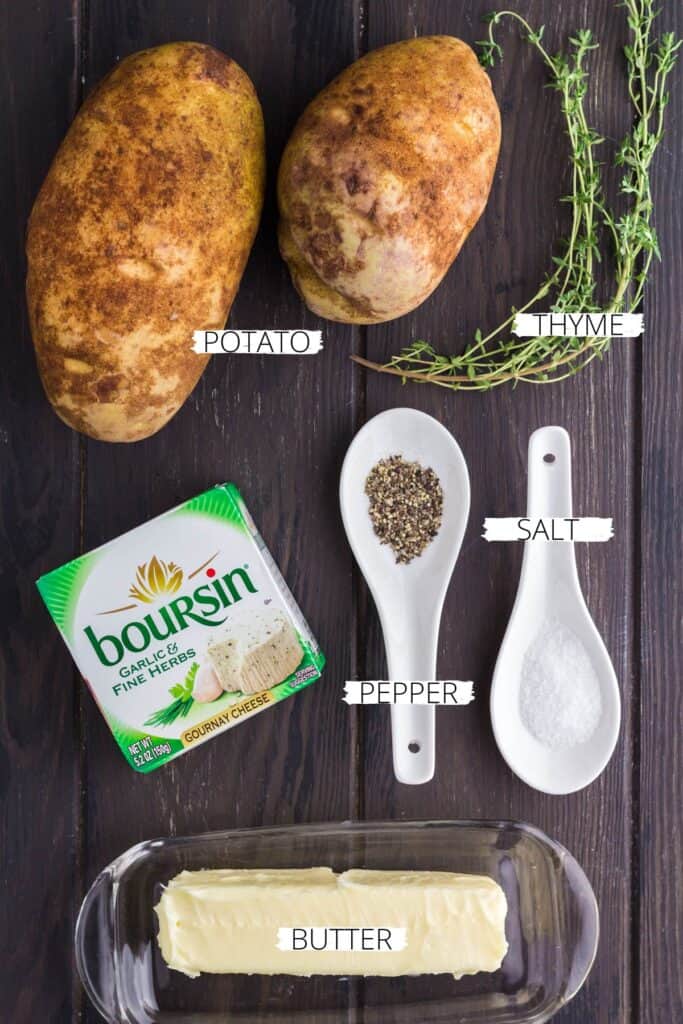 Instructions
Boursin Potato Stacks are a breeze to put together. Only a few simple steps are necessary.
First, make the Boursin butter.
Then, thinly slice the potatoes.
Layer the potatoes and butter in a muffin tin.
Finally, bake until golden brown.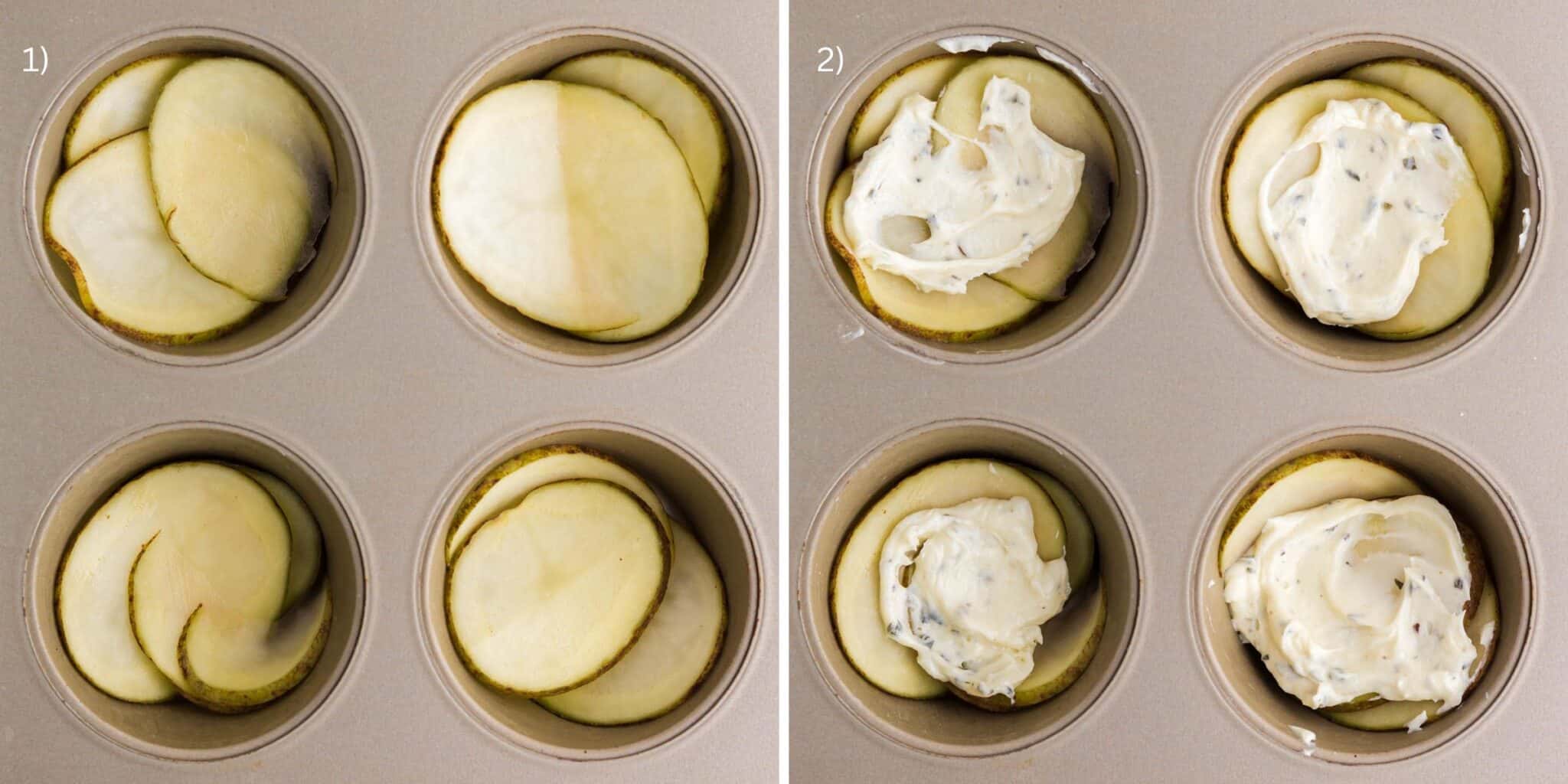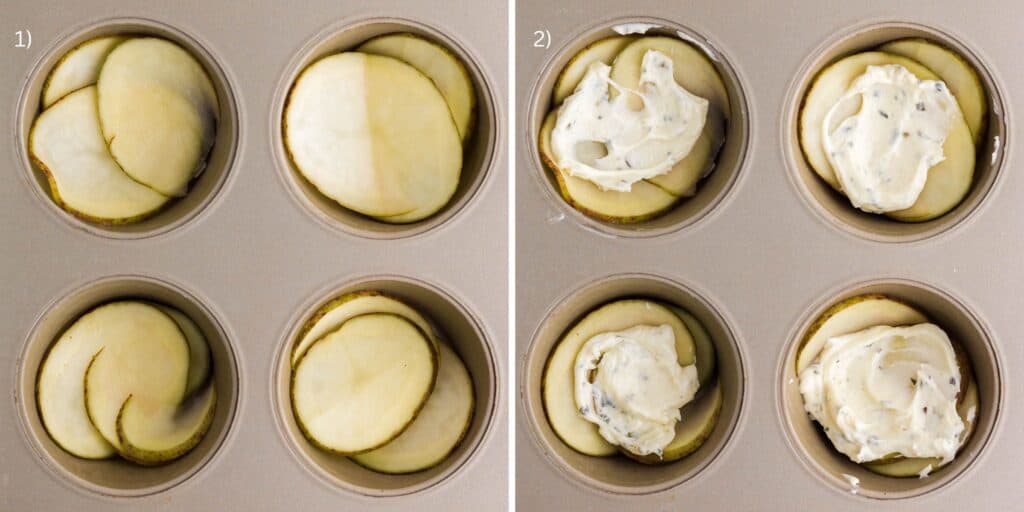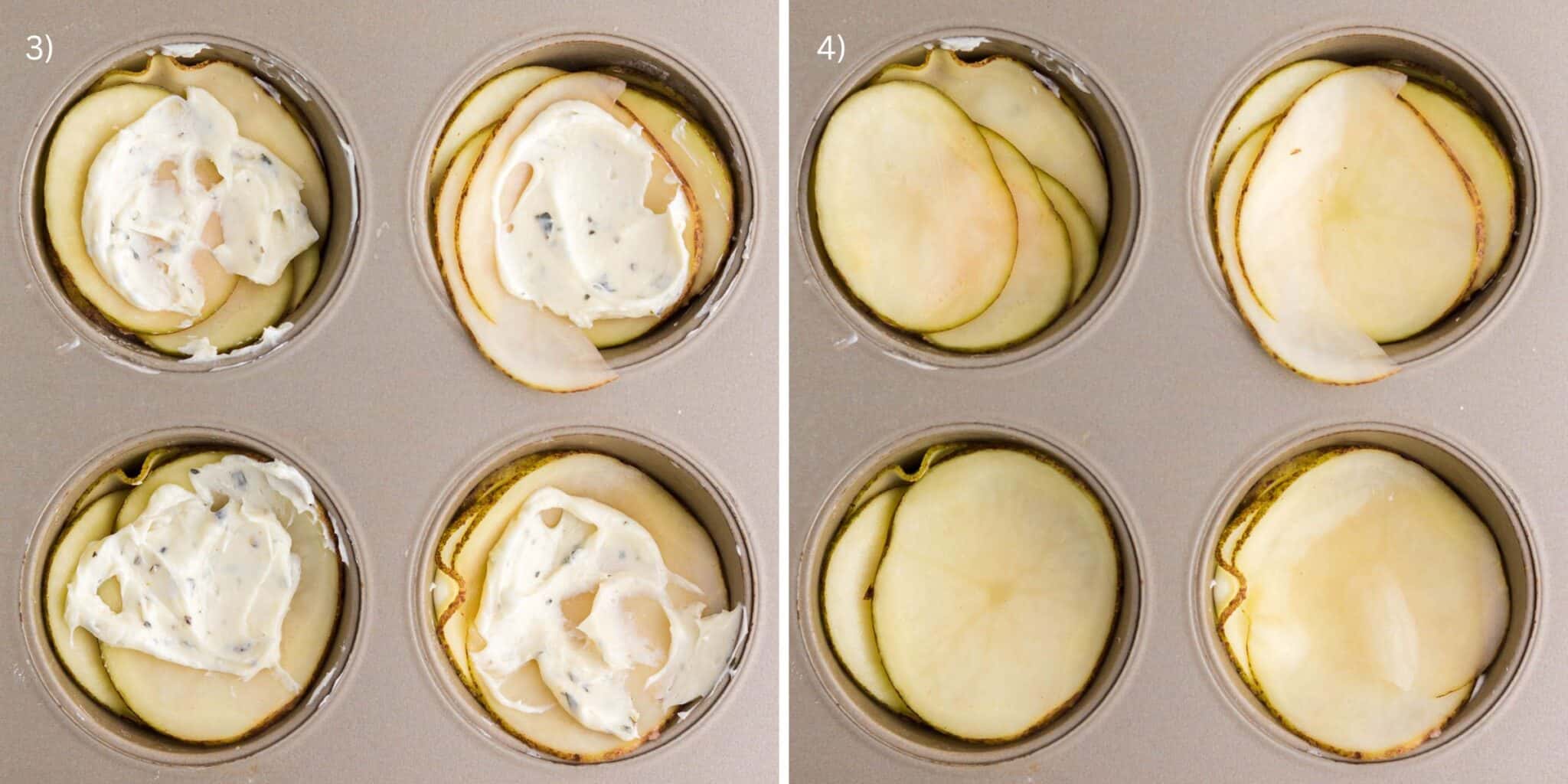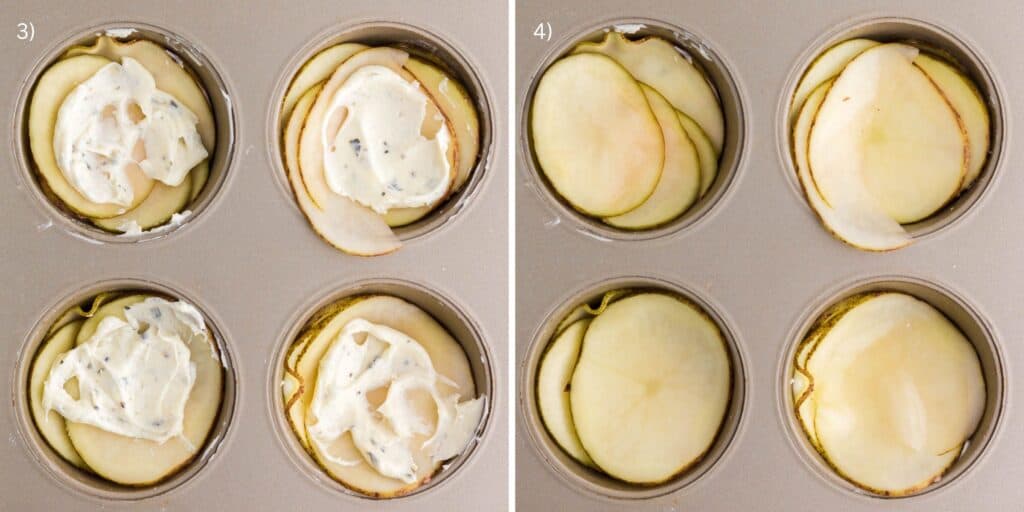 The only way you could possibly mess up this recipe is to overbake the potatoes. There is no right or wrong way to layer the potatoes. Again, you don't need to be fussy over exact measurements. Keep your potato layers thin and don't forget the butter, and you'll have potato perfection.
Substitutions
With such a small number of ingredients, there are not a lot of opportunities for substitutions. The one ingredient that you could switch out is fresh thyme. The recipe needs a fresh herb, but it doesn't have to be thyme. Fresh chives, parsley, or sage would all make great substitutes for thyme. Take note, I do not recommend dried herbs for this recipe.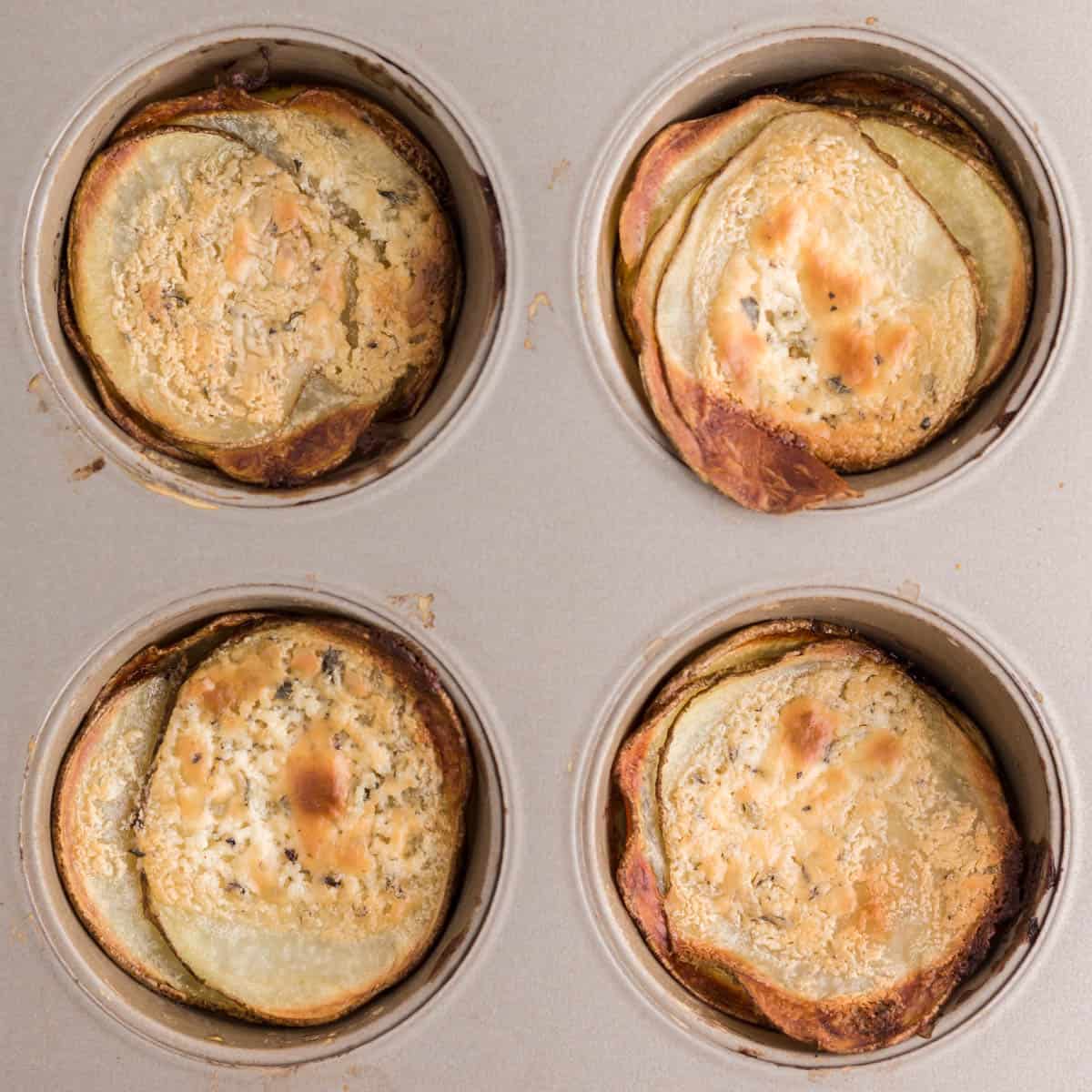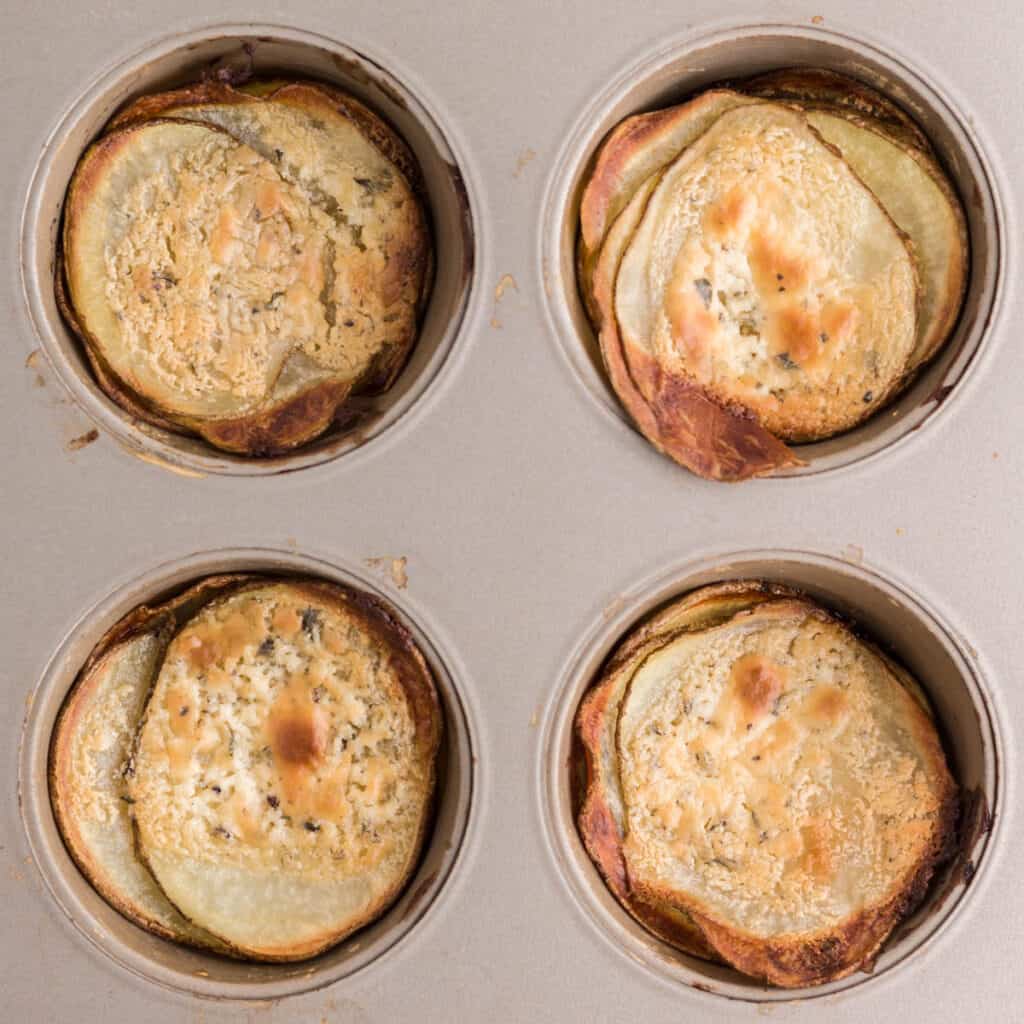 Equipment
You do not need any special equipment to make this recipe. The recipe requires a standard muffin pan, but I consider this a basic kitchen item. If you don't have one already, check out this link: Muffin Pans
There is one special kitchen gadget that is handy for making Boursin Potato Stacks- a mandoline slicer.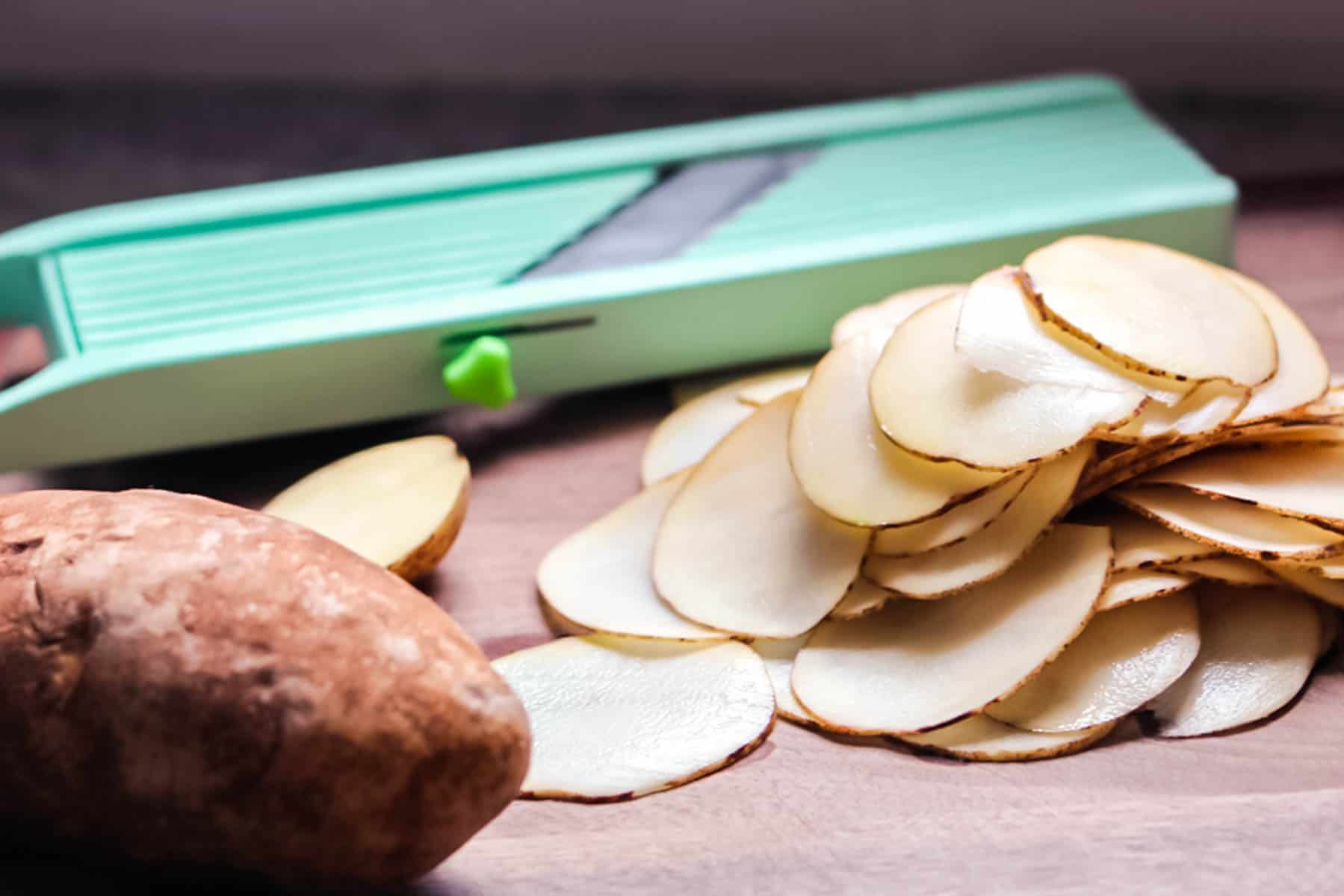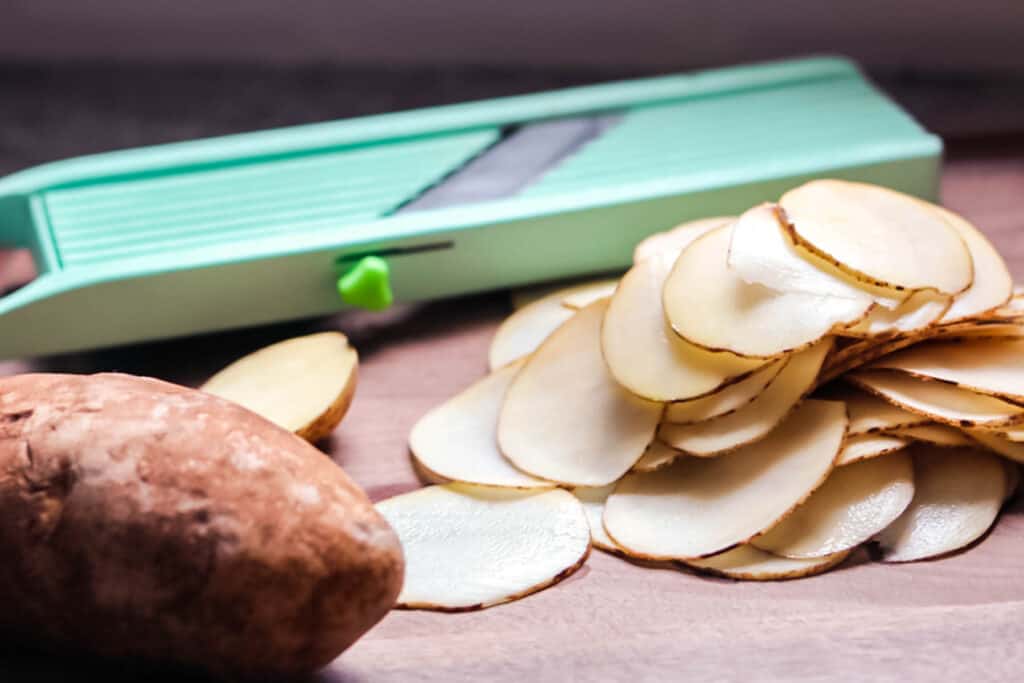 For perfectly cooked Potato Stacks, the potatoes should be cut as thin as possible. While you can achieve thin slices with a good knife, it's a lot faster with a mandoline. Be sure to use the guard to protect your fingers!
Storage
Serve: Allow the stacks to cool at room temperature for at least 5 minutes before serving. They can also be held in a 200° oven for up to an hour.
Store: Leftovers can be kept in an airtight container in the fridge for up to 3 days.
Freeze: This recipe does not freeze well.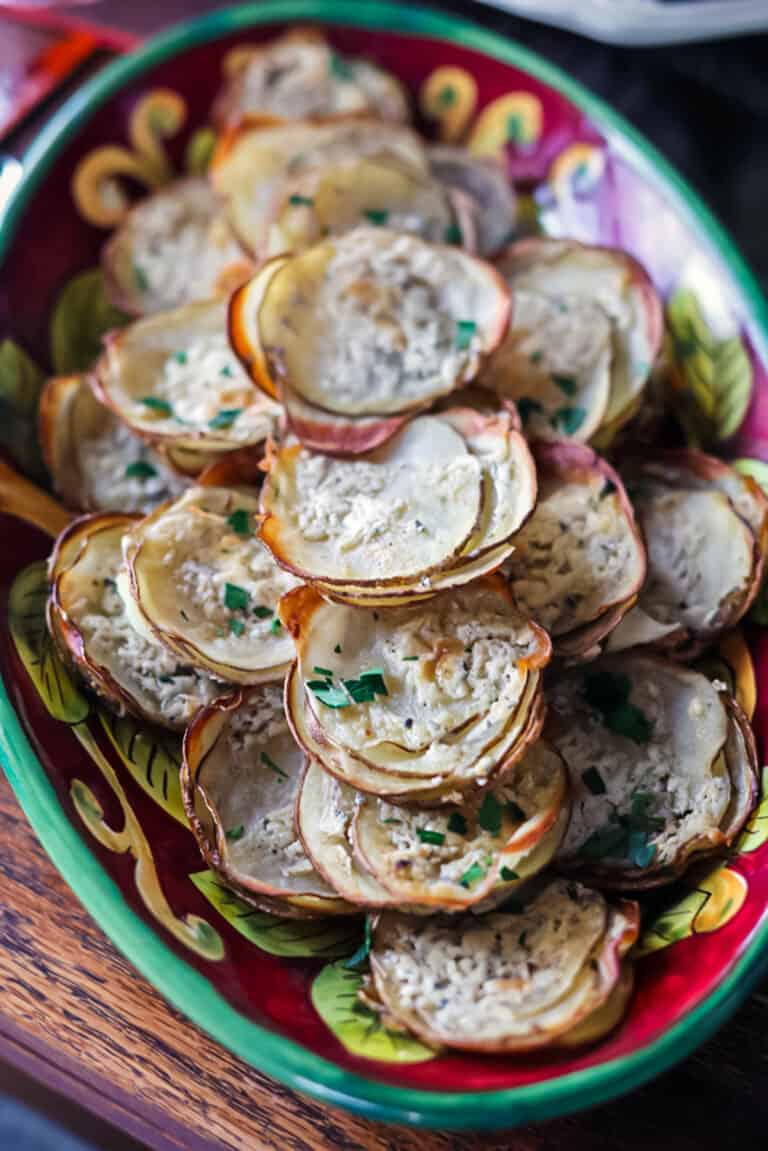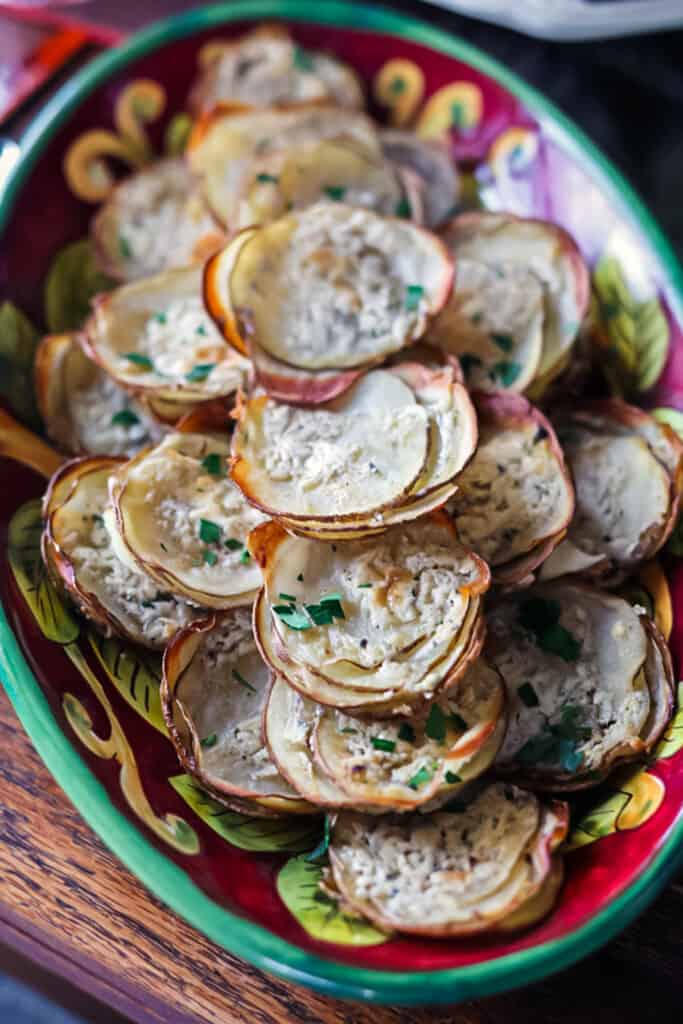 Top Tip
Boursin Potato Stacks aren't a great make-ahead recipe, but you can save some time by making the Boursin Butter ahead of time. The prepared butter can be kept in an airtight container in the fridge for up to 10 days.
Allow it to come to room temperature before trying to stir. If you're in a hurry, you can warm it in the microwave in ten-seconds increments, stirring between each interval, until the butter is soft.
I hope you'll try Boursin Potato Stacks a try as part of your holiday table or steak dinner. They are also the perfect side for meatloaf, so be sure to check out my Onion Burger Mini Meatloaf and my Italian Meatloaf too. Let me know what you think in the comments sections below!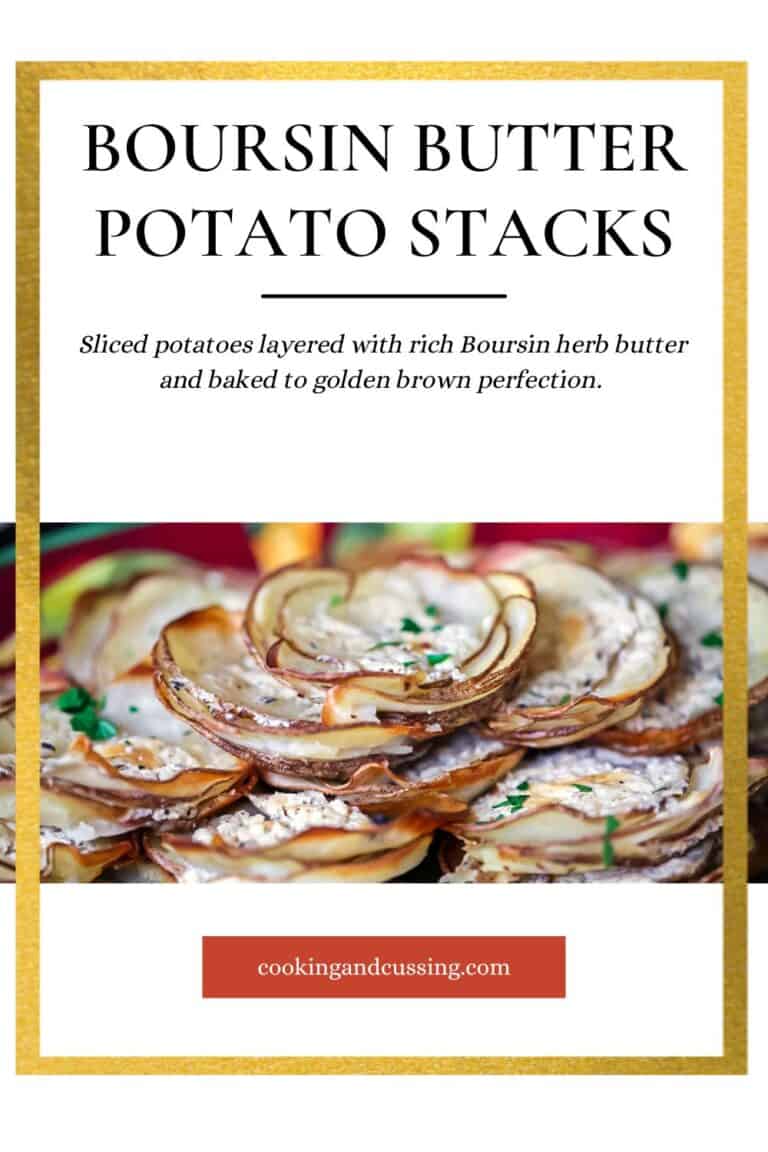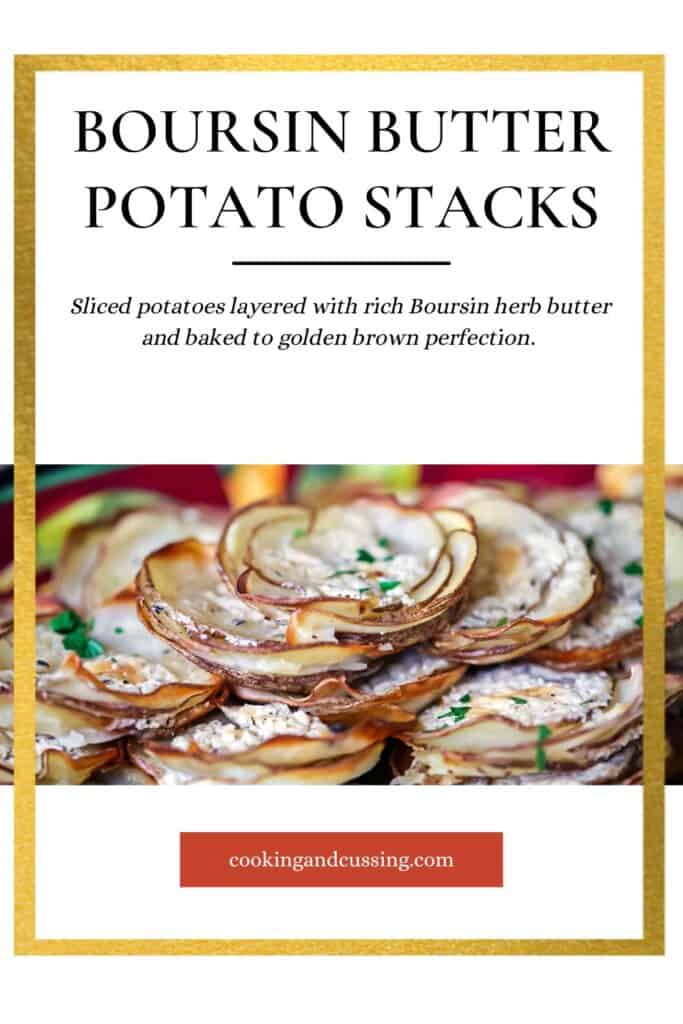 Helpful Utensils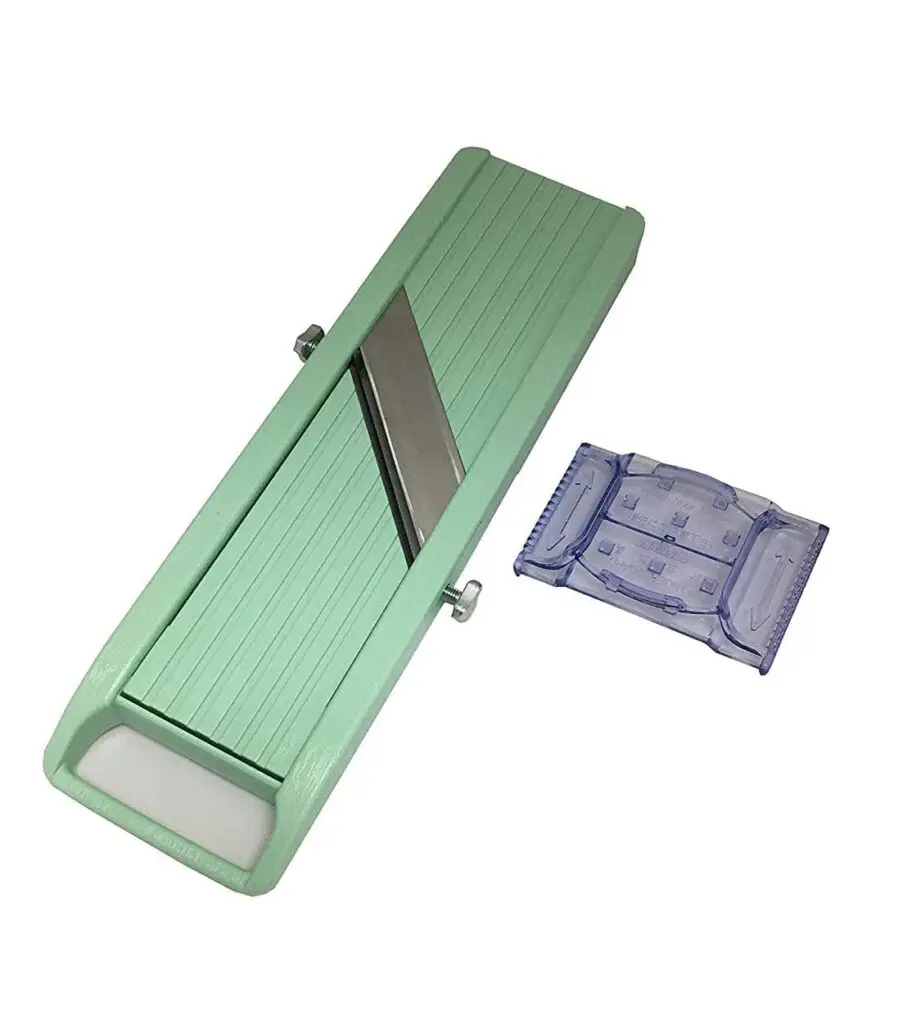 Slicing potatoes thin like what is called for in this recipe can be a chore when using a knife, but with a mandoline, you can breeze through the job in a snap!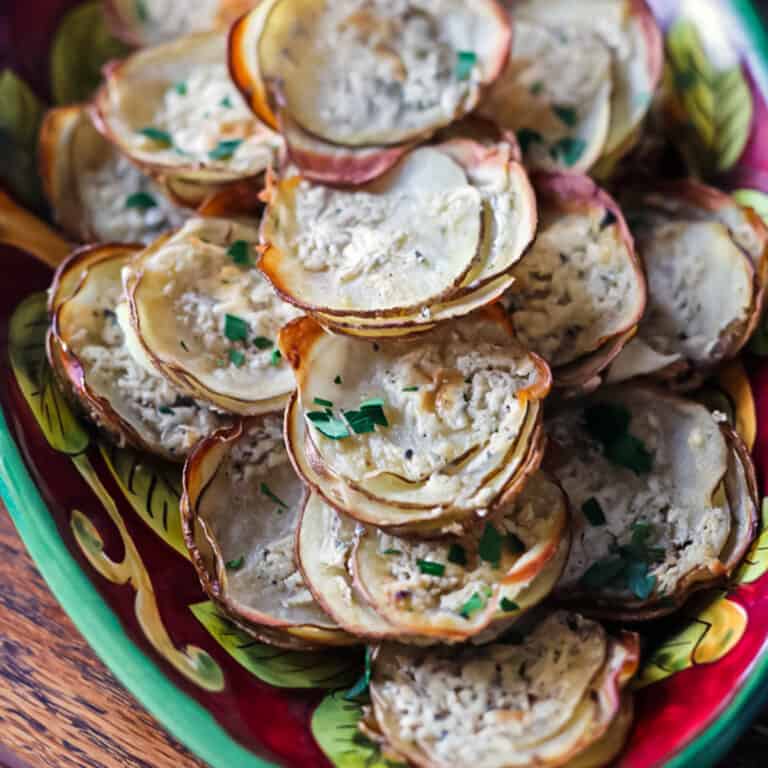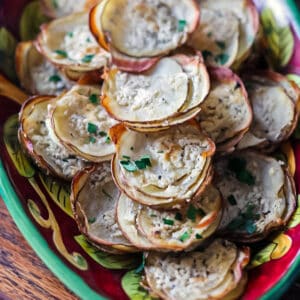 Boursin Potato Stacks
Sliced potatoes layered with rich Boursin herb butter and baked to golden brown perfection. Boursin Potato Stacks are super easy to make and certain to please a crowd.
Ingredients
2

russet potatoes

½

cup

unsalted butter

room temperature

5.2

oz

package Boursin cheese*

garlic and fine herb flavor

½

tsp

ground black pepper

1

tsp

kosher salt

1

tsp

fresh thyme
Instructions
Preheat the oven to 375° and prepare two standard size muffin pan with baking spray. Feel free to make in batches if you only have one muffin pan.

Make a Boursin butter by mixing together the butter, Boursin cheese, salt, pepper, and thyme.

Using a mandoline slicer or a very sharp knife, cut the potatoes into very thin slices. Layer 3 potato slices in the bottom of the pan in a circular motion spreading out just slightly.

Add 1 teaspoon of Boursin butter on top of each potato pile. Top with an additional 3 potato slices and press down on each potato stack to press together. Add another teaspoon of Boursin butter to the top of each stack.

Bake for about 30 minutes or until browned around the edges and golden brown across the top.
Notes
* Boursin cheese is a soft creamy cheese that is found in the specialty cheese section of the grocery store.
Frequently Asked Questions
Can I use a different type of potato?
Russet or baking potatoes are the best choice for this recipe.
I can't find Boursin cheese. What can I use as a substitute?
Whipped garlic and herb cream cheese would be a good substitute.
Can the recipe be made ahead of time?
The potatoes can be kept warm in a 200° oven for up to an hour after cooked. You can also make the Boursin butter ahead of time (see Top Tip above).
Can dried thyme be used instead of fresh?
The recipe is best with a fresh herb. If you can't find fresh thyme, fresh parsley or chives would be a good substitute.
The following two tabs change content below.

Hey-ooo! I'm Hailey, and I'm a number cruncher by day and cussing cook by night. I created this site to share my love for delicious food that feeds the soul as well as the belly. I hope my recipes have you running to the kitchen to cook some damn good grub!