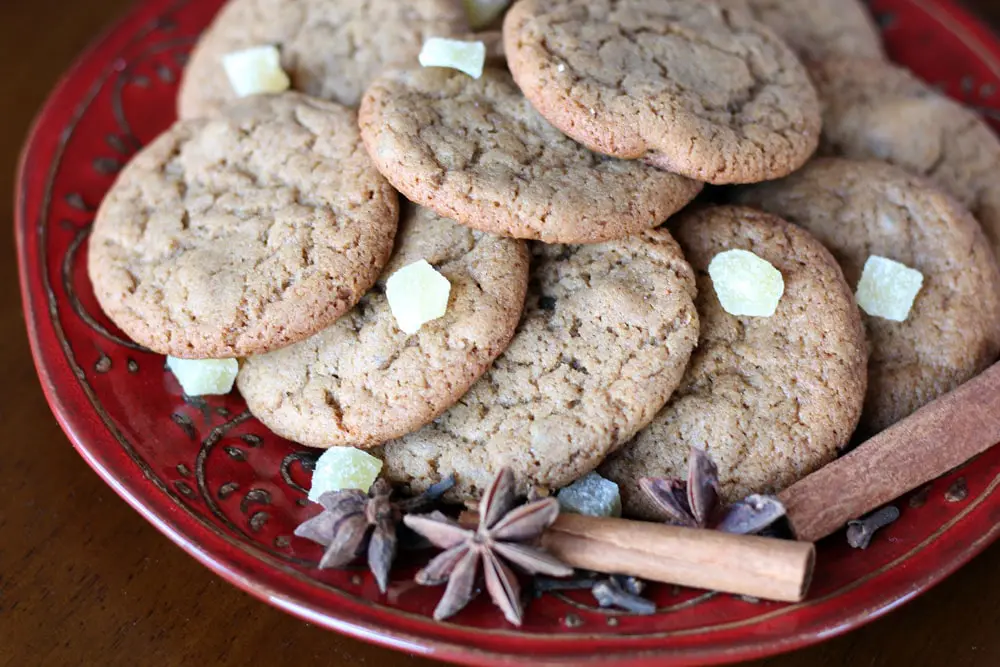 Ginger Cookies with Pomegranate Molasses are filled with the wonderful flavors of Christmas spices but with a few little twists from the norm. The pomegranate molasses is what really makes this cookie unique. Instead of the intense sweetness that molasses or treacle usually add to a ginger cookie, the pomegranate molasses brings a subtle fruity flavor and a distinct brightness to the cookies that highlights the ginger taste.
Let's talk a little more about pomegranate molasses for a second. I'm sure some of are you thinking what in the actual f*ck is pomegranate molasses (or for that matter, WTF is treacle mentioned above)? Confession, I have been doing some serious binge-watching of The Great British Bake Off (formerly known as The Great British Baking Show).
If you've never watched it, you are missing out! Check it out on Netflix.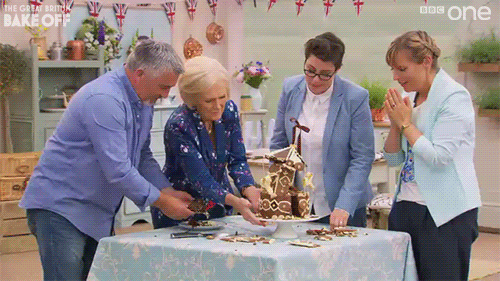 On one of the episodes from the latest season, a contestant used pomegranate molasses in her ginger cookie, and I just thought it was a brilliant idea! Sometimes the clawing sweetness of standard molasses puts me off a bit so I thought I would try it the British way. I was somewhat familiar with the ingredient prior to this recipe, but if you're not it's actually a very simple ingredient.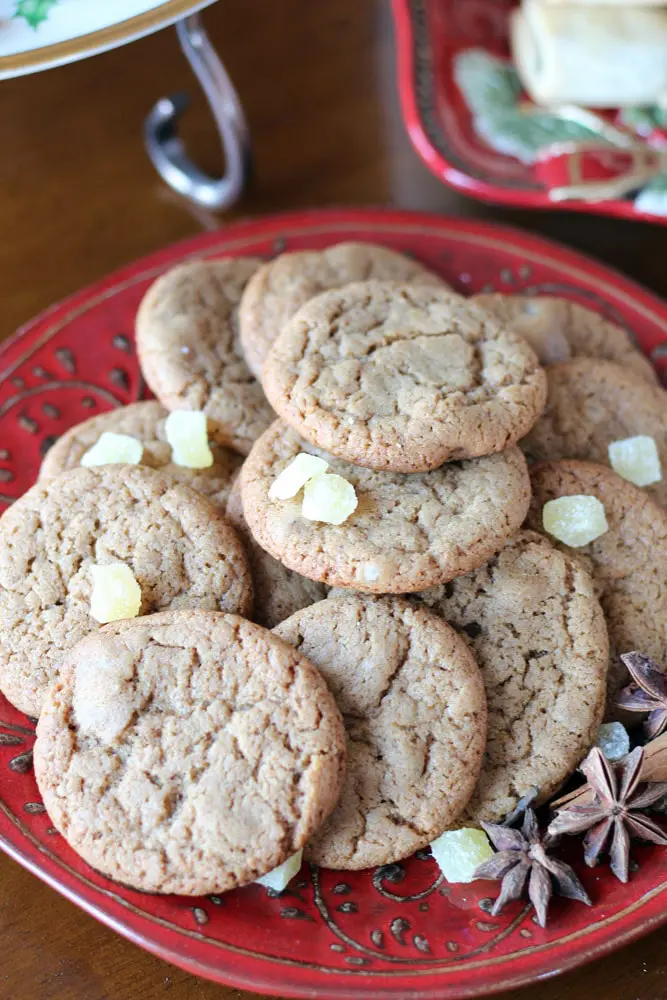 Pomegranate molasses is nothing more than pomegranate juice that has been reduced to a thick syrup. Unlike most syrups, pomegranate molasses isn't super sweet. Instead, it has a nice balance of sweet, tart, and sour flavors. It really brightens up whatever you add it too particularly sweets like these cookies.
This recipe also has a little surprise from the spice department. In addition to the standard spice additions of cinnamon, ginger, cloves, and nutmeg, this recipe also calls for a dash of black pepper. You really don't taste the spicy or savory notes of the pepper. Instead, the black pepper just heightens the spicy notes of the ginger and bumps up the intensity of the other spices.
The last spin that I put on this recipe was the addition of crystalized or candied ginger. Crystalized ginger has a very strong ginger flavor, somewhat like fresh ginger but nearly as hot and spicy. It also amps up the chew factor of these cookies. I absolutely adore the texture of these cookies. They have the quintessential chewy center that we all expect from a ginger cookie but with crisp golden brown edges.
They have a chewy center as we expect from a ginger cookie but with crisp golden brown edges.
I love these cookies for a cookie swap or a holiday cookie spread. Ginger cookies are a classic part of the holidays, but with all the interesting ingredients in this recipe, these cookies are certain to be something special for your friends and family to try. I hope you have a chance to try out the recipe this holiday season. What do you think of the surprise ingredients? Let me know in the comments section below.
Helpful Utensils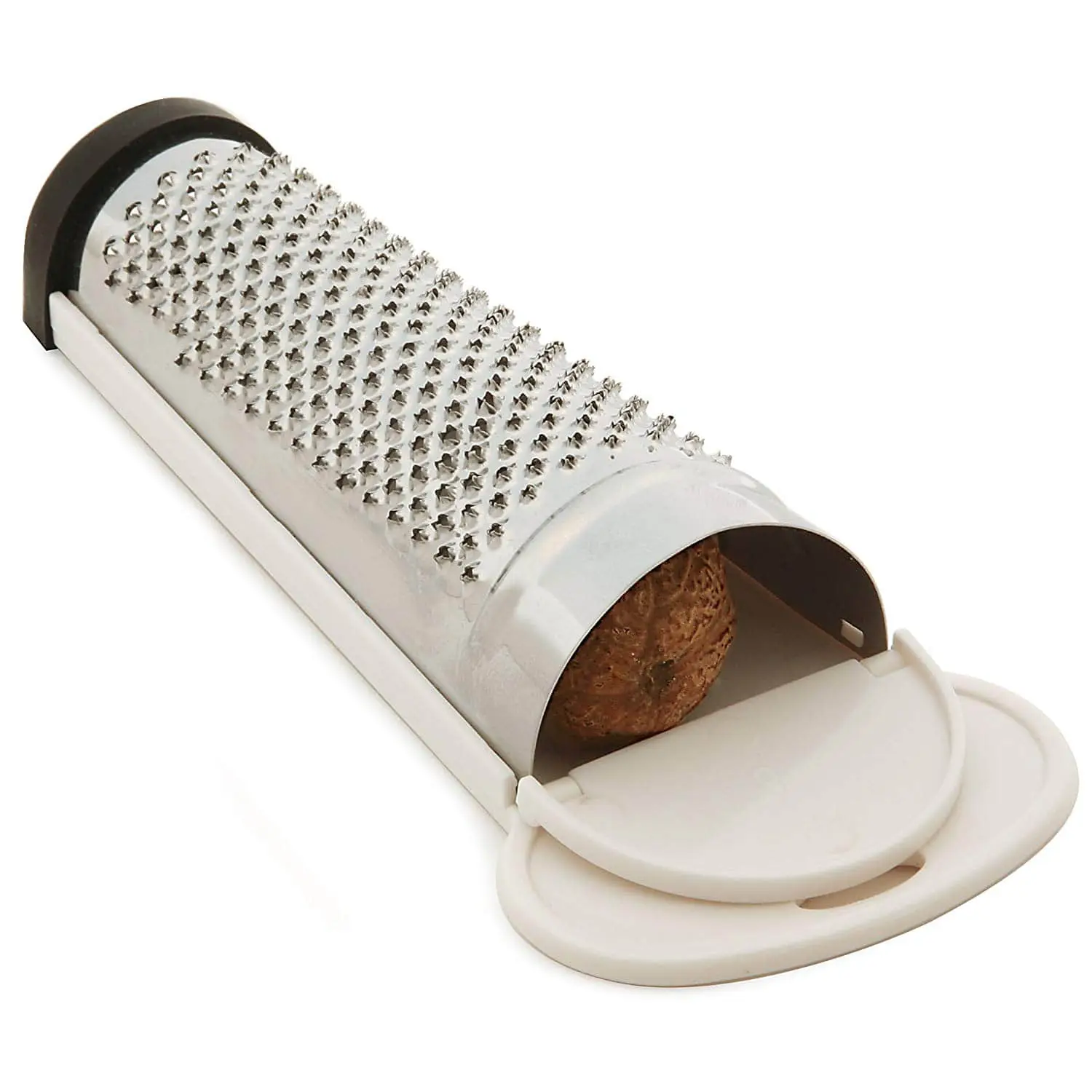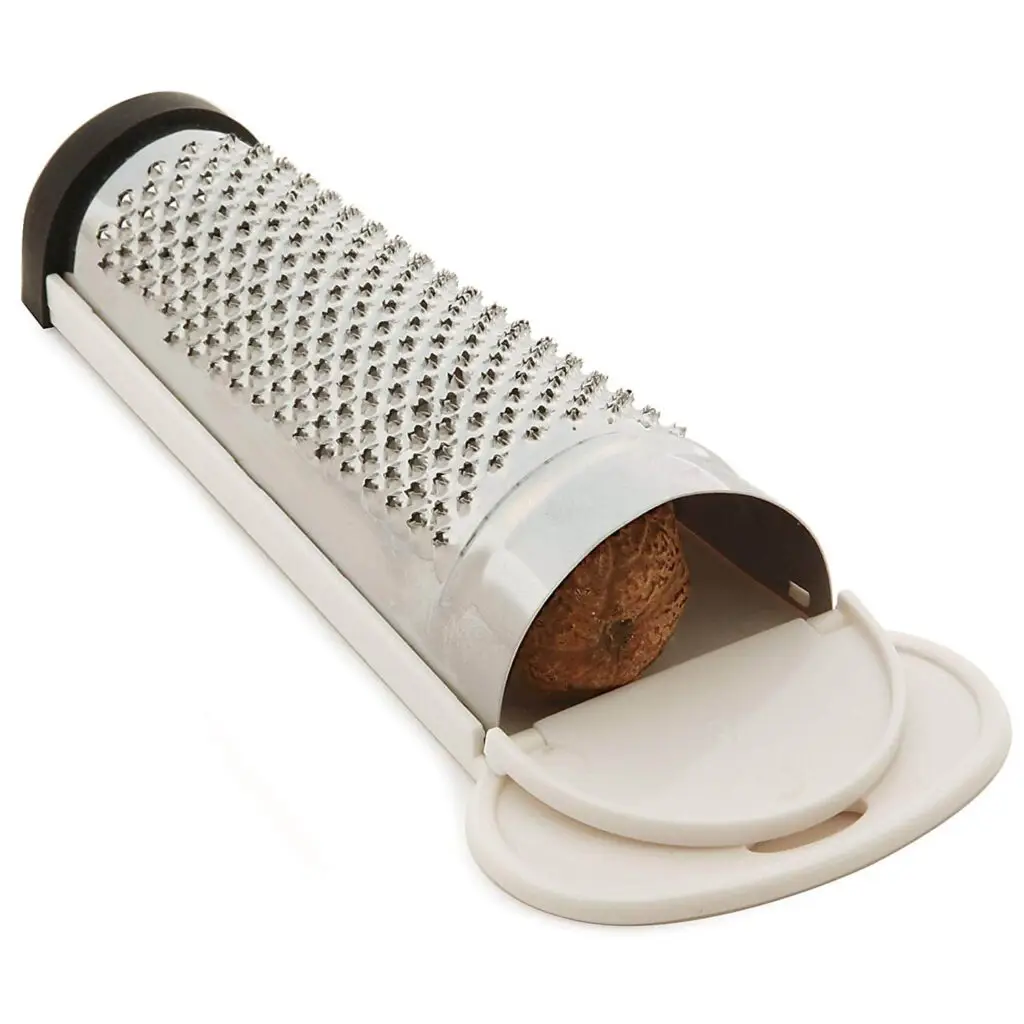 Fresh nutmeg has a lovely mild flavor that you really can't compare to the kind you buy already ground. Whole nutmeg will keep in the freezer for up to 3 years!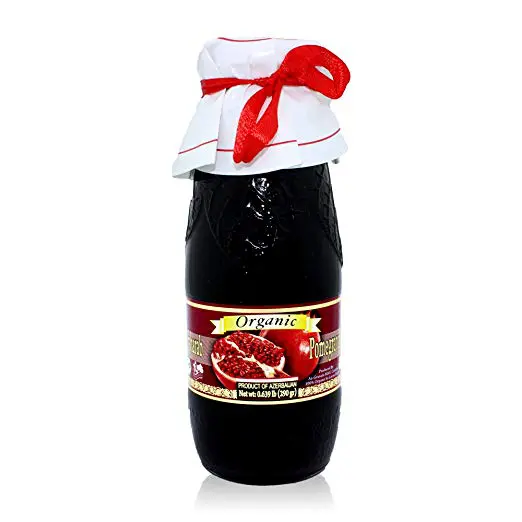 Pomegranate molasses is what makes this recipe unique. It adds a subtle tart, fruity note to the cookies that make them taste brighter than your standard ginger cookie.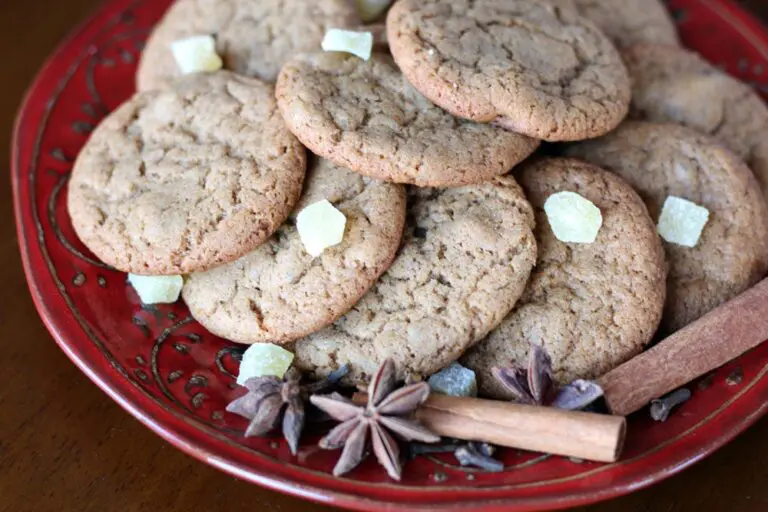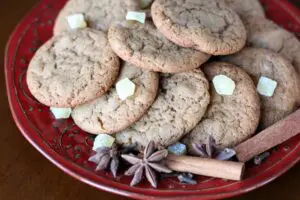 Ginger Cookies with Pomegranate Molasses
Ginger cookies full of rich, spicy flavors and a bright, fruity touch from pomegranate molasses. These cookies have the best of both worlds. The edges are crispy and golden brown and the middle is soft and chewy. Ginger cookies are easy to make and perfect for your holiday cookie spread!
Ingredients
¾

C

butter

room temperature

1.5

C

brown sugar

¼

C

white sugar

1

extra-large egg

1

tsp

vanilla extract

¼

C

pomegranate molasses*

2.5

C

all purpose flour

2

tsp

baking soda

½

tsp

kosher salt

2

tsp

cinnamon

1

tsp

ground ginger

⅛

tsp

fresh ground nutmeg**

⅛

tsp

ground cloves

⅛

tsp

ground black pepper

½

C

crystalized ginger
Instructions
Place the butter in a stand mixer bowl or a large mixing bowl. Using a mixer, cream the butter on medium speed for about 30 seconds. Add the brown and white sugar and cream on high for 3-4 minutes or until pale and fluffy. Scrape down the sides and bottom of the bowl.

Add the egg and vanilla and mix on low speed until well combined. Add the pomegranate molasses with the mixer still on and continue to mix until well combined. Scrape down the bowl one more time and mix briefly on low until all the ingredients are combined.

Add all of the spices, salt, and baking soda and mix on low until combined. Turn off the mixer and add the flour. Mix on medium speed just until combined. Don't overmix your cookie dough, or you will end up with tough cookies.

Roughly chop the crystalized ginger either by hand or with a small food processor. Add the chopped ginger to the mixing bowl and mix on medium speed for about 10 seconds. Ensure the ginger is well combined and bring the dough together with a spatula.

Turn out the prepared dough onto a sheet of plastic wrap, and chill for at least 1 hour. It's best to let the dough chill overnight to let all of the spices blend but you'll need to chill for at least an hour to ensure your cookies don't spread too much in the oven.

Preheat the oven to 350 degrees, and prepare 2 baking sheets with parchment paper or nonstick foil.

Once chilled, with your hands or a cookie scoop batch out the dough into 1 Tb balls of dough. Place the dough on the prepared baking sheets and putthe baking sheets into the preheated oven. Bake for 15 minutes, rotating the pans halfway through the cook time. Allow the cookies to cool for 5 minutes on the baking sheet before moving to a wire rack to cool completely.

Store in an airtight container for up to a week.
Notes
* Pomegranate molasses is just pomegranate juice that has been reduced down to a thick syrup. It's nowhere near as sweet as normal molasses and has the tart, fruity flavor of pomegranates. There's a link to buy the same kind I used in the recipe above.
** Freshly grated nutmeg has a wonderful flavor, and it will keep in your freezer for up to 3 years! You can find whole nutmeg with the other spices at your grocery store, or I've included a link to a great grinder/storage container above.
The following two tabs change content below.

Hey-ooo! I'm Hailey, and I'm a number cruncher by day and cussing cook by night. I created this site to share my love for delicious food that feeds the soul as well as the belly. I hope my recipes have you running to the kitchen to cook some damn good grub!