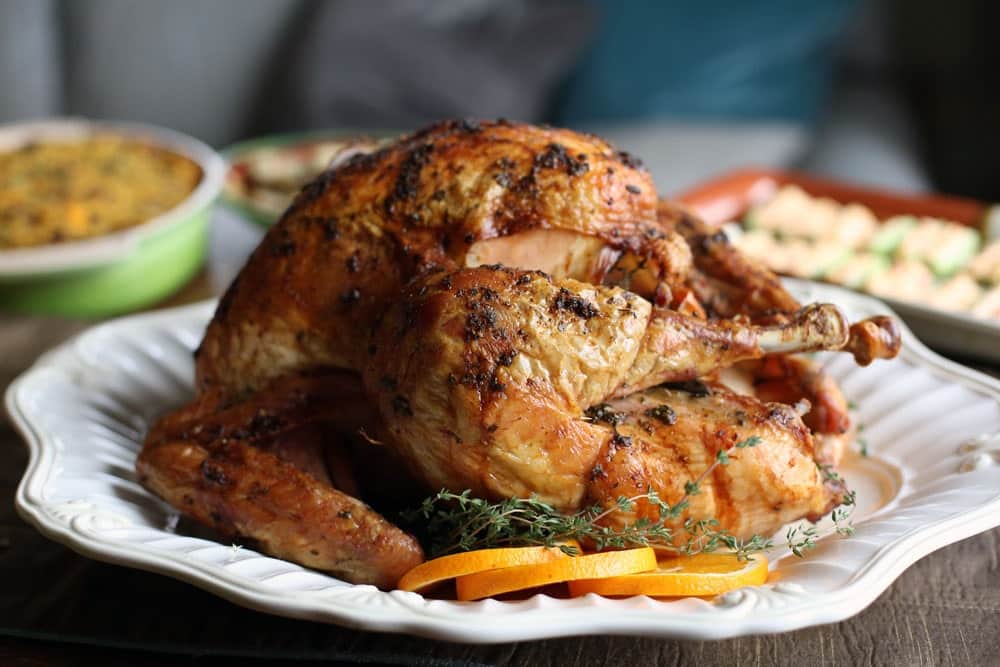 I love Thanksgiving! It's a celebration of my favorite things… food and family! To be honest, my favorite part of Thanksgiving dinner are the sides, but honestly, wtf would a Thanksgiving table look like with a big, juicy turkey. My Herb Butter Thanksgiving Turkey is a simple and easy recipe that produces a beautiful, flavorful turkey every time.
I experimented with a few different techniques for ultimate turkey flavor before committing to the butter path. Brining, which consists of soaking your turkey overnight in a salt water solution, is a pretty well-known technique these days for ensuring a juicy bird, and without a doubt, it works quite well. My biggest complaint with brining is the space that is taken up in my fridge and never having the right vessel for such a big f*cking bird!
I tried brining and buttering, both separately and together, and personally, I found that the brining really didn't add that much flavor to the turkey that had just been buttered, and it makes life SO much easier to not have to worry about brining. So instead, for my Herb Butter Turkey, I make a simple herb butter loaded with plenty of salt and pepper and orange zest for added brightness and smother the entire turkey.
I've noted this in the recipe as well, but be sure to get super frisky with your turkey…lift up the skin of the breast and butter both under and over the skin to make sure the breast stays juicy. I also stuff the inside of the turkey with onions, garlic, orange, and herbs to help those flavors penetrate the meat.
Be sure to get super frisky with your turkey!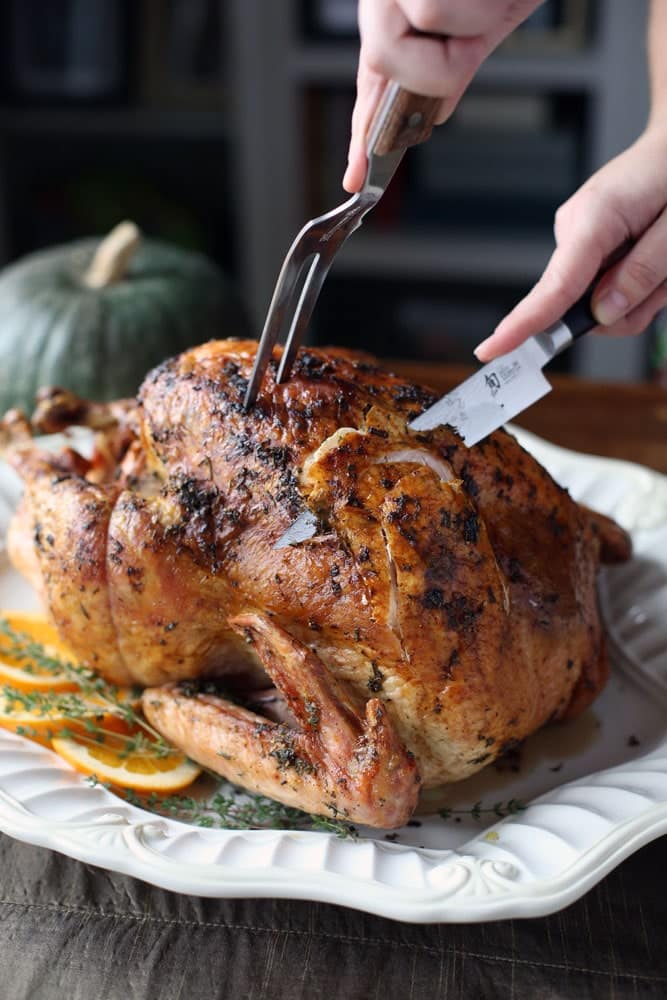 If you've never cooked a whole turkey before, a few key things not to forget:
Allow plenty of time for defrosting if you're purchasing a frozen turkey. At best, a frozen turkey will take about 24 hours to defrost. The fastest way to defrost is to put the plastic-wrap turkey into the sink filled with water. Drain and refill the water every hour or so.
Be sure to check the inside of the turkey cavity before you put anything else inside. Typically, the turkey neck and a bag with all the turkey giblets are inside. It makes for a very weird presentation if a roasted bag of giblets falls out of your turkey.
The only way to really know if your turkey is done is a meat thermometer. I've linked to a great digital one below. Cooking times will vary depending on the weight of your bird, your oven, etc.
Plan for at least an hour for your turkey to rest after cooking. I like to cover the top of my turkey loosely with foil. Resting ensures all of the juices redistribute and settle back into the turkey meat instead of running out onto your cutting board when carving.
Plan for at least an hour for your turkey to rest after cooking.
This Thanksgiving Turkey could not be simpler, and the beautiful color buttering produces is certain to have your dinner guests googly-eyed. You can also use this recipe on a turkey breast instead of a whole bird if you're having a smaller crowd at your holiday celebration.
I hope you have a chance to try out this recipe. Let me know how your turkey turns out in the comments section below. If you're looking for other great Thanksgiving ideas, be sure to check out my Thanksgiving post to see my full menu and helpful planning tips.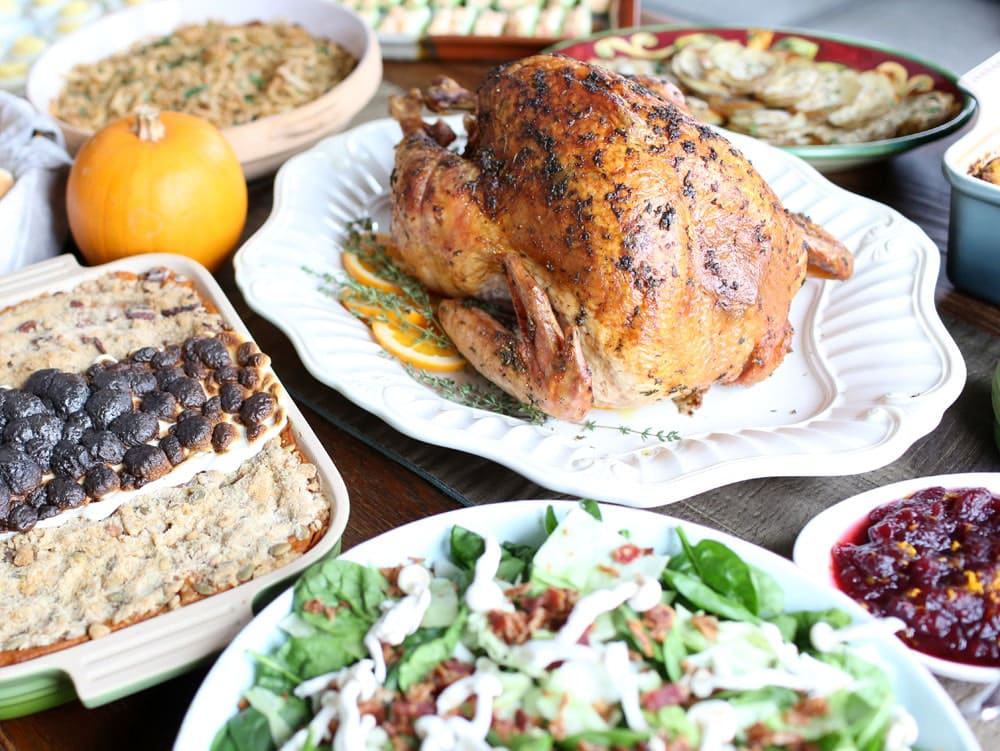 Helpful Utensils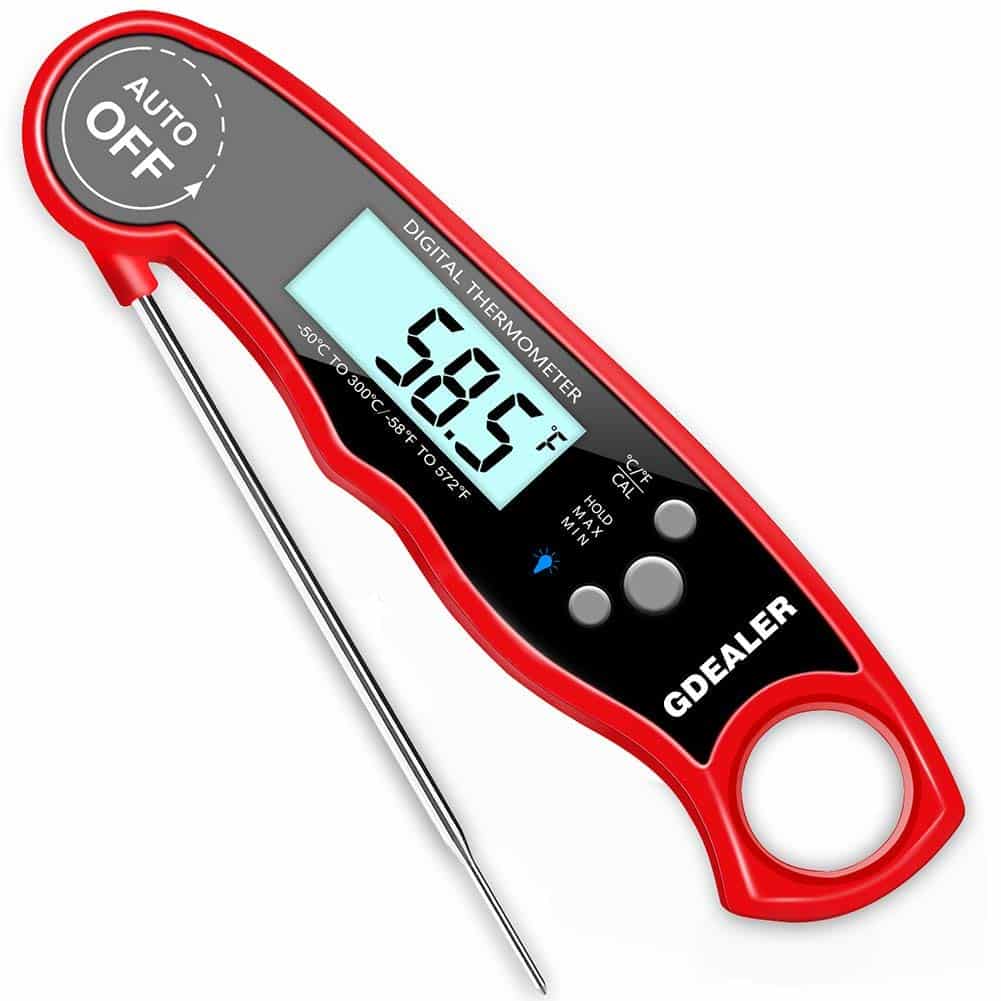 The only real reliable way to know if your turkey is cooked is a digital thermometer. You'll also use this tool all the time throughout the year to ensure your meats are always perfectly cooked.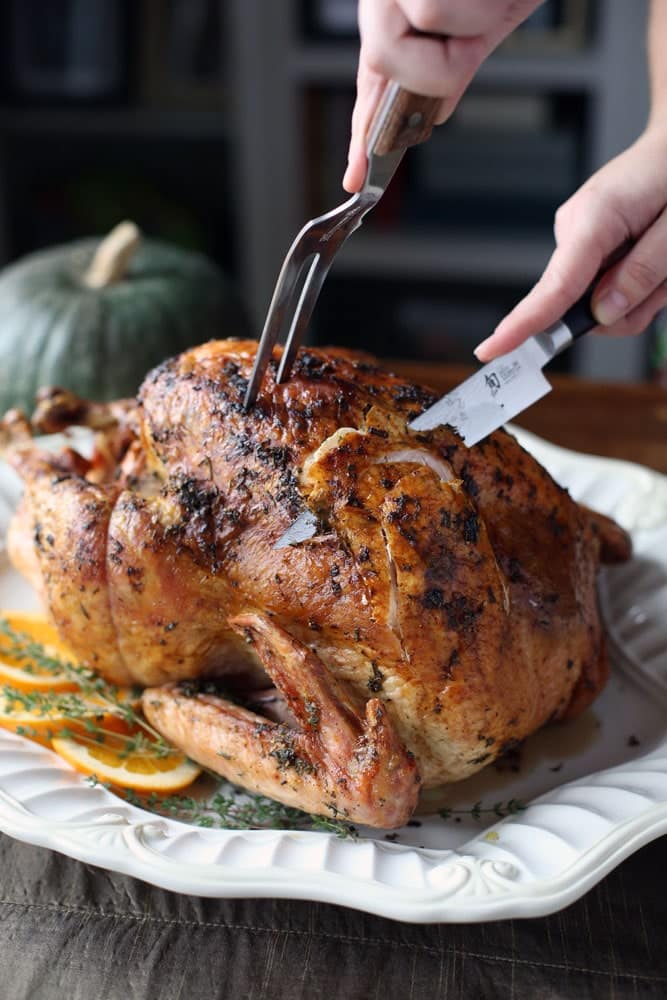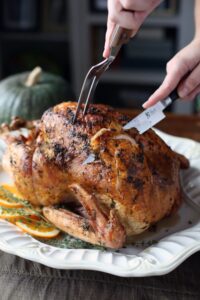 Herb Butter Thanksgiving Turkey
A simple slathering of herb butter is all your Thanksgiving Turkey needs to be beautiful and scrumptious for your dinner guests! Thyme, sage, parsley and orange zest are a perfect complement to the subtle flavor of turkey, and with no brining, this turkey comes together so fast! Herb Butter Turkey is juicy and flavorful every time. This herb butter is also great on a roasted chicken.
Ingredients
Herb Butter
1

stick of butter

1

Tb

parsley

1

Tb

sage

1

Tb

Thyme

zest of 1 orange

1

tsp

pepper

2

tsp

salt
Inside the Turkey
7

springs of thyme

7

leaves

of sage

1

orange

4

cloves

garlic

1

onion
Instructions
To make herb butter
Finely chop the parsley, stem and leaves. Remove thyme leaves from the stem and roughly chop. Chiffonade the sage leaves by stacking the leaves in a neat pile, rolling up in a tube and slicing across that tube.

Add the herbs to softened room temperature butter in a small mixing bowl. Add the zest of one orange, salt, and pepper and mix well to combine.

The Herb Butter can be made a couple of days in advance and kept in the fridge. Remove from the fridge to soften about 4 hours before you need it
To prepare turkey
Preheat the oven to 350 degrees.

Remove the gizzards and anything else from the cavity of the turkey. Rinse well with cold water and dry with paper towels. Set the dried turkey in a roasting pan, skin side up.

You and this bird are about to share a moment. You can use gloves if you'd prefer not to get to know your turkey THAT well, but I go straight in with my hands. You want to smother the entire bird with butter. Don't forget inside the cavity, and underneath the skin as you rub butter all over the outside. This is the only preparation this turkey is going to see so take care to cover every last inch.

Once the turkey is well buttered, stuff a quartered orange, a quartered onion (skin and all), whole thyme sprigs, sage leaves, and garlic cloves inside the cavity of the turkey.

For a 14-pound bird, I baked the turkey for about 2.5 hours, basting every 30 minutes after the first hour. The only way to really know if your turkey is done is by using a meat thermometer. I have linked to a great one above. You want the temperature at the deepest point in the breast and thigh to read 165 degrees. Try not to cook too far over 165 degrees or the breast meat will be dry.

Once the turkey is cooked to 165 degrees, be sure to let the bird rest for at least an hour. It will still be very warm for serving, but taking this time will ensure a juicy bird instead of all the juice running out onto the cutting board if you carve it too soon. Cover loosely with foil while the turkey rests. Carve when ready to serve.
The following two tabs change content below.

Hey-ooo! I'm Hailey, and I'm a number cruncher by day and cussing cook by night. I created this site to share my love for delicious food that feeds the soul as well as the belly. I hope my recipes have you running to the kitchen to cook some damn good grub!