Thanksgiving just isn't Thanksgiving without Traditional Southern Cornbread Dressing. My family absolutely loves my mom's recipe. It's a simple and delicious recipe that includes all the classic Thanksgiving flavors. Southern Cornbread Dressing is the perfect complement to my Herb Butter Turkey.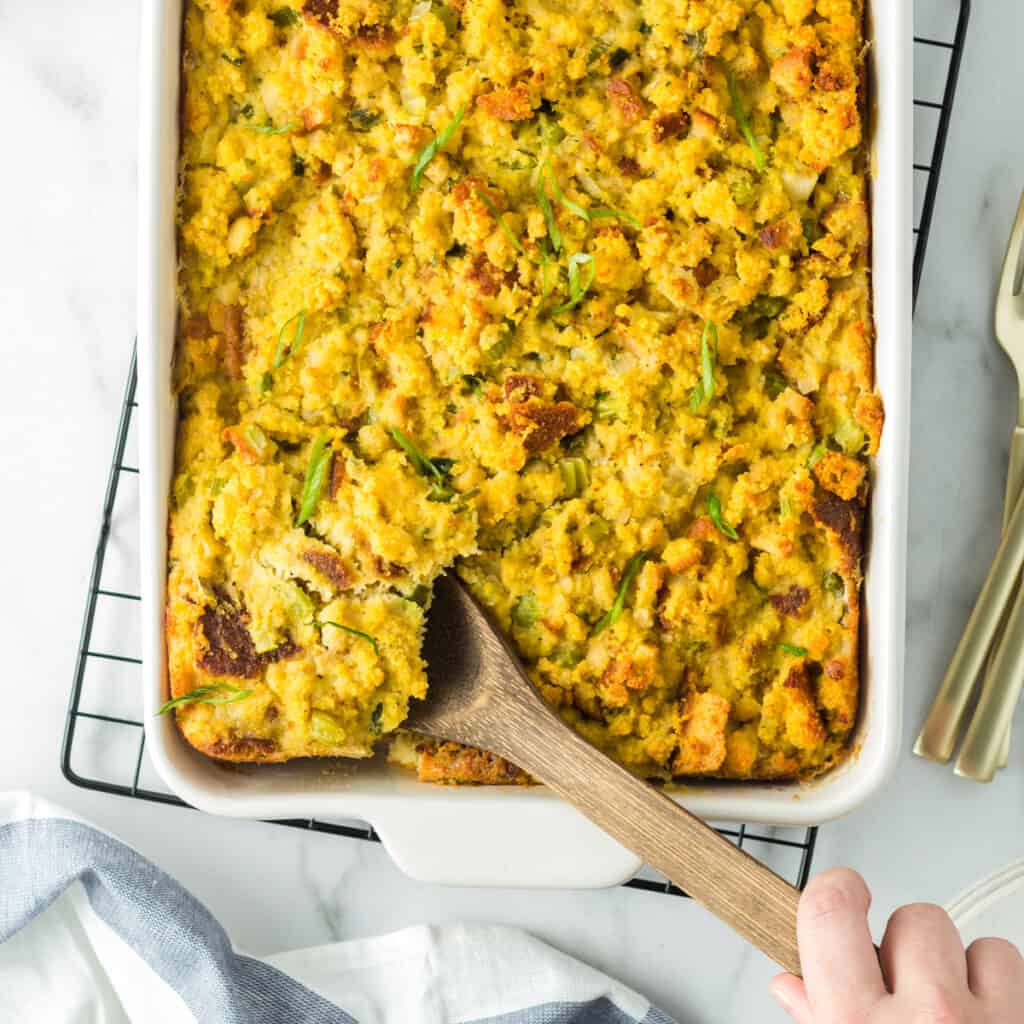 Traditional Southern Cornbread Dressing is primarily flavored with Stove Top. Yep, I said it- Stove Top Stuffing. It's simple and yet so soul-satisfying.
I've tried other recipes that mimic the same flavor profile with a lot more expensive ingredients, and I just don't think it's as good as using Stove Top. Come at me with disagreements but be sure to try this recipe first! Homemade cornbread, onion, celery, and herbs are the flavors and aromas I associate most with Thanksgiving.
Ingredients
Other than Stove Top, the ingredients in this recipe are straightforward. A lot of Thanksgiving Dressing recipes include meat, squash, seafood, etc. (If you're into that sort of thing, be sure to check out my Cornbread Dressing with Sausage and Butternut Squash recipe). For this southern classic, the ingredients are simple.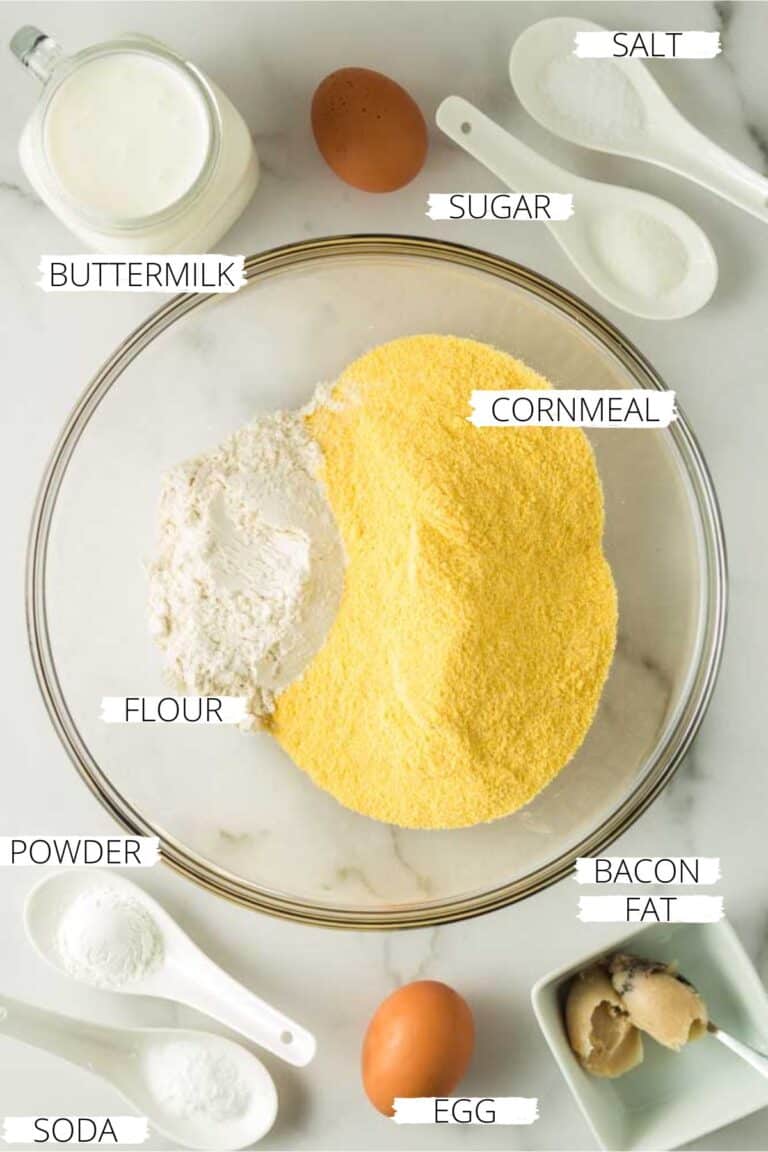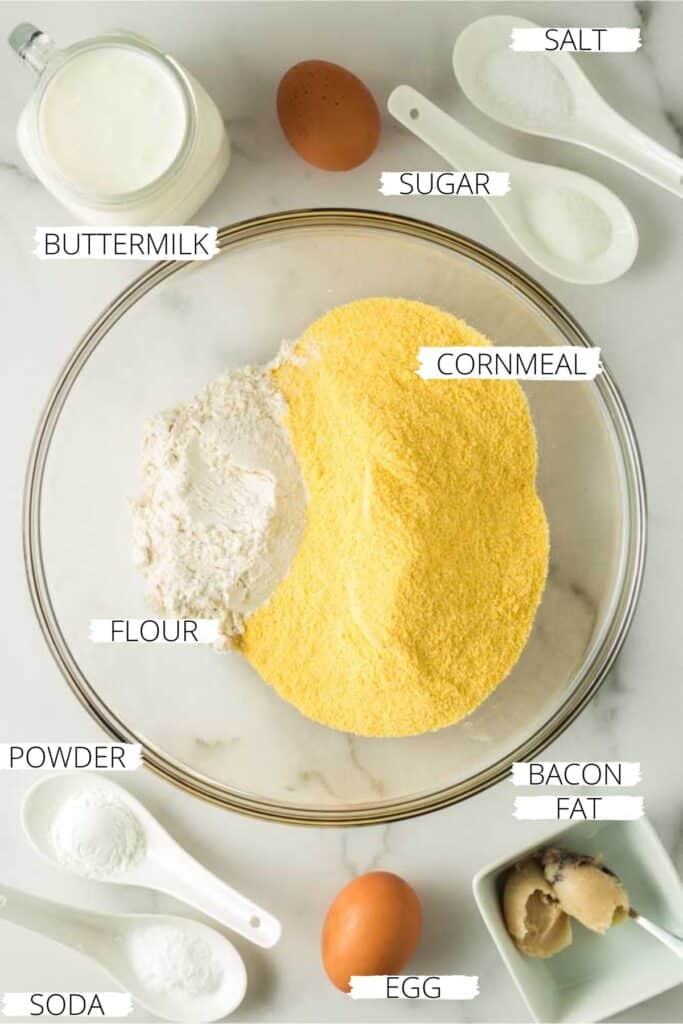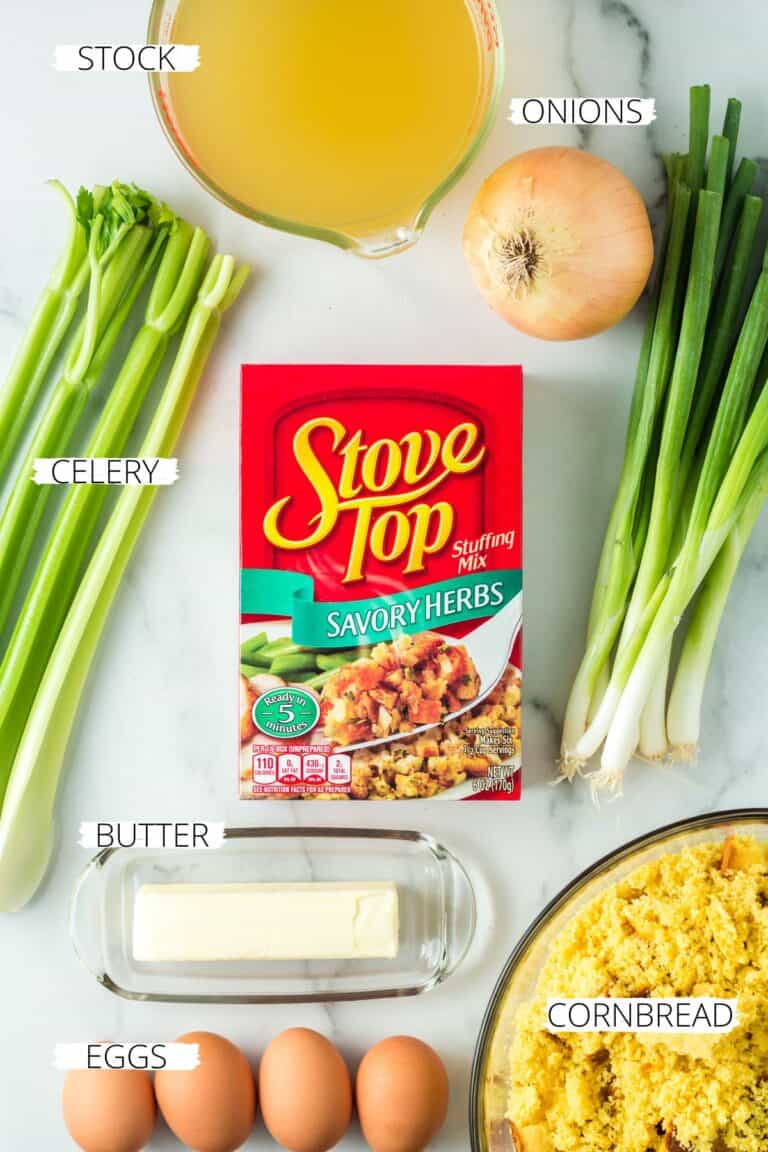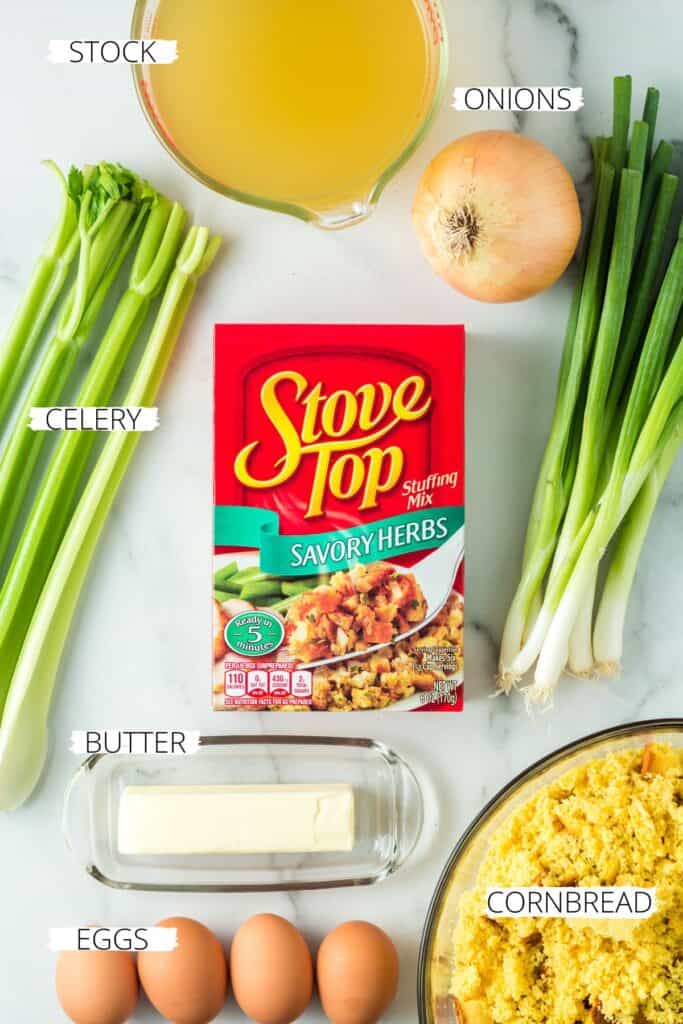 Butter
Green onion
Yellow onion
Celery
Eggs
Chicken stock
Stove Top- this is the most important ingredient in the recipe. Use the herb-seasoned variety.
If you can't find Stove Top at your local store, there are other options. Check out this article on the best packaged stuffing mixes.
Instructions
There is nothing fancy about Traditional Southern Cornbread Dressing. It is easy to make and only requires a few easy steps.
Make and bake the cornbread.
Tear into pieces and allow to dry out for approximately 24 hours or at least overnight.
Sauté the vegetables in butter.
Combine the cornbread, Stove Top, cooked vegetables, chicken stock, and eggs.
Cook and enjoy!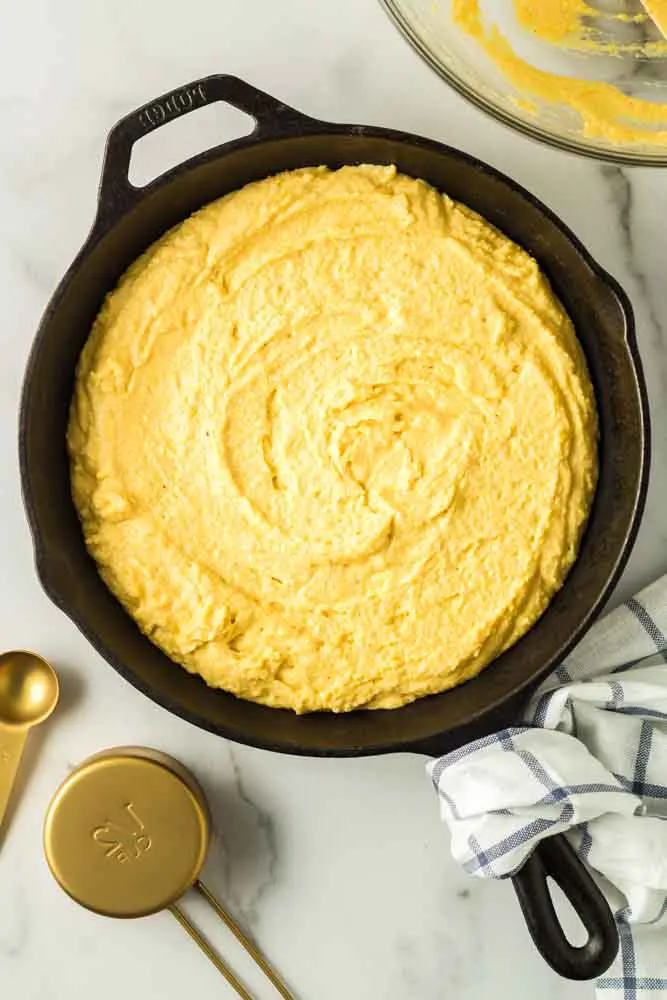 Variations
Cornbread dressing can be made vegetarian. Just substitute butter for bacon drippings in the cornbread and use vegetable stock in place of chicken stock for a vegetarian-friendly Thanksgiving side dish.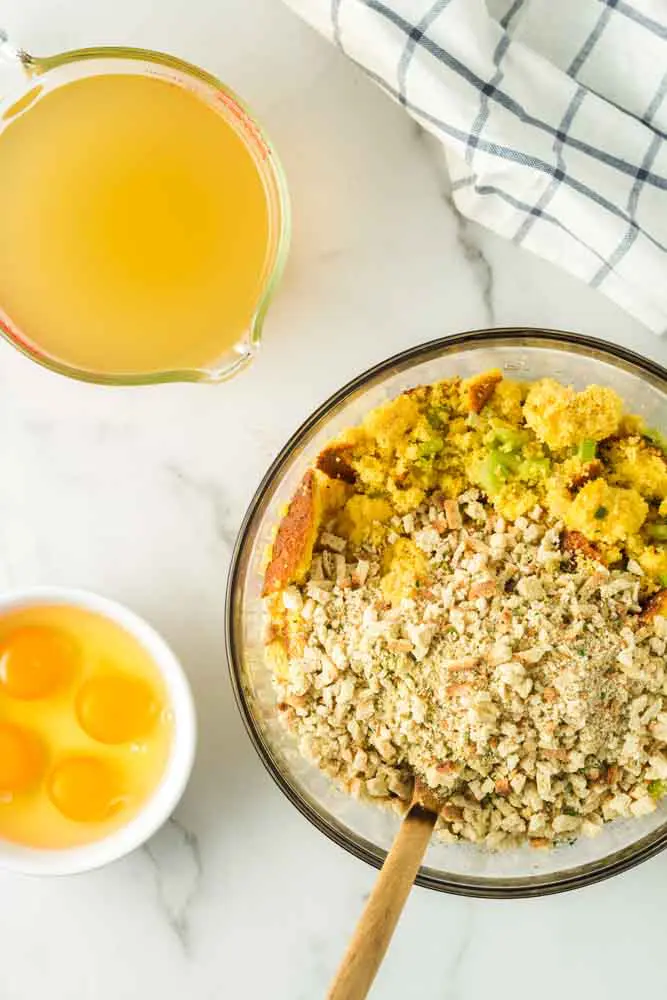 The other variation you can make is to adjust the amount of moisture in the dressing. My family likes wet dressing, and this recipe reflects that. The texture has a crispy top but a soft and moist center.
Once cooked, the dressing will hold together, but there shouldn't be any excess liquid in the pan. The dressing also develops a lovely crust on top that acts as a counterbalance to the moist filling.
If you like your Thanksgiving dressing to have a crumb or crumble a bit, then I would use 6 cups of chicken stock. If you like a more custard-like texture, go with 8 cups.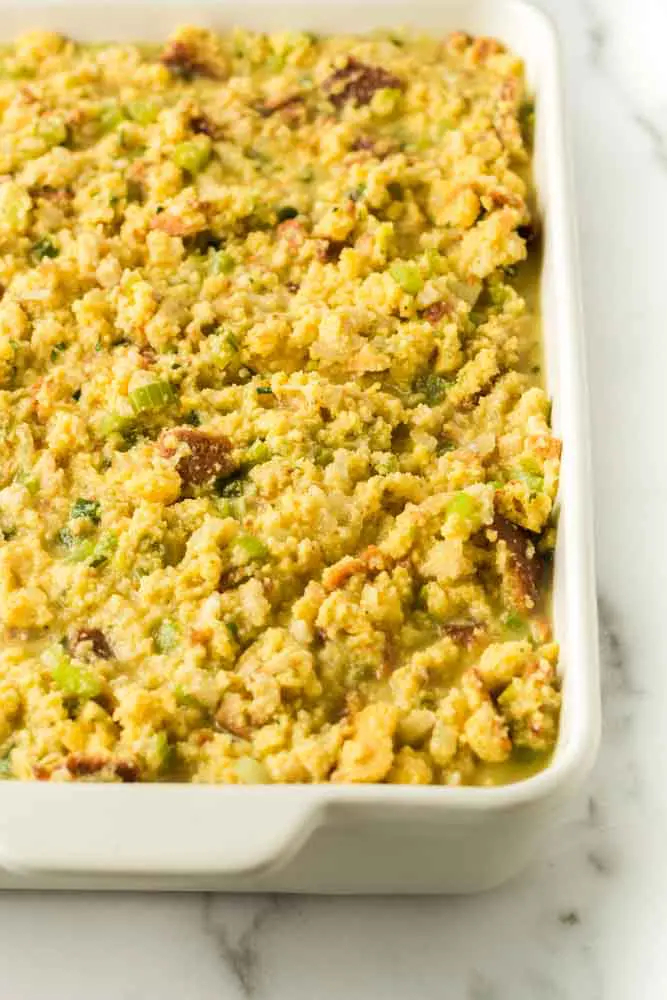 Equipment
You don't need any special equipment to make Traditional Southern Cornbread Dressing. My only recommendation is to cook the dressing in a 9" x 13" pan, so there is plenty of surface area to develop the crispy, browned top layer.
Storage
Serve: Allow the dressing to cool for about 10 minutes before serving. Add cranberry sauce or gravy on top if you'd like.
Store: Cornbread dressing will store in an airtight container in the fridge for up to five days.
Freeze: The cooked dressing can be stored in the freezer for up to three months.
Defrost: Allow the dressing to thaw in the fridge before reheating. Depending on the portion size, this may take up to 48 hours. Single servings will defrost more quickly.
Reheat: The cooked dish can be covered and reheated at 350 for approximately 30 minutes. Individual servings are best reheated in the microwave or in a lightly greased sauté pan over medium heat.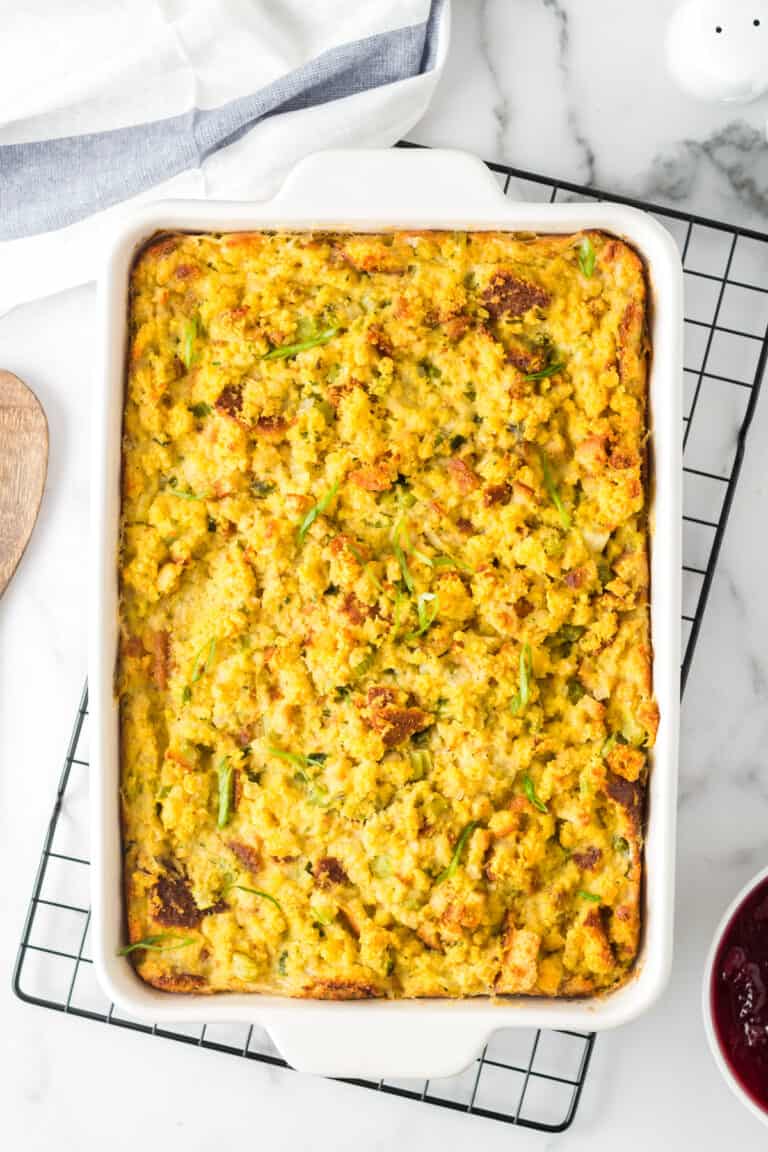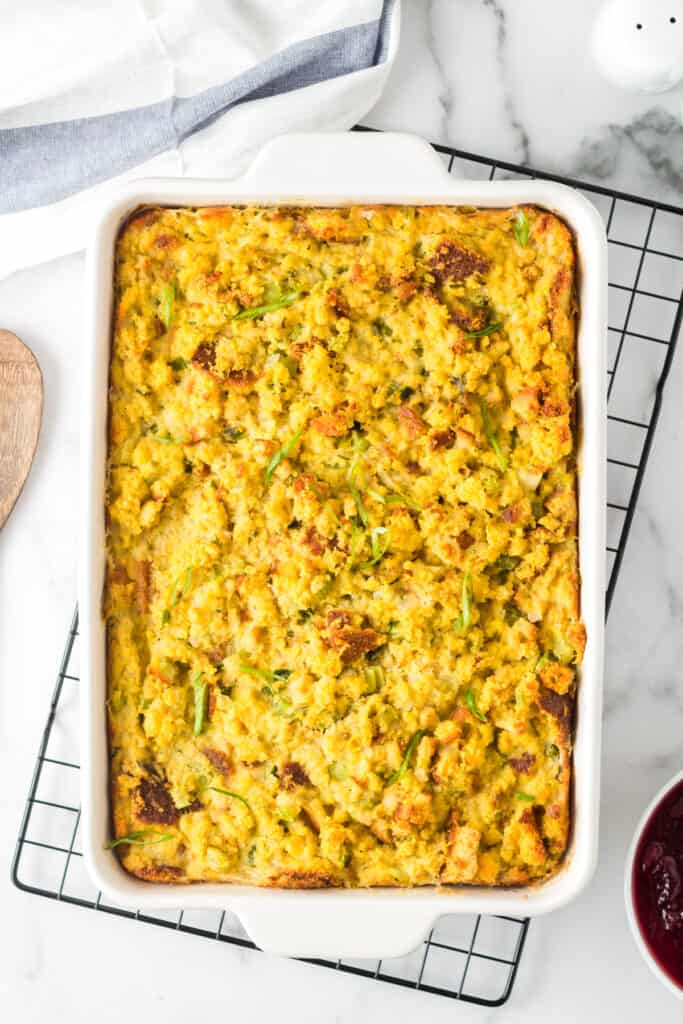 Top tip
Be sure to let your cornbread dry out for at least 24 hours before making your dressing. If you try to skip this step, you may be left with excess liquid around the edge of your dressing after baking. The cornbread also will not soak up all the scrumptious flavors of herbs and veggies if you don't allow time for drying out the cornbread.
You can let the cornbread dry out for up to 2 days uncovered and then store it in a plastic storage bag for another 3 days (5 days total) if you're the type who likes to knock out prep in advance of the big event.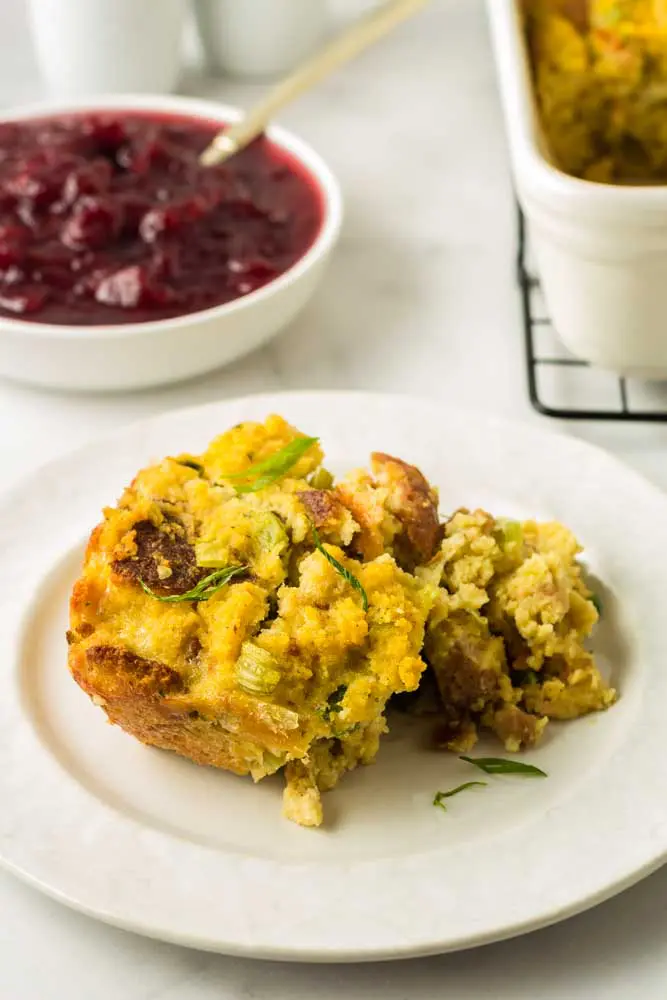 Traditional Southern Cornbread Dressing is a holiday dish that everyone at your table will love! I hope you enjoy my family's recipe as much as we do. I'd love to hear what you think in the comments section below.
Be sure to also check out some of my other favorite Thanksgiving recipes like Green Bean Casserole from Scratch and Boursin Butter Potato Stacks.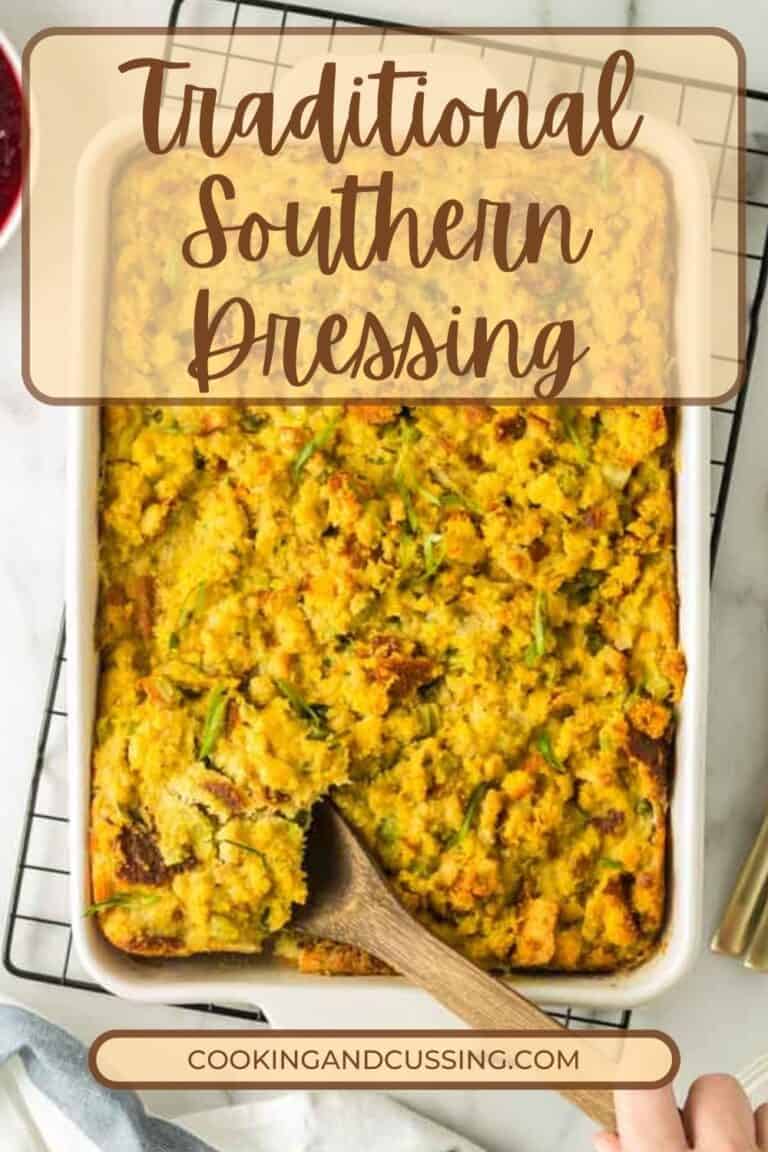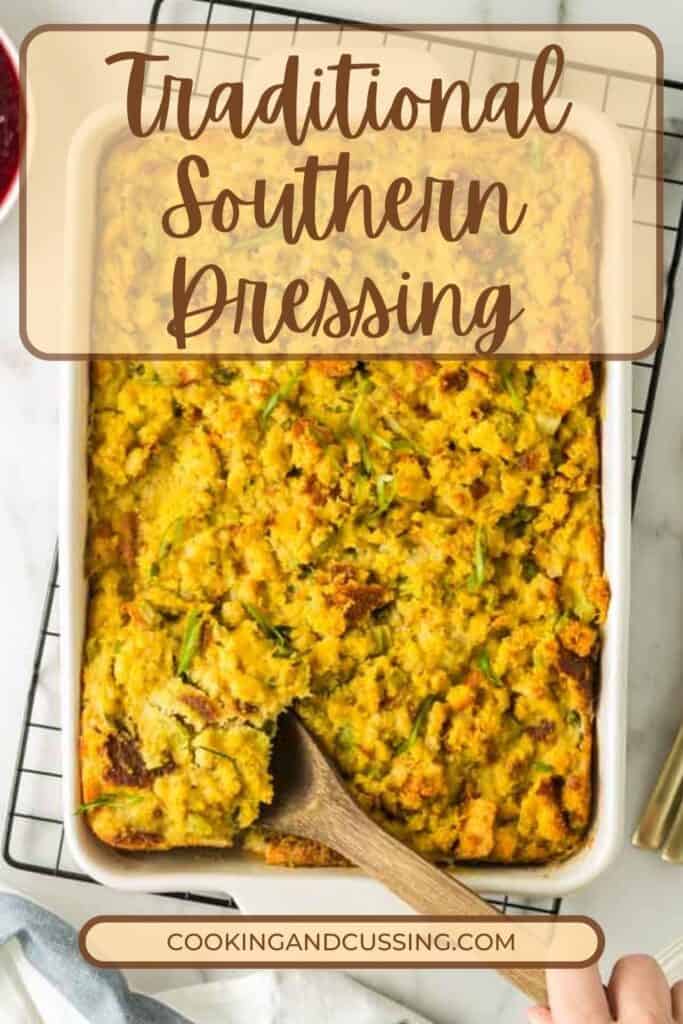 Helpful Utensils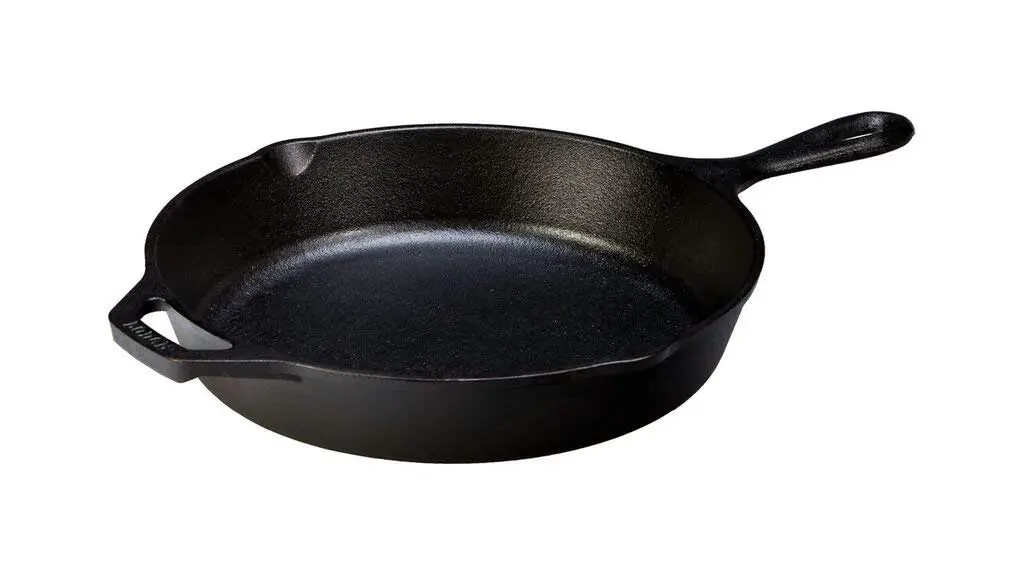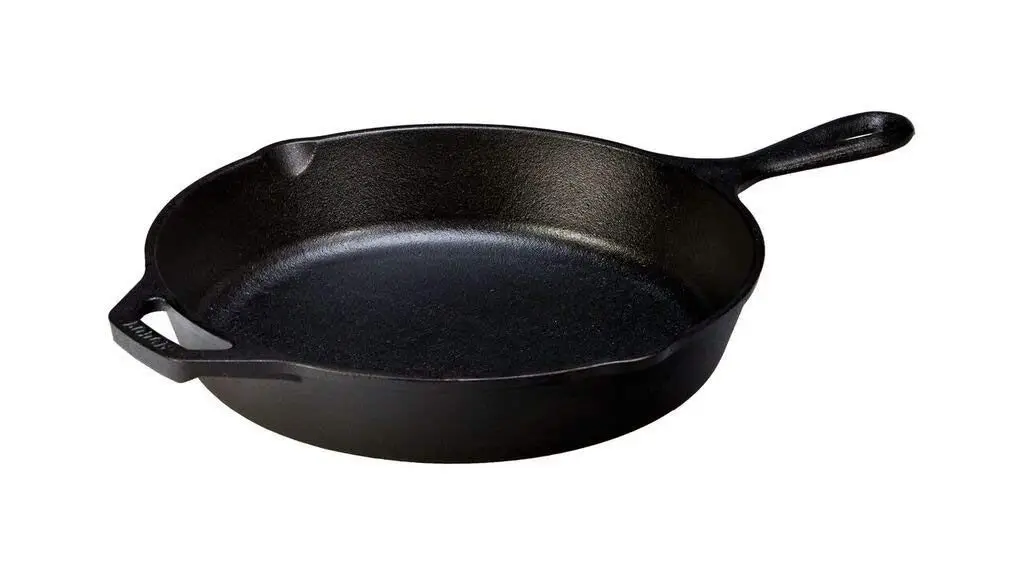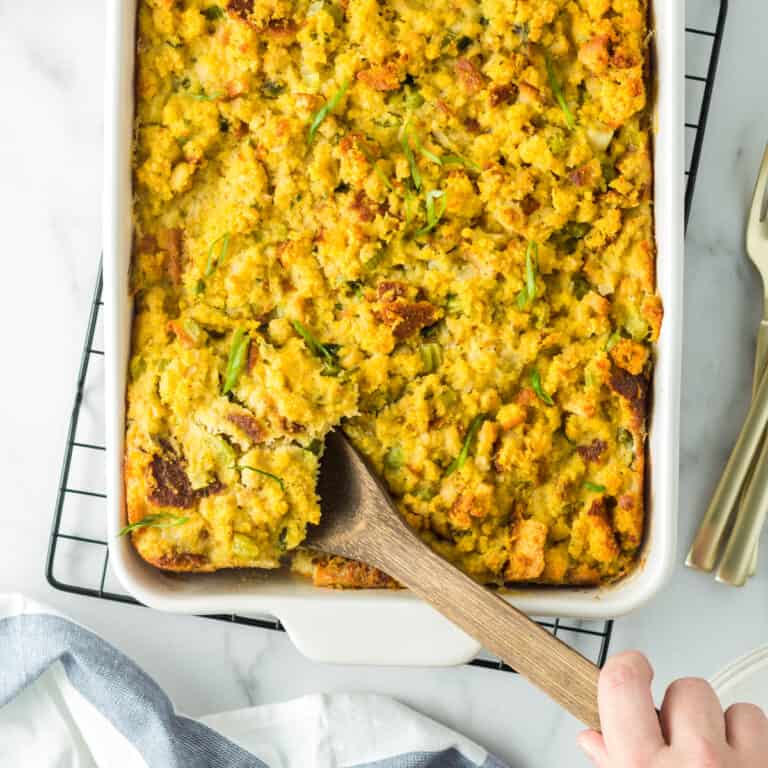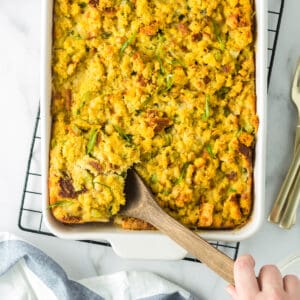 Traditional Southern Cornbread Dressing
Moist cornbread dressing with celery and onions is a must at Thanksgiving. Traditional Southern Cornbread Dressing is simple and classic.
Ingredients
Cornbread
2

C

cornmeal

½

C

all purpose flour

2

tsp

baking powder

1

tsp

baking soda

1

tsp

salt

1

tsp

sugar

optional

2

eggs

beaten

2

C

buttermilk

2

T

bacon drippings

or melted butter
Dressing
½

C

butter

1

bunch green onions

chopped

1

large yellow onion

diced

4

celery ribs

diced

1

6 oz

package of herb-seasoned stuffing mix

Stove Top

4

eggs

beaten

6-8

C

chicken stock
Instructions
To make cornbread
Preheat oven to 425°. In a 10-inch cast iron (or an 8" x 8" baking pan), melt 2 Tb of bacon drippings or butter in the preheated oven for 5 minutes until completely melted. Remove from the oven and set aside.

Combine the dry ingredients in a large mixing bowl and whisk to combine well. Add the eggs and buttermilk. Stir together with a wooden spoon or spatula until just combined.

Last, add the melted bacon drippings or butter. Pour back into the prepared cast iron and back for 25 minutes or until golden brown.

Once cooled, break up the cornbread into rough chunks and spread out onto a baking sheet to dry out for a minimum of 8 hours or preferably overnight. The more dry the cornbread, the more flavors it will soak up.
To make dressing
Preheat the oven to 350°.

Melt ½ C butter in a large skillet over medium-high heat. Add the green onions, onion, and celery. Cook until tender or about 5 minutes.

Add the cornbread, sautéed veggies, and Stove Top to a large mixing bowl. Mix to combine. Add the eggs and chicken broth and mix well. The amount of chicken broth you add will depend on personal preference. Check out the Variations section above for more details.

Pour into a 9" x 13" baking pan. Bake for 50 minutes or until lightly browned. Let sit for at least 10 minutes before serving.
FREQUENTLY ASKED QUESTIONS
Can I use store-bought cornbread?
Yes but try to stay away from any sweeter varieties.
I don't have time to dry out my cornbread. What do I do?
Break up the cornbread and spread it onto a baking sheet. Place in a 200° oven for 1-2 hours until the bread feels dry to the touch.
Can the dressing be made ahead of time?
Yes. The recipe is best when served fresh after cooking, so I recommend assembling but not baking ahead of time. The uncooked dressing can be stored in the fridge for up to three days before baking. Allow the dish to sit at room temperature for an hour before baking.
What's with the range of chicken stock that can be added?
A range is provided because the texture is a matter of personal preference. If you like your Thanksgiving dressing to have a crumb or crumble a bit, then I would use 6 cups of chicken stock. If you like a super moist dressing, go with 8 cups. Not sure, 7 cups it is!
The following two tabs change content below.

Hey-ooo! I'm Hailey, and I'm a number cruncher by day and cussing cook by night. I created this site to share my love for delicious food that feeds the soul as well as the belly. I hope my recipes have you running to the kitchen to cook some damn good grub!