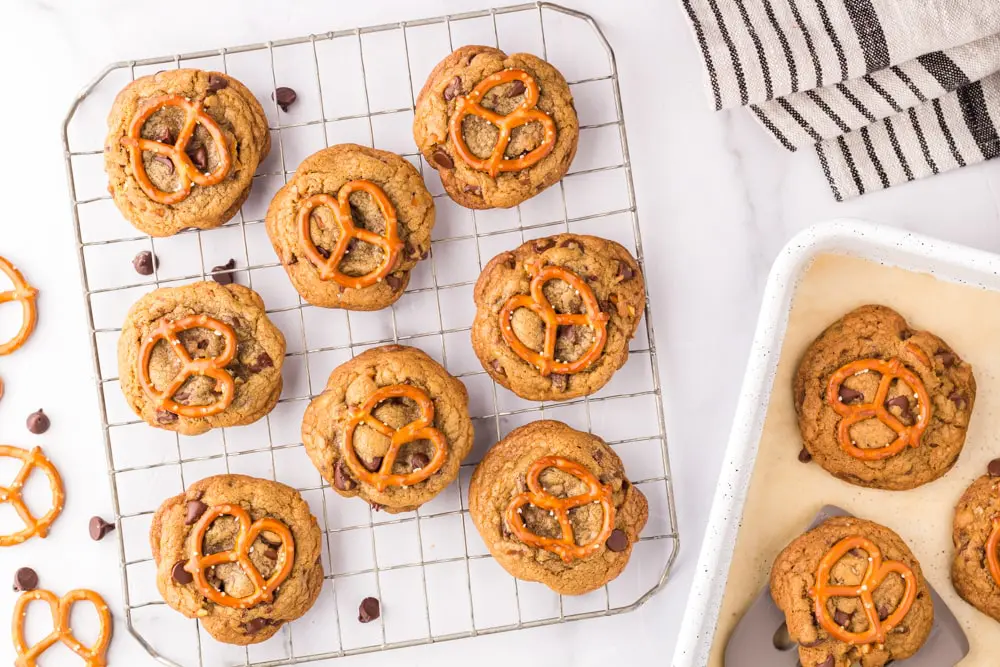 Brown Butter Chocolate Chip Cookies with Pretzels are a salted chocolate lovers' dream. Filled with brown butter, semi-sweet chocolate, and salty pretzel pieces, these cookies are irresistible. The idea that salt and chocolate are the best of friends is nothing new, but these cookies take that idea to new heights.
Outside of the use of brown butter and pretzels, these cookies are just like the traditional chewy chocolate chip cookie that you know and love. The dough has classic brown sugar and vanilla flavors and makes a cookie with the perfect combination of a chewy inside with crisp edges. Pretzels bring a bit of crunch to the party while also amplifying the nutty taste of the brown butter and the earthy sweetness of the chocolate.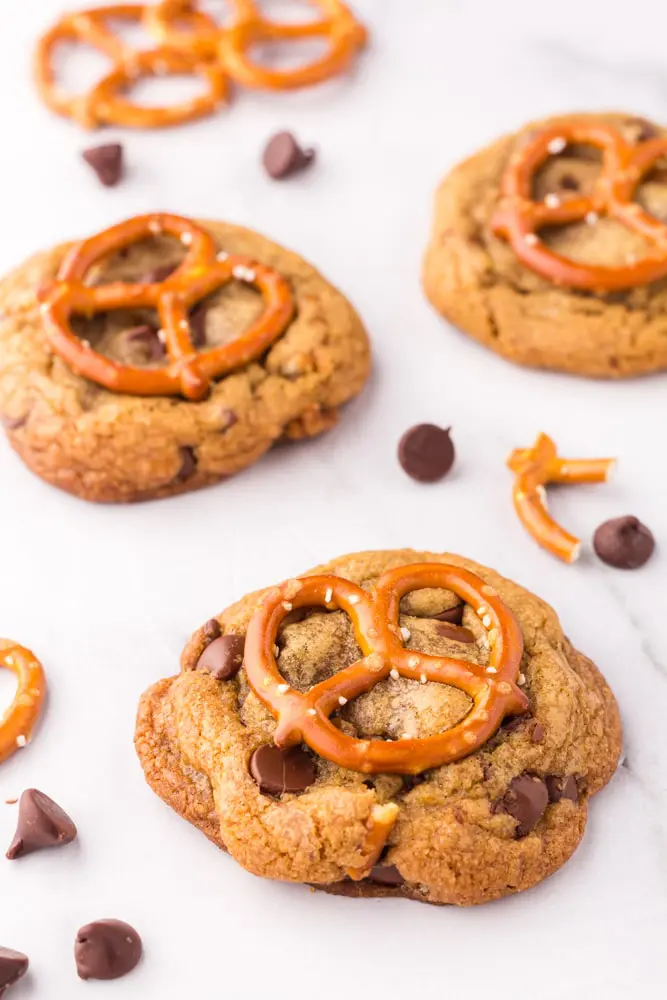 These cookies are an epically tasty mashup of salt, sweet, chocolate, butter, brown sugar and vanilla. Enough said, right?!
Ingredients Needed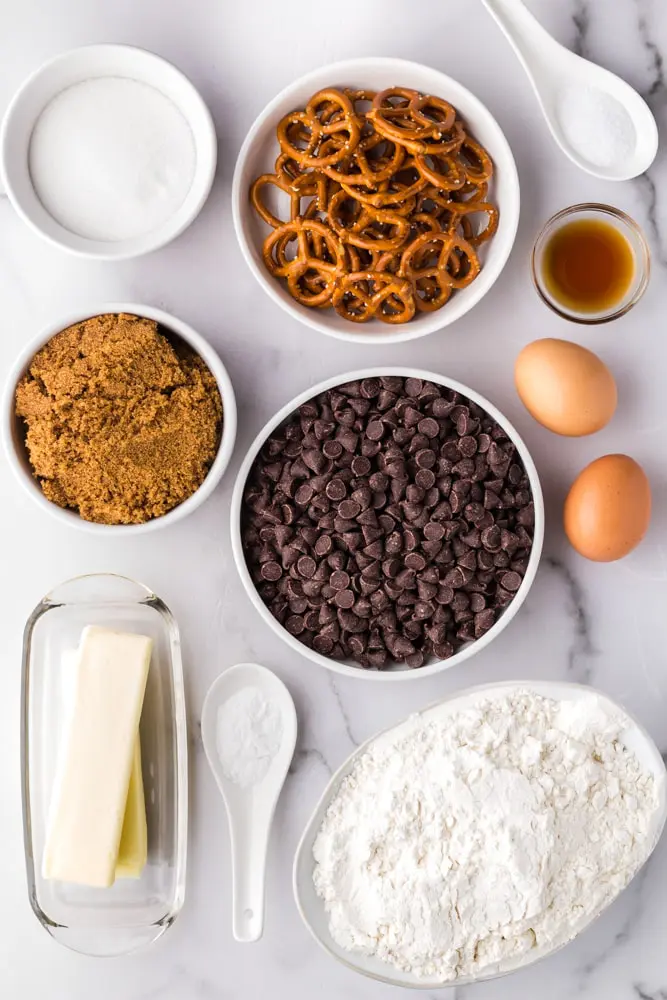 Butter- I like using salted butter in this recipe as it amplifies the play on chocolate and salt. If all you have is unsalted, totally fine substitution. Don't add extra salt to the recipe. The butter is browned in this recipe. See my notes below on how to brown butter successfully.
Dark brown sugar- I love the rich flavor the dark brown sugar provides to baked goods, but light brown can be substituted.
White sugar
Eggs
Vanilla- Skip the imitation extract and be sure to use real vanilla extract for your cookies. It's a predominant flavor in the dish, so it's important to use good quality vanilla.
Baking soda- This ensures the cookies have that chew texture that I love.
Salt
All-purpose flour
Pretzel- I recommend pretzel twists for this recipe if you're planning to top each cookie with an additional pretzel. If you're skipping that optional step, pretzel sticks can be substituted.
Chocolate chips- Semi-sweet chocolate chips are the classic chocolate chip cookie choice, and I'm not trying to argue with the classics. Feel free to try milk, dark, or any other chocolate that tickles your fancy in this recipe.
How to brown butter
Lord Jesus is there anything more tantalizing to the nose and the palette than brown butter?! I think not. I want a candle that smells just like the wonderful nutty aroma that is produced while butter browns. It's HEAVEN.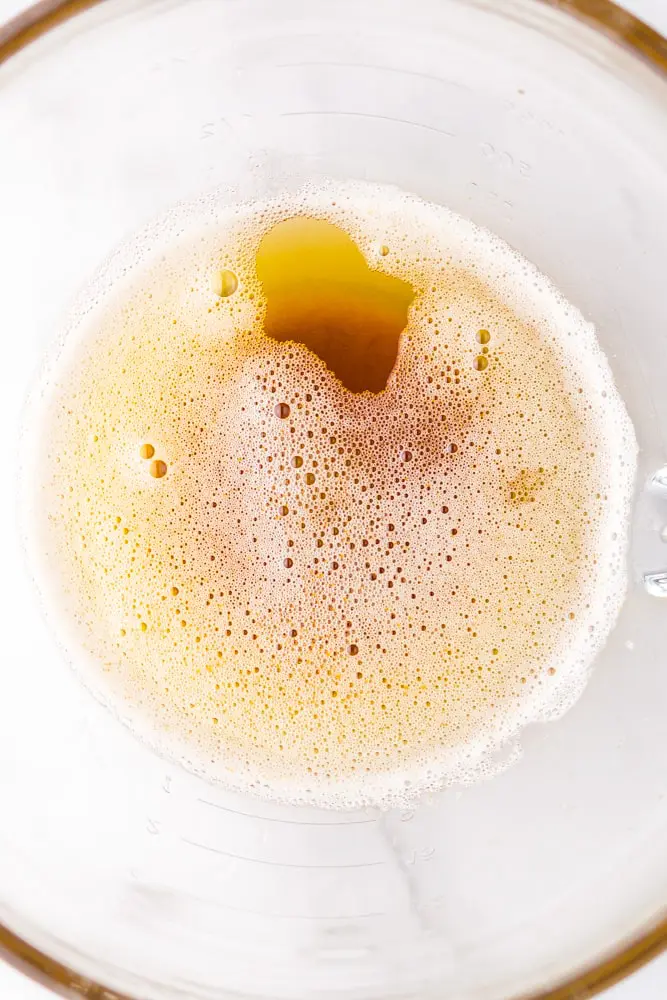 If you're looking for a great tutorial on how to brown butter, Sally's Baking Addiction has an awesome one that I've linked to below.
Sally's Baking Addiction's "How to Brown Butter"
Here are my favorite tips and tricks for brown (not burnt) butter
Never leave the stove. You're doomed if you take your eyes off of it. Don't worry it only takes 5-10 minutes so pause your show, ignore your children, etc.
Have your mixing bowl ready right by the stove so the moment the butter reaches the perfect golden brown color, you can remove it from the hot saucepan.
Stir constantly!
Make the brown butter ahead of time
To reduce the time required to make Brown Butter Chocolate Chip Cookies with Pretzels, make your brown butter ahead of time. It will keep in the fridge for up to five days in an airtight container.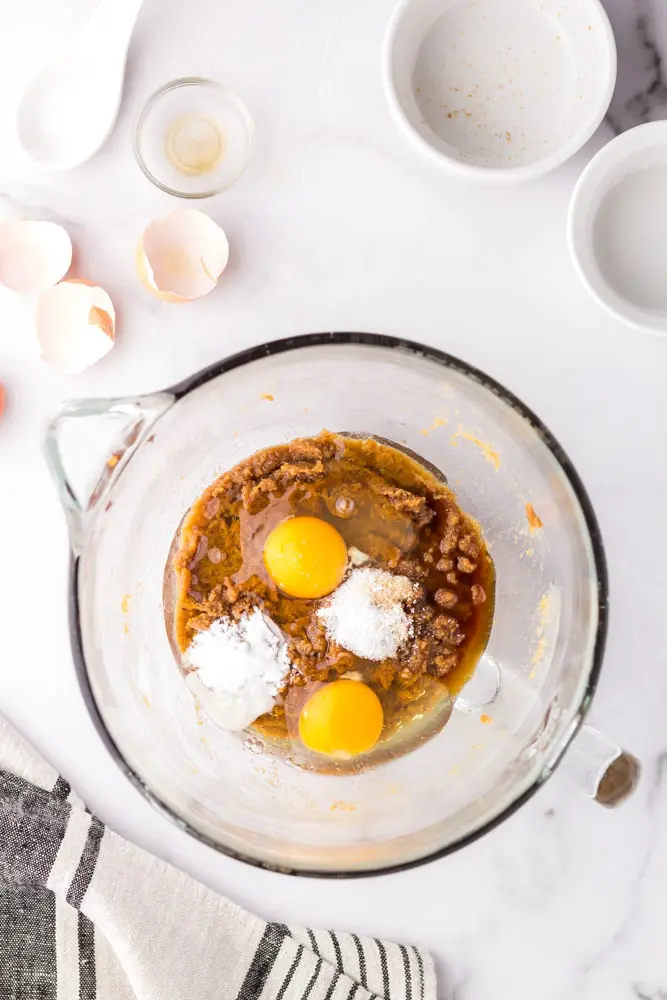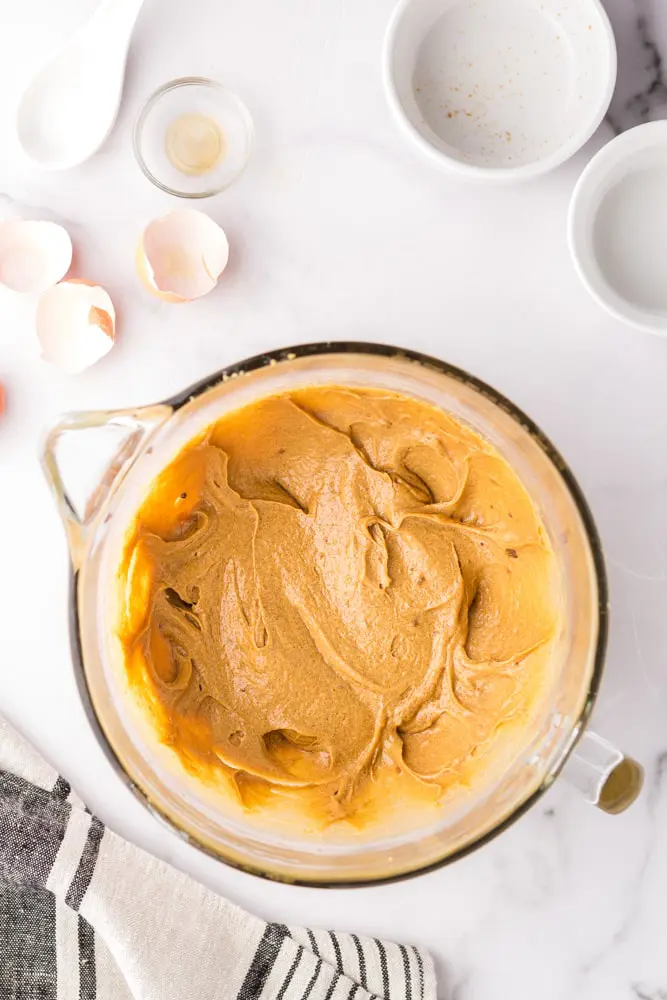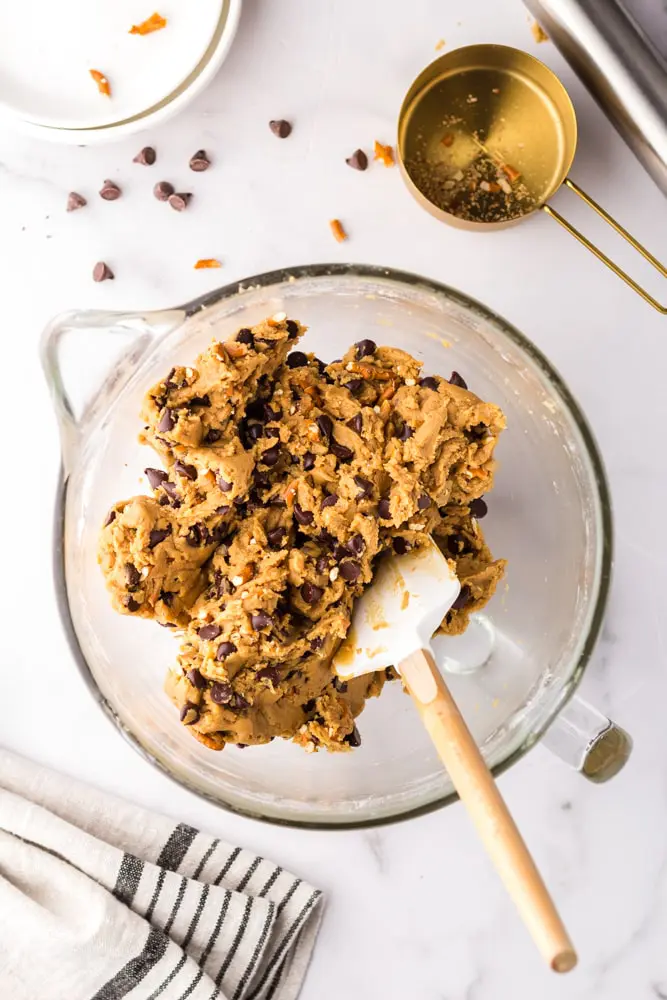 Tips and Tricks for making Brown Butter Chocolate Chip Cookies with Pretzels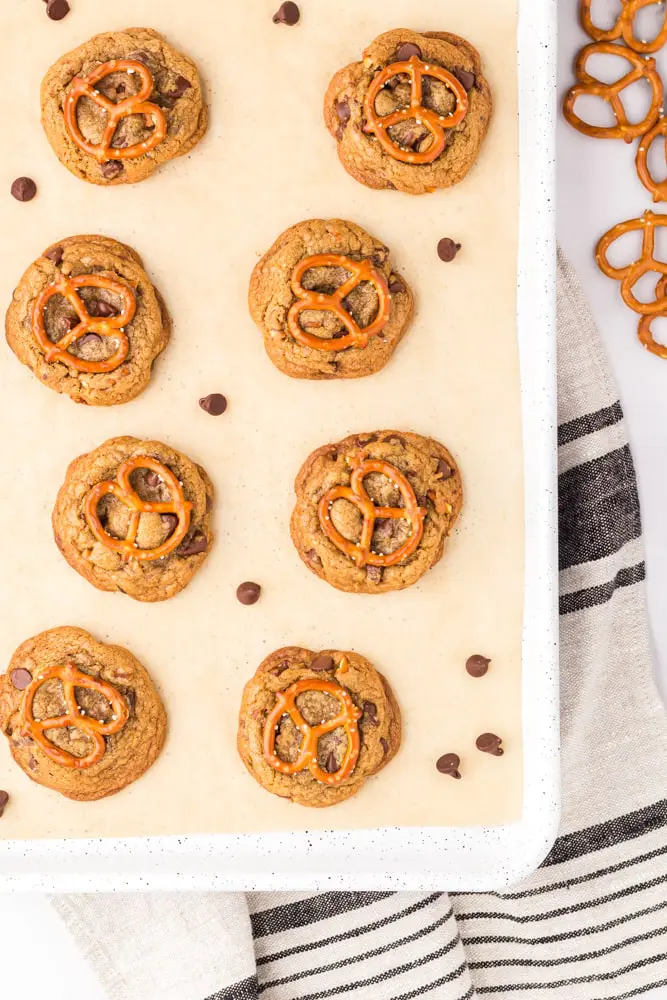 Be sure you let the brown butter cool completely before using it. If you don't let the butter cool, the texture of the cookie will be more crisp and crumbly.
Don't overmix the butter and sugar. You are not trying to cream the butter and sugar or incorporate a lot of air as you see in some cookie recipes. You just want the butter and sugars well combined.
When you break up your pretzels into pieces, don't crush them into too fine a crumb. You want people to know they are pretzel pieces. Also, the stand mixer will break them up a bit as they are combined into the dough.
If your cookies are totally brown when you pull them out of the oven, you've let them cook too long. You're looking for barely golden edges and a soft center when you take these cookies out of the oven. They will continue to cook on the hot baking sheet after being removed from the oven.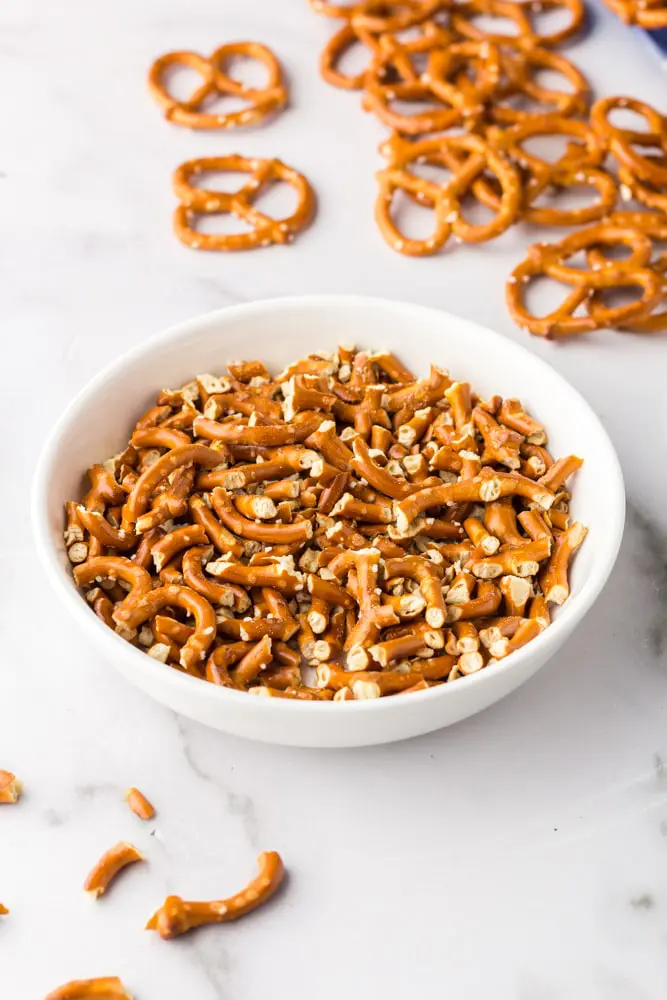 How to store Brown Butter Chocolate Chip Cookies with Pretzels
Like most cookies, warm from the oven is the best way to eat these cookies, but they can be kept for up to five days in an airtight container. However, their flavor and texture are best when fresh.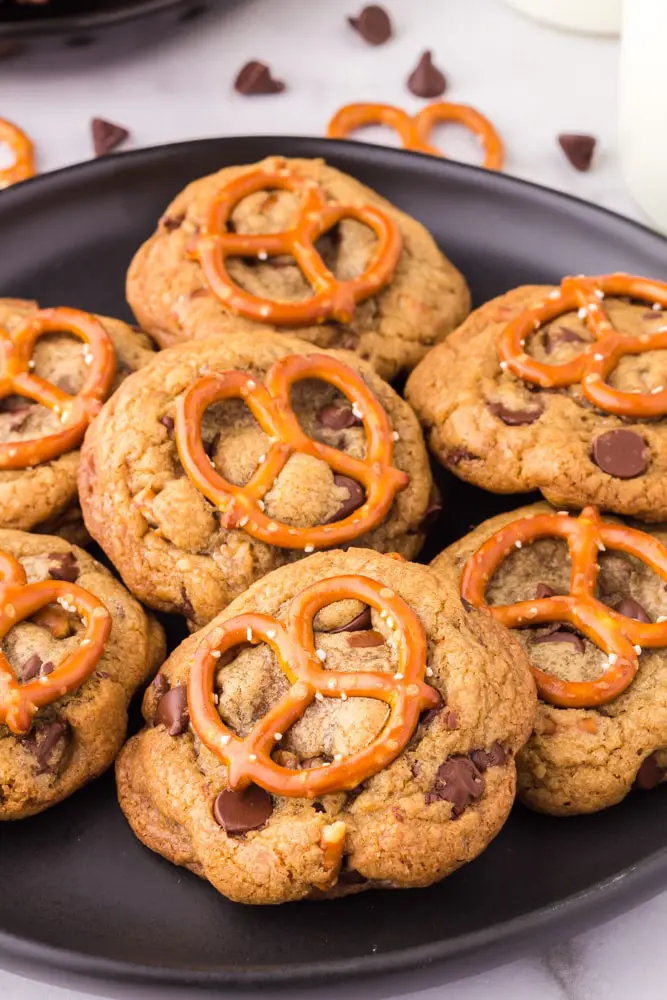 There are a bajillion chocolate chip cookies you could choose to make, but if you're looking for the ultimate decadent salty sweet treat, you have to try Brown Butter Chocolate Chip Cookies with Pretzels. Let me know what you think of the recipe in the comments sections below.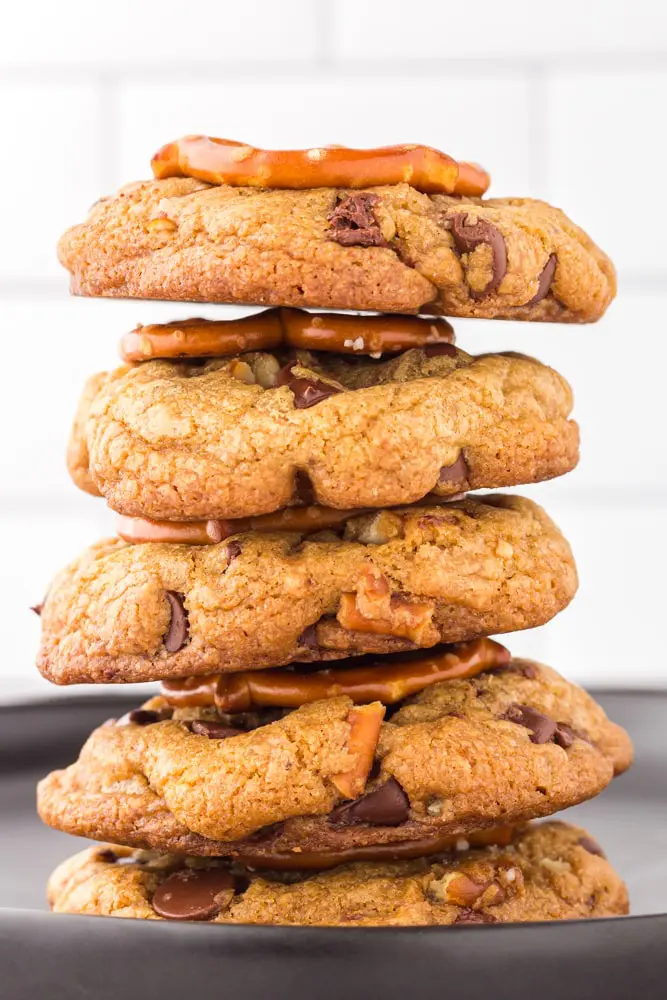 Helpful Utensils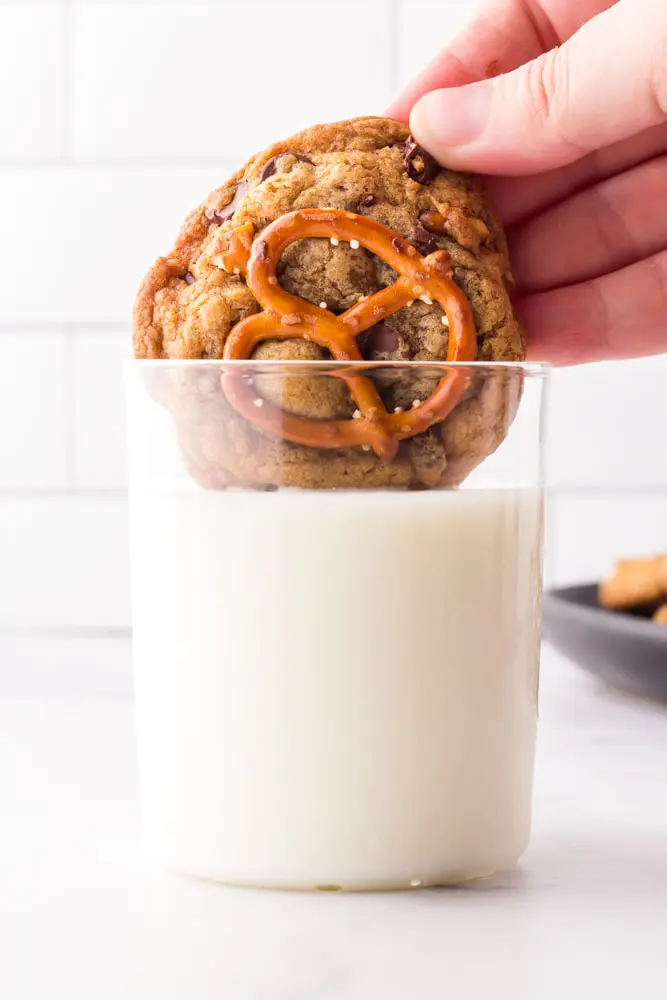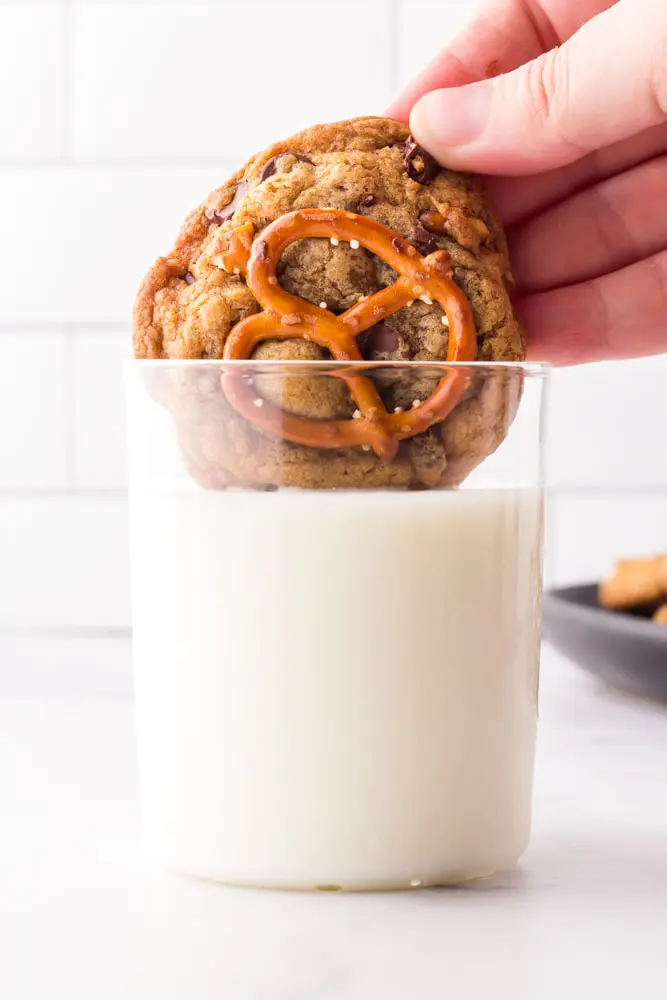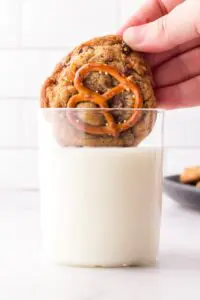 Brown Butter Chocolate Chip Cookies with Pretzels
Brown Butter Chocolate Chip Cookies with Pretzels are a salty chocolate chip cookie lovers' dream. Stuffed with chocolate chips, pretzel chunks and decadent brown butter, these cookies are amazing!
Ingredients
1

C

salted butter

browned (see below)

1

C

dark brown sugar

½

C

white sugar

2

eggs

1

tsp

vanilla

1

tsp

baking soda

1

tsp

kosher salt

2

heaping C

all purpose flour

1

C

pretzels

broken into chunks

12

oz

semisweet large chocolate chips

36

whole pretzels

optional
Instructions
To brown butter:
Cut butter into equal chunks and place a saucepan over medium-low heat. Stir the butter constantly. Keep a close eye on it. You can go from perfection to burnt in no time.

The butter will first start to look slightly cloudy, then it will change to a more transparent look. Next come the bubbles, and finally the browning. Just keep stirring! The process in total takes 5-8 minutes typically.

As soon as the butter turns golden brown, get it out of the saucepan! If you let it sit in the warm pan, it will burn. Pour the browned butter into the mixing bowl and put in the freezer to cool for 20 minutes.
To make cookies:
Combine brown butter with brown and white sugars and beat on medium-high speed for about 1 minute or until well combined. With the mixer on low, add eggs one at a time, waiting for one to be combined before adding another.

Once all the eggs are combined, add the vanilla, baking soda, and salt and mix.

With the mixer off, add the flour and then turn the mixer on low to combine. Scrape the sides and bottom of the bowl once and turn the mixer back on low for 10 seconds to remove any lumps.

Place 1 cup of pretzels into a plastic storage bag and seal tightly. Using a heavy pan or rolling pin, break the pretzels into chunks. You're looking for half-inch pieces- not crumbs.

Add chocolate chips and pretzel pieces and mix on low speed until well blended.

Preheat oven to 375 degrees. Prepare a baking sheet with nonstick foil or baking spray.

Use a 2 Tb cookie scoop to form cookies and place on a prepared baking sheet leaving about 1-inch between cookies. Top each cookie with an optional additional pretzel- don't press too hard or the pretzel will break. Bake for 9-10 minutes.

Watch the cookies closely as you don't want them to be totally browned when you remove them from the oven. You're looking for golden brown edges and a center that is soft still. Allow the cookies to cool first on the baking sheet for five minutes.

Remove to a cooling rack to cool completely before placing in an airtight container.
Notes
* Light brown sugar is a perfectly fine substitute. I like the dark brown in this recipe for the extra depth it adds to the flavor of the dough.
FREQUENTLY ASKED QUESTIONS
Can I make my brown butter ahead of time?
Yes. It can be stored in airtight contained for up to five days in the fridge.
I don't have a stand mixer. Can I make this recipe?
Yes, a hand mixer works just as well. I have not personally made them by-hand, but you can do anything you put your mind (and your wooden spoon) to.
The following two tabs change content below.

Hey-ooo! I'm Hailey, and I'm a number cruncher by day and cussing cook by night. I created this site to share my love for delicious food that feeds the soul as well as the belly. I hope my recipes have you running to the kitchen to cook some damn good grub!