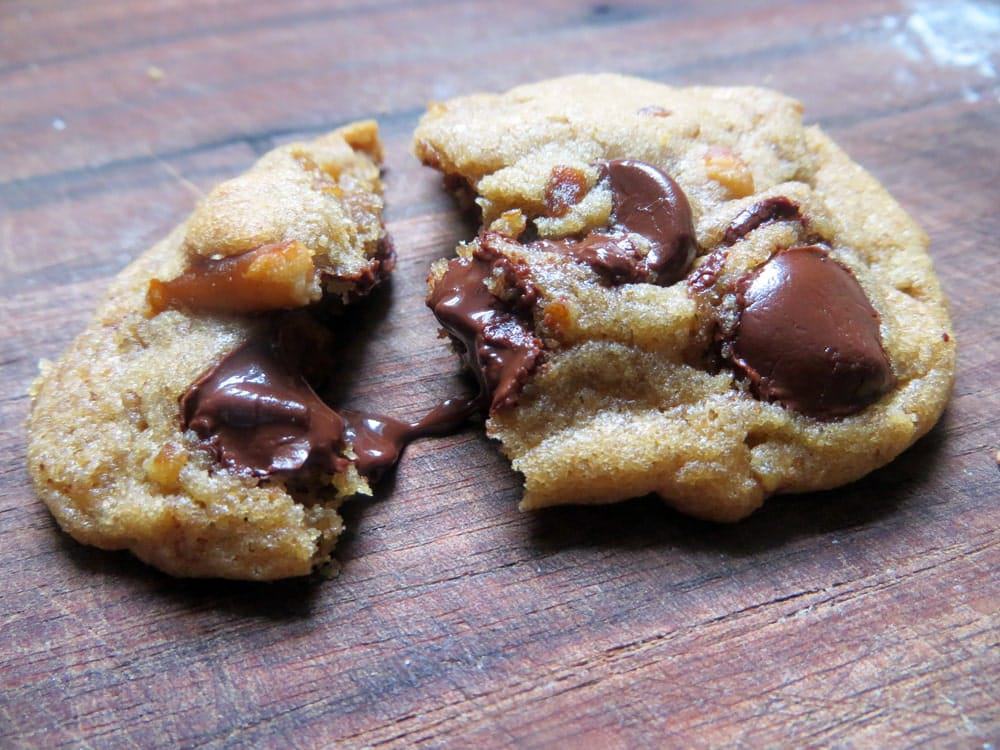 Brown Butter Chocolate Chip Pretzel Cookies are f*cking amaze-balls delicious in my less than humble opinion. The idea that salt and chocolate are the best of friends is nothing new, but these cookies take that idea to new heights. My recipe includes a sh*t ton of chocolate and crunchy pretzel bits nestled in a chewy, buttery dough, and it's not just plain old butter in this recipe…no, no it's brown butter. Lord Jesus is there anything more tantalizing to the nose and the palette than brown butter?! I think not.
The original cookie recipe that was the foundation for my recipe is from my step-grandma if that's a thing? Doris is what I actually call her, and she is my stepdad's mom. She's a hoot, to say the least, but I digress. That whole arm of my family is obsessed with Doris' chocolate chip cookies and for good reason. The cookie itself is made from a wonderful dough laced with semisweet chocolate chips. The dough has classic brown sugar and vanilla flavors and makes a cookie with the perfect combination of a chewy inside with crisp edges.
My mom loves to tinker with recipes in the kitchen, and she made these cookies so often for the family that she felt inspired to think outside the box whilst ensuring my stepdad wouldn't kick her out for serving something other than the original. I sort of can and cannot take credit for the brown butter.
I say that because I actually taught my mom how to make brown butter many years ago, but it was my mom's idea to substitute half of the shortening for brown butter. It was definitely a f*cking great idea because it made these cookies even richer and more decadent than before.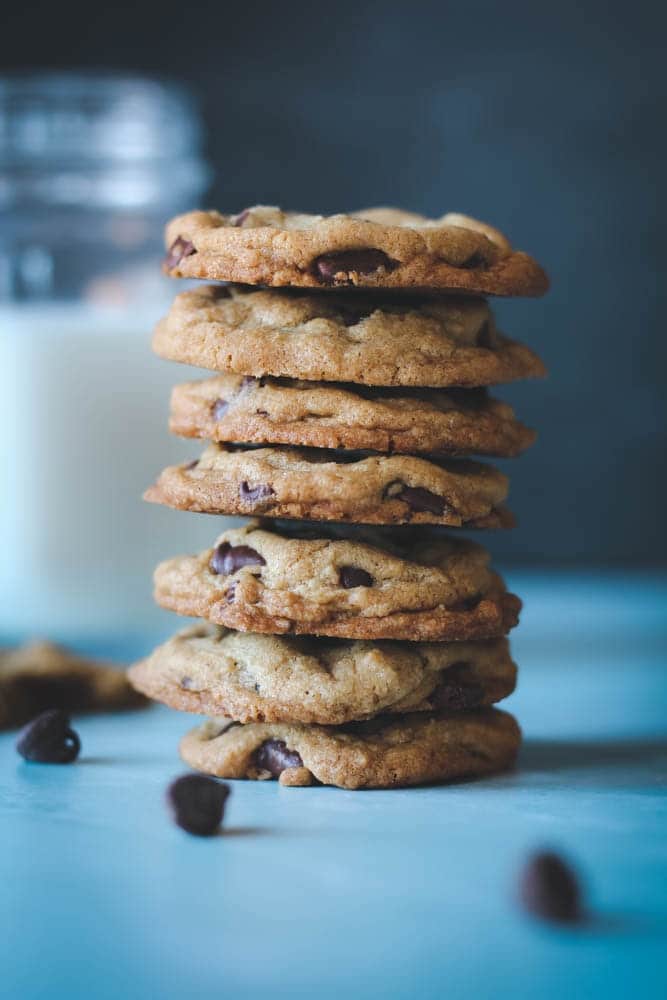 As I was testing and tasting her recipe prior to writing this post, I thought that I needed to turn up the volume just a skosh more. The first obvious addition that I've made to the recipe was more chocolate. Chris is only a fan of a chocolate chip cookie if each bite is filled with chocolate so something like a 50/50 ratio of dough to chocolate.
I knew these cookies would be a home run with not just Chris but with everyone if I upped the chocolate so I doubled the amount of chocolate chips in the recipe…yea I said doubled. I've done half semisweet, half bittersweet as I like the complex, dark flavors of bittersweet, but feel free to use half milk, half dark or all semisweet depending on your chocolate preference.
I also had a thought that salt would help marry the chocolate and brown butter flavors while emphasizing both, but the whole flaked salt on top of a chocolate chip cookie idea has been done a lot already (because it works and is awesome). I remembered a pretzel chocolate shortbread recipe I made once that was killer and thought yessssssss! Pretzels bring a bit of crunch to the party while also amplifying the nutty taste of the brown butter and the earthy sweetness of the chocolate.
I absolutely love the outcome of this mashup of great bakers. Doris gave us an amazing foundation to play with. My mom then brought the recipe new life with a small tweak that really just makes the original more delicious without fundamentally changing the cookie. I like to think that I just upped the fun factor a bit with the addition of extra chocolate and pretzels. The end result is an epically tasty mashup of salt, sweet, chocolate, butter, brown sugar and vanilla. Please let me know if you agree in the comments section below!
Oh and one other thing…good luck not making yourself sick eating the cookie dough. It's like candy. I'm totally not speaking from personal experience at all. ?
Helpful Utensils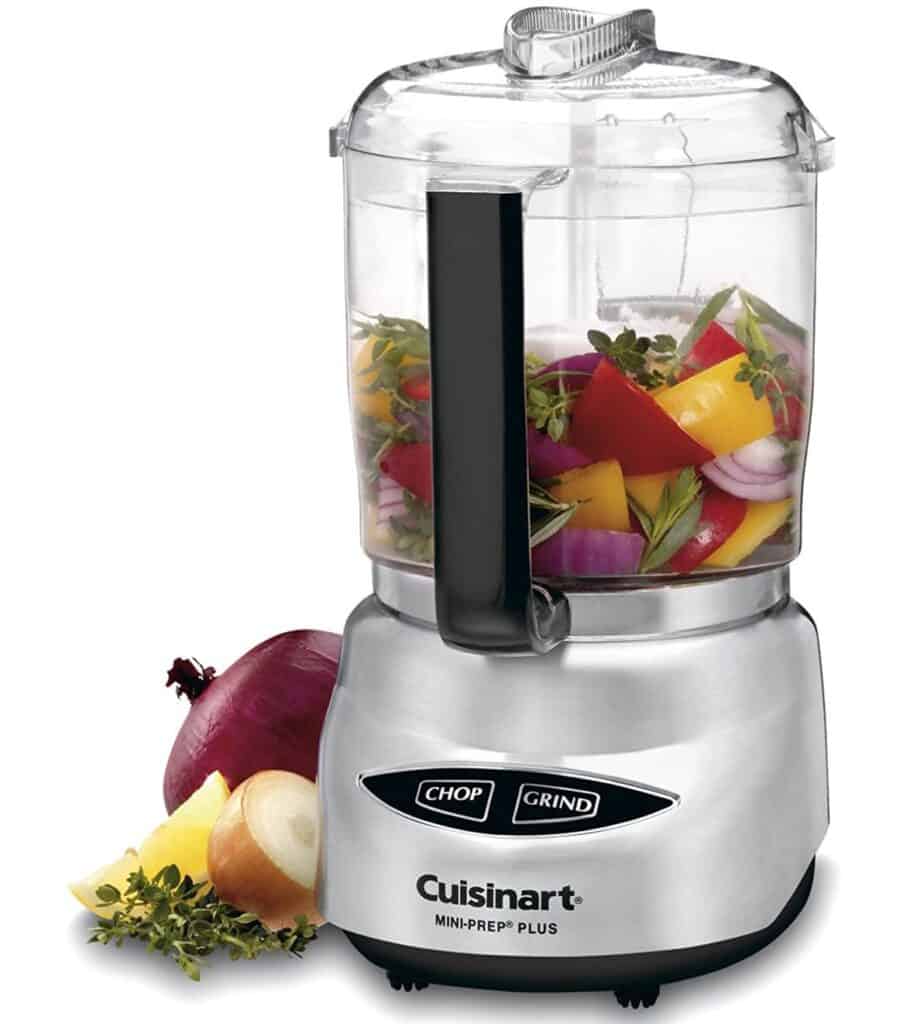 Cuisinart 4-Cup Food Processor
If you don't have a larger food processor, like the Cuisinart 11-Cup Food Processor I recommend on the Kitchen Essentials page, then this is a great, cost-effective alternative. This size is perfect for small batches of cookie add-ins like the pretzels in this recipe or if you just have a smaller kitchen space. I use my 4-cup processor almost as much as the full size so I really enjoy having both available.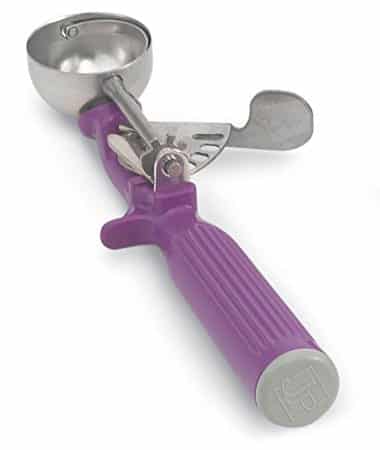 This is the perfect size cookie scoop for bite-size cookies like these. The ingredients in this recipe are so rich and there is so much chocolate in the mix that I like to make smaller cookies. 3/4 ounce is equal to 1.5 Tb.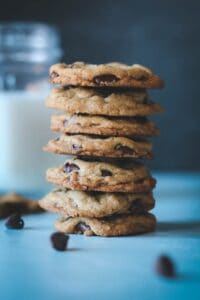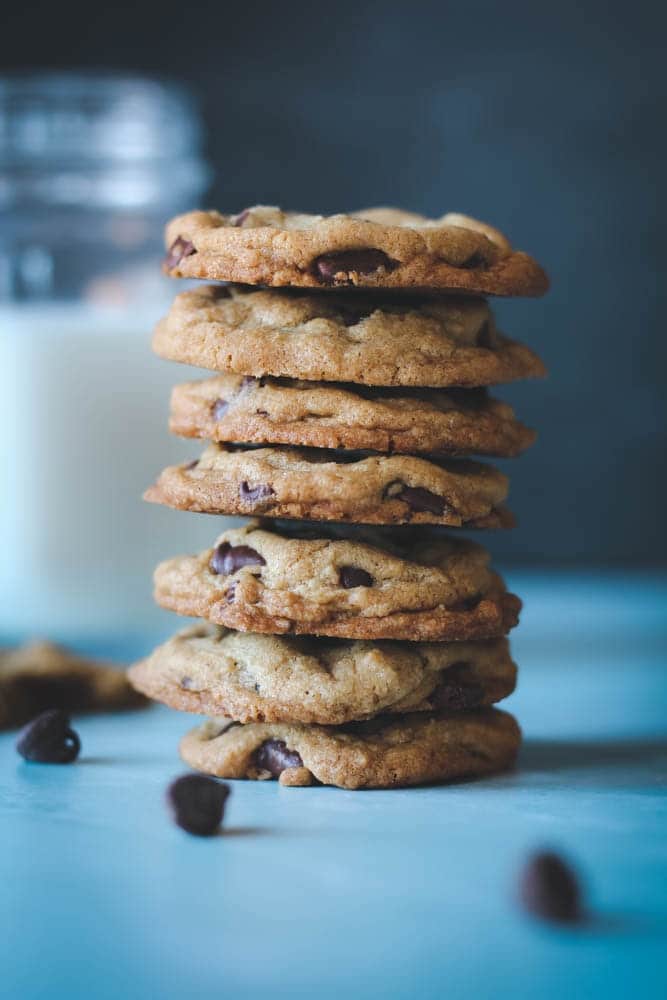 Brown Butter Chocolate Chip Pretzel Cookies
Scrumptious chocolate chip cookies with a sh*t ton of chocolate and crunchy pretzel bits nestled in a chewy, buttery dough

Ingredients
1

C

butter

browned (see below)

1

C

shortening

2

C

dark brown sugar*

1

C

white sugar

4

eggs

2

tsp

vanilla

2

tsp

baking soda

2

tsp

salt

4

C

+ 3 Tb flour

1.5

C

ground pretzels

10

oz

semisweet large chocolate chips

10

oz

bittersweet chocolate chips
Instructions
To brown butter:
Put 2 sticks of butter in a saucepan over medium-low heat. Don't be tempted to increase the heat. The process of browning butter takes a little bit of patience, but it is so worth it. The good news is that even though it takes a little time, it takes no work. You can stir the butter occasionally to ensure even distribution of the heat, but don't stir too often.

Once the butter melts a layer of foam will form across the top. Once this foam turns golden brown, you have brown butter! It happens pretty quickly so keep a close eye on it. You can go from perfection to crap in no time. Set brown butter aside to cool for about 30 minutes.
To make cookies:
Combine brown butter with 1C of shortening in a large mixing bowl or standup mixer. Add brown and white sugars and beat on medium-high speed for about 1 minute or until well combined. With the mixer on low, add eggs one at a time, waiting for one to be combined before adding another. Once all the eggs are combined, add the vanilla, baking soda, and salt. Mix until just combined.

With the mixer off, add 2C of the flour and then turn the mixer on low to combine. Turn the mixer off, scrape the sides and bottom of the bowl, and add the remaining flour. Mix until well combined. Scrape the sides and bottom of the bowl one last time. Add chocolate chips and ground pretzel and mix on medium speed (the mixer won't move much at this point if it's only on low speed) until well blended. Place in the fridge for a minimum of an hour to prevent the cookies from spreading too much in the oven.

Preheat oven to 375 degrees. Prepare a baking sheet with nonstick foil or baking spray.

Once the dough has chilled, use a small (2 tsp) cookie scoop to scoop the cookies out onto the prepared baking sheet leaving about 1-inch between cookies. Bake for 9-10 minutes. Watch closely as you don't want these cookies to be totally browned when you remove them from the oven. You're looking for golden brown edges and a center that is just a tad bit soft still when you take them out of the oven. Allow the cookies to cool first on the baking sheet where they will also finish cooking. Remove to a cooling rack to cool completely before placing in an airtight container. You've been warned…these are addictive!
Notes
* Light brown sugar is a perfectly fine substitute. I like the dark brown in this recipe for the extra depth it adds to the flavor of the dough.
This recipe makes a large amount of dough. Feel free to make a half recipe, save half the cookie dough in the freezer for a shitty day when you really need some cookie dough, or bake all of the cookies and freeze half of the cookies once completely cooled. Just let them come back to room temperature when you're ready to eat.
The following two tabs change content below.


Hey-ooo! I'm Hailey, and I'm a number cruncher by day and cussing cook by night. I created this site to share my love for delicious food that feeds the soul as well as the belly. I hope my recipes have you running to the kitchen to cook some damn good grub!