Butter Beans have to be one of the most underrated meals on the planet. In my eyes, they are the epitome of comfort food. Not only are beans delicious, but the recipe is easy, and the ingredients are inexpensive.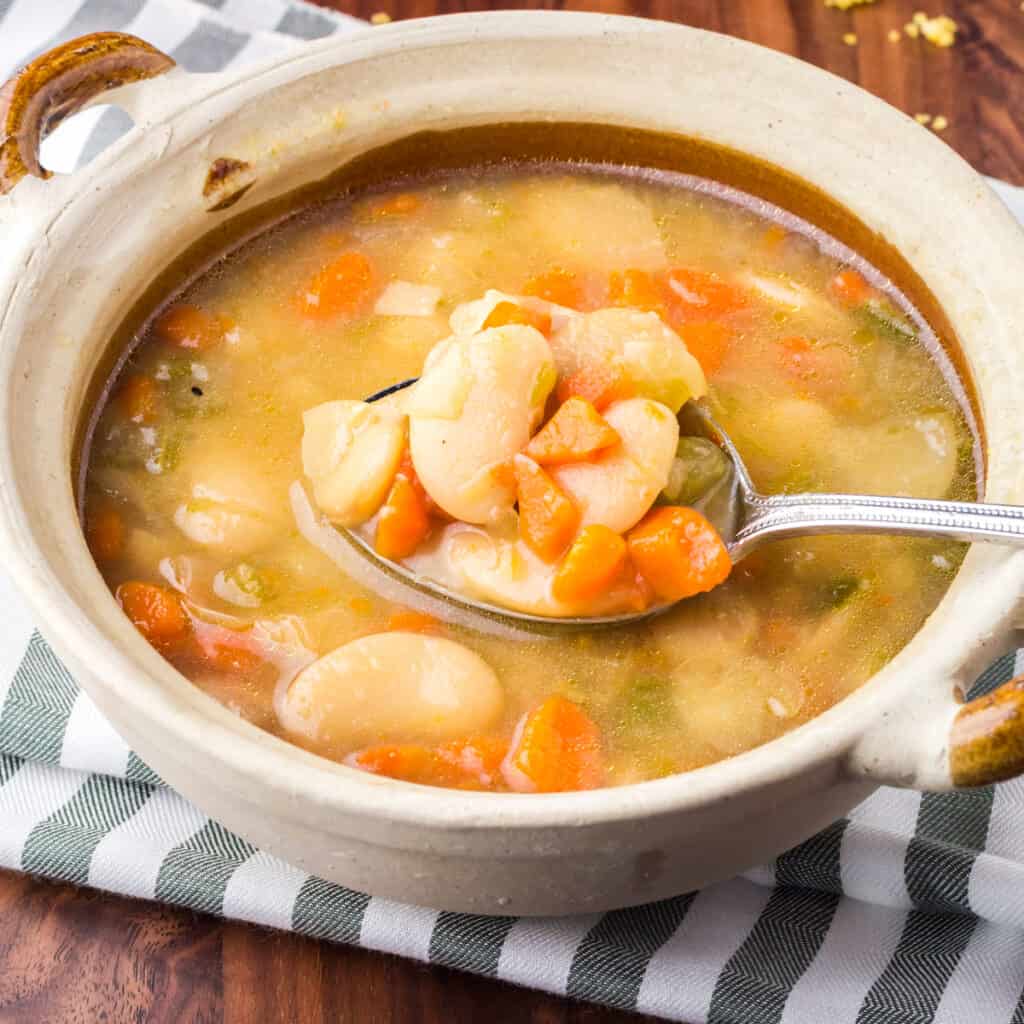 If you've never had butter, or lima beans before, you're in for a treat! The flavor of butter beans is milder than most, and the texture of the cooked beans is oh-so-creamy. When properly cooked, lima beans have a texture that is close to mashed potatoes. They are pillowy soft and silky smooth.
Butter Beans have been part of my life for as long as I can recall. My mammaw cooked them for my family constantly. She loved making them so much that she would even serve them in the hot summer months. Personally, I cook Butter Beans most often when the weather is cool and crispy, but they are wonderful at any time of year.
I think Mammaw would love this recipe.
Ingredients
The ingredients list for Butter Beans is humble and unintimidating. In today's wildly expensive grocery landscape, it's also worth pointing out that the ingredients are CHEAP. The recipe makes anywhere from 8-10 portions and freezes beautifully, so it is a great choice for your stomach AND your wallet.
To make Butter Beans, you need:
Carrots
Celery
Onion
Jalapeño- it doesn't make the beans spicy if you remove the seeds
Ham hock- basically a pig's ankle that is smoked and cured like bacon; it is absolutely essential to the flavor!
Large lima beans
Chicken stock- feel free to use homemade, store-bought or bouillon
Bay leaves
Black pepper
Garlic powder
Pepper juice- any juice from a jarred pepper like banana or pepperoncini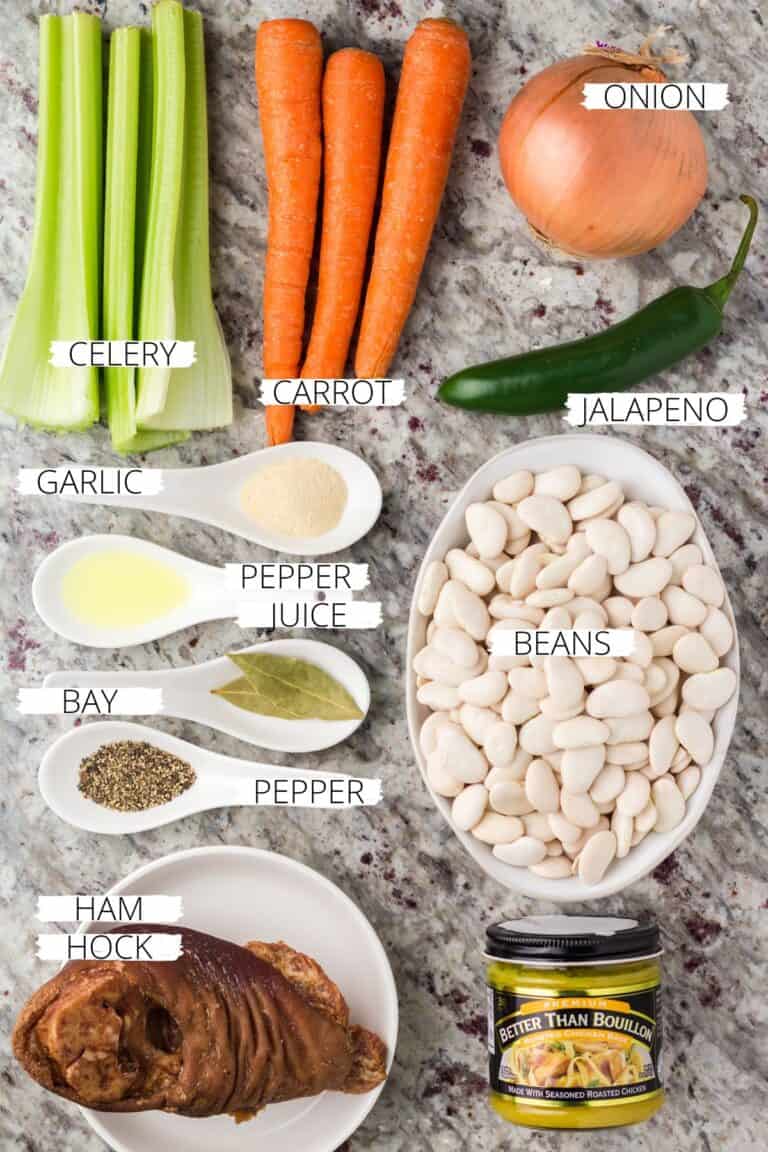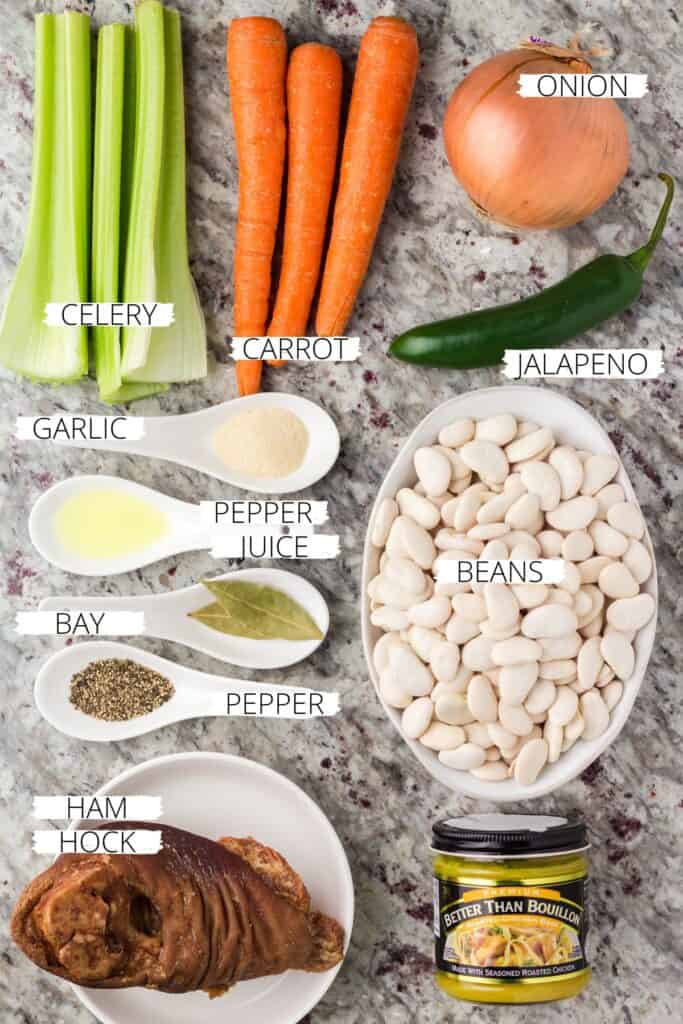 Instructions
This recipe is about as easy as they come. The most time-intensive part of making Butter Beans is chopping up the vegetables. After that, it is completely set-and-forget as long as you're using a slow cooker.
For those of you that are bean experts, you may have noticed that I do not recommend soaking the dried beans overnight. I tried every cooking method (stovetop, slow cooker, and pressure cooking) when recipe testing Butter Beans and experimented with soaked and dried beans for each method.
The combo that produced the best beans was cooking unsoaked beans in the slow cooker. When soaked, no matter how the beans were cooked, a lot of the beans burst from their skin while cooking which is not what we want.
To make the beans:
Chop the carrots, celery, onion and jalapeño. Saute for 5-7 minutes.
Add the beans, ham hock, bay, pepper, garlic powder and chicken stock.
Slow cook on high for 7-8 hours or until beans are soft.
Ladle into a bowl and garnish with 1-2 teaspoons pepper juice.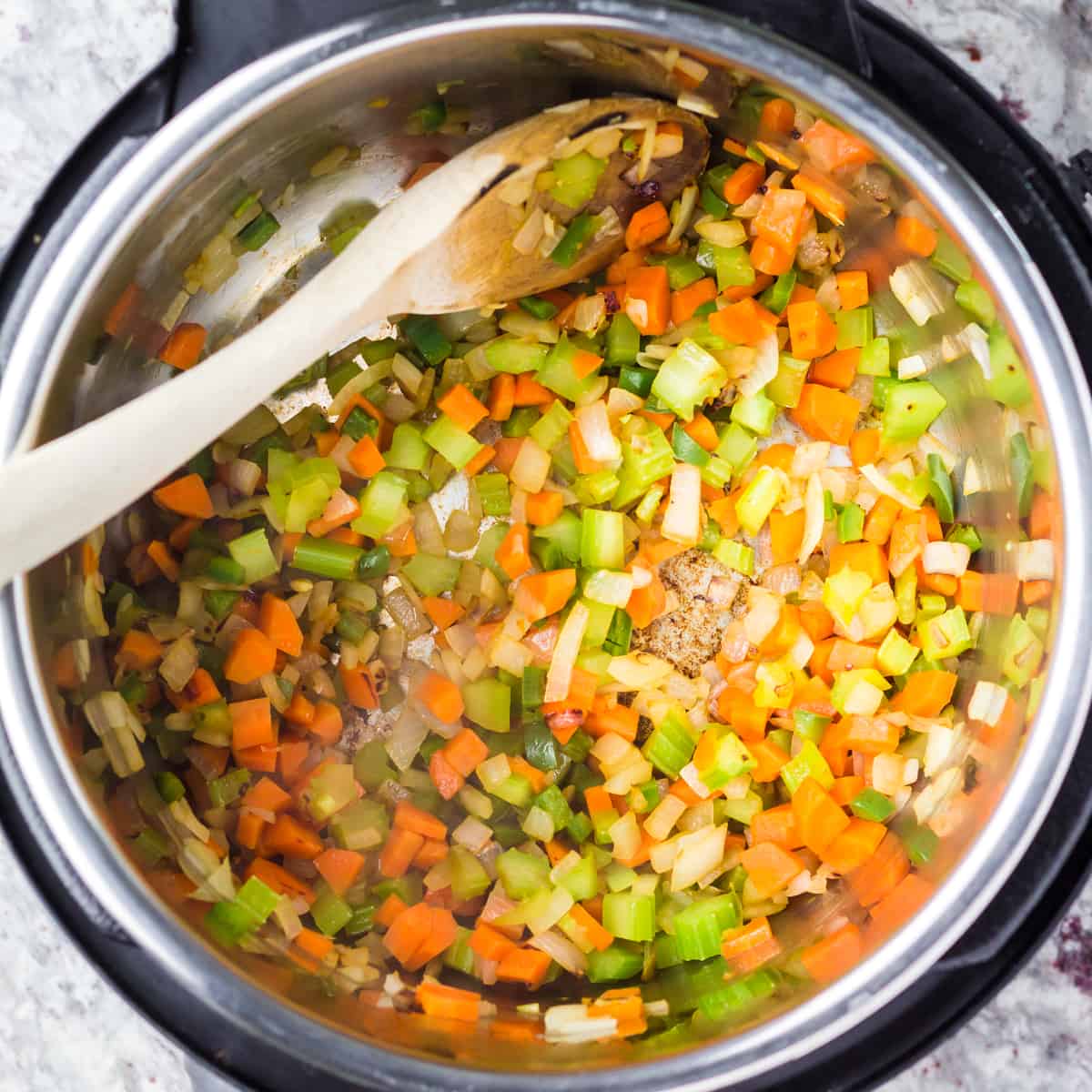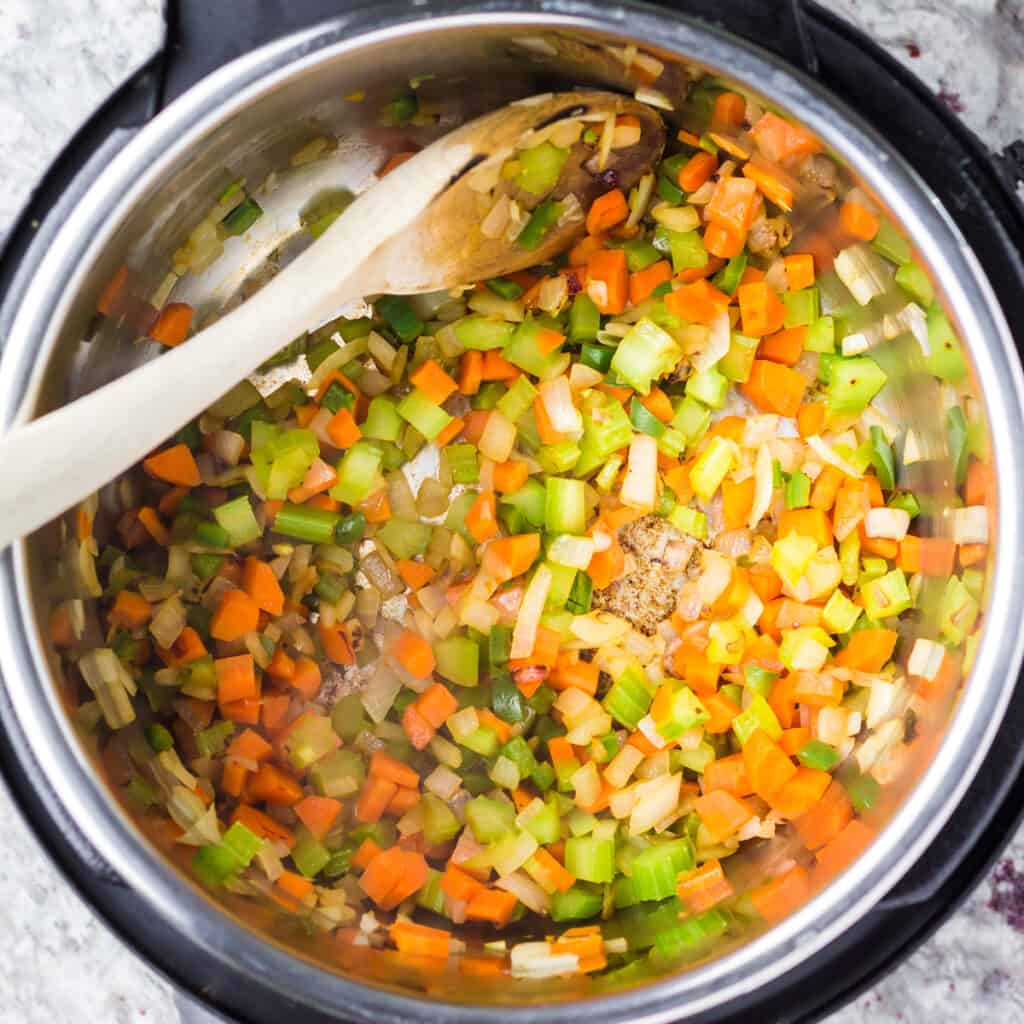 Variations
You could go one of two ways with my Butter Beans recipe- extra meaty or vegetarian. The recipe as it's written has meaty flavors from the chicken stock and ham hock, but no other meat. If you would prefer more protein, add in sliced beef smoked sausage about an hour before the cooking finished is done to heat through.
Alternatively, if you would like to make the beans vegetarian just replace the chicken stock with vegetable and omit the ham hock. Not using the ham hock will change the flavor of the recipe, so I recommend adding your favorite umami ingredient (something like Trader Joe's Umami Seasoning) to amp up the savory flavor.
Equipment
I make Butter Beans using the slow cook function on my Instapot. A traditional slow cooker or crockpot will also work. If you don't have a slow cooker of any variety, you can also make the recipe stovetop. Check out the notes section in the recipe below for more details.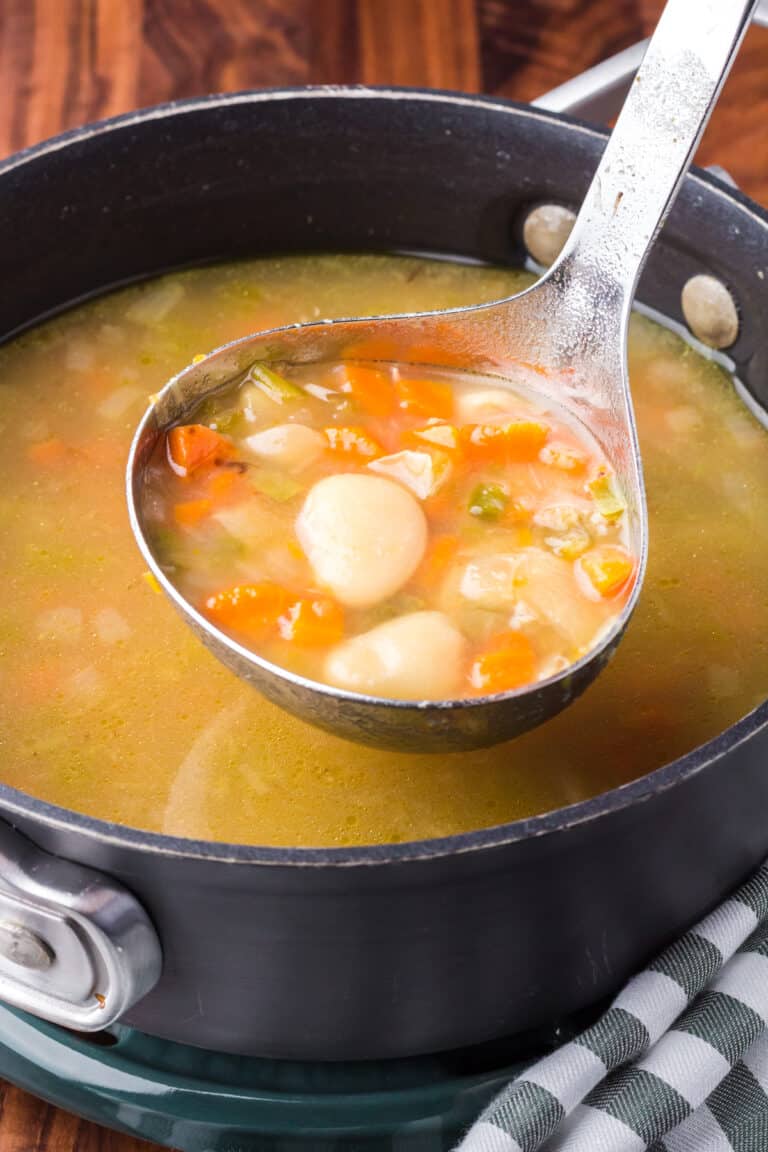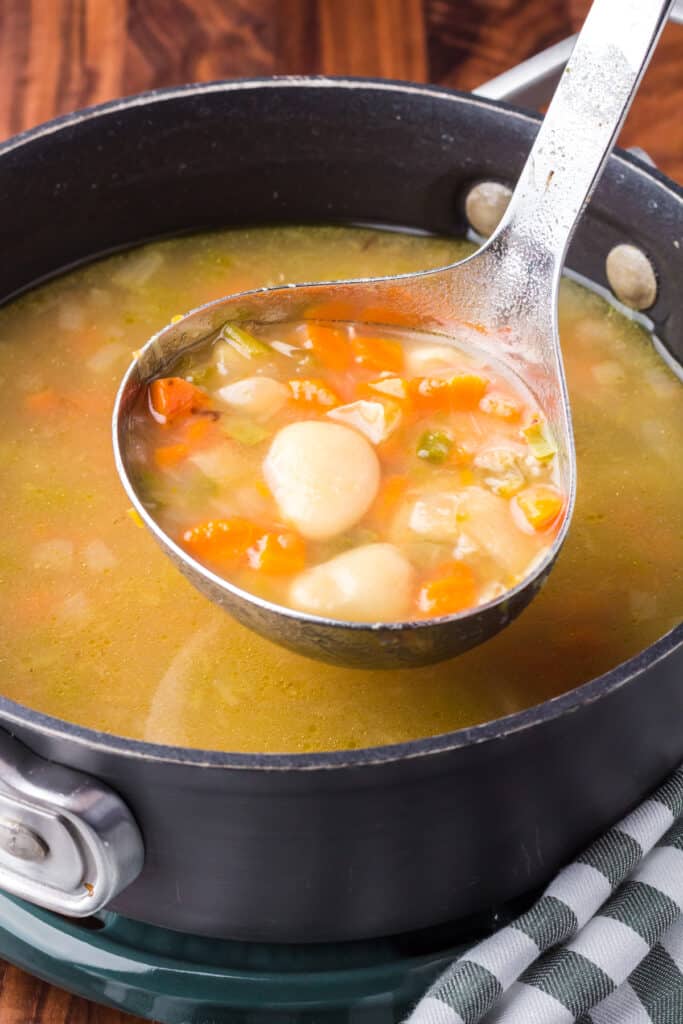 Storage
Serve: Ladle into a bowl while hot and garnish with 1-2 teaspoons of pepper juice.
Store: Store in an airtight container in the fridge for up to five days.
Freeze: This recipe freezes extremely well. Allow the beans to cool completely before portioning into individual servings for freezing.
Reheat: Can be heated directly from frozen or thawed. To thaw, place in the fridge for 24 hours. Use a microwave or stove on low to reheat.
Top tip
There are two ingredients in my Butter Beans recipe that take the flavors to extraordinary- the ham hock and the pepper juice. Ham hocks may look somewhat terrifying, but they are the backbone of so many delicious southern slow-cooked dishes. Look for ham hocks in the meat section of the grocery store, typically near sausages.
Pepper juice as a finisher is something I picked up in my adult life. Mammaw didn't include a garnish of pepper juice, but it adds the perfect acidic zing to a very earthy and unctuous recipe. It is listed as optional, but don't skip out!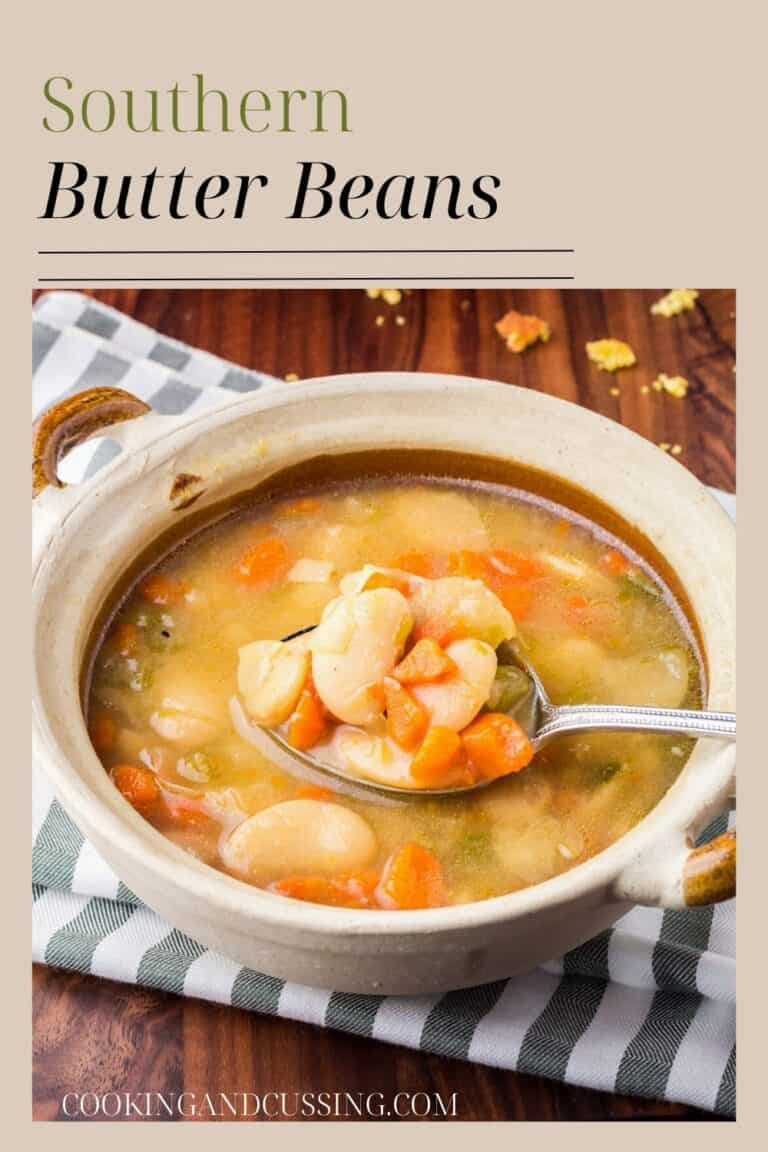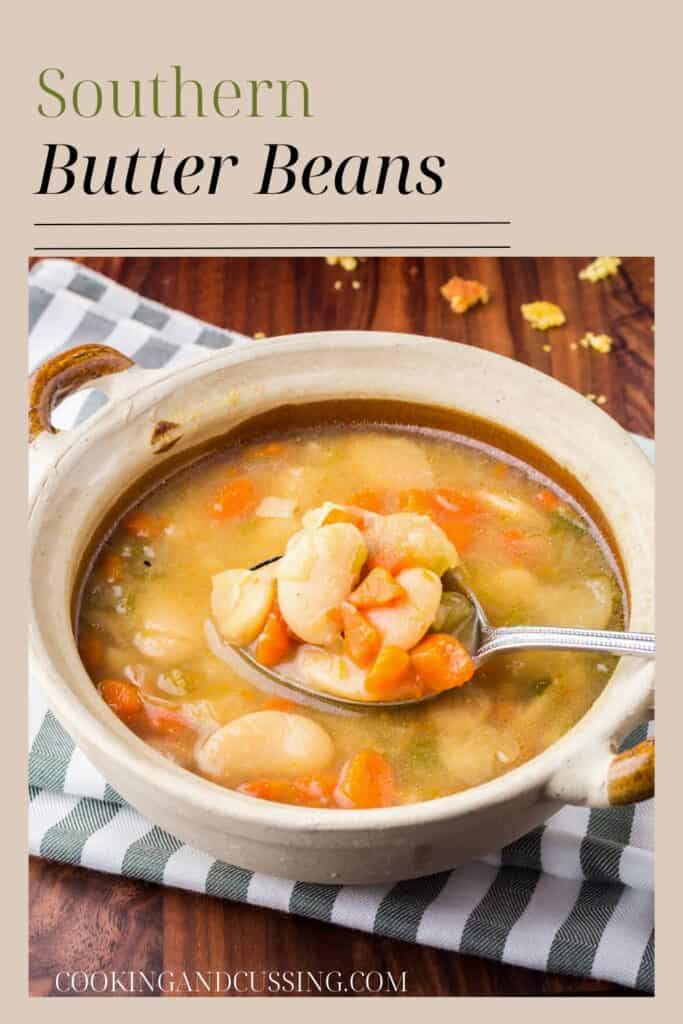 There is absolutely nothing better with Butter Beans than cornbread so be sure to checkout my Jiffy Jalapeño Cornbread. A close second would be homemade biscuits like my Buttermilk Biscuits. Crackers are also an option if you want to keep it simple.
Butter Beans are a part of the fabric of my food history. They are one of my favorite things to eat not only because they're tasty but also because of the memories they evoke for me. I hope you have a chance to try Butter Beans and feel the comfort of Mammaw's table. Let me know what you think in the comments section below.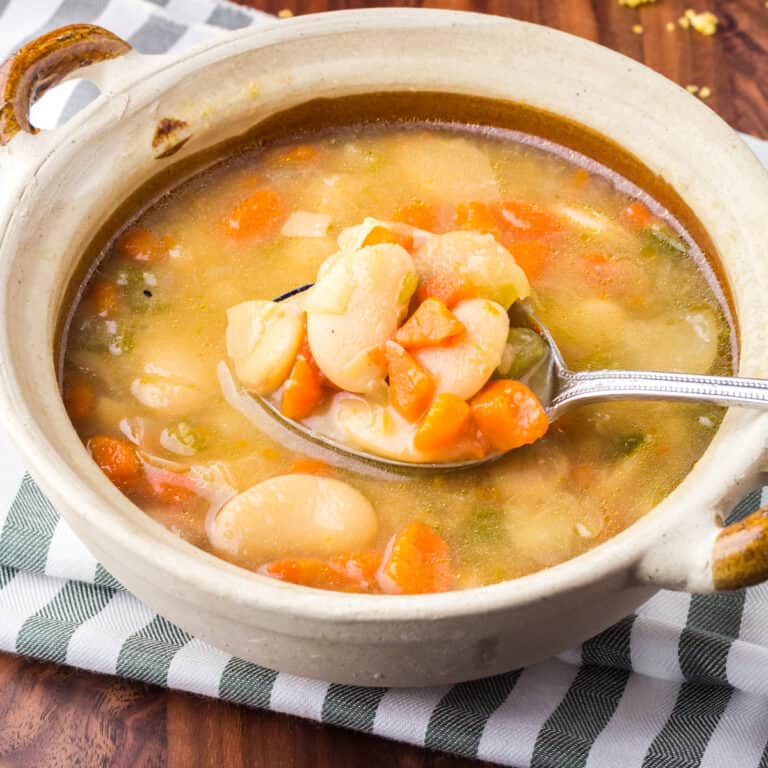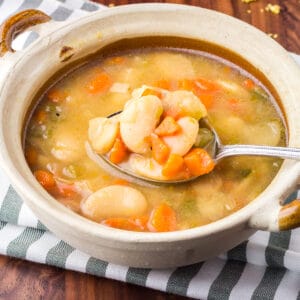 Butter Beans
Butter beans, or lima beans, are the perfect Southern comfort food. The ingredients are inexpensive, the recipe is simple, and the flavors are delicious!
Equipment
1 slow cooker

or instapot with slow cook function
Ingredients
1

cup

diced carrot

1

cup

diced celery

1

cup

diced onion

¼

cup

finely diced jalapeño

seeds removed

2

Tb

olive oil

16

oz

large lima beans

1

ham hock

2

bay leaves

1

tsp

garlic powder

½

tsp

ground black pepper

10-12

cups

chicken stock

¼

cup

pepper juice*

optional garnish
Instructions
Optional: Saute the diced vegetables for 5-7 minutes over medium heat.

Add diced veggies along with all of the other ingredients (except for pepper juice) to a slow cooker or Instapot with a slow cooker function. If you don't have either, check out the notes for stovetop instructions. Add enough chicken stock to cover all the ingredients by 2 inches.

Set your slow cooker to high and cook the beans for 7-8 hours. Remove the bay leaves before serving. Ladle into a bowl and add 1-2 tsp of pepper juice.
Notes
If you don't have a slow cooker, you can prepare the beans on the stove in a large pot or dutch oven. Once you have added the chicken stock, bring the liquid to a boil. Once boiling, turn the heat down to a simmer and cover with a lid. I like to leave the lid cracked open just a bit to let some steam escape. The beans will take 5-6 hours on the stove but will need to be stirred every 20 minutes to prevent the bottom from burning.
*Pepper juice is the brining liquid from any jarred pepper like banana or pepperoncini.
Frequently Asked Questions
I don't have a slow cooker. Can I make the recipe on the stove?
Yes. Details are listed in the notes section of the recipe.
Can I add more meat to the recipe?
Sliced smoked beef sausage or diced ham steak would make good additions. Add to the pot when there is an hour of cooking time left.
Can I make the recipe vegetarian?
Yes. Use vegetable stock instead of chicken and omit the ham hock. Use an umami seasoning to add back some savory flavors.
The following two tabs change content below.

Hey-ooo! I'm Hailey, and I'm a number cruncher by day and cussing cook by night. I created this site to share my love for delicious food that feeds the soul as well as the belly. I hope my recipes have you running to the kitchen to cook some damn good grub!