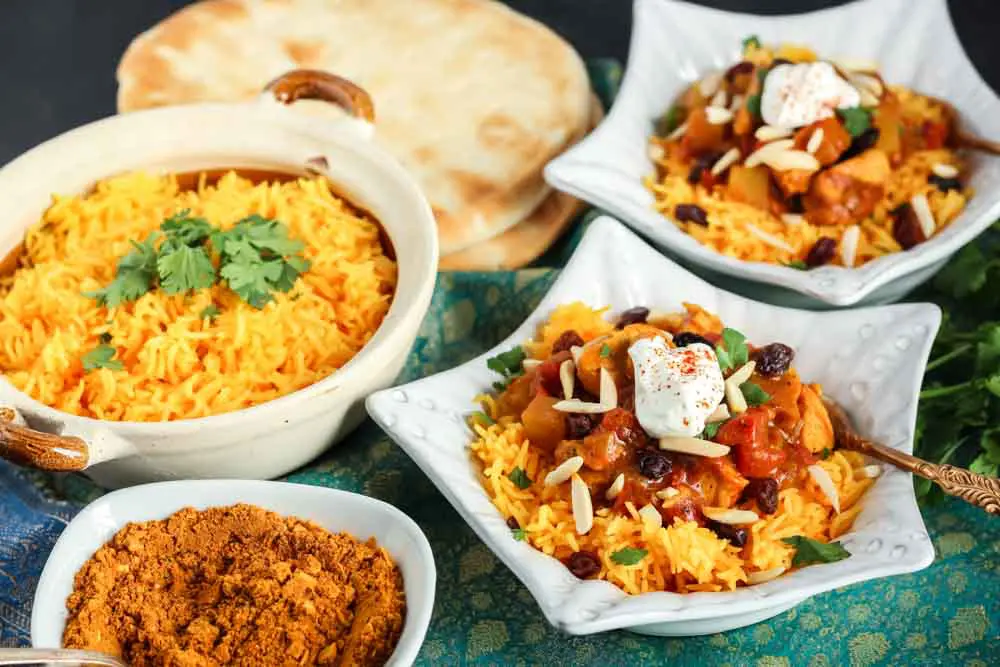 Easy Chicken Curry is one of those recipes you'll return to again and again. The rich sauce tastes like it has been simmered for days. It has all the flavors imaginable including smoky, earthy, sweet, spicy, sour, and salty, but the beauty of this recipe is it can easily be prepared in less than 30 minutes!
Although Indian and Thai foods are now two of my favorites, we didn't have either often when I was growing up, so curry was sort of cloaked in this veil of mysticism. My mammaw used to make an old school Country Captain Shrimp recipe that I loved, but I don't even think I realized that it included curry powder as a kid.
Once I started exploring the kitchen, curry powder was one of the first spices that opened my imagination to all the flavors we can create with simple, dried spices. I tried cooking with curry for the first time when I was about 12 after seeing it in a cookbook, and ever since then, it has been a regular in my arsenal.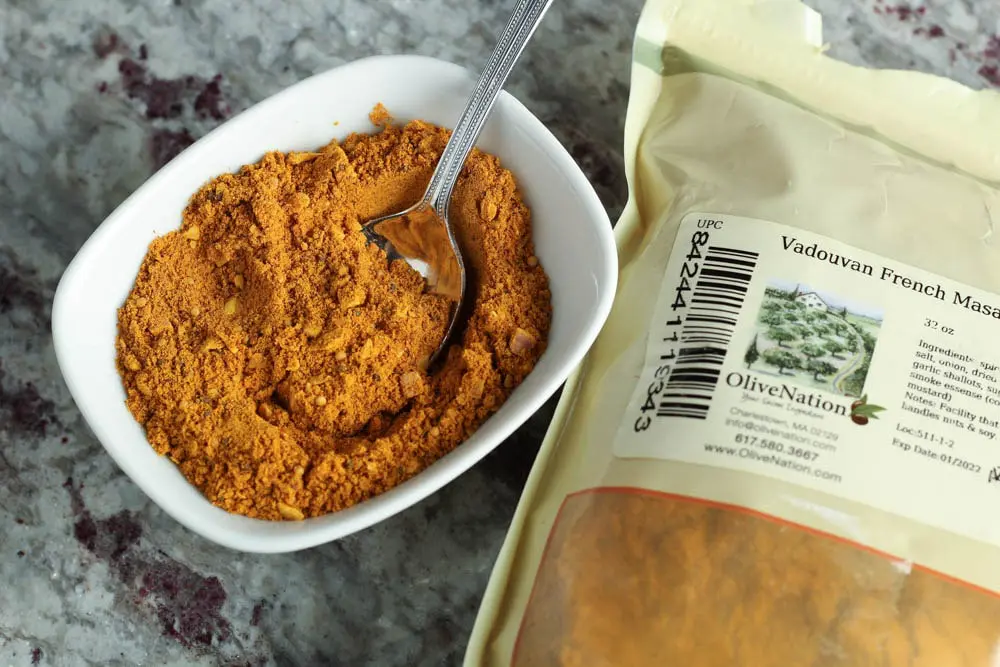 Maybe many of you still feel like you have to go out to eat to get a good curry because you aren't sure how to create those flavors. Let me assure you that just isn't the case!
I originally published this Easy Chicken Curry recipe in my first few months of blogging because it's a favorite in my family, but I realized over time that the recipe wasn't a reflection of how I make it in my own kitchen. The new recipe featured below is exactly how I throw it together at home.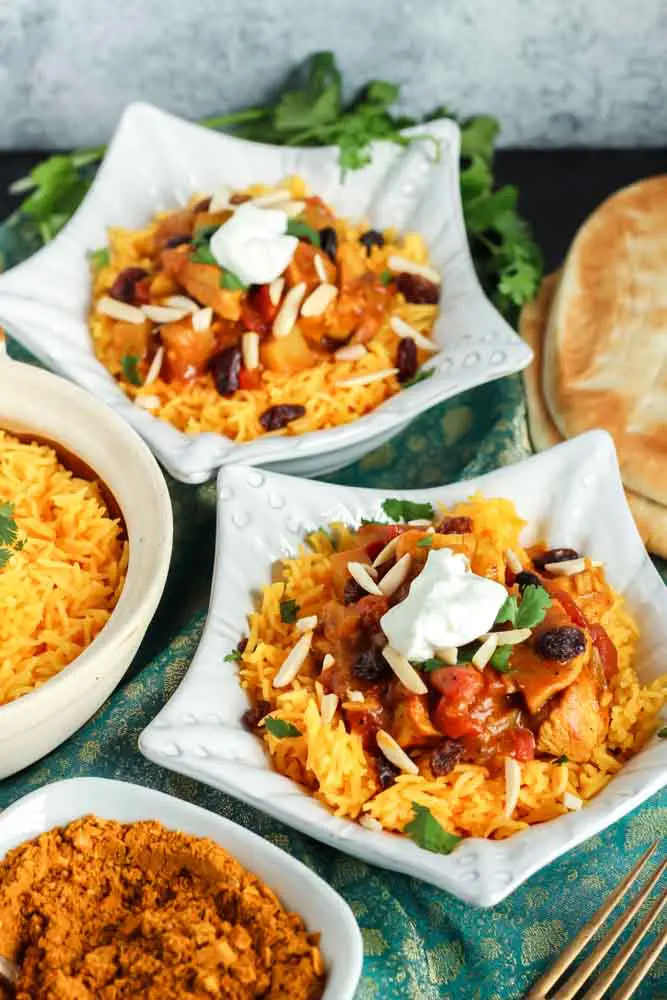 What is Chicken Curry?
Simply put, Chicken Curry is just chicken that has been seasoned with curry powder and cooked in a tomato-based or creamy sauce. Chicken Curry is the Westerners version of Chicken Tikka Masala, Chicken Korma, or my personal favorite, Butter Chicken. My Easy Chicken Curry recipe is a combination of my favorite parts of these different recipes, compressed down into an easy-to-make format that is approachable and delicious!
What type of curry powder should you use?
You could write a novel about curry powder, but I'll leave that to the experts. Curry powder, in short, is a delectable combination of sweet and earthy spices. It typically includes cumin, turmeric, coriander, mustard, and some combination of sweet spices like clove and cinnamon.
Curry powder is basically the gringo cousin of Garam Masala, a more traditional Indian spice, although their flavor profiles are very similar. I find Garam Masala to be more pungent in flavor and slightly less sweet. Either would work for this recipe, but my personal favorite curry to use is Vadouvan.
Vadouvan curry (pronounced vah-doo-vahn) is a French style curry that includes aromatics like garlic, shallot and onion. We like it so much at my house that we buy in bulk. Brands I love include Jansal Valley or OliveNation if you want to buy in bulk too. Both can be purchased from Amazon.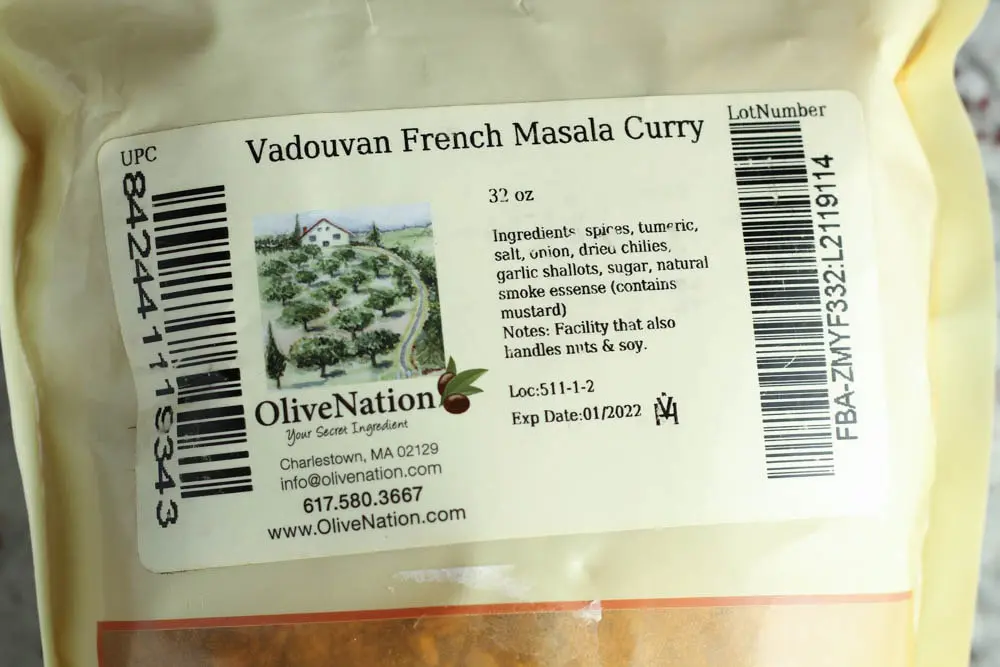 Is Chicken Curry hard to make?
Not at all! Once you get the base recipe down, you'll love playing with the levels of sweet and heat or trying out new spices to include like coriander or cardamom. The ingredients for this recipe are all easy to find and inexpensive. To make my Easy Chicken Curry recipe you'll need:
onion
potato
ginger
garlic
boneless skinless chicken breast
curry powder
coconut milk
tomato paste
canned tomatoes
brown sugar
ground cinnamon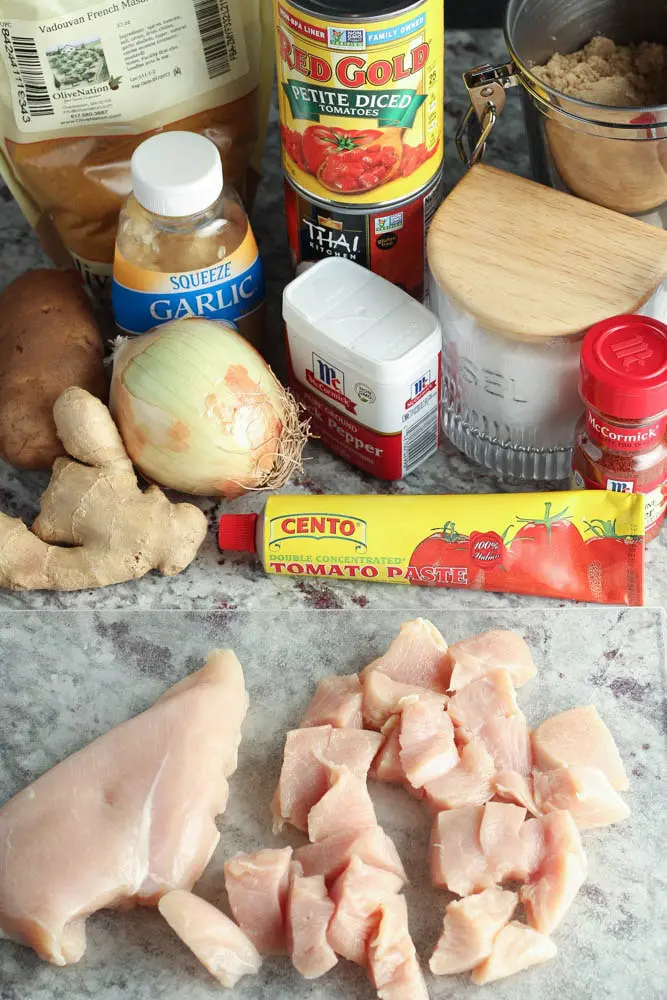 How to prepare fresh ginger
I like using fresh ginger over ground dried ginger in my cooking. The powder works well for baking, but it doesn't give the same spice to cooking that fresh does. In a pinch it works, but I always have fresh ginger on hand in my freezer.
I'm sure you're thinking, "In your freezer?!" Yes, that's right. As soon as I get home with my ginger from the store, I peel it and throw it in a plastic storage bag and store it in the freezer for up to 6 months. I then just use a grater to grate the frozen ginger into recipes. I learned this tip from Rachel Ray back in the day.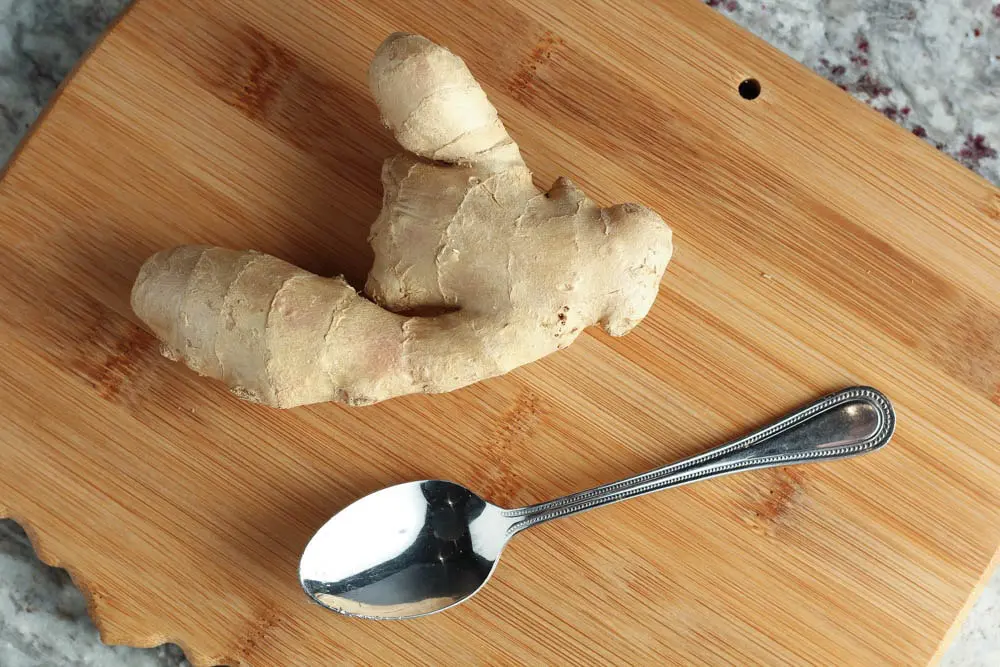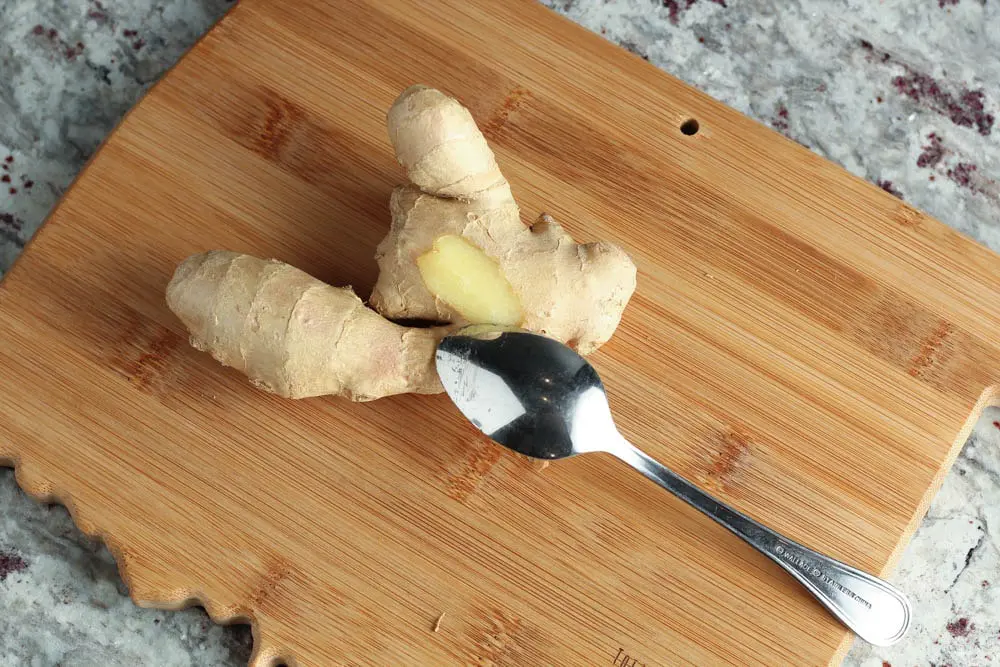 Peeling ginger is also something worth discussing for a moment. Please don't try to peel ginger with a knife, even a small one. Because of its odd shape, you'll be lucky to keep your fingers intact if you peel with a knife. Instead, try a spoon. With the concave side of the spoon pointed towards the ginger, gently scrape the skin off.
Also, be sure to peel the ginger before freezing it. It's almost impossible to peel once frozen.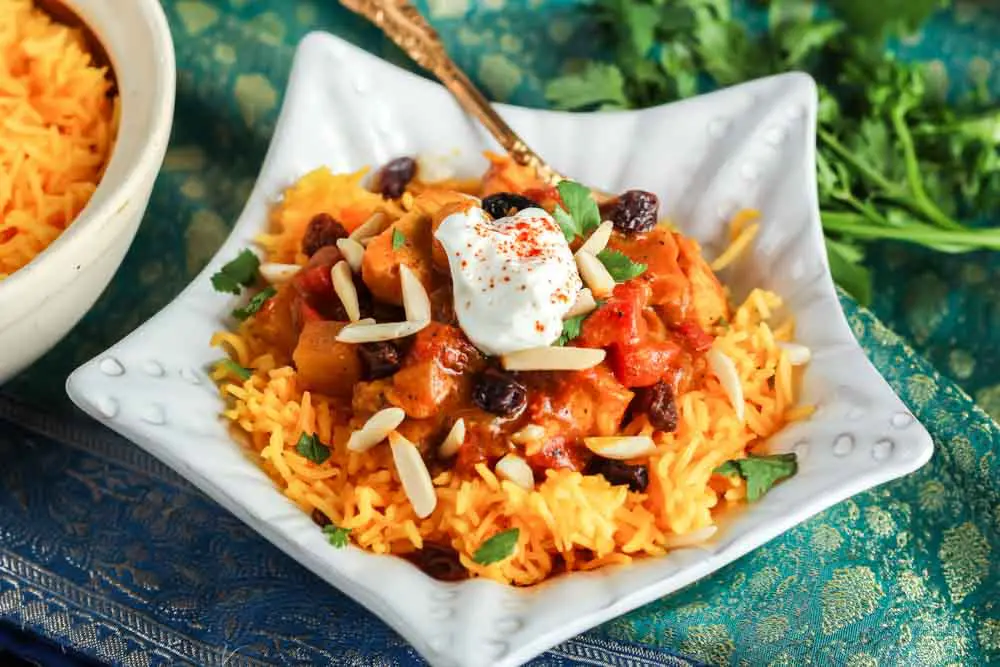 Tips for preparing Easy Chicken Curry
This recipe is a one-pot dish that comes together quickly, so it's best to have all of your ingredients prepared and ready before firing up the stove. I like to use minced garlic from the tube (yep, it's easier and faster), and since I have frozen ginger on standby, it's ready to go. Peel and dice the potato and onion into a small dice.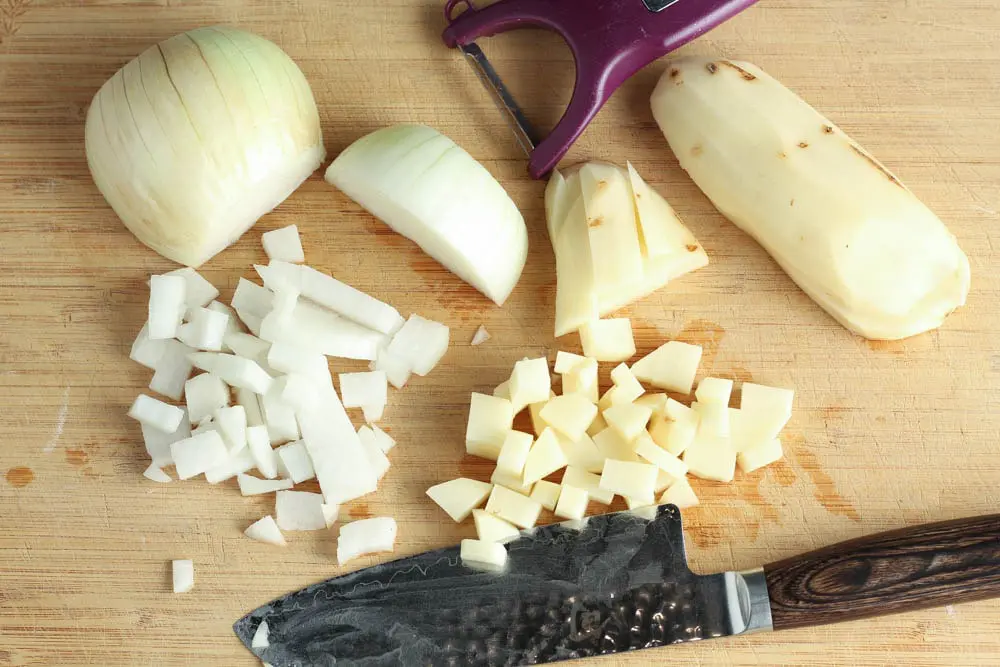 On a separate cutting board, dice the chicken into 1-inch pieces. You can also use chicken thighs in this recipe if you enjoy dark meat.
Once you have all your meat and veg ready to go, gather up the remaining ingredients and fire up the stove. This recipe is all about layering flavors, and the first step is establishing our base aromatic flavors with onions, garlic and ginger.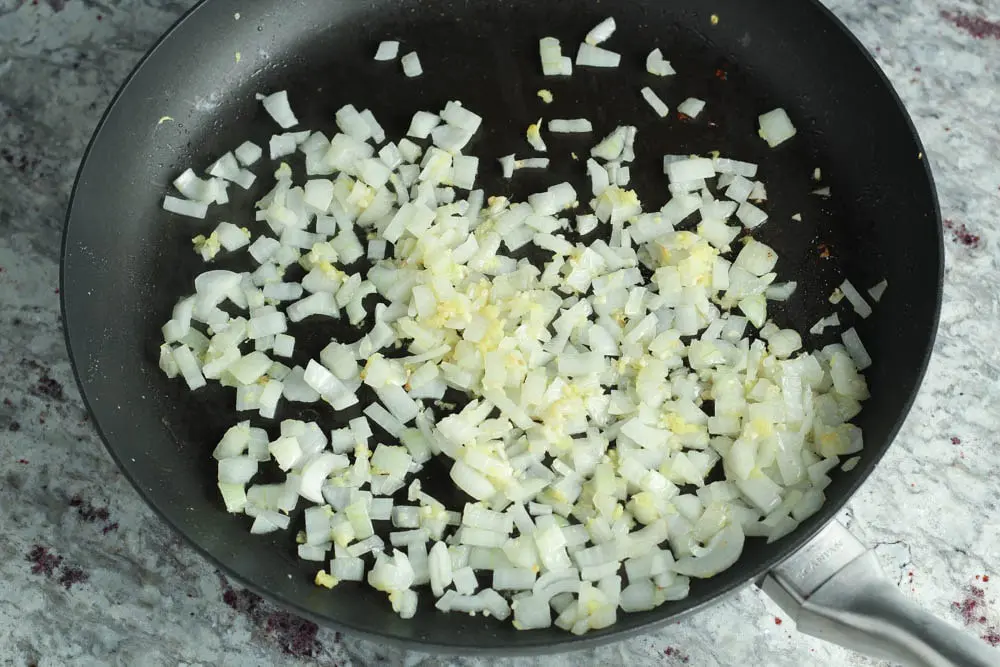 This combination is like carrots, onions, and celery (mirepoix) to French food or green peppers, onions, and celery (the holy trinity) to Cajun recipes; basically, it's f*cking important. Be sure not to burn the garlic and ginger, or the sauce will have a bitter taste.
Once the aromatics are going, add the diced potatoes and chicken. The potatoes need enough time to become tender, so I like to add them along with the chicken. When all of the pink is gone from the chicken, start building the sauce.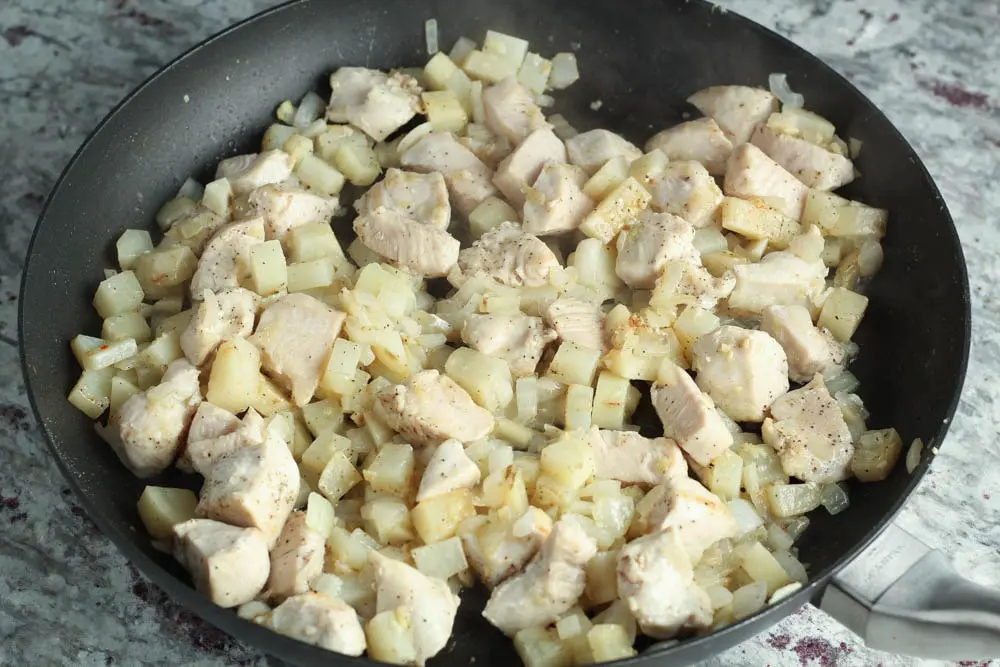 You need a lot, and I mean a shit ton, of curry powder to give this recipe the robust flavor of a good curry. Don't be afraid.
The recipe calls for a quarter cup, and you should not add any less than that. The acidity from the diced tomatoes and the sweet creaminess of the coconut milk will mellow out all the curry powder.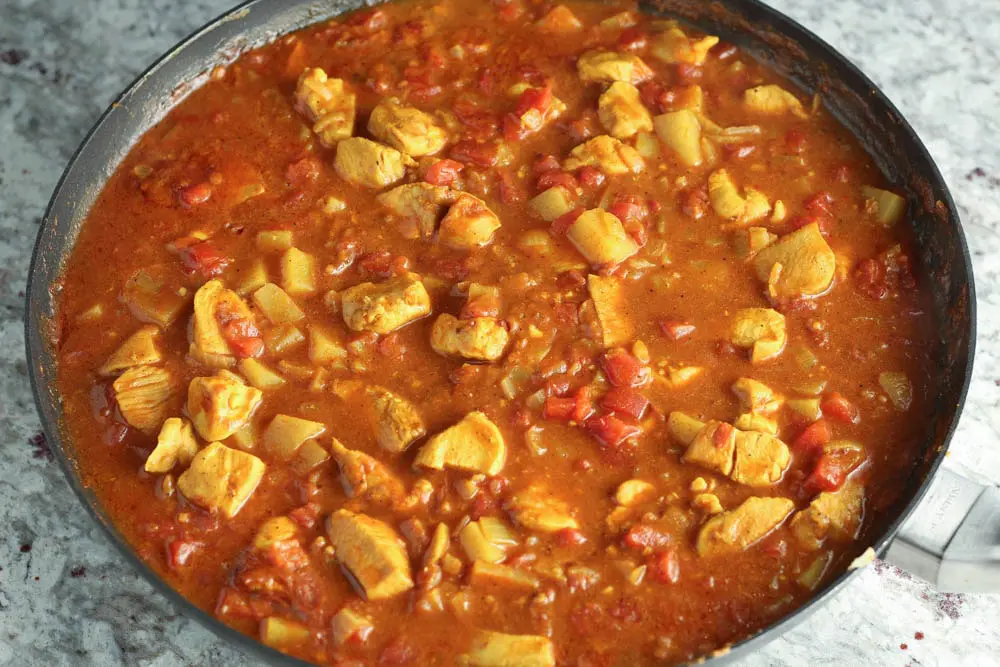 What to serve with Easy Chicken Curry?
The classic pairing with Chicken Curry is, of course, rice, and my Perfect Basmati Rice recipe gives you the foolproof technique for fluffy, flavorful basmati rice every single time. (No more porridge rice!)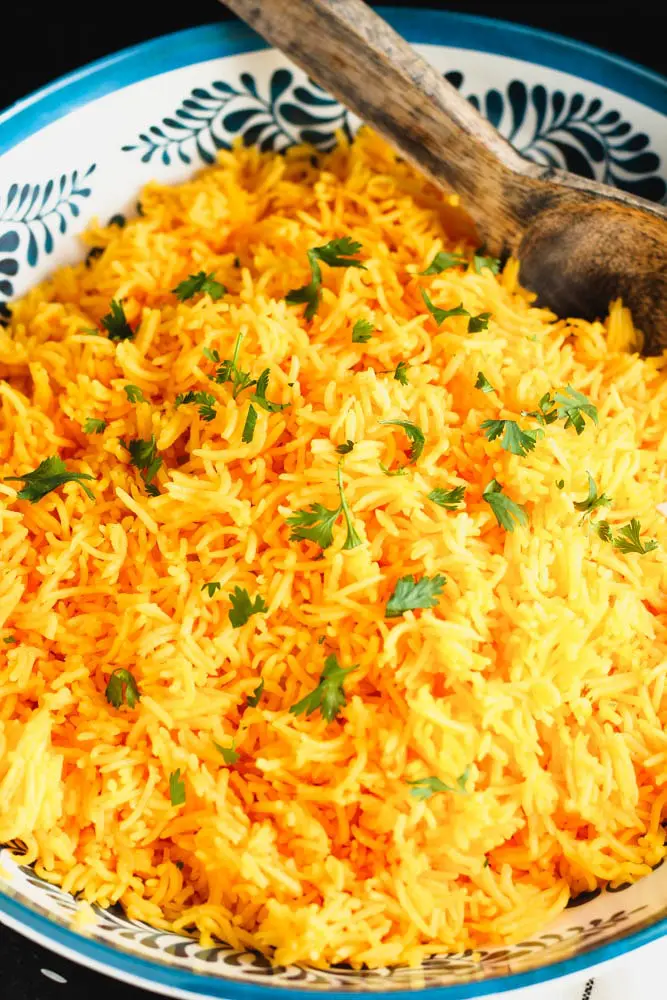 Along with rice, I love to buy store bought naan or pita bread for dipping. I like to finish my Easy Chicken Curry with raisins, slivered almonds, chopped cilantro and a dollop of Greek yogurt. All of these garnishes are optional. I think these finishing touches take the recipe to restaurant quality with very little extra effort.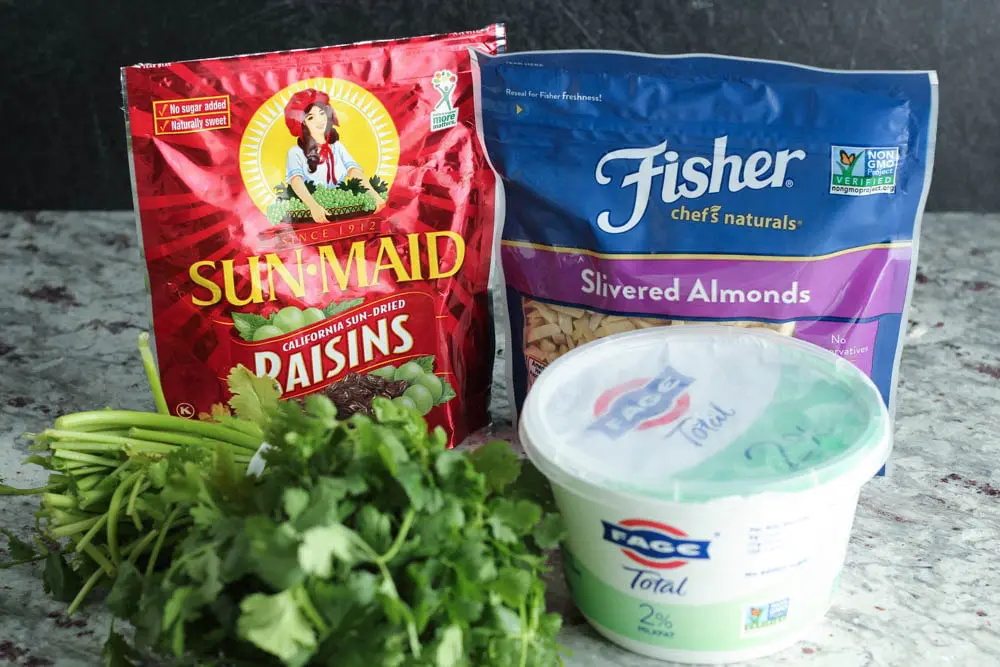 Can you make Easy Chicken Curry ahead of time?
Absolutely. Easy Chicken Curry can be made up to three days in advance and kept in an airtight container in the fridge.
If you have any other questions about the ingredients or techniques in this recipe, please leave a comment below, and I'll get back to you ASAP.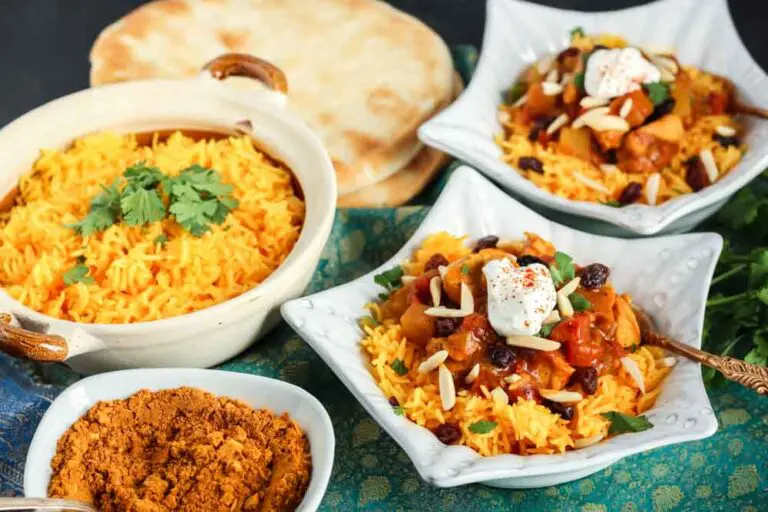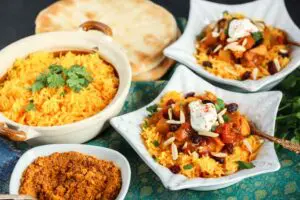 Easy Chicken Curry
All the complex flavors of Indian takeout in a fraction of the time. Chicken and potatoes are smothered in a rich, spice-filled tomato sauce with earthy, sweet, salty and sour notes. Served over a bed of fluffy basmati rice, Easy Chicken Curry is the perfect quick dinner.
Ingredients
Chicken Curry
1

yellow onion

1

small russet potato

1

Tb

fresh ginger*

1

clove

garlic

1

lb

boneless skinless chicken breasts

1

tsp

kosher salt

½

tsp

ground black pepper

¼

C

good quality curry powder

14

oz

can unsweetened coconut milk

1

Tb

tomato paste

14.5

oz

can petite diced tomatoes

1

Tb

brown sugar

¼

tsp

ground cinnamon

¼

tsp

cayenne pepper

optional

2

Tb

olive oil
Garnish
Perfect Basmati Rice

naan

2

Tb

cilantro

roughly chopped

slivered almonds

raisins

Greek yogurt
Instructions
Peeling the potato is optional and up to personal preference. Dice the onion and potato into a quarter-inch dice. Make sure to chop the potato into small pieces or it won't cook through.

Finely mince the garlic clove and grate the fresh ginger.

Heat a large nonstick saute pan or wok with 2 Tb of olive oil over med-high heat. Drop in onions, ginger and garlic and let saute for 2-3 minutes or until softened.

Dice the chicken breast into 1-inch chunks and add to the sauteed onions. Add the diced potatoes. Season with salt and pepper and stir to combine. Leave undisturbed for 3 minutes. Stir and cook for another 2 minutes or until there is no pink left.

Add the curry powder. Stir to combine and cook for another 2 minutes. Add the tomato paste, diced tomato, brown sugar, cinnamon and coconut milk and mix well. Add the cayenne now if you like your curry on the spicy side.

Bring mixture to a low boil and lower heat to medium. Cook for 5 minutes, stirring often, and then reduce heat to low. Simmer for another 3 to 5 minutes until sauce reaches desired thickness and potatoes are fork-tender.

Serve over Perfect Basmati Rice with a side of naan. Garnish with a dollop of Greek yogurt and a sprinkle of cilantro, raisins, and almonds.
Notes
* I like to keep my fresh ginger in the freezer. See my notes above about how to prepare ginger before freezing.
Frequently Asked Questions
What kind of curry powder should I use?
I prefer Vadouvan curry (pronounced vah-doo-vahn) which is a French style curry that includes aromatics like garlic, shallot and onion, but any curry powder will work.
Can I use dried ginger powder instead of fresh?
Yes, but fresh ginger will give the recipe a lot more flavor. You can keep fresh ginger longer by storing it in the freezer. See my "How to prepare fresh ginger" section above.
How should I prepare rice to serve with Easy Chicken Curry?
Check out my Perfect Basmati Rice post for a foolproof method.
The following two tabs change content below.

Hey-ooo! I'm Hailey, and I'm a number cruncher by day and cussing cook by night. I created this site to share my love for delicious food that feeds the soul as well as the belly. I hope my recipes have you running to the kitchen to cook some damn good grub!