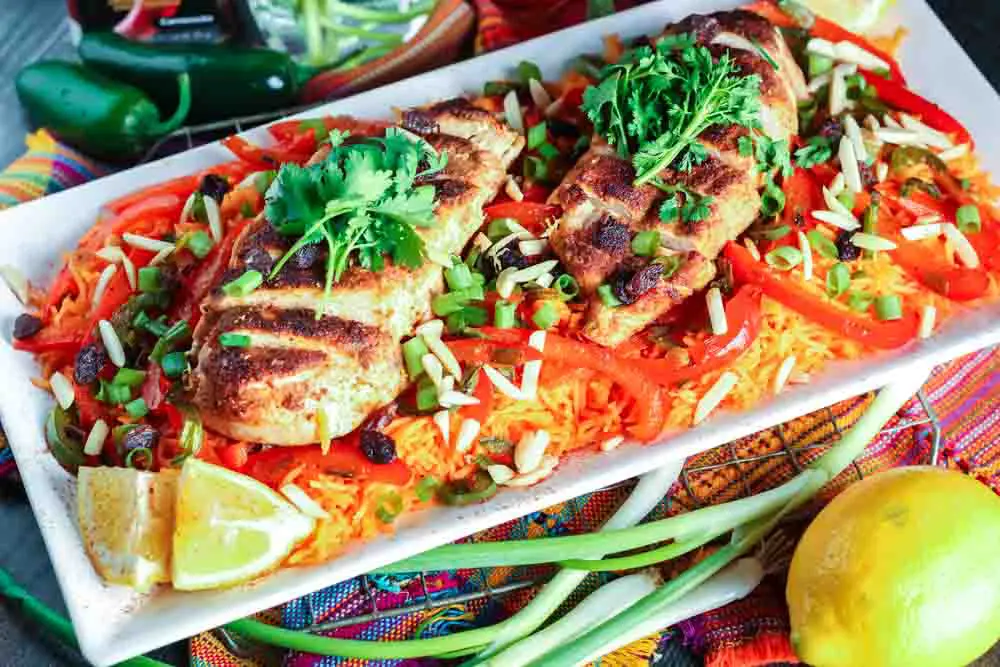 Easy Spanish Chicken and Rice is a quick weeknight dinner packed with flavor. This recipe includes an awesome little spice trick called Sazon that gives the rice authentic color and taste with one easy seasoning packet. Top that rice with seasoned chicken and peppers, and dinner is served!
I kept my Spanish Chicken and Rice recipe super simple, but I promise it still packs a punch. The garnishes really bring this Chicken and Rice to life.
What makes this Spanish Chicken and Rice recipe so easy?
Easy Spanish Chicken and Rice includes a handful of ingredients, requires no special equipment, and is ready in less than 30 minutes. I would say that's pretty damn easy.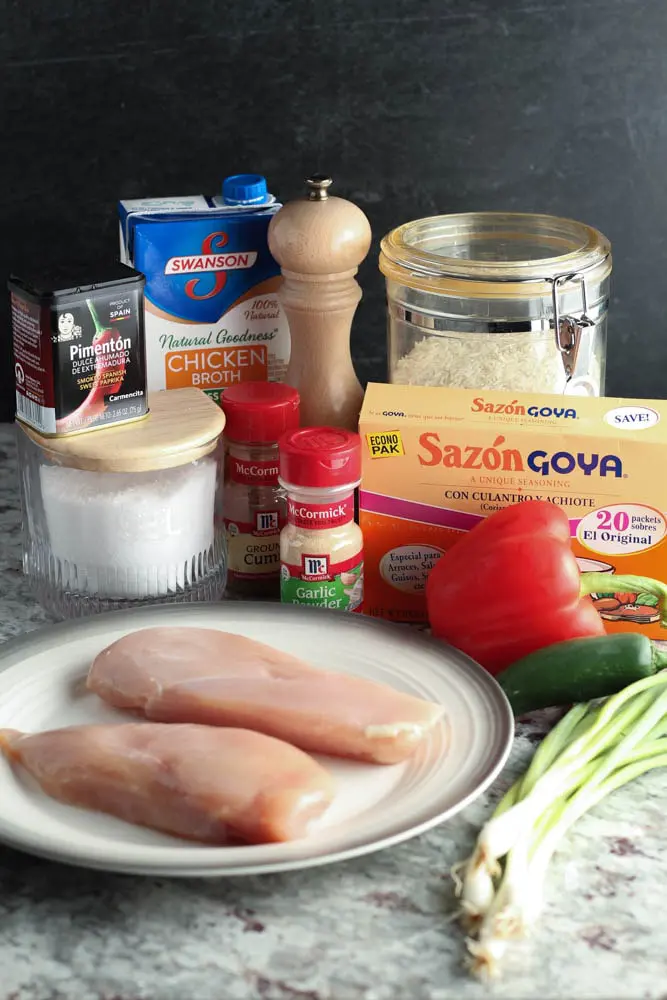 If you want to speed up this recipe even more, you could use rotisserie chicken or frozen cooked chicken instead of cooking the chicken yourself.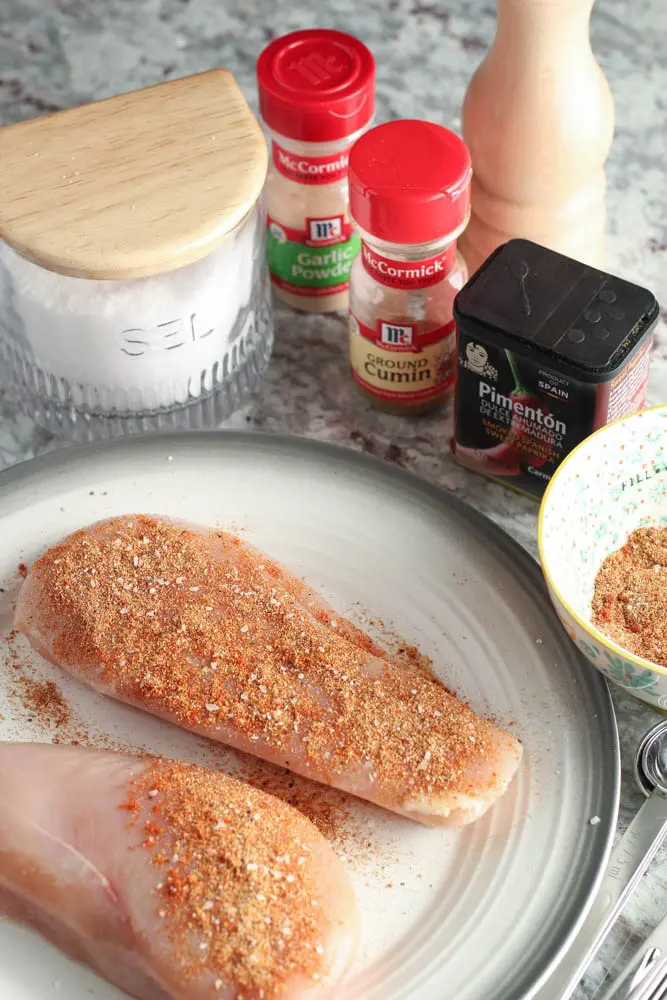 Don't let the seasoning mix go to waste though! If you're going to use store-bought cooked chicken, cut the seasoning mixture recipe in half and season the peppers and onions to taste.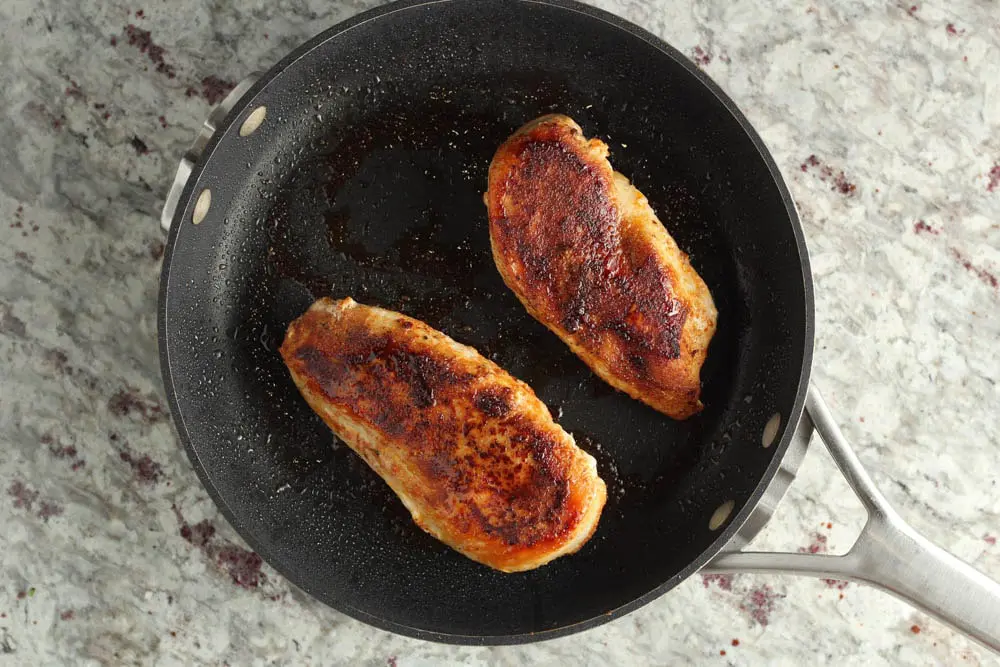 But I don't think cooking rice is that easy…
Well-seasoned, perfectly cooked rice is a great way to start any weeknight dinner, but I know many of you are thinking, "Cooking rice is the opposite of easy, bitch." I, too, was on the rice struggle bus for many years. My rice always overcooked and never light and fluffy.
That was until I documented my foolproof recipe for Perfect Basmati Rice.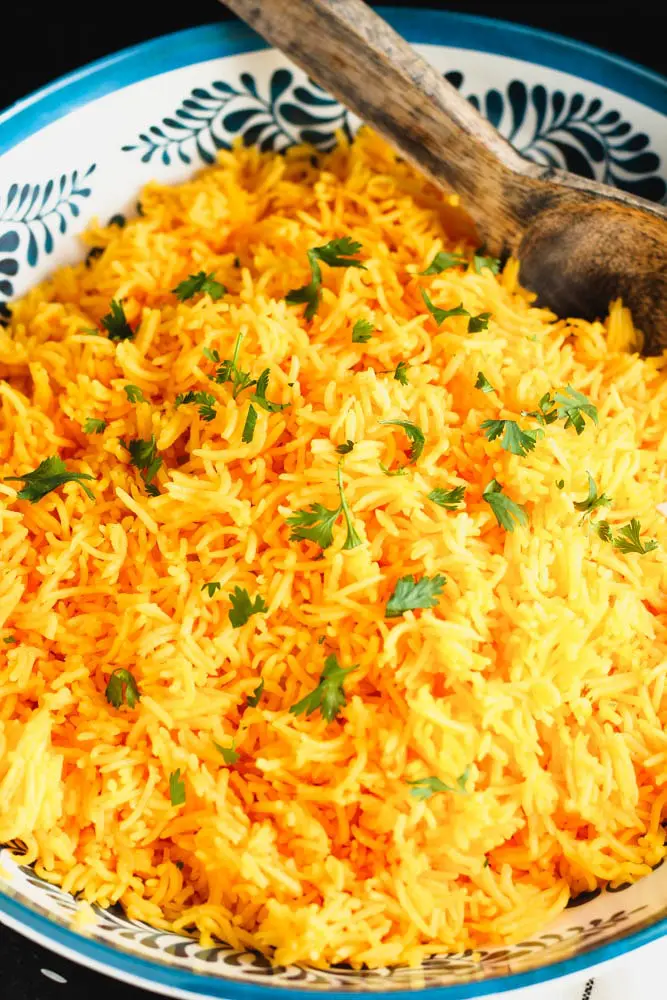 I've found the method outlined in that post to be failproof, but if you have your own way of making rice that you trust, go with it.
I'm not reading a second post just for a rice recipe…
No problem! All the tips and techniques you need for perfectly cooked rice are in my Perfect Basmati Rice post, but if you can't be bothered to read another recipe post then I'll cover the most important tip here.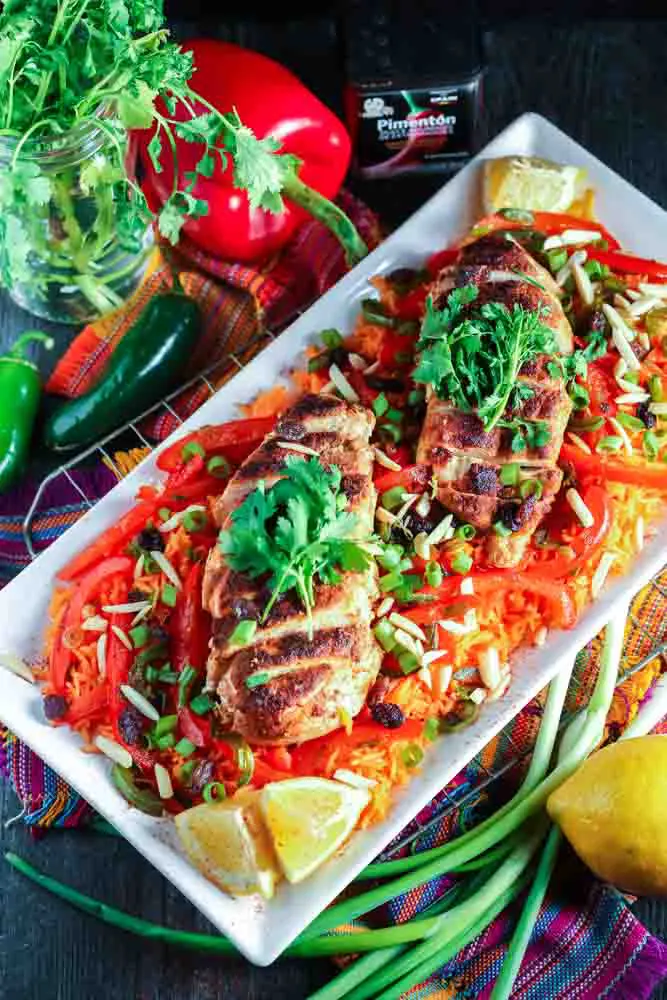 I like to rinse my rice well and then soak it for 30 minutes before cooking. I've found this ensures you remove all the excess starch from the rice and end up with lovely individual grains of fluffy rice.
Can I use 90-second or boil in a bag rice for Spanish Chicken and Rice?
Shortcuts are always an option, but you may sacrifice some flavor in the pursuit of faster prep times. My only heartburn about using fast-cook rice is that you will have to leave out my beloved Sazon seasoning. For this particular recipe, I use the cilantro y achiote variety, and it brings so much flavor to the dish.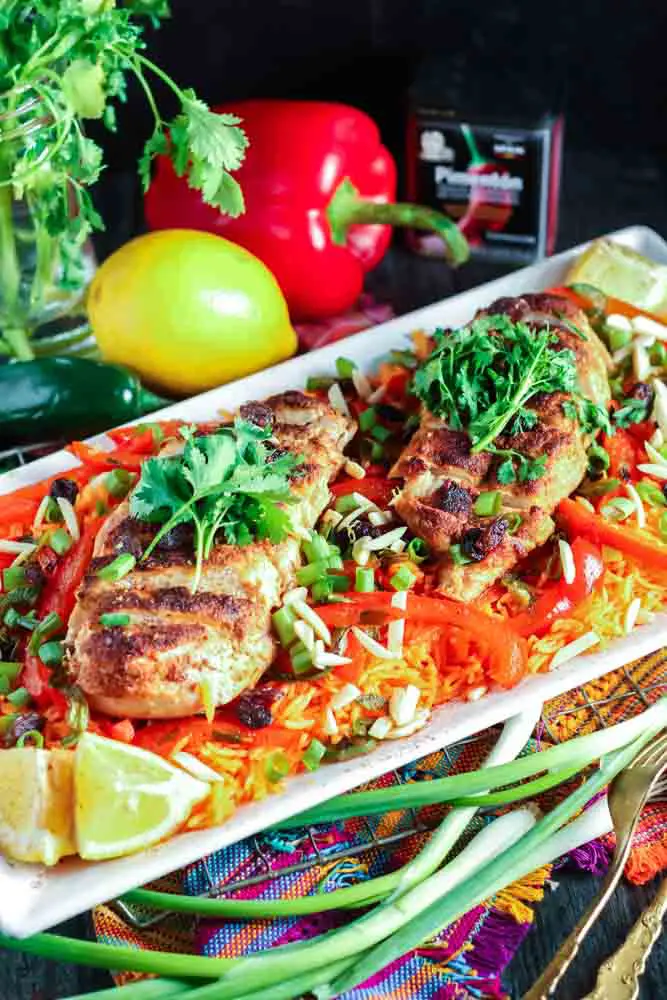 There are quick-cook Spanish rice options that you can find at the grocery store that would be perfectly fine substitutes in this recipe. That being said, Perfect Basmati Rice is really low effort and worth it in my opinion.
How do I make yellow rice?
Sazon, my friend. Making yellow rice requires nothing more than a little help from a packet of seasoning known as Sazon. They make several flavors, but Easy Spanish Chicken and Rice features the cilantro y achiote variety. Trust me when I tell you that this one little packet bring so much flavor along with the signature yellow color of a good Spanish rice.
You can find Sazon with the other Mexican specialty items at the store.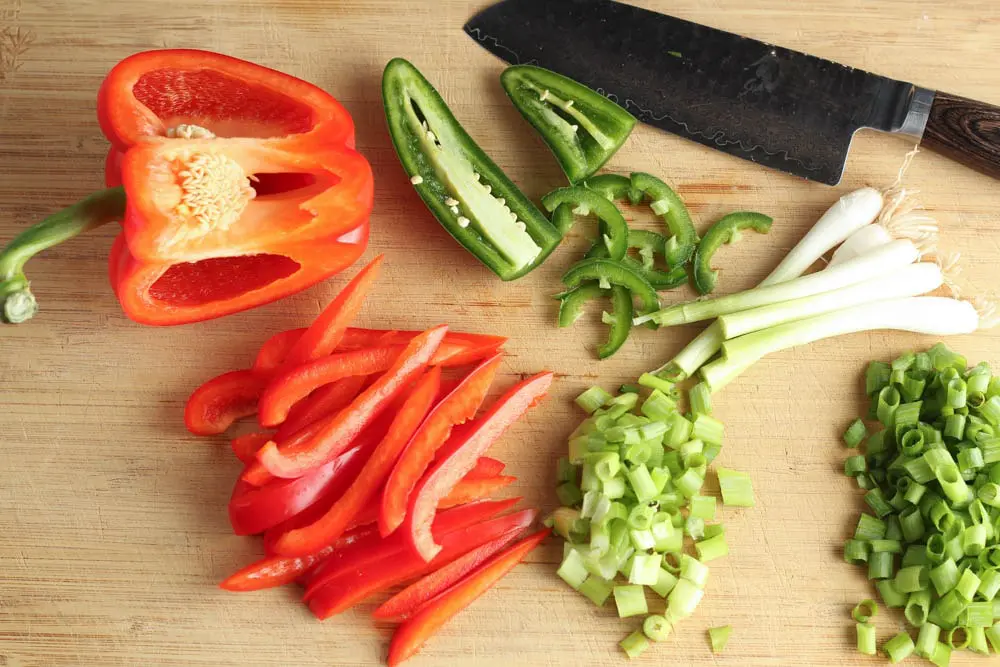 Garnishes make my Spanish Chicken and Rice extra delicious
The garnishes include slivered almonds, raisins, lemon juice, cilantro and green onions. All the garnishes are super simple, but together they make this dish a balance of sweet, salty, sour and spicy flavors.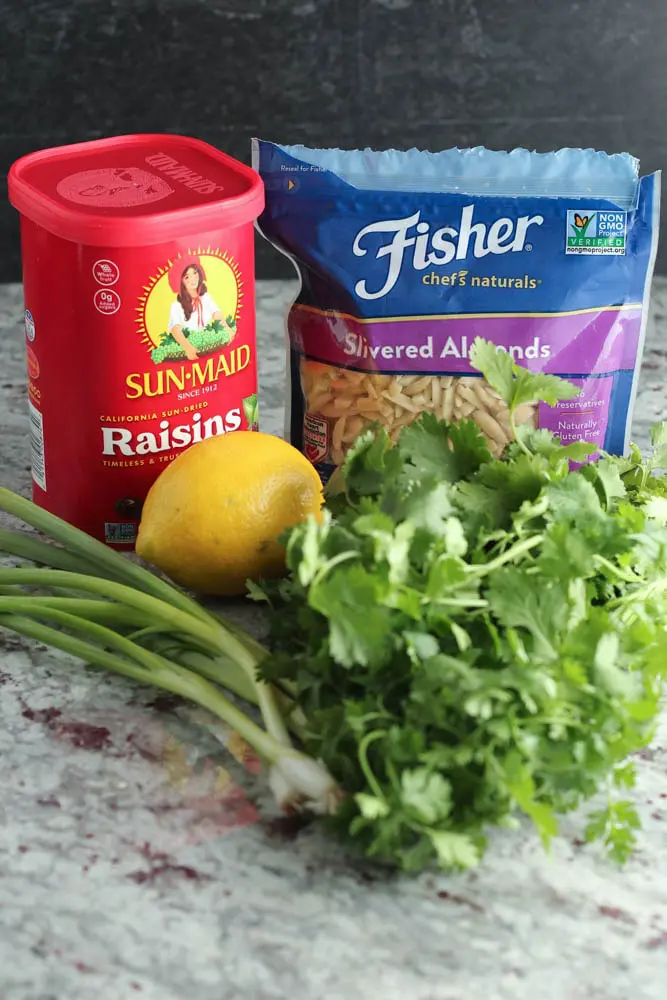 Can I Easy Spanish Chicken and Rice be turned into a vegetarian recipe?
This recipe could also easily be made vegetarian by substituting portabella mushrooms in place of chicken breast. In fact, you could use a whole variety of meat substitutes in place of chicken.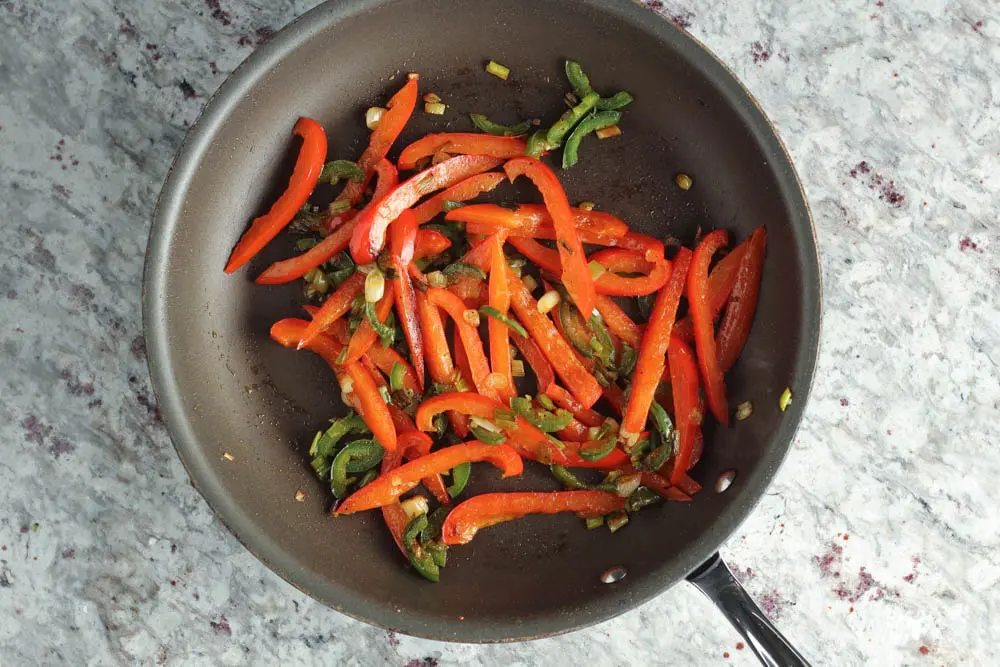 Is Spanish Chicken and Rice just for dinner?
This meal is an easy dinner choice, but it also would work as a make-ahead option. If you like to meal prep your lunches for the week, Easy Spanish Chicken and Rice is a solid choice!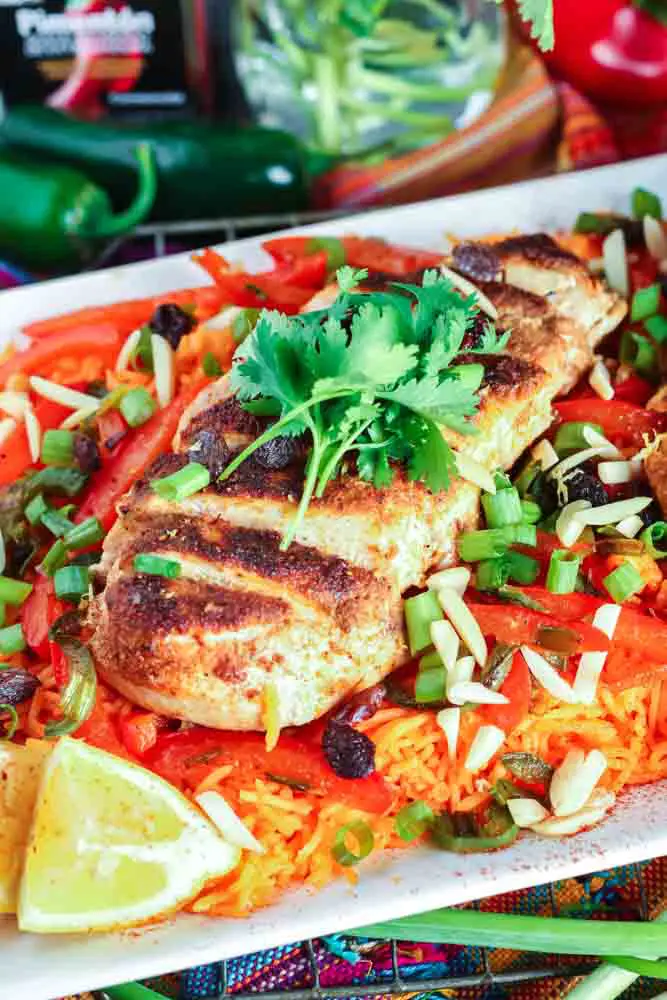 Easy Spanish Chicken and Rice will become part of your regular dinner rotation once you try it. Let me know what you think in the comments section below.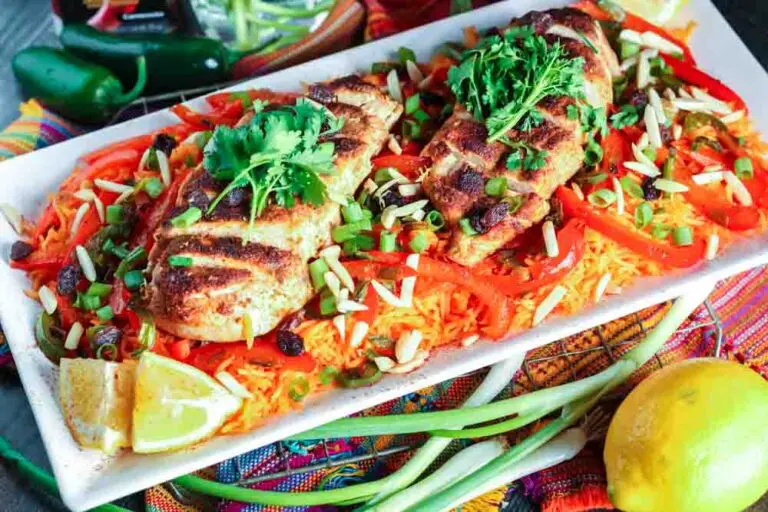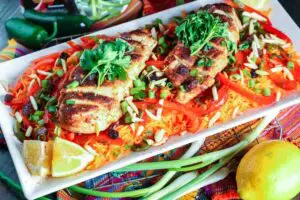 Easy Spanish Chicken and Rice
Quick, simple and packed with flavor, Easy Spanish Chicken and Rice is a perfect weeknight dinner or make-ahead lunch. Rice seasoned with Sazon, topped with sauteed chicken, peppers and onions.
Ingredients
Rice
1

packet

Goya Sazon cilantro y achiote seasoning*

4

C

Perfect Basmati Rice**
Chicken/Veggies
4

boneless skinless chicken breast

thin cut

1

red bell pepper

1

jalapeno

optional

4

large green onions

divided

1

tsp

ground cumin

1

tsp

garlic powder

1

tsp

smoked paprika

1

tsp

kosher salt

½

tsp

ground black pepper

olive oil
Garnish
slivered almonds

raisins

cilantro

roughly chopped

green onions

1

lemon
Instructions
Prepare Perfect Basmati Rice. Be sure to use Cilantro y Achiote Sazon to season the rice. While rice is cooking, make the chicken and vegetables.

Mix together the cumin, garlic powder, paprika, salt, and pepper. Season the chicken breasts liberally on both sides with spice mix.

Core the bell pepper and jalapeno and slice both into thin strips.

Slice the green onion on an angle into ¼-inch strips, separating the green ends from the light green and white. Reserve the green ends to be used as garnish.

Heat a large nonstick pan over medium-high heat. Add enough olive oil to lightly coat the bottom of the pan. Once the pan is hot, place the chicken breasts in the pan.

Cook on the first side for 3-4 minutes until well browned. Turn the chicken breasts over and cover the pan with a lid or a piece of foil. Cook covered for another 3-4 minutes or until the second side is browned.

Depending on the thickness of the breast, you may need to turn over once more time and cook for another 2-3 minutes. Chicken breasts will be firm to the touch when cooked through or you can take the temperature. 165 degrees is what you're looking for.

Once the chicken has cooked, remove from the pan and set aside. Add on more tablespoon of olive oil to the same pan and add the sliced peppers and white/light green portion of the green onions. Sautee the veggies for about 5 minutes until softened and browned on the edges. Season with salt and pepper to taste.

To serve, fill a bowl with 1 C of rice, slice the chicken breasts and lay on top of the rice. Add cooked peppers and onions and then garnish with chopped cilantro, reserved green onions, slivered almonds, raisins and a squeeze of lemon juice.
Notes
* Sazon can be found in the grocery store with specialty Mexican ingredients.
** Check out my Perfect Basmati Rice recipe for a foolproof method. Use Sazon Cilantro y Achiote in place of the Con Azafran variety.
Frequently Asked Questions
Can I use boil-in-a-bag or 90-second microwave rice?
Yes, but you won't be able to include the Sazon seasoning.
Where do I find Sazon seasoning at the grocery store?
It's typically with the Mexican specialty items or with the stock and broth.
Can I make the recipe vegetarian?
Yes. Treat portabella mushrooms just like the chicken in the recipe.
The following two tabs change content below.

Hey-ooo! I'm Hailey, and I'm a number cruncher by day and cussing cook by night. I created this site to share my love for delicious food that feeds the soul as well as the belly. I hope my recipes have you running to the kitchen to cook some damn good grub!