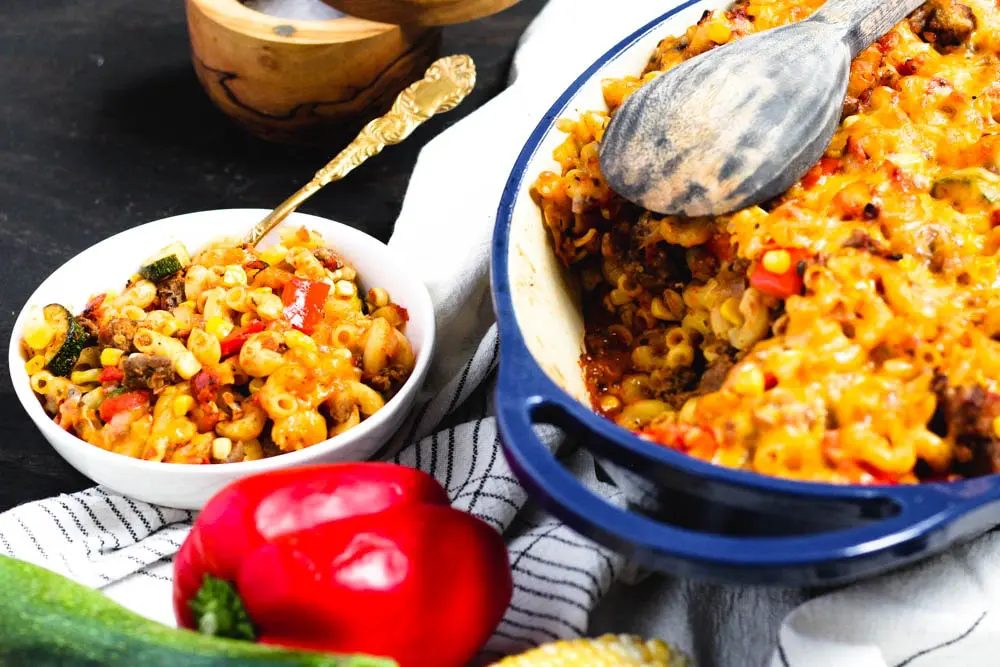 Easy Sausage Goulash is one of those classic, crowd-pleasing, simple-to-make recipes you'll return to over and over again. I know there is such a thing as real Hungarian goulash, but full disclosure, this recipe has almost nothing in common with it. If, on the other hand, you're on the hunt for a simple and satisfying dinner for your family, you've found what you're looking for!
I love this recipe for a lot of different reasons. First, it's comfort food 101.
When Italian sausage, pasta, marinara and cheese come together, it's pretty much a f*cking guarantee that you'll have dinner time success.
Second, everything for this recipe (except the pasta) is cooked together in one big skillet. I built the recipe so that you can gradually add all of the meat and veg into one big skillet and end up with perfectly cooked everything and only one dirty pan.
Finally, this recipe is an amazing make-ahead supper. You can put together Easy Sausage Goulash and let it sit, covered, in the fridge for up to 3 days before baking. Fresh from the oven, your hungry troops will never know that all the hard work was done days beforehand.
It's also worth nothing that this recipe makes at least 8 large servings, which in my house mean delicious leftovers. If you're not a leftover person (I'm sorry for your plight), then feel free to cut the recipe in half for a meal for 4. In the current times though (hello Coronavirus, you mofo), leftovers are most appreciated.
There are plenty of different versions of this recipe out there. It's often made with ground beef and called Hamburger Goulash. My stepmom used to make a Hamburger Goulash that I always scarfed down. I liked it enough that I still like to make it for my family.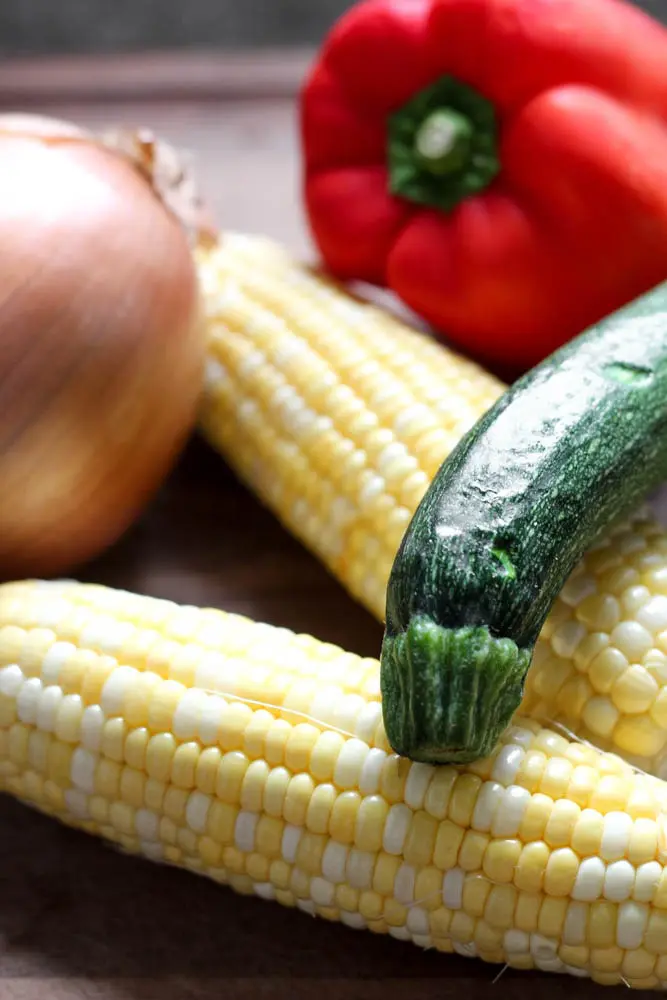 My stepsister and I somehow got on the topic of Goulash one day, and she shared how she had upgraded her mom's recipe. You know I love a good upgrade on a classic recipe, so I was all ears. This Easy Sausage Goulash recipe is based on her suggestions, and trust me when I say, it's so damn good!
Instead of hamburger meat, the recipe calls for Italian Sausage. I think this is probably the most important switch up of all.​
Italian Sausage brings so much more flavor to the sauce and takes Easy Goulash from somewhat bland to BA-BAM!
​There is also a healthy dose of Italian seasoning, honey and Worcestershire that add that special something to the recipe. These little flavor additions make a store-bought marinara sauce taste like homemade.
Also, if you're in need of a veggie drawer cleanout, you'll love this recipe. Onions, garlic and corn are required for Easy Sausage Goulash, but I will say that this recipe is versatile enough to be tasty with whole slew of other vegetables.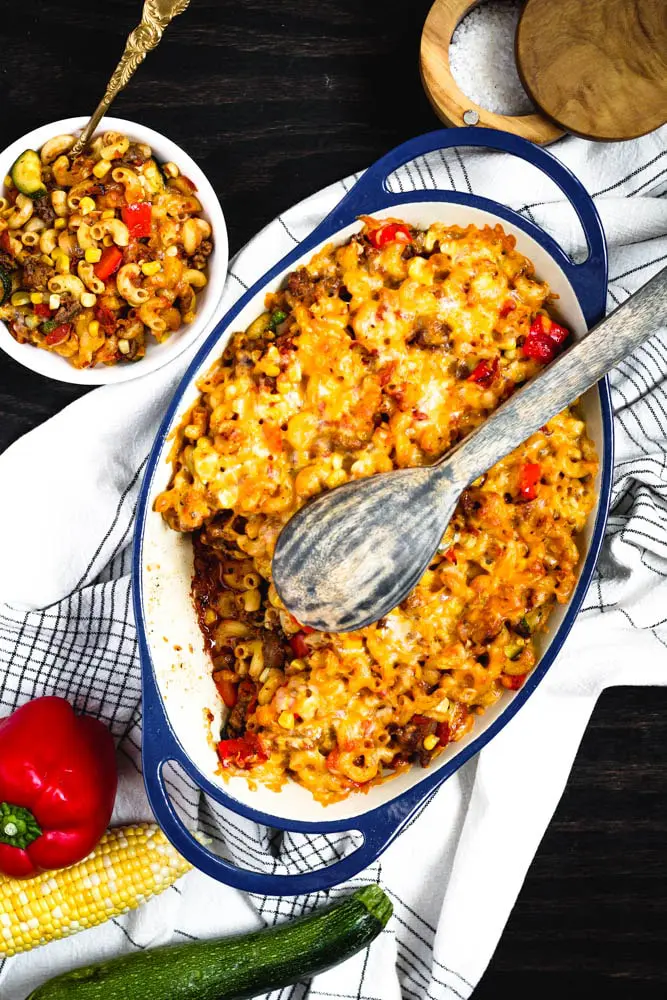 Red bell peppers and zucchini are two of my favorites to include, hence why they made the final recipe. But I've made goulash with mushrooms, yellow squash, green bell peppers, etc. and it's always delicious!
Easy Sausage Goulash is simple, family-friendly comfort food at it's best. Give this tasty recipe a try and let me know what you think.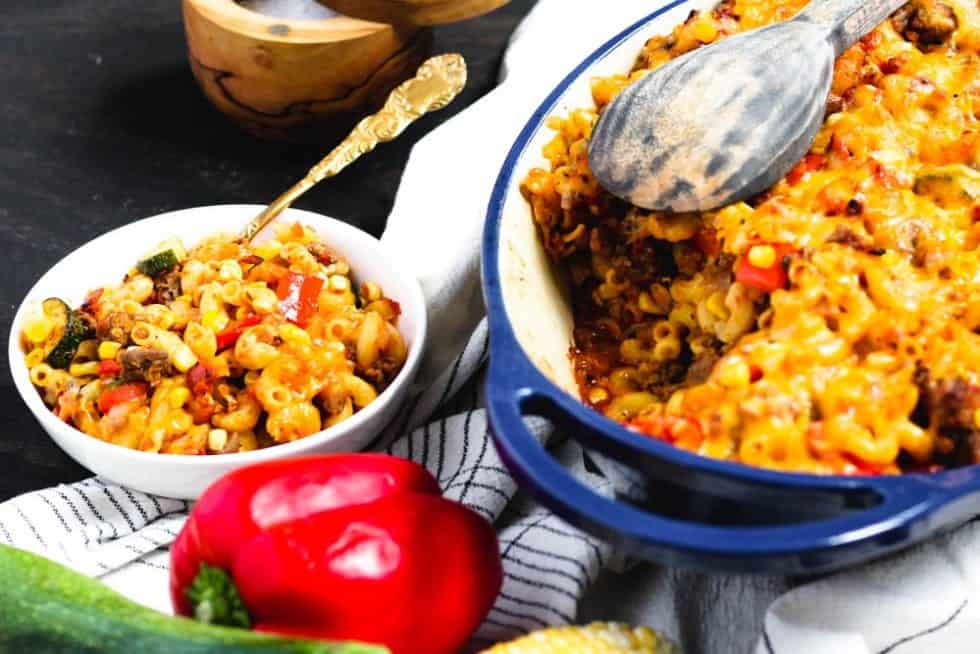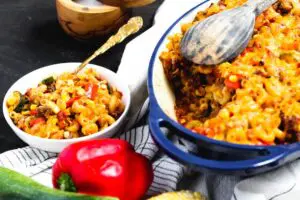 Easy Sausage Goulash
Easy to make and totally delicious, Easy Sausage Goulash is family-friendly comfort food. This recipe is a great make-ahead meal and can also easily feed a crowd. It's also a great way to clean out your veggie drawer!
Ingredients
½

lb

elbow macaroni

1

Tb

olive oil

1

onion

1

lb

ground Italian sausage

2

cloves

garlic

minced

1

red bell pepper

2

corn on the cob*

1

zucchini

1 14.5

oz

can fire-roasted diced tomatoes

1

C

marinara sauce

½

C

beef stock

2

bay leaves

2

tsp

Italian seasoning

1.5

tsp

salt

1

tsp

black pepper

1

T

honey

1

tsp

Worcestershire

1

C

shredded cheddar
Instructions
Preheat the oven to 400 degrees.

Bring a large pot of water to a boil. Add 2 Tb of salt to the water before adding pasta. Cook the macaroni to package instructions. Once cooked, add to a large mixing bowl.

While the macaroni cooks, peel and dice the onion into ½-inch pieces. Add 1 Tb of oil to a large nonstick skillet and heat over medium heat. Once the pan is hot, add the diced onion and cook for 2 minutes or until softened.

Add the sausage and break-up the meat into bite-size pieces. I've linked to a ground meat chopper above that is the perfect gadget for the job! Cook the meat until browned on all sides, stirring occasionally, or 4-5 minutes.

While the meat browns, remove the core from the bell pepper, cut into ½-inch strips and then dice. Remove the ends from the zucchini, split in half vertically and cut into ¼-inch thick half-moons.

Once the meat is browned, add minced garlic, bell pepper and zucchini. Cook until the veggies soften and the zucchini gets slightly brown around the edges. This should take 3-5 minutes depending on the size of your pan.

Last, add the corn. For fresh corn, you need about 1 more minute of cook time. For frozen, cook for two additional minutes.

Add the cooked meat and veggies to a large mixing bowl with the pasta. Add all of the remaining ingredients except the shredded cheese and mix together thoroughly.

Spray a 9" x 13" dish with baking spray and pour the goulash into the pan. Top with shredded cheese and bake for 30 minutes. Let it cool for at least 5 minutes before serving.

*You can use 1 C of frozen corn as a substitute if fresh isn't available or in season.
The following two tabs change content below.

Hey-ooo! I'm Hailey, and I'm a number cruncher by day and cussing cook by night. I created this site to share my love for delicious food that feeds the soul as well as the belly. I hope my recipes have you running to the kitchen to cook some damn good grub!