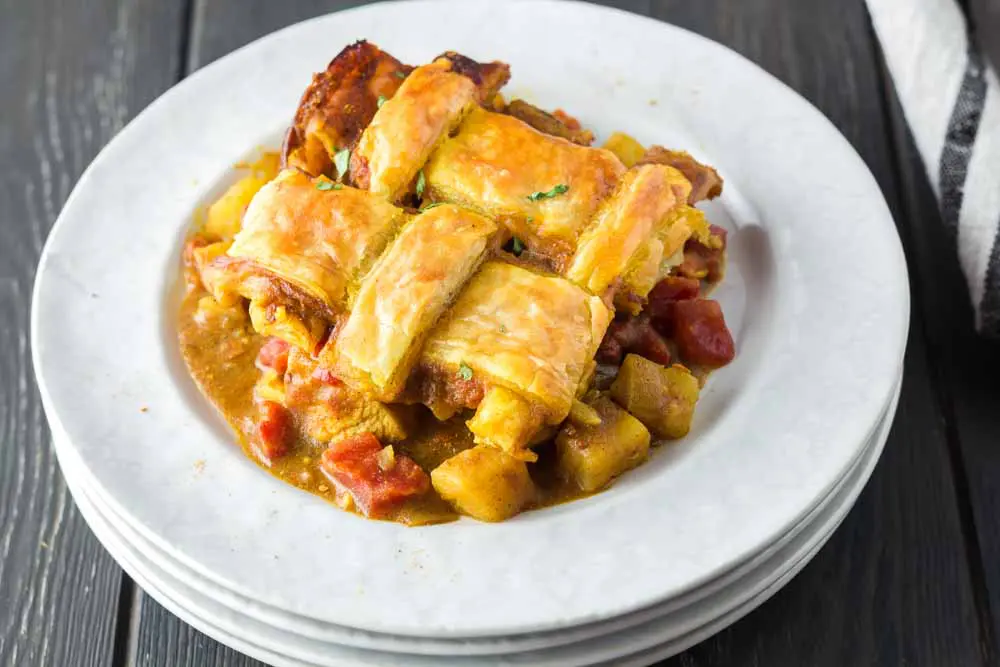 Easy Chicken Curry Pot Pie combines flaky puff pastry with creamy curried chicken for a surprising twist on a classic comfort food recipe. The filling for the pot pie is the exact same recipe as my Easy Chicken Curry, but instead of serving it with rice, I top it with a golden-brown puff pastry crust!
If Indian food isn't something you or your family have experienced before, this is the perfect recipe to try out! The chicken curry is mild and creamy, and the pot pie format gives familiarity to something that might not be all that familiar to you.
What is Chicken Curry?
Simply put, Chicken Curry is just chicken that has been seasoned with curry powder and cooked in a tomato-based or creamy sauce. Chicken Curry is the Westerners version of Chicken Tikka Masala, Chicken Korma, or my personal favorite, Butter Chicken.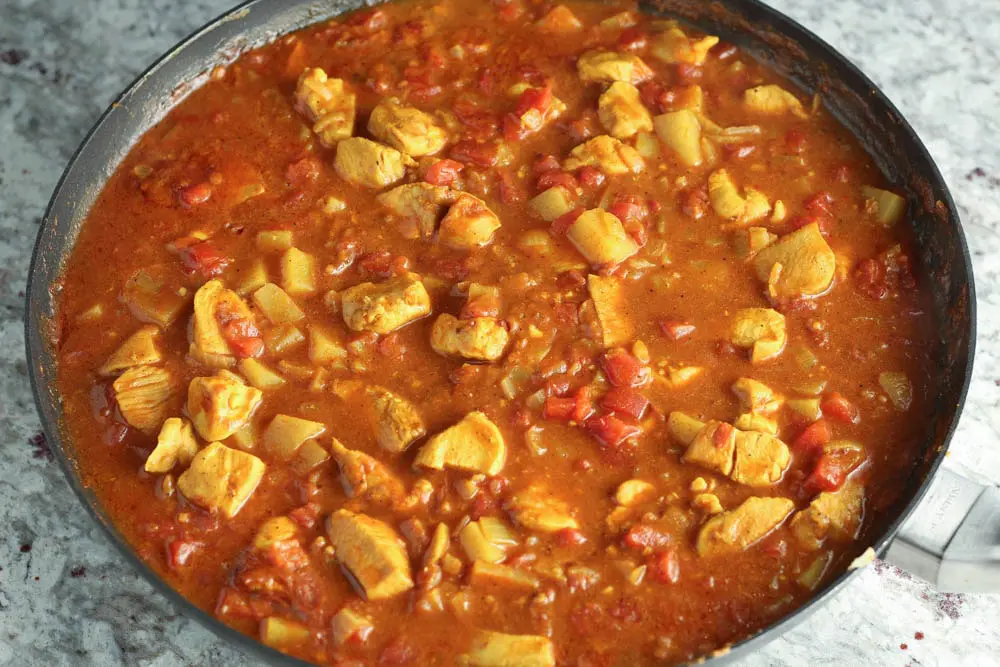 My Easy Chicken Curry recipe is a combination of my favorite parts of these different recipes, compressed down into an easy-to-make format that is approachable and delicious!
What kind of curry powder to use?
You could write a novel about curry powder, but I'll leave that to the experts. Curry powder, in short, is a delectable combination of sweet and earthy spices. It typically includes cumin, turmeric, coriander, mustard, and some combination of sweet spices like clove and cinnamon.
Curry powder is basically the gringo cousin of Garam Masala, a more traditional Indian spice, although their flavor profiles are very similar. I find Garam Masala to be more pungent in flavor and slightly less sweet. Either would work for this recipe, but my personal favorite curry to use is Vadouvan.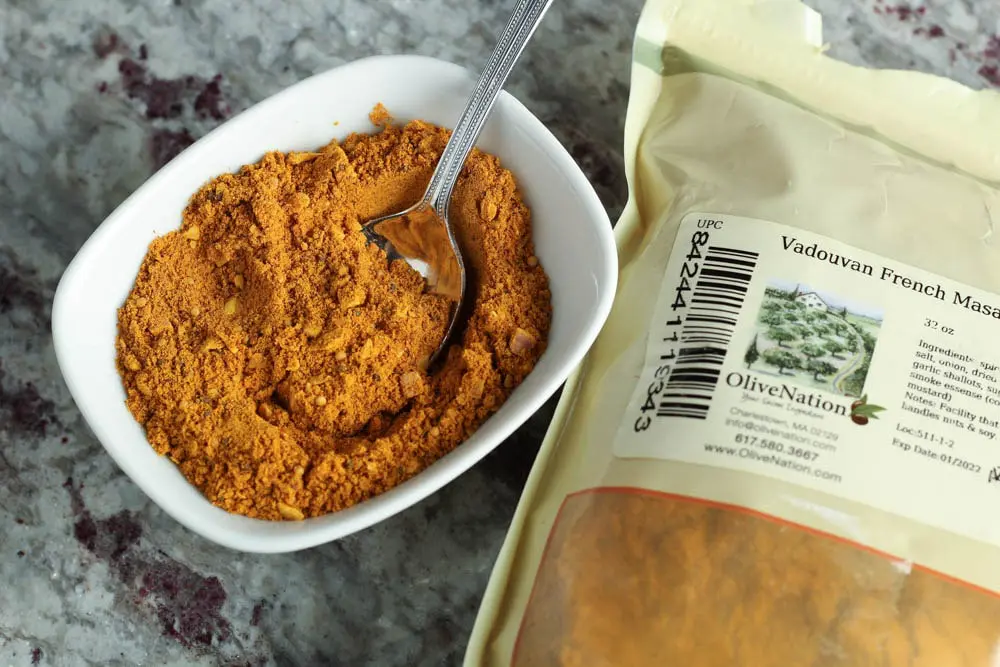 Vadouvan curry (pronounced vah-doo-vahn) is a French style curry that includes aromatics like garlic, shallot and onion. We like it so much at my house that we buy it in bulk, but I also love Jansal Valley brand that can be purchased from Amazon.
You should try a variety of brands and styles of curry powder to find which one suits your taste best. Hell, I've even used plain ole' McCormick's brand curry powder for years, so that's a perfectly good choice.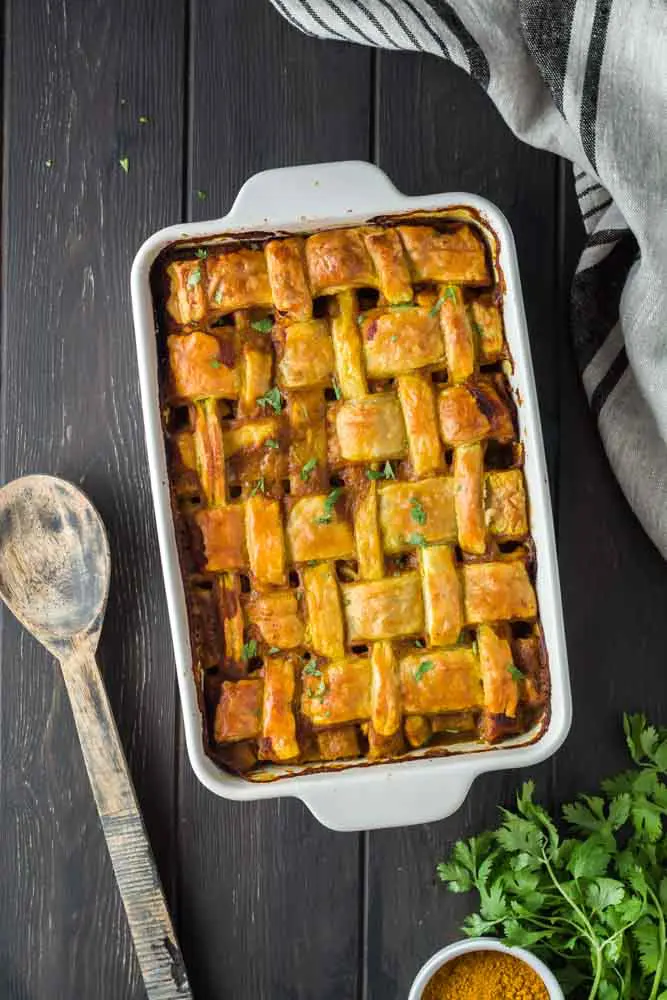 Is Chicken Curry hard to make?
Not at all! Once you get the base recipe down, you'll love playing with the levels of sweet and heat or trying out new spices to include like coriander or cardamom. The ingredients for this recipe are all easy to find and inexpensive. To make my Easy Chicken Curry recipe you'll need:
onion
potato
ginger
garlic
boneless skinless chicken breast
curry powder
coconut milk
tomato paste
canned tomatoes
brown sugar
ground cinnamon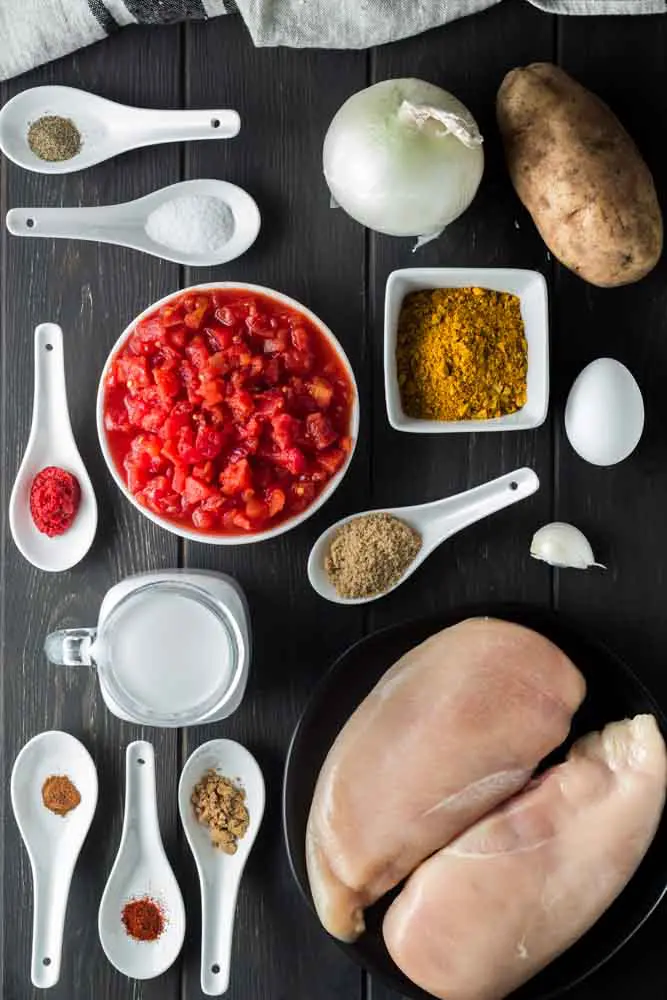 As advertised, the chicken curry filling is so easy to make. Don't be intimidated if you've never made Indian food at home. It is super simple to develop big flavors without fancy ingredients. I also use store-bought puff pastry in this recipe (duh, right?!) so assembling the Pot Pie takes no time at all.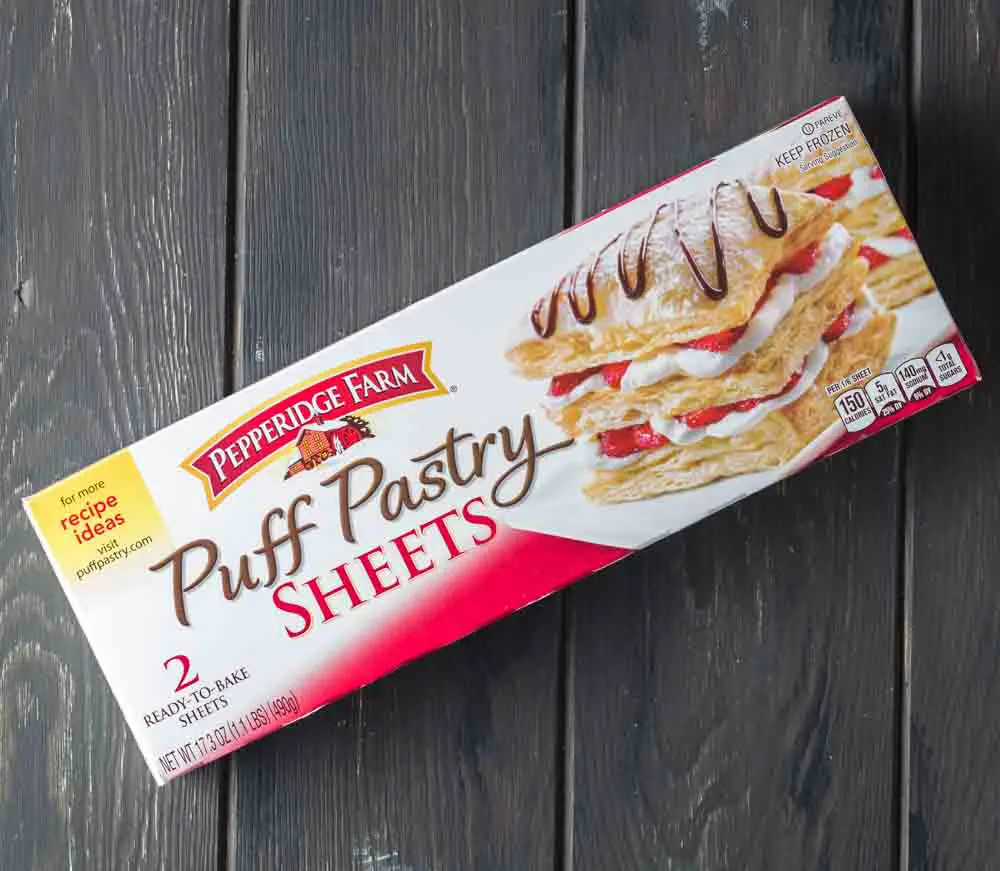 Can you make the chicken curry filling ahead of time?
Absolutely. Easy Chicken Curry can be made up to three days in advance and kept in an airtight container in the fridge. It's not required, but making the filling ahead of time will also make assembling the Chicken Curry Pot Pie super fast.
If you have any other questions about the ingredients or techniques in this recipe, please leave a comment below, and I'll get back to you ASAP.
Do I have to lattice my puff pastry on top of the Chicken Curry Pot Pie?
No way! It is actually pretty fun and simple (check out this Crazy for Crust post with step-by-step instructions and pictures) to create your own lattice. You can also just put one sheet of puff pastry on top and call it done.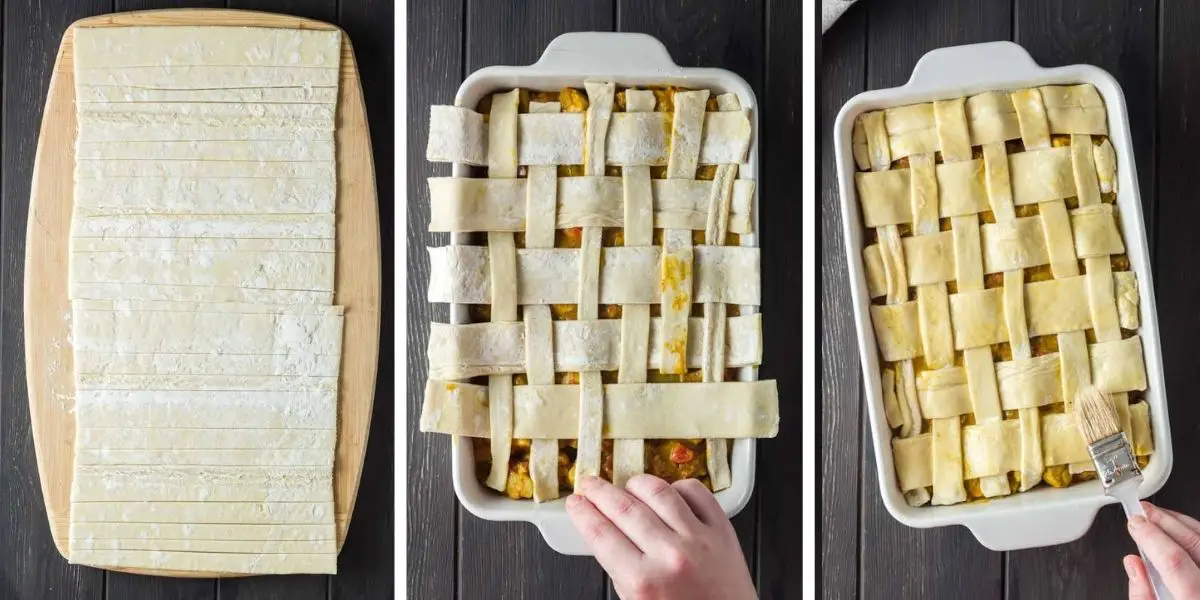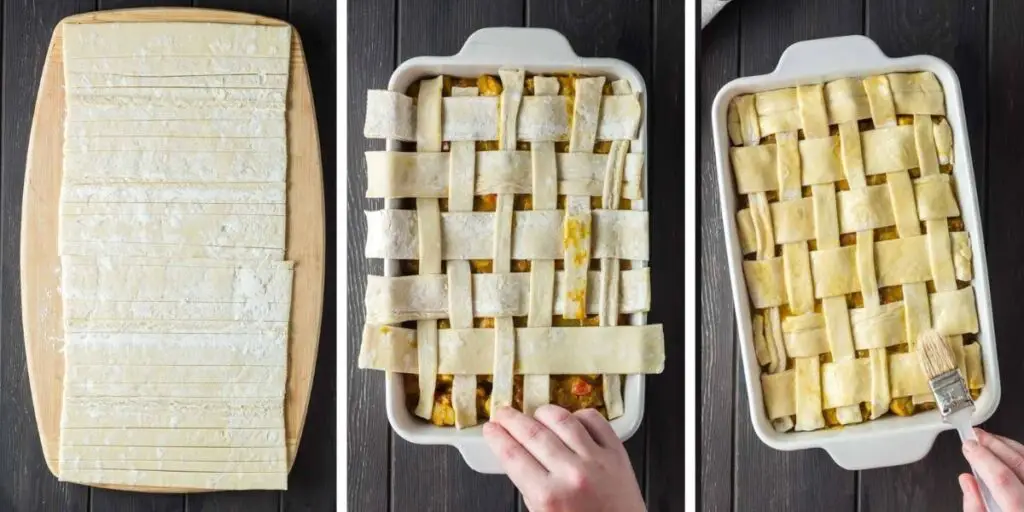 I like the lattice mostly because the sauce bubbles up through the lattice while baking giving the puff pastry a gorgeous color.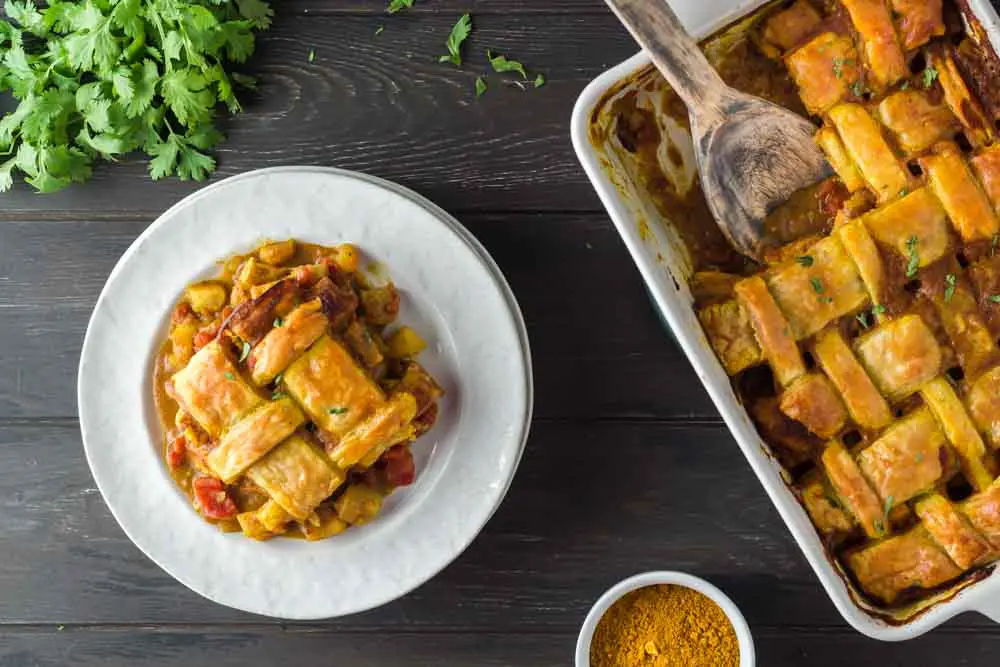 One bite of my Easy Chicken Curry Pot Pie, and you'll wonder why it took you this long to combine curry and puff pastry. Let me know what you think in the comments sections below.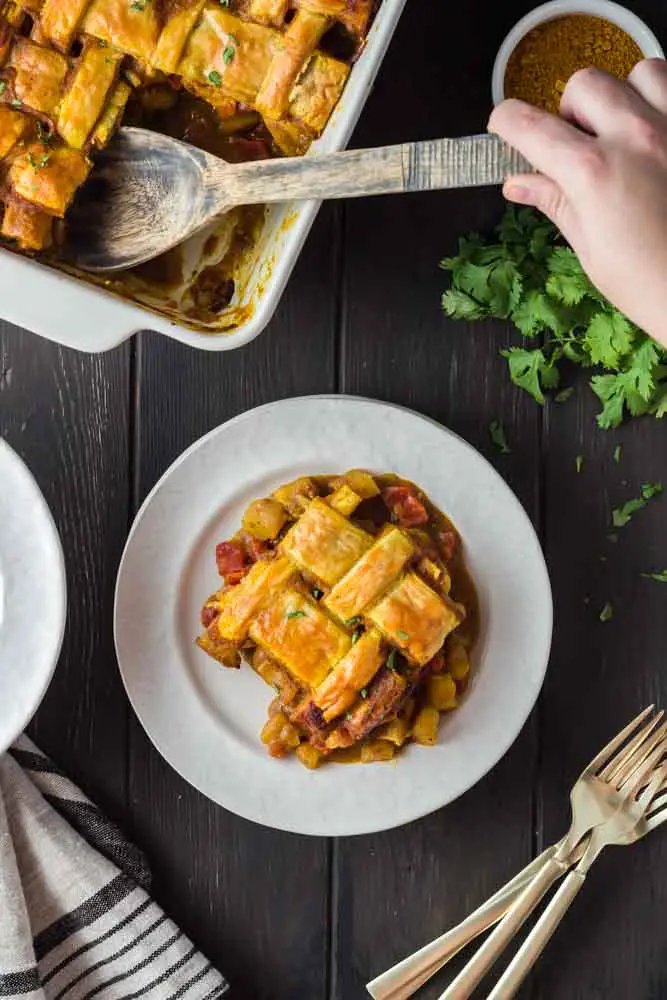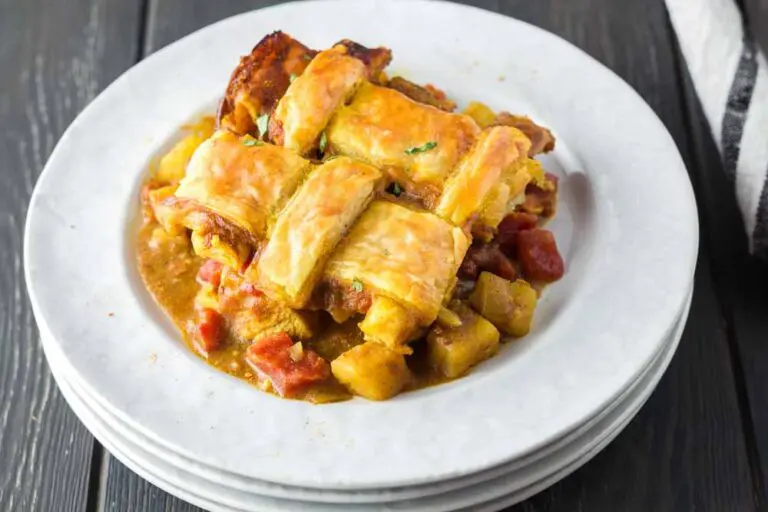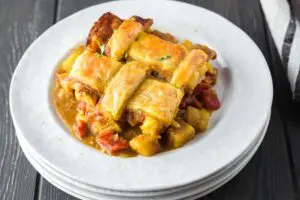 Easy Chicken Curry Pot Pie
Quick and simple chicken curry topped with puff pastry for a whole new twist on the flavors of Indian takeout.
Ingredients
1

yellow onion

1

small russet potato

1

Tb

fresh ginger*

1

clove

garlic

1

lb

boneless skinless chicken breasts

1

tsp

kosher salt

½

tsp

ground black pepper

¼

C

good quality curry powder

14

oz

can unsweetened coconut milk

1

Tb

tomato paste

14.5

oz

can petite diced tomatoes

1

Tb

brown sugar

¼

tsp

ground cinnamon

¼

tsp

cayenne pepper optional

2

Tb

olive oil

1

17 oz package

frozen puff pastry

thawed

1

egg

2

Tb

cilantro

chopped, optional
Instructions
Preheat the oven to 400 degrees. Prepare a 2-3 quart casserole dish with baking spray.

Peeling the potato is optional and up to personal preference. Dice the onion and potato into a quarter-inch dice. Make sure to chop the potato into small pieces or it won't cook through.

Finely mince the garlic clove and grate the fresh ginger.

Heat a large nonstick saute pan or wok with 2 Tb of olive oil over med-high heat. Drop in onions, ginger and garlic and let saute for 2-3 minutes or until softened.

Dice the chicken breast into 1-inch chunks and add to the sauteed onions. Add the diced potatoes. Season with salt and pepper and stir to combine. Leave undisturbed for 3 minutes. Stir and cook for another 2 minutes or until there is no pink left.

Add the curry powder. Stir to combine and cook for another 2 minutes. Add the tomato paste, diced tomato, brown sugar, cinnamon and coconut milk and mix well. Add the cayenne now if you like your curry on the spicy side.

Bring mixture to a low boil and lower heat to medium. Cook for 5 minutes, stirring often, and then reduce heat to low. Simmer for another 3 to 5 minutes until sauce reaches desired thickness and potatoes are fork-tender.

Pour chicken curry into a 2-3 quart casserole dish and set aside. Remove thawed puff pastry from the fridge just before you're ready to work with it. Crack the egg into a small bowl. Add 1 tsp of water and whisk to combine.

Forming a lattice from the puff pastry is optional. You can also cut the puff pastry into one piece to fit your dish instead. Brush lightly with egg wash before cooking.

If you'd like to create a lattice. place the thawed puff pastry on a lightly floured work surface. Using a pizza wheel or a sharp knife and a straight edge, cut the puff pastry into strips. To create a lattice, lay one set of strips horizontally equally spaced apart, then unfold every other strip and lay your first perpendicular strip down. Fold the strips back over the perpendicular strip, unfold the opposite set of parallel strips, lay a second perpendicular strip down, and repeat until you have a lattice. I have one photo above for reference or check out the Crazy for Crust blog post linked in the notes for more step-by-step images. Once completed, brush with egg wash.

Bake the pot pie for 30-40 minutes or until the puff pastry is golden brown. Garnish with chopped cilantro if desired.
FREQUENTLY ASKED QUESTIONS
What kind of curry powder should I use?
I prefer Vadouvan curry (pronounced vah-doo-vahn) which is a French style curry that includes aromatics like garlic, shallot and onion, but any curry powder will work.
Do I have to lattice my puff pastry crust?
No. You can also just put on big sheet of puff pastry on top, brush it with egg wash, and bake.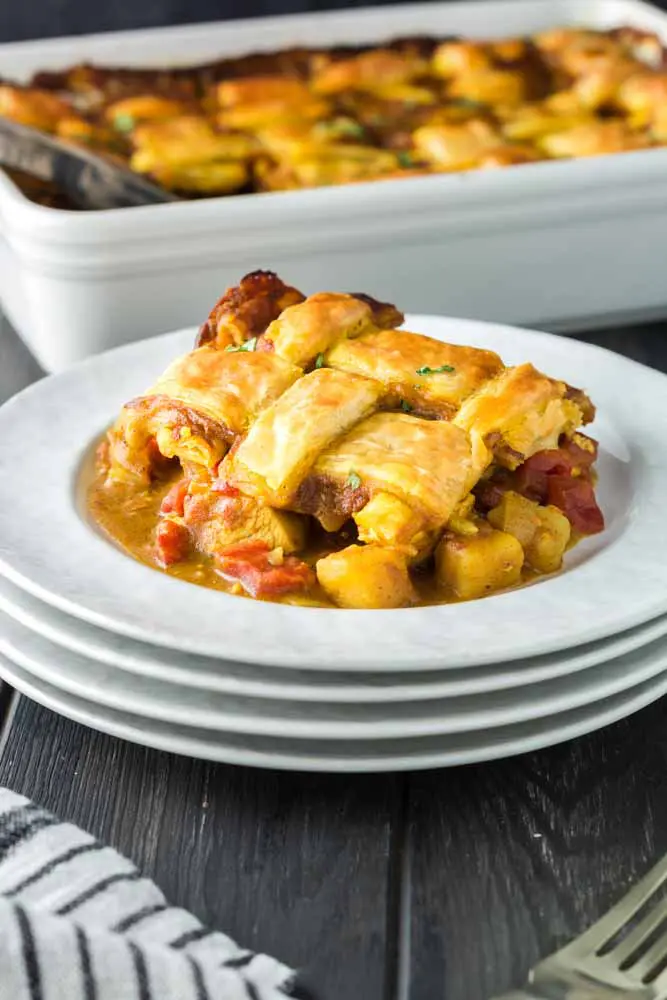 The following two tabs change content below.

Hey-ooo! I'm Hailey, and I'm a number cruncher by day and cussing cook by night. I created this site to share my love for delicious food that feeds the soul as well as the belly. I hope my recipes have you running to the kitchen to cook some damn good grub!