Perfect Basmati Rice is a recipe you'll use repeatedly, and that is coming from someone who used to see rice as a sworn enemy in the kitchen. Hi, my name is Hailey, and I USED TO suck at making rice. Notice that is past tense because I have now mastered a fool-proof way to make fluffy rice, every single time.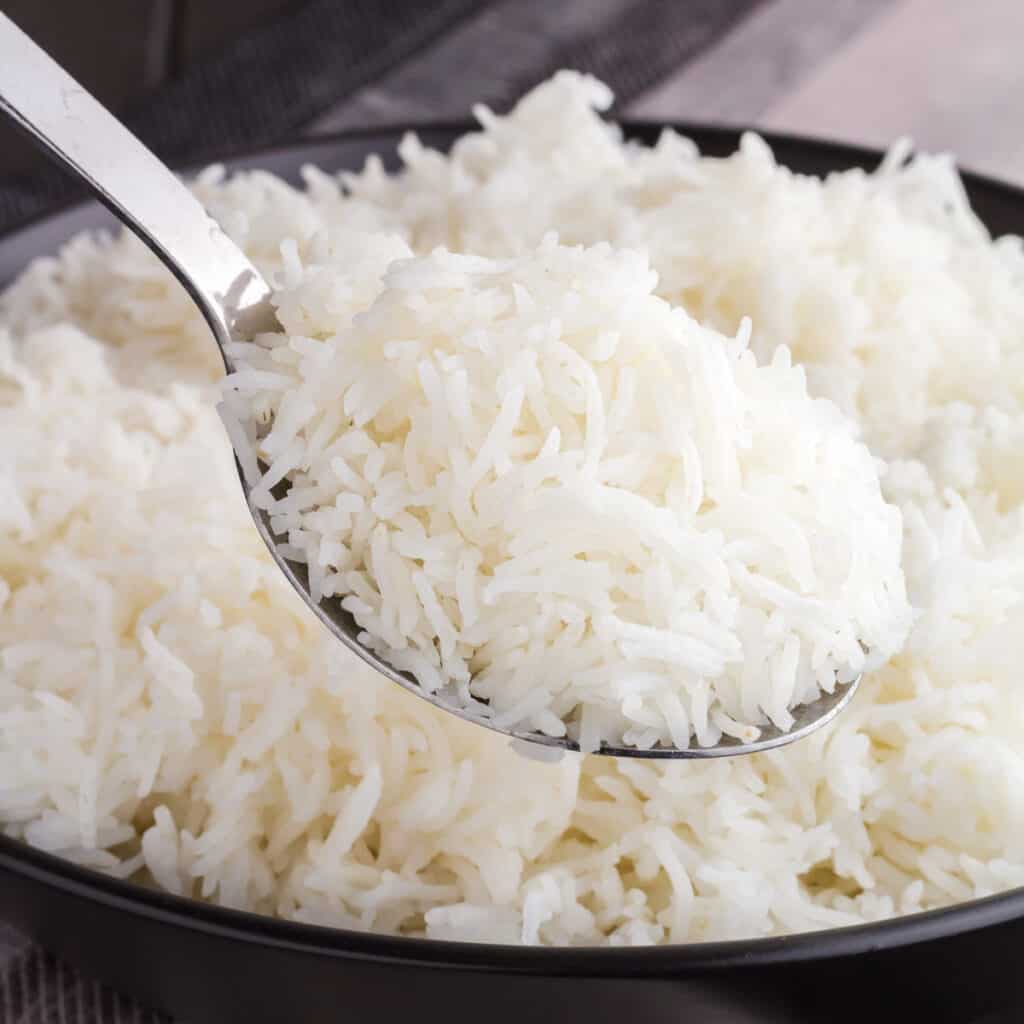 If you too feel like your rice never turns out like the rice of your dreams, you've come to the right place. My rice was always more like porridge before I started using this technique. It had that gloopy, oatmeal texture that makes you wish you had made pasta or potatoes instead.
I would try following the recipe on the package, which was apparently complete shit, just like the rice it produced. It was so frustrating! I decided it was finally time to crack the code.
Ingredients
You won't need a pen and pepper to remember these ingredients.
Basmati rice: I have only tested this recipe with basmati rice, but it will work with any long-grain rice.
Salt
Water (not pictured): You can use chicken, beef, vegetable, or seafood broth in place of water.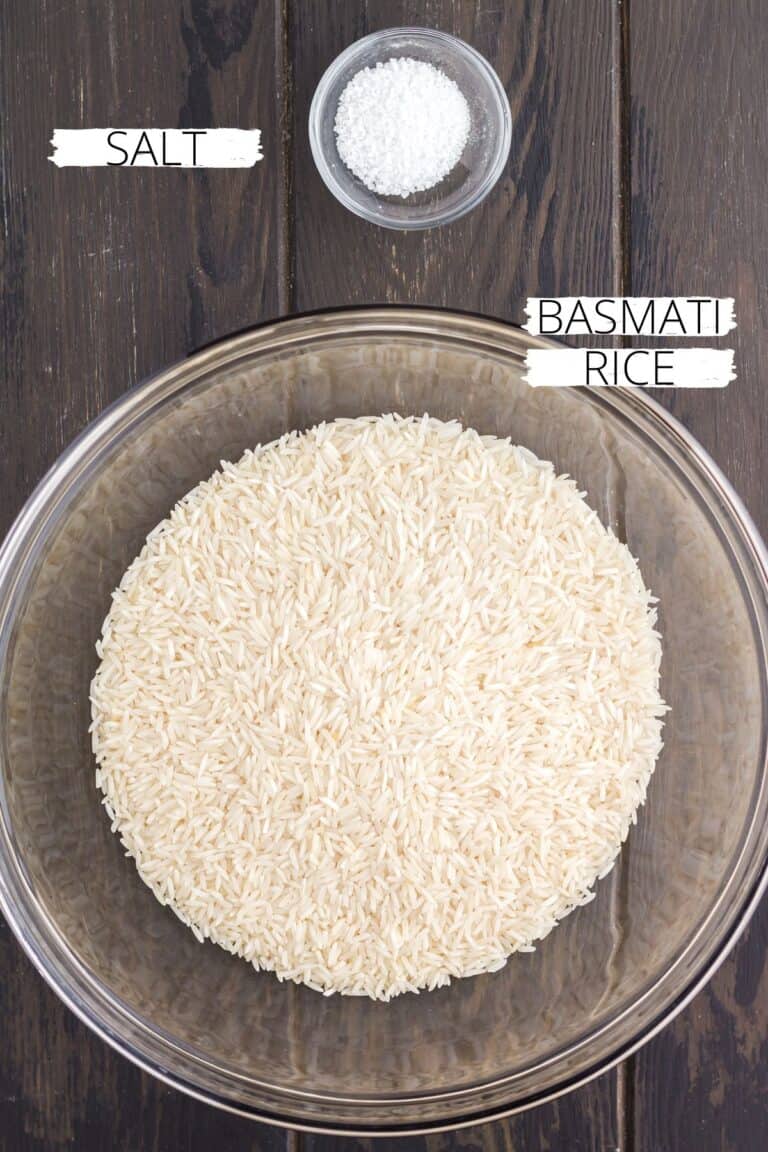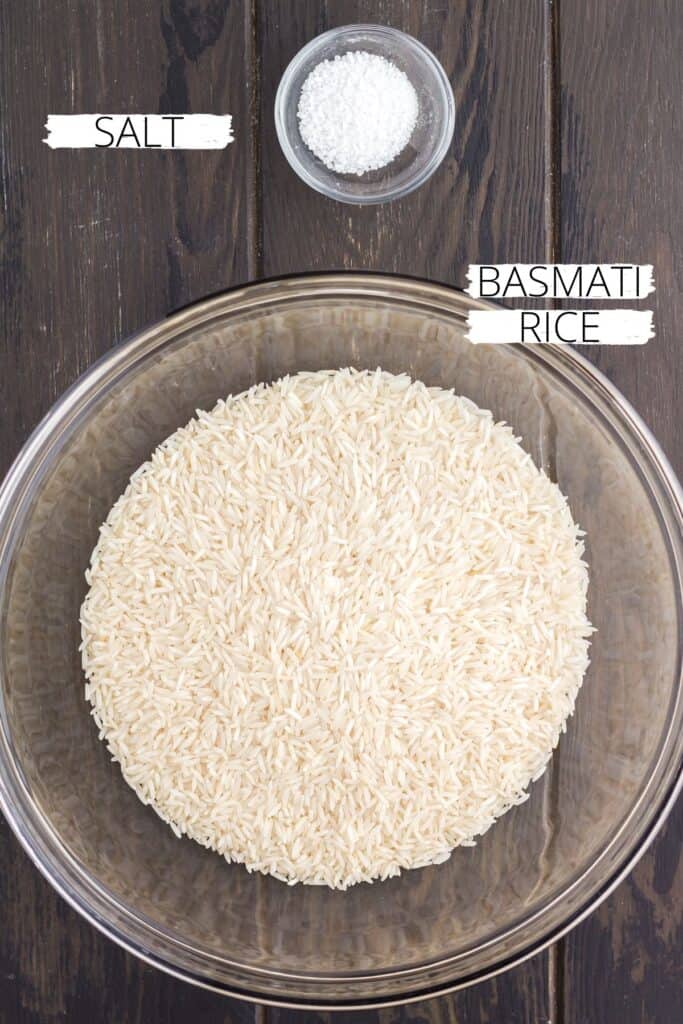 Instructions
The trick to Perfect Basmati Rice is all in the technique. I've made this recipe with generic and branded basmati. It doesn't make a difference. You just need to follow a few important steps.
1) Rinsing the rice is key
The first step to Perfect Basmati Rice is rinsing. You absolutely cannot skip this step. As you rinse the rice, you'll see how cloudy the water becomes. That is all the excess starch you're rinsing off that previously would take your rice from fluffy to porridge. Rinse and you're halfway to fluffy rice.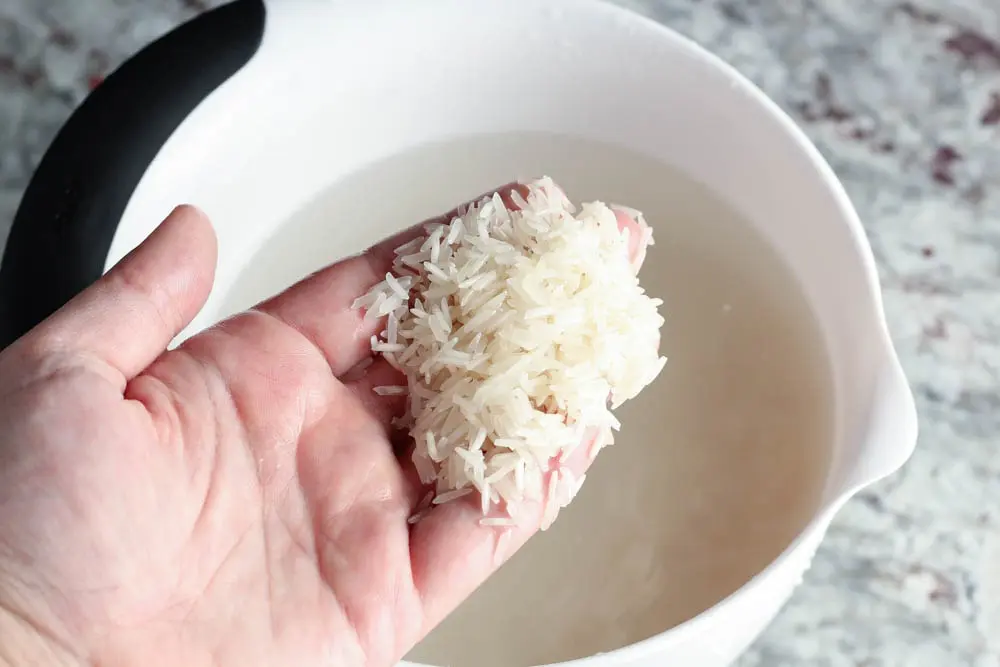 2) Soaking is a close second
Rinsing is the biggest game-changer in making rice when you compare it to package instructions, but soaking rice is the secret to the quick cook time. After you've thoroughly rinsed the rice, let it soak in cold water for 30 minutes to start softening up the grains in preparation for a speedy cook time.
3) Remember the 2:3 Ratio
No matter what the package says, stick with the 2 parts rice to 3 parts liquid ratio for cooking, and you will never have soggy rice again. In my experience, the package usually calls for more liquid and no soak time which makes for mushy rice.
4) Pick a pot with plenty of room
A pot that barely fits your rice and water definitely won't hold the cooked rice and it's certain to boil over on the stove. I try to choose a pot that allows for 3-4 inches of empty space above the rice and water.
5) Wait for the water to boil
Most rice package instructions say to add the water and rice to a pot and then bring to a boil together. I have found that adding the rice once the water is boiling like you would when cooking pasta, helps ensure your rice is fluffy and light.
6) Let the rice cool on a sheet pan
This may seem somewhat wacky, but I promise it's the secret to perfect rice. Once the rice has steamed in the lidded pot with the heat off, pour it onto a sheet pan. Spread the rice out and let it cool for a few minutes before serving. This allows the rice to dry out and not overcook in its own steam. It's an extra step, yes, but it's so simple and helps ensure your rice isn't sticky.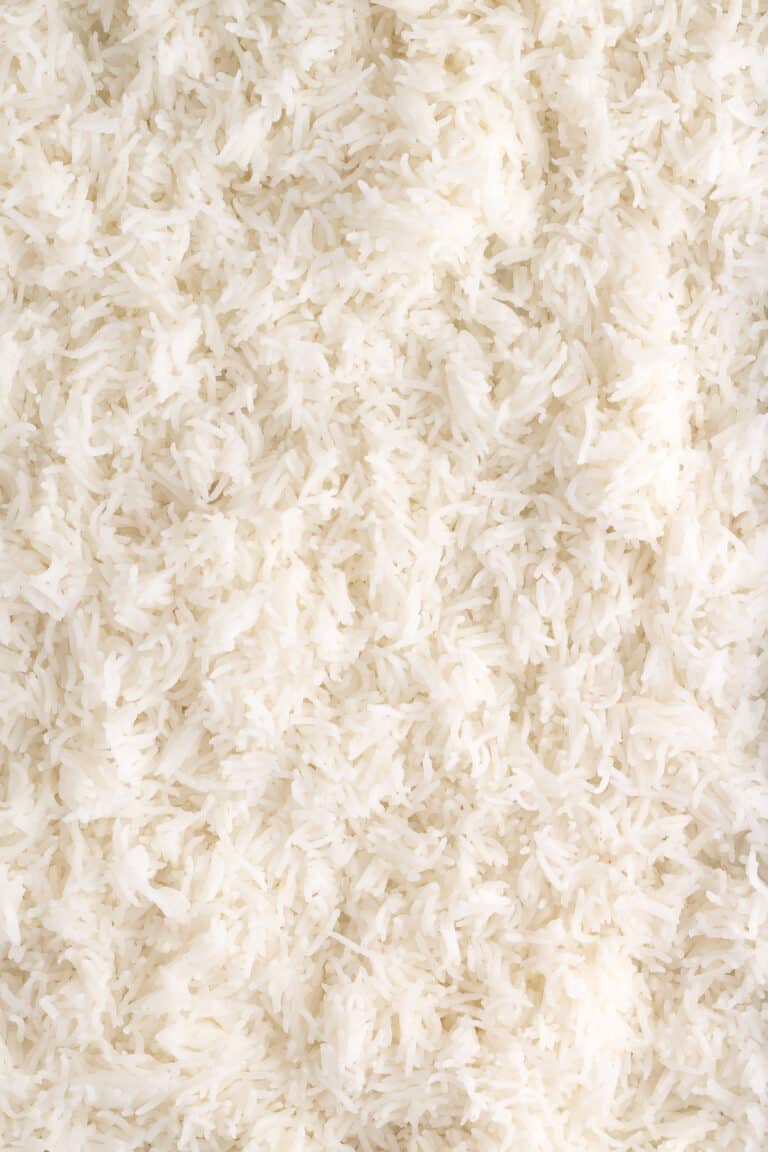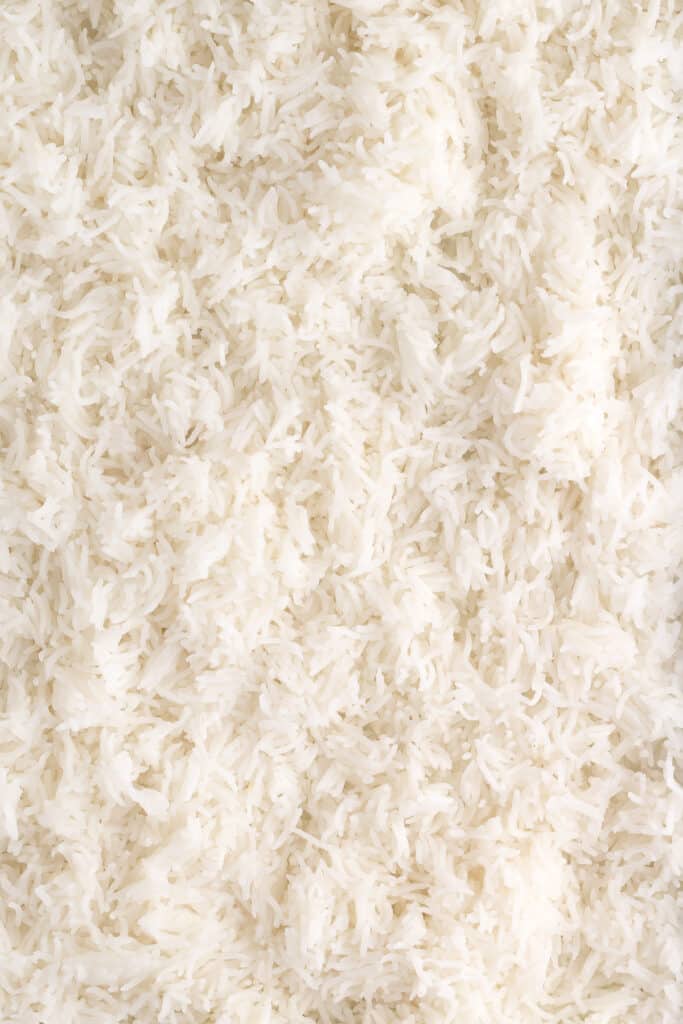 Variations
My favorite variation of Perfect Basmati Rice is Spanish-style. All you need to add is a packet of Sazon Con Azafran to your cooking liquid, and you're on your way to classic orange Spanish rice. You can also sauté some tomato, onion, and jalapeno before adding the cooking liquid for an extra kick.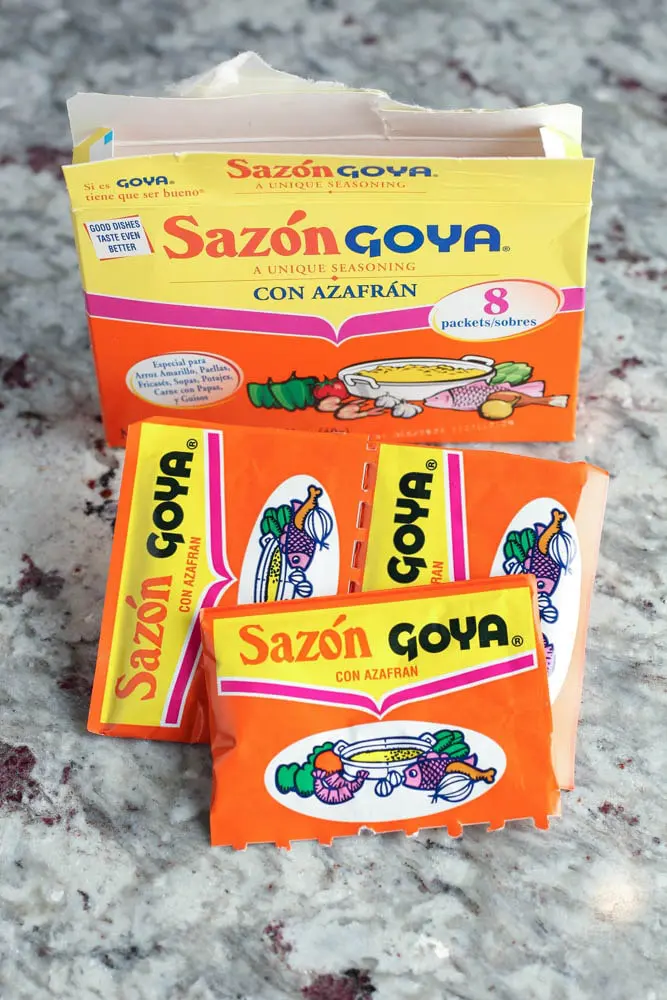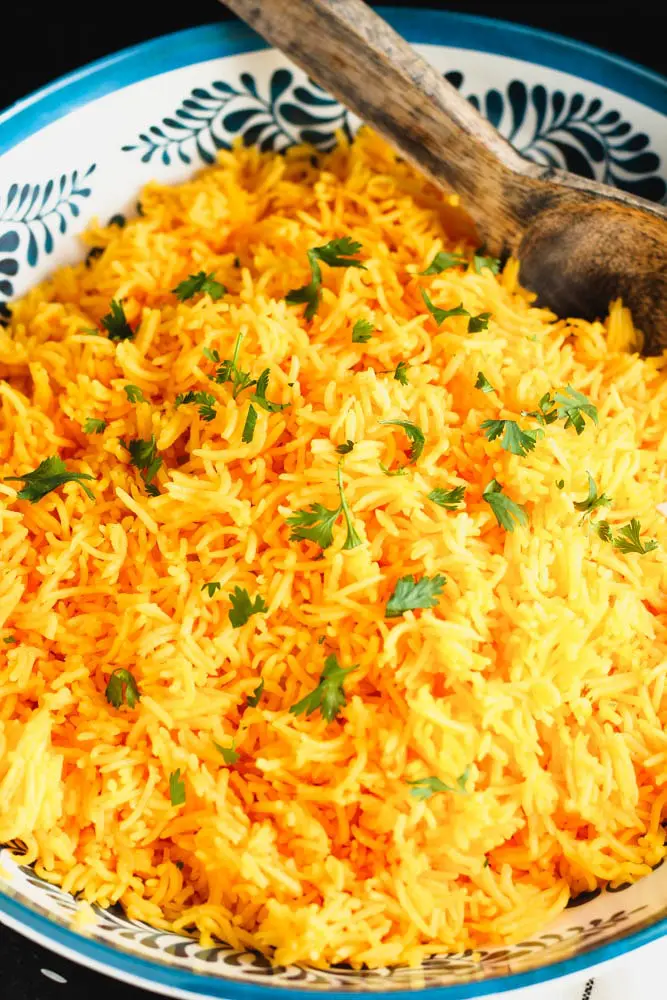 Storage
Serve: Allow the rice to cool on the sheet pan for at least five minutes before serving.
Store: Rice can dry out pretty quickly in the fridge. Store in an airtight container for up to three days. Once it's older than 3 days, it's perfect for fried rice. Check out my Vegetarian Fried Rice!
Freeze: I am not a fan of frozen rice. I don't recommend trying to freeze this recipe.
Reheat: If you're using a microwave to reheat leftover rice, I recommend adding a single ice cube on top of the rice and covering it with a damp paper towel before microwaving. This helps steam the rice to keep it moist. Remove any remaining ice before serving.
Perfect Basmati Rice is the backdrop to so many recipes, but two of my favorites are Meatloaf Meatballs and Rice and Easy Spanish Chicken and Rice. Be sure to check both out.
Cooking rice shouldn't be complicated, but a few extra steps make a big difference. Try this Perfect Basmati rice recipe and let me know what you think in the comments section below.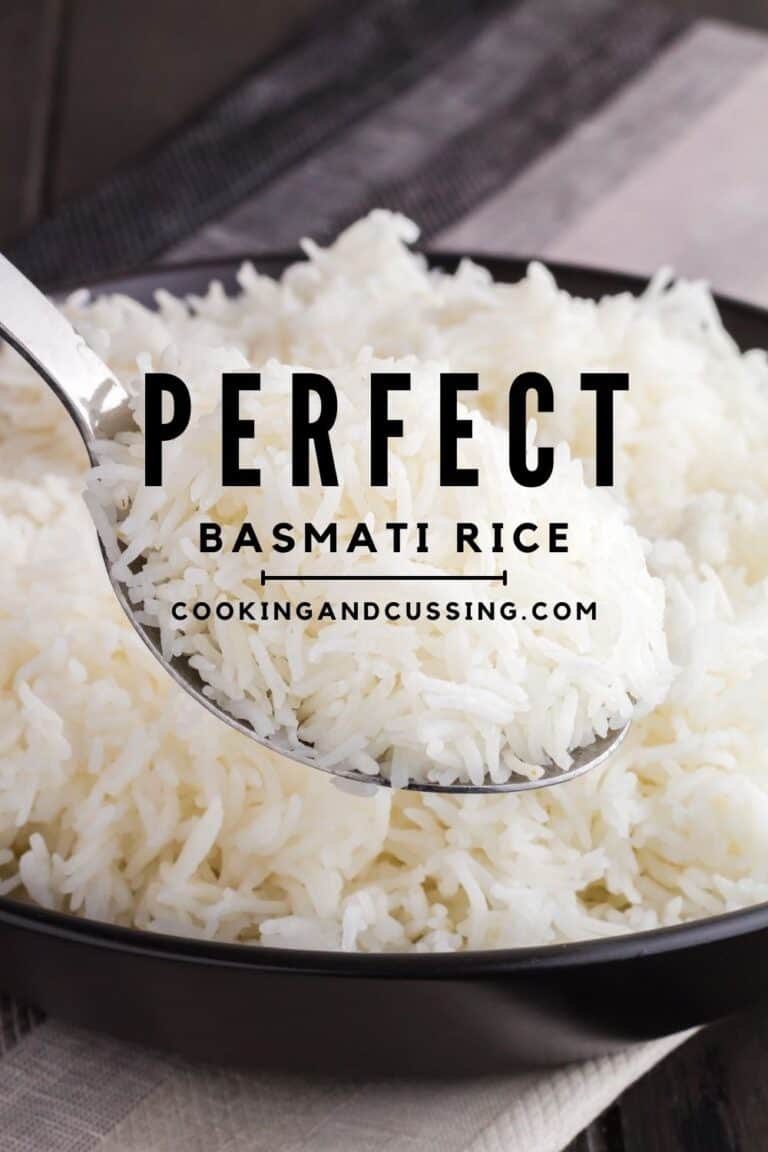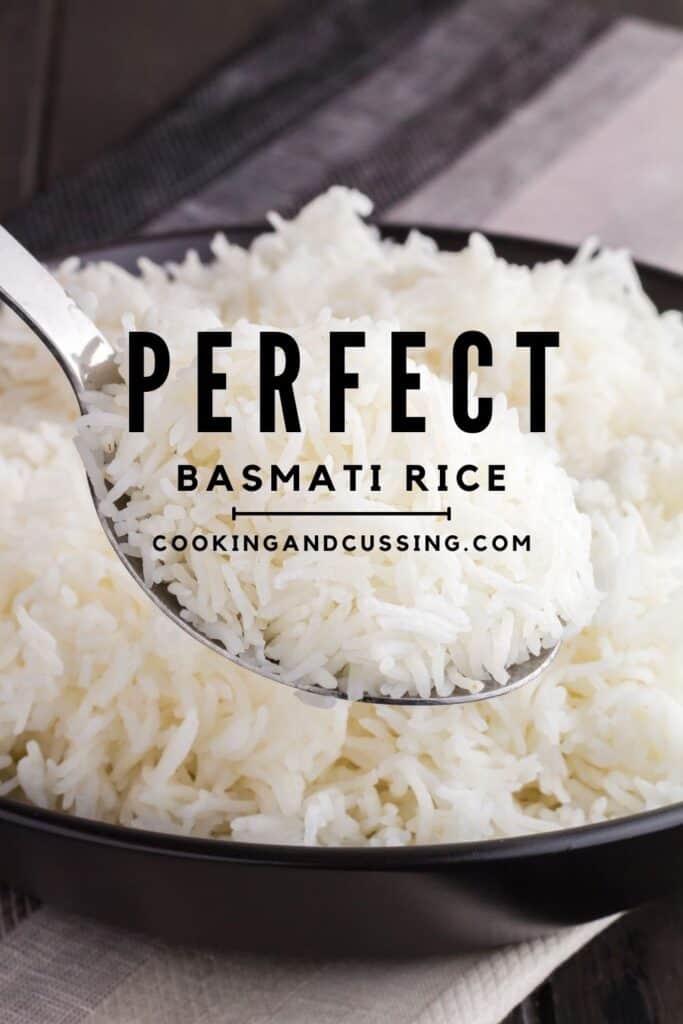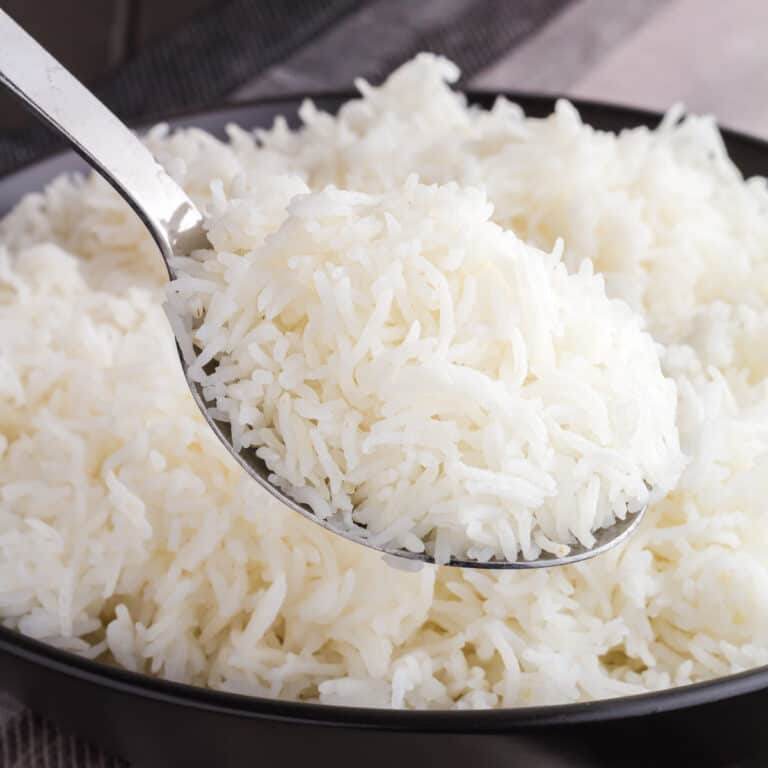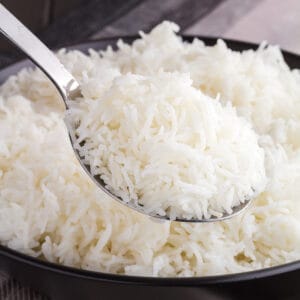 Perfect Basmati Rice
A completely foolproof method to delicious, fluffy basmati rice every time. Rinsing and soaking the rice before cooking are just a couple of keys to the rice of your dreams.
Ingredients
2

C

basmati rice

3

C

cooking liquid*

1

tsp

kosher salt
Instructions
Add rice to a small bowl and add enough water to cover completely. Stir and pour off water, being careful to not pour the rice out. Repeat 3 times. Add water for the fourth time, and let the rice soak for 30 minutes.

Once the rice has soaked, drain off the excess water in a fine strainer and run water over the rice to rinse.

Bring cooking liquid and salt to a boil in a large saucepan over high heat. Once boiling, add rice. Stir to combine. Bring back to a boil.

Turn heat down to low and cover. Cook for 6 minutes or until liquid is completely absorbed. Don't be afraid to open the lid and move the rice with a spoon to check for excess liquid.

Turn the heat off and leave the lid on the saucepan for 5 minutes.

After 5 minutes, pour the rice onto a sheet pan and spread into an even layer. Allow the rice to cool for 5 more minutes before serving.
Notes
*Water, broth or any other liquid with a similar consistency; go easy on the salt if you're using broth or choose reduced sodium broth.
Frequently Asked Questions
Do I have to use basmati rice?
Any long-grain rice will work.
The package of rice says to use more/less liquid than this recipe. Which do I follow?
No matter what the package says, stick with the 2 parts rice to 3 parts liquid ratio, but be sure to soak the rice first as instructed.
The following two tabs change content below.

Hey-ooo! I'm Hailey, and I'm a number cruncher by day and cussing cook by night. I created this site to share my love for delicious food that feeds the soul as well as the belly. I hope my recipes have you running to the kitchen to cook some damn good grub!