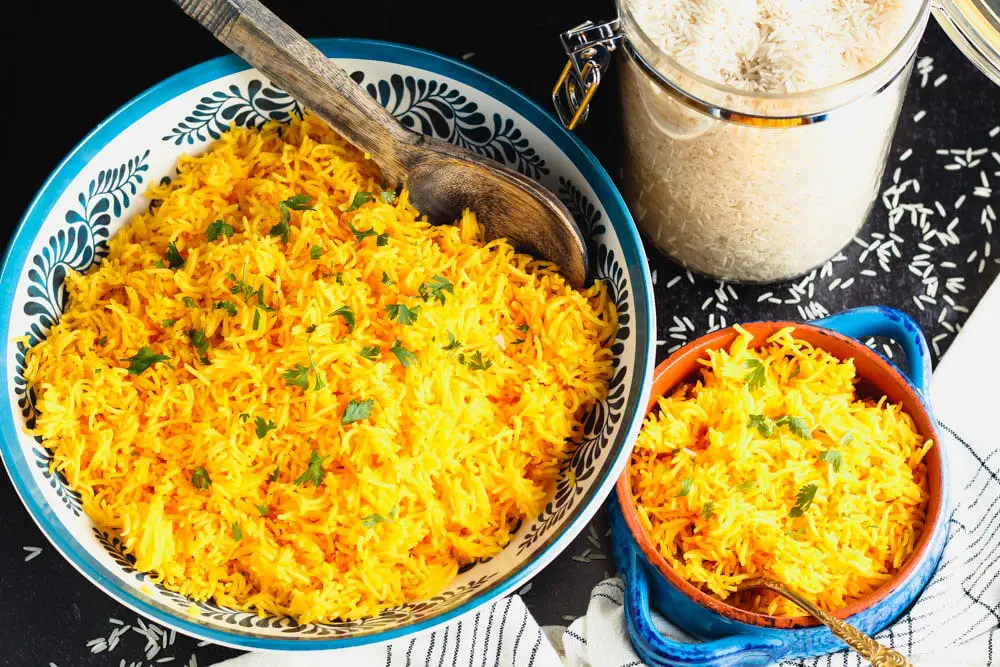 Perfect Basmati Rice is a recipe you'll use over and over again, and that is coming from someone who used to see rice as a sworn enemy in the kitchen. Hi, my name is Hailey, and I sucked at making rice. Notice that is past tense because I have now mastered a fool-proof way to make fluffy flavorful rice, every single time.
If you too feel like your rice never turns out like the rice of your dreams, you've come to the right place.
My rice was always more like porridge before I started using this technique. It had that gloopy, oatmeal texture that makes you wish you had made pasta or potatoes instead.
When my husband, who is a professional chef and totally obsessed with rice, would make it, it came out perfectly. The most annoying part of his perfection was that when I would ask how he made such good rice, he would reply with some smart comment like, "I don't know. I just make it."
On the other hand, I would try following the recipe on the package which was apparently complete shit, just like the rice it produced. It was so frustrating! I decided it was finally time to crack the code and figure out what my hubs was doing that I wasn't.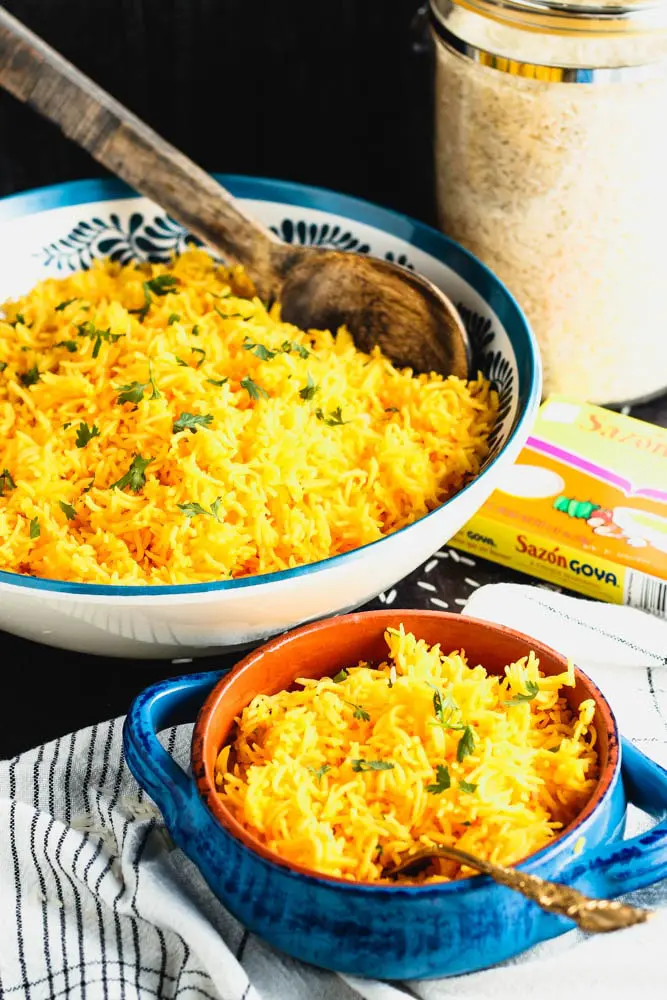 So one day as he was preparing a quick dinner for us, I annoyed the shit out of him and asked a million questions, made him measure every ingredient, and documented a recipe. I've tested it at least ten times, and it seriously never fails! It was totally worth dealing with him to get the secrets, and I'm thrilled to share them with you.
Do I have to use basmati rice?
I have only tested this recipe with basmati rice, but it will work with any long grain rice you choose. We buy ten-pound bags of Royal Basmati Rice, so I don't often have any other variety in the house. I love this brand, and it's widely available.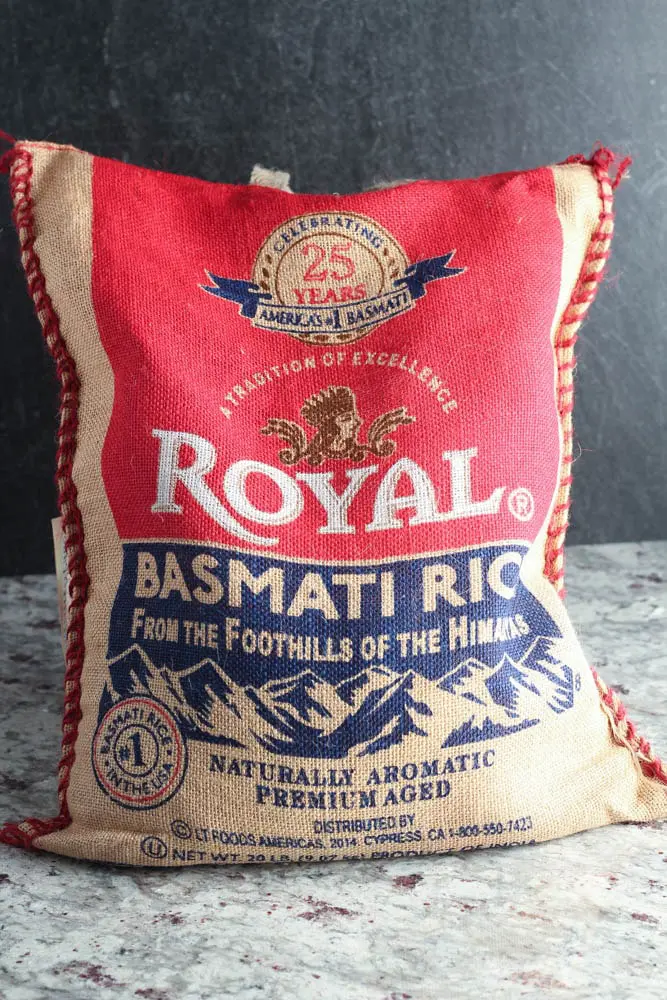 Rinsing the rice is key to Perfect Basmati Rice
The first step to Perfect Basmati Rice is rinsing.
You absolutely cannot skip this step.
As you rinse the rice, you'll see how cloudy the water becomes. That is all the excess starch you're rinsing off that previously would take your rice from beautiful separated grains to damned cream of wheat. Not today, devil! Rinse and you're halfway to fluffy rice.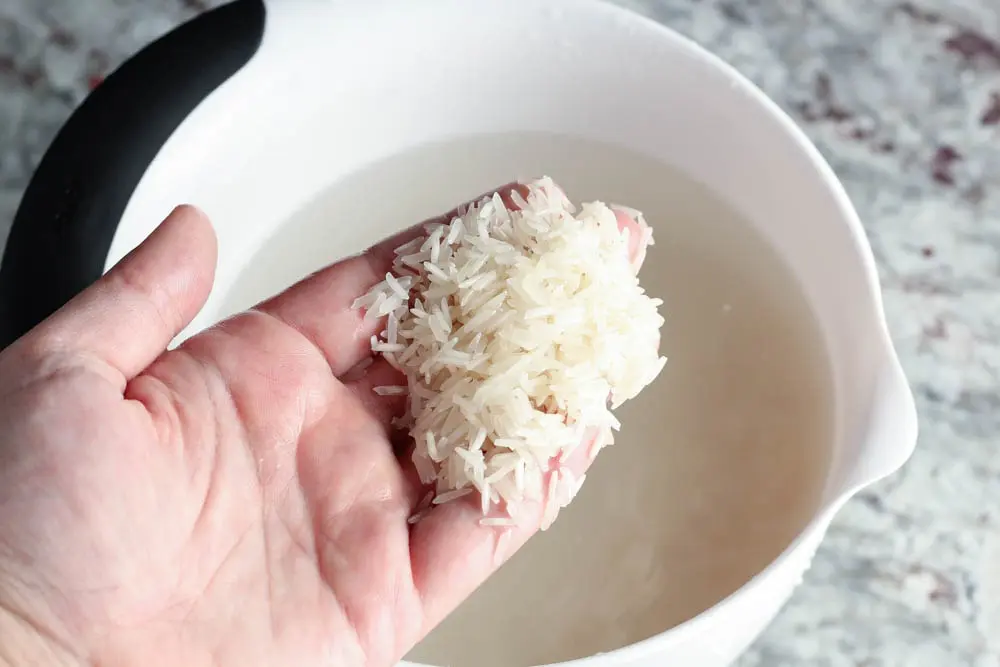 Soaking is a close second
Rinsing is the biggest game changer in making rice when you compare it to package instructions, but soaking rice is the secret to the quick cook time. After you've thoroughly rinsed the rice, let it soak in cold water for 30 minutes to start softening up the grains in preparation for a speedy cook time.
Remember the 2:3 Ratio
No matter what the package says, stick with the 2 parts rice to 3 parts liquid ratio (after soaking), and you will have rice that is moist and cooked through but never soggy. In my experience, the package usually calls for more liquid and no soak time which, in theory, that math checks out, but the end result just isn't as good. Rinse, soak, and lighten up on the liquids.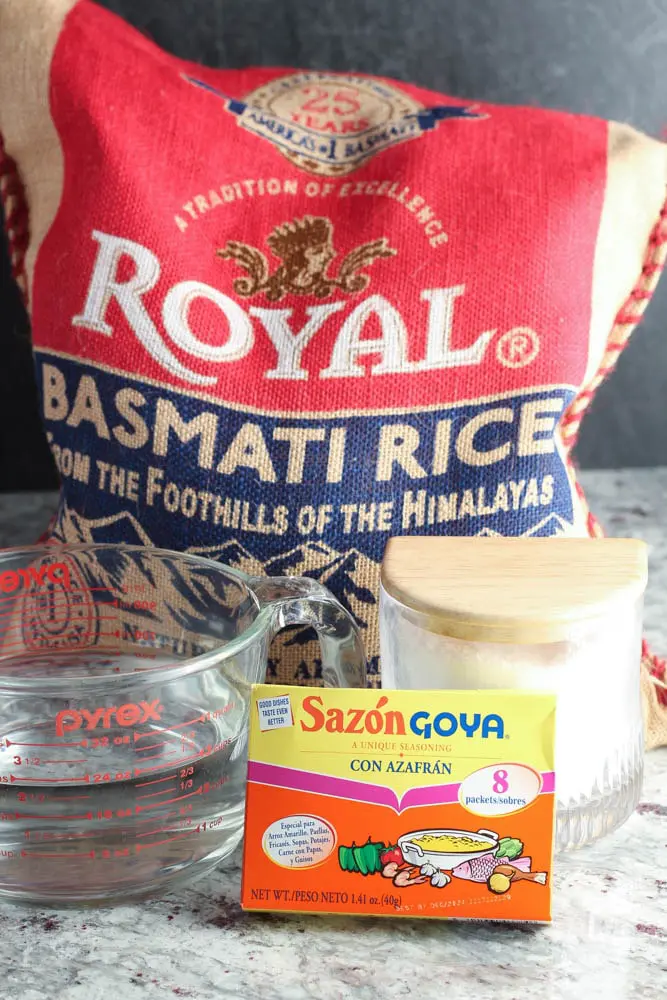 Why is your rice orange?
The flavor options for rice are obviously endless, and I'm not trying to sum them up in a paragraph. What I will say is the Sazon spices are my go-to quick weeknight hack for flavorful rice. I love the "Con Azafran" flavor for a base for all kinds of ethnic recipes. The "Cilantro y Achiote" is also delicious and featured in my Easy Spanish Chicken and Rice. Be sure to include salt with your Sazon since the packets do not have any.
That being said, this basmati rice recipe is delicious when made with just rice, water and salt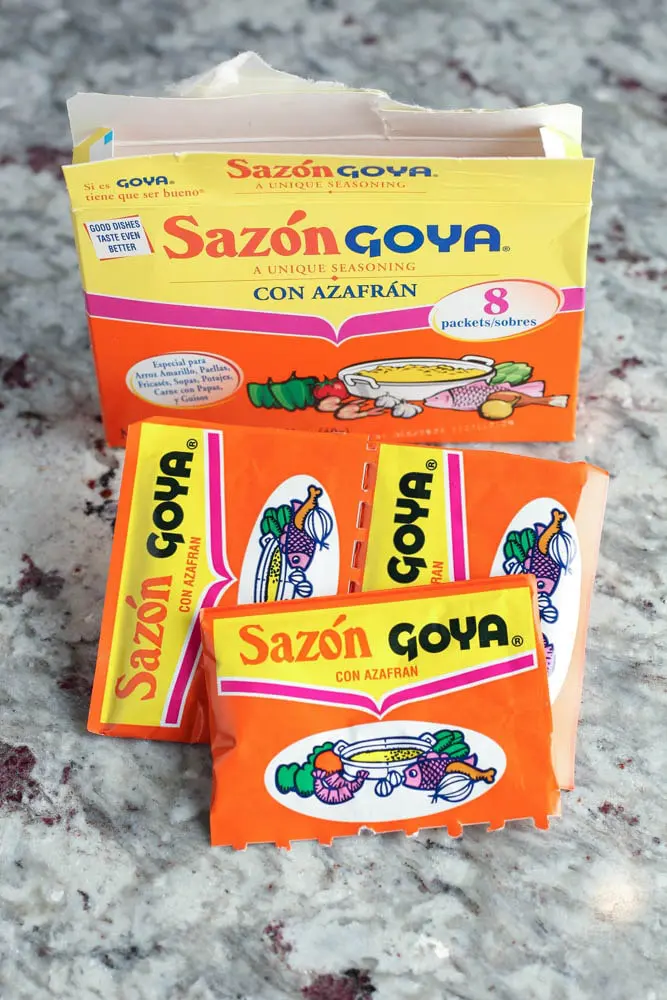 Any cooking liquid will work
Water is the most basic way to make rice, and there is nothing wrong with using it, especially if you're going to use one of the Sazon packets for flavoring. I often use chicken broth in place of water for a more savory quality to my rice. Chicken, beef, vegetable, or seafood broth would all work well too. These are just the most basic options, but don't let them limit you. If the consistency is like water, try it!
Spread the rice out
A little bit of steaming with the heat turned off is called for in most rice recipes, but I think it's easy to end up with overcooked rice if you overdo it with this step. For that reason, it's best to spread the rice out on a sheet pan and let it cool there for a couple of extra minutes. It's an extra step, yes, but it's so simple and helps ensure your rice isn't sticky.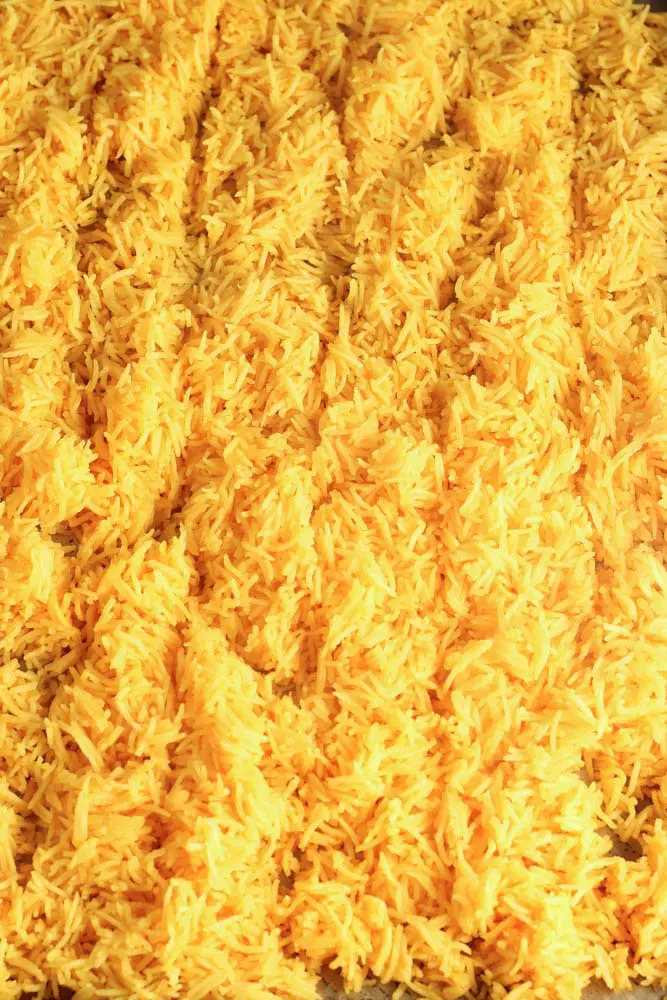 Can you make rice in advance?
Sure. Two days in advance is about as far out as you would want to make it though to preserve the fresh taste. On the other hand, rice that is 3 to 4 days old is awesome for fried rice!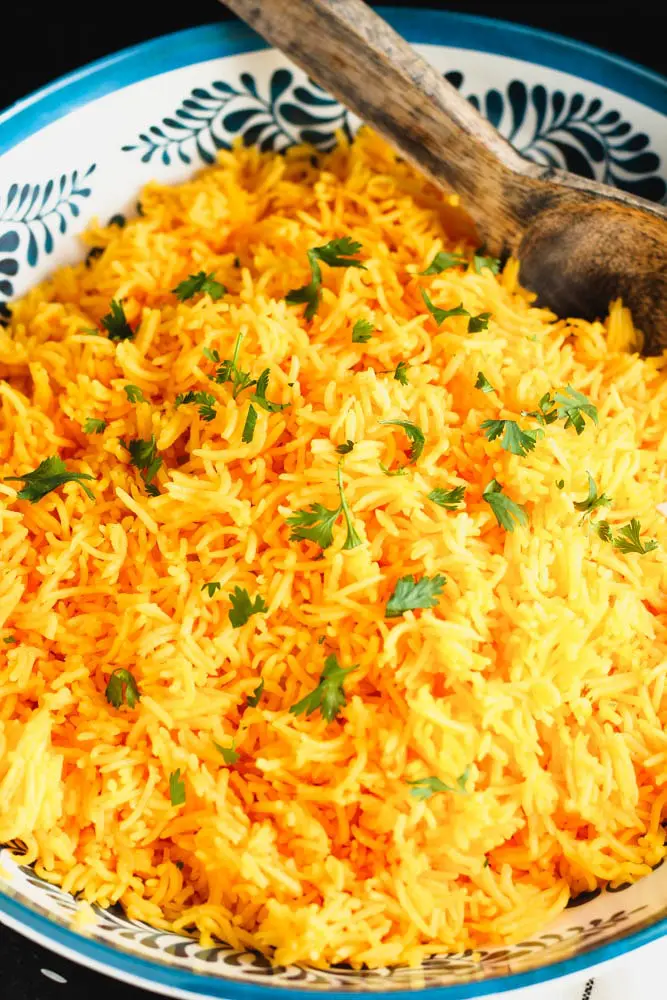 Cooking rice shouldn't be complicated, but a few extra steps definitely makes a big difference. Try this Perfect Basmati rice recipe with my Easy Chicken Curry, and let me know what you think.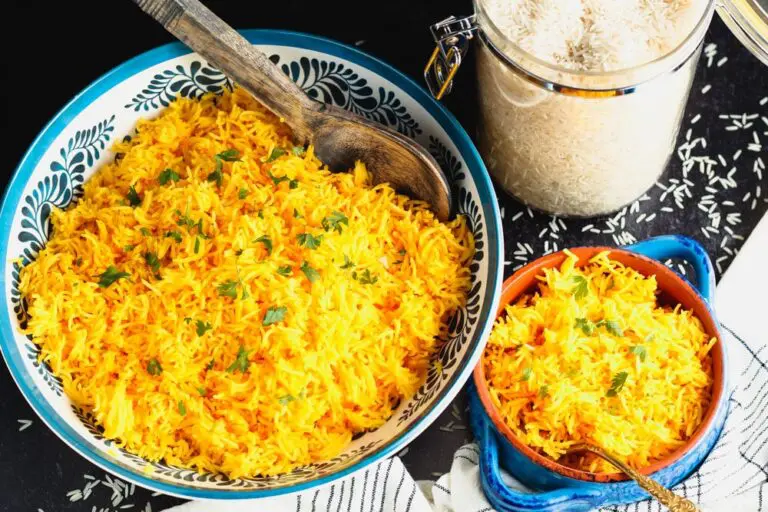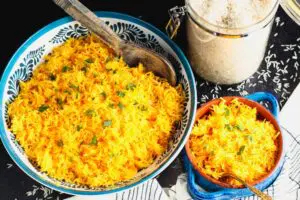 Perfect Basmati Rice
A completely foolproof method to delicious, fluffy basmati rice every time. Rinsing and soaking the rice before cooking are just a couple of keys to the rice of your dreams.
Ingredients
2

C

basmati rice

3

C

cooking liquid*

1

tsp

kosher salt

Sazon Con Azafran packet

optional
Instructions
Add rice to a small bowl and add enough water to cover completely. Stir and pour off water, being careful to not pour the rice out. Repeat 3 times. Add water for the fourth time, and let the rice soak for 30 minutes.

Once the rice has soaked, drain off the excess water in a fine strainer and run water over the rice to rinse.

Bring cooking liquid and salt to a boil in a large saucepan over high heat. Once boiling, add rice. Stir to combine. Bring back to a boil.

Turn heat down to medium and cover. Cook for 6 minutes or until liquid is completely absorbed.

Turn the heat off and leave the lid on the saucepan for 4 minutes.

After 4 minutes, pour the rice onto a sheet pan and spread into an even layer. Allow the rice to cool for 2-3 more minutes before serving.
Notes
*Water, broth or any other liquid with a similar consistency; go easy on the salt if you're using broth or choose reduce sodium broth.
Frequently Asked Questions
Do I have to use basmati rice?
Any long grain rice will work.
The package of rice says to use more/less liquid than this recipe. Which do I follow?
No matter what the package says, stick with the 2 parts rice to 3 parts liquid ratio, but be sure to soak the rice first as instructed.
Where do I find Sazon seasoning at the grocery store?
It's most often found with Mexican specialty items or near the stock/broth.
The following two tabs change content below.

Hey-ooo! I'm Hailey, and I'm a number cruncher by day and cussing cook by night. I created this site to share my love for delicious food that feeds the soul as well as the belly. I hope my recipes have you running to the kitchen to cook some damn good grub!