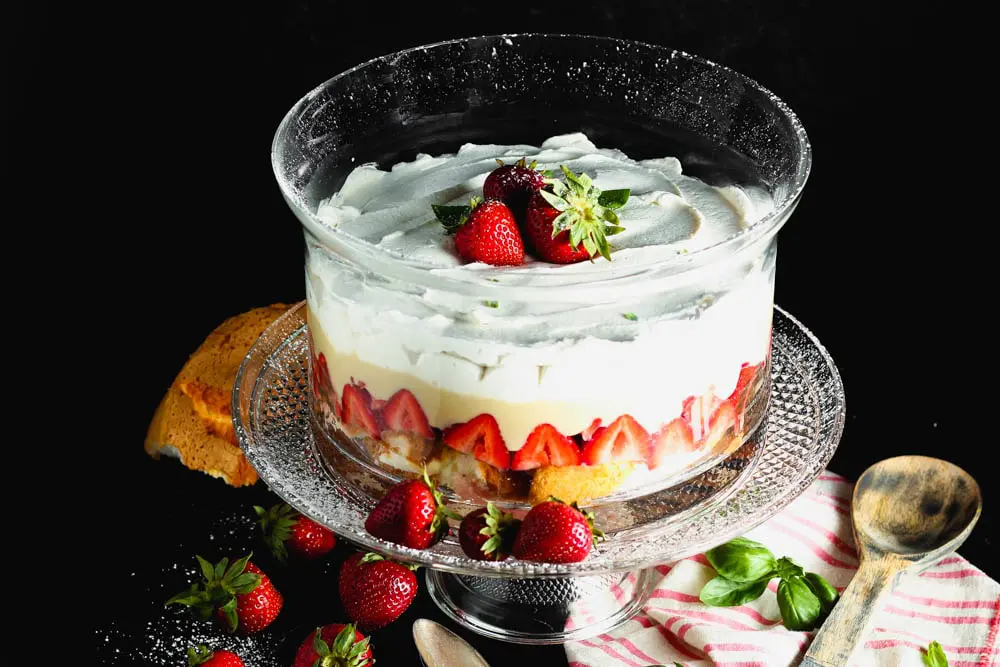 Easy Strawberry Trifle is a layered dessert made up of light-as-air angel food cake, creamy homemade vanilla pudding, fresh strawberries, and fluffy whipped cream. There is nothing more delightful in the summer than strawberries and cream, and this recipe highlights those flavors beautifully. Strawberry Trifle is also an easy way to provide dessert to a large group so it's perfect for summer entertaining.
Strawberry Trifle is more informally called Strawberry Junk in my family. In fact, there is another post that you find if Google search Strawberry Junk that is my original version of this post. You would be one of the five people that has actually searched for Strawberry Junk though which has put that post in the dark corners of the internet where no one goes.
Instead of revising the old post as I have done with a lot of my early content, I decided to create an entirely new post titled "Strawberry Trifle" so that I can share this recipe with a far larger audience. In order to really grab the attention of people looking for trifle, the post does in fact have to be titled Strawberry Trifle.
So as to avoid any further confusion, I will refer to this recipe only as Strawberry Trifle instead of the calling it Junk, but I have to tell you that it hurts my heart a little.
What is a trifle?
Trifle is defined as "a cold dessert of sponge cake and fruit covered with layers of custard, jelly, and cream." You just read that in a British accent, right? It sounds distinctly British to me, but Americans have also adopted trifles as one of our signature desserts.
I love the idea of layering flavors. It's a concept I use often in savory food, so the idea of layering sweets just makes sense. Strawberry Trifle consists of four layers, from bottom to top:
Angel food cake
Strawberries
Vanilla Pudding
Whipped Cream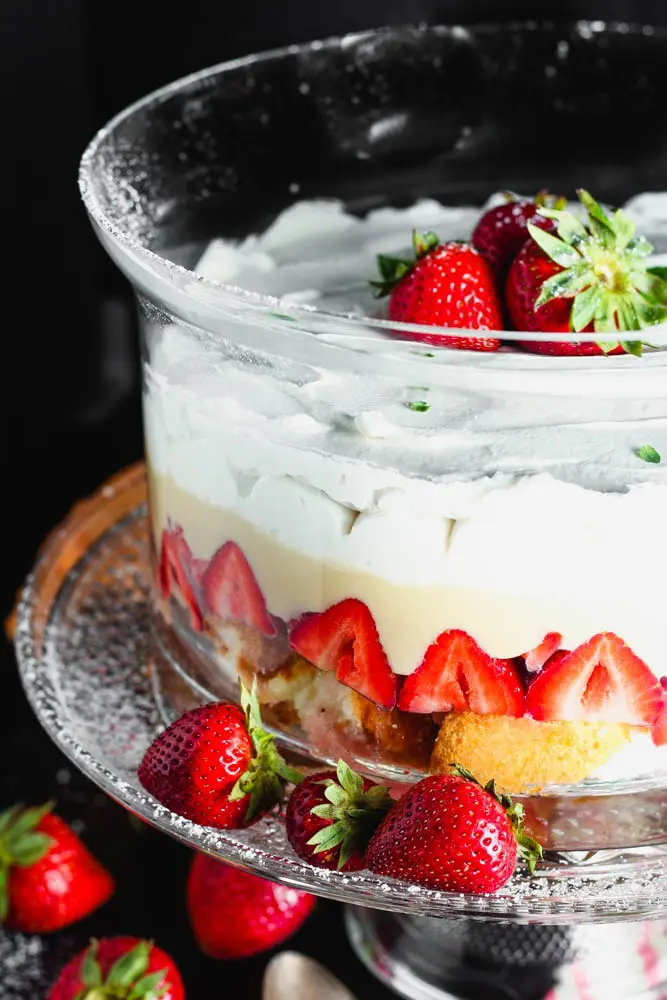 That's it! Strawberry Trifle is a wonderfully simple dessert, but that's why everyone loves it. Making a couple of the layers from scratch takes a little extra time but really amps up the flavor of the finished trifle. If you're making everything from scratch, your ingredient list is still quite small. You'll need:
Angel Food Cake (mix or prepared)
Strawberries
Lemon
Whole Milk
Sugar
Cornstarch
Eggs
Vanilla extract
Salt
Butter
Heavy Cream
Powdered Sugar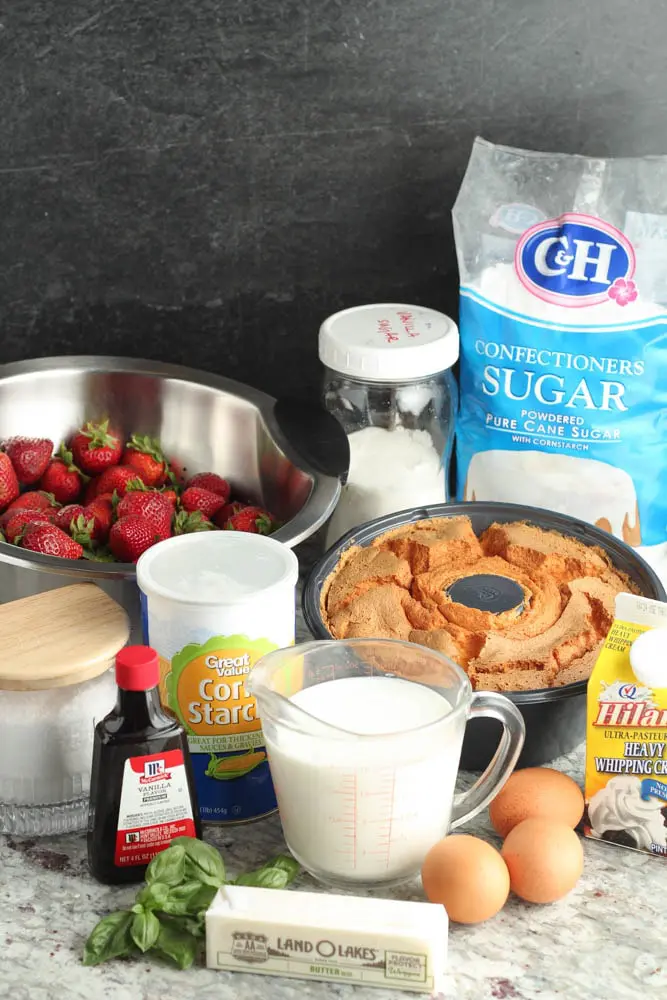 Do I have to make all of the layers from scratch for Strawberry Trifle?
There's a lot to unravel in that question so let's take them one at a time. In the end, the choice is totally up to you. I grew up eating this recipe with store-bought angel food cake, Jello instant pudding and Cool Whip, and I loved every damned second of it. If that's the path you take, no judgement…in fact, I'd love to hear about what you did and how the recipe turned out.
Should I make or buy Angel Food Cake?
Store-bought angel food cake or a box mix as I have used in this recipe is totally acceptable. I have tried angel food cake from scratch for this recipe, and it makes no difference compared to store-bought or cake made from a mix. On top of that, making angel food cake from scratch requires a shit ton of eggs and is far more time consuming than necessary.
To make an angel food cake at home, you need an angel food cake pan. The pan is unique from a normal cake pan in that it has feet on it that allow the cake to cool upside down. If the cake doesn't cool upside down, it will deflate and be tough.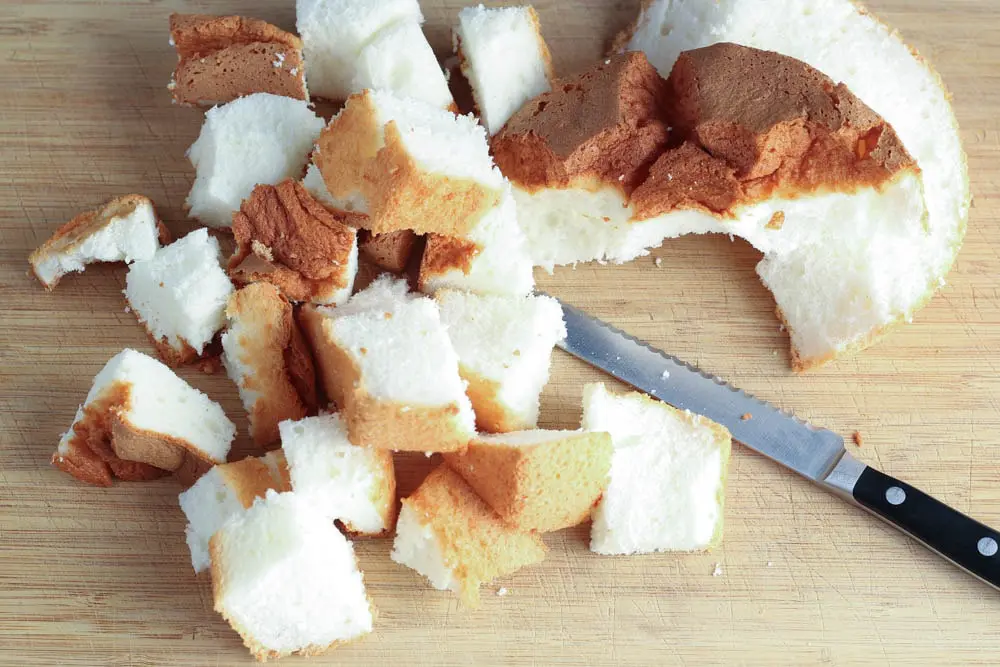 If you don't have an angel food cake pan at home, I recommend just buying the cake from the bakery section at your grocery store. My mom always purchased angel food cake so I see nothing wrong with that option.
Why you

should

make the pudding from scratch
If you only have the will to make one of the layers from scratch for my Strawberry Trifle, please make it the pudding. Angel food cake and whipped cream can both be bought at a decent quality premade, but I personally think homemade pudding is way better than the instant variety. It's also not hard to make despite what the folks at Jello might light you might think.
Making the pudding from scratch takes about 10-15 minutes and only requires a few ingredients. You'll need:
Whole milk
Cornstarch
Eggs
Vanilla extract
Butter
Salt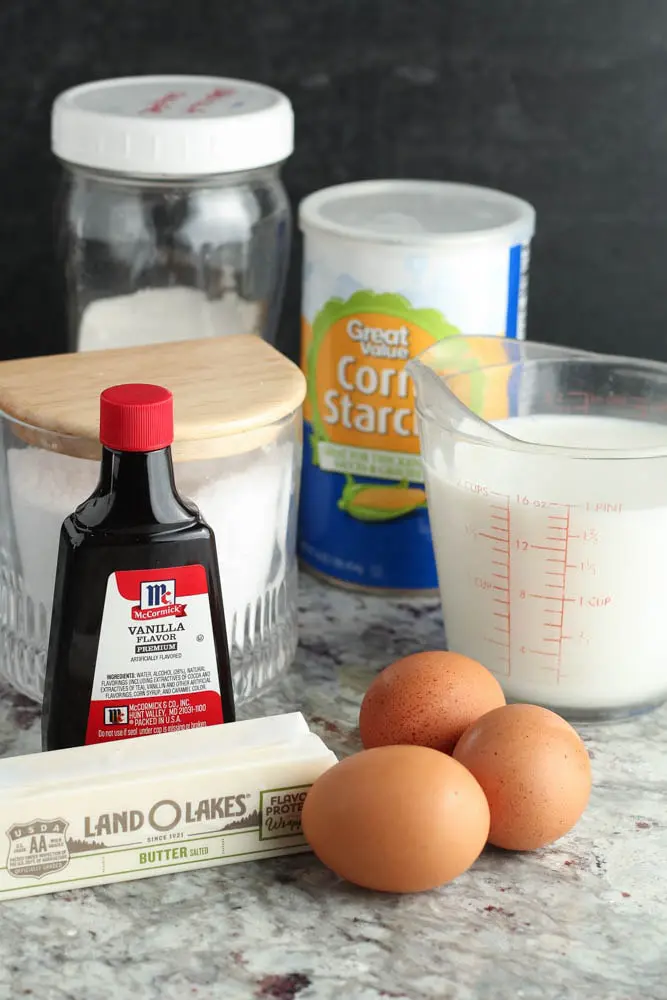 Tips for making pudding from scratch
The most important step to making pudding or any custard from scratch is tempering the eggs which is a fancy way of saying to slowly heat the eggs. If you dump all the hot milk into the egg yolks, you'll get a texture that resembles milk mixed with scramble eggs (or a little like vomit if I'm keeping it 100).
Instead, just be patient, add the warm milk slowly while constantly whisking, and you won't have any problem.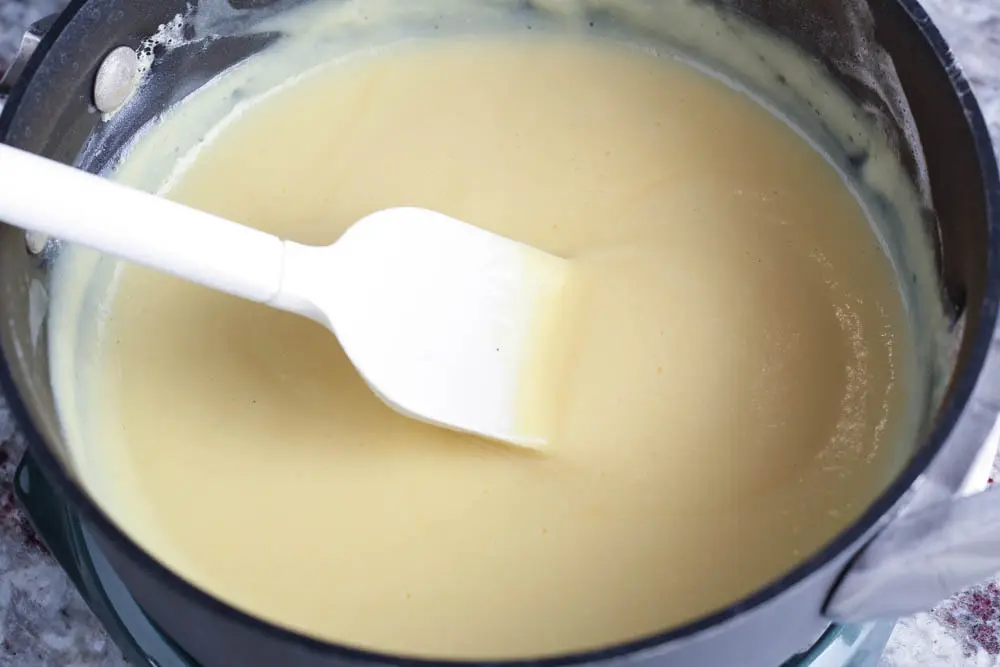 It can be tempting to substitute low-fat milk in this recipe, but don't do it!
Most of us keep 2% or skim milk in the fridge more regularly than whole these days, but the pudding will not have the right texture if you try to skimp on the fat. They sell whole milk in 2C packages too, so there won't be any waste after making the recipe.
Trust me, get whole milk or just skip straight to instant pudding. There are some good quality options out there like Ghiradelli if you want an upgrade from mom's good ol' Jello pudding.
Also, be sure to press your plastic wrap all the way to the surface of the pudding before storing in the fridge. If not, a skin will form across the top of the pudding.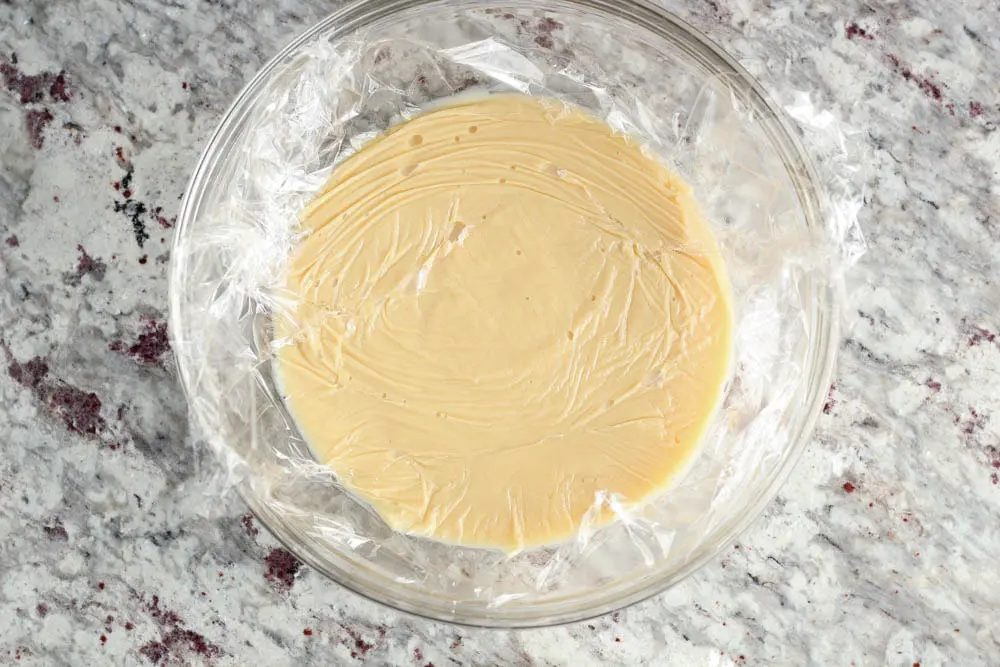 Do I also have to make the whipped cream from scratch?
This question is really a matter of personal preference. My mom's original recipe uses Cool Whip, which wouldn't be my first choice but it is still hers to this day (no matter how processed it is). If you're a whipped cream from a can type of family, don't let me stand in your way.
For me, whipped cream from scratch is so easy; it doesn't even really require a recipe, so I choose to make it from scratch. If you're never tried making it, give it a try.
But is it really Easy Strawberry Trifle?
Strawberry Trifle is as easy as you want to make it. After the pudding is made, the remaining steps consist of tearing the angel food cake into roughly 1-inch pieces, slicing the strawberries and soaking in a bit of sugar and lemon, and lastly, whipping heavy cream into a heavenly fluff. That's all there is to it.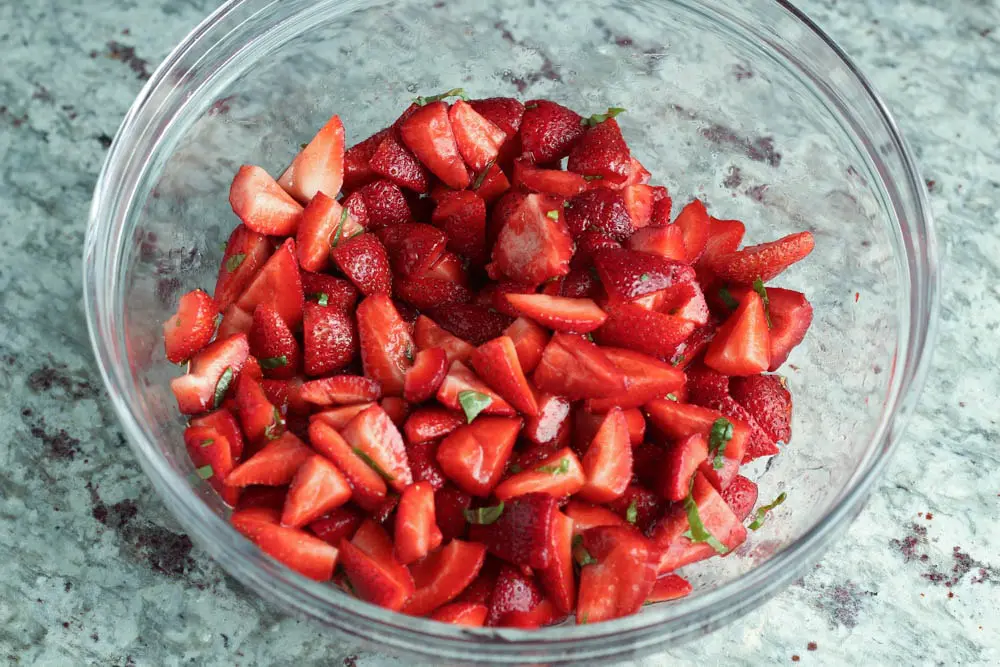 How long does the Strawberry Trifle need to sit before serving?
The trifle needs to sit for a while after it's prepared before serving to allow the angel food cake to soak up all the delicious macerated strawberry juice. The angel food cake should be soaked but not so wet that it disintegrates.
Ideally, Easy Strawberry Trifle should set in the fridge for about 8 hours before serving.
You can rush it to only four hours safely but nothing less than that.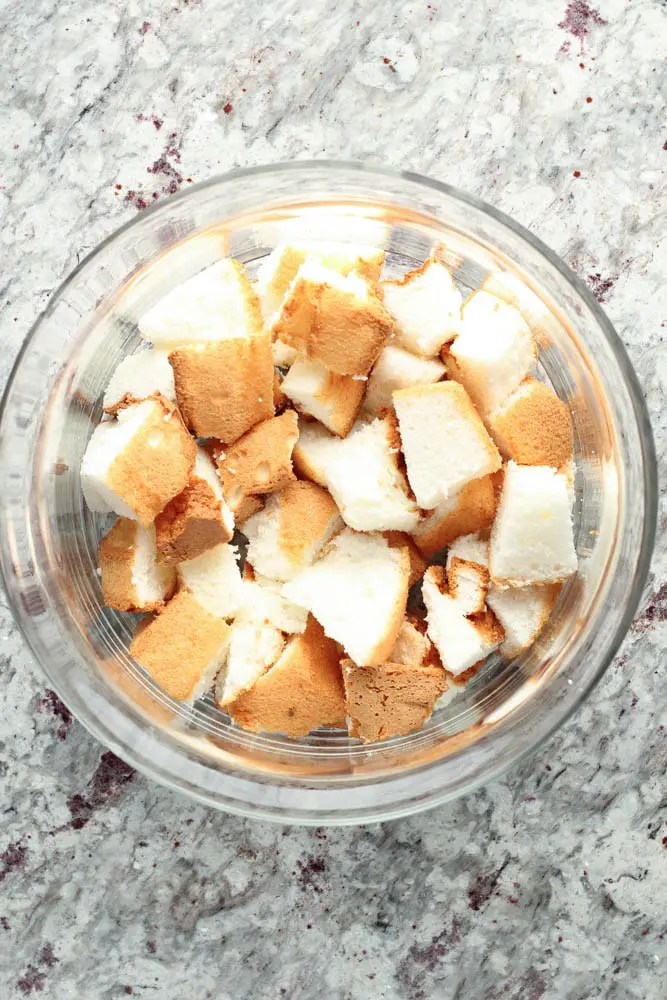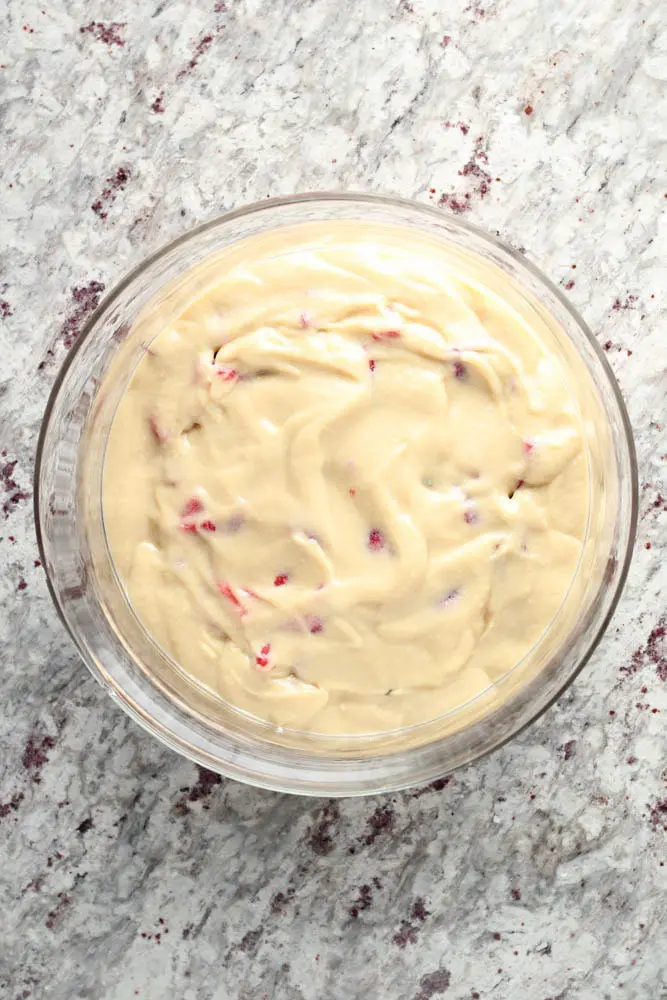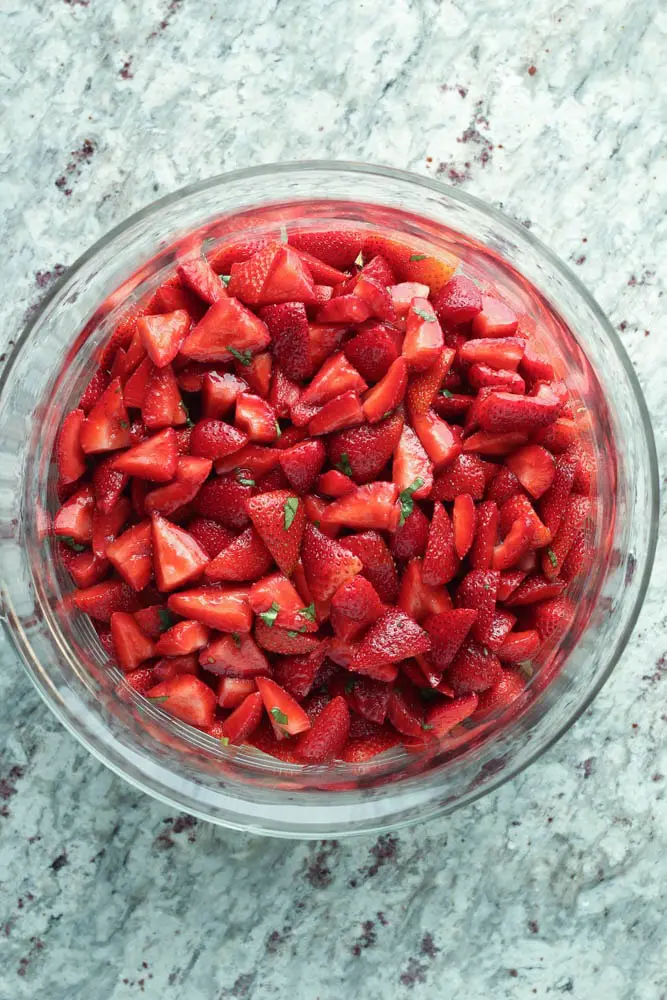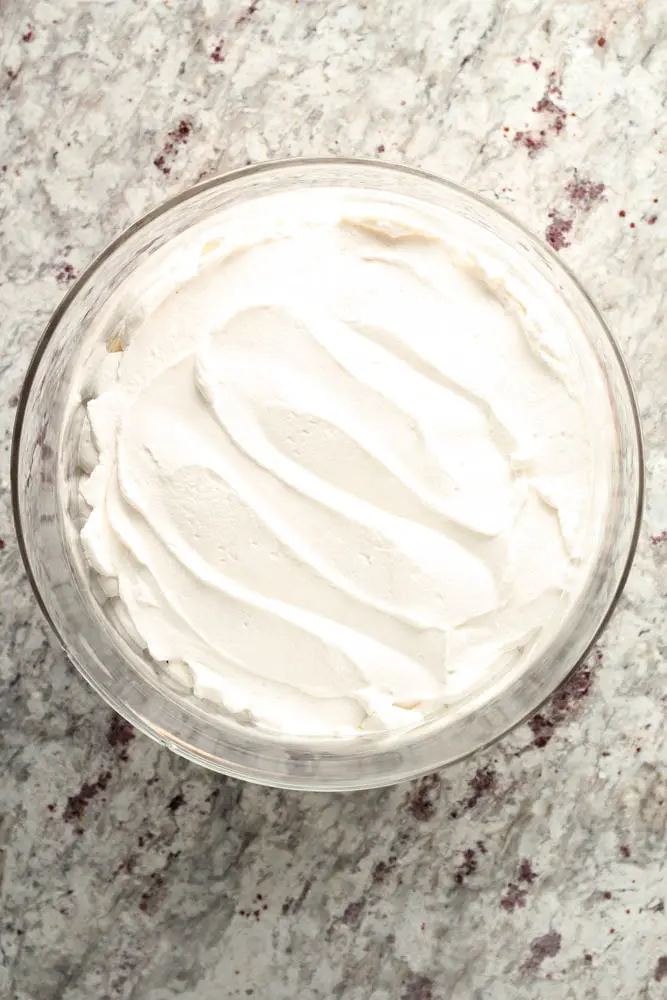 Can you make Strawberry Trifle with frozen strawberries?
Sure, but be sure they are totally thawed and drain off an extra liquid before adding the sugar and lemon. You may also want to increase the sugar added to the strawberries a bit (maybe to ¼ cup).
This recipe was made with fresh strawberries in the summer, so they really don't need much sugar. If you're using out of season strawberries or frozen, just be sure to taste the strawberry mixture to get it as sweet as you like.
What does it mean to "hull" the strawberries?
In the recipe, I say to hull the strawberries it simply means to fully remove the stem of the strawberry. Below the leafy green stem of a strawberry is the hull or what resembles the core of the strawberry. I like to remove it because it is tough and sour.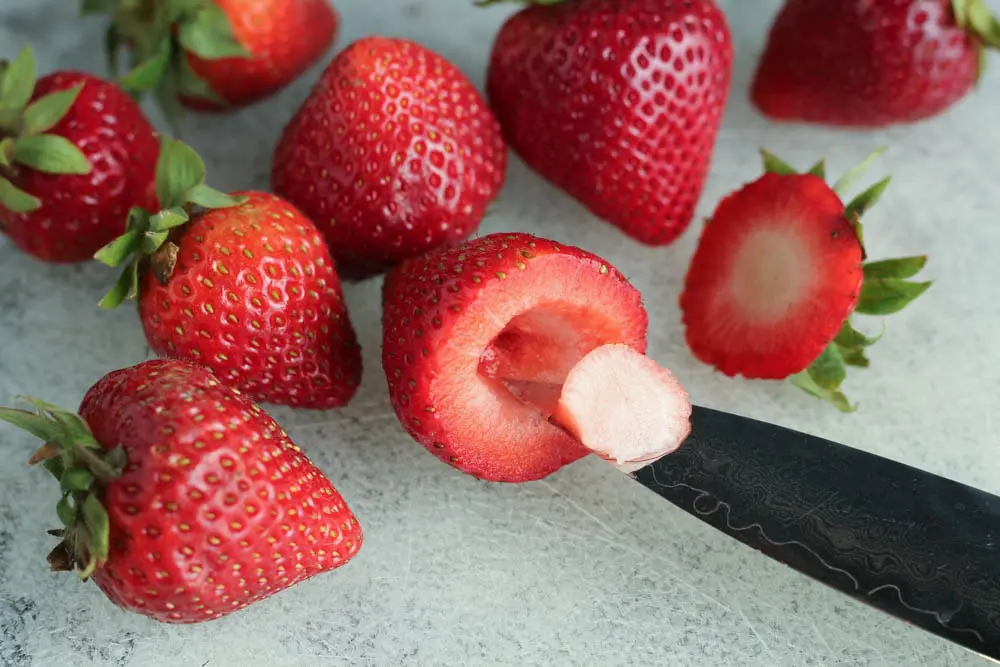 If a strawberry is perfectly ripe, the hull can be quite small. Like many of us know though, not every strawberry in the container is ripe when you get it from the store. You can totally skip this step if it seems like overkill, but it helps to ensure your strawberries don't have any unexpected sour flavors.
Do I have to include fresh basil?
Nope, this is totally optional. I love to grow fresh basil during the summer. Strawberries and basil are a beautiful flavor combination, so it adds a little something to the dish. That being said, your Strawberry Trifle will be equally delicious with or without basil.
What dish should I serve Strawberry Trifle in?
You can prepare the recipe in a trifle like I have, but if you don't have one, no problem! My mom usually made this recipe in a large Tupperware, so please know that nothing fancy is required. A 9x13 pan also works perfectly.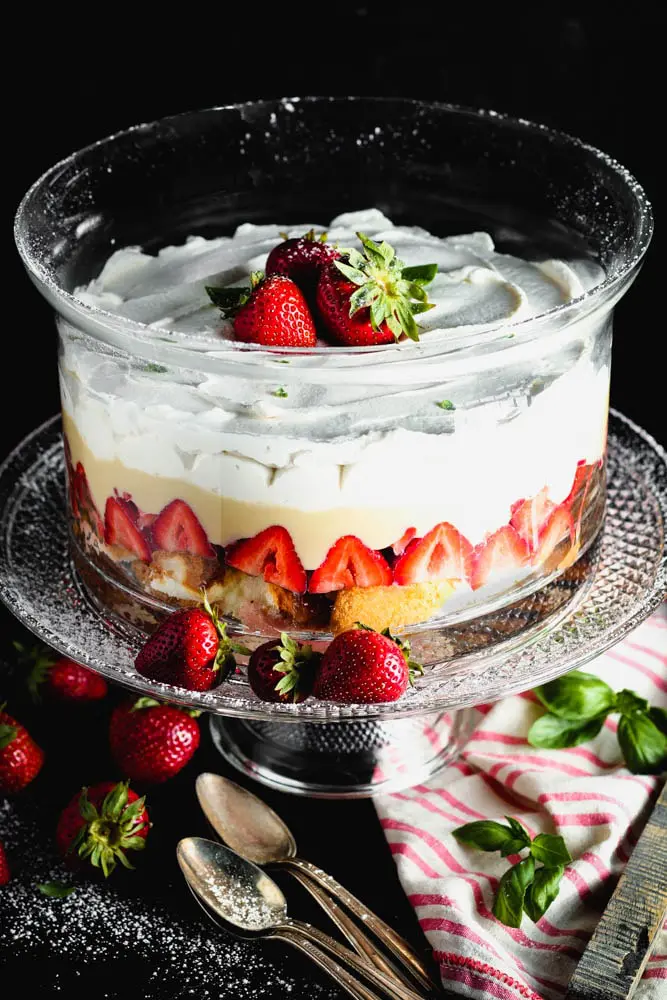 I hope you and your family enjoy a heaping scoop of Strawberry Trifle as much as we always so. Let me know how it goes in the comments section below!
Also, be sure to check out my Chocolate Cheesecake Trifle recipe if you dig this layered dessert!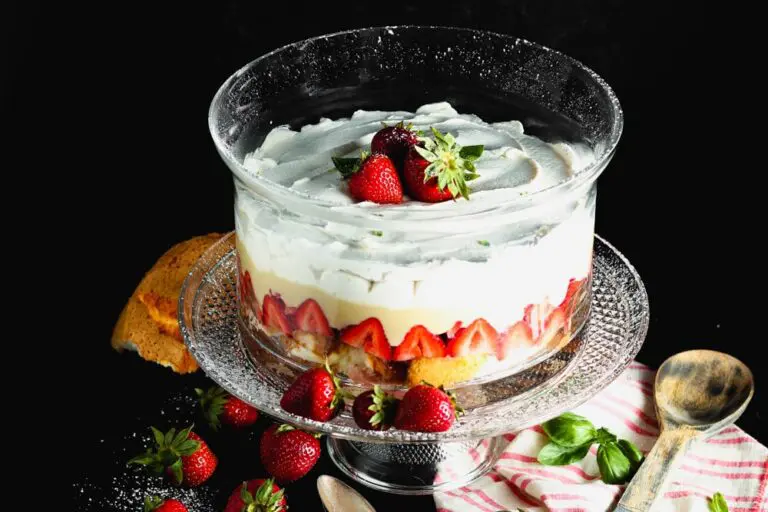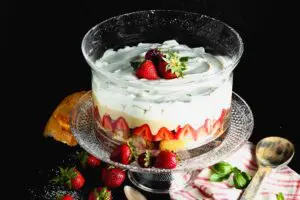 Easy Strawberry Trifle
Layers of angel food cake, strawberries soaked in lemon and basil, homemade vanilla pudding and whipped cream combine to make an easy trifle that is delicious
Ingredients
Strawberries
2

lbs

strawberries

1

lemon

2

Tb

granulated sugar
Vanilla Pudding
2

C

whole milk

½

C

granulated sugar

4

tsp

cornstarch

3

egg yolks

2

tsp

vanilla extract

¼

tsp

salt

2

Tb

butter
Whipped Cream
2

C

heavy whipping cream

½

C

powdered sugar

1

tsp

vanilla extract
Instructions
To make vanilla pudding
Whisk together ½ C milk, cornstarch, egg yolks, and salt in a bowl. Set aside. with remaining milk and cornstarch.

Bring remaining 1½ milk and ½ C sugar to simmer over medium heat. When bubbles just start to form around the outer edge, remove from heat and pour slowly into the milk/egg mixture whisking constantly.

Immediately pour the mixture back into the same saucepan. While stirring constantly, bring the mixture to a low boil for 5 minutes. Remove from the heat once thickened and add vanilla and butter.

Pour the pudding into a bowl to cool. Place plastic wrap over the top and press the wrap down so that it is in contact with the pudding. This will prevent a skin from forming on the pudding.

Allow the pudding to cool completely before building the trifle. It takes 1-2 hours in the fridge or you can kickstart the process by putting the pudding in the freezer for 30 minutes before moving to the fridge for another 30 minutes.
To sweeten strawberries
Remove stem, hull and quarter strawberries. Place in a large bowl and add the juice of one lemon and sugar. Toss gently to combine.
To make whipped cream
Pour cold heavy cream into a large mixing. Using a hand mixer or a stand mixer, whip the cream starting on medium speed and increase to high speed once the cream has thickened slightly.

After 1 minute, turn the mixer off and add powdered sugar and vanilla. Turn mixer back on low first to blend in sugar and then increase speed to high until cream forms stiff peaks.
To assemble Strawberry Junk
Tear or cut the angel good cake into one-inch pieces. Place chunks on the bottom of a large trifle dish or a 9x13 baking pan.

Top angel food cake evenly first with the strawberries and accumulated syrup. Next spread the cooled vanilla pudding across the strawberries and last, top with whipped cream.

Place in the fridge to chill for at least 4 hours before serving.
Frequently Asked Questions
What is a trifle?
A cold dessert of sponge cake and fruit covered with layers of custard, jelly, and cream.
What is angel food cake?
A light and fluffy white cake with a spongy texture from the use of large amounts of egg whites for leavening. It is low fat and only slightly sweet.
Can I use instant pudding?
Yes, but I encourage you to try making pudding from scratch.
Can I use frozen strawberries?
Yes, but be sure they are totally thawed before using and add more sugar to taste since frozen strawberries aren't as sweet as fresh.
How long does the trifle need to sit before eating?
At least 4 hours but preferably 8.
The following two tabs change content below.

Hey-ooo! I'm Hailey, and I'm a number cruncher by day and cussing cook by night. I created this site to share my love for delicious food that feeds the soul as well as the belly. I hope my recipes have you running to the kitchen to cook some damn good grub!