What could be better than a Shepherd's Pie recipe wrapped up in pastry?! Fluffy mashed potatoes topped with a classic shepherd's pie filling of ground beef, carrots, peas, and onions in a savory brown sauce are all wrapped inside pie dough for a hand-pie experience like no other. Shepherd's Hand Pies are comfort food at their finest!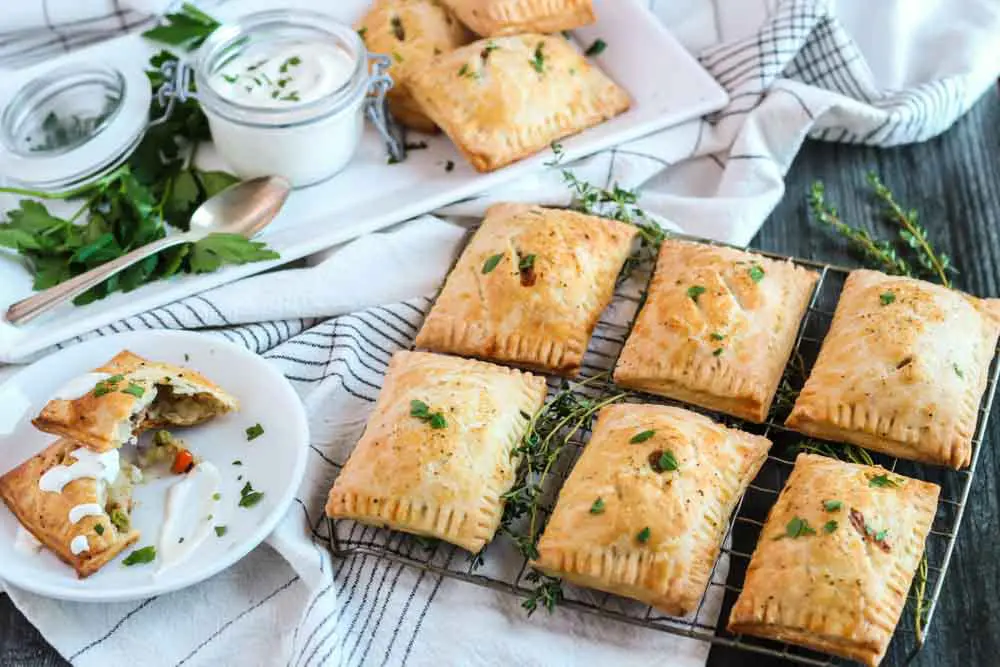 So, what is a hand pie you ask? Hand pies or meat pies are filled pies that you can easily hold in your hand. They come in both savory and sweet forms. The brits call them Pasties (not to be confused with the nipple covers).
Ingredients
I recently edited the recipe for Shepherd's Hand Pies to make it faster and easier. Homemade pie dough was swapped out for store-bought and homemade mashed potatoes for instant. Instant mashed potatoes may seem like blasphemy from a food blogger, but they're a great time saver in this recipe.
Pie dough- store-bought refrigerated pie dough cuts the prep time for this recipe in half
Instant mashed potatoes- another huge timesaver; just add water, stir and set aside
Ground beef
Onion
Carrots
Peas
Garlic
Worcestershire sauce
Beef stock
Parsley
Thyme
Garlic powder
Onion powder
Flour
Egg
Meat pies are best served with a dipping sauce on the side. I like to add a bit of creaminess and heat at the same time with a horseradish cream sauce. To make it you'll need:
Mayo
Sour cream
Horseradish- creamy style
Parsley
Lemon
Worcestershire sauce
Instructions
Shepherd's Hand Pies are not exactly a simple recipe, but they are unique, delicious, and totally worth it! There are several steps to the recipe.
Prepare the instant mashed potatoes.
Make the shepherd's pie filling.
Allow the filling and mashed potatoes to cool.
Make an egg wash.
Roll out the round pastry into a rectangle by working from the middle out.
Cut each rectangle into 6 equal rectangles, 3 will be used as the bottoms and 3 as tops.
Layer mashed potatoes and filling onto each bottom piece.
Brush the four sides of the bottom pastry with egg wash. Place the top piece of pastry over the fillings. Crimp the edges with a fork to seal.
Bake and serve with the horseradish cream sauce.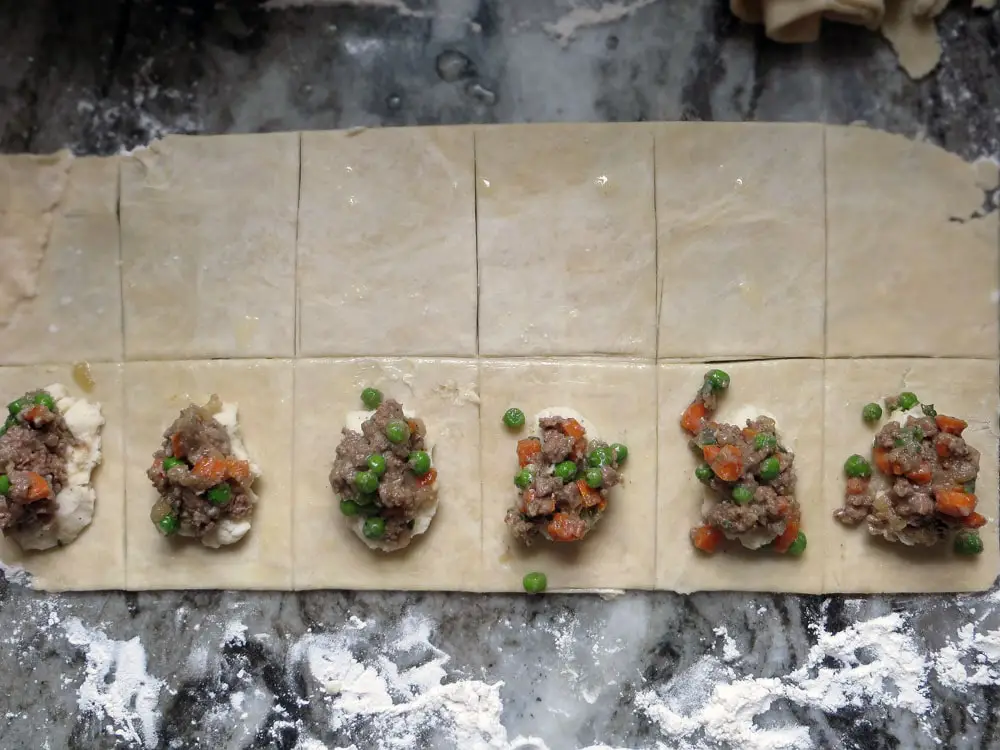 Substitutions
When I wrote this recipe, it included pie dough made from scratch. You can still make your own pie dough and use it in place of store-bought. Check out this recipe from Sally's Baking Addiction or use your family's favorite. You will need to make enough for 4 crusts.
Another easy ingredient to switch out is beef. Feel free to use ground turkey or chicken instead of beef. You can also omit the meat altogether too.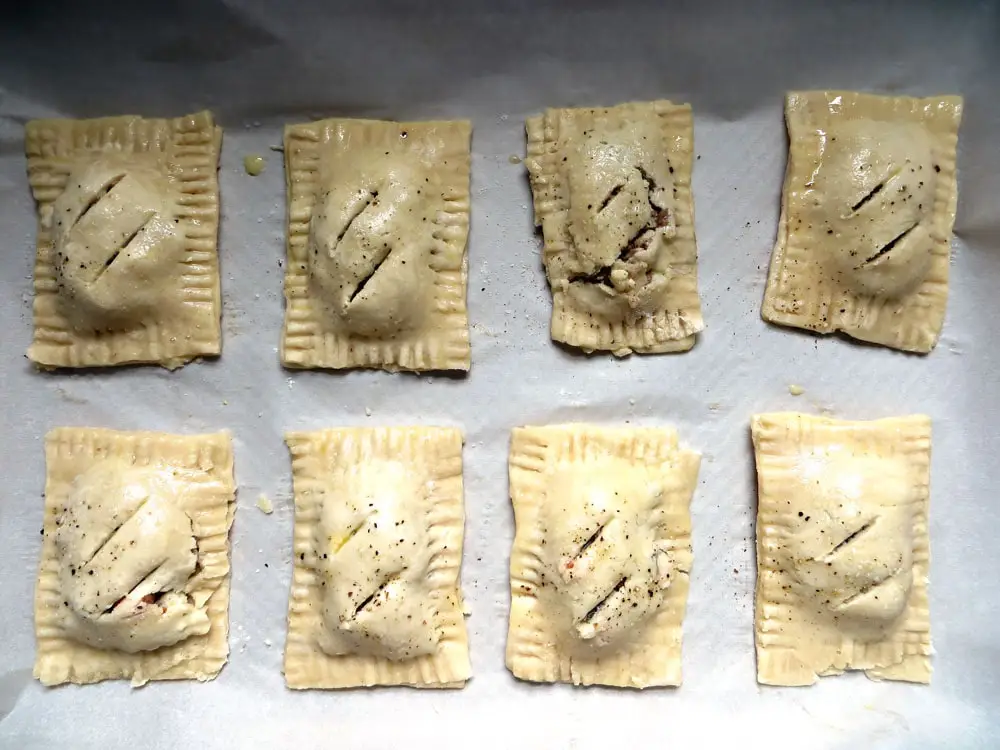 Variations
If you want to make this recipe vegetarian, switch out the beef stock for vegetable stock and omit the ground beef. I would add diced mushrooms in place of meat, or you can use a meat alternative product. If you're looking for more hand pies, be sure to check out my Louisiana Meat Pies, Chicken Potpie Crostata, and Pimento Cheeseburger Hand Pies too.
Equipment
Shepherd's Hand Pies do not require any special equipment, but there are a few handy gadgets to consider. I like to prepare my workstation for assembling the hand pies before I get my hands dirty. Some of the equipment I like to have available is listed below. Click on the links to purchase anything you don't already have.
Fork
Spoon
Pizza cutter
Ruler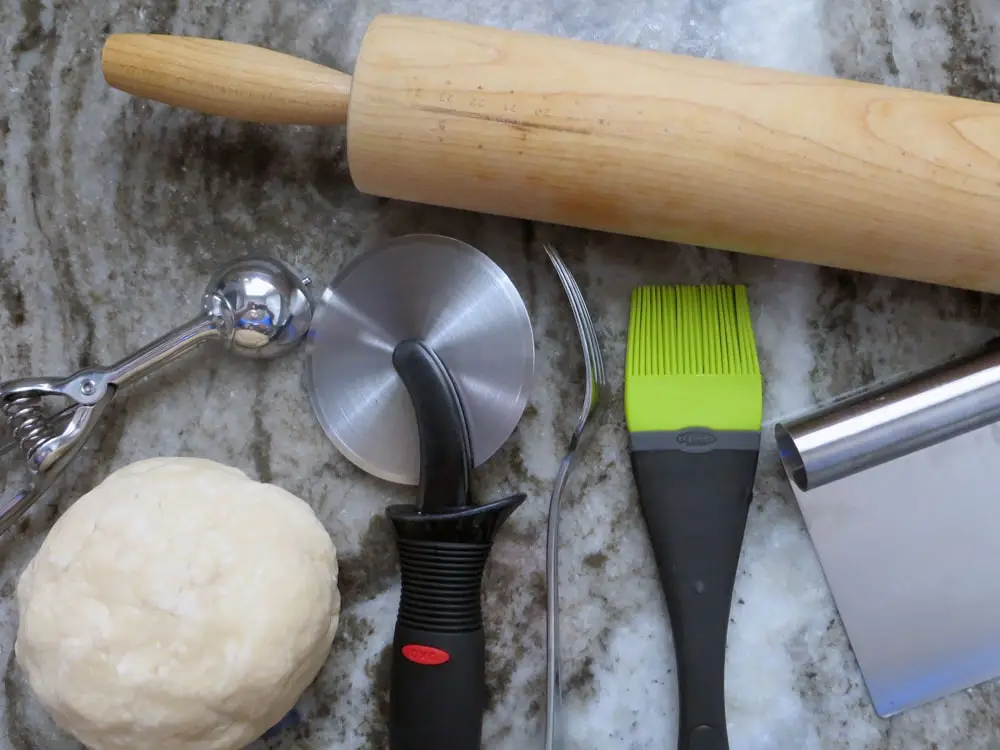 Storage
Serve: Allow the hand pies to cool for 10 minutes before serving. Serve with the creamy horseradish dipping sauce on the side. Add a side salad for a complete meal.
Store: Keep in an airtight container in the fridge for up to three days.
Freeze: For best results, cook the pies and allow them to cool in the fridge completely before freezing. Wrap each pie in parchment paper to prevent them from sticking together. Once wrapped, place the pies in an airtight plastic storage bag. The frozen pies will keep for up to 60 days.
Defrost: Allow the pies to thaw in the fridge for 24 hours before reheating.
Reheat: Once thawed, place the pies on a lined sheet pan, and let them sit at room temperature for 15 minutes then bake at 350 for 10-15 minutes.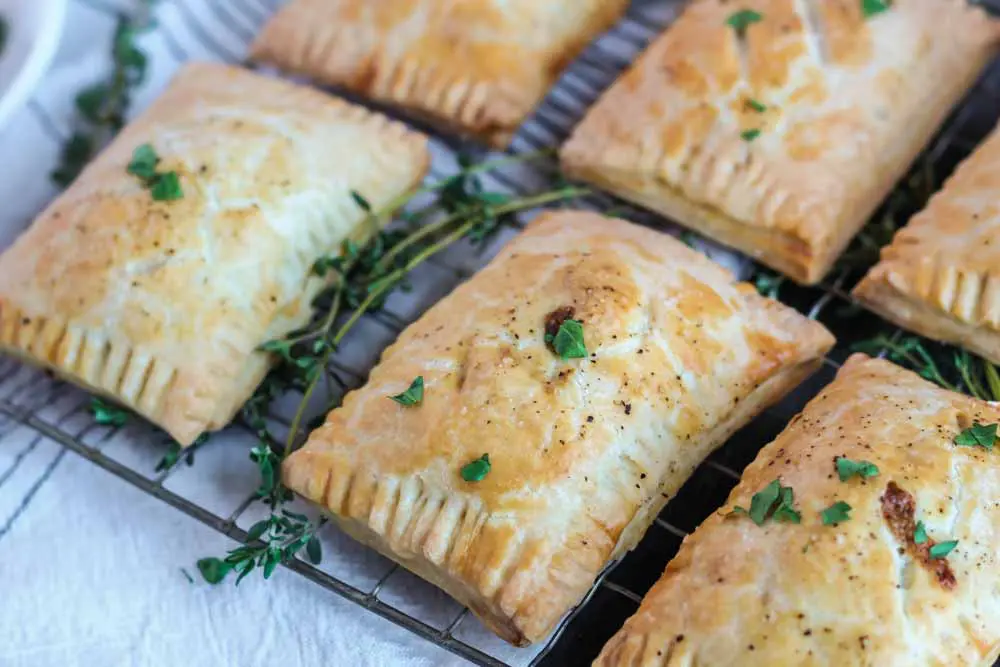 Top tip
To reduce the prep time for Shepherd's Hand Pie, I recommend making the mashed potatoes and filling ahead of time. Both can be kept in an airtight container in the fridge for up to three days before assembling the meat pies. Having cold dough, mashed potatoes, and filling will make assembly much easier. Warm filling or potatoes will warm the dough making it easy to tear and messy.
Another pro tip to consider is using a ruler. I know this may seem over the top, but I love using a ruler when I'm cutting pastry. You get beautiful, even results every time.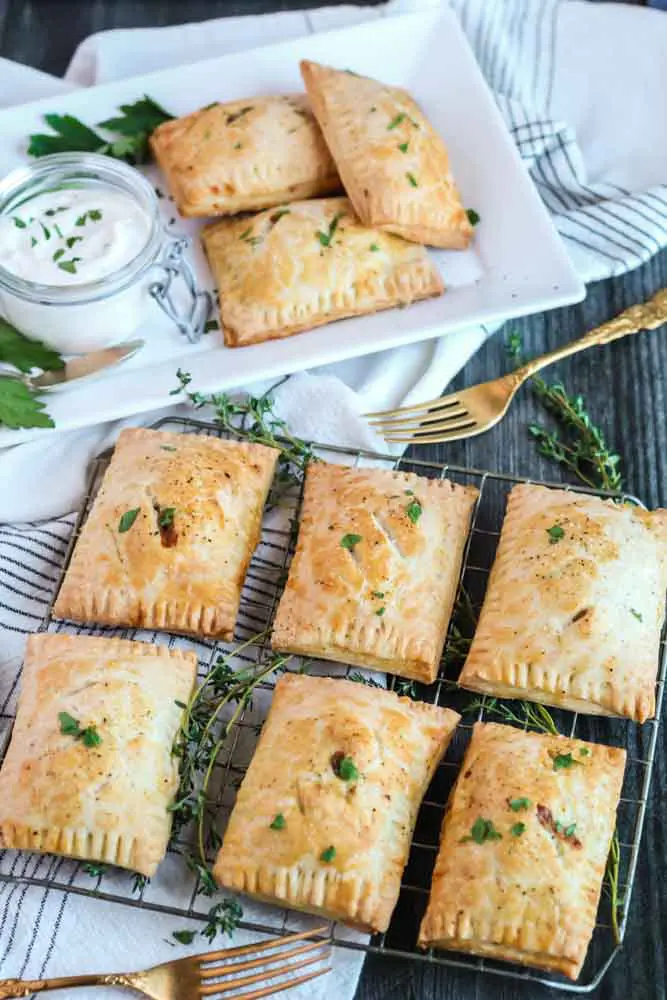 Don't miss out on Shepherd's Hand Pies! They are one of a kind and delicious! Let me know if you agree in the comments section below.
Helpful Utensils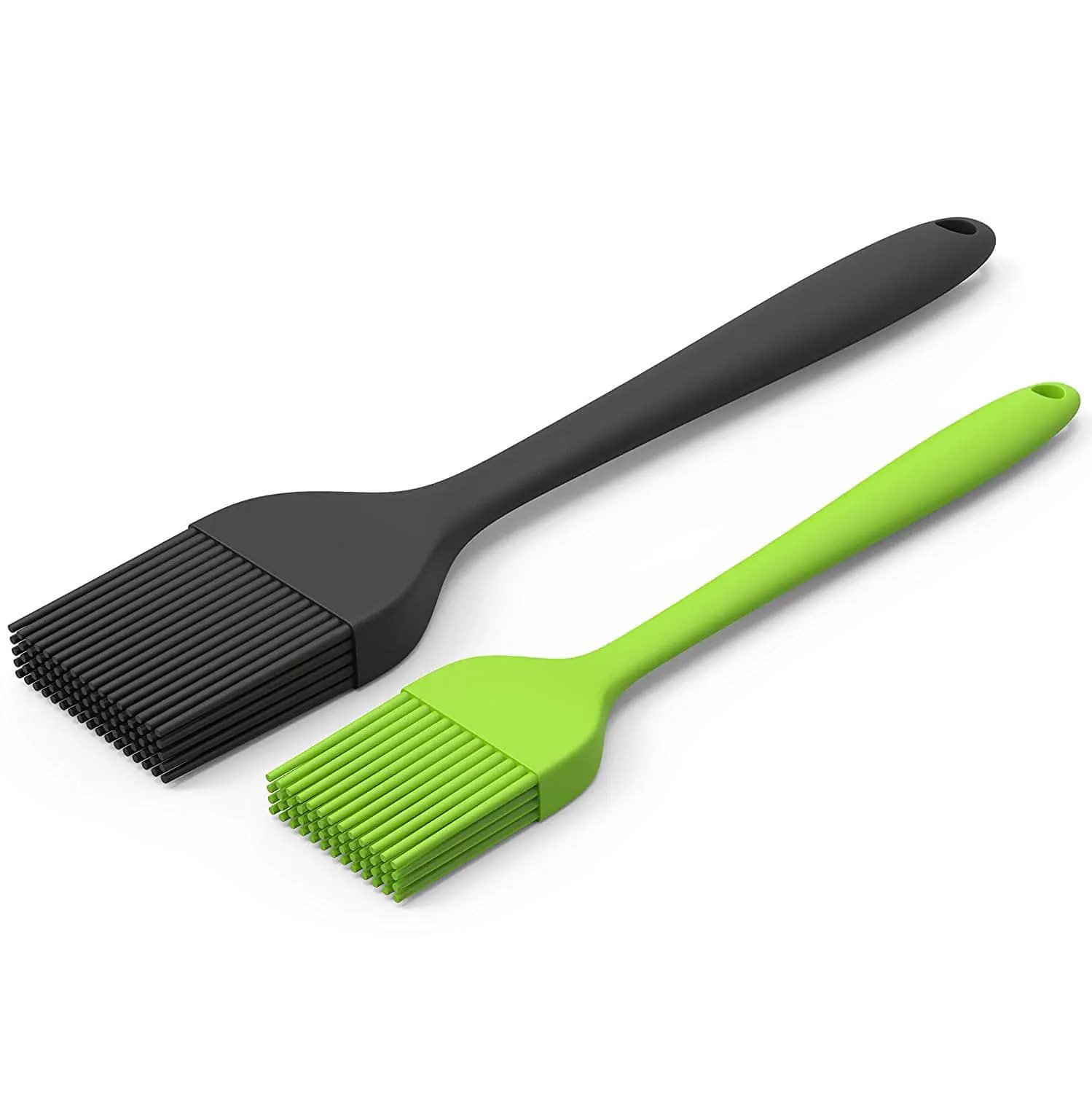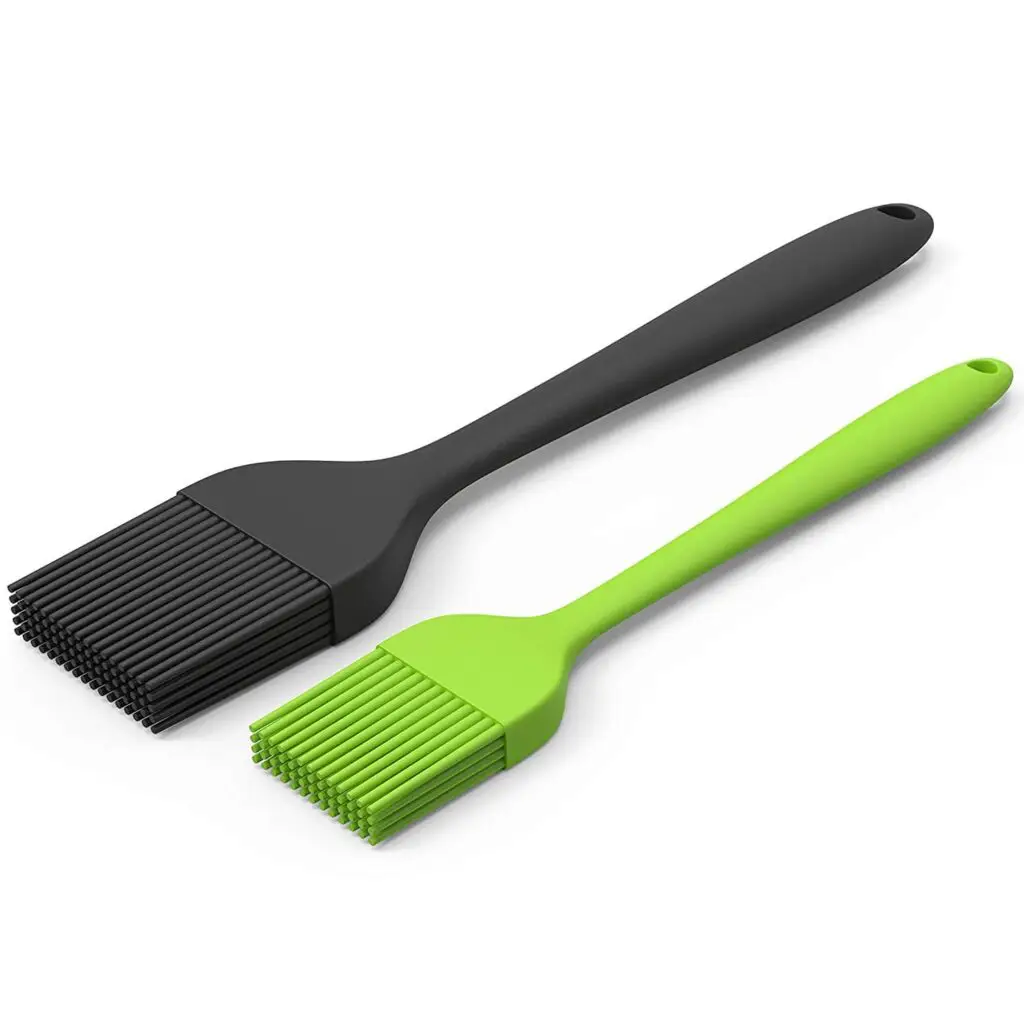 Silicone pastry brushes are great because they clean easily and are dishwasher-safe.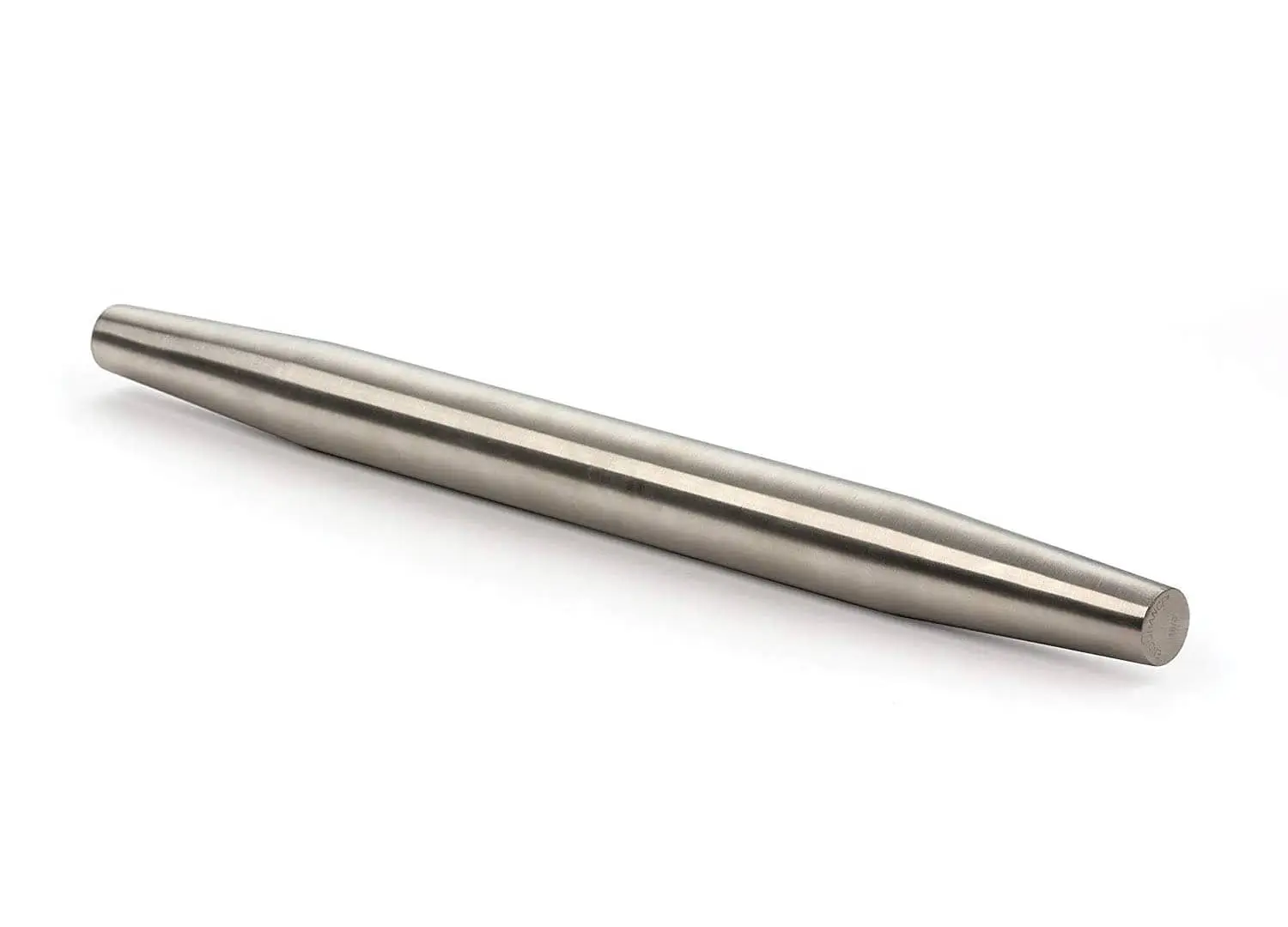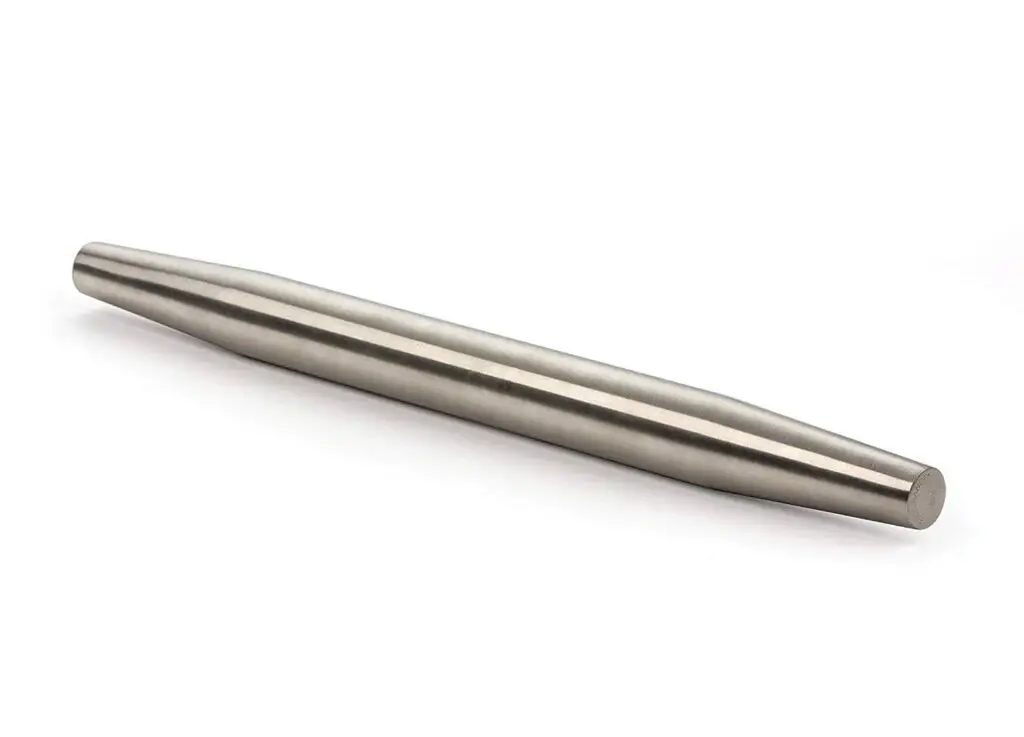 I love a stainless steel rolling pin as it tends to stay colder which is always a plus when working with pastry. I also like stainless because you can put it in the dishwasher.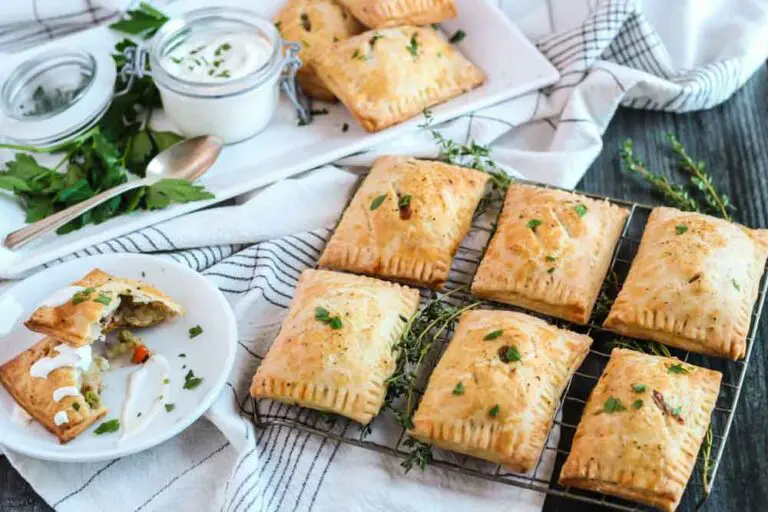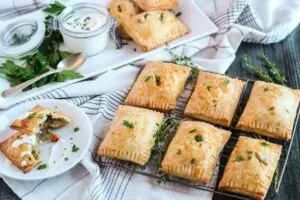 Shepherd'sHand Pies
Everything you love about shepherd's pie wrapped in a flaky pie crust. Fluffy mashed potatoes and a filling of ground beef, carrots, pea, and onions in a savory brown sauce in a hand pie.
Ingredients
4

sheets

store-bought pie crust

4

oz

instant mashed potatoes

prepared

1

tsp

pepper

divided

1

lb

ground beef

90/10 or lean

1

yellow onion

2

carrots

1

C

frozen peas

1

clove

garlic

minced

1

tsp

worcestershire sauce

1

tsp

salt

½

tsp

garlic powder

½

tsp

onion powder

2

Tb

flour

1

C

beef stock

1

Tb

Italian leaf parsley

finely chopped

1

tsp

thyme

finely chopped

1

egg
Horseradish Cream Sauce
3

Tb

mayonnaise

2

Tb

sour cream

1-3*

Tb

creamy style horseradish

1

Tb

Italian leaf parsley

finely chopped

1

Tb

lemon juice

¼

tsp

worcestershire
Instructions
Prepare the instant mashed potatoes according to the package instructions. Mix in ½ teaspoon black pepper and set aside to cool.

Peel the carrots and onion and dice ¼-inch pieces. Heat a large nonstick skillet over medium-high heat. Add enough olive oil to coat the bottom of the pan. Once the pan is hot, add carrots and onions. Cook for 2-3 minutes or until the veggies start to soften.

Once veggies have softened, add ground beef. Break up the meat into bite size pieces. Cook for 5-7 minutes or until browned, stirring occasionally.

Add ½ tsp pepper, salt, garlic powder, onion powder, minced garlic clove, and Worcestershire to the pan and stir to combine. Cook for 60-90 seconds or until garlic is fragrant.

Add 2 Tb of flour and stir until there is no visible white flour. Add 1 C of beef stock and frozen peas. Bring to a low boil and cook for 1-2 minutes or until sauce has thickened. Add parsley and thyme.

Pour the filling onto a sheet pan and allow it to cool for 20 minutes while you prepare the pastry.

Preheat the oven to 400° and prepare two baking sheets with parchment paper.

Make an egg wash by cracking the egg into a small bowl and whisking it with 1 Tb of water. Have a pastry brush, bench scraper, fork, spoon, pizza cutter, and rolling pin (AND a ruler if you're using one) at your workstation.

Place the dough on a well-floured surface and roll it out into a large rectangle. Work from the middle out with your rolling pin to transform the round shape of store-bought dough into a rectangle.

You're looking for a rectangle that is about 8-inches tall and 9-inches wide that you will cut into 6 rectangles that are each 4-inches tall by 3-inches wide.**

Each hand pie will require two pieces of dough, one for the bottom and one for the top. Add about 2 Tb of mashed potatoes to the bottom piece of crust. Spread the mashed potatoes out a bit with your fingers and then top with 2 Tb of filling.

Use a pastry brunch to brush all four sides around the filling with the egg wash. Place your second pie crust on top and gently push the filling down to fill the bottom square, leaving a clean border around the edge for sealing. Pinch along the edges of each hand pie and use a fork to completely seal.

Place each pie on the prepared baking sheet. Add two small diagonal slits across the top of each pie to let steam escape.

When ready to bake, brush each pie with egg wash and sprinkle with salt and pepper. Bake for about 30 minutes or until golden brown.

Mix all of the sauce ingredients together. Season with salt and pepper to taste.

Let the hand pies cool for at least five minutes before serving. Serve with horseradish cream sauce for dipping.
Notes
* I love the flavor and heat of horseradish, so I add about 3 Tb to my sauce, but if you don't like strong flavors or have never had horseradish before, I would start with 1 Tb and taste before adding more.
** A ruler is handy for this part, but if you're doing it by hand, f*ck it, do your best.
Frequently Asked Questions
Can I make my pie dough instead of using store-bought?
Of course. Use your favorite recipe!
Can I make the hand pies in advance?
Yes. Check out my notes above in the "Storage" sections for more details on freezing and reheating. You can also make the filling and mashed potatoes up to three days in advance to speed up the prep time.
The following two tabs change content below.

Hey-ooo! I'm Hailey, and I'm a number cruncher by day and cussing cook by night. I created this site to share my love for delicious food that feeds the soul as well as the belly. I hope my recipes have you running to the kitchen to cook some damn good grub!