I don't know of many recipes that are easier than Jiffy Jalapeño Cornbread, and this cornbread is absolutely delicious! If you like your cornbread spicy and less sweet, you have found your go-to recipe.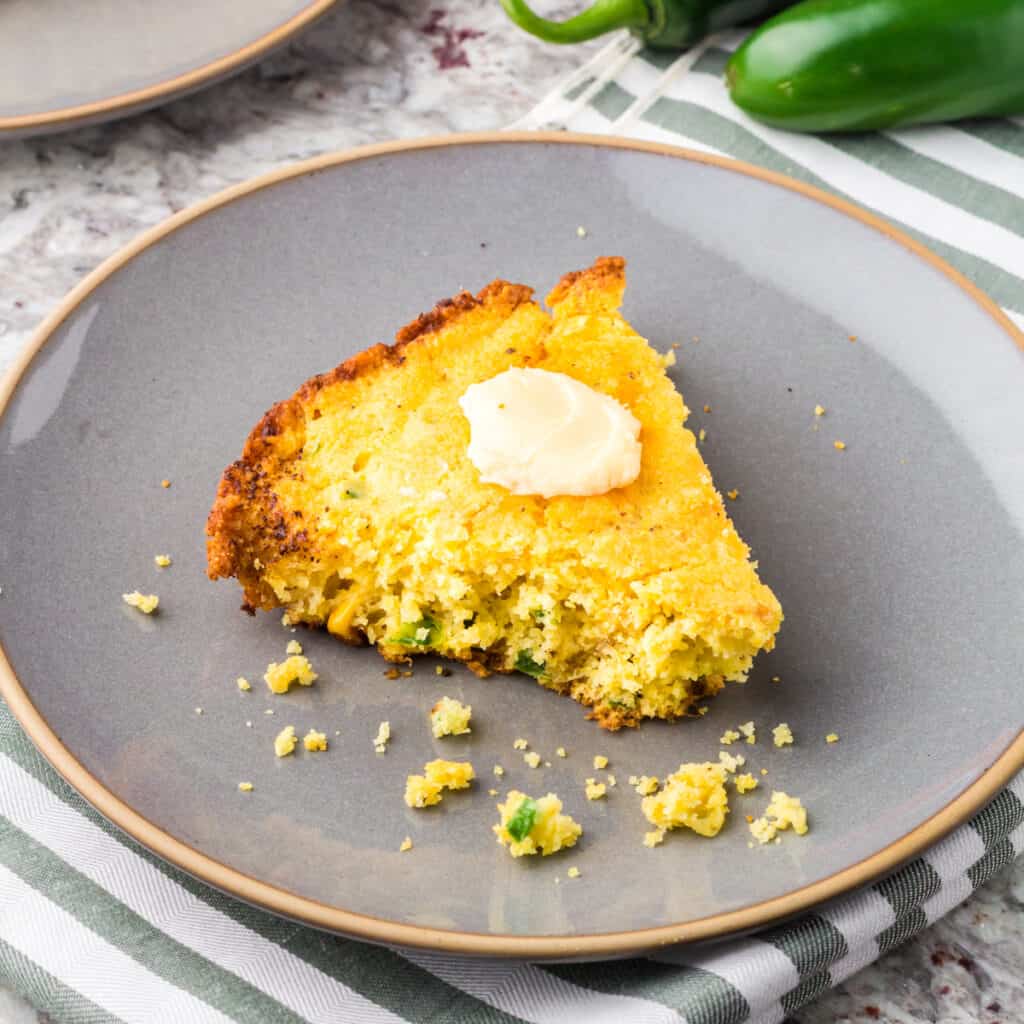 So many of the cornbread recipes out there include lots of sugar or honey. No shade as I like sweets as much as anyone, but I prefer my cornbread to be savory. I don't include any additional sweetener in my recipe (there is a small amount of sugar in the Jiffy mix). Instead, I load my cornbread up with minced jalapeño and plenty of butter.
Cornbread is a southern staple, and it is part of my family's history. My sister and I would spend weeks with my grandparents every summer, and without fail, cornbread was on the table for every single supper. In fact, the orange skillet you see in these photos was the vessel that my Mammaw baked cornbread in for decades.
Ingredients and Instructions
Jiffy Jalapeño Cornbread takes only seven simple ingredients to make.
Jiffy Corn Muffin Mix
Black pepper
Baking powder
Egg
Canned cream-style corn- make sure to get the small 8.25-ounce can!
Jalapeño- fresh or pickled
Salted butter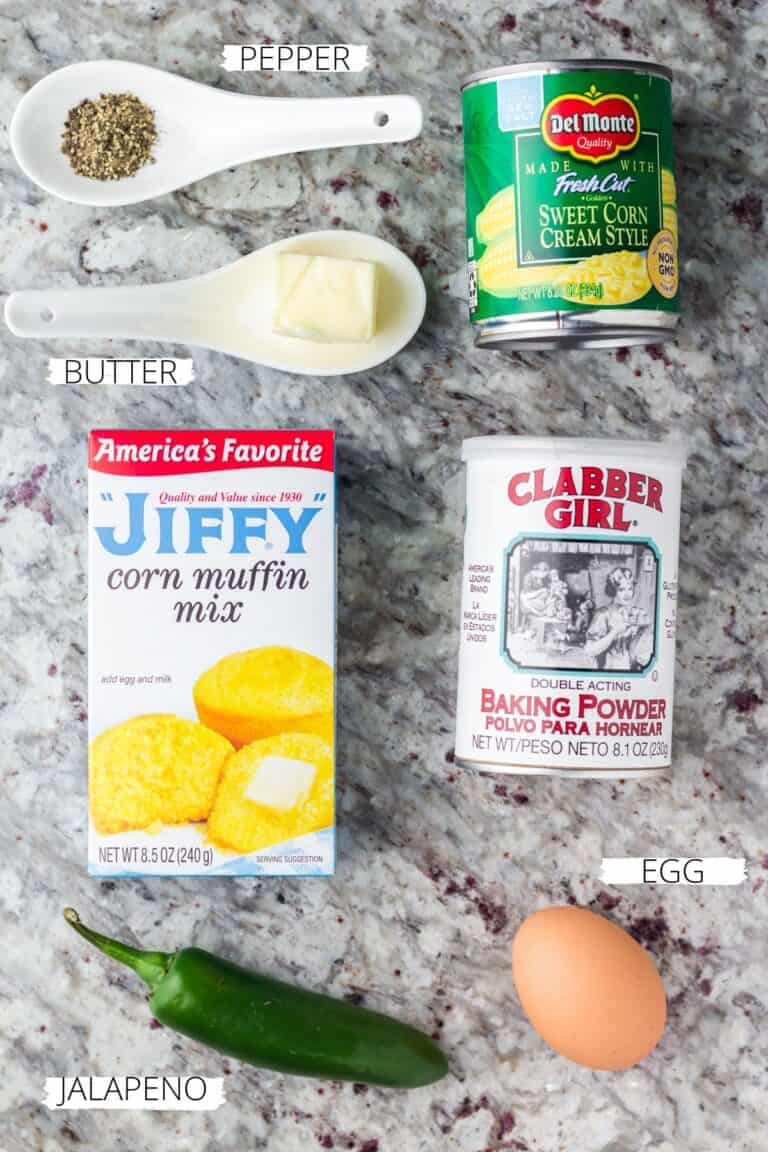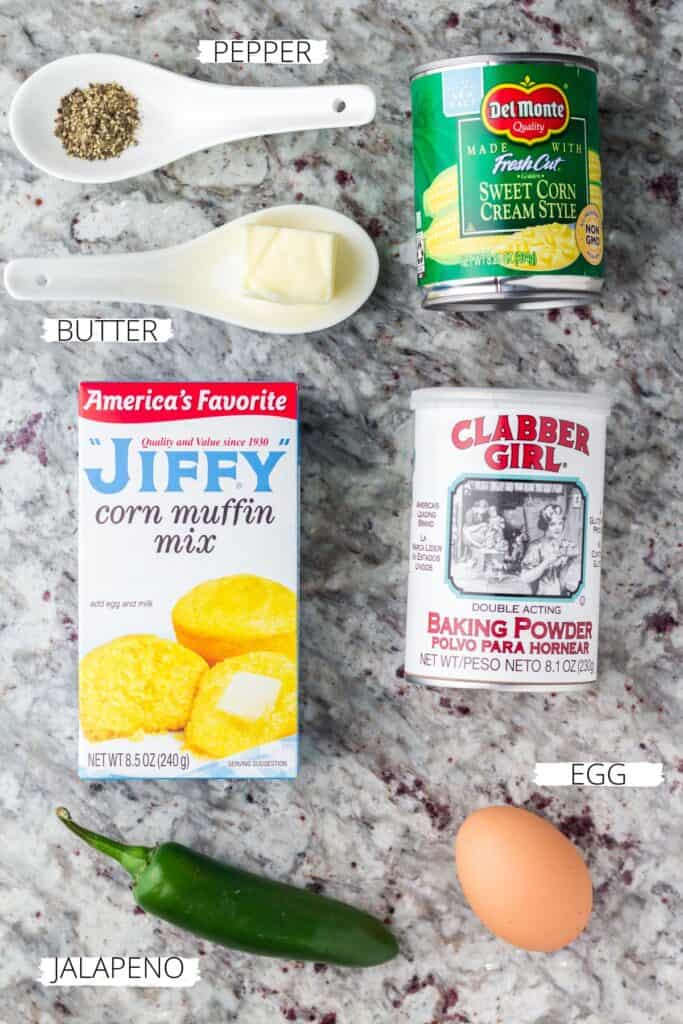 The ingredients and instructions sections are usually split up in my blog posts, but it felt silly giving the instructions for this recipe their own section. There are two steps to the recipe- yep, two.
Combine all of the ingredients except butter to make the batter.
Melt the butter in a skillet in the preheated oven, pour the batter over the melted butter, and bake.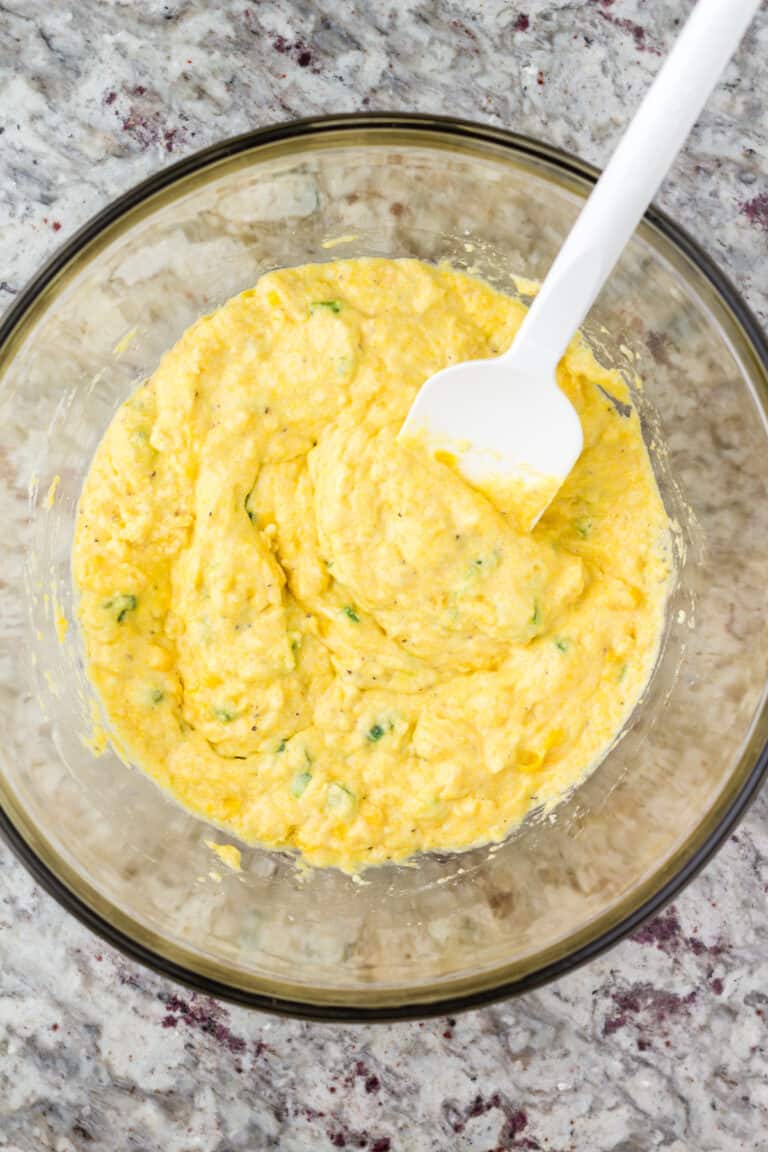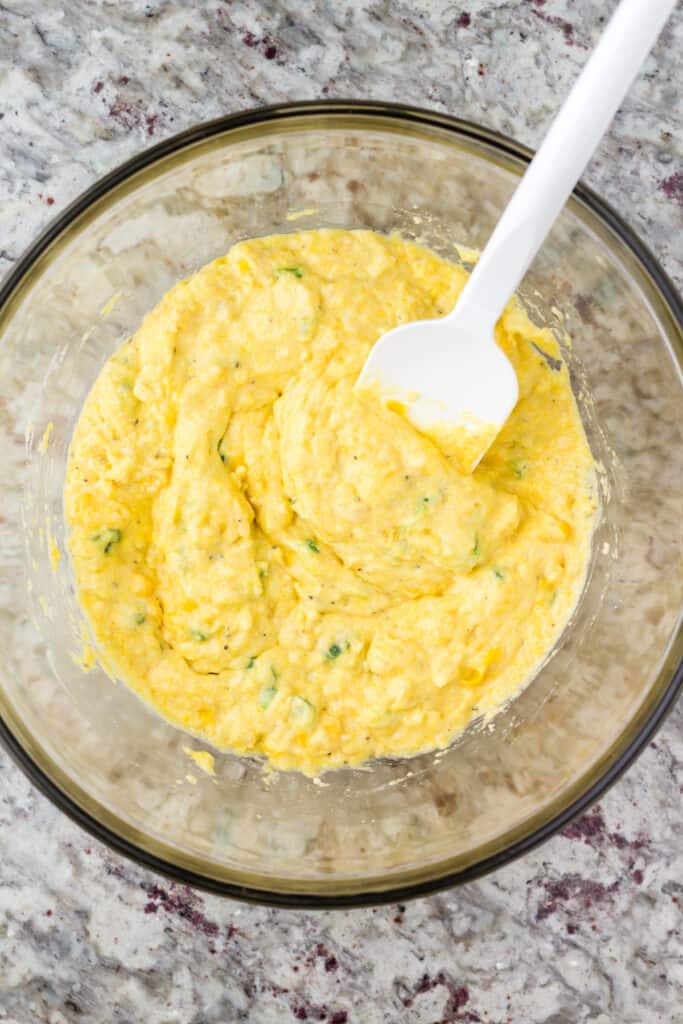 Variations
If you don't want to mess with fresh jalapeño then you could instead use pickled, or you can omit the jalapeño altogether if you don't want your cornbread spicy. Like your cornbread a little sweet? Feel free to add 2 tablespoons of sugar to the recipe.
Equipment
Jiffy Jalapeño Cornbread is baked in a 9-inch skillet. That's the only way I ever bake cornbread because that's how my Mammaw did it. You can easily make the recipe in an 8" x 8" baking dish if you don't have a cast iron skillet. If you're interested in purchasing a skillet, here is a great one from Lodge.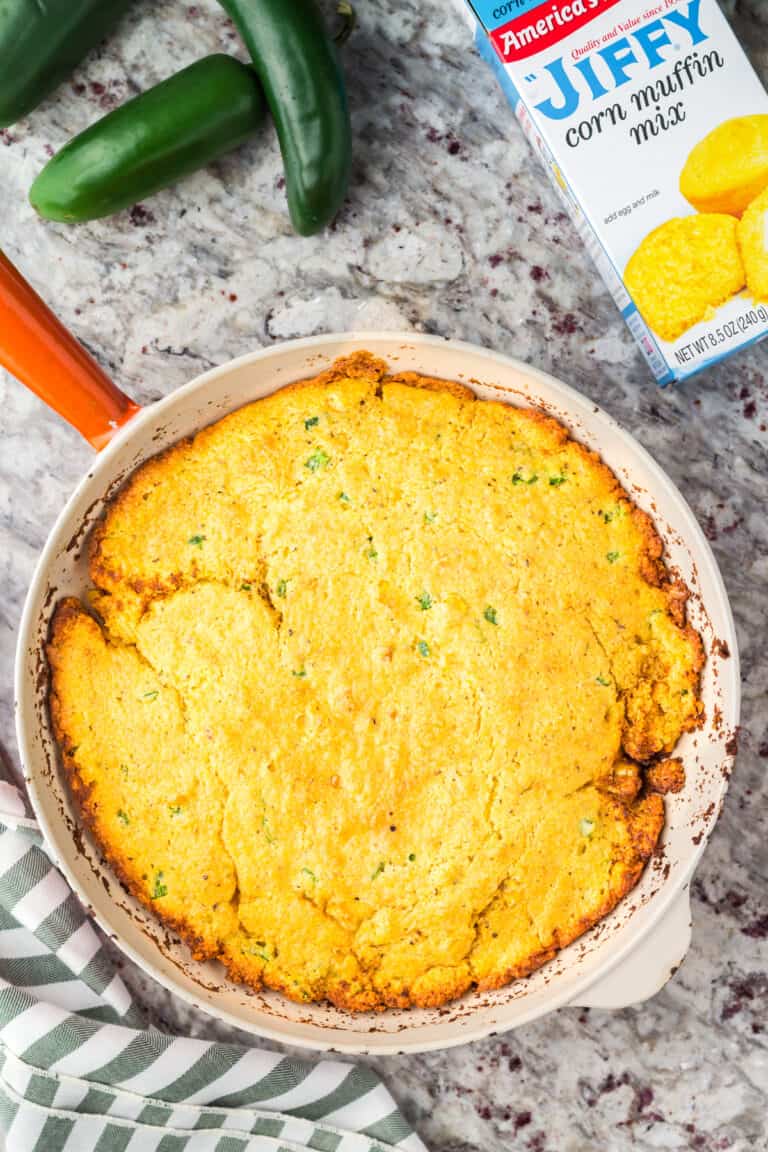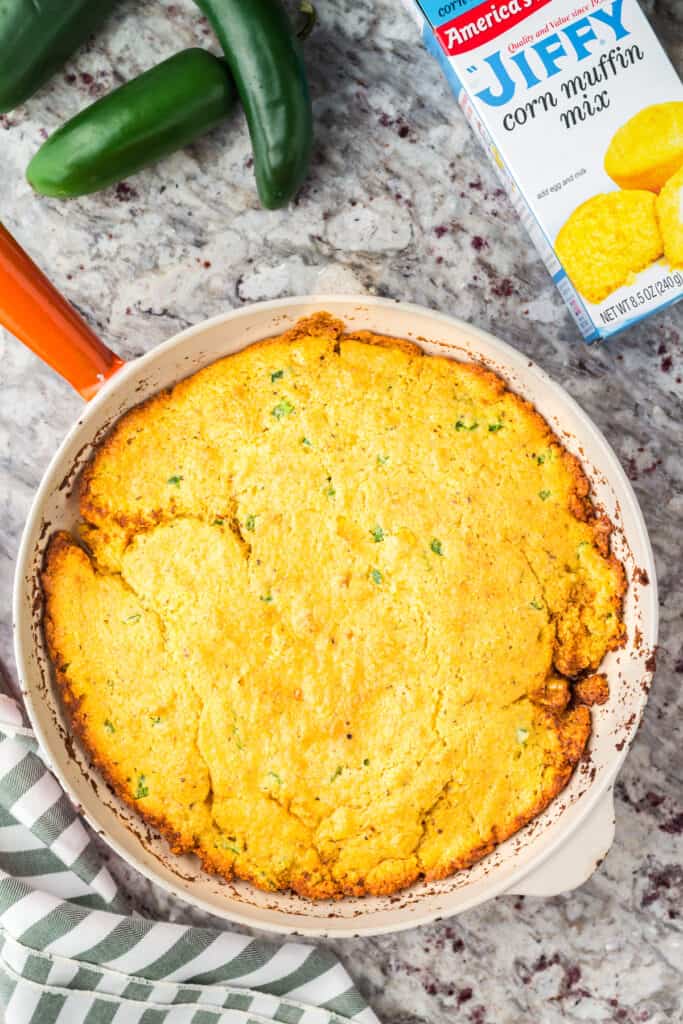 Top tip
Instead of combining the melted butter with the batter. I like to pour the batter into a hot pan with melted butter. The easiest way to do that is to place the butter in the skillet and the skillet into the preheated oven for a few minutes. Keep an eye on it though; the butter can burn quickly. When the butter fats just start to brown (around 5 minutes) remove the skillet from the oven and add the batter.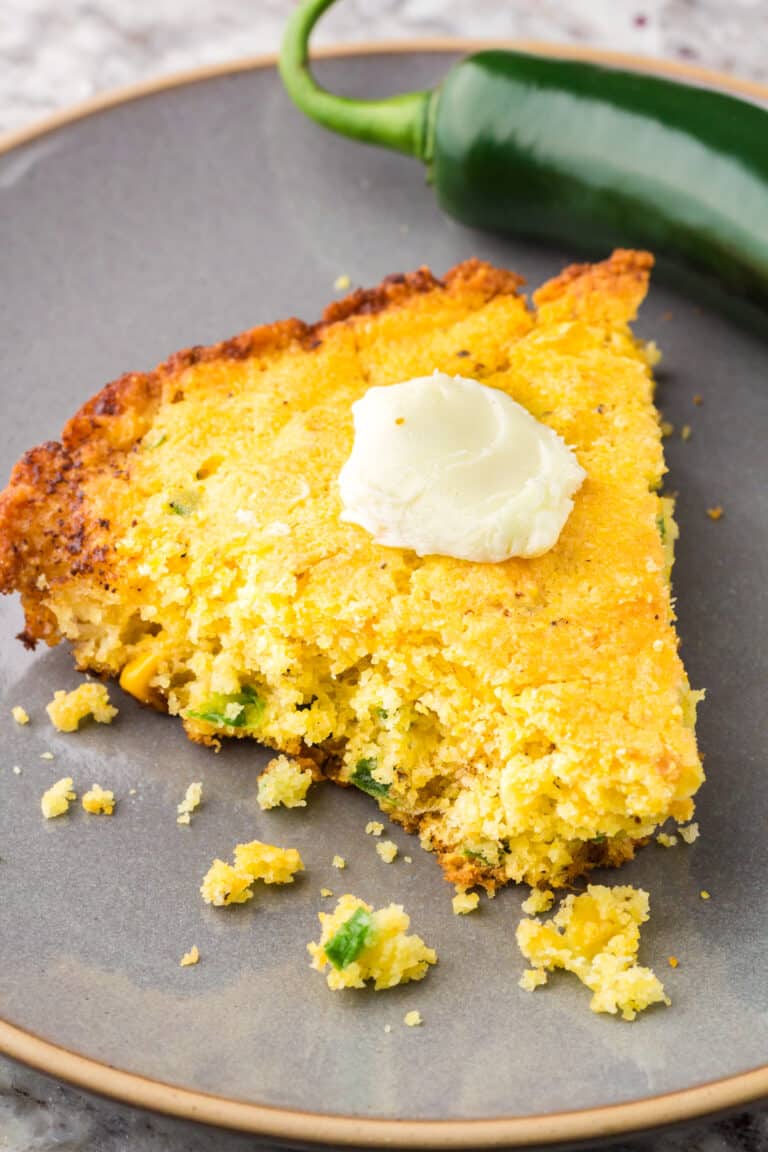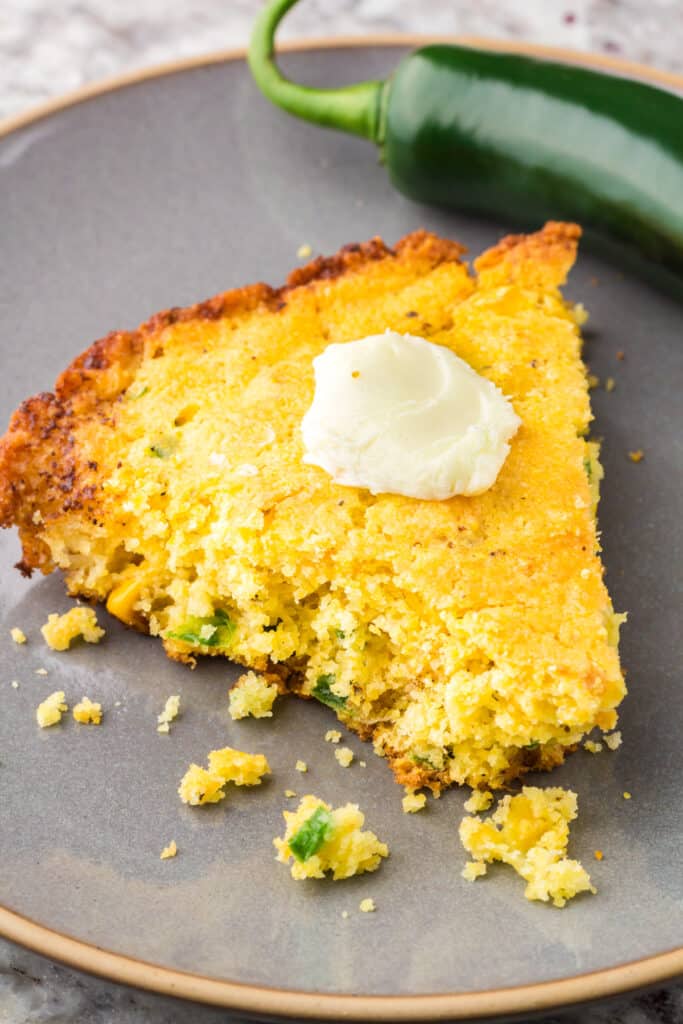 Jiffy Jalapeño Cornbread is a quick and easy recipe with almost no prep and very little cleanup. The cornbread is spicy, salty, and savory- it will be perfect with your favorite soup, stew, or chili!
There's really nothing it doesn't go with, but I recommend it in particular with my Butter Beans or Shrimp and Grits. Try the recipe and let me know what you think in the comments section below.
Helpful Equipment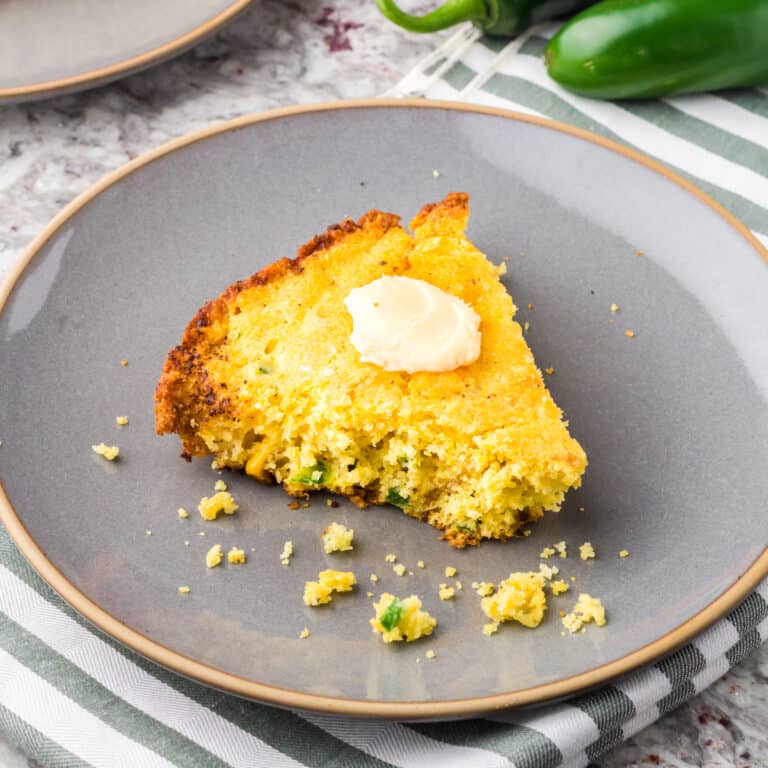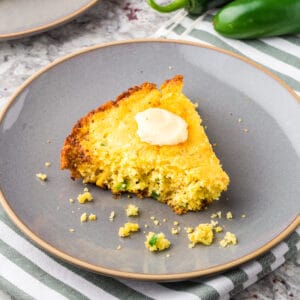 Jiffy Jalapeño Cornbread
Jalapeño Cornbread is spicy, buttery, and salty. You only need seven ingredients for the recipe including the shortcut of Jiffy corn muffin mix.
Ingredients
1

8.5 oz box

Jiffy Corn Muffin Mix

½

tsp

ground black pepper

½

tsp

baking powder

1

egg

beaten

1

8.25 oz can

sweet corn cream style

1

jalapeño

minced

2

Tb

salted butter
Instructions
Preheat the oven to 400°F.

Add the Jiffy mix, black pepper, and baking powder to a mixing bowl and stir to combine.

Next add the beaten egg, canned corn, and minced jalapeño. Mix until just combined.

Add the butter to a 9" skillet and place the skillet in the preheated oven for 3 minutes or until the butter is melted.*

Remove the skillet from the oven and carefully pour the cornbread batter into the pan. Place the skillet back in the oven for 20 minutes.

Allow the cornbread to cool for 10 minutes before serving.
Notes
* If you don't have a cast iron skillet or something similar, the recipe can also be made in an 8" x 8" baking dish.
Frequently Asked Questions
Can I bake the cornbread in something other than a skillet?
Yes. You can use an 8-inch square baking dish.
Can I substitute a different brand of cornbread mix?
I have not tried the recipe with any mix other than Jiffy.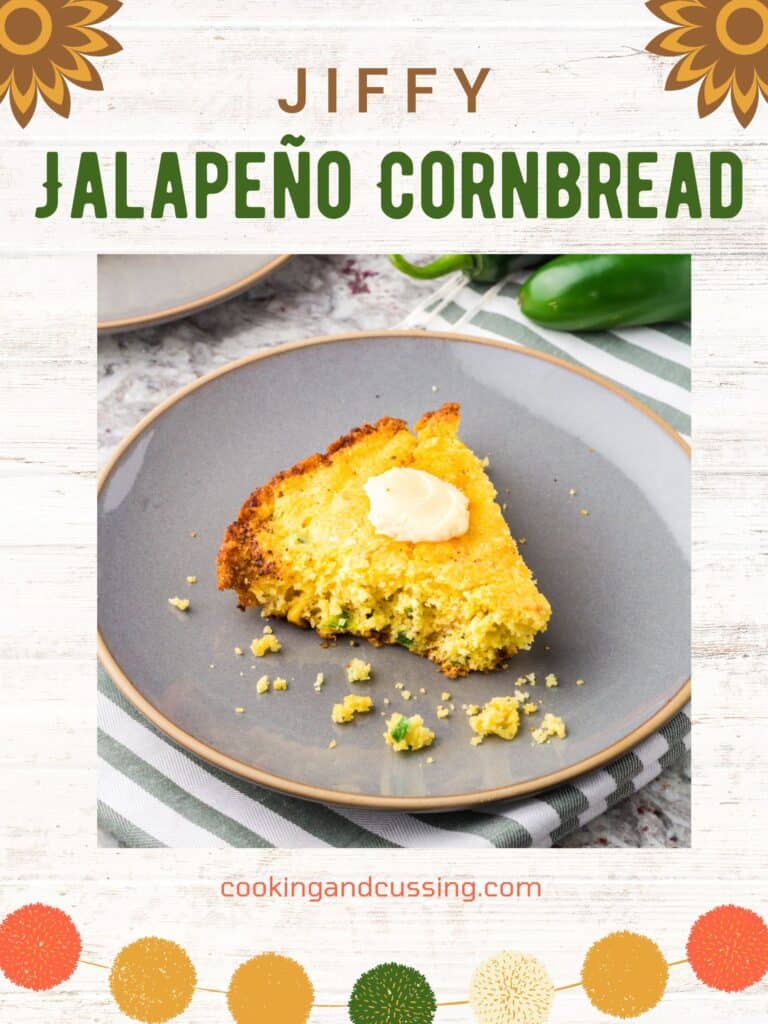 The following two tabs change content below.

Hey-ooo! I'm Hailey, and I'm a number cruncher by day and cussing cook by night. I created this site to share my love for delicious food that feeds the soul as well as the belly. I hope my recipes have you running to the kitchen to cook some damn good grub!