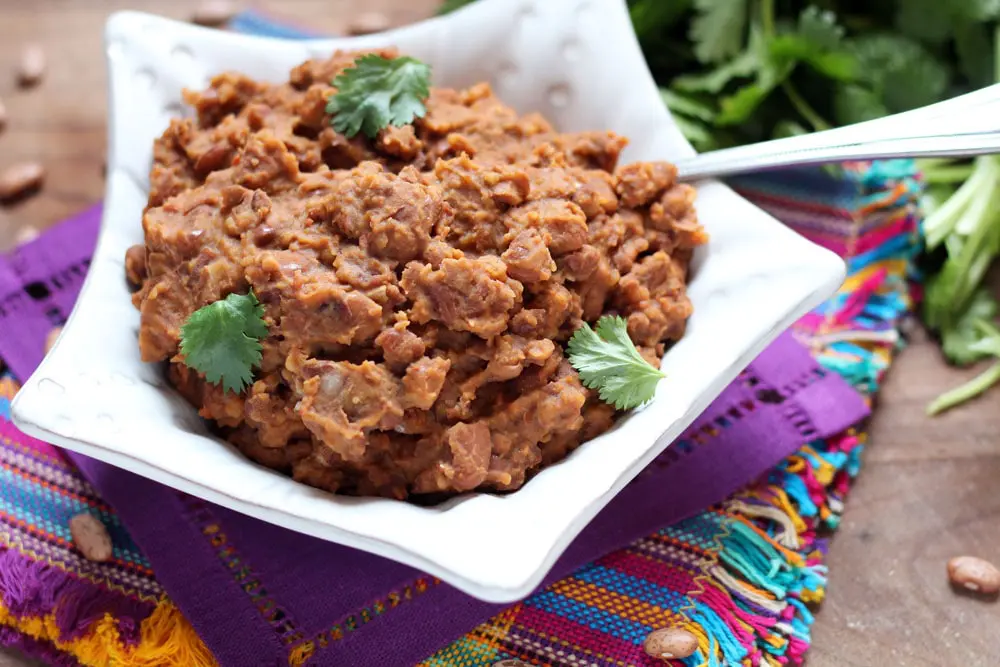 Refried Beans are an absolute essential with any Mexican-style meal in my house. Don't get me wrong, I love beans any way you make them, but the refried variety is rich and flavorful with a smooth and creamy texture that makes them top notch.
For years, I've relied on bacon to enrich the flavor of my refried beans. There is nothing wrong with that route, but they never tasted like the kind you find in authentic taquerias.
I learned recently that the quickest way to make taqueria-style beans at home is to blend leftover chorizo into the beans. GENIUS! This refried bean recipe is super simple, but holy sh*t are these beans good!
The chorizo provides the smoky, salty taste of bacon but also gives the beans just the right amount of heat and spice.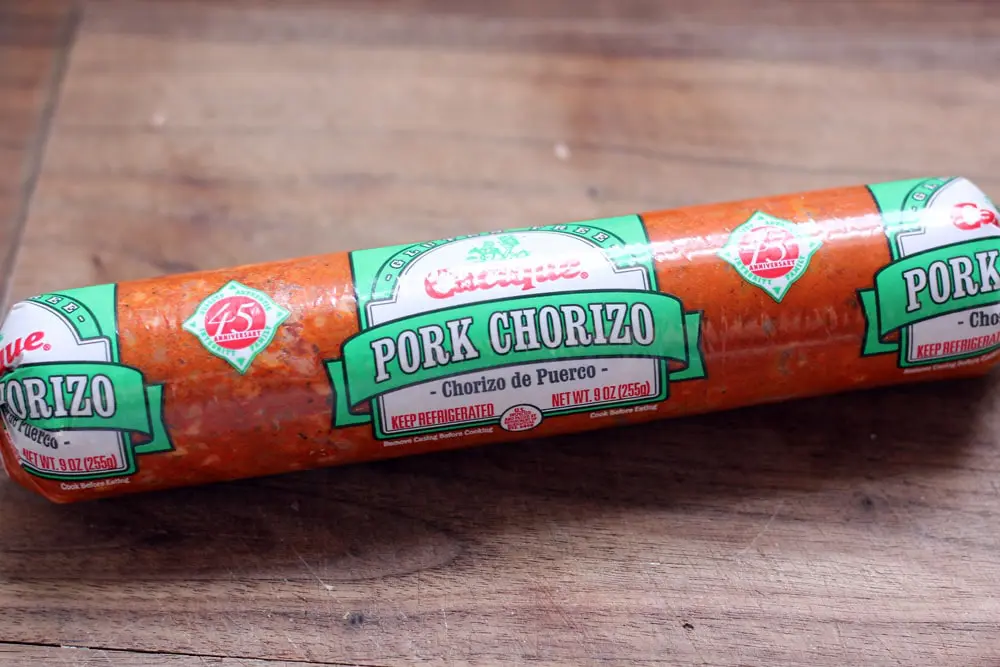 I learned another essential trick previously from a woman named Teresa in my hometown of Corpus Christi, Texas that I also incorporated into this recipe. She told my stepmom that you should never add the aromatics (onions, peppers, bacon, etc.) to your beans until they are done cooking. I always added those things with the dried beans before boiling, but Teresa taught us that all the flavor just cooks out if you do it that way.
In this recipe, I sauté the chorizo and onions separately, puree the mix and then add it back to the cooked beans to make sure all of the robust chorizo flavors carry through to the finished refried beans. Because these beans are so meaty in flavor, they are perfect for any bean and cheese dish you please. Think bean and cheese quesadiilas, tostadas, or gorditas!
I had the most amazing bean and cheese gordita from a street vendor on my trip to San Miguel last week. It was so tasty in fact that I had to recreate the recipe. Check out my Bean and Cheese Gordita post for more details.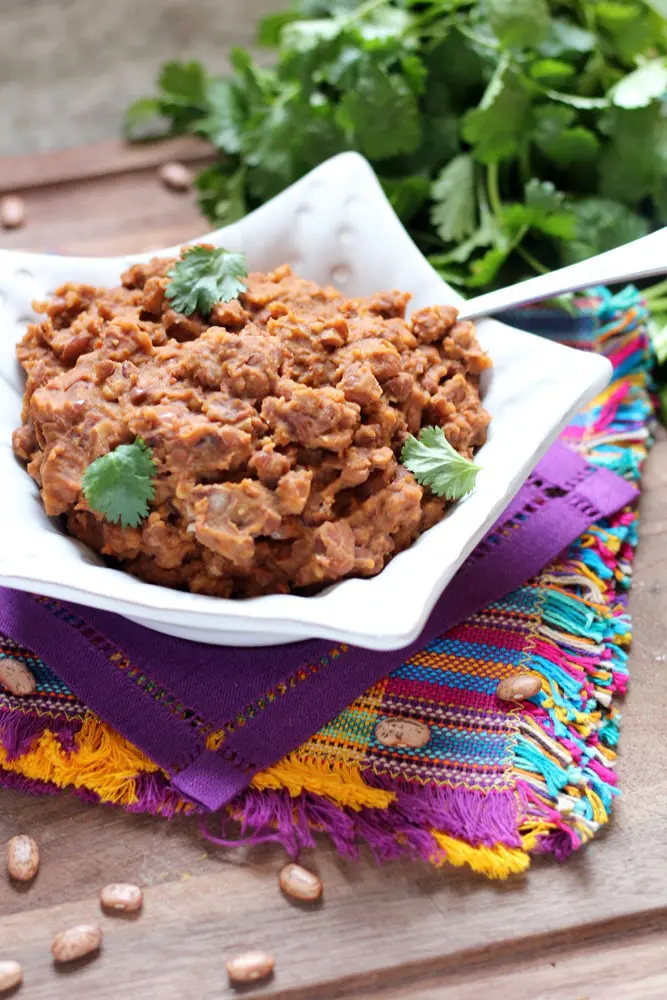 There is one last step that I take in making this refried bean recipe that makes it exceptionally delicious. To cook the dried beans, I just add salt to a big pot of water and boil away. Though there are no aromatics in the bean cooking liquid, it still has an intensely beany flavor that shouldn't be tossed out.
Instead, I reduce that cooking liquid to a very thick consistency after the beans are cooked through and then add the reduced liquid to the smashed refried beans. It gives the finished beans the most velvety rich mouthfeel and flavors that only come from low and slow cooking.
You can speed up the time needed for this recipe by either cooking dried beans in advance and keeping them in the fridge or you can also use canned pinto beans if you're in a pinch.
Just keep in mind that you won't have the reduced cooking liquid if you go with canned beans, but the beans will still be flavorful.
This refried bean recipe will be a staple in your house once you try it. In fact, once you've made it once or twice, you won't even need a recipe. It will just be how you make your refried beans. ? Please let me know how it goes in the comments section below.
Helpful Utensils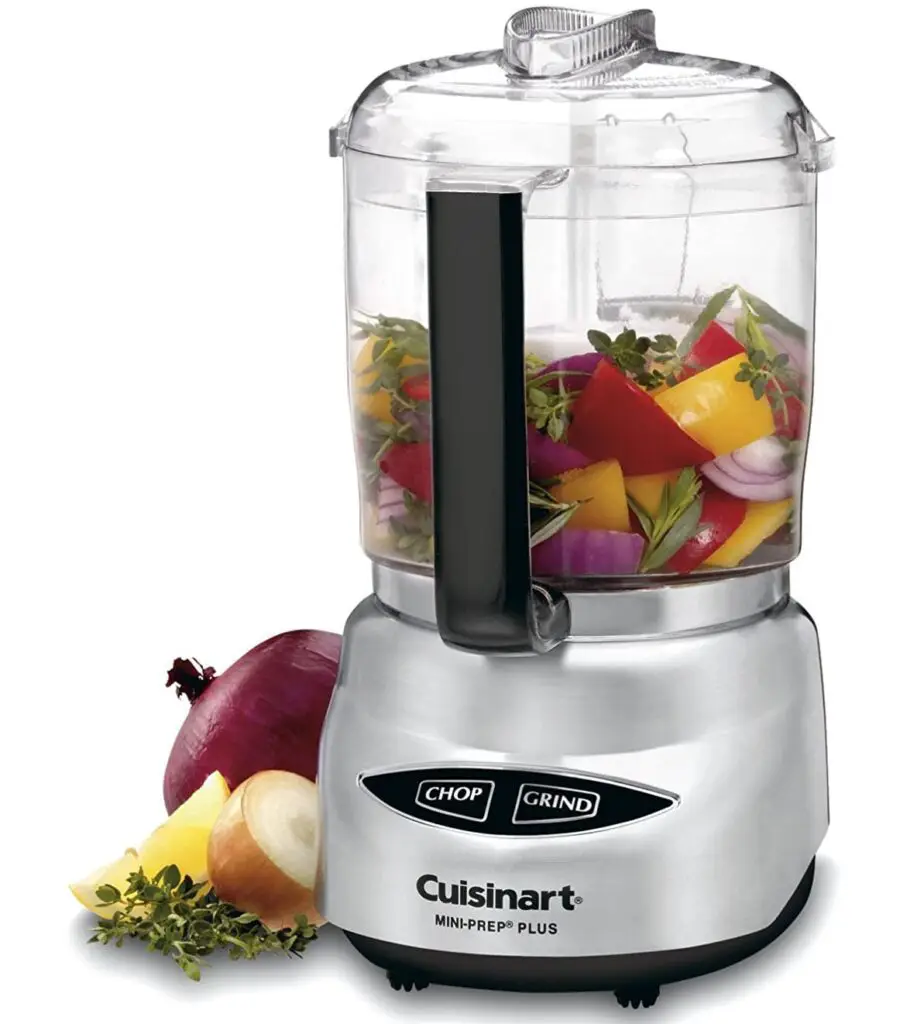 A small food processor is a great kitchen gadget for quick purees and sauces.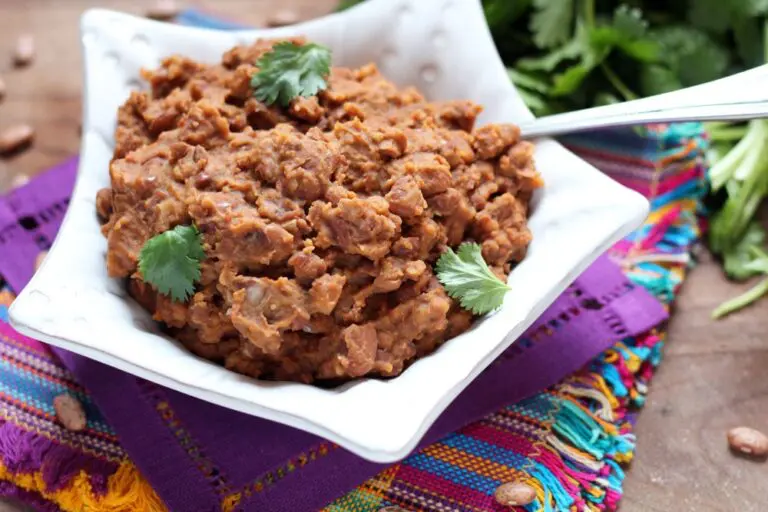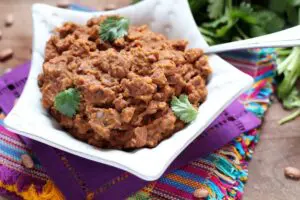 Refried Beans
Refried Beans with just a few simple ingredients and tons of flavor. The secret to these rich and meaty beans is chorizo sausage. Sauteed, pureed and mixed into the beans, the chorizo gives the beans just the right amount of the salt and spice. There are also a couple of other key tricks to perfect beans in this recipe.
Ingredients
16

oz

dried pinto beans*

1

tsp

salt

½

yellow onion

2

Tb

pork fat** or vegetable shortening

4

oz

chorizo
Instructions
Rinse dried beans in a strainer. Add to a large heavy-bottomed saucepan and cover with 3 inches of water. Turn the heat on high and allow the mixture to come to a boil. Once it reaches a boil, turn the heat down to medium-low. Cover and simmer the beans for 2-3 hours on medium-low until completely tender.

Once the beans are tender, strain the beans, reserving the cooking liquid. Place the cooking liquid back into the saucepan and turn the heat up to medium. Allow the cooking liquid to reduce for about 10 minutes or until it has thickened to the consistency of heavy cream. Set the reduced cooking liquid aside.

Place a large saute pan over medium-high heat. Finely dice the yellow onion. Add 1 Tb of pork fat and diced onion. Saute for 2 minutes to soften onions. Add the chorizo and break up with your spoon.

Cook the chorizo for about 7 minutes or until completely cooked. Add the chorizo and onion mixture to a food processor, and process until the mixture is a smooth paste. I've linked to a small food processor above that is perfect for this kind of job.

In the same saute pan used to fry the chorizo over medium-high heat, add another Tb of pork fat and the cooked beans. Using a potato masher, mash the beans until they reach a rough-paste texture. Add the reduced cooking liquid and pureed chorizo and mix well to combine. Reduce the heat to low and warm until heated through. Season to taste with additional salt.
Notes
*The pinto beans can be cooked ahead of time to shorten the final cooking time. Once cooked but before reducing the cooking liquid, the beans can be kept in the fridge for up to a week before refrying. If you're in a hurry, you can also substitute with canned pinto beans.
**Pork fat, manteca or lard is simply pork fat that can be found in most Latin supermarkets. Plain old Crisco works as well.
The following two tabs change content below.

Hey-ooo! I'm Hailey, and I'm a number cruncher by day and cussing cook by night. I created this site to share my love for delicious food that feeds the soul as well as the belly. I hope my recipes have you running to the kitchen to cook some damn good grub!