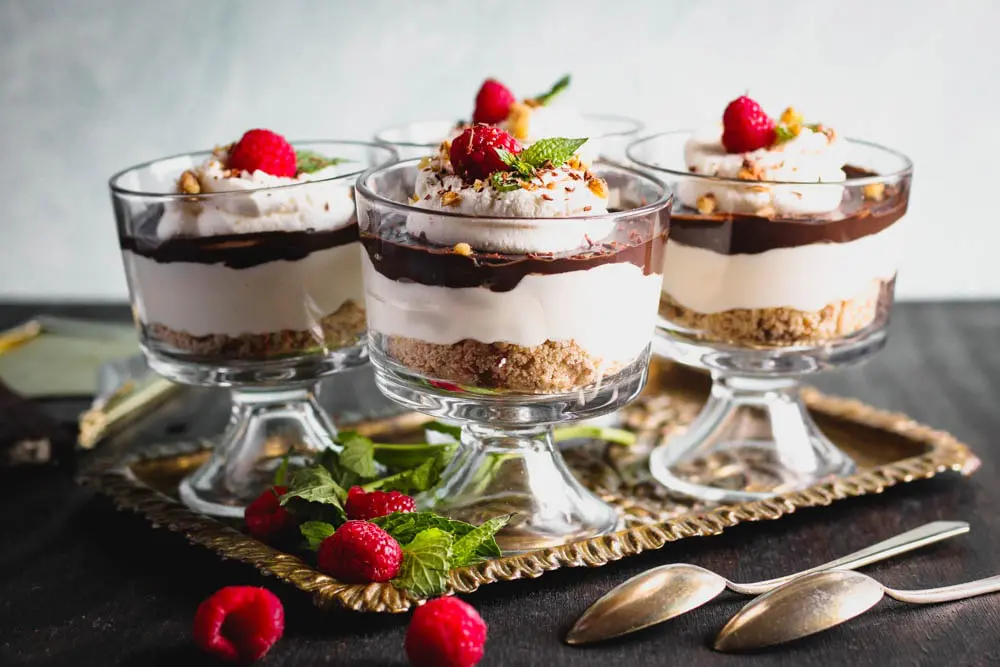 This may be the post I'm most excited about sharing since some of my very first recipes. Chocolate Junk is a dessert that speaks directly to my heart. I've mentioned the decadent delight the is "Junk" previously on the blog when I featured my Strawberry Junk recipe.
It's time for the real crowd favorite at my house to take center stage. Chocolate Junk is what one might also describe as a Chocolate Cheesecake Trifle.
Call it what you want. It's f*cking delicious.
Chocolate Junk is easily my favorite dessert of all-time. When I was a kid and my mom would make it for us, I would get up early to eat it for breakfast in addition to dessert the night before. I wanted to be damn sure I got more than my fair share of it.
I'm pretty sure the recipe for Chocolate Junk is like a horse of many colors. It's a dessert found all over the South with different names and slightly varied ingredients.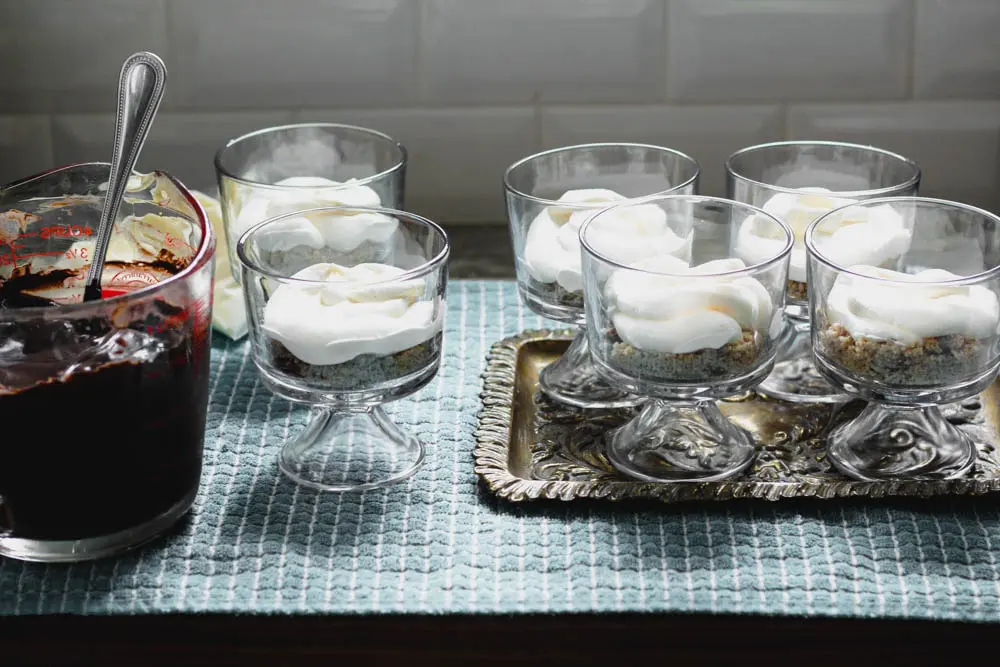 One thing is for sure though. It's always an easy-to-make, crowd-pleasing layered dessert. Of the different Junks I've encountered, the common layers include cookie/cake, custard, and whipped cream.
From there, the additions are endless. I could probably make a blog solely dedicated to creating the latest and greatest Junk, but for now, I'll stay on topic.
Chocolate Junk specifically is formed by first creating a buttery, crumbly shortbread pecan crust. On top of that is a fluffy no-bake cheesecake layer and then rich chocolatey pudding. Whipped cream is spooned over the top as the final layer.
Now my mom's original recipe always made me weak in the knees as a kid, but as I've gotten older, I've played with the recipe to up the richness and quality of ingredients. The recipe featured here today is the result of countless tweaks and experiments, and I'm proud to say it shows in the exceptionally tasty end result.
The biggest changes I made to the original recipe were to double the amount of cream cheese in the cheesecake layer and make my chocolate pudding from scratch. The original cheesecake layer is mostly whipped cream with some mild cream cheese flavors.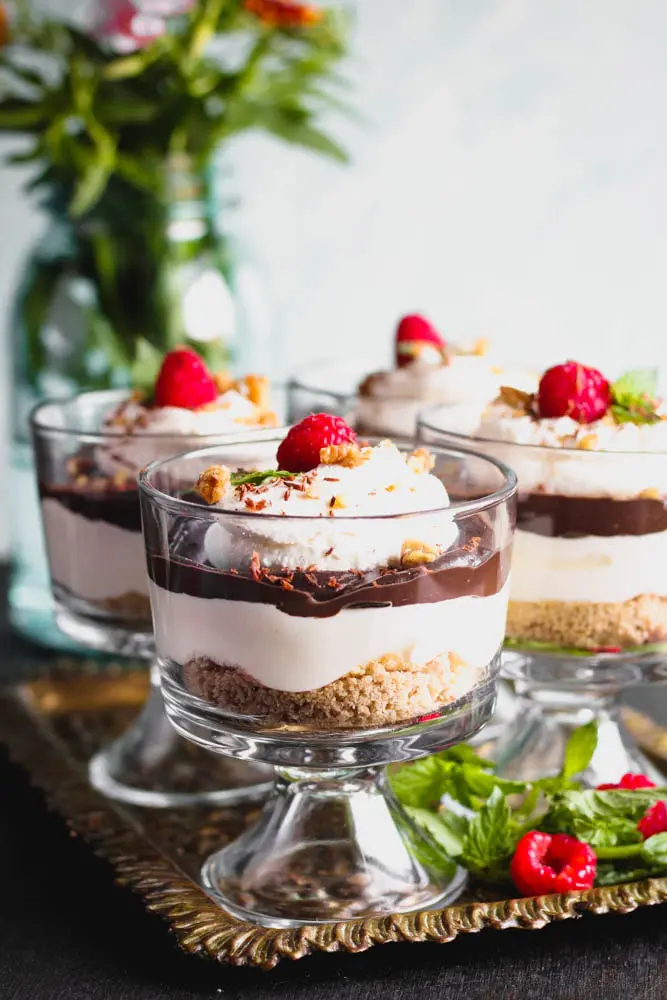 I wanted to switch that ratio to a lot of cream cheese flavor and a little added fluffiness from the whipped cream. I mean, let's be real, if you follow my recipes often you know that I'm totally obsessed with cream cheese. That's the real reason I doubled the cream cheese, and I stand behind that decision.
Making the chocolate pudding from scratch is the biggest improvement to this recipe. The original recipe calls for instant pudding, which is fine in a pinch, but the flavor the Chocolate Junk gets from taking the time to make custard from scratch is so worth it!
It's also surprisingly easy to make. In total, it takes less than 15 minutes. I also really like making my own chocolate pudding so I can seriously increase the punch of chocolate in the recipe.
I like using a high quality dark cocoa powder and bittersweet chocolate chips in my pudding recipe so that the taste isn't just sweet; it's earthy, rich, bitter, AND sweet!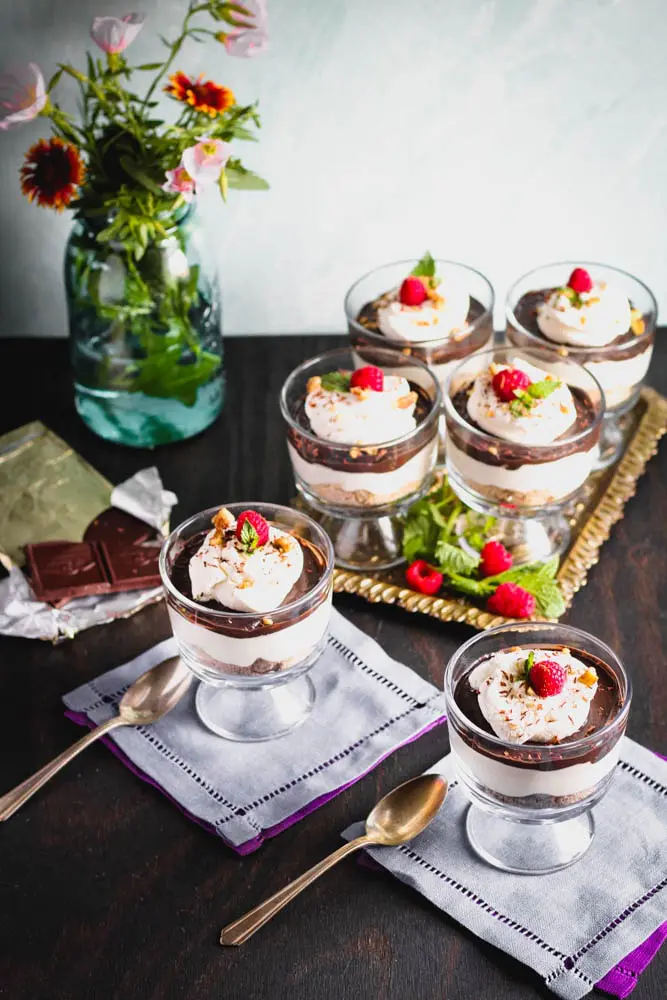 My love for Chocolate Junk runs so deep in fact that I decided to feature this recipe when I was recently chosen to present some recipes in a local magazine. Edible OKC was gracious enough to include this recipe in their January/February 2019 issue.
I knew immediately when they asked me for recipes to include that I wanted to share Chocolate Junk. It's so authentic to my cooking and connected to my family memories, but I will say that when made in a 9"x13" baking pan, as it usually is, it leaves something to be desired from a food photography perspective.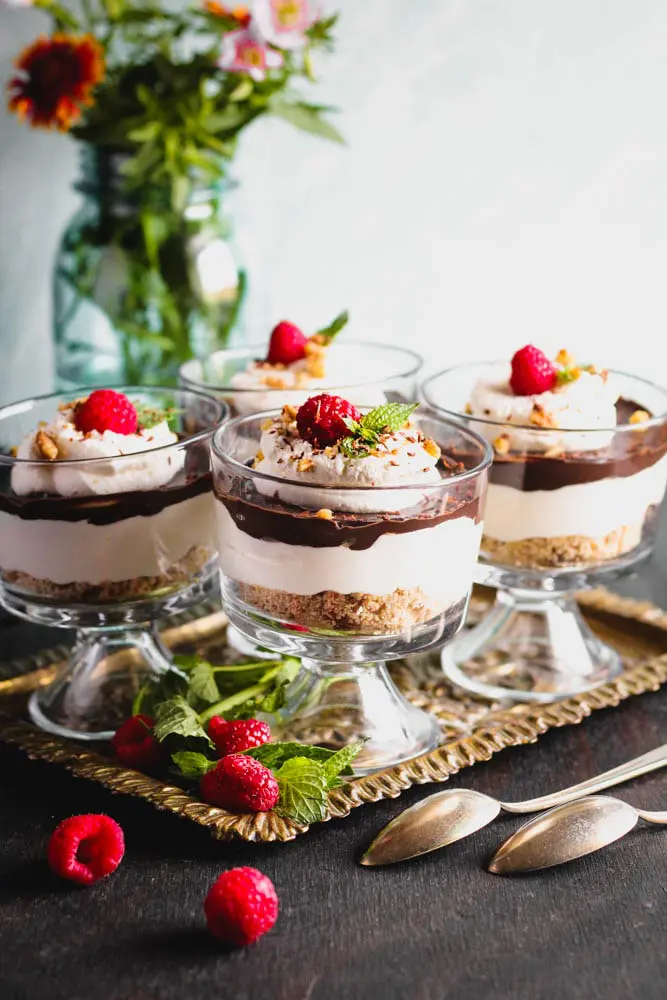 Now, if you're making this for a casual gathering of family and friends, please make this family-style and keep it movin'! But if you want to dress it up as I have in the photos here, I provided instructions below on how to make it both ways.
Either way, I like to garnish my Chocolate Junk or Chocolate Cheesecake Trifle for an extra special finish. Finely chopped pecans and dark chocolate shavings are the perfect finishing touch for this humble dessert.
It is true that something called Chocolate Junk by nature cannot be pretentious or overly complicated, but it sure as hell can be blow-your-mind, decadent, TASTY!
Helpful Utensils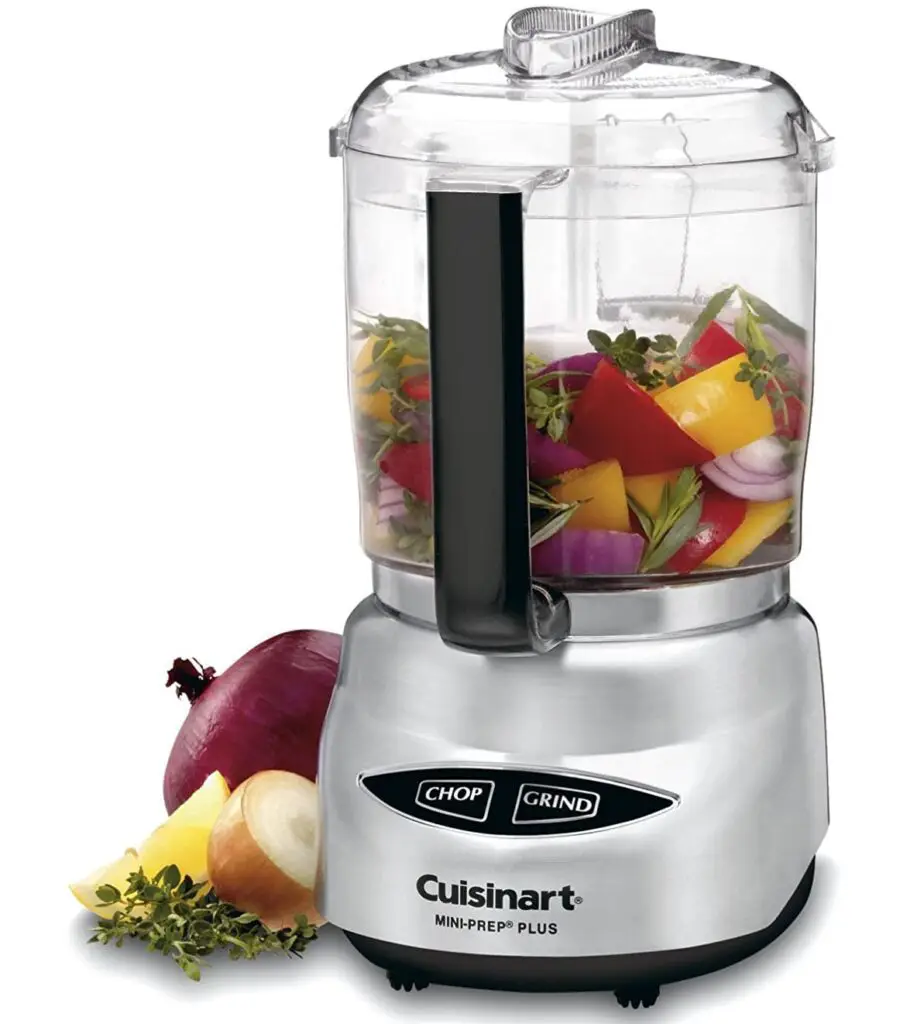 4-Cup Food Processor
A small food processor is a relatively inexpensive piece of kitchen equipment that you'll use again and again. If you don't have one, click the image to purchase one!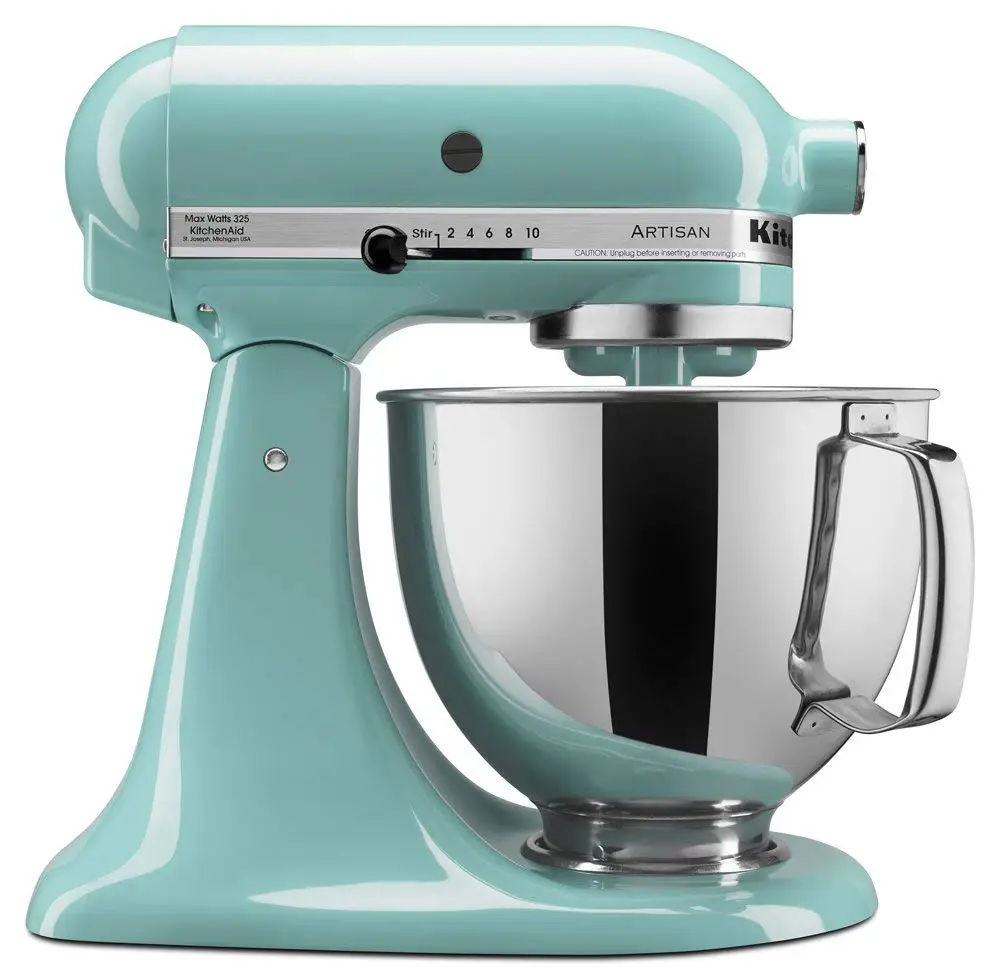 Kitchen Aid Stand Mixer
It may be an investment piece, but you'll find yourself wondering, "How did I ever cook/bake without one?"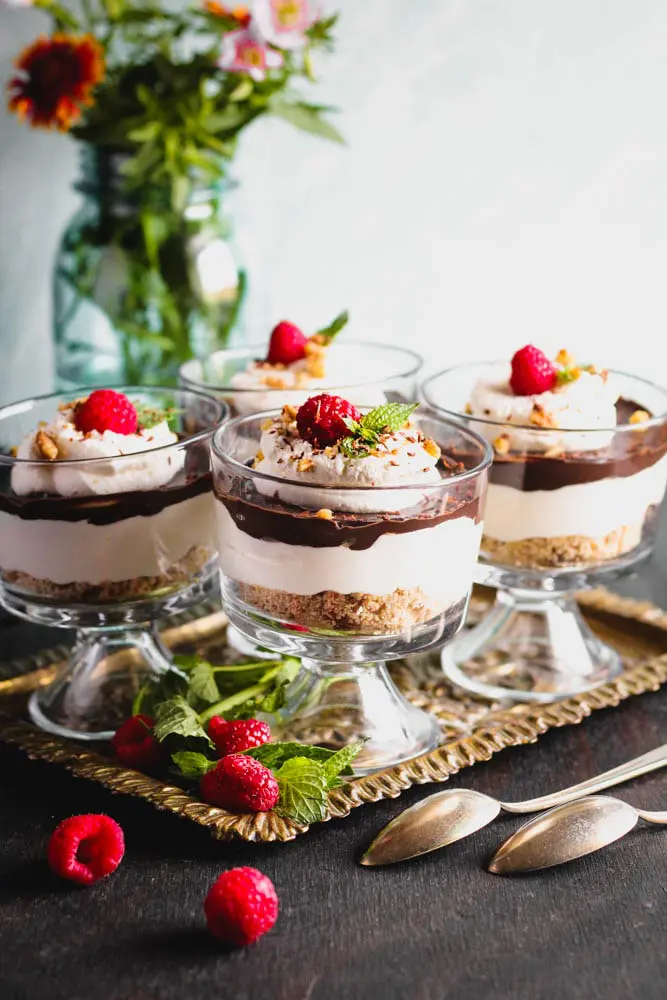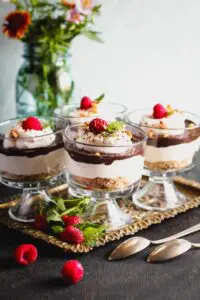 Chocolate Delight aka Chocolate Junk aka Chocolate Cheesecake Trifle
Chocolate Delight or Junk is an easy-to-make, layered dessert that is pure chocolate decadence. Pecan shortbread crust is the base for layers of chocolate pudding and no-bake cheesecake all topped with whipped cream. This classic summer dessert can be made family-style for a crowd or dressed up as individual trifles. Either way, it's the best summer dessert ever!
Ingredients
Shortbread Crust
½

C

butter

melted

2

Tb

white sugar

½

tsp

ground cinnamon

½

C

pecans

finely chopped*

1.5

C

all-purpose flour

½

tsp

kosher salt
Cream Cheese Filling
2

8-oz

blocks cream cheese

room temperature

1.5

C

powdered sugar

½

C

heavy whipping cream

1

tsp

vanilla extract

pinch

kosher salt
Chocolate Pudding
2

C

whole milk

½

C

white sugar

⅓

C

good quality cocoa powder

4

tsp

cornstarch

3

egg yolks

2

tsp

vanilla extract

¼

tsp

salt

1

T

brewed coffee

½

C

semisweet or bittersweet chocolate chips
Whipped Cream
1.5

C

heavy whipping cream

½

C

powdered sugar

1

tsp

vanilla extract
Garnish (optional)
1

C

pecans

finely chopped

dark chocolate bar
Instructions
To make the crust
Preheat the oven to 350 degrees.

Add sugar, cinnamon, and salt to the melted butter and mix to combine. Add the flour and combine the ingredients with a fork to form large crumbles. Add the finely chopped pecans and continue to mix until the pecans are well incorporated.

To make a family style trifle, gently press the crust into the bottom and slightly up the sides of a 9" x 13" baking dish. To make individual trifles, press the crumbles together in a large rectangle shape on a baking sheet.

Bake for 20-22 minutes or until golden brown around the edges. Set aside to cool. If making individual trifles, crumble half the crust into roughly half-inch pieces and the remaining half into fine crumbs resembling bread crumbs either in a food processor or by hand.
To make chocolate pudding
Add 1.5 C whole milk, white sugar, and cocoa powder to a medium saucepan and place over medium heat. Bring the mixture to a simmer or until bubbles start to form around the outer edge.

In a 4-cup liquid measuring cup, add the remaining ½ C milk, cornstarch, egg yolks, and salt. Whisk well to combine and set aside until the cocoa and milk mix begins to simmer. Once ready, slowly add the hot cocoa mixture to the egg yolks and cornstarch, whisking constantly.

Once the two liquids are completely combined, add the liquid back to the saucepan and bring the mixture to a full rolling boil. Boil for approximately 90 seconds or until a thick custard forms.

Place the chocolate chips, vanilla and coffee in a small mixing bowl and add the hot custard when ready. Whisk the pudding together until the chocolate chips have completely melted and are well combined.

Cover the pudding with plastic wrap so that the plastic is touching the surface of the pudding. If the plastic wrap and pudding are not in contact, a skin will form on the pudding.

Chill the pudding in the fridge for about 4 hours or you can jump start the process by placing the pudding in the freezer for one hour followed by an additional hour in the fridge.
To make cream cheese filling
Place the softened cream cheese into a large mixing bowl. Whip the cream cheese either with a stand or hand mixer on medium-high speed for about 2 minutes or until light and fluffy. Stop the mixer halfway through to scrape down the sides and bottom of the bowl.

Once the cream cheese is whipped, add the powdered sugar and mix on low first, increasing the speed once the sugar is combined to medium-high. Whip for another 1 minute.

Turn the mixer off and add the heavy whipping cream, vanilla and salt. Turn the mixer back on to low until the cream is combined. Then increase the speed to high and whip for 1 more minute.
To make whipped cream
Add the heavy cream and powdered sugar to a medium mixing bowl. Whip the cream on high speed with a whisk attachment until the cream forms stiff peaks. Last, add the vanilla and whisk for just a few more seconds until the vanilla is incorporated.
To assemble the trifle(s)
The trifle starts with shortbread topped with cream cheese filling then chocolate pudding and, last, whipped cream.

If you're making a family style trifle, you can start by spreading the cream cheese filling across the cooled crust.

If you're making individual trifles, place about 1 inch of crumbs in each mini trifle cup. Start with the finer crumb to fill in the edges and then use the large crumbs after placing an even layer of fine crumb. This will help ensure a clean finish. Then place ¼ C size scoops of cream cheese filling on top of the crumbs and gently spread the filling to the edges of the cups.

Next, layer on the chocolate pudding which will be about half the height of the cream cheese filling. For a family style portion, you can place large dollops of the pudding on top and spread to cover the surface. For individual trifles, use about 3 Tb of pudding per cup and spread evenly across the cream cheese filling all the way to the edge.

The last layer is whipped cream. Spread the whipped cream all the way across the family style trifle or place a dollop on top of each individual trifle, leaving a rim of chocolate pudding showing around the edge. A piping bag is helpful if you're making individual trifles to keep the glass looking tidy, but it's not required.

Before garnishing, chill the trifle(s) for a minimum of 2 hours or until all the layers are ice cold.

The top can optionally be garnished with toasted finely chopped pecans and shaved dark chocolate. To toast the pecans, place the pecans on a baking sheet and place in a 350 degrees oven for about 10 minutes. To shave the dark chocolate, run a vegetable peeler along the edge of the chocolate bar.
Notes
*Even if you purchase "chopped pecans" you'll need to chop the pecans finer than they come. I'd recommend doing so by hand as the pecans can go quickly to a puree in a food processor. You want you pecan pieces to be the size of green peas or smaller.
The trifles are pictures as individual servings, but the recipe is traditionally made as a family-style dessert served from a 9" x 13" dish. I've included instructions to prepare it both ways.
The following two tabs change content below.

Hey-ooo! I'm Hailey, and I'm a number cruncher by day and cussing cook by night. I created this site to share my love for delicious food that feeds the soul as well as the belly. I hope my recipes have you running to the kitchen to cook some damn good grub!