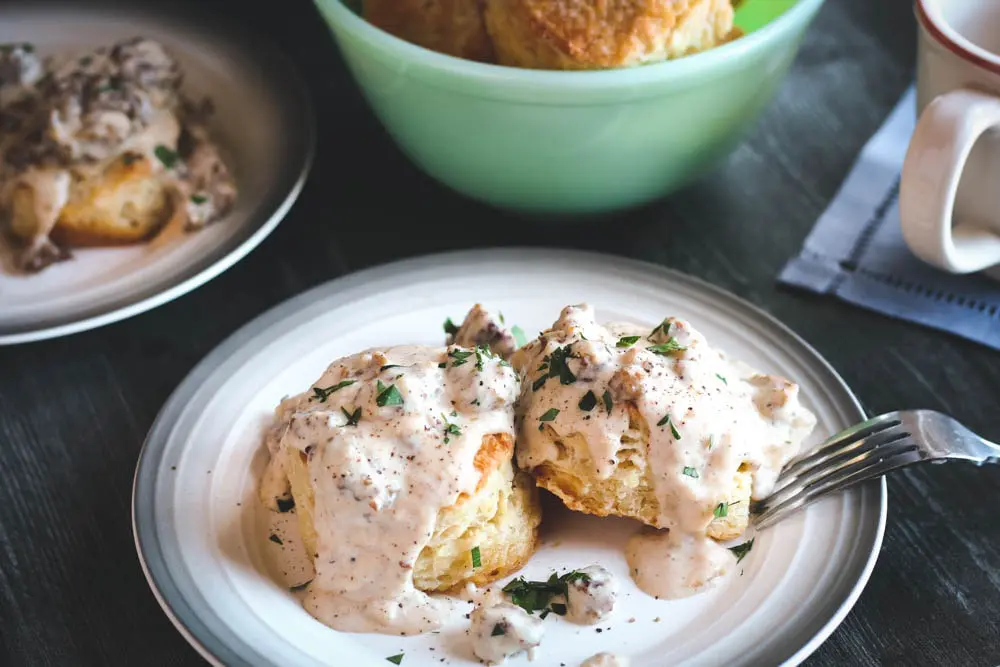 As promised, today's posts are all about how to dress up my Buttermilk Biscuit recipe. Don't get me wrong, Buttermilk Biscuits are amazing with a just a little smear of jam or jelly, but if you're looking to make a hardy, stick-to-your-ribs meals with your biscuits, there is nothing better than Biscuits and Sausage Gravy.
The combination of buttery, pillow-soft biscuits smothered in piping hot, rich country gravy is breakfast bliss in my eyes.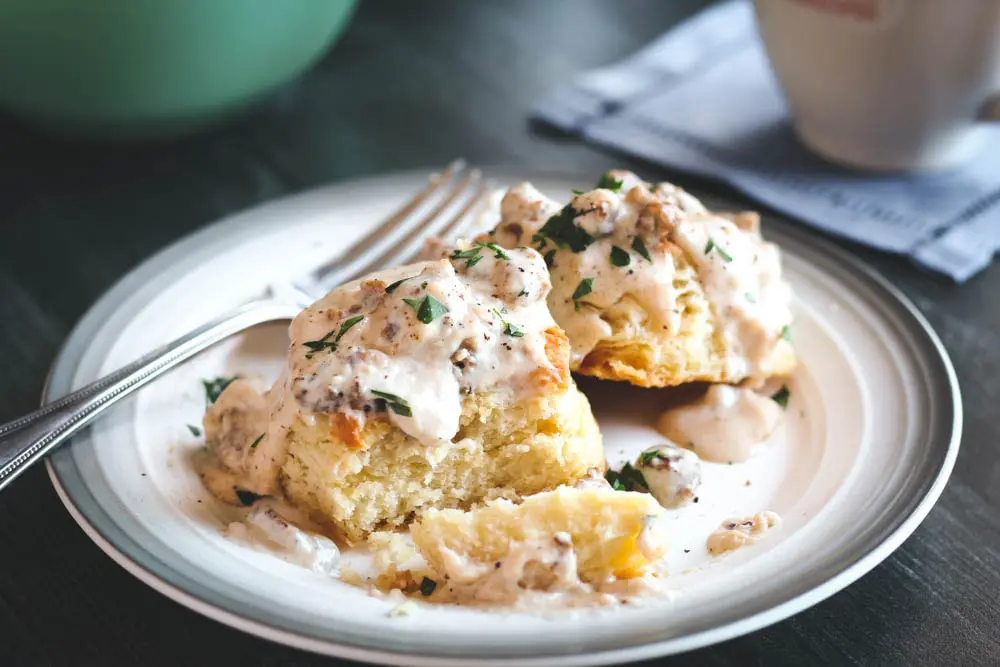 I can remember the first time I ordered biscuits and gravy as a kid from our local diner. I thought, holy cow, where has this been all my life?!
There really is nothing to making gravy. All that good gravy requires is a little patience and the knowledge that no two batches of gravy are exactly alike, so you have to be nimble with your style and have an eye for the perfect gravy consistency. The good news is…"perfect" consistency is totally in the eye of the beholder.
Some may like it on the thick side so you'll add a bit less milk, or if you prefer your gravy to be a bit more like a sauce than you might add a bit more and keep the heat down on low. I recommend working slowly if it's your first time to make gravy so you can really keep an eye out for how the gravy changes as it continues to cook. Taste it often as the consistency changes to find what makes your taste buds happy.
Sausage Gravy has very few ingredients. This recipe only has 5 ingredients so it's important to not tinker with those ingredients too much. First, you should always use whole milk. I've tried gravy with 2% milk because that's what I use for my coffee and cereal, but the mouthfeel of the finished gravy is just not the same.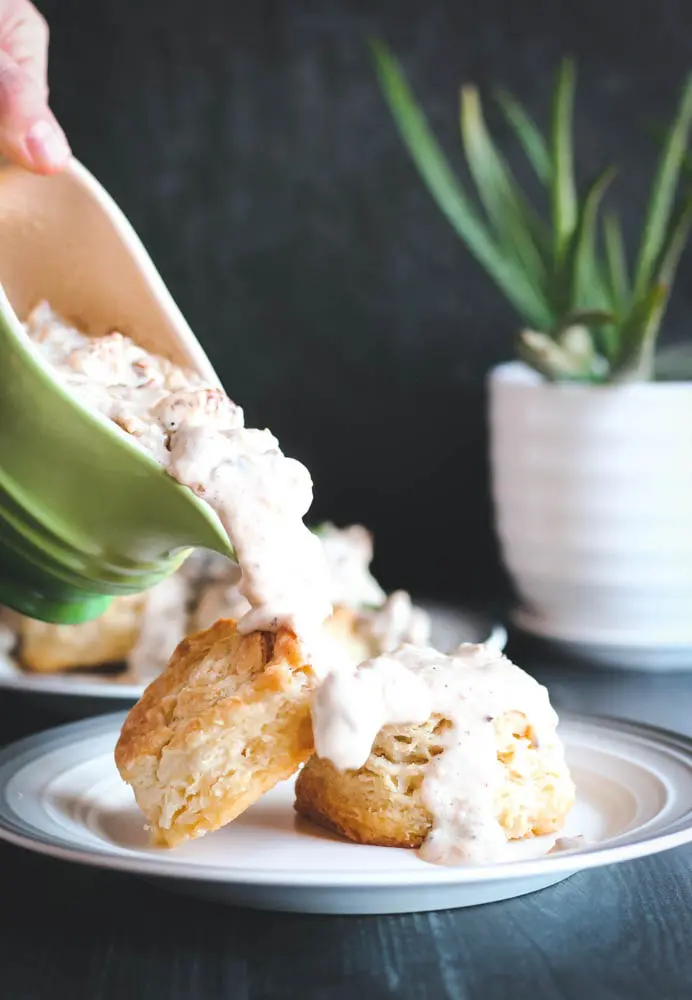 You can, of course, reduce gravy made with low-fat milk to a thick consistency, but you won't get the same silky texture that whole milk provides. I've also tried making gravy with half and half to see if additional decadence would make for a better gravy. Nope…not the case. In fact, gravy made with half and half was almost impossible to keep thin enough to pour.
In addition to using whole milk, you have to make sure that your milk is hot when you add it to the flour or fat, or roux. I cover this in detail in the recipe below, but I have found heating my milk up before adding it to the gravy is really the trick to making sure you don't have a lumpy gravy. Be sure to not boil your milk though.
The other ingredient that it's important to not substitute is the use of bacon fat or salted butter. Part of the fat content for the recipe comes directly from the cooked breakfast sausage, but in my experience, you usually only get about 1 Tb of fat from the sausage. In total, you'll need 3 Tb of fat to make your roux.
I highly recommend adding bacon fat to the sausage fat for the most pork-alicious gravy possibly.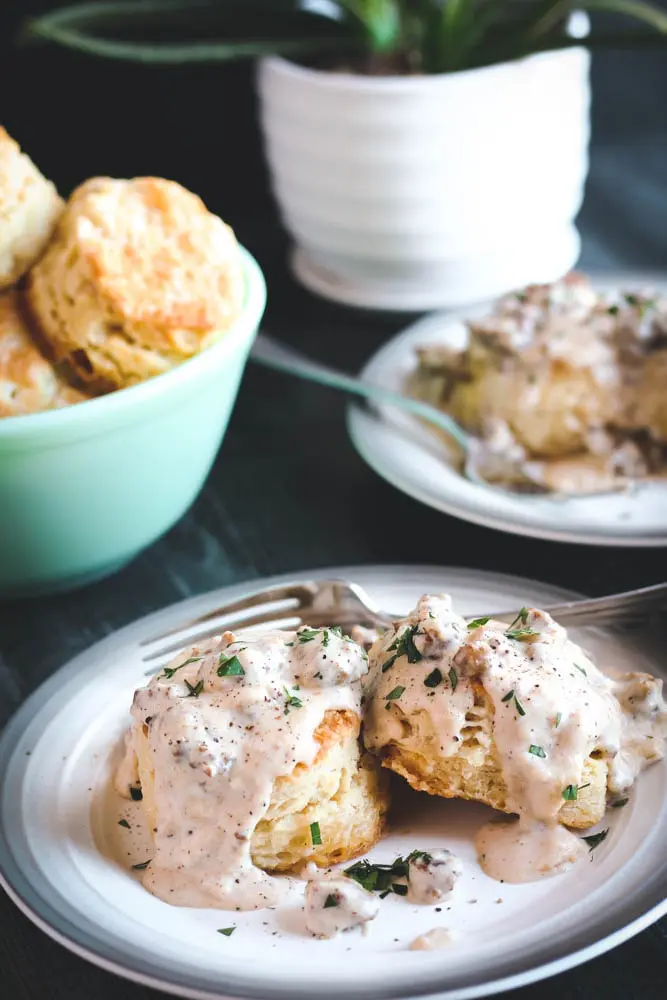 We always have a jar of bacon fat handy so this doesn't add an additional step to the gravy-making process for me, but if you don't have bacon fat handy, salted butter is the only acceptable substitute. Unsalted butter has no flavor, and we need every ingredient bringing flavor to the party!
If you follow the recipes and practice a little bit of patience, your Sausage Gravy will turn out amazing. I promise…even if you've never made gravy before. On a cold winter morning like today, there's nothing I'd rather do than stand over a steaming pan of sausage gravy.
Buttermilk Biscuits and Sausage Gravy will become a family favorite once you've mastered this simple recipe. Give it a try, and let me know how your gravy turns out in the comments section below!
Helpful Utensils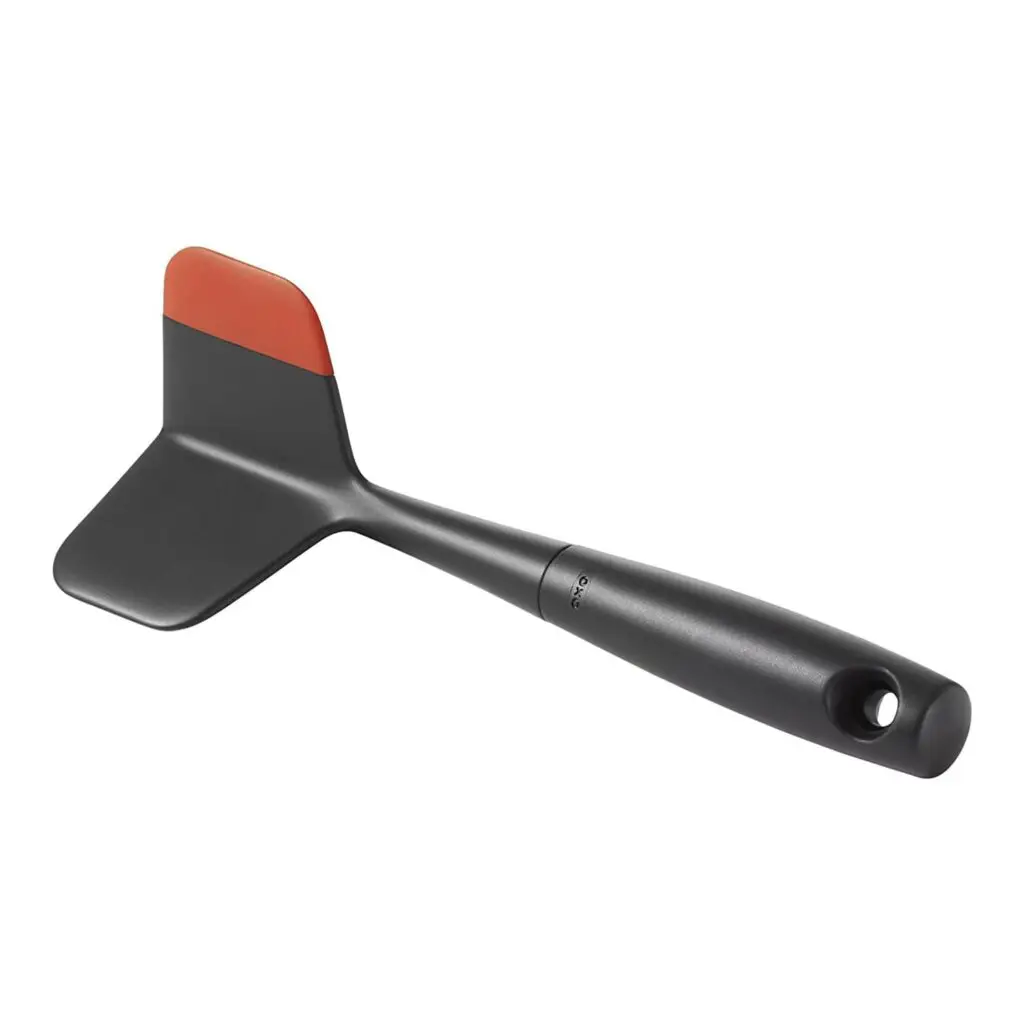 If you've never used one, you'll be pleasantly surprised by what a handy gadget this is. It makes breaking up ground meat so fast and easy.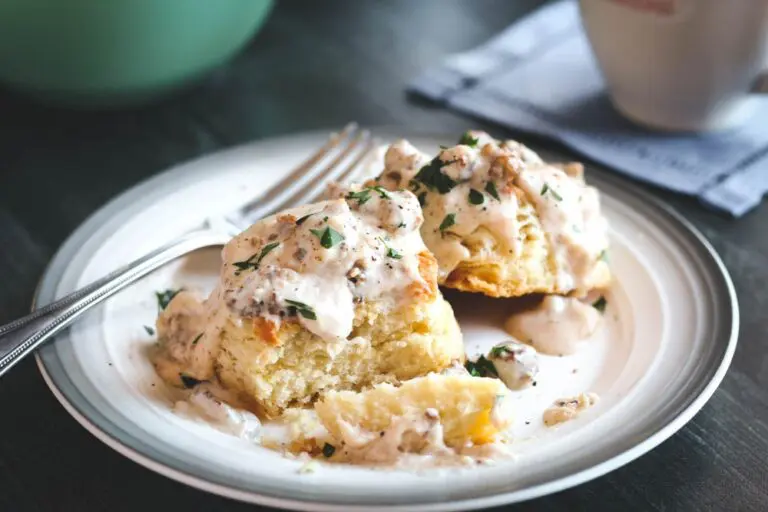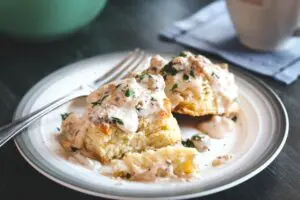 Buttermilk Biscuits and Sausage Gravy
Buttery, soft buttermilk biscuits smothered in a simple but decadent country sausage gravy. With only 5 ingredients, this gravy is so easy but deeply soul-satisfying in a way that only Southern comfort food can be. Biscuits with Gravy is perfect for breakfast or brunch, but it's also a fun dinner surprise for your family.
Ingredients
Buttermilk Biscuits*
See the notes below for a link to my Buttermilk Biscuit recipe
Sausage Gravy
1

lb

ground breakfast sausage

2

Tb

bacon fat or salted butter

3

Tb

all purpose flour

3.5 to 4

cups

of whole milk

salt and pepper to taste
Instructions
Once the biscuits are cooked, start your sausage gravy. You want to serve gravy piping hot so make sure your biscuits are ready for their gravy bath before starting the process.

Pour 4 C of whole milk into a medium saucepan and turn the heat on to medium. Stir the milk occasionally to ensure even heating. Make sure the milk doesn't reach a boil. If you start to see small bubbles around the edge of the pan, just turn the heat down to a lower setting. As the milk heats up, start your gravy.

Place a large cast iron or nonstick skillet over medium-high heat. Once the pan is hot, add the breakfast sausage. Using a wooden spoon or a ground meat chopper to break up the sausage into bite size pieces. A ground meat chopper is one of my favorite gadgets. You can find a link to purchase one above.

Cook the breakfast sausage for 5-7 minutes until the sausage starts to develop crispy, browned edges. Those browned bits are where all of the flavor lives! Once the sausage is browned, remove from the pan with a slotted spoon and set aside. Leave as much of the fat in the pan as possible.

You need a total of 3 Tb of fat to start your roux.** If you feel more comfortable measuring the fat, feel free to strain your cooked sausage, reserving the fat in a separate bowl so you can measure. I typically eyeball the amount to be honest. Add enough bacon fat or salted butter to the sausage fat to equal 3 Tb.

Turn the heat down to medium. Once the fat is totally melted, add the flour to the pan. Using your wooden spoon, stir the fat and flour together until well incorporated. Be sure to also scrape all the browned bits from the bottom of the pan as the roux cooks. Cook the roux over medium heat, stirring constantly, for 2 minutes.

Once the roux has cooked for 2 minutes, it's time to switch your utensil to a whisk and start slowly adding the hot milk. This is the most important step in gravy making. If you add too much liquid at once or if the milk isn't hot, you risk a lumpy gravy. If you add too little milk though, the roux will tighten up too quickly which, again, can make for a lumpy gravy. You want a slow, steady stream of hot milk poured evenly around the pan ask you whisk vigorously.

Start by adding 3 to 3.5 cups of milk to the gravy. Reserve at least ½ C for further additions as the gravy thickens. Bring the gravy to a low boil and cook for 2-3 minutes, stirring constantly, or until the gravy has reached a lovely thick consistency. If the gravy gets too thick, just add a bit more warm milk to thin the gravy back out.

Once the gravy has reached the right consistency, add the cooked sausage and stir into the gravy with a wooden spoon. Season with salt and pepper to taste, but don't skimp on the black pepper. Good gravy has plenty of black pepper flavor. Cook for another 1-2 minutes or until the sausage is warm. Serve immediately over hot biscuits.
Notes
*Here is a link to my Buttermilk Biscuit recipe. Don't be afraid. Making your own biscuits is easier then you think!
**A roux is simply a mixture of fat and flour that is cooked down and used to thicken a sauce. It's a great technique to master for making all kinds of sauces.
The following two tabs change content below.

Hey-ooo! I'm Hailey, and I'm a number cruncher by day and cussing cook by night. I created this site to share my love for delicious food that feeds the soul as well as the belly. I hope my recipes have you running to the kitchen to cook some damn good grub!