Pizza and burgers are two of America's most adored comfort foods so what could possibly be better than putting the two together?!? Not a damn thing. Introducing to you, Pizza Burger Sliders!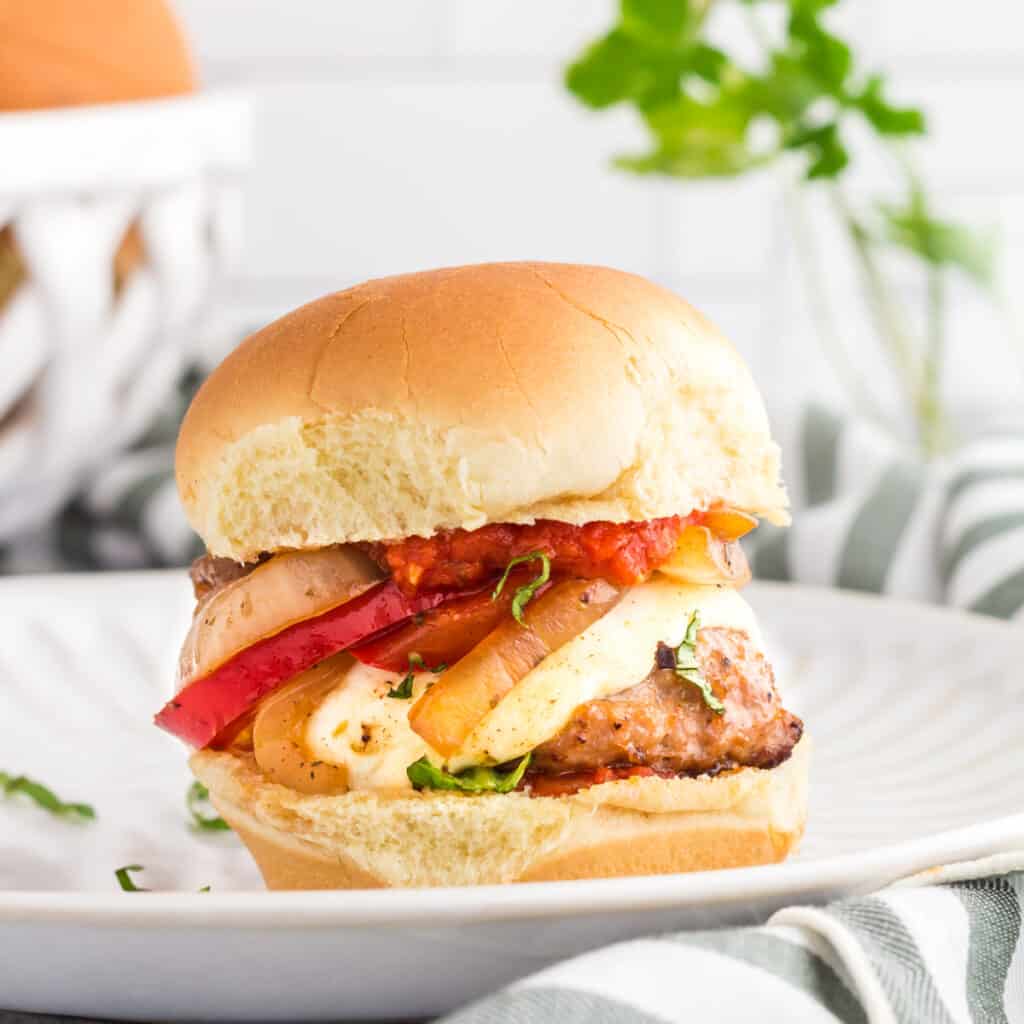 Italian turkey sausage patties are topped with pepperoni, smoked mozzarella, peppers, and onions to create a simple but flavorful sandwich that will delight kids and adults alike.
I grew up on pizza burgers. Both of my parents attended a small university that was about an hour outside of my hometown. Whenever we visited, we stopped at a local pizza joint for pizza burgers. It was my favorite part of the trip.
Ingredients
Let's break down this sandwich a little more closely. Pizza burger sliders take everyday pizza ingredients and serve them up on a bun. The ingredients for this recipe are simple but flavorful.
Olive oil
Italian turkey sausage- I like to use turkey sausage as a substitute for pork sausage as it's a bit less greasy and salty. If you can only find links, you can remove the meat from the casings.
Black pepper
Smoked mozzarella- Smoked mozzarella adds an additional layer of flavor to the sandwiches.
Pepperoni
Red bell pepper
Onion
Marinara- Use your favorite brand. Mine is Rao's.
Slider buns
Fresh basil leaves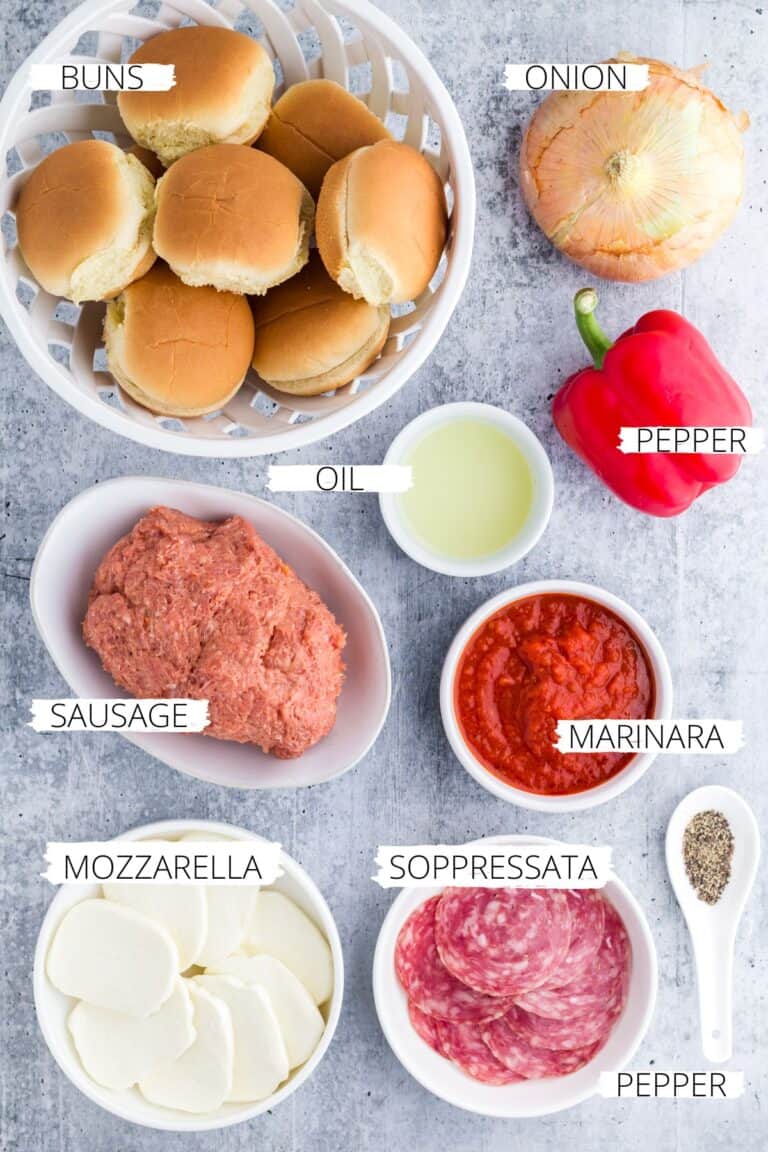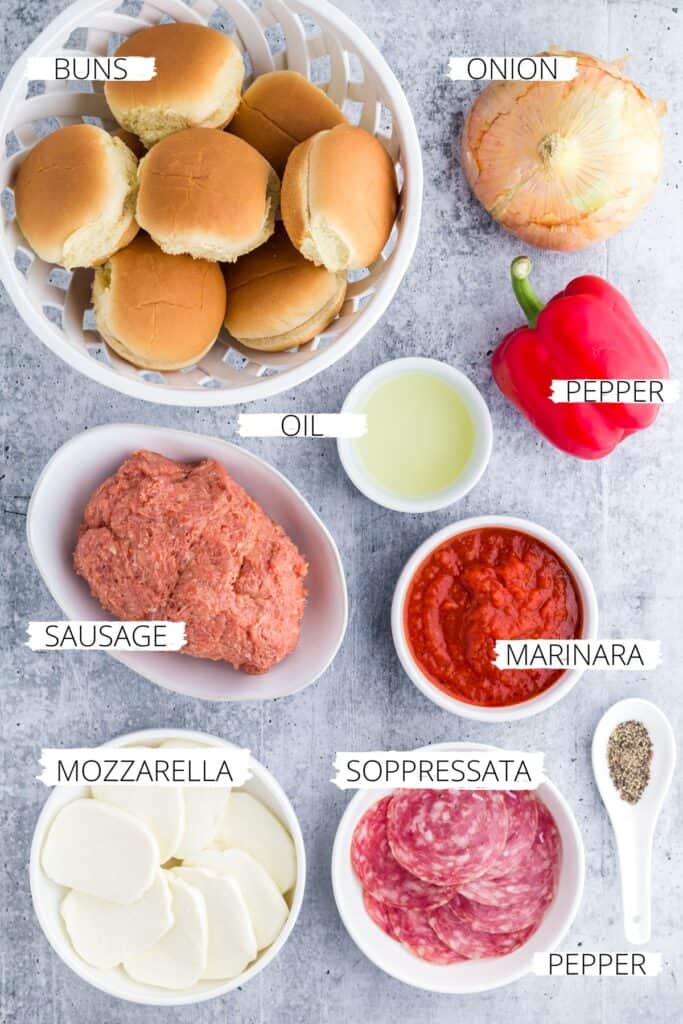 Instructions
Pizza Burger Sliders are so easy to make! There are four major steps in the process.
Form and cook the sausage patties
Top each patty with smoked mozzarella and pepperoni. Let the cheese melt.
Cook the sliced peppers and onions.
Assemble the sliders.
The only thing left to do is stuff your face with pizza deliciousness.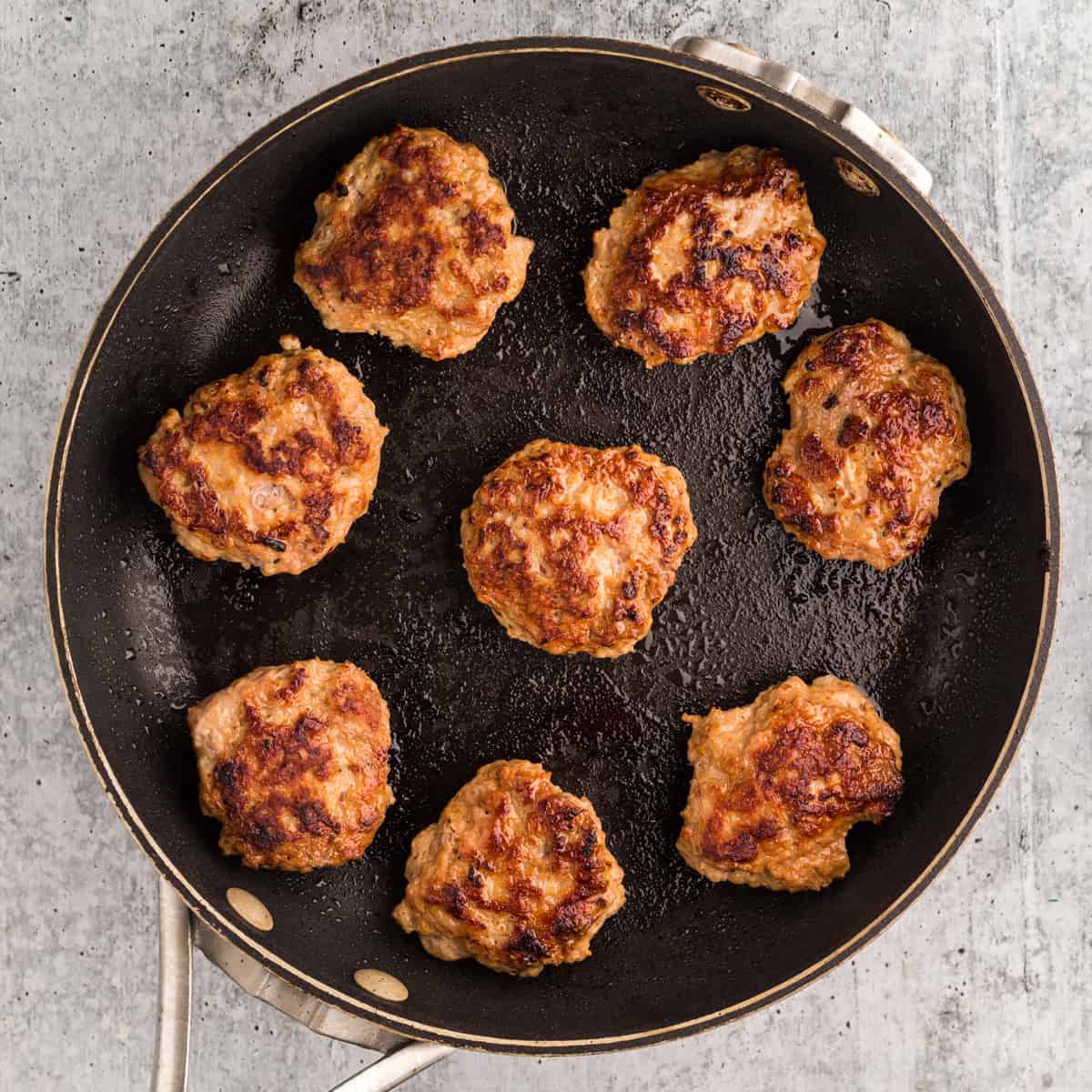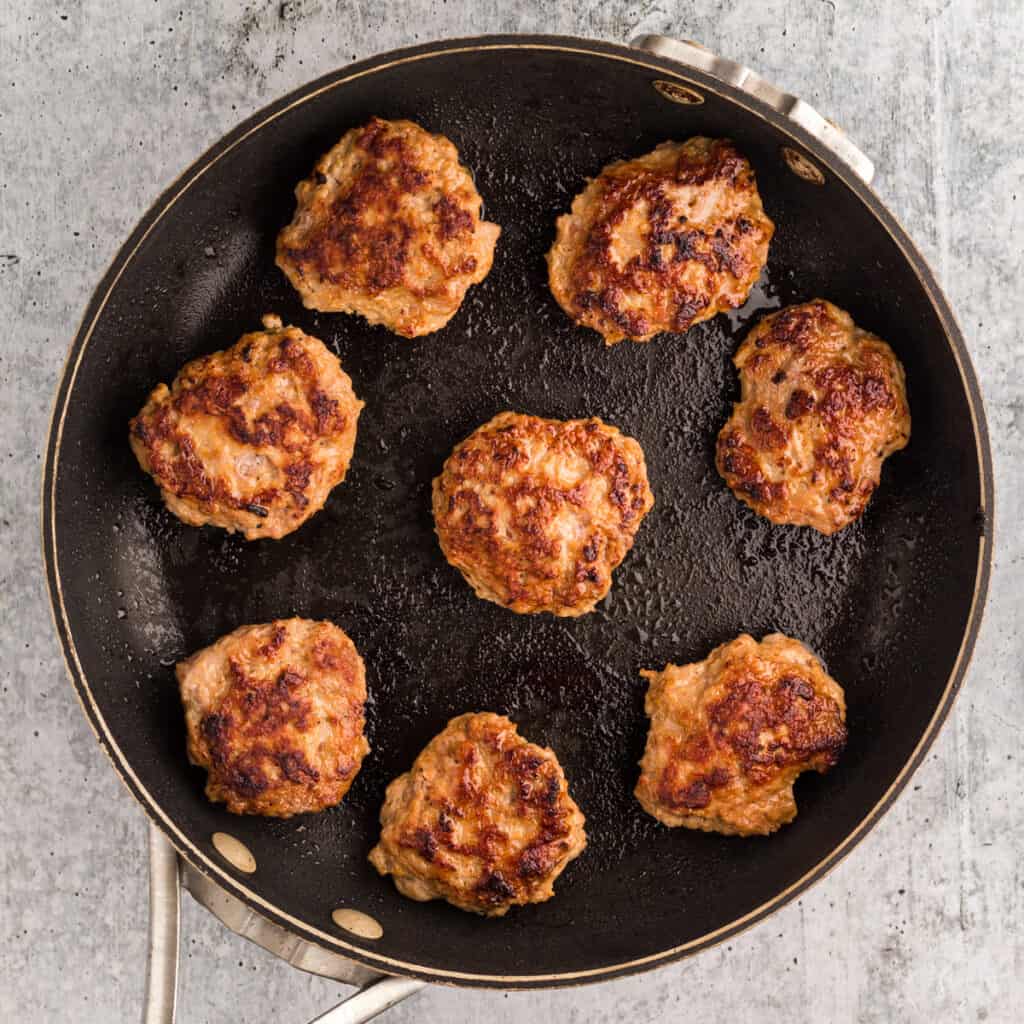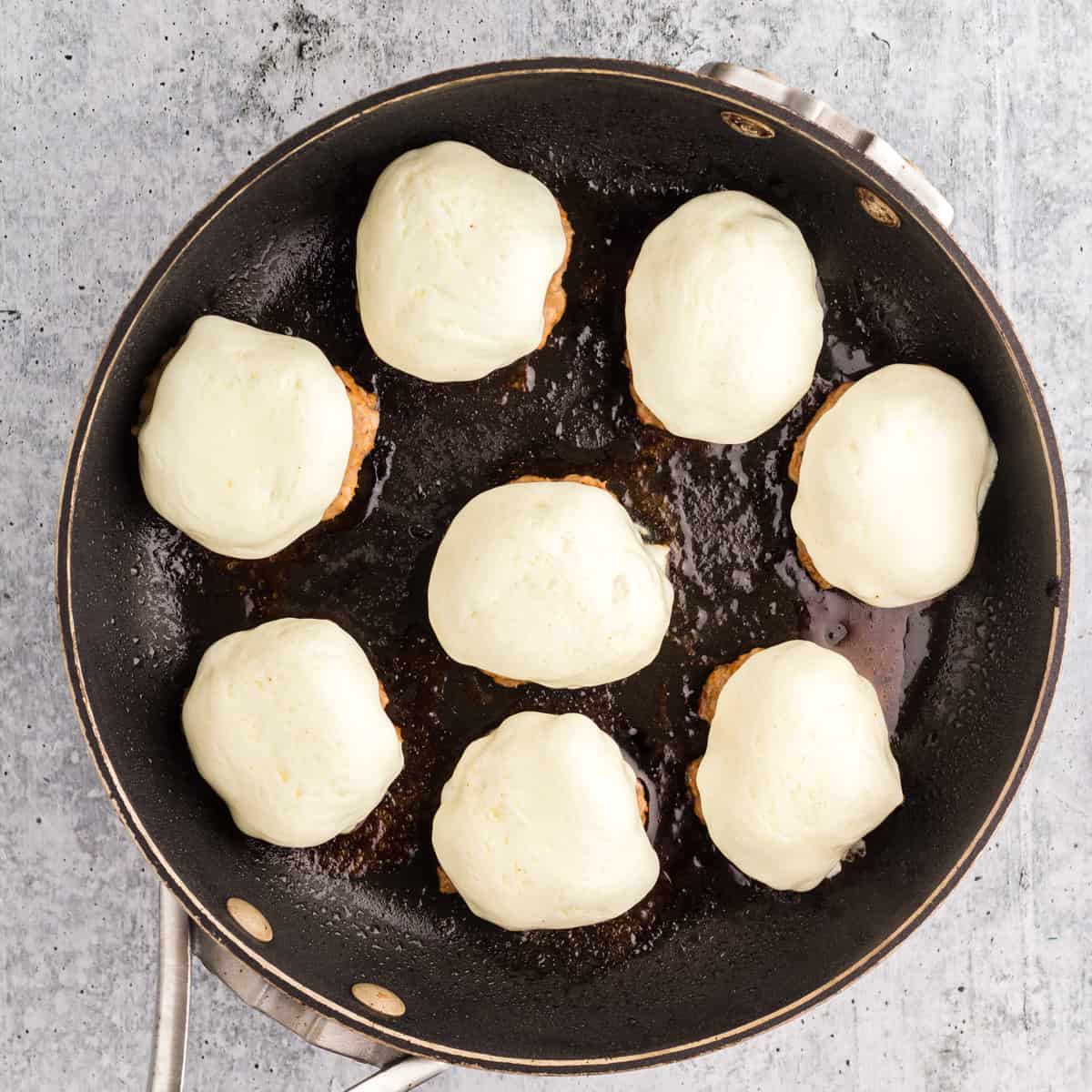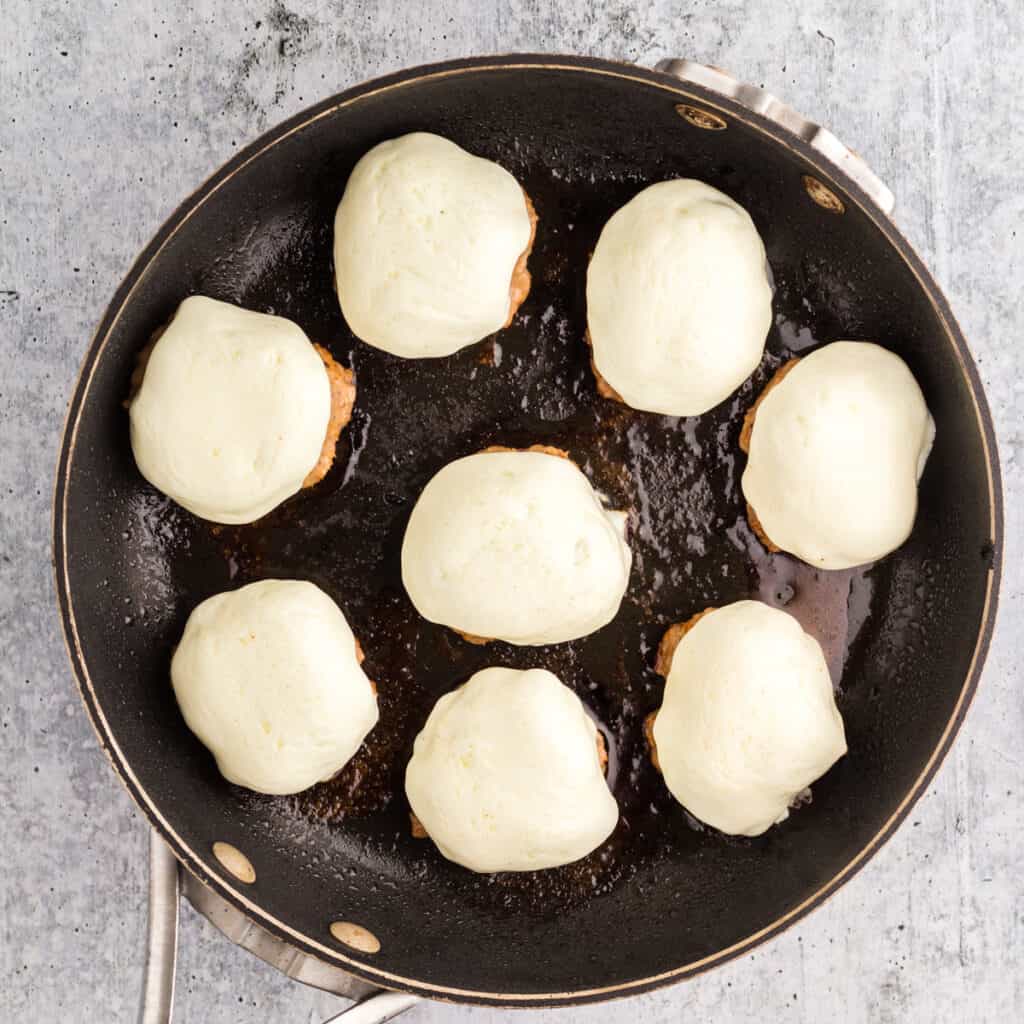 Substitutions
This recipe can easily be customized to suit your pizza taste. Feel free to add olives, jalapenos, bacon, white sauce, parmesan, etc. Truly, anything you like on your pizza works. A few other substitution options are listed below.
Italian turkey sausage- Italian pork sausage would work as well as ground beef. If you choose ground beef, be sure to season the patties with 1 teaspoon of salt and ½ teaspoon of Italian seasoning in addition to the black pepper in the recipe.
Smoked mozzarella- Standard fresh mozzarella is a good substitute. You could also use shredded or sliced mozzarella.
Pepperoni- Soppressata or salami would also be delicious.
Red bell pepper- Orange or yellow peppers taste very similar to red bell pepper. You could also use green bell peppers although their flavor is less sweet.
Slider buns- Pizza burgers can easily be made as full, standard-size burgers. You could also ditch the buns completely.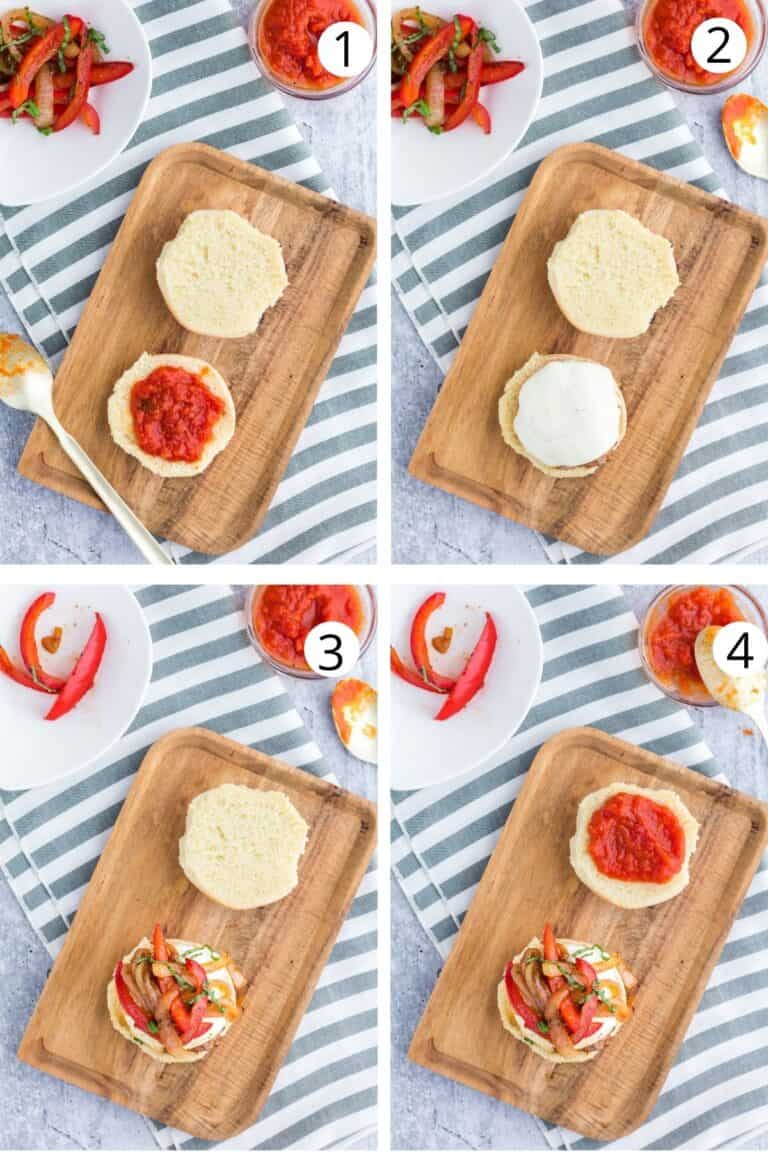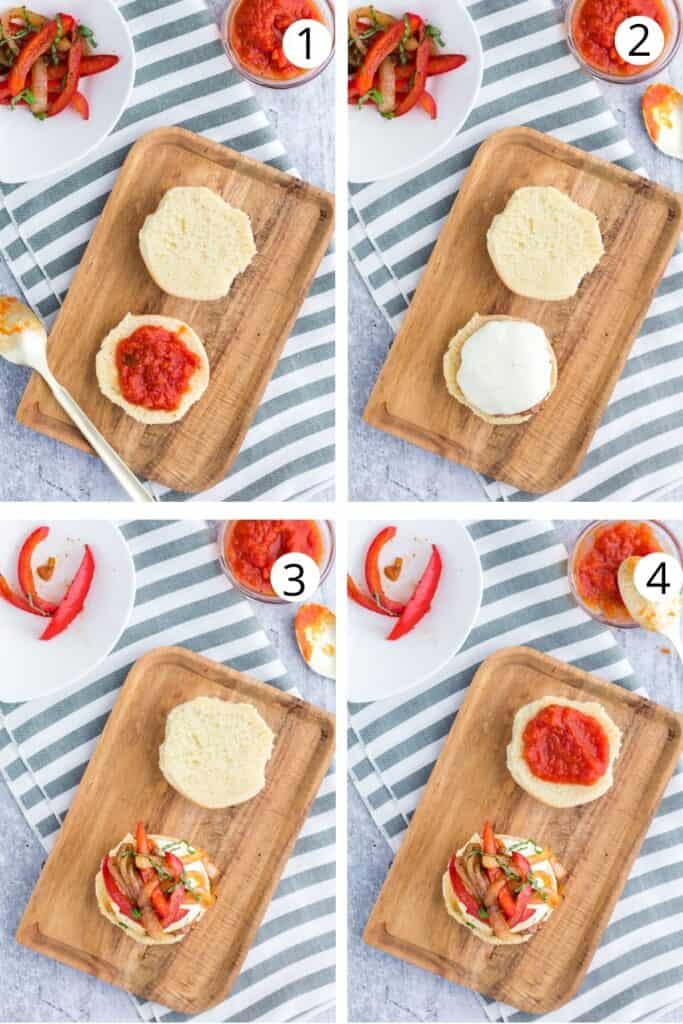 Storage
Serve: Pizza Burger Sliders are best served hot and fresh.
Store: If you are preparing in advance, do not assemble the sliders because the buns will just get soggy. Store the dressed patties in an airtight container in the fridge for up to 3 days. Wait to heat the marinara until you're ready to assemble and serve.
Freeze: This recipe does not freeze well.
Reheat: Heat the dressed burger patties in the microwave or oven until warmed through. Heat the marinara as outlined in the recipe and assemble the sliders.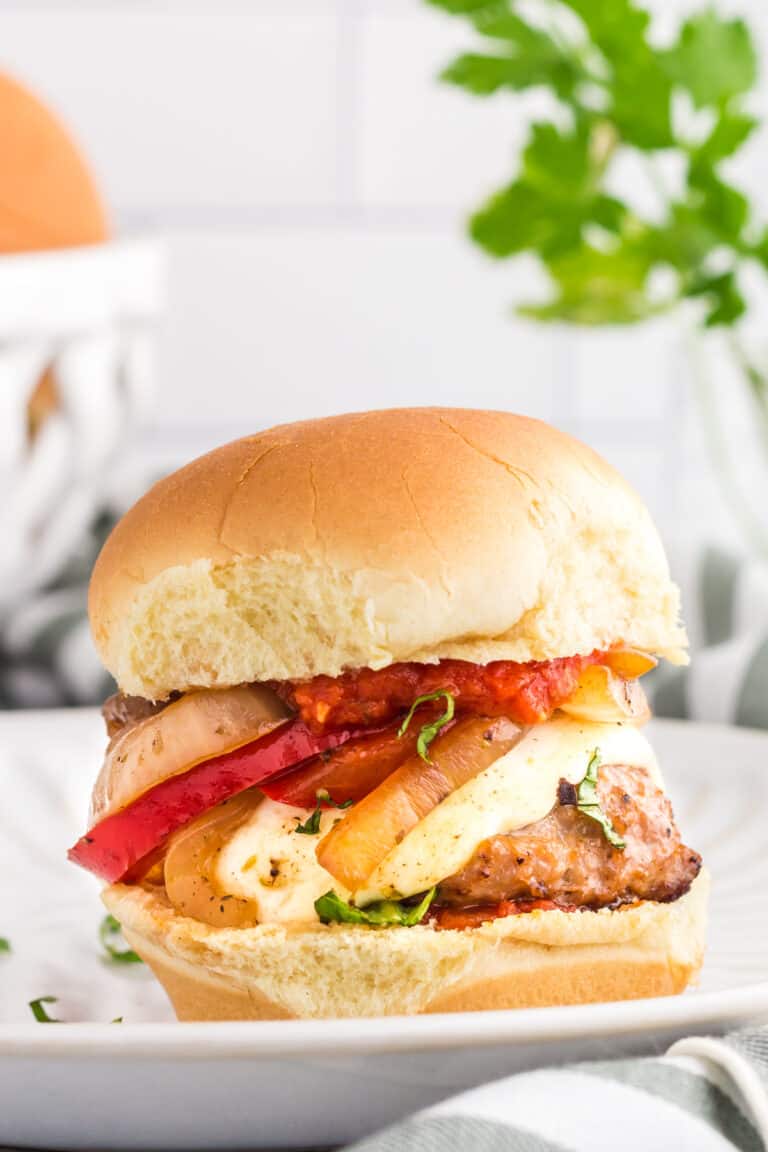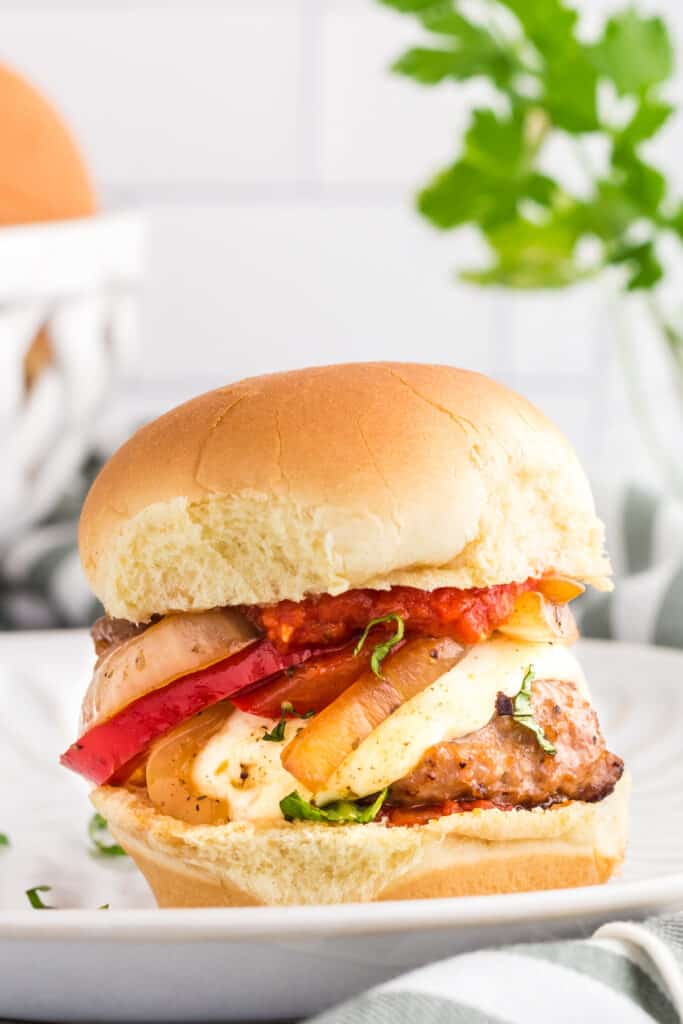 Top tip
This recipe is incredibly simple to make, but one step that can be a little tricky is shredding the smoked mozzarella. To firm the cheese up and make it easier to grate, try putting the cheese into the freezer for 10-15 minutes before grating it.
Give this recipe a try and let me know how much you love pizza burgers in the comments section below! Be sure to also check out some of my other pizza recipes like Easy Homemade Pizza Dough and BBQ Chicken Flatbreads.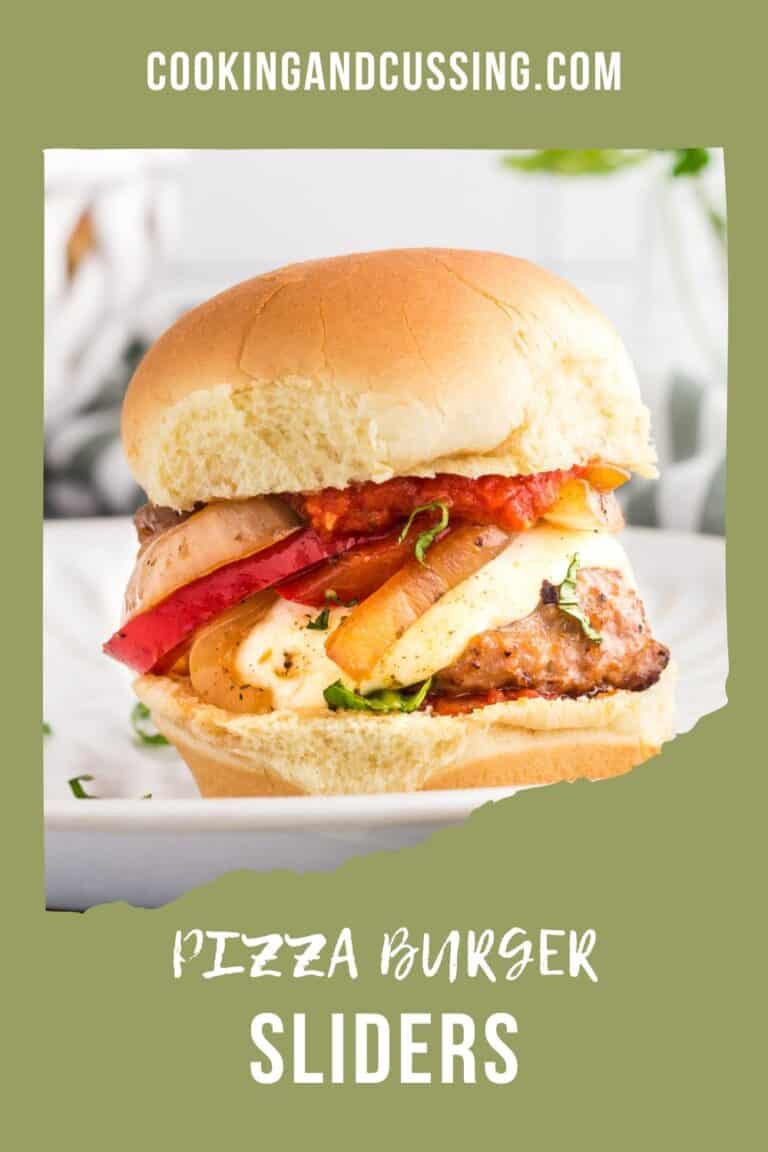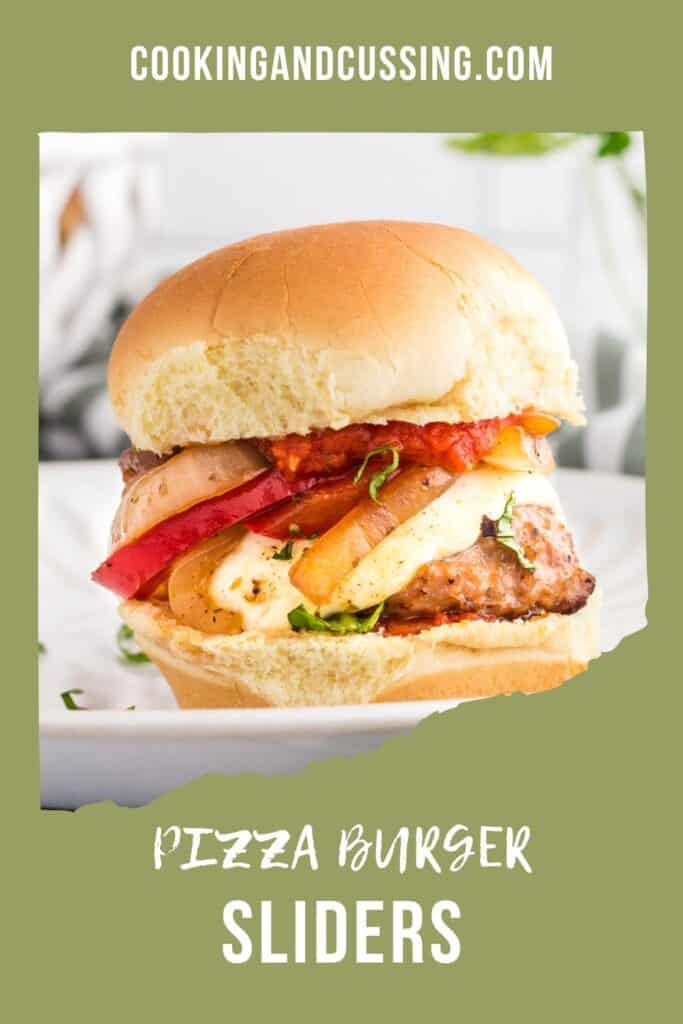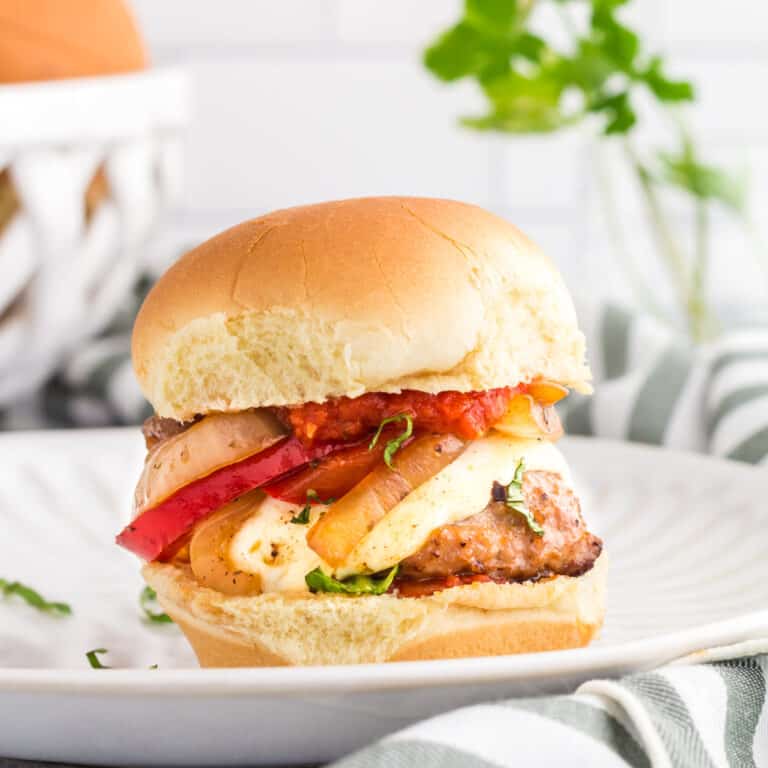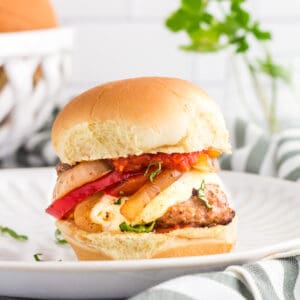 Pizza Burger Sliders
All the pizza flavors you love in burger form- sausage, pepperoni, mozzarella, peppers, and onion served on a slider size bun for easy snacking. Pizza Burger Sliders make an easy weeknight dinner.
Ingredients
2

Tb

olive oil

divided

1

lb

Italian turkey sausage

½

tsp

ground black pepper

8

slices

mozzarella

2

oz

pepperoni or soppressata

1

red bell pepper

1

yellow onion

1

C

marinara of choice

8

slider buns

basil

optional
Instructions
Slice the onion and bell pepper into ¼-inch strips. Form turkey sausage into 8 slider-size patties. Season with black pepper. Heat a nonstick skillet over medium-high heat. Add 1 Tb of olive oil to the pan.

Once the oil is hot, add the patties. Allow them to sear on each side for 3 minutes or until well browned.

Top each patty with pepperoni or soppressata and a slice of mozzarella. Top the pan loosely with foil for 1-2 minutes or until the cheese melts. Remove from the pan and place on a plate. Cover loosely with foil to keep the patties warm.

Use the same pan you seared the patties in to saute the peppers and onions for about 5 minutes over medium heat. Season with salt and pepper to taste.

Put the marinara in a microwave-safe bowl. Cover with a damp paper towel and microwave for 1-2 minutes, stirring every minute. If you don't have a microwave, you can also heat the marinara on the stove.

Build each slider with a patty, then peppers and onions and topped with as much marinara as you like. You can also add a final garnish of a basil leave if you like.
Notes
*If you have trouble finding smoked mozzarella, regular mozzarella is just fine. To make grating easier, place the mozzarella in the freezer for about 10 minutes to make it firmer.
Frequently Asked Questions
Can I use regular mozzarella instead of smoked?
Yes. Fresh, shredded, or sliced mozzarella would also work.
Can I use pork sausage for the patty instead of turkey?
Yes. Ground beef or Italian pork sausage would both be good substitutes. If you choose ground beef, season the patties with 1 tsp salt and ½ teaspoon of Italian seasoning in addition to the black pepper in the recipe.
What brand of marinara do you recommend?
I'm a big fan of Rao's but any brand you like will work.
The following two tabs change content below.

Hey-ooo! I'm Hailey, and I'm a number cruncher by day and cussing cook by night. I created this site to share my love for delicious food that feeds the soul as well as the belly. I hope my recipes have you running to the kitchen to cook some damn good grub!