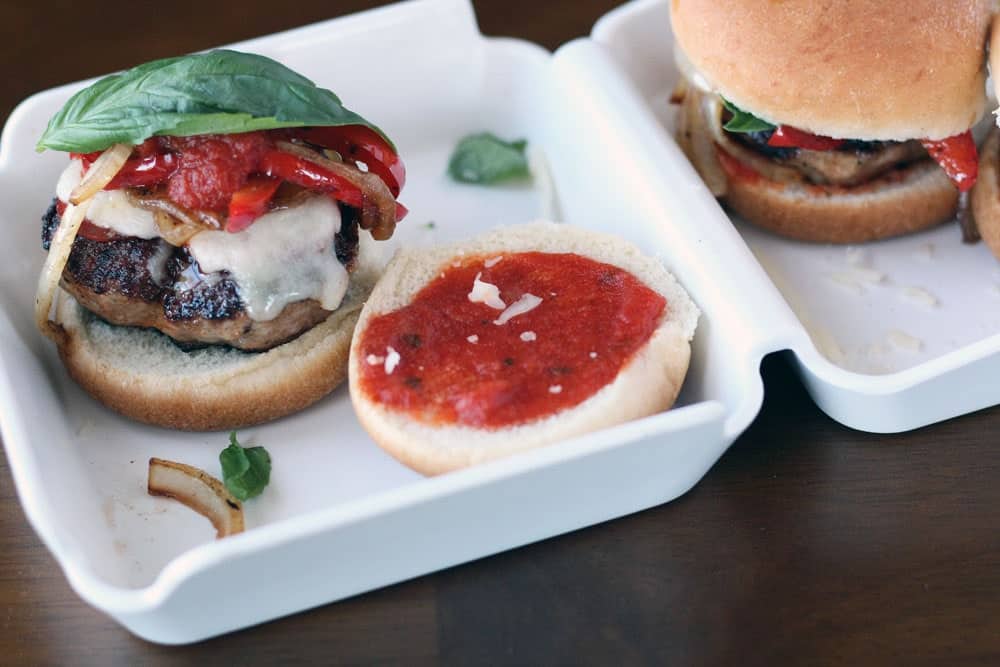 Pizza and burgers are two of America's most adored comfort foods so what could possibly be better than putting the two together?!? Not a damn thing. Introducing to you, Pizza Burger Sliders! Italian Turkey Sausage patties are topped with pepperoni, smoked mozzarella, peppers, and onions to create a simple but flavorful sandwich that will delight kids and adults alike.
I grew up on pizza burgers. Both of my parents attended a small university that was about an hour outside of my hometown in South Texas. We would often go to football games there, and we always stopped at Young's Pizza when we were in town, but not for pizza.
We always got pizza burgers, and it was my favorite part of the trip.
Let's break down this sandwich a little more closely. The original pizza burgers that I grew up on were always made with a ground beef patty. When I was coming up with this recipe I wanted to find a way to add a little more Italian flavor so I decided to use sausage instead of beef. It makes such a difference! The fennel notes from the Italian sausage are a delicious complement to the other toppings, and you get extra flavor with no extra effort!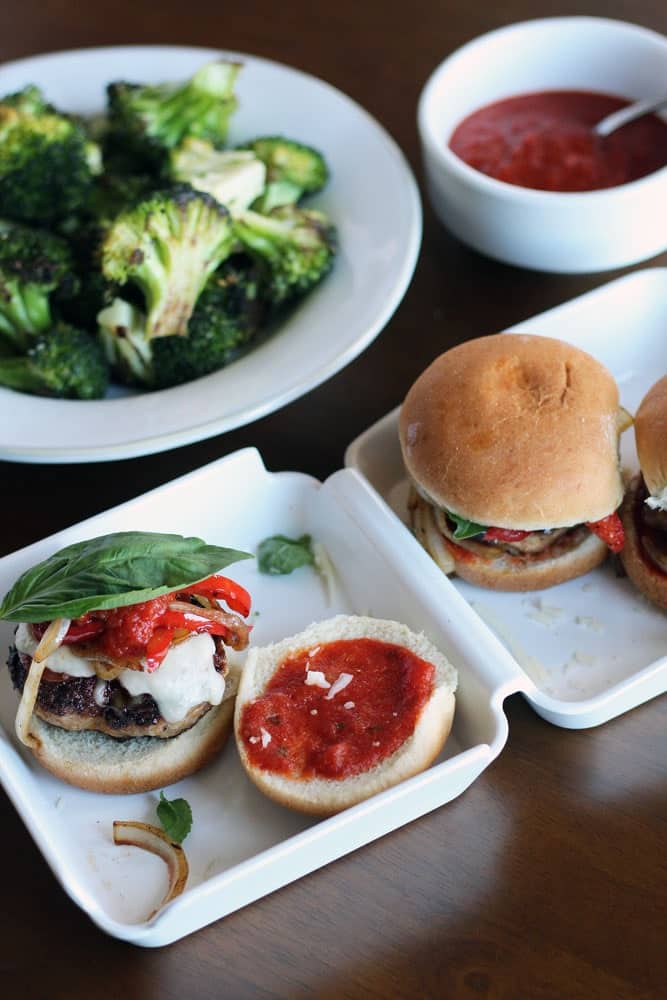 I also decided to substitute smoked mozzarella for regular to make this comfort food a little bit more grown up. But don't worry! I served these sliders to my nieces who are 5 and 7 years old, and they had no idea the cheese was different than the mozzarella cheese they know. The smoky notes from the cheese also add another layer of flavor.
There were also no veggies ever included on the pizza burgers that I had as a kid. At my house, we can't get enough sausage, peppers, and onions. We like it on pizza, pasta, and now on burgers too! Adding sautéed peppers and onions to the sliders is a great way to sneak in some vegetables for your picky eaters, and it ensures this recipe makes for a well-rounded dinner for your family.
Pizza Burger Sliders make the perfect football food or party snack for guests young or old.
They also make an awesome weeknight dinner because they are so f*cking easy and fast to make! I served mine with a side of roasted broccoli. Give this recipe a try and let me know how much your family now loves pizza burgers in the comments section below!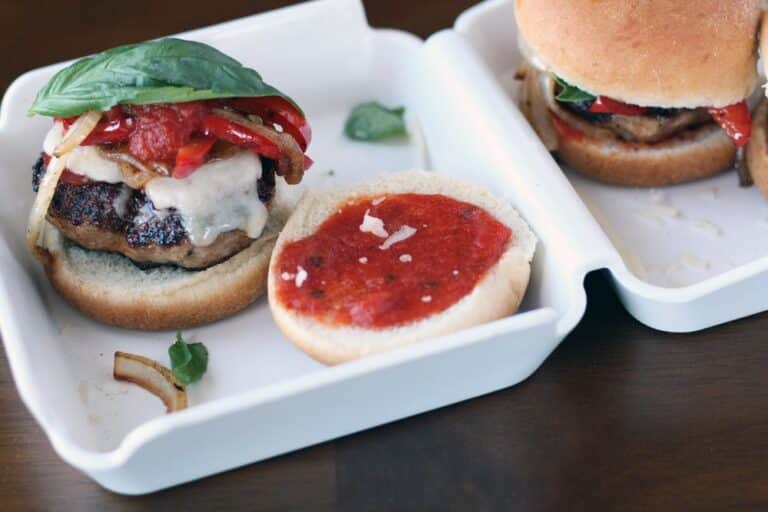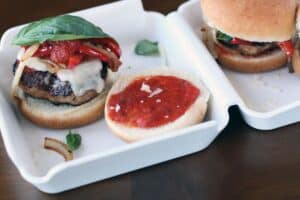 Pizza Burger Sliders
All the pizza flavors you love in burger form! An Italian turkey sausage patty is smothered in pepperoni, mozzarella, and sauteed peppers and onion and served on a slider size bun for easy snacking. Pizza Burger Sliders make an easy weeknight dinner or a great party snack.
Ingredients
1

lb

Italian turkey sausage

2

oz

pepperoni

8

slider buns

1

C

marinara of choice

1

C

smoked mozzarella, grated*

1

red bell pepper

1

yellow onion

¾

lb

broccoli crowns

1

tsp

garlic powder

salt and pepper

3

Tb

olive oil

Basil leaves

optional
Instructions
Preheat the oven to 400 degrees.

Remove broccoli crowns from the stem and break into bite size pieces. Put on a sheet pan covered in nonstick foil for easy cleanup. Add 2 Tb of olive oil, ½ tsp garlic powder, ½ tsp salt and pepper to taste and toss with hands to combine. Spread out evenly across the baking sheet. Set aside.

Slice the onion and bell pepper. Form turkey sausage into 8 slider-size patties, putting a dent in the center of every patty to help keep it flat while cooking. Season the outside with salt and pepper. Heat a nonstick skillet over medium-high heat. Add 1 Tb of olive oil to the pan.

Before you add the patties to the hot oil, put the broccoli in the oven and cook for 15 minutes until tender and browned.

Once the oil is hot, add the patties one at a time to the oil, cooking in batches if necessary so you don't overcrowd the pan. Allow the patties to sear on each side for 2-3 minutes or until well browned. Turn over and sear on the other side for another 3 minutes or until cooked through. Turn off the heat.

Wrap the slider buns in foil to prepare for warming in the oven.

On a sheet pan covered in nonstick foil for easy cleanup, place the cooked patties. Top each with enough pepperoni to cover the surface of the burger. Top with about 1 Tb of grated mozzarella. Place the buns and the patties in the oven for 5-10 minutes or until the buns and pepperoni are warm and the cheese is melted. Remove from the oven.

While the cheese melts, use the same pan you seared the patties in to saute the peppers and onions for about 5 minutes or until crisp-tender. Season with salt and pepper.

Put the marinara in a microwave safe bowl. Cover with a damp paper towel and microwave for 1-2 minutes, stirring every minute.

Build each burger with a patty, then peppers and onions and topped with as much marinara as you like. You can also add a final garnish of a basil leave if you like for extra color and fresh flavor. Serve with a side of garlic broccoli.
Notes
*If you have trouble finding smoked mozzarella, regular mozzarella is just fine. To making grating easier, place the mozzarella in the freezer for about 10 minutes before grating.
The following two tabs change content below.

Hey-ooo! I'm Hailey, and I'm a number cruncher by day and cussing cook by night. I created this site to share my love for delicious food that feeds the soul as well as the belly. I hope my recipes have you running to the kitchen to cook some damn good grub!