Asian Pork Meatballs are flavorful, tender, and so easy to make. The addition of sesame oil and soy sauce brings the Asian flavors, but the real secret ingredient is mushrooms.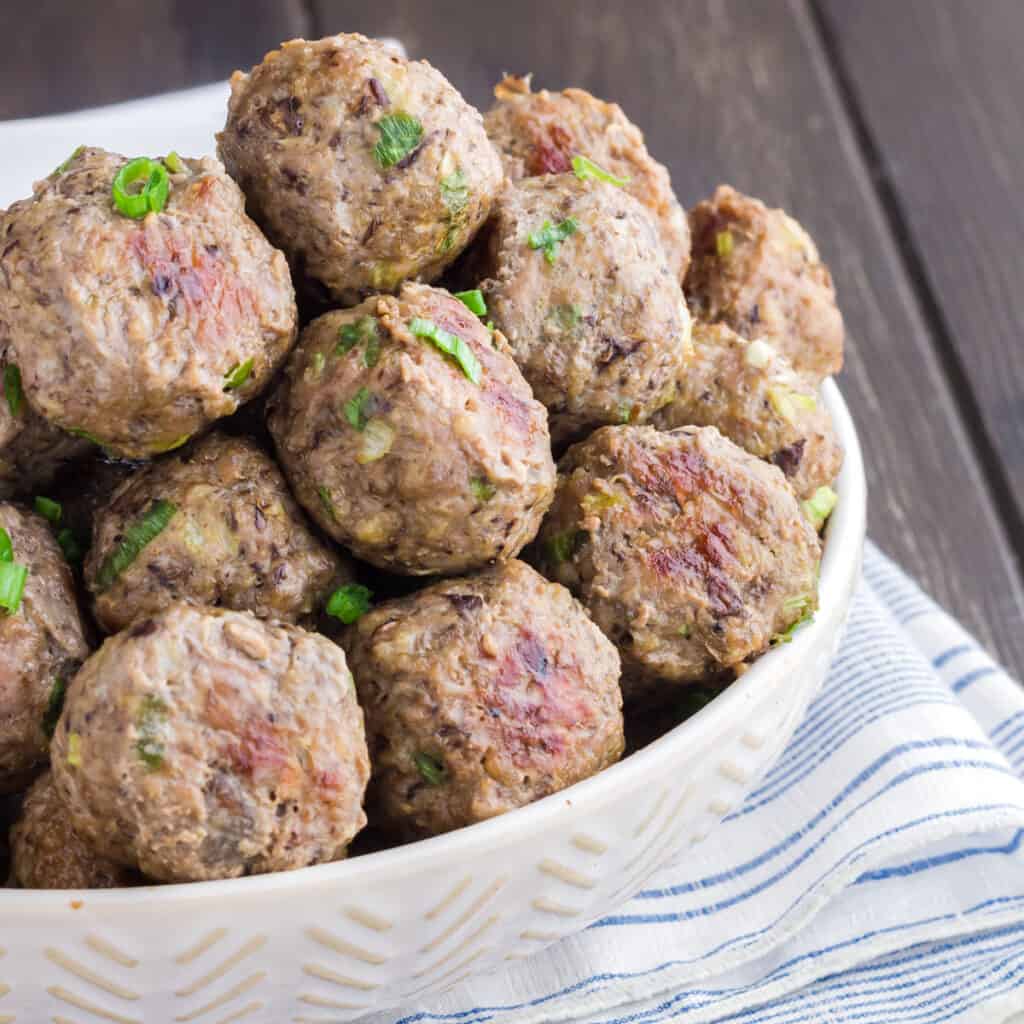 Minced mushrooms are the secret to how tender these mushrooms are. Mushrooms also bring plenty of umami flavor to the meatballs. The savory notes from the mushrooms balance the natural saltiness of ground pork perfectly.
The meatballs are baked in the oven for easy cleanup and added convenience. They are an easy weeknight dinner. Serve them over Perfect Basmati rice with a veggie of your choosing for a quick and satisfying meal.
Ingredients
Asian Pork Meatballs are made from simple ingredients. I bet you have several of them in your pantry already.
Ground pork- You don't want sausage, just plain ground pork.
Mushrooms- I use baby portabella mushrooms which can also be labeled as cremini mushrooms.
Panko
Egg
Salt
Pepper
Soy sauce- Reduced sodium soy sauce is my go-to for cooking, but I like the regular version for garnish. Use whichever you prefer.
Sesame oil
Green onions
Ginger- This recipe calls for fresh ginger. I would not recommend substituting with powdered, candied, or any other kind.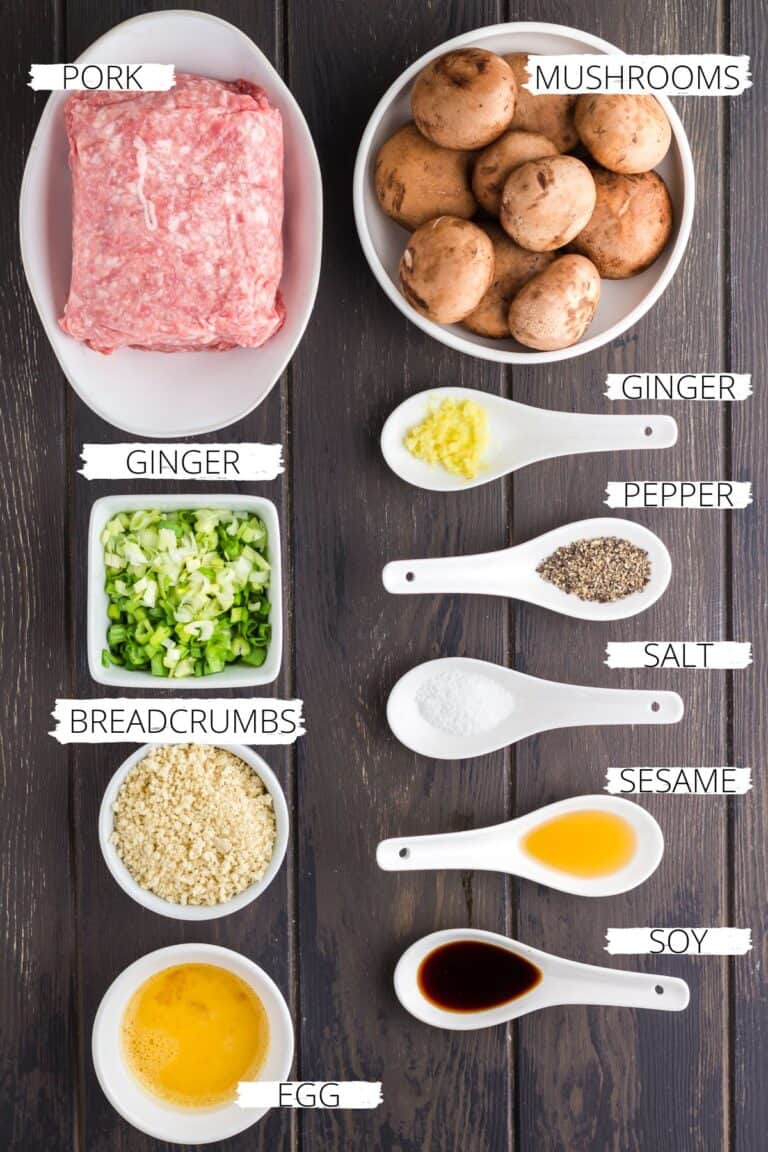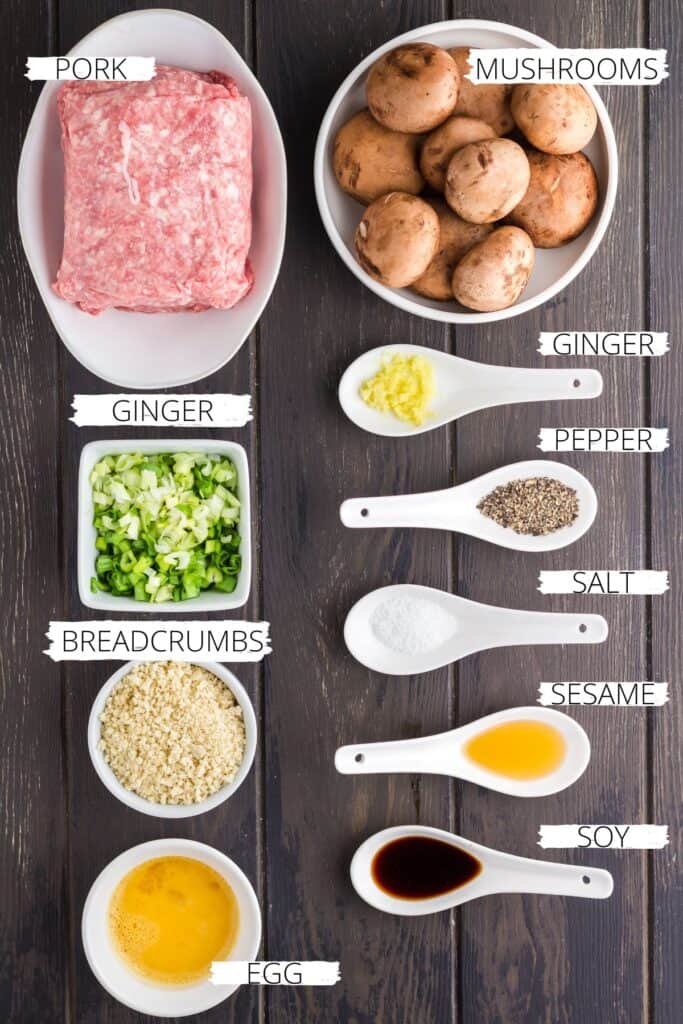 Instructions
Asian Pork Meatballs are so simple to make. There are three steps to making them.
Finely mince the mushrooms in a food processor or blender.
Combine mushrooms with the remaining ingredients and form the meatballs.
Bake in the oven and serve!
I like to bake the meatballs in the oven for quick clean-up, but they can also be prepared on the stovetop. Cook them over medium heat for 10-12 minutes, stirring often.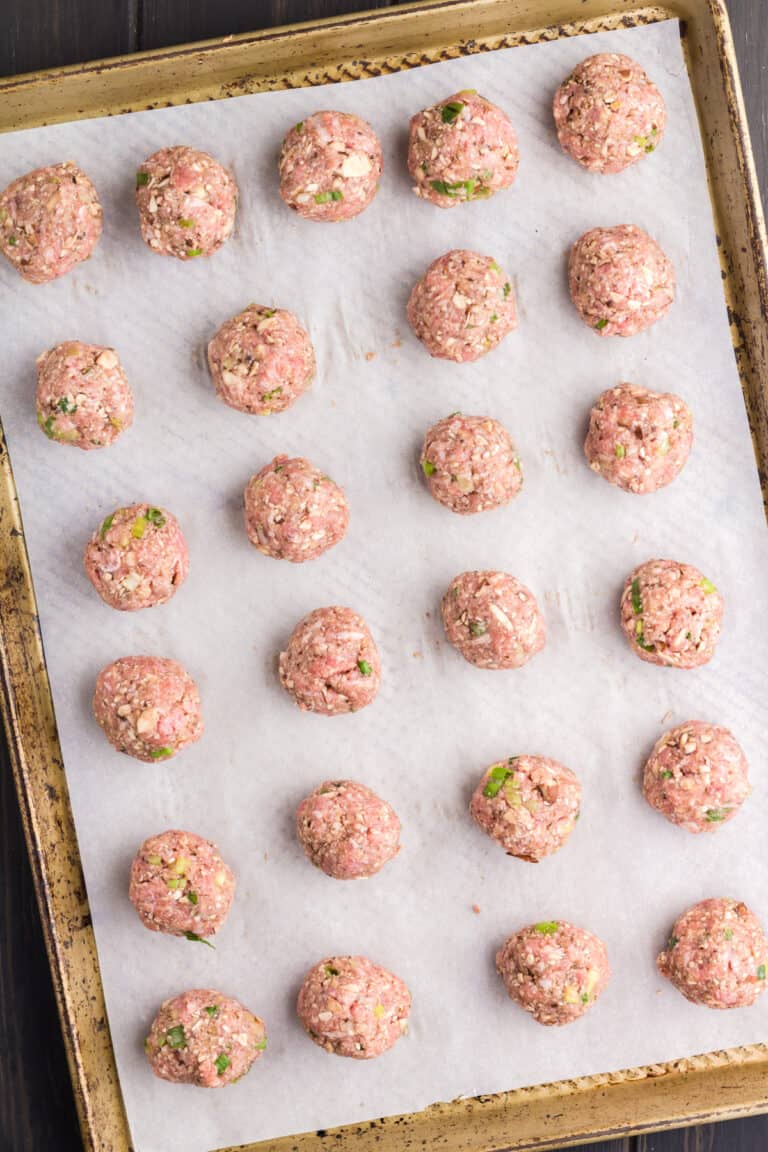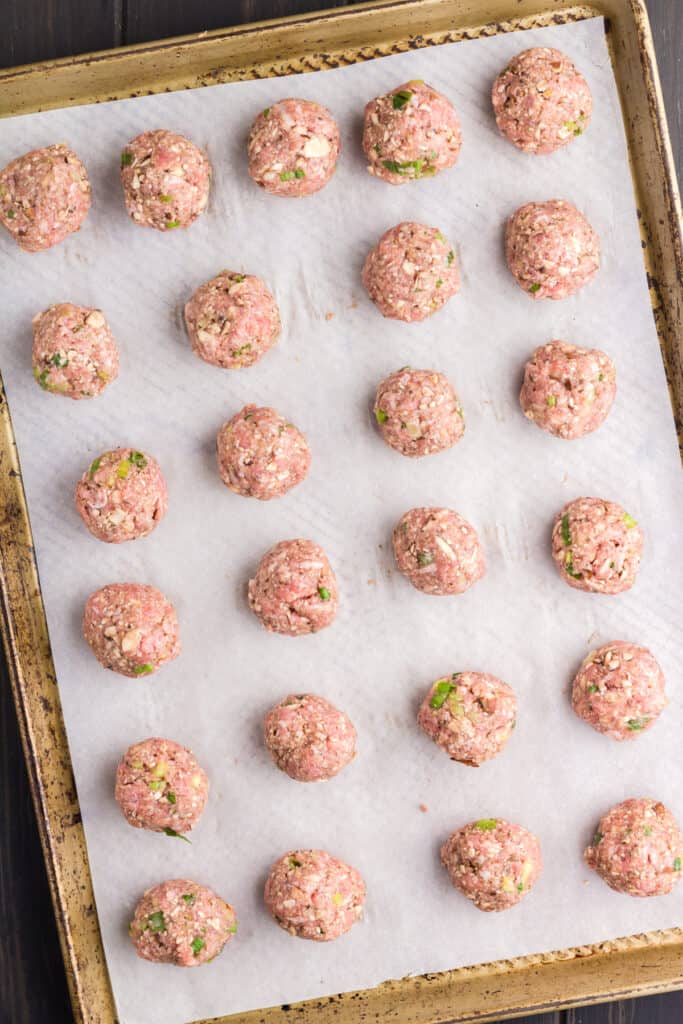 Substitutions
If you don't eat pork or can't find ground pork at your store, you have a couple of different options. Ground chicken or lean ground beef would both work as a substitute for ground pork. If you want to make the recipe totally vegetarian, you could use your favorite plant-based meat substitute.
Variations
You can play around with what kind of mushrooms you include. I hate white button mushrooms; they have zero flavor, so I wouldn't recommend them. Other than that, feel free to try any mushroom you'd like. A few mushrooms that come to mind for this recipe are:
Portabella,
Shitake
Oyster, or
Chanterelle
Equipment
A food processor or blender is helpful in finely mincing the mushrooms. A small food processor is a relatively inexpensive piece of kitchen equipment that you will get tons of use out of. If you already have a blender, that will also do the trick.
You can certainly make this recipe even if you don't have a food processor or blender. The option to chop the mushrooms by hand is a bit more time-consuming but totally doable.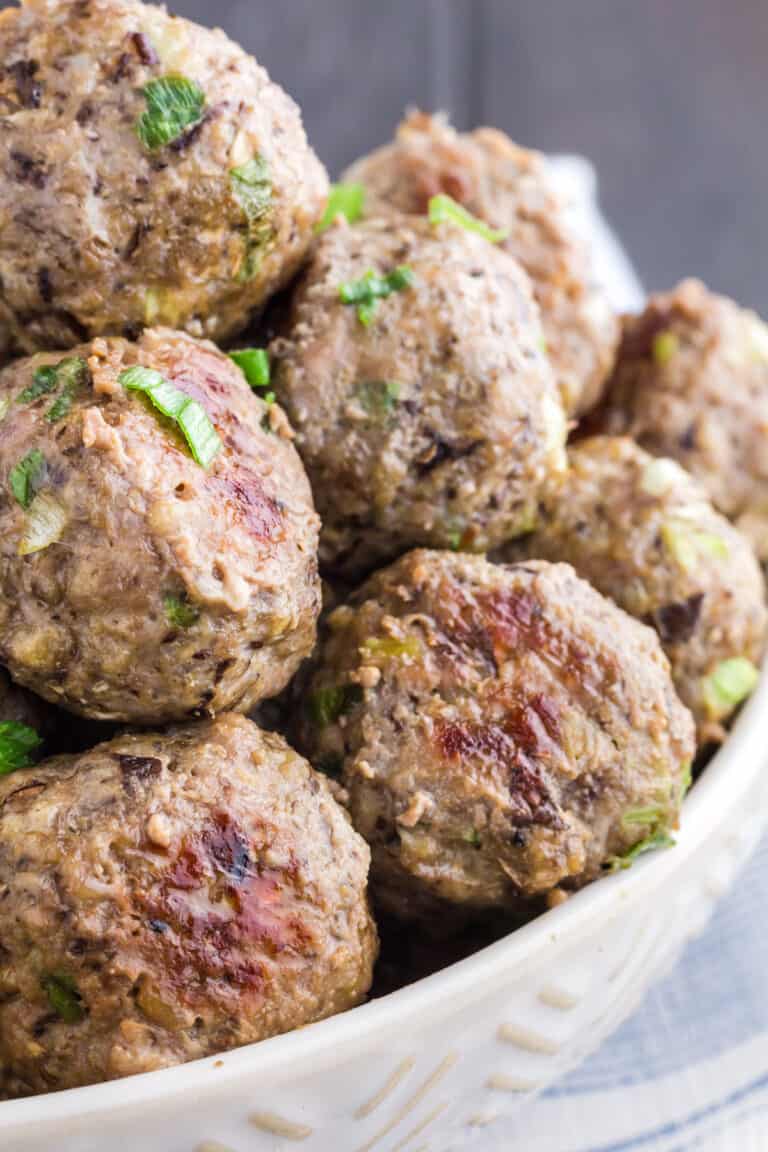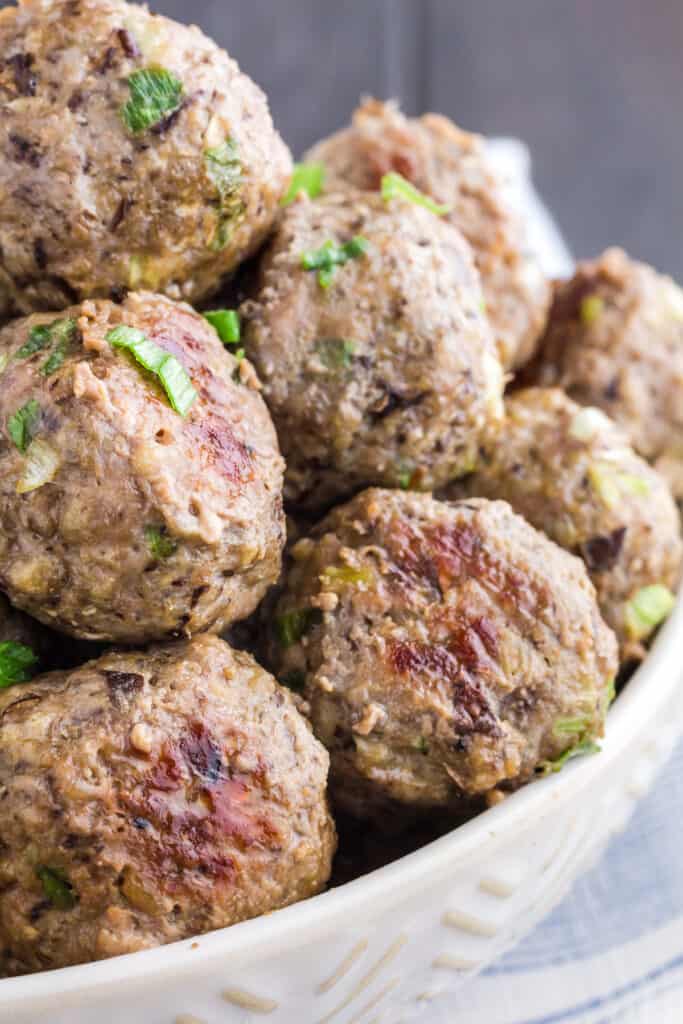 Storage
Serve: I like to serve the meatballs fresh from the oven over a bed of rice with steamed snap peas or broccoli.
Store: The meatballs can be kept in an airtight container in the fridge for up to five days.
Freeze: Meatballs freeze well. Just be sure to let the meatballs cool completely in the fridge before moving them to the freezer. Store in a plastic store bag; try to remove as much air from the bag as possible before freezing.
Reheat: There are so many ways to reheat frozen meatballs depending on how much time you have and the equipment in your kitchen. Check out this article for eight different ways to reheat frozen meatballs.
Top tip
Finely mincing the mushrooms is key to the texture of the cooked meatballs. If the mushroom pieces are too big, the meatballs will have chunks of shrooms in them. Mince the mushrooms until they are in pieces smaller than a pea.
After being combined, the pork and mushrooms emulsify into one smooth mix as long as the mushrooms are cut small enough.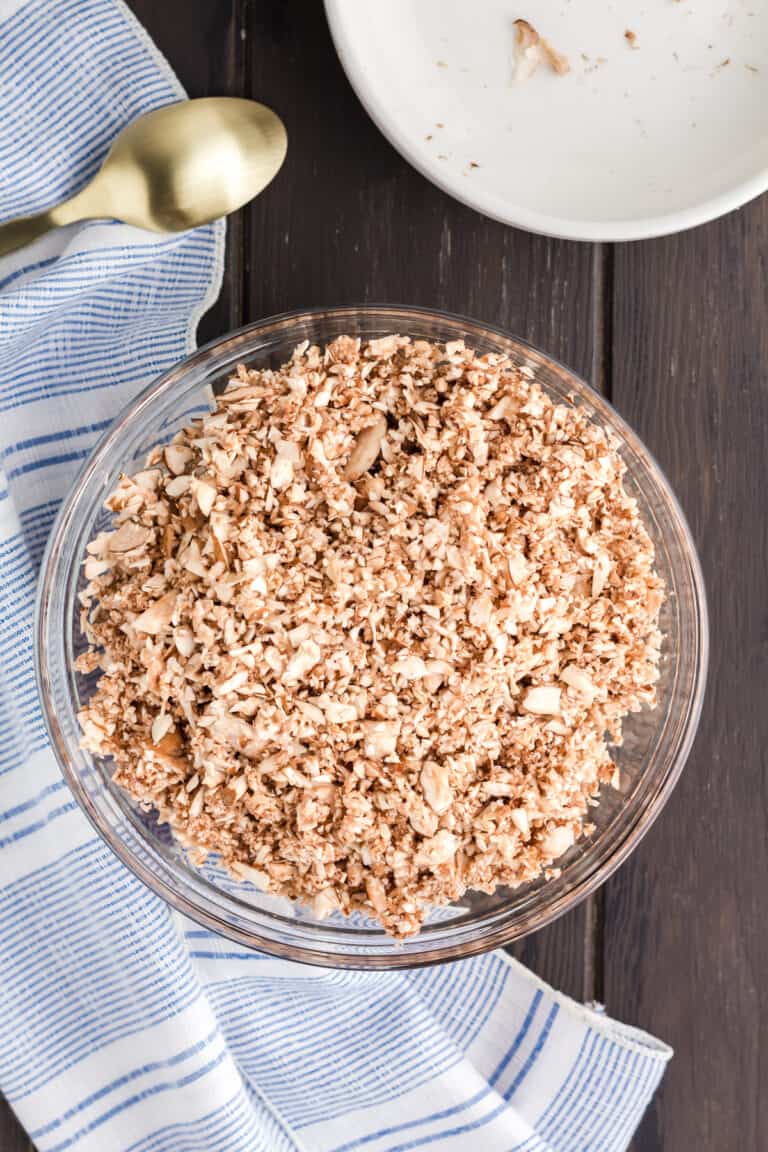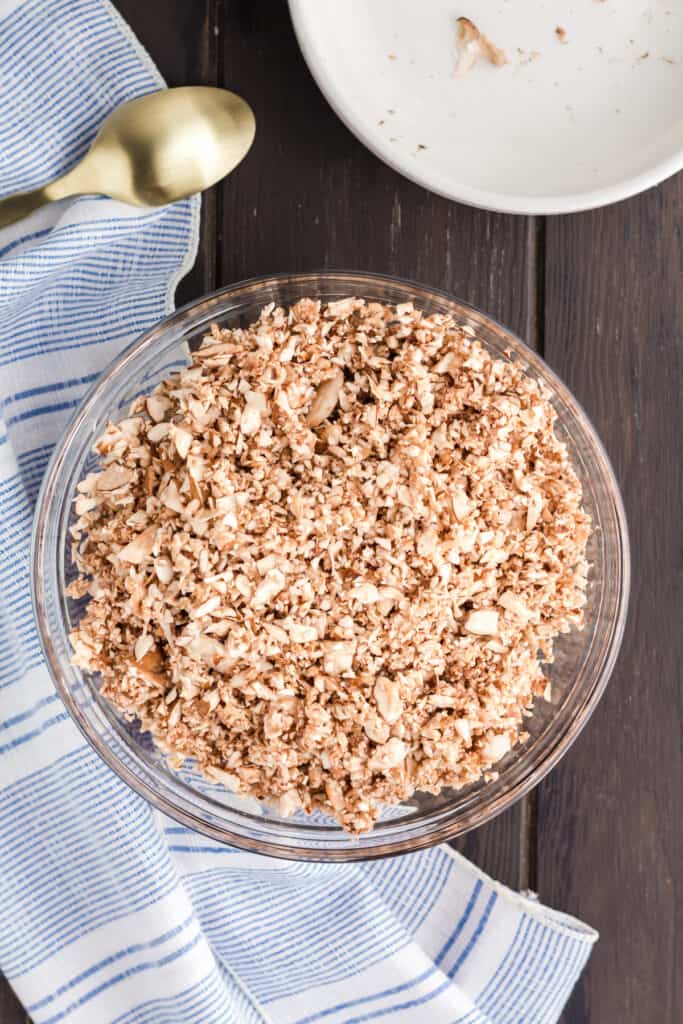 Another tip for this recipe (and others) is to peel your fresh ginger as soon as you bring it home from the store. Once peeled, I store fresh ginger in an airtight container in the freezer for up to three months.
The frozen ginger can then be grated straight from the freezer and used in your recipe. I use this same technique in my Easy Chicken Curry.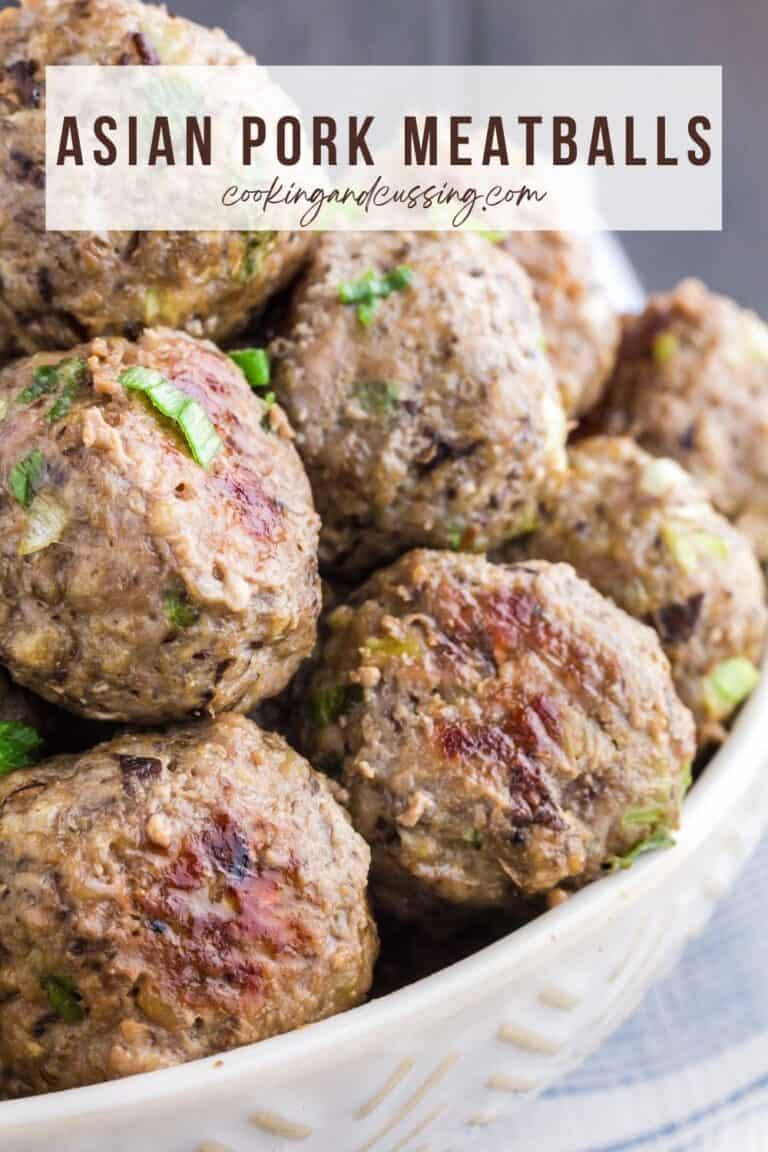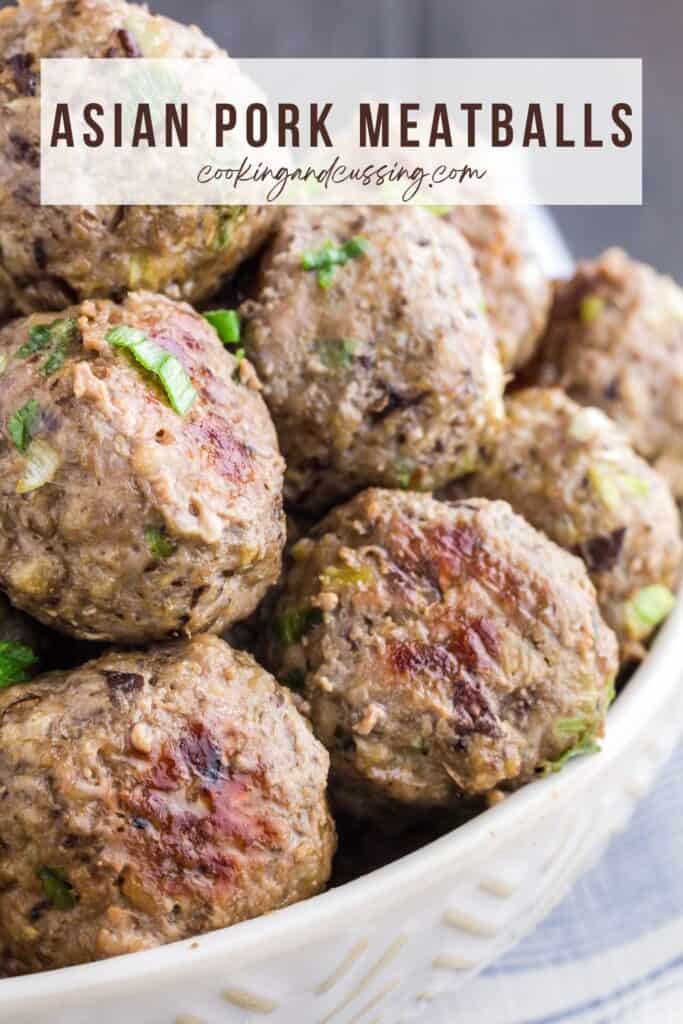 Asian Pork Meatballs are perfect for your weeknight dinner rotation. I'd love to hear what you think of the recipe in the comments section below.
HELPFUL EQUIPMENT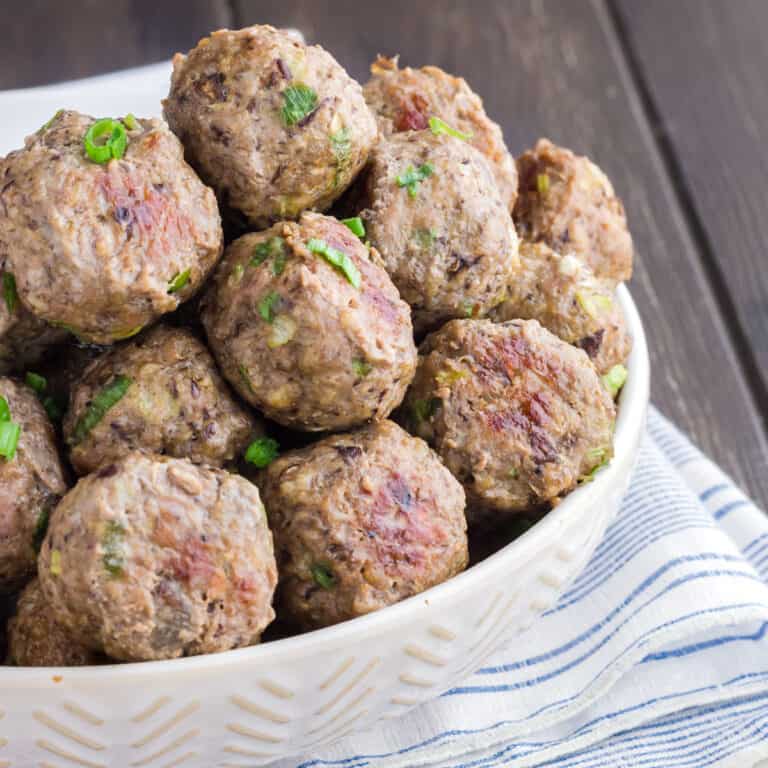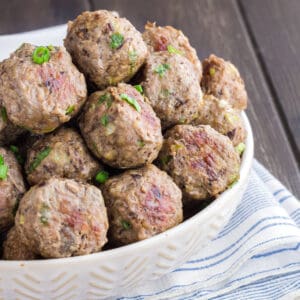 Asian Pork Meatballs
Asian Pork Meatballs are tender, flavorful, and easy to make. The addition of ground mushrooms brings tons of savory flavor to this simple weeknight dinner.
Ingredients
Meatballs
1

lb

ground pork

8

oz

baby portabella mushrooms

cleaned and stem removed

½

C

panko breadcrumbs

1

egg

beaten

½

tsp

kosher salt

1

tsp

black pepper

2

tsp

reduced sodium soy sauce

½

tsp

sesame oil

¼

C

green onions

finely chopped

2

tsp

fresh ginger

grated
Garnish (optional)
sesame seeds

green onions

greens only, finely chopped
Instructions
Preheat the oven to 400°F. Line a baking sheet with parchment paper for easy cleanup.

Cut the mushroom caps into one-inch chunks and place in a food processor or blender. Pulse until finely minced. The mushrooms should be super fine (see image above).

Add the mushrooms to a large mixing bowl with the remaining ingredients. The best tool to mix up meatballs is your hands. Feel free to wear disposable gloves.

Once the ingredients are thoroughly combined, form the meat into half-ounce balls and place on the prepared baking sheet.

Bake for 15 minutes, turning each meatball over halfway through the cook time.
Frequently Asked Questions
Can I make this recipe without a food processor or blender?
Yes. You can finely mince the mushrooms by hand. Just be sure the pieces are smaller than a pea.
Can the meatballs be cooked on the stovetop instead of in the oven?
Yes. Cook them over medium heat for 10-12 minutes, stirring often.
Do I have to use baby portabella mushrooms?
No, but I don't recommend white button mushrooms (sorry, they have no flavor). Any other mushroom you like will work.
The following two tabs change content below.

Hey-ooo! I'm Hailey, and I'm a number cruncher by day and cussing cook by night. I created this site to share my love for delicious food that feeds the soul as well as the belly. I hope my recipes have you running to the kitchen to cook some damn good grub!