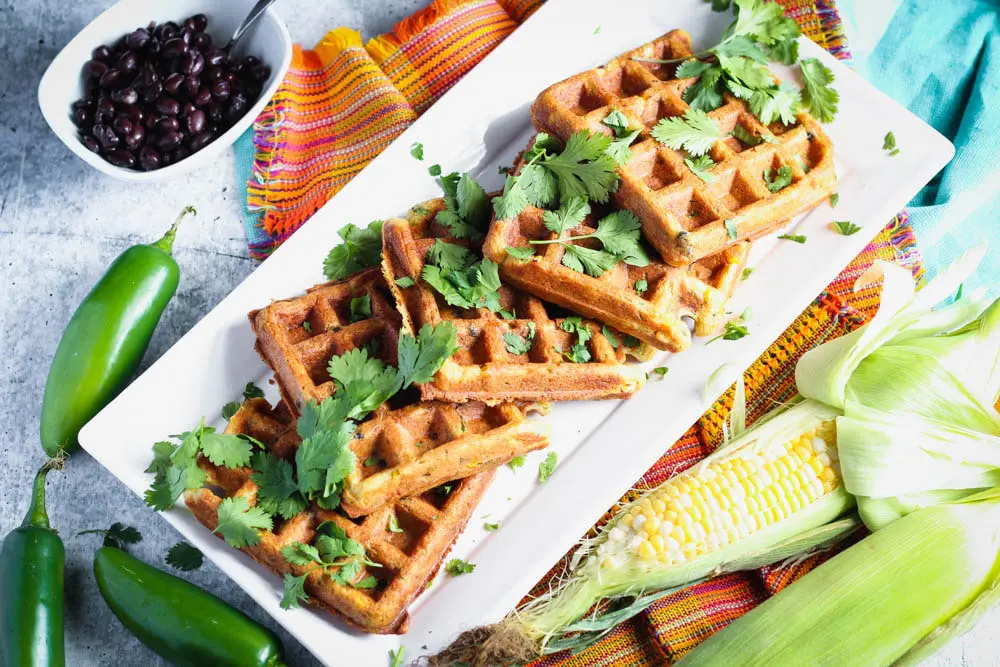 Black Bean and Corn Waffles are a delightful combination of tender waffles and spicy Latin flavors. There are so many options to garnish these bad boys. A fried egg, avocado, lime, hot sauce, butter or syrup are just a few of your options. You could also take your brunch game to new heights by combining my Braised Salsa Verde Pork recipe from last week and combining it with these waffles!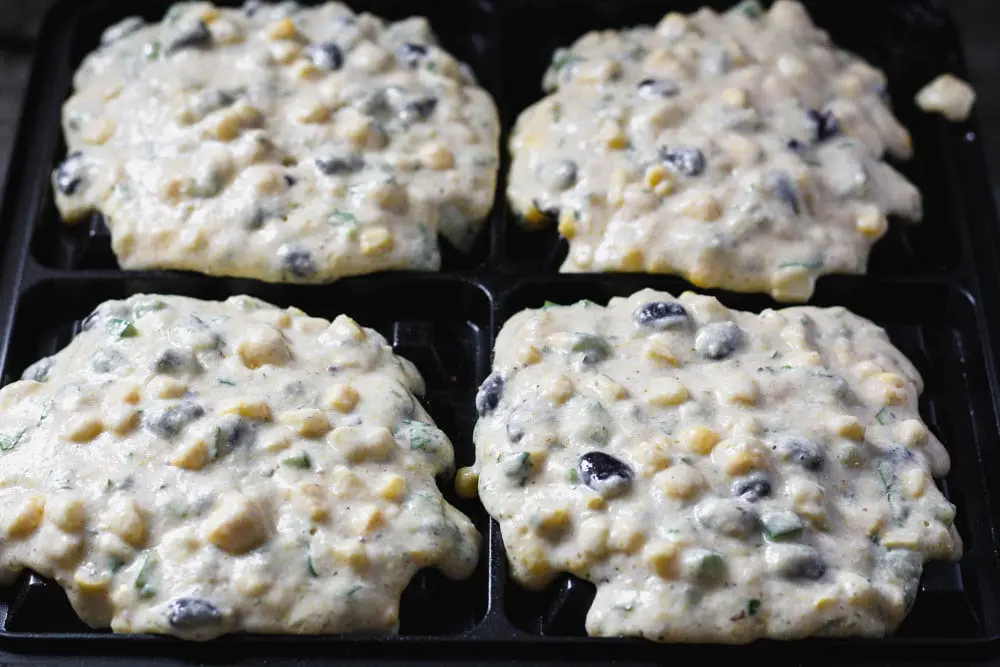 That's actually how this recipe was originally created. When I was asked to write a few new recipes for a feature in Edible OKC earlier this year, I immediately knew I wanted to include a breakfast/brunch option. I also wanted to include a nod to Latin flavors in my chosen recipes to represent my South Texas heritage.
After some brainstorming, I decided a black bean waffle could be a fun idea. Fast forward through multiple iterations later, and you have the recipe I'm bringing to you today.
The black beans give a wonderful flavor and hardiness to the dish that makes it filling enough for any meal of the day, but the waffle needed some freshness to lighten up the recipe. Me personally, I never tire of corn. During the summer when corn has its peak flavor, I swear we eat it almost every other day!
This recipe is so good with fresh corn cut from the cob, but if it's not in season well-drained frozen corn can be substituted.
When I was brainstorming of what else we should add to the waffle to keep the Latin flair but brighten up the dish, corn and cilantro were my first two obvious additions.
The corn adds a nice touch of sweetness to the waffle and gives a textural contrast to balance the denser quality of the black beans. I also keep the waffles light in texture by separating the eggs, beating the egg whites to stiff peaks and folding into the batter just before cooking.
Anytime I add cilantro to a recipe, the next ingredient that comes to mind is jalapeno. I like the added spice in this dish, but feel free to omit it if you have spice-sensitive eaters in your crew. It's not just the heat that I like though. Jalapenos have a distinct, green or grassy flavor that is a great complement to the other ingredients in this recipe.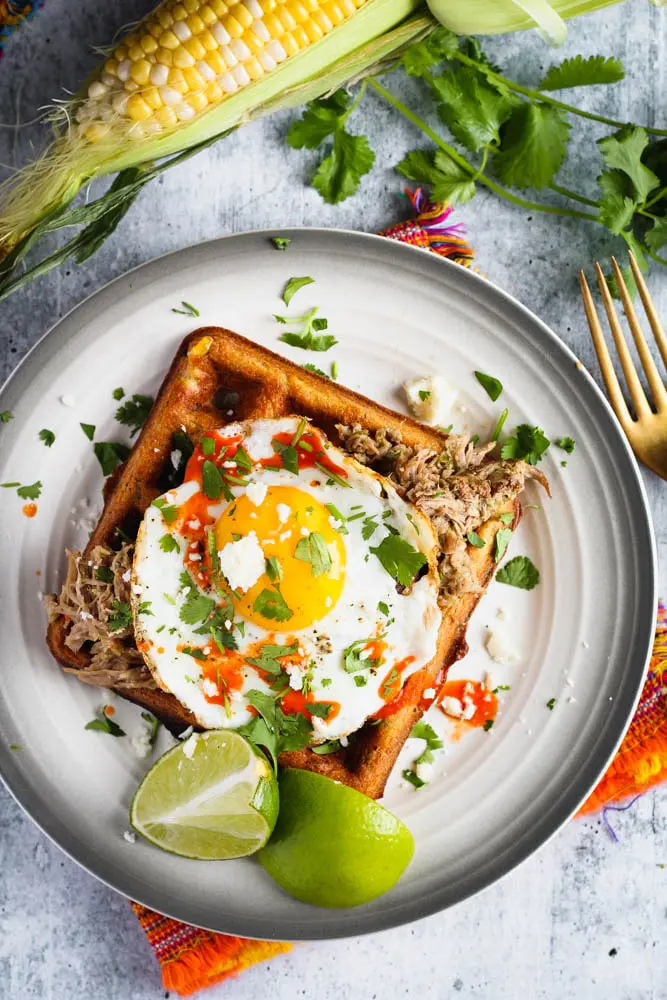 As a stand-alone dish, Black Bean and Corn Waffles are packed with flavor, and you can take them in so many different directions. If you want the fully loaded version like I have pictured here, you'll need to include my Braised Salsa Verde Pork which is a super easy, Crock Pot recipe that you can put together the night before.
Top the waffle with a heaping pile of green pork, a sunny side up egg, cilantro, cotija cheese, hot sauce, avocado and a drizzle of agave nectar for the loaded version.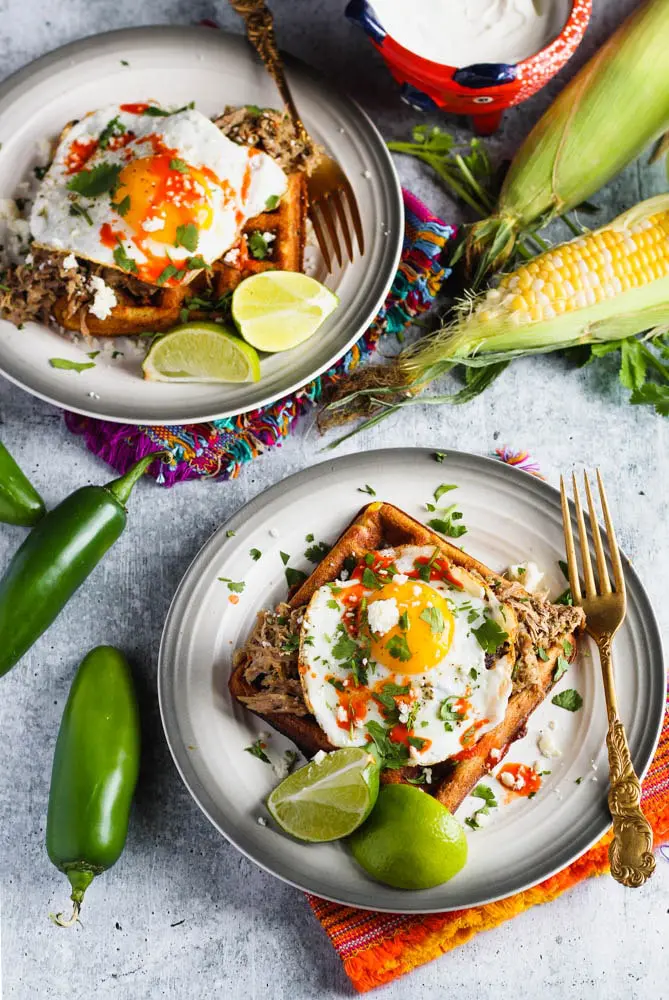 PHEW! That's a mouthful, but don't be intimidated. The only additional cooking required for a pile of epic garnishes is cooking the egg. I've included my technique for a perfect sunny side up egg in the recipe below if you don't make them often.
If you're thinking, "shit, that's too much work," just know that these waffles are just as delicious, and filling I might add, with a smear of room temperature butter and a drizzle of syrup of your choice. It may sound strange, but Black Bean and Corn Waffles with the traditional butter and syrup topping are the perfect sweet and savory combination.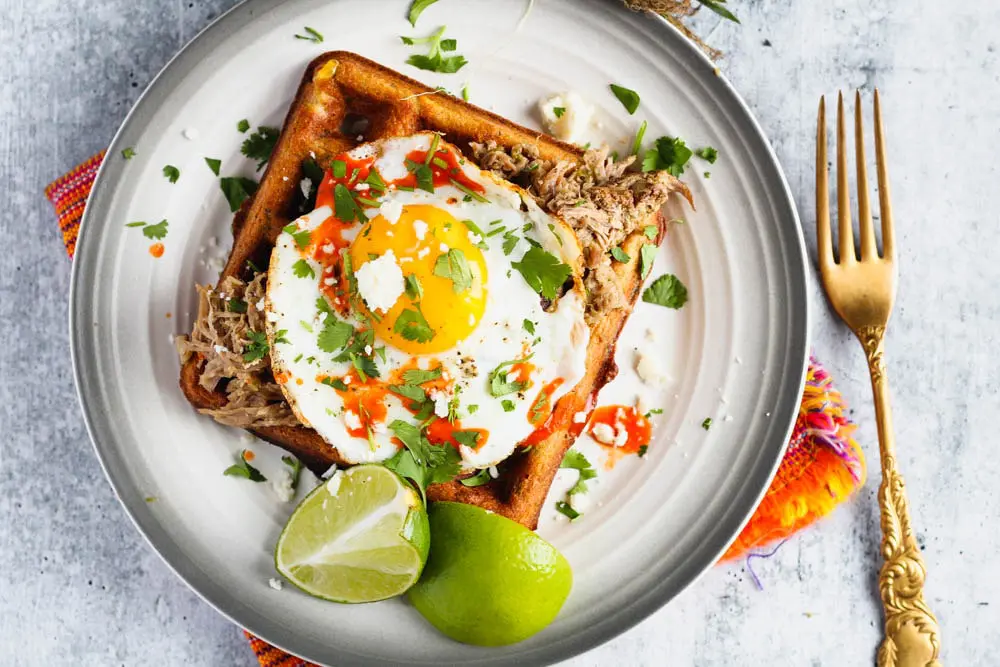 Black Bean and Corn Waffles are just the excuse you need to have breakfast at any damn time of day you please! I've taken my go-to light and fluffy waffle batter and taken it a whole new savory direction. Filled with corn, black beans, and plenty of spice, these waffles will have you daydreaming of all the delights you could put in your next waffle creation.
Try this recipe out along with my Braised Salsa Verde Pork and let me know what you think of this extraordinary brunch combo!
Helpful Utensils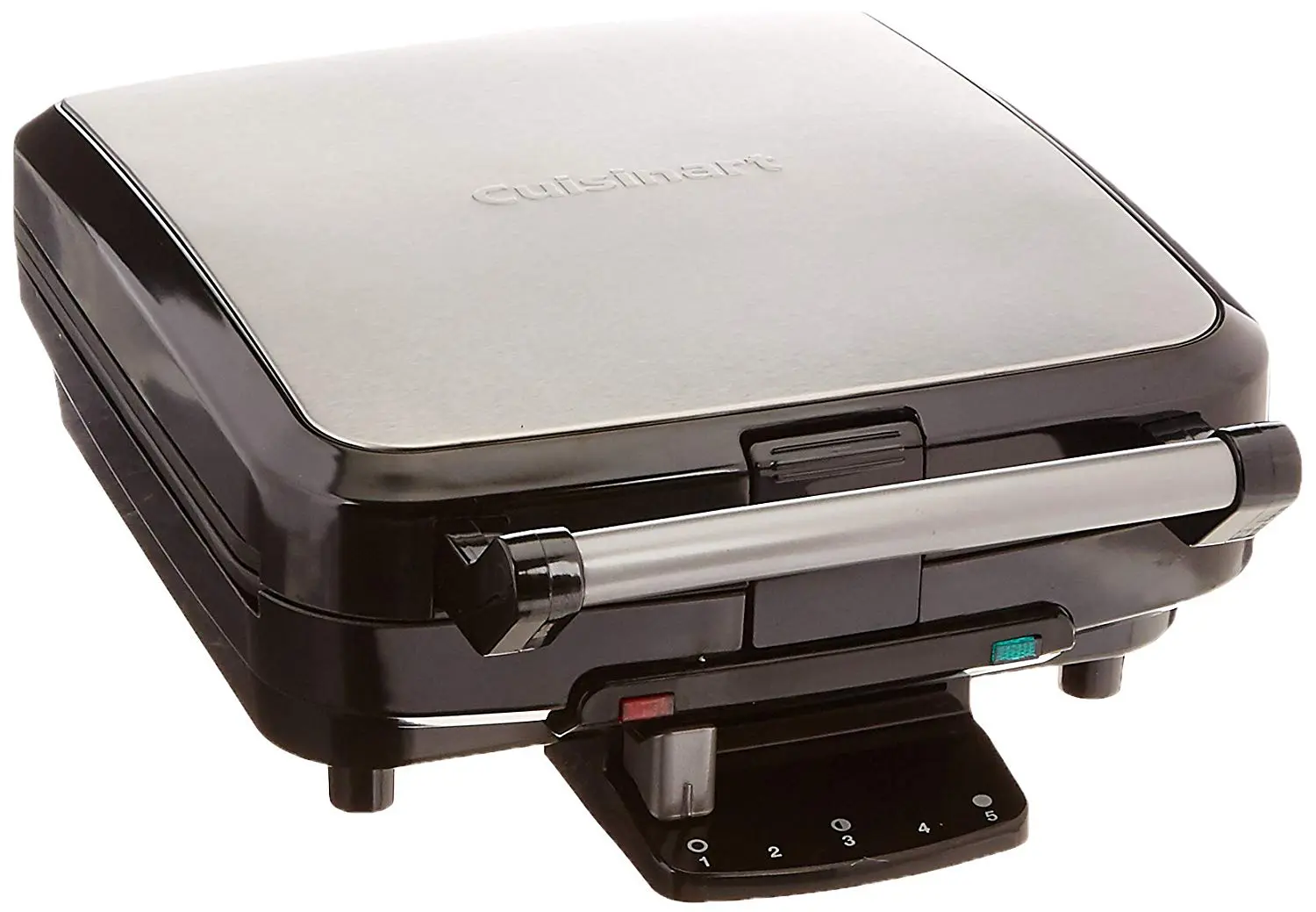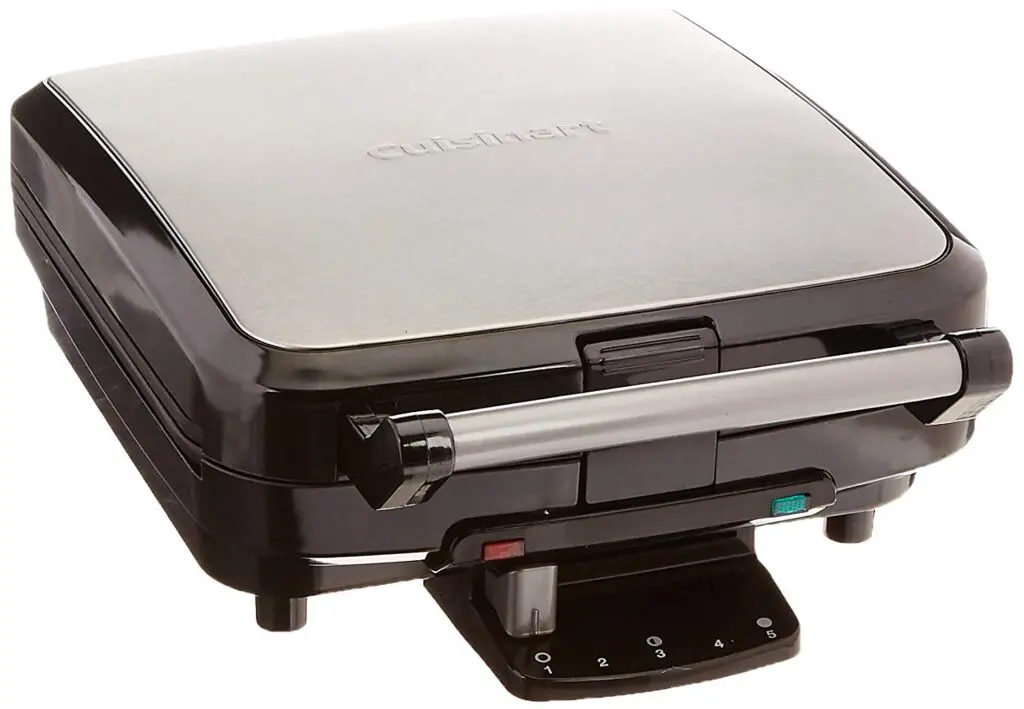 Belgian Waffle Maker
A Waffle Maker is such a fun addition to your kitchen! Traditional waffles are great, but there are endless other possibilities.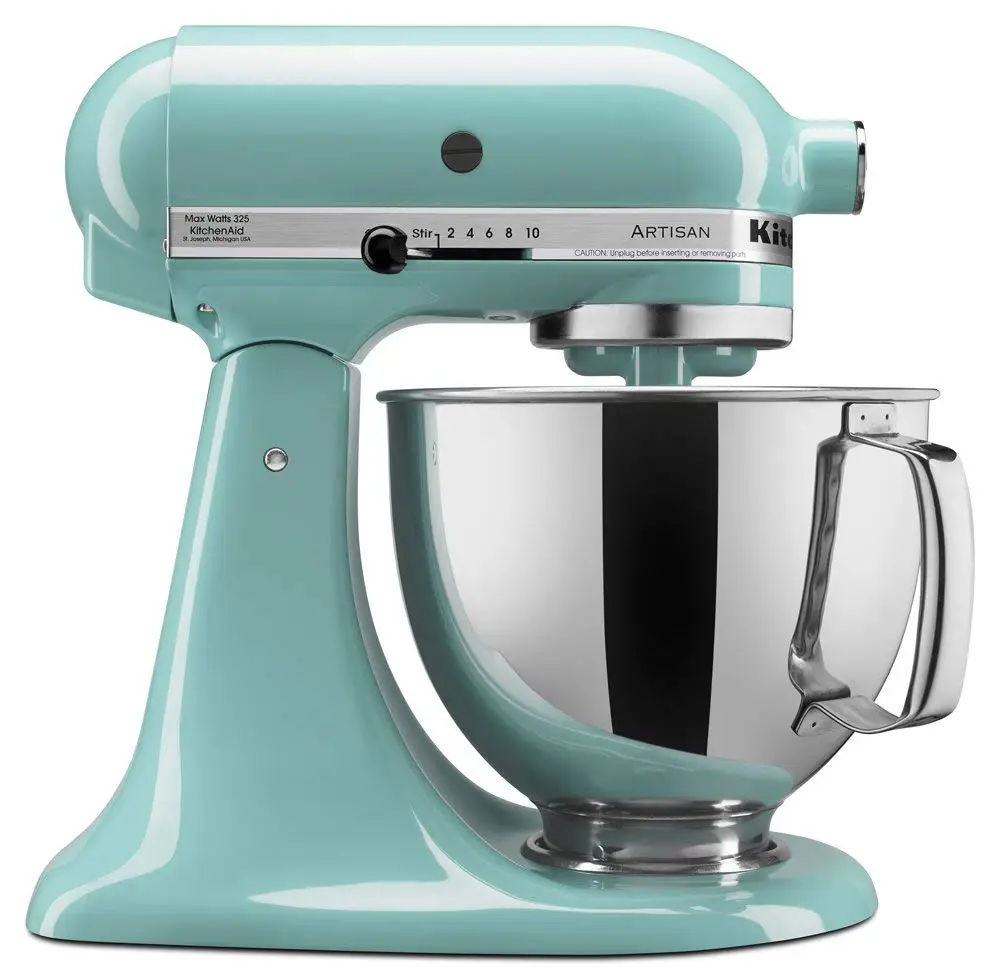 Kitchen Aid Stand Mixer
A stand mixer is one of the most worthwhile investments you can make in your kitchen. It makes baking of any kind a pleasure.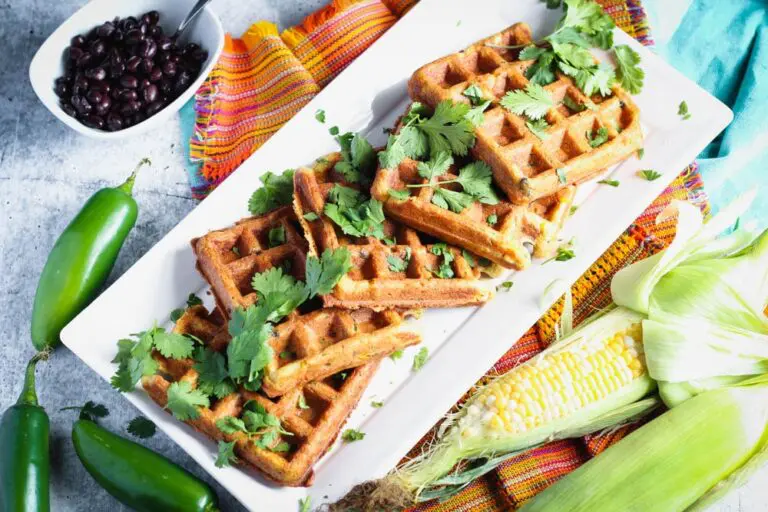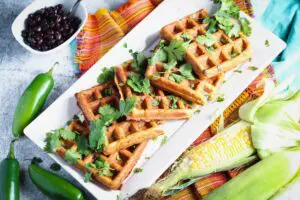 Black Bean and Corn Waffles
Light and fluffy waffles filled with fresh corn, black beans and plenty of Latin spice! Served with the traditional toppings of butter and syrup or as a fully loaded brunch dish, these waffles are for breakfast anytime. If you love a sweet and savory flavor combo, this recipe is for you!
Ingredients
Waffles
2

eggs

separated

1.5

C

buttermilk

⅓

C

butter

melted and cooled

1

and ¼ C all-purpose flour

½

C

yellow cornmeal

1

Tb

white sugar

2

tsp

baking powder

1

tsp

baking soda

1

tsp

cumin

½

tsp

garlic powder

1

tsp

coriander

1

tsp

kosher salt

¼

tsp

ground black pepper

1

C

canned low sodium black beans

drained and rinsed

1

C

corn kernels*

¼

C

cilantro

1

jalapeño
Garnish
eggs

lime

sour cream

queso fresco or cojita

agave nectar

butter

room temperature

hot sauce

cilantro

roughly chopped
Instructions
Separate the egg whites from the yolks and place whites into a small mixing bowl and the yolks into a large liquid measuring cup. Whip the egg whites with a hand mixer until they reach stiff peaks. Set aside.

To the yolks, add the buttermilk and melted butter and whisk to combine. In a large mixing bowl, combine the flour, cornmeal, baking powder, baking soda, sugar, salt, black pepper, cumin and coriander. Mix well to combine.

Using a stand mixer with a paddle attachment or by hand, add the yolk mixture to the dry ingredients and combine just until there are no visible dry ingredients left in the batter. A couple of lumps are okay at this stage.

Remove the stem, seeds and ribs from the jalapeño and finely mince the pepper. Rinse the canned black beans well and strain off any remaining liquid. Roughly smash 1C of the beans using a potato masher. Remove the corn from the cob if using fresh corn. Finely chop the cilantro. Add the beans, jalapeño, corn kernels and cilantro to the waffle batter and fold the mix together by hand with a spatula.

Once the ingredients are well combined, gently fold in the beaten egg whites. Try to not overwork the batter but be sure there aren't any pockets of egg white in the mix.

To cook, heat your waffle maker to medium-high heat. Add a heaping ½ C of batter for each waffle (for a 4-waffle iron) and continue to cook through the batter in batches. You can keep the waffles warm in an oven set to 200 degrees while you finish or eat the waffles fresh from the maker and make the remaining batter after you eat.
To serve with "Fully Loaded"
For a sunny side up egg, heat a nonstick pan over medium-low heat and add about 1 Tb of butter per egg. Crack as many eggs as needed into the pan. Season the eggs with salt and pepper to taste.

As the egg white starts to cook, gently move the egg white to expose very small spots of the pan underneath and then allow the uncooked eggs whites to fill the gap. Repeat this process all around the egg white. and cook for a couple of minutes or until the whites are cooked but the yolks are still very soft and runny.

Make the lime crema by combining ½ C of sour cream with 1 Tb of lime juice and a pinch of salt.

Start the plate with two hot waffles and lightly butter each waffle. Drizzle the waffles with agave nectar to suit your preference for sweetness. Next layer on the Salsa Verde Braised Pork, being sure to include some of the cooking liquid over the pork.

Sprinkle the pork with crumbled cojita then top the dish with an egg, a sprinkle of chopped cilantro and a dash of hot sauce. Serve with lime crema on the side.

Feel free to exclude any of the garnishes that don't suit your taste.
Notes
*If corn on the cob is in season or looks fresh at the store, use fresh kernels cut from the cob. Otherwise, frozen is fine. Just thaw and drain any excess liquid before using.
** Leftover waffles can be frozen in a single layer and reheated in a toaster oven or oven until warm and crisp.
The following two tabs change content below.

Hey-ooo! I'm Hailey, and I'm a number cruncher by day and cussing cook by night. I created this site to share my love for delicious food that feeds the soul as well as the belly. I hope my recipes have you running to the kitchen to cook some damn good grub!