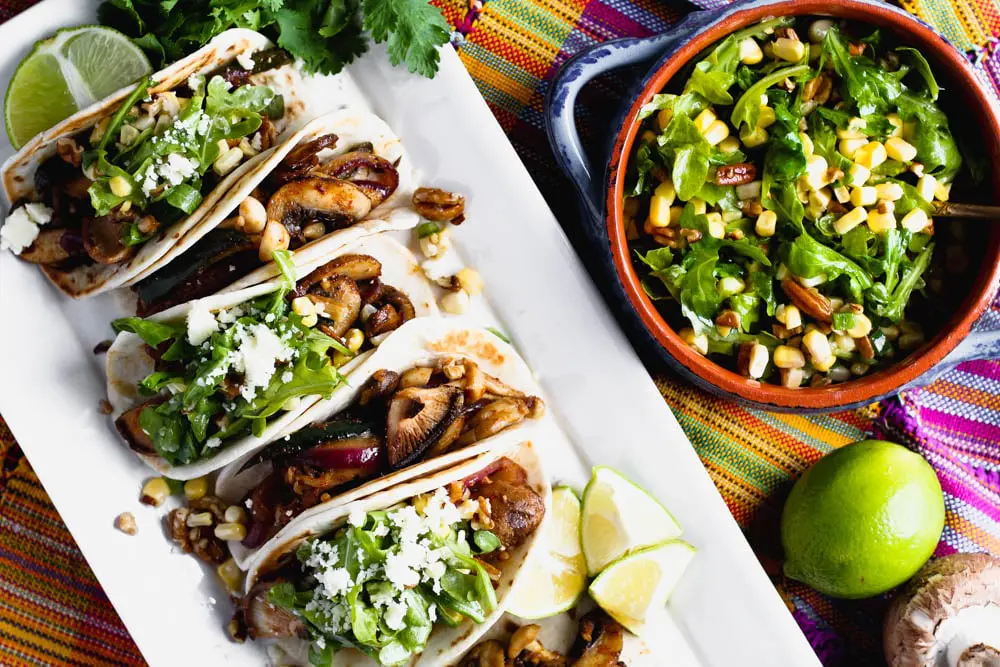 Mushroom Tacos with Pecan Arugula Salsa are heavy in the flavor department but light enough that you feel damn good after eating them. Hell, you could even go back for seconds on these tacos without any garnish of guilt. These tacos are exactly the kind of food we've been chowing down on during my Cooking and Cussing hiatus as of late.
In the words of the great Elton, "The bitch is back!" I feel like it's been FOREVER since I've had the chance to put up a new blog post, and my creative soul has seriously DYING to get back at it! For those of you who are on my email list, you sort of know the story here, so feel free to skip to paragraph 4 or endure the next one if you please.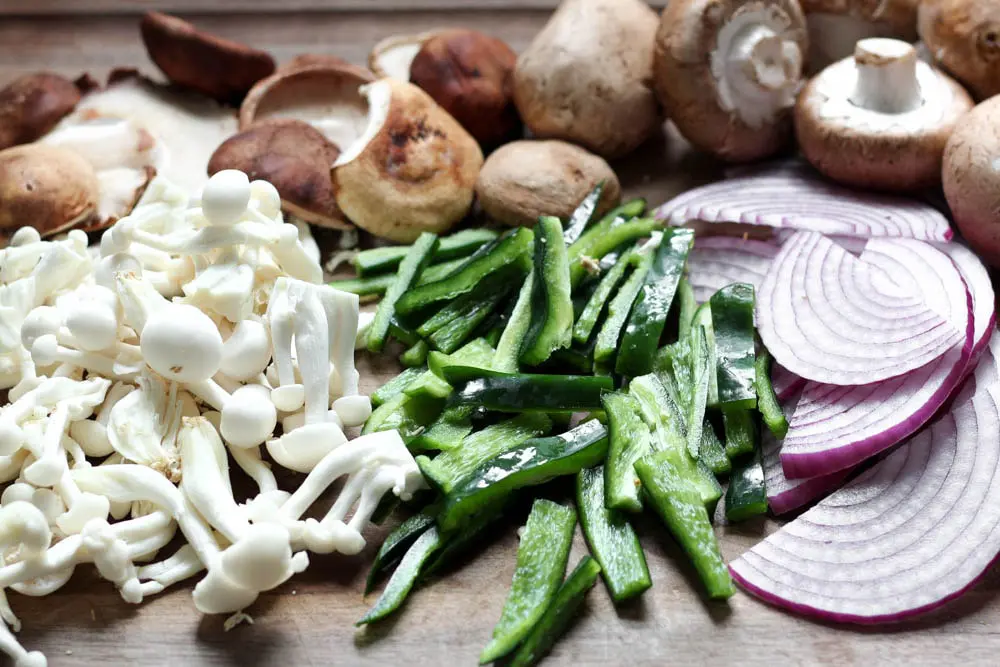 The gist is, my family and I were in the process of selling our old house and moving into our new spot during the already busy holiday season leaving little to no time for my beloved blog, but now that we are settled in, I am so ready to get back to cooking and cussing my ass off! Phew…that sentence was exhausting.
I've actually tested, written, and photographed quite a few recipes while Cooking and Cussing has been in autopilot, but it has been crazy difficult to find time to write a post and get it up on the blog. It's so damn hard to give yourself permission to be still and think when you've got a bajillion things to accomplish!
With that in mind, almost all the recipes I worked on recently are simple, easy and comforting. During times of stress, I could easily stuff my piehole with a steady diet of cheese, carbs, and fried everything, but I know what my body really needs is all the veggies!​
Mushroom Tacos are the perfect way to incorporate the classic soul-satisfying vessel of a taco with all the nutrients your body craves.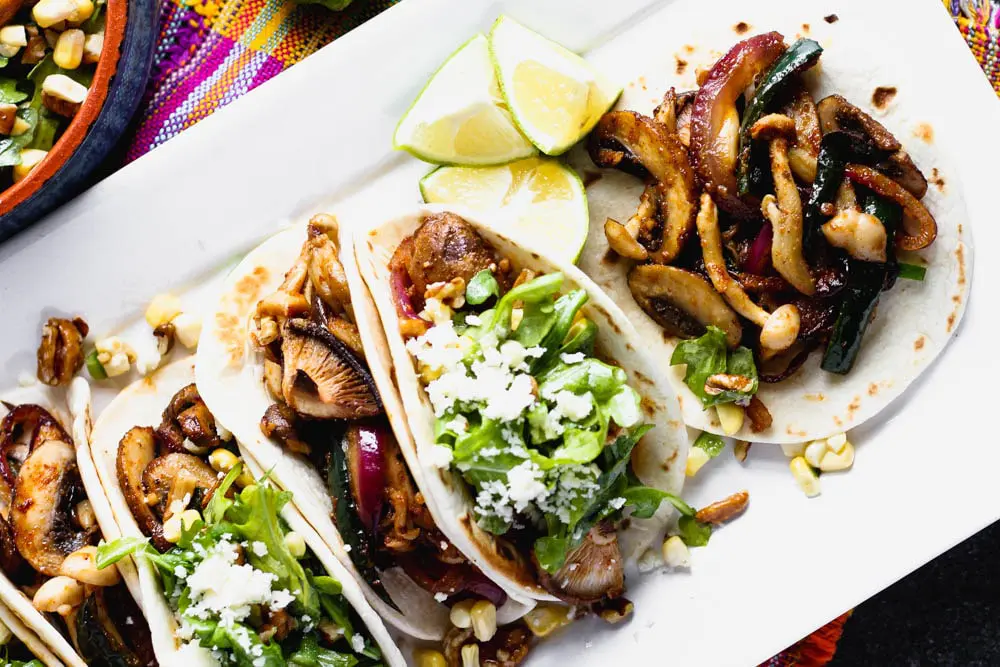 The filling for these tacos combines the earthy, nutty flavors of mushrooms with the smoky notes from the poblano, chipotle, cumin and coriander for a taco experience unlike any other. I fell in love with mushrooms once I had them really well browned and have been hooked ever since. Mushrooms are sort of like a good steak…they aren't shit without a beautiful hard sear on the outside.
Those crispy browned mushroom edges are the perfect balance to the fresh, acidic taste of the Pecan Arugula Salsa. The recipe for this salsa was inspired by Cooking Light, but it was paired with a protein if memory serves me. I have always wanted to incorporate it into a taco.
The idea of putting it on a vegetarian taco was born from the notion that pecans already offer the fatty richness that protein usually brings to a taco.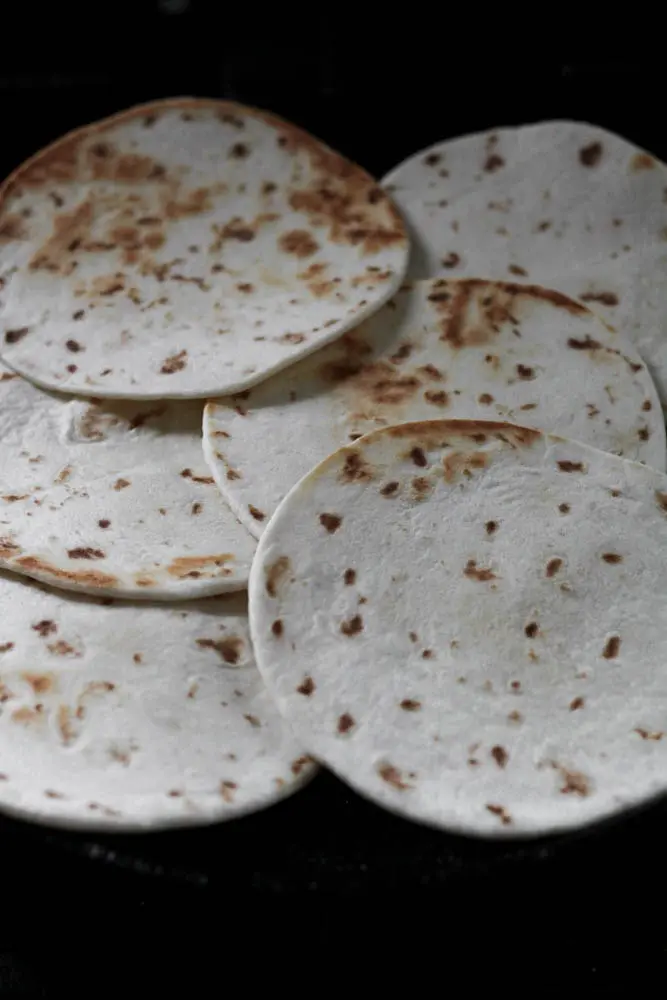 Not only are Mushroom Tacos super f*cking tasty, they can also be made at lighting speed.
If you've got a spare set of hands in the kitchen (cue kids who like to cook), you can easily put these tacos on the table in less than 20 minutes. Riding solo? It's still a 30-minute meal.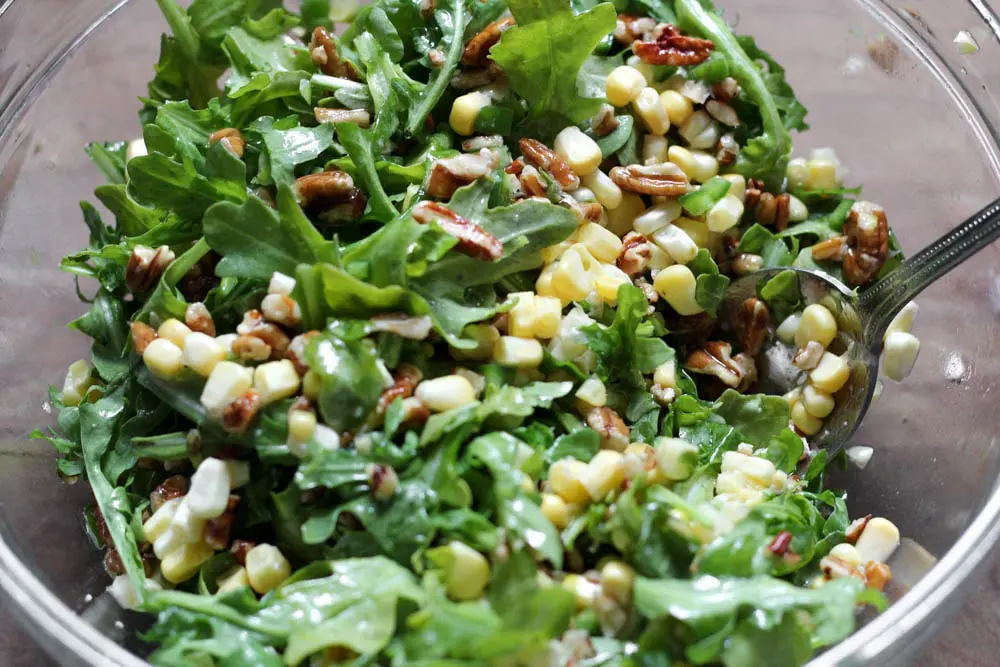 Meatless Monday, Mushroom Monday, Manic Monday…whatever day of the week or your reason for foregoing the meat today, you won't miss a thing if Mushroom Tacos with Pecan Arugula Salsa are on your table. Be sure to let me know how it goes in the comment section below too!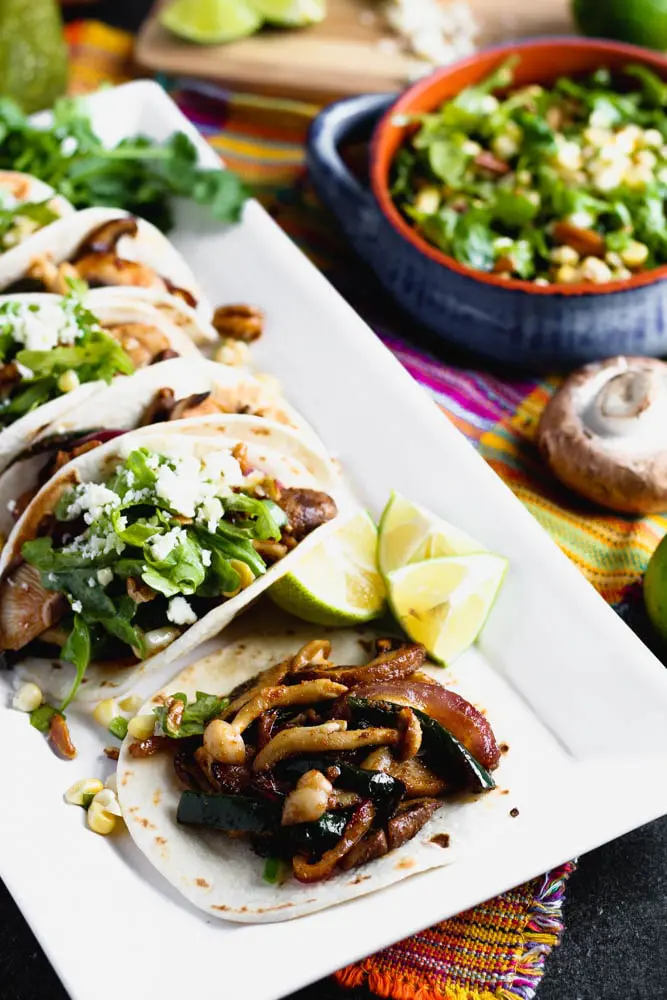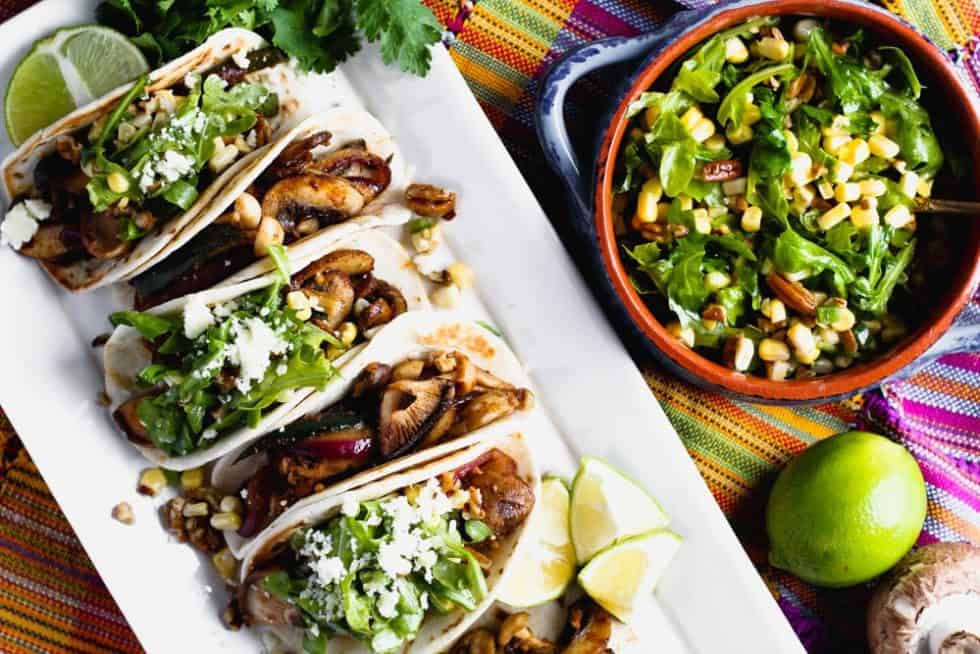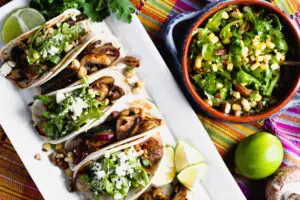 Mushroom Tacos with Pecan Arugula Salsa
Easy and healthy tacos filled with mushrooms, peppers and onions all topped with fresh salsa from pecans and arugula. This quick recipe is a perfect meatless weeknight dinner or a vegetarian option for entertaining.
Ingredients
Pecan Salsa
1

C

chopped pecans

2

jalapenos

1

lime

zest and juice

½

tsp

salt

6

Tb

olive oil

1

C

arugula

2

ears fresh corn*
Mushroom Filling
2

Tb

olive oil

1

onion

1

poblano

1

lb

mushrooms**

1

clove

garlic

1

tsp

chipotle chili powder

½

tsp

coriander

½

tsp

cumin

½

tsp

onion powder

½

tsp

garlic powder

½

tsp

salt

black pepper to taste
Tacos
12 4.5-

inch

tortillas

flour or corn

lime

cotija cheese
Instructions
To make salsa
Split the jalapeno in half vertically and remove seeds (if you like it extra spicy, feel free to keep the seeds). Slice the halves into thin strips and then mince. Add to a small mixing bowl with the chopped pecans.

Zest the lime and then juice, adding both to the bowl along with the salt and olive oil. Mix to combine.

Roughly chop the arugula. If using fresh corn, shuck the cobs then cut the kernels off. I like to do this on a dish towel. It helps the kernels from bouncing all over the place.

Add the chopped arugula and corn kernels to the other ingredients and mix well to combine. Set aside while you prepare the mushrooms. This is not the kind of salsa you can make ahead. You'll want to eat this fresh as the arugula will start to get squiggly if left in the lime too long.
To make filling
Preheat a large nonstick saute pan over medium high heat and add 1 Tb of olive oil. Thinly slice the onion. Remove the seeds and stem from the poblano and slice in to thin strips.

Add the onions and poblano to the hot pan and saute for 6-7 minutes, stirring occasionally, until the veggies are soft and brown around the edges. Pour the cooked veggies into a bowl and set aside.

While the onions and pepper cook, wipe the mushrooms of any apparent dirt using a lightly damp paper towel. Remove the stem (if it's woody like in a portabella, baby portabella- also called cremini mushrooms- or button mushroom) and slice into ¼-inch slices. If you're using a delicate mushroom like beech, one of my favorites, feel free to leave them whole.

Add the remaining tablespoon of oil to the pan (no need to clean it). Once the oil is hot, add the sliced mushrooms. Spread them around evenly and then leave them alone (NO STIRRING) for at least two minutes or until the mushrooms develop a nice golden brown color. That color is where all the great mushroom flavor lives so don't be afraid to brown them well!

Once browned on one side, stir the mushrooms well. As the other side begins to brown, mince the garlic clove and add it along with all of the seasonings. After the second side has browned for a couple of minutes, mix all the seasoning and garlic through the mushrooms.

Last, add the cooked veggies back to the mushrooms and allow it all to cook together for another 2-3 minutes until the garlic has browned and the onion and pepper are hot.
To assemble tacos
Heat the tortillas on a flat grill pan or a cast iron skillet over medium high heat until hot and lightly toasted, usually about one minute per side.

If you're using corn tortillas, I usually lay down a base of 2 tortillas or for flour just one. Fill the tortilla with a generous portion of mushroom filling. Top with a heaping spoonful of Pecan salsa and crumbled cotija cheese. Serve with a lime wedge.
Notes
* If fresh corn is not in season (IE: if it's not warm outside), don't waste your time or money on it. For a substitute, I prefer frozen corn but canned also works. If using frozen, be sure to thaw and drain before adding to the salsa. If you're using canned, rinse the corn well in a strainer and drain before adding.
** Any kind of mushroom will work for this recipe. Feel free to be adventurous and try a shroom you've never had before, particularly if you live in an area where wild mushrooms are regularly available. I used 8 ounces baby portabellas and 8 ounces of beech mushrooms which can both be found at a standard grocery store.
The following two tabs change content below.

Hey-ooo! I'm Hailey, and I'm a number cruncher by day and cussing cook by night. I created this site to share my love for delicious food that feeds the soul as well as the belly. I hope my recipes have you running to the kitchen to cook some damn good grub!