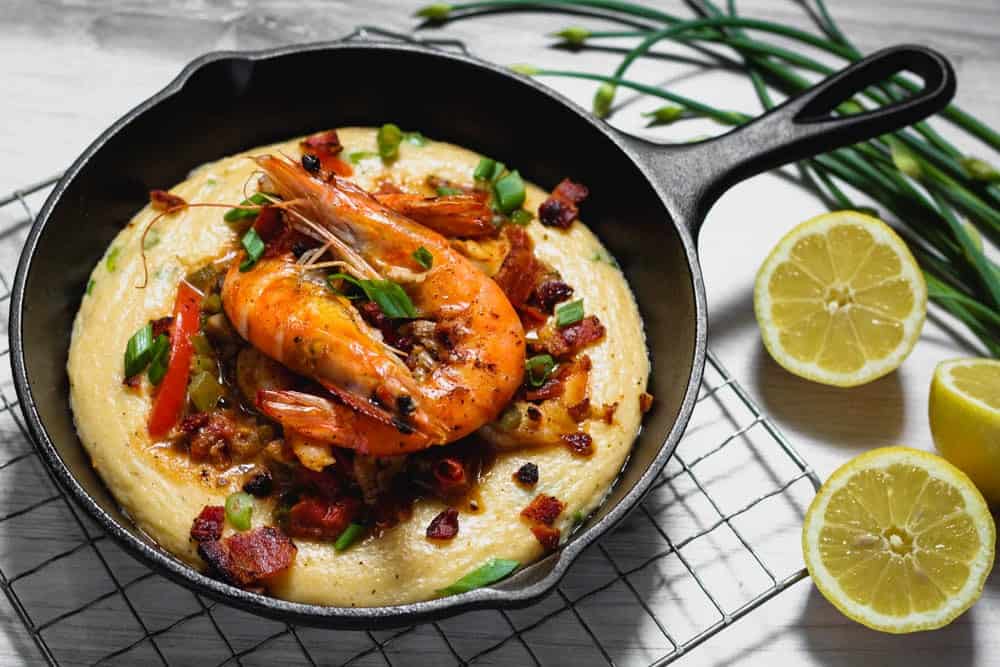 I could have called this recipe simply Shrimp and Grits, but that would be undermining the complexity and downright deliciousness of the recipe. Instead, let me present to you, New Orleans Style BBQ Shrimp and Cheesy Grits. Plump shrimp are marinated in a rich, Nola-style BBQ sauce that is filled with bold savory and spicy flavors. The shrimp are served on a bed of sinfully rich, creamy, cheesy grits that will convert you to a grits-lover.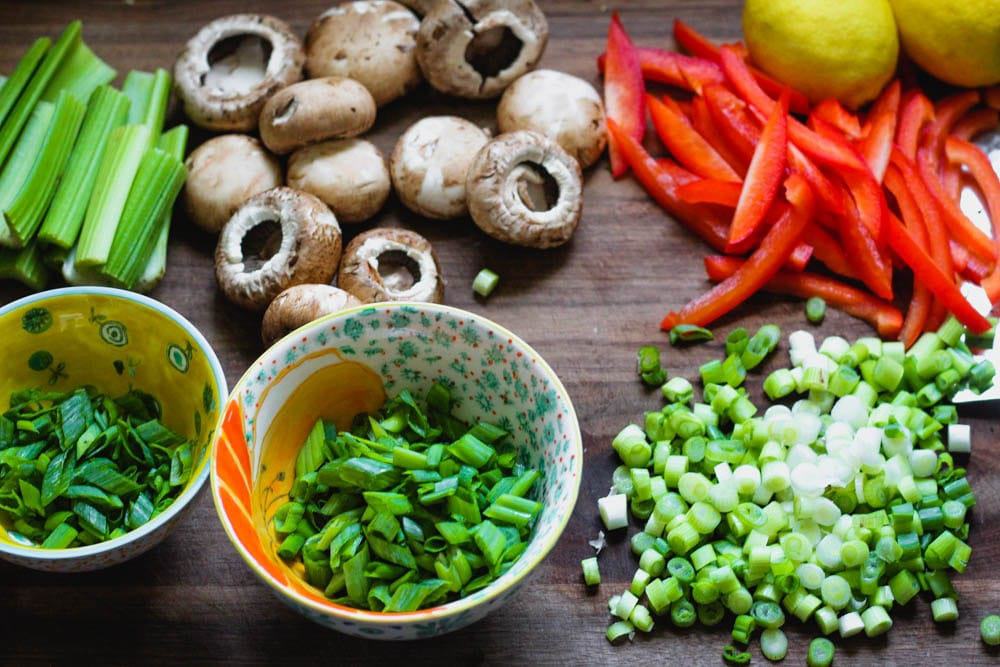 Now the internet is filled with different iterations of Shrimp and Grits, so why then did I choose to pile on and add to the recipes already out there? Well, I thought I could create a uniquely tasty version of Shrimp and Grits based on my Southern experiences.
I also wanted to pay homage to a dish that is close to my heart.
I say that Shrimp and Grits is close to my heart and that is because the dish originated in the low country of South Carolina and can be found all over Charleston. Chris and I spent our honeymoon in Charleston, and it is now one of my favorite cities of all time. It's a city dripping in history, culture, and f*cking AMAZING food.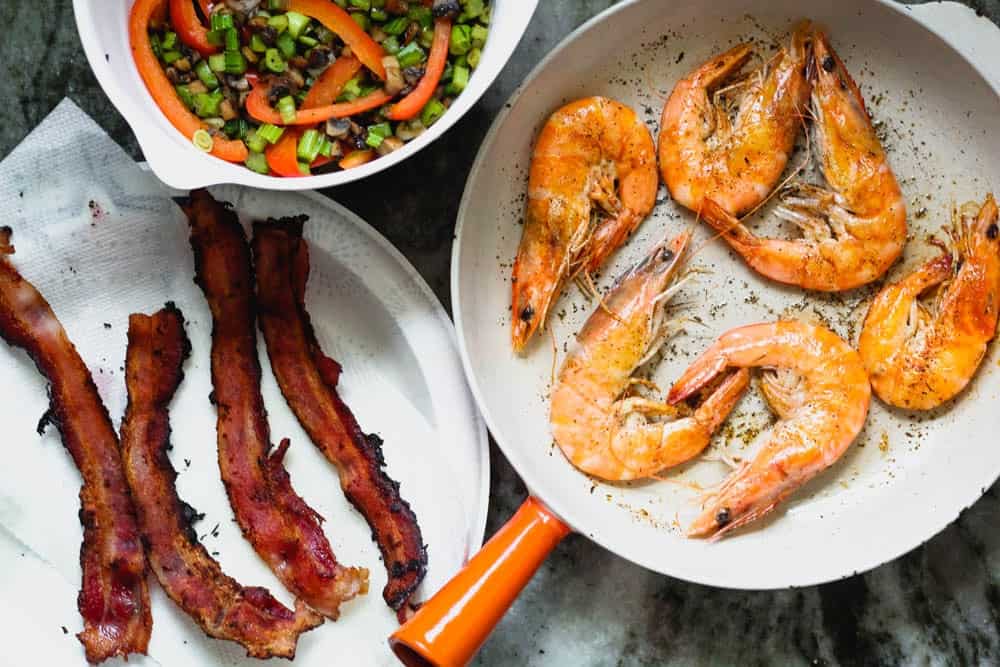 Those characteristics are also part of the fabric of one of my other favorite cities, New Orleans. I spent a summer living in New Orleans, or Nola as many call it, doing an internship with the Brennan family. I could write an entire post simply about my experiences that summer, but for the sake of time, I'll just say that food was central to my time in New Orleans.
New Orleans Style BBQ Shrimp was one of my absolute favorite things to eat for lunch when I worked days in the French Quarter. The style of Nola BBQ Shrimp is nothing like smoky, red sauce covered barbecue.
This BBQ sauce is packed with plenty of herbs, spices, lemon and garlic, and the most important ingredient of all, butter; lots of butter. I also include Worcestershire, soy and oyster sauce in my shrimp marinade for added umami or savory notes.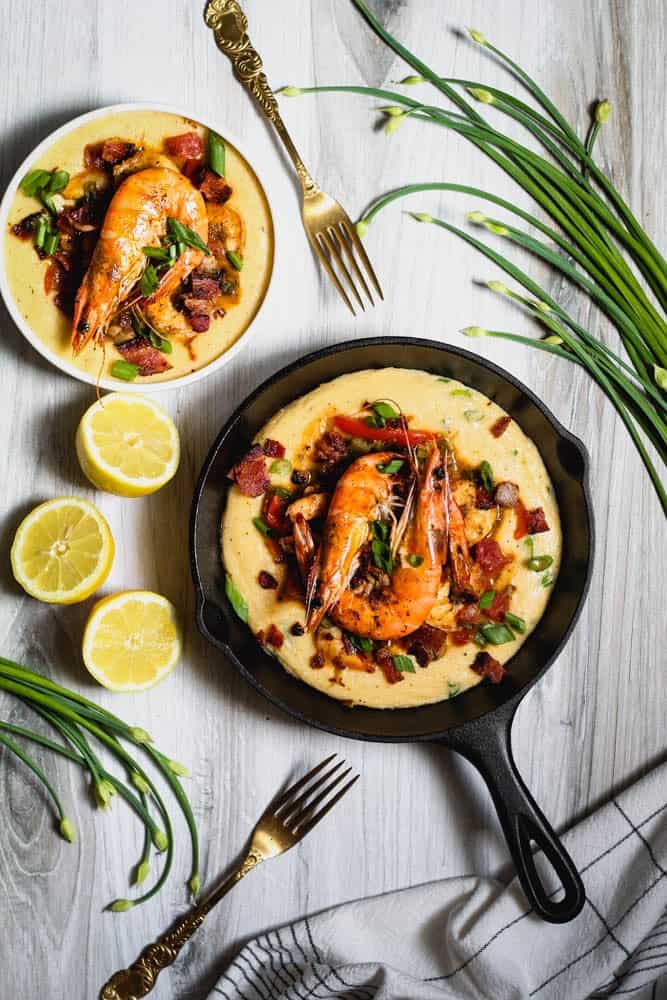 The marinade also serves as the sauce for the final dish making the effort it requires totally worth it. The marinated shrimp and sauce are combined with bacon, mushrooms, bell pepper and loads of green onions to complete this Southern classic.
There really is nothing more appropriate or delicious to serve the shrimp with than grits. It would be like putting meatballs and marinara with rice to try to substitute a different starch here.
Even if you've never had grits before, or worse yet, have had poorly prepared grits, I promise you, you will LOVE my cheesy grits. The secret to grits is plenty of dairy to bring the richness and flavor grits naturally lack. My recipe includes tons of fresh shredded cheddar-jack cheese, heavy cream for the right texture and a bit of buttermilk for a nice tangy addition.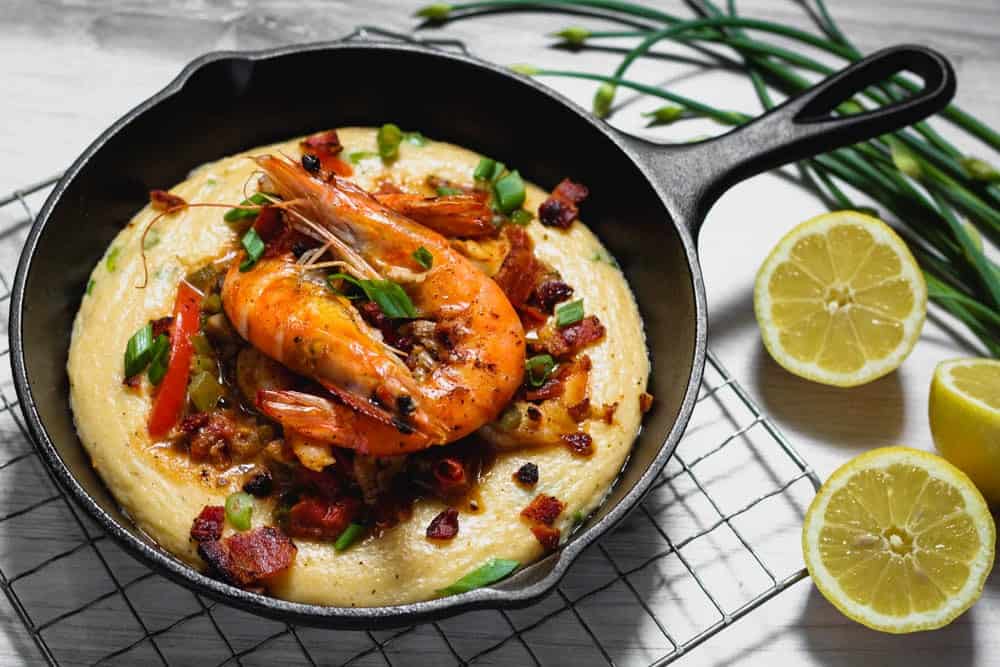 New Orleans Style BBQ Shrimp and Cheesy Grits was a recipe I originally created for my feature in the January/February issue of Edible OKC, but it has now become a regular request by my family. I even made it for my mom and my husband's for Mother's Day. That's how special that flavors in this dish! Try out the recipe to treat your family and friends to a restaurant quality comfort food classic.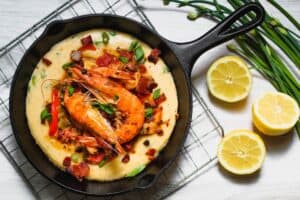 New Orleans Style BBQ Shrimp and Cheesy Grits
Shrimp smothered in a New Orleans Style BBQ sauce served over cheesy, creamy grits. New Orleans BBQ sauce includes plenty of butter with lemon, garlic, herbs and spices which serves as the sauce for shrimp, bacon, mushrooms and peppers. It's the perfect dish to serve if you want to treat someone you love. This Southern comfort food classic will always impress!
Ingredients
BBQ Shrimp Seasoning (makes about 1/2 C)
1

Tb

ground black pepper

1

Tb

cayenne pepper

1

Tb

kosher salt

1

Tb

Cajun seasoning*

2

Tb

Italian seasoning

2

tsp

onion powder
BBQ Shrimp
1.5

lb

shrimp

peeled, deveined, and tail removed

2

cloves

garlic

smashed

2

Tb

BBQ Shrimp Seasoning

see recipe above

1

Tb

oyster sauce

1

Tb

soy sauce

1

Tb

Worcestershire sauce

2

Tb

lemon juice

2

Tb

honey

1/4

C

butter

melted and cooled

4

slices

good quality

thick cut bacon

8

oz

beech mushrooms**

1

red bell pepper

6

green onions

1/2

C

finely diced celery hearts

1 14.5

oz

can petite diced tomatoes

drained

1

lemon

zested and reserved
Cheesy Grits
1

C

stone ground or old fashion grits

not quick or instant grits

3.5

C

chicken stock

3/4

C

heavy cream

1/2

C

buttermilk

1

C

shredded colby jack or cheddar cheese

3

green onions

1/2

tsp

kosher salt

pepper to taste

1

tsp

Cajun seasoning*
Instructions
To make the seasoning
Combine all of the ingredients using a fork or whisk. The seasoning will keep for up to 12 months in an airtight container.
To marinade the shrimp
To create the shrimp marinade, chop the garlic into ¼-inch piece and combine the garlic cloves, 2 Tb BBQ Shrimp Seasoning, oyster sauce, soy sauce, Worcestershire sauce, 2 Tb lemon juice, and honey in a blender or food processor. Blend the mixture on high speed until smooth.

With the blender or processor on, slowly drizzle in 1/4 C of melted, cooled butter. You're looking for an emulsification, like salad dressing. Once the marinade has emulsified, add the marinade and shrimp to a mixing bowl. Toss to coat the shrimp in marinade. Cover the bowl in plastic wrap and place in the fridge for at least 2 hours or up to 8 hours.
To make grits
Once the shrimp have marinated, start by preparing the grits. Bring chicken stock to a boil in a large saucepan. Once the stock is rapidly boiling, add 1 C of dry grits and stir to make sure the stock and grits are well combined. Reduce the heat to low and continue to cook for about 10-12 minutes, stirring occasionally.

Once the grits have thickened to about the consistency of pudding and the mix starts to pull away from the sides, add the heavy cream and buttermilk and continue to stir to combine. Cook for about 15 minutes until the consistency is thickened but isn't stiff.

Finely slice the scallions, separating the green and white portions of the scallion. Include the light green, firm bits of scallion with the white portion. Reserve the white portion for the shrimp.

Once your grits have reached the desired consistency, add the cheese, green portion of the scallions, salt, pepper and Cajun seasoning and stir to combine. Continue to cook until the cheese is totally melted or about 2 minutes.

You can keep the grits warm on the very lowest heat setting, stirring often. If the grits get too thick, add a touch of chicken stock to loosen the mix.
To make shrimp and grits
While the grits cook, cook the shrimp. Core the bell pepper and slice into thin strips. Cut the strips into 1-inch pieces.

Finely slice the green onions, separating the green and white portions. Add the white portions to the reserved white portion from the grits prep. Reserve the green portions for garnish. Include the light green, firm bits of scallion with the white portion. Finely dice the celery including any leaves.

Start by placing 4 strips of bacon in a cold, large nonstick pan. Turn the heat on to medium and allow the bacon to cook until totally crisp, turning as needed. I generally listen for the sizzle to quiet to know it's time to turn the bacon over.

Turn off the heat and remove the cooked bacon. Place the strips on a paper towel to soak up any excess grease. Pour the remaining bacon fat into a small, heat-proof dish being sure to scrape all the dark bits out of the pan. Allow those bits to settle at the bottom of the container, leaving the cleaner fat on top.

As the bacon crisps, cut off the bottom 1/2-inch of the group of mushrooms and break them into individual mushrooms.

Add 2 Tb of bacon drippings back to the same large nonstick pan used to crisp the bacon. Turn the heat onto medium-high. Add the mushrooms and sauté for about 3 minutes or until starting to form a nice golden-brown color.

Once the mushrooms start to brown, add the peppers, celery, and reserved white and light green portions of the green onions. Saute for another 5 minutes or until the vegetables start to soften. Once cooked, pour the mushrooms and vegetables into a bowl and set aside.

Turn the heat down to medium heat and add a drizzle of olive oil along with the shrimp and marinade to the pan. Cook for about 2-3 minutes until the shrimp becomes firm and the marinade starts to boil. Stir the shrimp to turn them over and add the can of diced tomatoes and mushroom-vegetable mix to the pan. Cook for another 5 minutes or until the vegetables and tomatoes are warm.

Chop the cooked bacon into small pieces. Serve with about 1 C of grits topped with shrimp and sauce, green onions and crumbled bacon. Finish with finely grated lemon zest.
Notes
*I used Chef Paul Prudhomme's Magic Seasoning Blend, but any Cajun or Creole seasoning will work. Just try to find one that isn't too salty.
**Beech mushrooms add a wonderful look, taste and texture to this dish, but if you can't find them you can use any type of mushroom you like such as baby portabellas or shitakes. Just be sure to use a damp paper towel to wipe off the mushroom caps and remove the stems if you're using a variety that is less delicate than beech. Dice the mushrooms into 1/4-inch pieces.
The following two tabs change content below.


Hey-ooo! I'm Hailey, and I'm a number cruncher by day and cussing cook by night. I created this site to share my love for delicious food that feeds the soul as well as the belly. I hope my recipes have you running to the kitchen to cook some damn good grub!