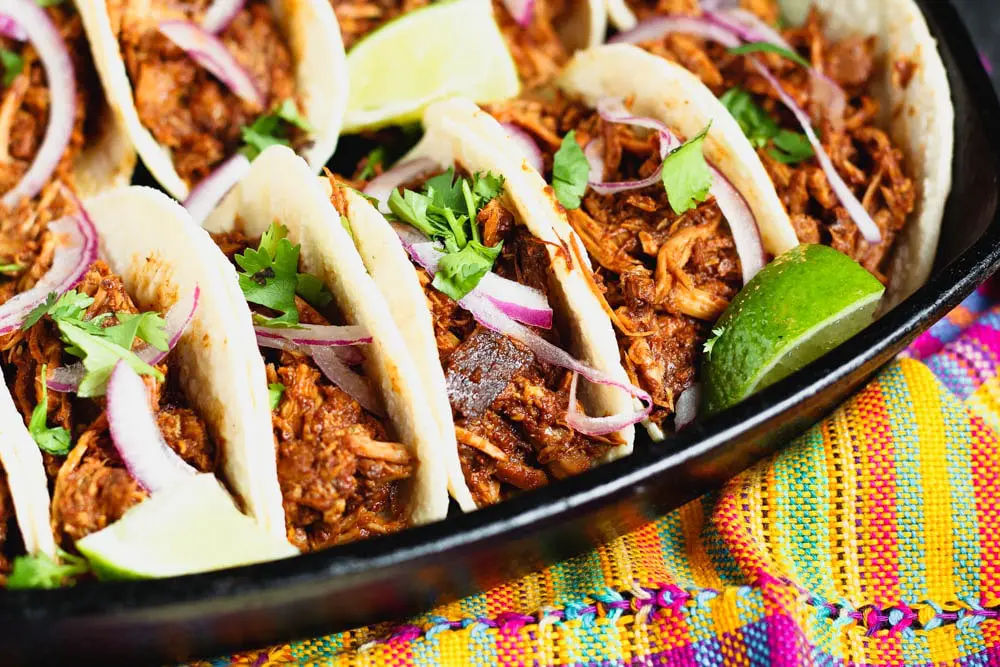 Crock-Pot Mole Pulled Pork Tacos are intensely flavorful while being super simple to make. There is no reason to be intimidated by the ingredient list. In fact, there are far less ingredients in this mole than a traditional one, but like an authentic mole, this recipe has sweet, sour, salty and earthy flavors all combined in one beautiful sauce.
I love the rich flavor of pork shoulder with the robust nature of mole sauce. Mole benefits from a long cook time to let the flavors meld and develop. Pork shoulder needs plenty of cooking time to become fall-apart tender making the two a perfect match.
Crock-Pot Mole Pulled Pork Tacos are so simple to make. They only need a few simple garnishes because the mole is so packed with flavor.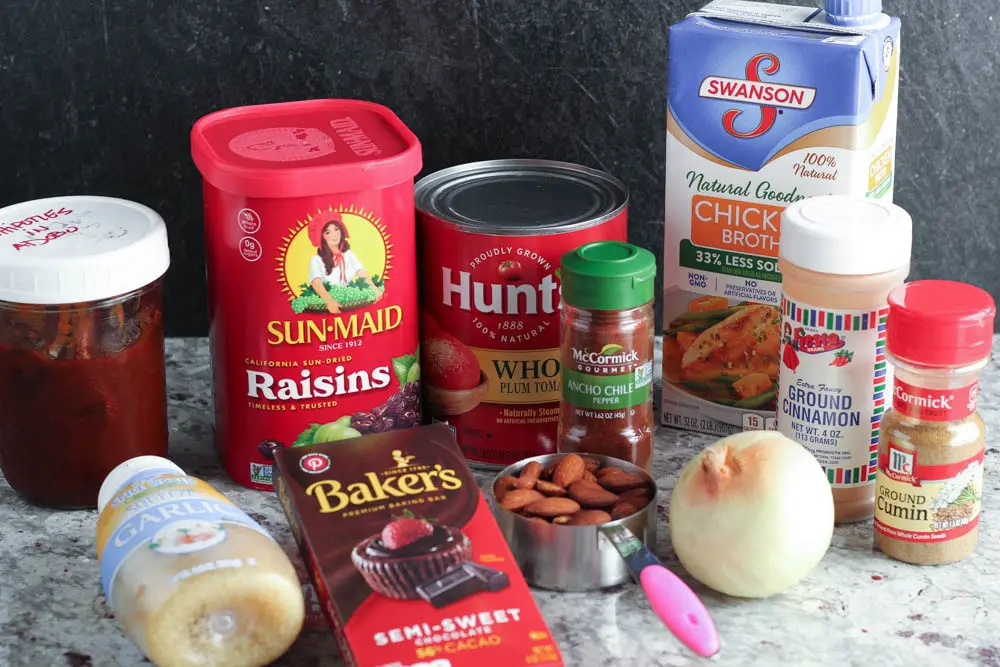 What is a mole sauce?
Mole is a traditional Mexican sauce that is made up of chiles, sour notes (from tomatoes typically), sweet flavors (from fruit and chocolate), and spice. Nuts or seeds are added as a thickener and give extra depth of flavor.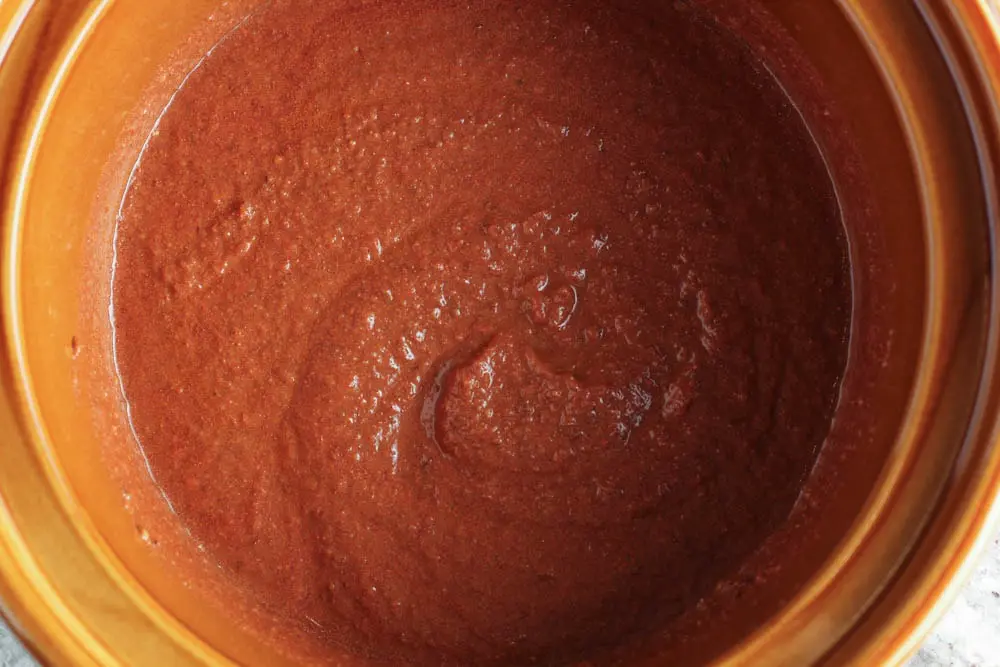 If you want to learn all about mole, check out this Taste of Home article.
What are ancho chiles?
Ancho chiles are dried poblano peppers. They have an amazingly complex flavor that is smoky, sweet, earthy, and just a little bit spicy. They are less spicy than a jalapeno, but pack more of a punch than a bell pepper.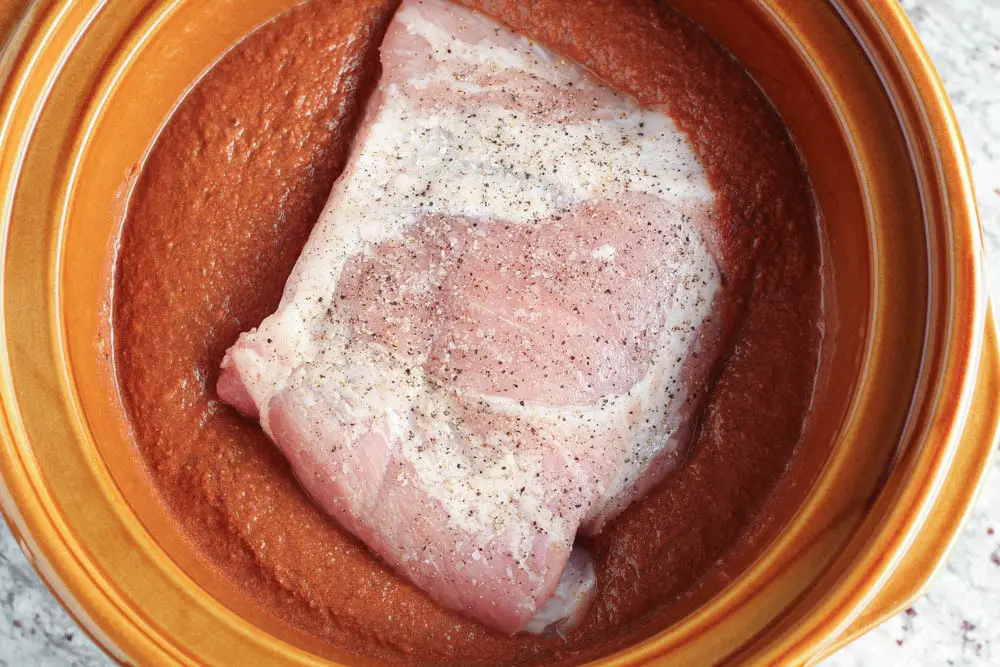 You can find dried chiles like ancho chiles with the other specialty Mexican items are your grocery store. I often use ancho chili powder which is commonly found on the spice aisle to cut down on prep time.
A food processor or molcajete is necessary to make a mole.
A food processor is definitely the easiest way to make a mole. I have linked to one for purchase below if you're interested in investing in one. It's easily the most used kitchen appliance in my house, and I've had mine for over ten years with no signs of it stopping yet. The point being, it's worth the money.
If you don't want to purchase one, the only solid alternative for making mole is the traditional method of using a molcajete, or the Mexican version of a mortar and pestle. I am no expert in this method, but seeing that this method was user for centuries, I'm sure it's possible.
Other cuts of pork can work for Crock-Pot Mole Pulled Pork Tacos
Pork shoulder is my favorite cut of meat for this recipe because it has enough fat marbling to stand up to the long cook time and tons of flavor in the meat. Alternatives include pork sirloin roast, pork picnic roast, and pork center-cut loin roast, but each of these is leaner than a pork shoulder.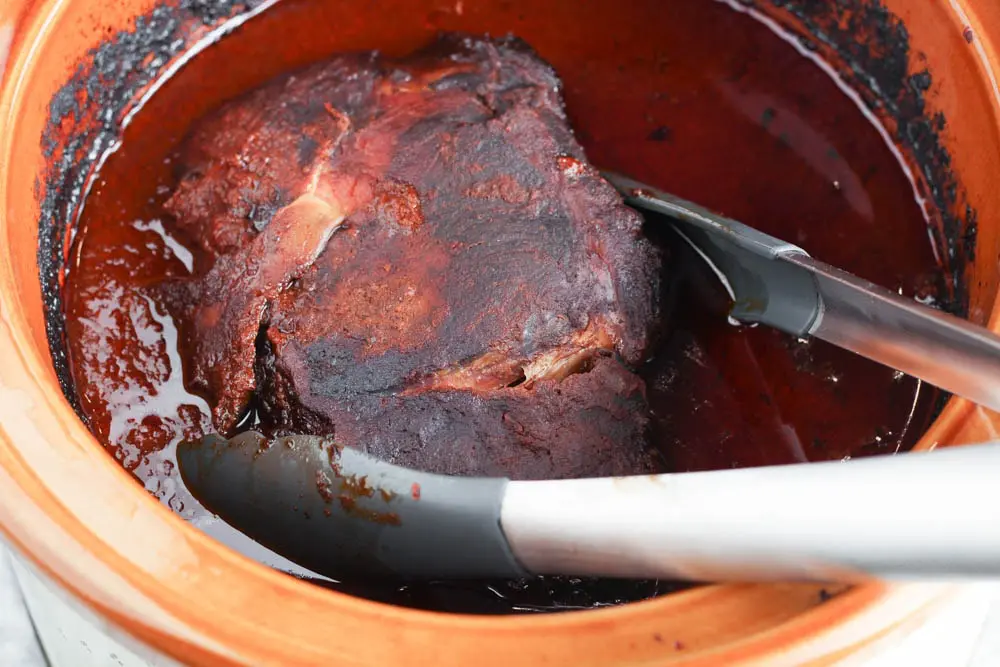 Because these alternative options lack the fat of pork shoulder, overcooking the meat is a risk. Start checking the pork's texture at 12 hours if using one of these leaner cuts and continue to check about every hour or so after until the pork is falling apart. Once the pork easily falls apart when pierced with a fork, turn off the heat.
Twenty-four hours of cooking time?!?
You may have noticed that this pork shoulder is cooked for a seemingly f*cking ridiculous 24 hours, but keep in mind, there's no work to be done in that 24 hours. You simply let the pork shoulder simmer away while your house fills with the aromas of nuts, chocolate, chiles and other spices. I'm over here drooling just thinking of the smell!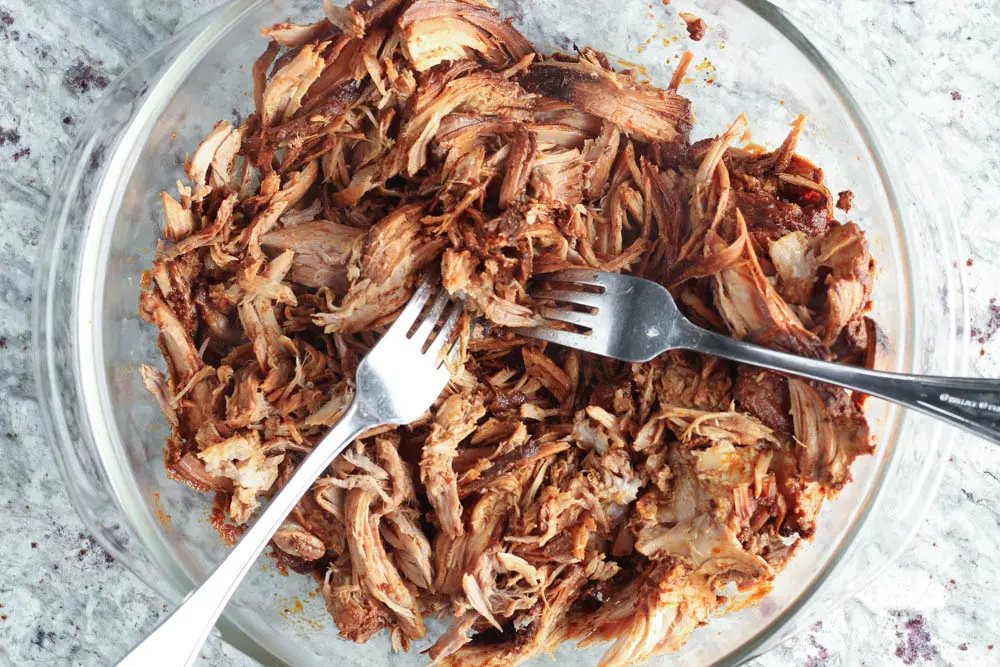 As noted above, if you choose a leaner cut alternative to a pork shoulder, reduce the cooking time to keep the pork from overcooking.
Mole pulled pork can be made in advance.
Mole Pulled Pork can be made up to 3 days in advance of assembling your slow cooker tacos. Just keep the pork in an airtight container in the fridge until you're ready for tacos. To reheat, a quick zap in the microwave will work or you can add 1-2 Tb of water and reheat over low heat in a sauté pan.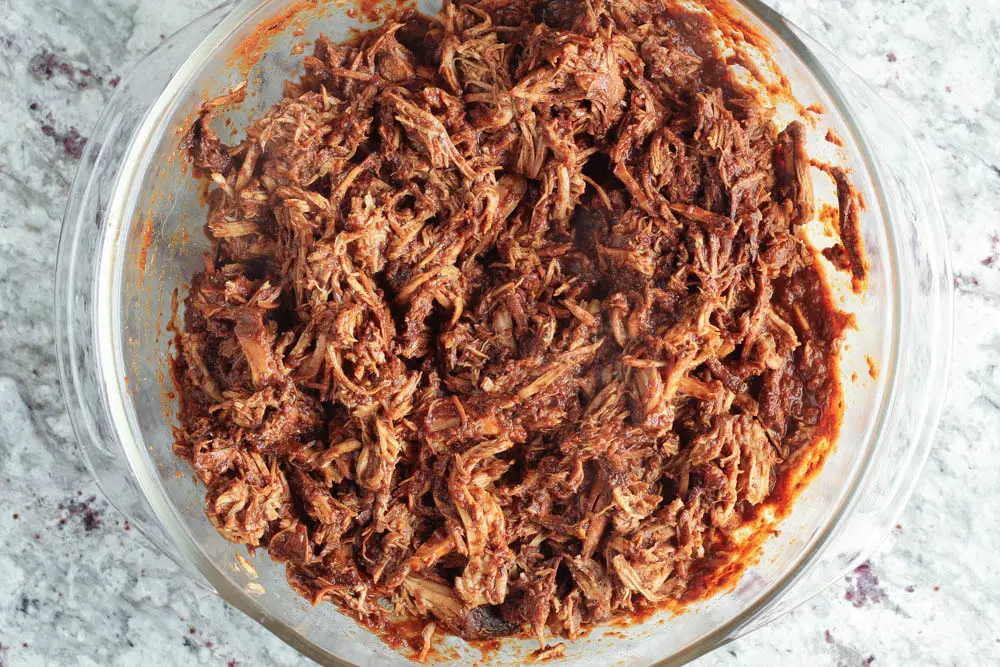 What to serve with Crock-Pot Mole Pulled Pork Tacos
Because the mole is so rich and flavorful, simple garnishes work best with these tacos. I like cilantro, white onion, a little cheese, and a squeeze of fresh lime juice. Refried Beans are always a solid side dish choice with tacos. Another fun option would be freshly made guacamole or my Seven Layer Dip with chips.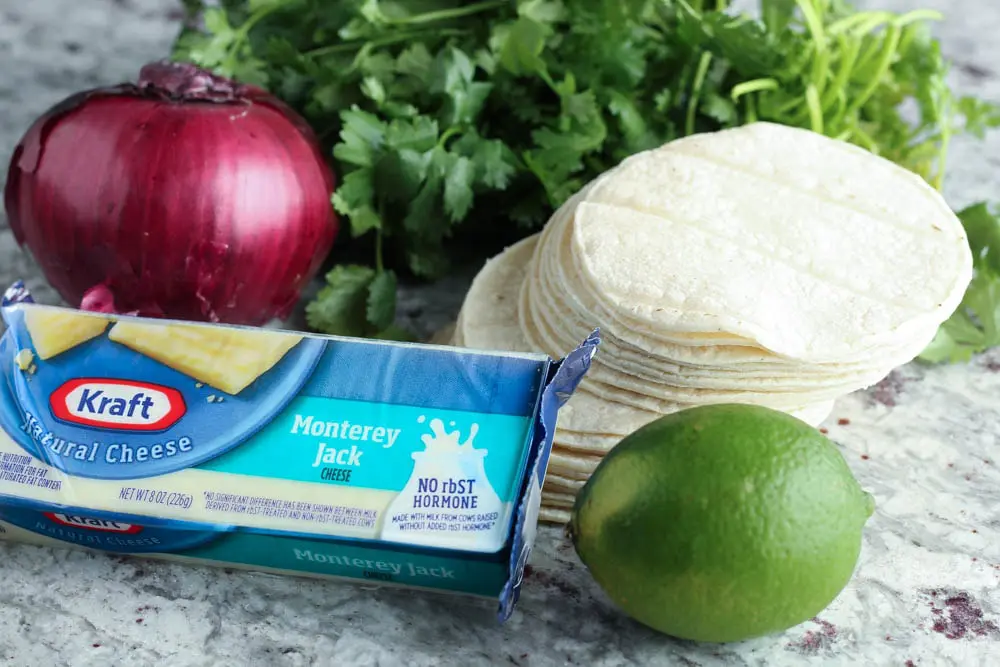 Crock-Pot Mole Pulled Pork Tacos are special in that they offer unique flavors that you may have never used at home, but they are so damn easy to make. These slow cooker tacos will certainly bring something new to your dinner routine.
Give this recipe a try and let me know how it goes in the comments section below.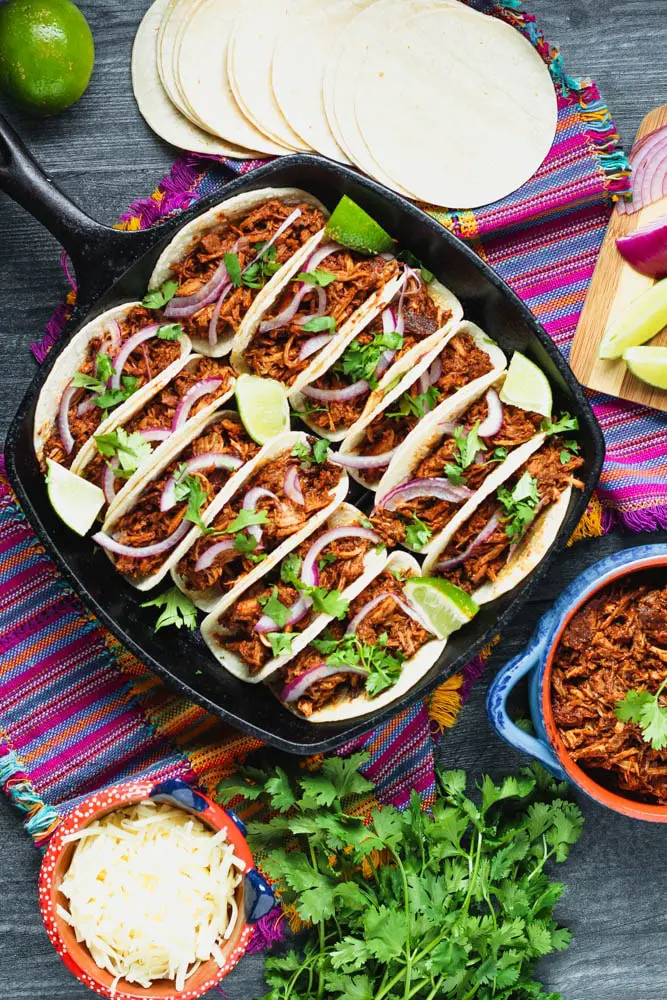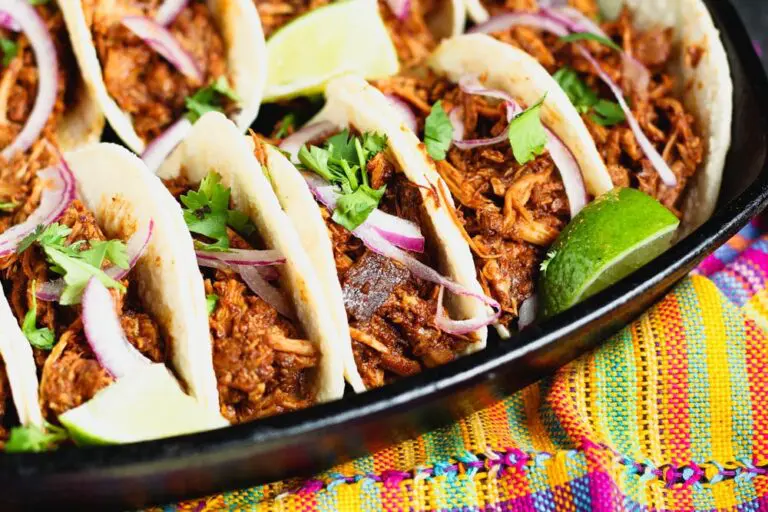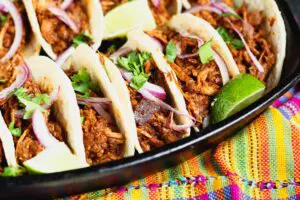 Crock-Pot Mole Pulled Pork Tacos
Crock Pot Mole Pulled Pork Tacos combine slow cooked pork shoulder and a rich, intensely flavored mole sauce. Served with corn tortillas and simple garnishes, these tacos are a great simple dinner recipe.
Ingredients
Mole
2

Tb

ancho chile powder

or 2 dried Ancho chiles*

1

28 oz

can whole tomatoes

1

yellow onion

½

C

almonds

3

oz

semisweet baking chocolate

finely chopped

¼

C

raisins

¼

C

chicken stock

1

Tb

ground cumin

2

Tb

chipotles in adobo sauce

1

tsp

cinnamon

3

garlic cloves
Pork
2

tsp

salt

3

lb

pork shoulder roast
Tacos
corn tortillas

cilantro

diced white onion

shredded Monterey jack cheese

lime wedges
Instructions
To make mole
Finely chop the baking chocolate and add to the food processor. Pulse until very fine. Add the almonds, and pulse again until the mix is a fine crumb.

Add the remaining ingredients and food process the mole until smooth. Once blended smooth, Add the mole to a crock-pot.
To make pork
Season the pork shoulder with kosher salt on all sides and add to the crock-pot with the mole. Turn the crock-pot on low. Cook the pork for 18-24 hours on low, turning over every 6-8 hours. The pork will be fall-apart tender when finished.

Using tongs, remove the pork from the crock-pot and tear apart into bite-size shreds. Add about 1 C of the leftover mole to the pork and mix to combine. Season to taste with salt.
To make tacos
Warm the corn tortillas on a dry cast iron skillet or flat top grill. Once warm, fill with mole pork and garnish with lime juice, cheese, onion and cilantro.
Notes
*If using dried ancho chiles, soak in hot water for 15 minutes prior to blending in the food processor.
Frequently Asked Questions
Where do I find ancho chili powder?
It should be available with other spices at the store.
Do I need a food processor for this recipe?
Yes, or a molcajete which is a Mexican mortar and pestle.
I can't find pork shoulder. What should I use?
I recommend pork sirloin roast instead, but start checking the meat at 12 hours and every hour after for the meat to be fall-apart tender.
The following two tabs change content below.

Hey-ooo! I'm Hailey, and I'm a number cruncher by day and cussing cook by night. I created this site to share my love for delicious food that feeds the soul as well as the belly. I hope my recipes have you running to the kitchen to cook some damn good grub!