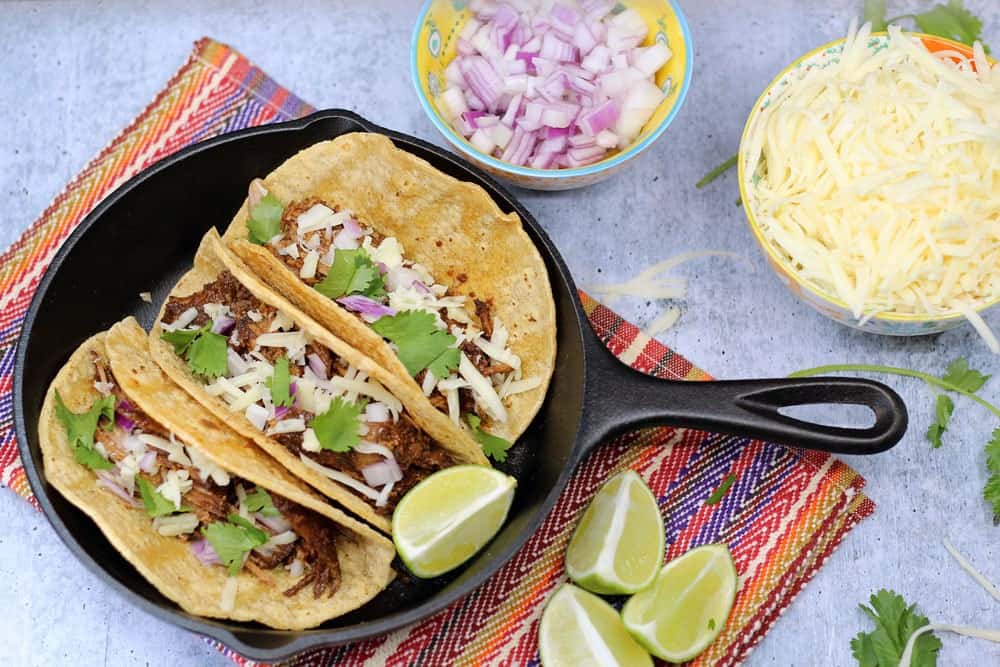 Crock-Pot Mole Pork Tacos are intensely flavorful while being super simple to make. Don't be intimidated by the ingredient list. In fact, there are far fewer ingredients in this mole than a traditional one, but like an authentic mole, this recipe has sweet, sour, salty and earthy flavors all combined in one beautiful sauce.
The mole recipe comes from a Cooking Light magazine. You'll notice that's sort of a theme in a lot of my cooking. I've had a subscription for 10+ years, on and off, and I've always cut out recipes and kept them in an organized binder. This mole recipe is one I've always wanted to play with.
The major change I made from their recipe was to use pork shoulder instead of chicken thighs. I love the hardy flavor of pork shoulder with the robust nature of mole sauce.
I also think the mole needs a really long, slow cook to develop flavors that mimic authentic black mole.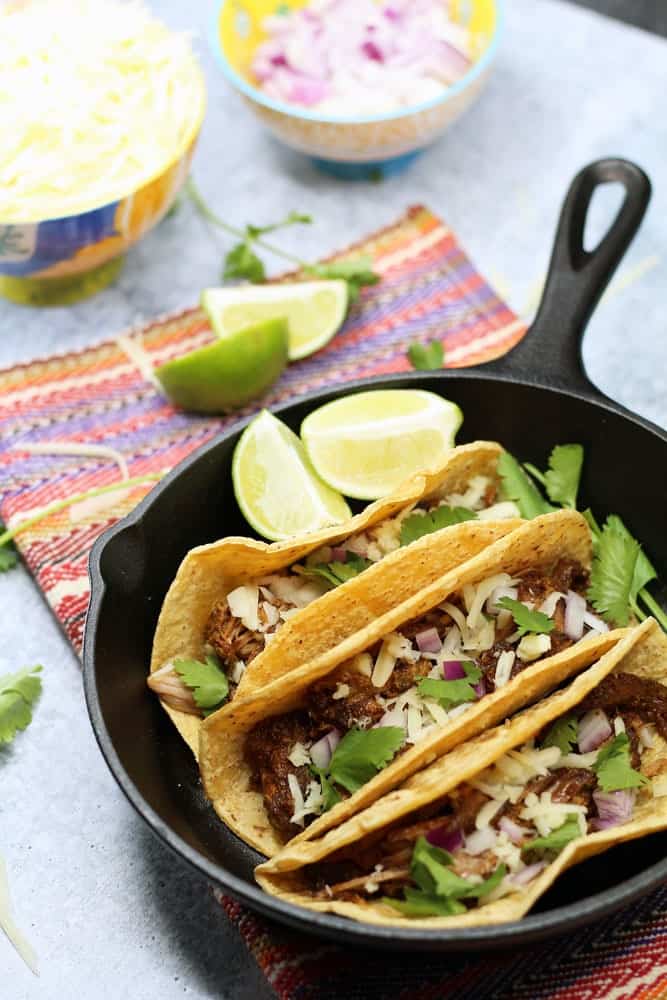 You may have noticed that this pork shoulder is cooked for a seemingly f*cking ridiculous 24 hours, but keep in mind, there's no work to be done in that 24 hours. You simply let the pork shoulder simmer away while your house fills with the aromas of nuts, chocolate, chiles, and other spices. I'm over here drooling just thinking of the smell!
I've been playing around with more traditional Mexican recipes lately in celebration of our upcoming trip to Mexico. Chris and I are traveling to San Miguel for a wedding, and we are both so excited to explore the food scene.
I've been to Cancun and Cozumel as well as some border towns (part of life being from South Texas), but I've never been to central Mexico so I'm super jazzed to visit San Miguel. My husband has never been to Mexico so I'm even more pumped for him to experience the culture. It's quite convenient that he's also developing the menu for his new restaurant, a Mexican restaurant. ?
We're going to explore lots of markets and eat at as many food stalls and local favorites as possible! If you follow me already, you might know that I love Tex-Mex food as evidenced by my Green Chicken Enchiladas and Chorizo Breakfast Tacos recipes, but I know a lot less about authentic Mexican cuisine. I'm so stoked to learn more and hopefully bring back more great recipe ideas!
Crock-Pot Mole Pork Tacos are special in that they offer unique flavors that many of you may have never made at home but at the same time are so damn easy to make.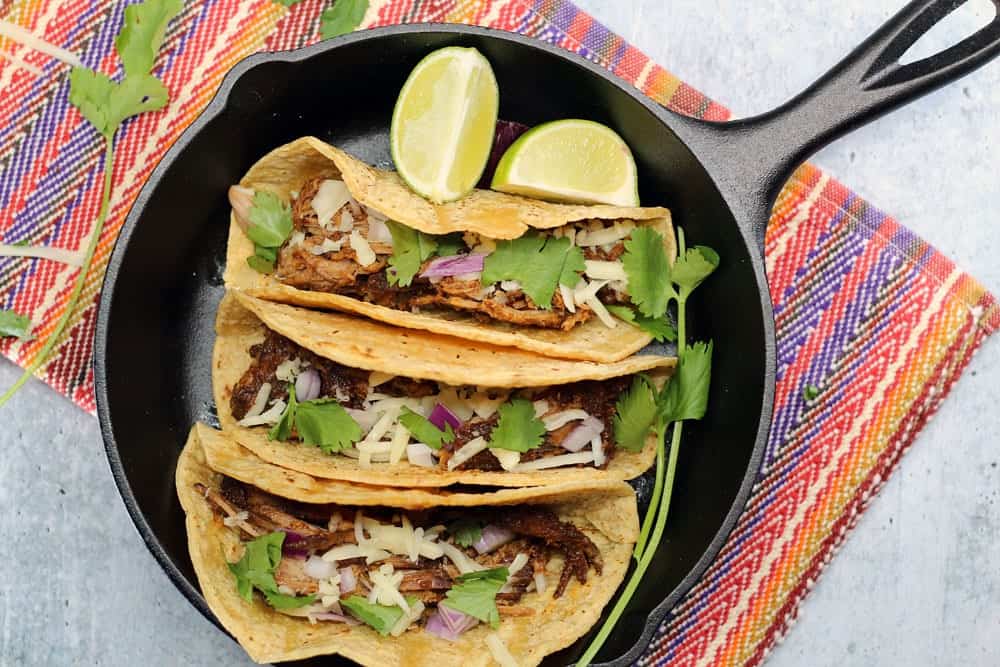 There's only one warning to take note of when you make this recipe, don't overfill your food processor or blender when you make the mole.
If you follow me on Instagram you already know of the massacre that ensued in my kitchen when I was recipe testing. MOLE ERRRRRRYYYYYWHERE! Just trust me, work in f*cking batches unless you want your kitchen to look like this.
As long as you can avoid splatter painting your kitchen with mole, this recipe is a breeze. Crock-Pot Mole Pork Tacos are rich and flavorful and will definitely bring some variety to your dinner routine. Give this recipe a try and let me know how it goes in the comments section below.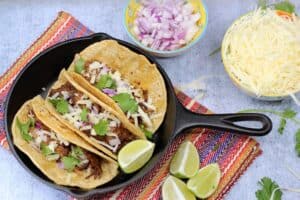 Crock-Pot Mole Pork Tacos
Pork shoulder cooked low and slow in a rich, intensely flavored mole sauce. This mole takes a fraction of the ingredients of a traditional mole but still has sweet, sour, smoky and earthy flavors. Served with corn tortillas and simple garnishes, these tacos are so easy to make. It's a great simple weeknight dinner recipe.
Ingredients
Mole
2

Tb

ancho chile powder

or 2 dried Ancho chiles*

1 28

oz

can whole tomatoes

1

yellow onion

1/2

sliced toasted almonds**

3

oz

semisweet baking chocolate

finely chopped

1/4

C

raisins

1/4

C

chicken stock

1

Tb

ground cumin

2

Tb

chipotles in adobo sauce

1

tsp

cinnamon

3

garlic cloves
Pork
2

tsp

salt

2-3

lb

pork shoulder roast
Tacos
corn tortillas

cilantro

diced white onion

shredded Monterey jack cheese

lime wedges
Instructions
To make mole
Mix together all of the ingredients together in a large mixing bowl. In batches, blend or food process the mole until smooth. Don't overlook the "in batches" portion of the instructions above. If not you will have a crime scene in your kitchen. You really don't want to overfill your blender/food processor. Once blended smooth, Add the mole to a crock-pot.
To make pork
Season the pork shoulder with kosher salt on all sides and add to the crock-pot with the mole. Turn the crock-pot on low. Cook the pork for 24 hours on low, turning over every 6-8 hours. The pork will be fall-apart tender when finished.

Using tongs, remove the pork from the crock-pot and tear apart into bite-size shreds. Add about 1 C of the leftover mole to the pork and mix to combine.
To make tacos
Warm the corn tortillas on a dry cast iron skillet or flat top grill. Once warm, fill with mole pork and garnish with lime juice, cheese, onion and cilantro.
Notes
*If using dried ancho chiles, soak in hot water for 15 minutes prior to blending in the food processor.
** Fisher recently started selling toasted almonds. Look for these on the baking aisle to save yourself an extra step of toasting
The following two tabs change content below.


Hey-ooo! I'm Hailey, and I'm a number cruncher by day and cussing cook by night. I created this site to share my love for delicious food that feeds the soul as well as the belly. I hope my recipes have you running to the kitchen to cook some damn good grub!