Cheez-Its have been one of America's favorite snacks for legit 100 years. I honestly didn't know that fun fact until I started doing a little research for this blog post. Anything that has been celebrated that long has to be delicious but making them from home may have never crossed your mind…UNTIL NOW! My Homemade Cheez-Its Crackers are surprisingly simple to make and even more delicious that the store-bought variety.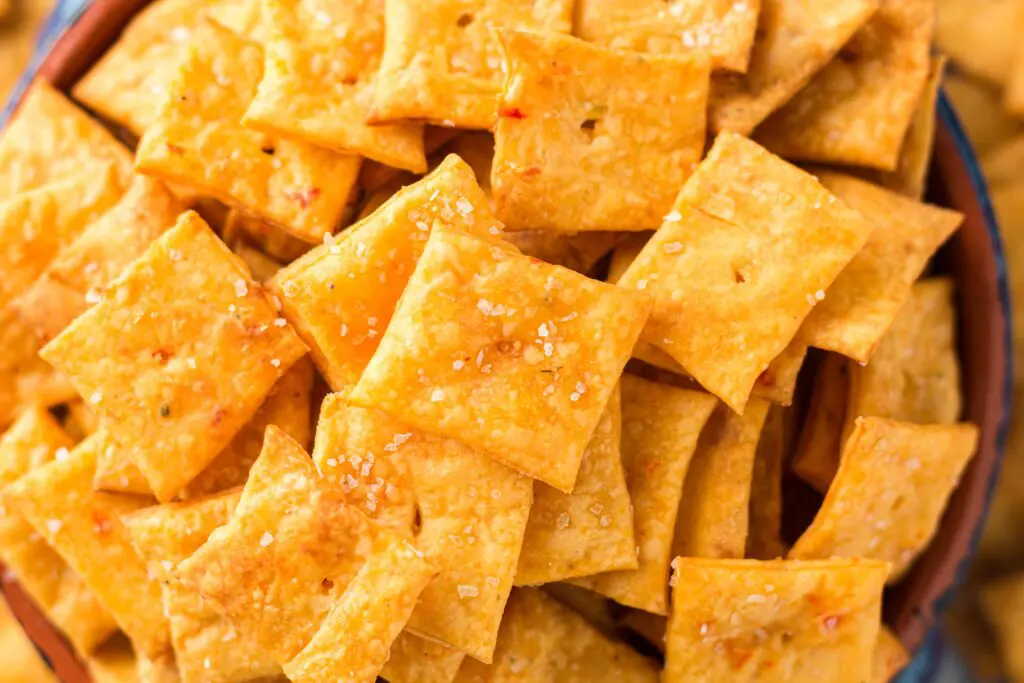 In fact, they are made with 3 ingredients: flour, water, and Best Ever Pimento Cheese.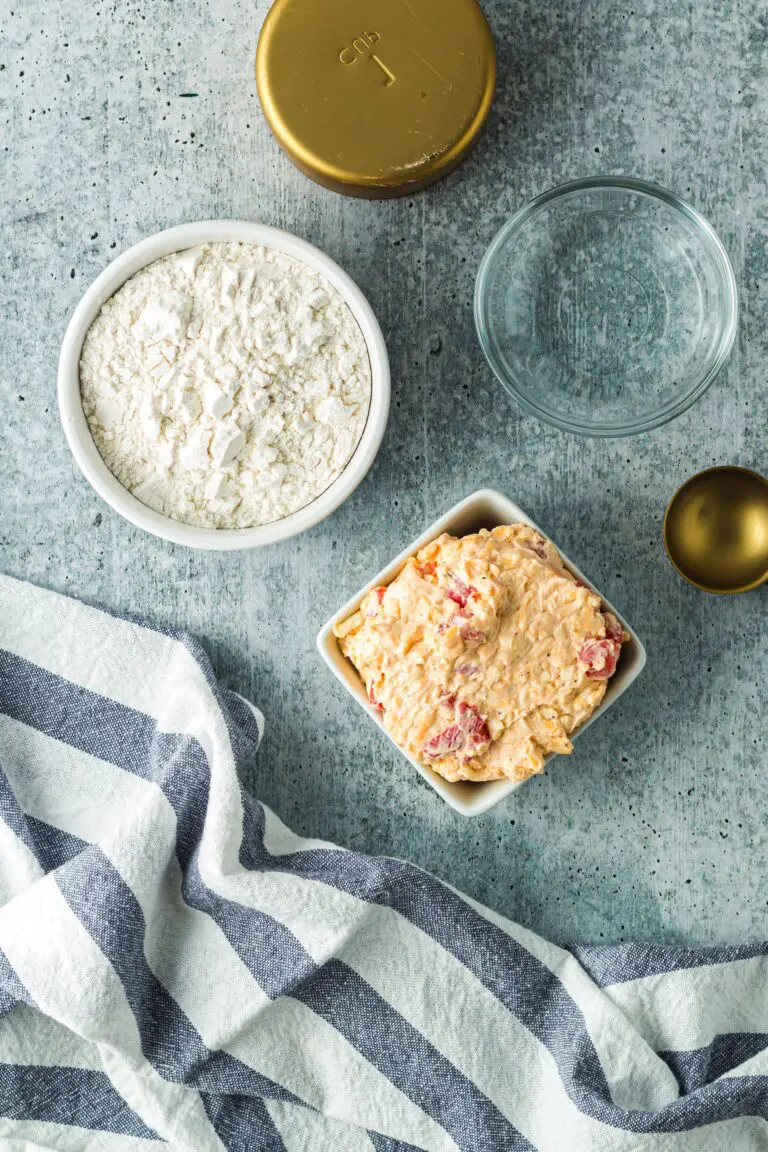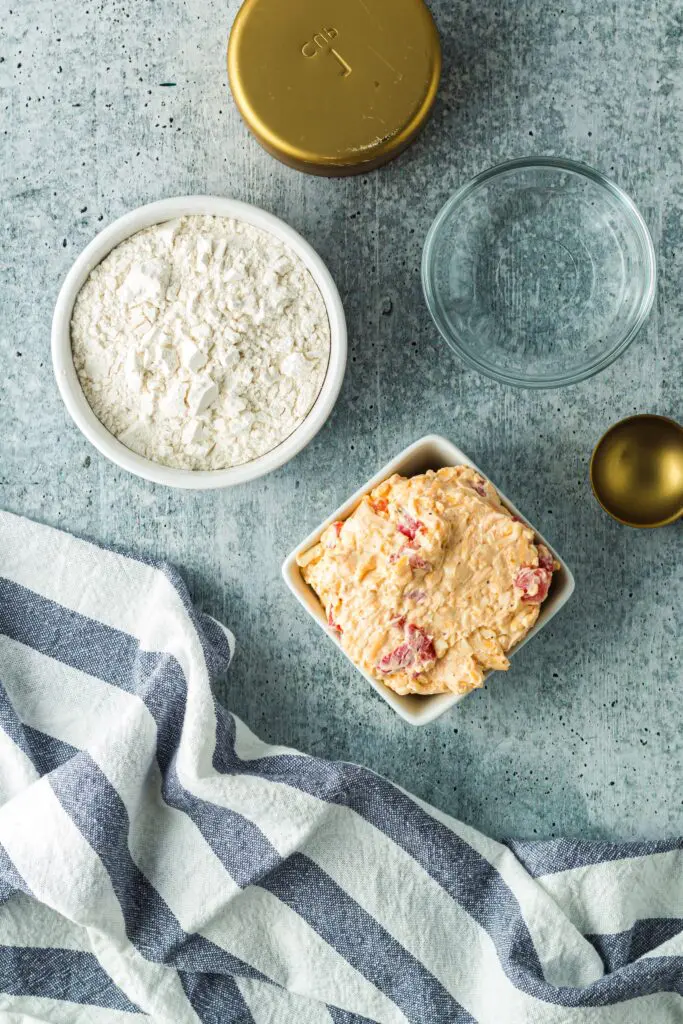 That's right…these crackers are made using pimento cheese. Most homemade crackers are made with a mixture of cheese, butter, and flour. Given that Best Ever Pimento Cheese is a mixture of cheese and mayo, a close relative to butter, I decided to nix the butter and try my own recipe instead.
The recipe for Homemade Cheez-Its is the result of an experiment late on Friday night (there may have been a couple of glasses of wine involved) that went WAY better than I expected. I was trying to dream up surprising ways to use up the leftovers from a batch of Best Ever Pimento Cheese. Pimento Cheese Shortbread Crackers was a recipe I had clipped from Southern Living years ago but have never tried.
Instead of following the recipe that looked more complicated than I was willing to commit to at that moment, I thought to myself, "I wonder what would happen if I combine Best Ever Pimento Cheese and flour?"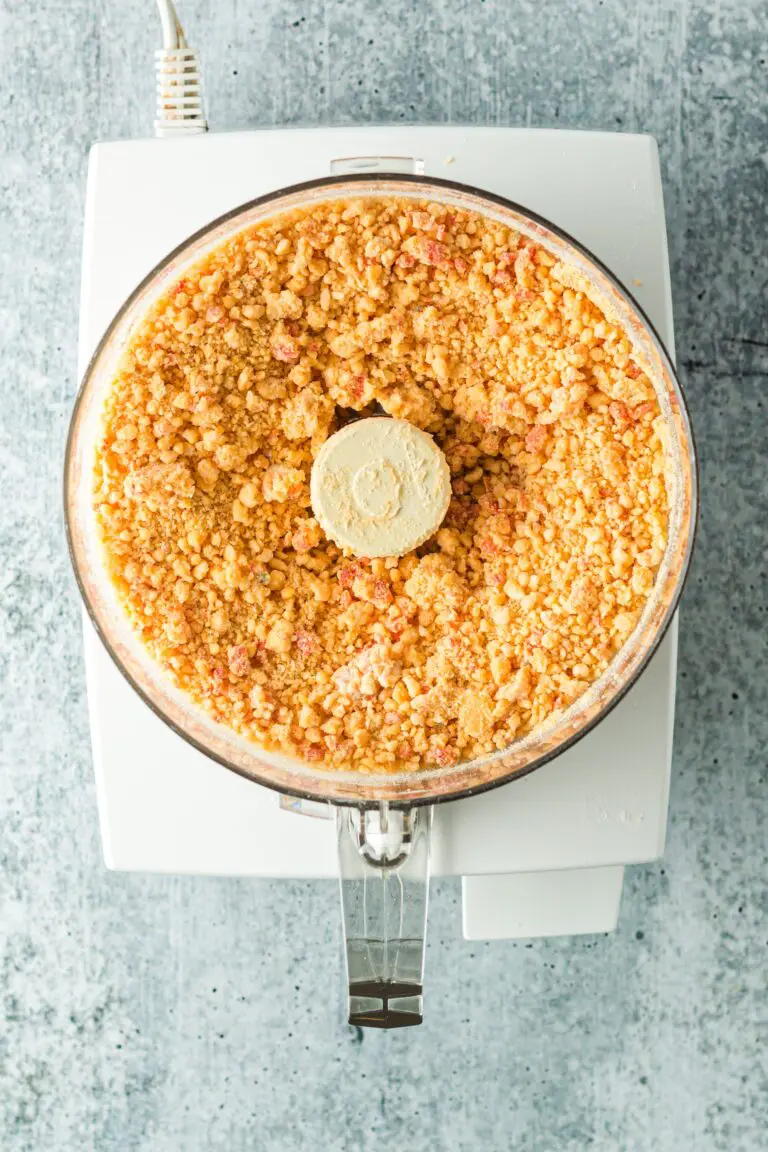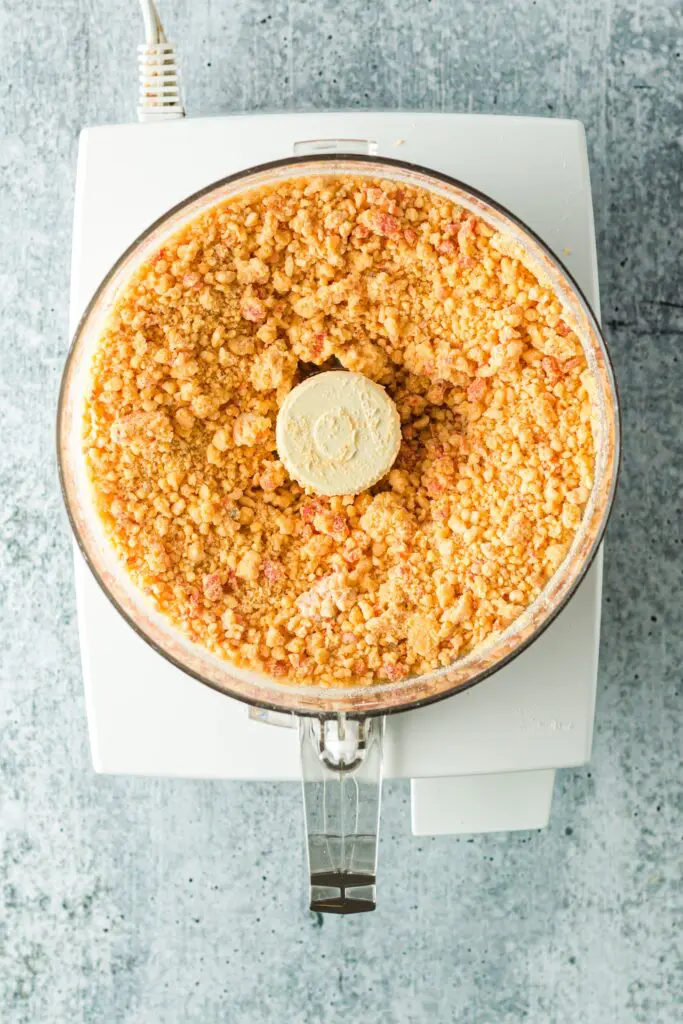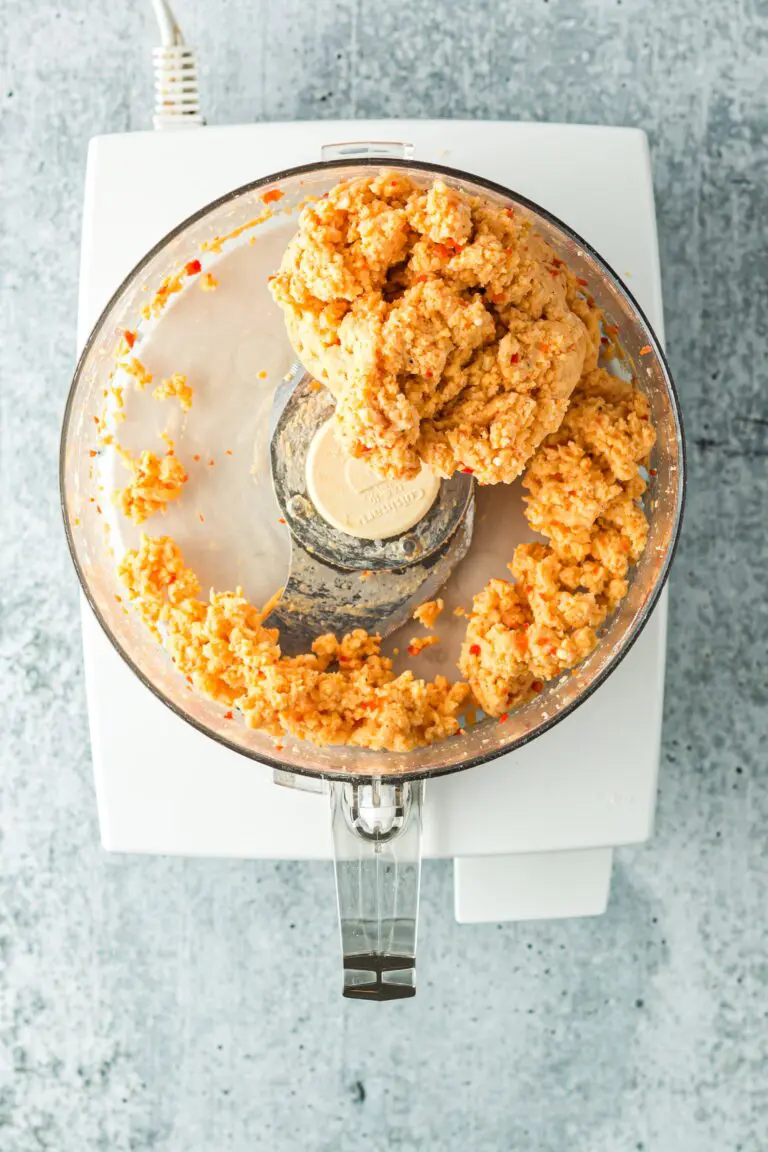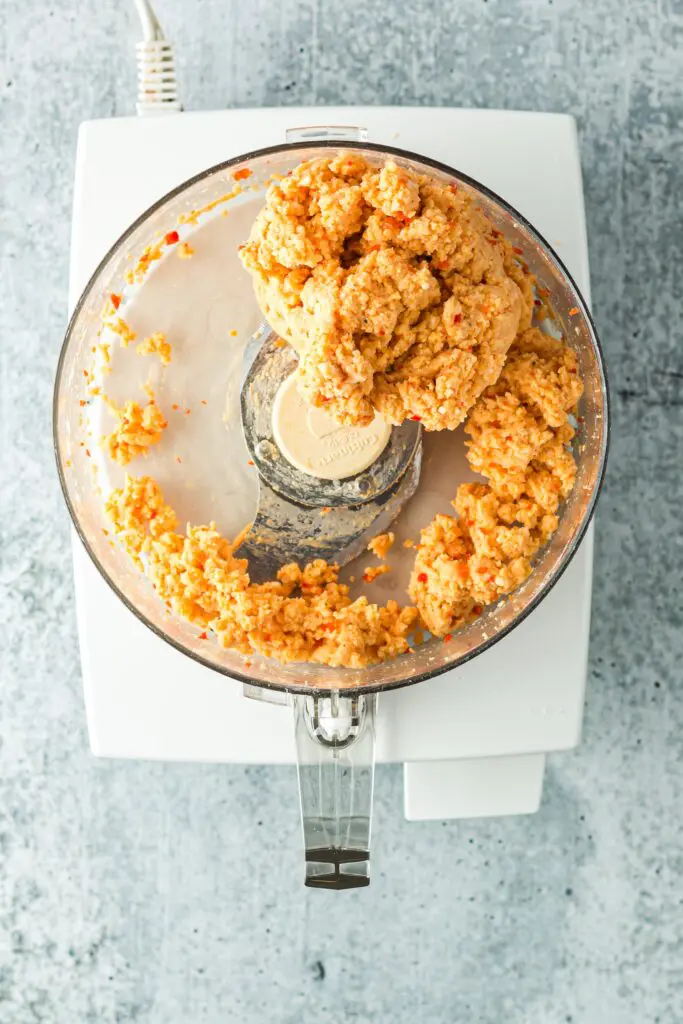 Magic is what happened! The combination created scrumptious, crispy, cheesy crackers that are reminiscent of the classic Cheez-It but have a more delicate texture and taste that you can only get from homemade crackers.
How difficult are Homemade Cheez-Its to make?
Making crackers from scratch is easier than you might think. It only requires a little patience. The dough from this recipe is surprisingly easy to work with too. It's not sticky at all and can be rolled out several times without losing any quality.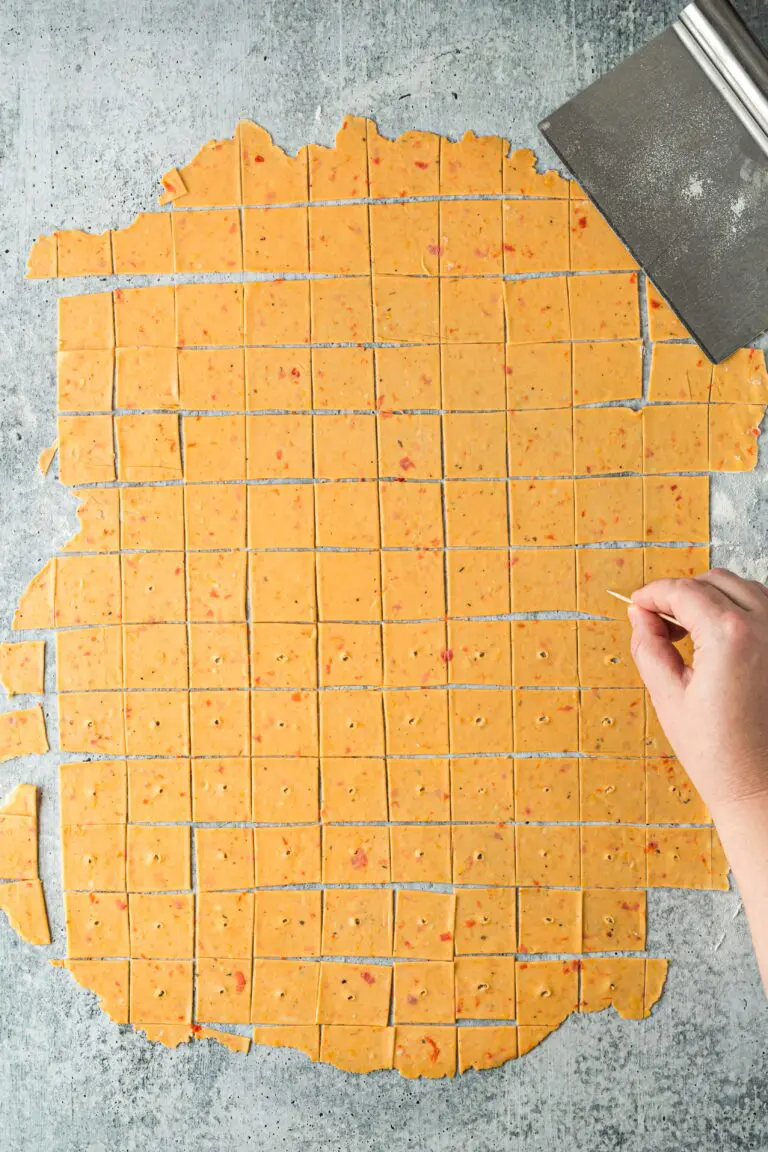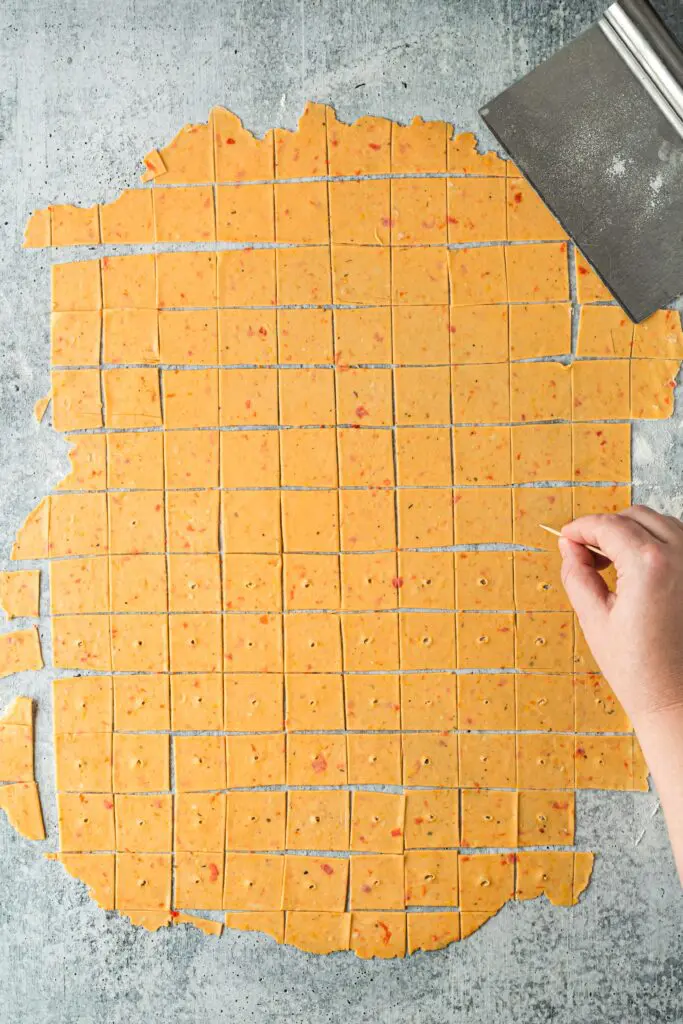 There are a few tools that make the job easier. I have included links to purchase these items in the "Helpful Utensils" section below as well.
The dough is best made in a food processor. That's not to say that you can't make it without one, but I would say a pastry blender would be your best second bet. Another helpful tool is a bench scraper. I am obsessed with this little gadget for any and all pastry tasks. It makes moving and working with delicate dough a breeze.
A ruler and a pizza wheel are also handy when cutting the crackers into cute little squares but a knife and any straight edge will also work.
Is Best Ever Pimento Cheese required or is store-bought pimento cheese acceptable?
The difference in quality and taste between Best Ever Pimento Cheese and store-bought is significant. I call it Best Ever for a reason, right? That being said, I wouldn't stop you from trying the recipe with store-bought if that gets you to try it, but I did not test the recipe with any other pimento cheese.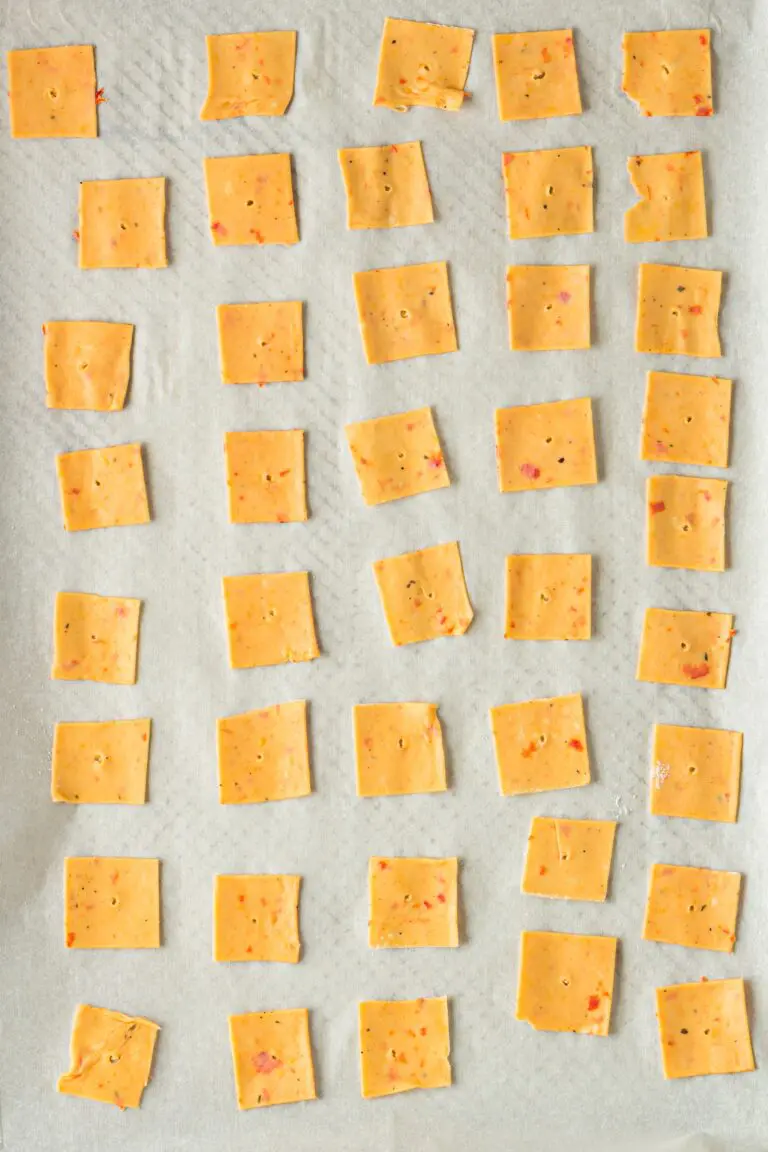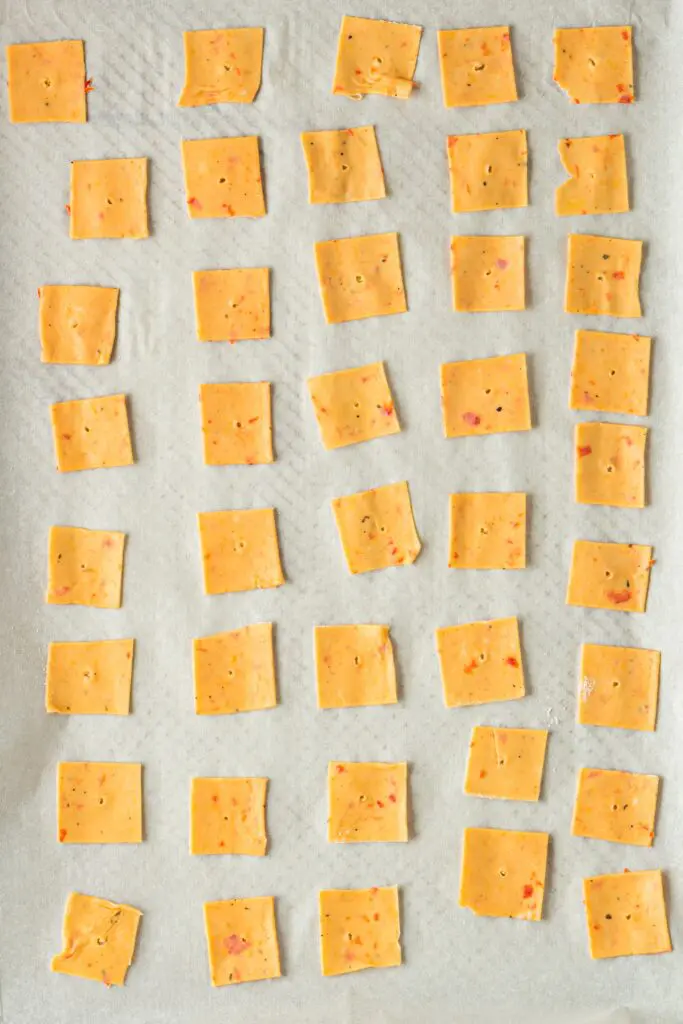 I cannot attest to how the cracker may turn out though since I only tested the recipe with my own pimento cheese. Let me know if you try the recipe with store-bought and have success.
How long will Homemade Cheez-Its stay crisp?
If stored in an airtight container, the crackers will stay fresh for up to a week. I promise you, however, that they won't be around that long. I had to restrain my family from eating them for seven days so I could see how long they stayed crisp.
What to do if your Cheez-Its don't seem crisp enough?
You can always add a little more baking time, but you can't fix burnt crackers. If you taste your first cracker and they still seem soft, you can put them back in the oven. Just watch them closely after the first 90 seconds to make sure they don't burn. You're looking for crackers that have a light and crispy texture.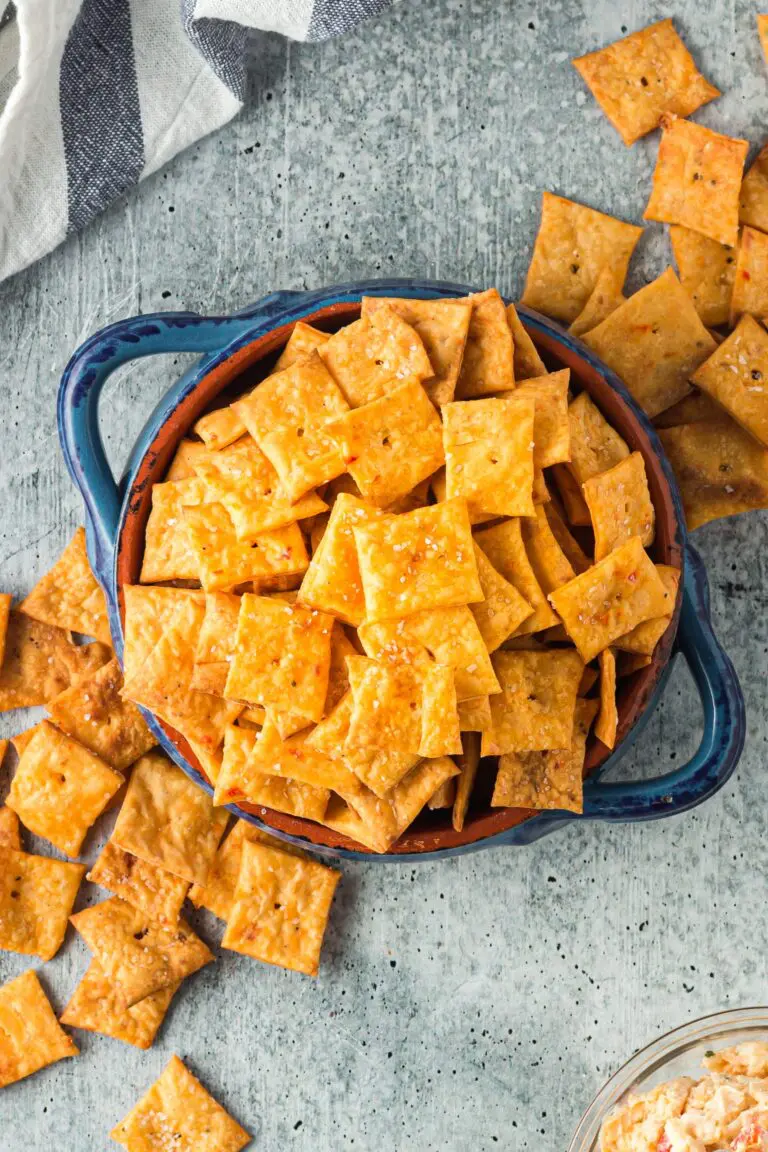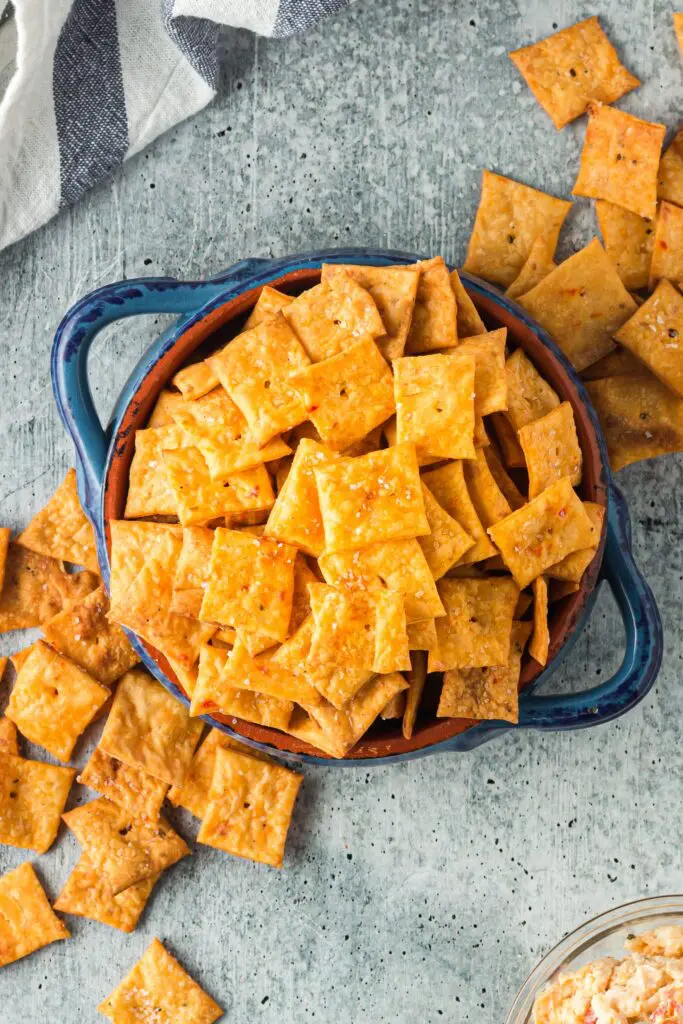 Homemade Cheez-It Crackers are a surefire snacking success. Everyone will love the taste and texture of these little treats, and they will be so impressed that you made them yourself! Little do they know how easy they were to make. Check out the recipe and let me know how it goes in the comments section.
HELPFUL UTENSILS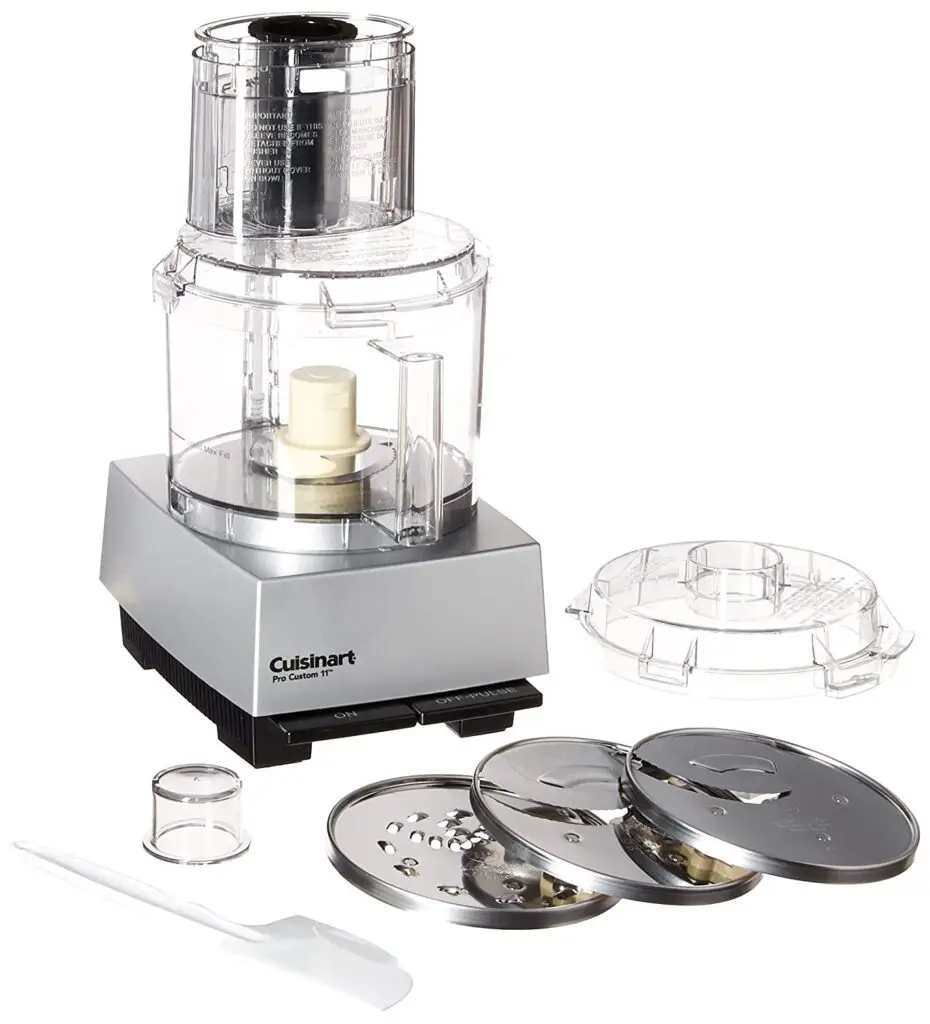 Cuisinart 11-Cup Food Processor
Making dough is so fast and easy with a food processor, and that's just one of its many uses.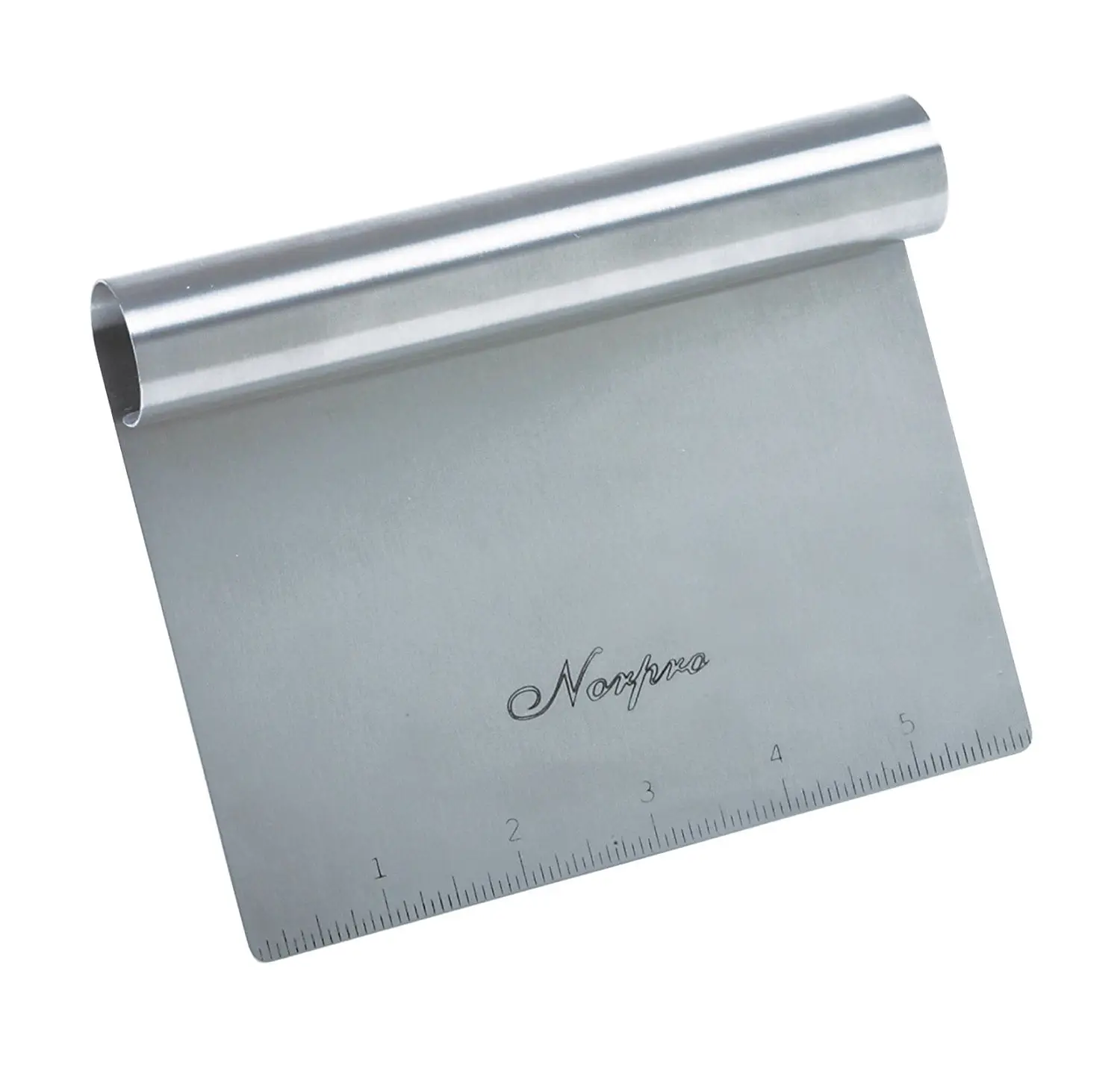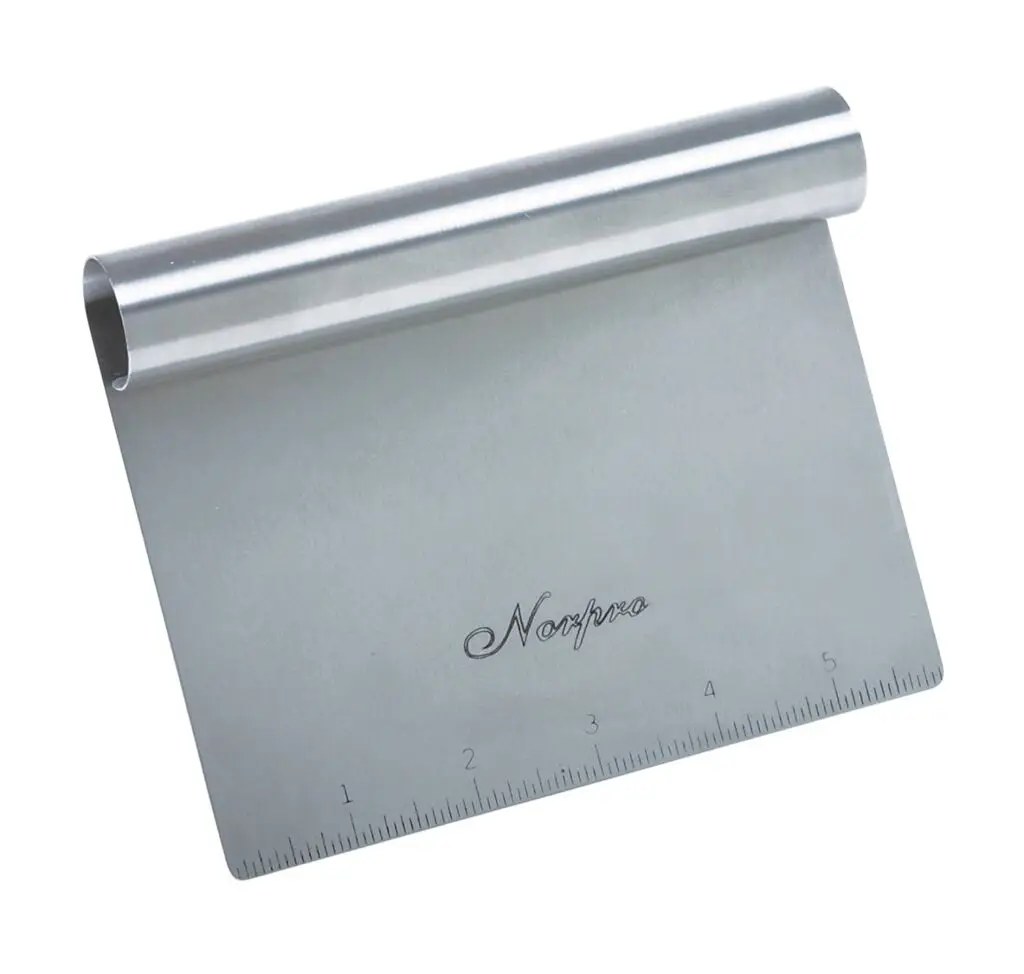 I never roll out any type of pastry without my bench scraper near by.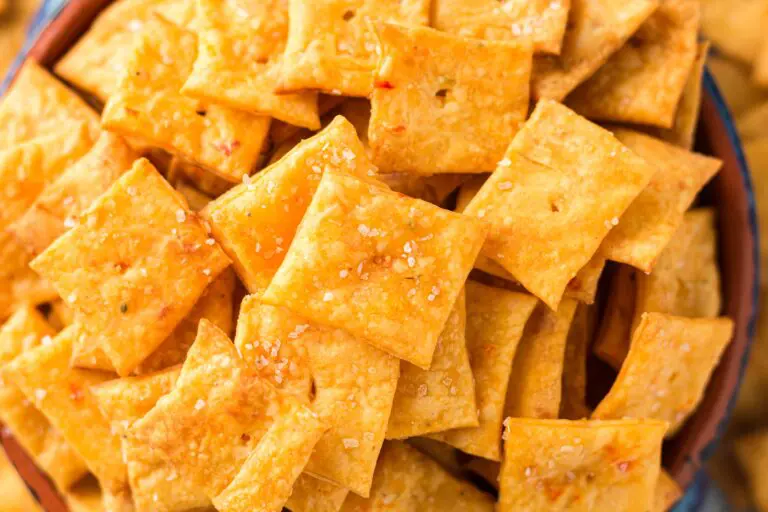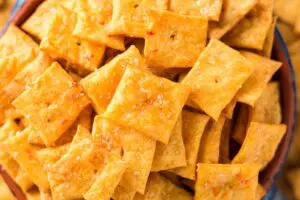 Homemade Cheez-Its
Crispy, light crackers that taste just like store-bought Cheez-Its but with the added flavor of pimento cheese
Ingredients
1

C

Best Ever Pimento Cheese*

1

C

all-purpose flour

2-3

Tb

cold water

kosher salt to taste
Instructions
Preheat the oven to 375. Prepare two baking sheets with parchment paper.

Add the pimento cheese to a food processor. Pulse twice to break down the peppers and cheese to a fine mince. If you don't have one, you can use a pastry blender, food mill, ricer, or even a fork if you're persistent enough.

Add the flour and pulse until the mixture resembles pea-size crumbs. Slowly add the cold water and pulse until the mixture comes together. Start with two tablespoons and add 1 tsp at a time after that as needed. The dough should come together to form a ball but it should not be sticky.

Separate the dough into two discs and wrap each with plastic wrap. Chill the dough until very cold or at least four hours. The dough can also be made in advance and kept refrigerated for up to three days before preparing.

To prepare the crackers, dust your work surface generously with flour. Remove one disc from the fridge at a time. Sprinkle additional flour on top of the top and the rolling pin.

Roll the dough out until it is paper thin (less than ⅛ inch), rotating the dough occasionally to ensure it doesn't stick. You can also add additional flour as necessary. The thinner you roll out the dough, the more crisp your crackers will be.

Cut the dough into 1-inch square pieces. Use a toothpick or wooden skewer, poke a hole in the middle of each cracker. You can also quickly prick each cracker with a fork.

Using a bench scraper or offset spatula, carefully remove the crackers from the work surface and place on the prepared baking sheets. Leave at least half an inch around all sides between crackers to ensure they crisp and don't steam in the oven. Sprinkle each cracker with a couple of grains of salt.

Bake in batches for 8-12 minutes or until the crackers are browned around the edges. There is a fine line between perfectly baked and burnt. Good news though…if you take the crackers out of the oven too soon, you can always bake them a bit longer once you realize they haven't reach peak crispness. You cannot, however, un-bake them if you burn them.

Start at 8 minutes and then stay close to the oven, checking them every minute. I remove the pan from the oven at minute 8 or 9 and remove the crackers that are browned from the pan and place them on a cooling rack. I put the pan back in the oven with the crackers that need a little more time.

You're looking for the cracker to be totally dried out. The best way to check them is to drop the cracker onto a plate from 2-inches above. It should sound like a potato chip, light and crispy, and bounce on the plate a bit.

Allow the crackers to cool completely before serving. The crackers can be stored in an airtight container for up to a week.
FREQUENTLY ASKED QUESTIONS
Do I have to use Best Ever Pimento Cheese or will store-bought work?
I only tested the recipe with Best Ever Pimento Cheese, so I cannot say for sure the recipe will turn out the same with store-bought.
Can I make this recipe without a food processor?
Yes, but a pastry blender like the one pictured below would be helpful.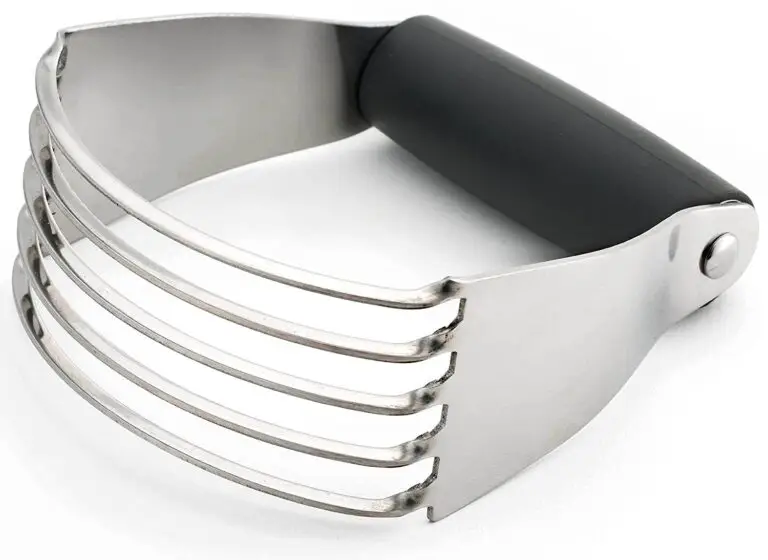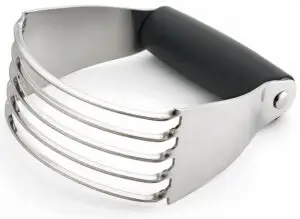 How long will the crackers keep?
The crackers will stay crisp for up to a week if stored in an airtight container.
The following two tabs change content below.

Hey-ooo! I'm Hailey, and I'm a number cruncher by day and cussing cook by night. I created this site to share my love for delicious food that feeds the soul as well as the belly. I hope my recipes have you running to the kitchen to cook some damn good grub!