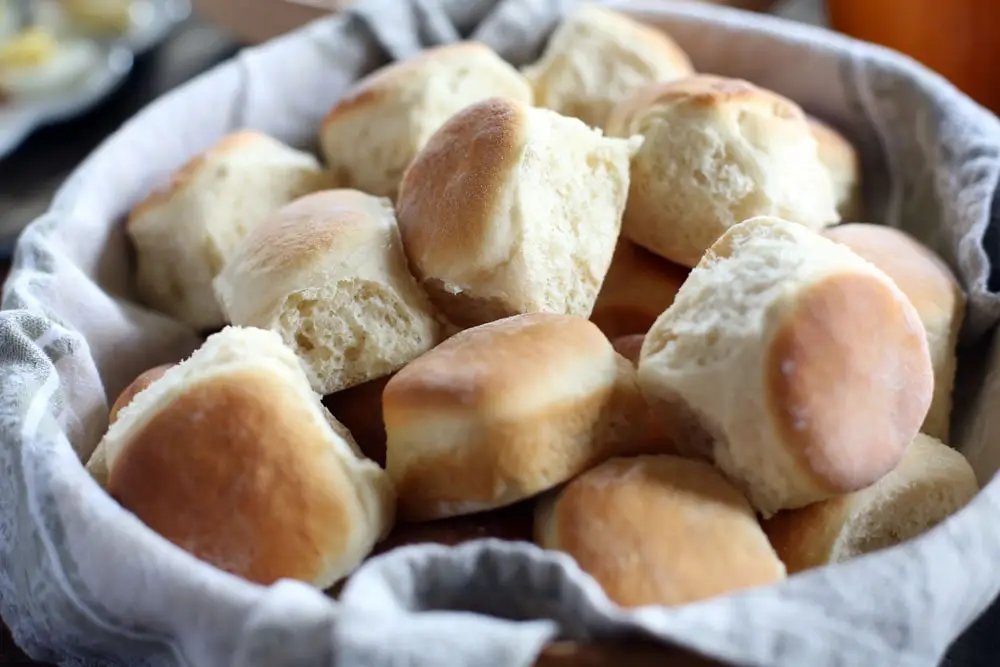 Yeast Rolls are a must-have side item at Thanksgiving or Christmas celebrations. Everybody loves delightful white bread to sop up all the juices and remnants of Thanksgiving dinner left on your plate. These yeast rolls are super simple to make and just require a little time for rising. The holidays are the perfect time to make them…lord knows you have plenty of other tasks you can take care of as the rolls are rising.
Yeast rolls are a staple of my family's celebrations. My mom always makes them just as her mother did. The recipe is my grandmother's and has been tested hundreds of times. There is just nothing better than a homemade yeast roll, hot from the oven and slathered in salted butter. My mouth is watering at the thought.
There is just nothing better than a homemade yeast roll, hot from the oven and slathered in salted butter.
These rolls are most easily made with a stand mixer with a hook attachment or a bread machine if you have one. You can also make the recipe by hand, starting with a wooden spoon to combine all the ingredients. I use a stand mixer to get the dough started and then work the dough for a few minutes by hand.
Making bread from scratch is not something most of us do often, but there is something so enjoyable, almost meditative about working bread dough. I often find myself drifting off into a daydream as I knead the dough. If you've never made a yeast bread from scratch, this is a great recipe to start with as it doesn't require a great deal of technical skill. Hence why I like making it too!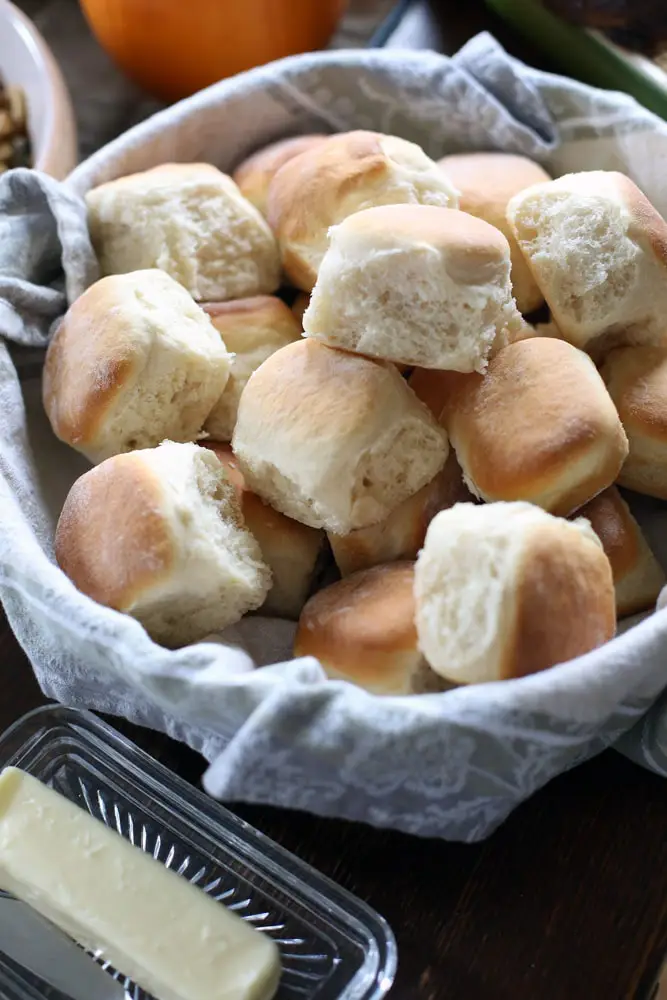 You'll know you've done it right when you peek under the dishcloth after the first hour of rising. If your dough has almost doubled in size, you've done it! You've made bread! F*cking nailed it! Some of the common mistakes that prevent the magic of yeast are adding too hot of water to the yeast (you want very warm not hot water) or adding too much flour to the mix which makes a very tough dough.
If you can avoid those two mistakes, chances are you're going to turn out with beautiful, light and fluffy yeast rolls that people will barely believe you made from scratch!
Be brave and give it a go! I can't wait to hear what you think. Let me know in the comments sections below.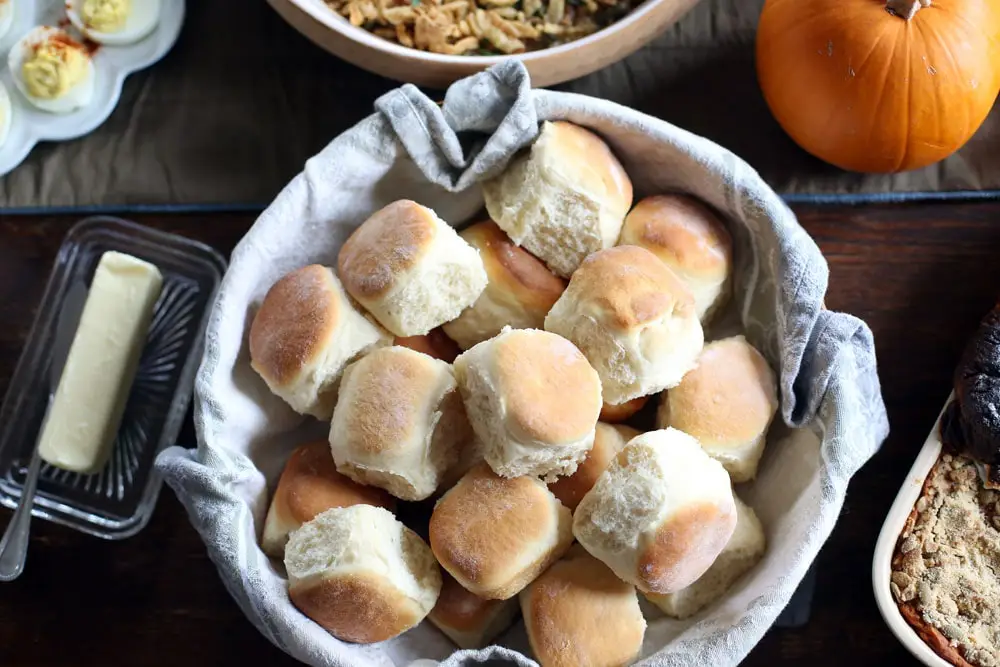 Helpful Utensils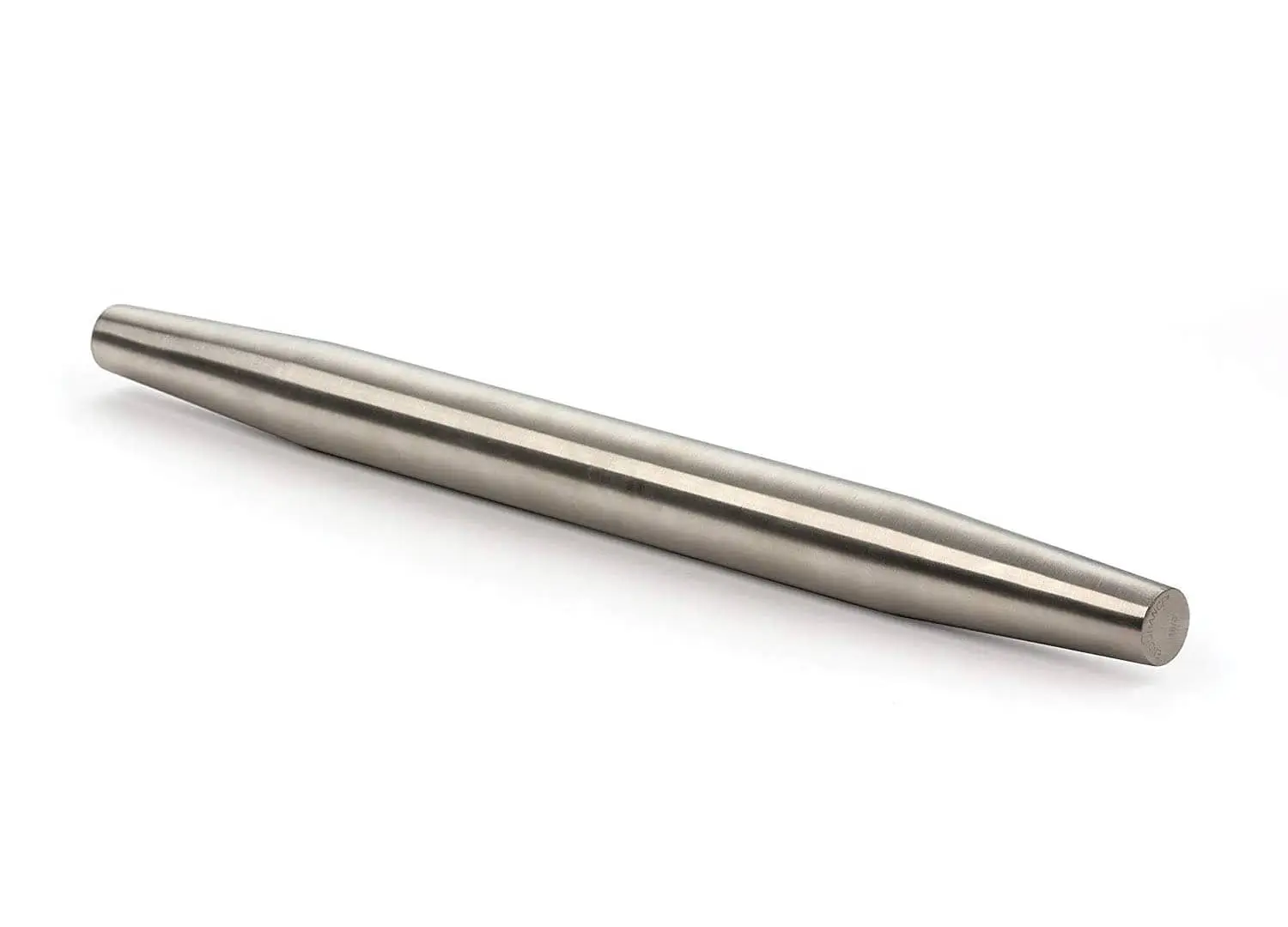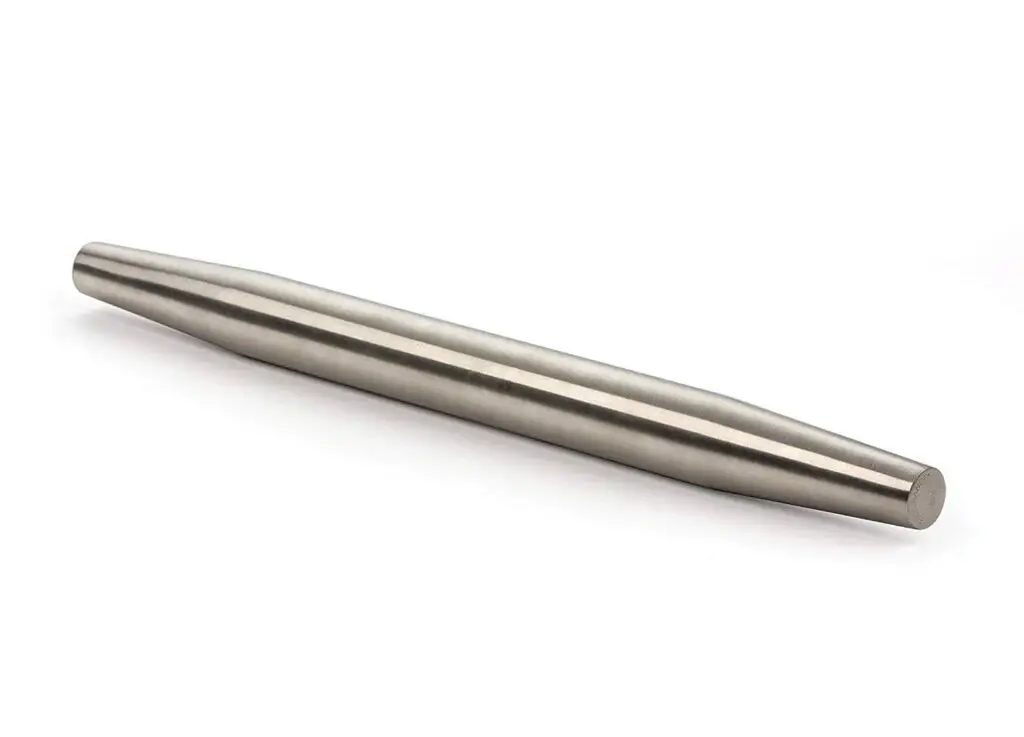 I love having a rolling pin that I can throw in the dishwasher. This French style pin is a great classic utensil to have in your kitchen.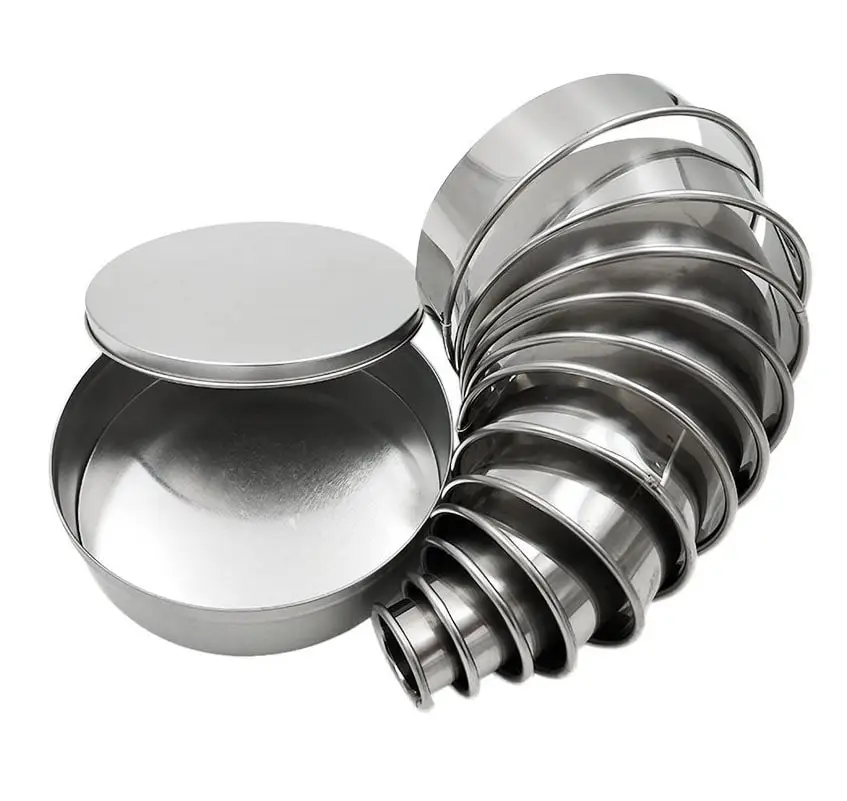 It's so nice to have a complete cutter set that you can use for rolls, biscuits, cookies and more. This one stores in one neat, tidy pile too!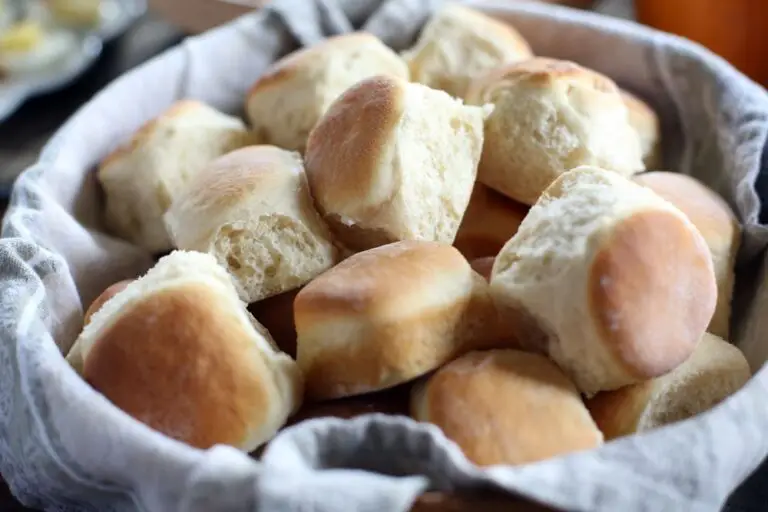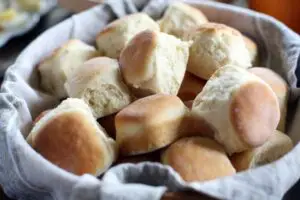 Homemade Yeast Rolls
Light and fluffy yeast rolls are the perfect complement to any holiday meal. Homemade rolls are really quite easy to make and your friends and family will be so impressed you've made homemade bread! There's is nothing tastier than a homemade yeast roll fresh from the oven, slathered in butter. Thanksgiving isn't right without them!
Ingredients
3+ ⅔ C

all purpose flour

1

package of instant yeast

1

C

water

divided

¼

C

sugar

1

tsp

salt

⅓

C

instant nonfat dry milk

1

egg

beaten

¼

C

butter

melted
Instructions
Dissolve the yeast into a ¼ C warm water. Once dissolved add ¾ C cool water to the mixture and add to a stand mixer with a hook attachment or a bread machine. Add the sugar, instant milk, salt, beaten egg, and melted butter and turn mixer on low to combine.

Turn the mixer off and add 2.5 C flour and turn the mixer back on low and mix until the dough starts to come together. Add the remaining flour in small batches until the dough is cohesive but still a bit sticky. Depending on the conditions, it can take as little as 3 cups and up to 4. My mom always uses a bread machine and she adds 4 C of flour to include the flour you would normally incorporate as you work the dough.

Once the dough has come together, pour onto a well-floured work surface and work the dough until it is no longer sticky. I usually incorporate 3 C of flour in while in the mixer and the remaining ⅓ to ⅔ C as I'm kneading. Keep adding flour as necessary to keep the dough from stick to your surface.

Once the dough is no longer sticky, let the dough rise on your work surface for at least an hour. Cover with a dishcloth while rising. After rising for an hour, roll the dough out to 1.5-inch thickness and cut into small 2.5-inch rounds.

Once cut, place the rolls onto a buttered baking sheet and allow to rise for another hour before baking. Again, cover with a dish towel while rising.

Preheat the oven to 375 degrees.

Bake the rolls for 15 minutes. Remove from the oven and top with melted salted butter and a pinch of kosher salt. Bake for another 2-3 minutes. Serve warm.
Notes
The rolls can easily be frozen after cooking, and then reheated in the oven or in the microwave after defrosting.
The following two tabs change content below.

Hey-ooo! I'm Hailey, and I'm a number cruncher by day and cussing cook by night. I created this site to share my love for delicious food that feeds the soul as well as the belly. I hope my recipes have you running to the kitchen to cook some damn good grub!