Once you learn to make Easy Homemade Pizza Dough, you will wonder why you ever depended on the delivery man for hot, fresh pizza. As advertised, this pizza dough is so easy to make and uses ingredients that are pantry staples. The crust turns out with the perfect amount of chew and crisp edges.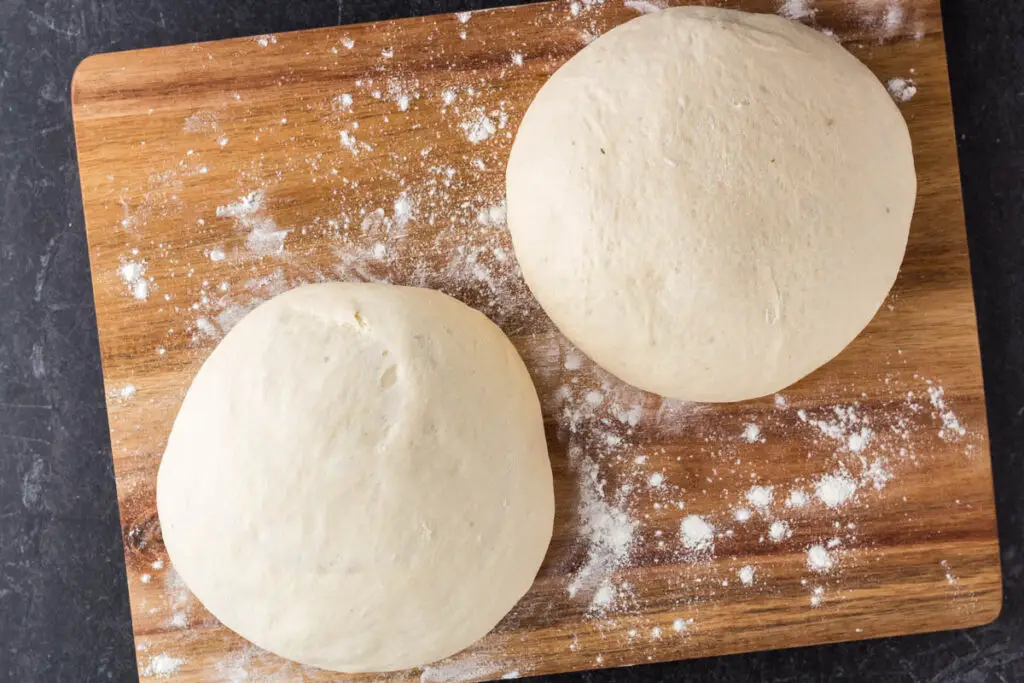 A stand mixer is helpful for making the dough, but it's not required… more on that below. Don't let the lack of special equipment stop you from making pizza at home. Once you start making dough from scratch, you'll realize how easy pizza is to make!
What is pizza dough made of?
The ingredients in pizza dough are all pantry staples, but they are all important to the recipe.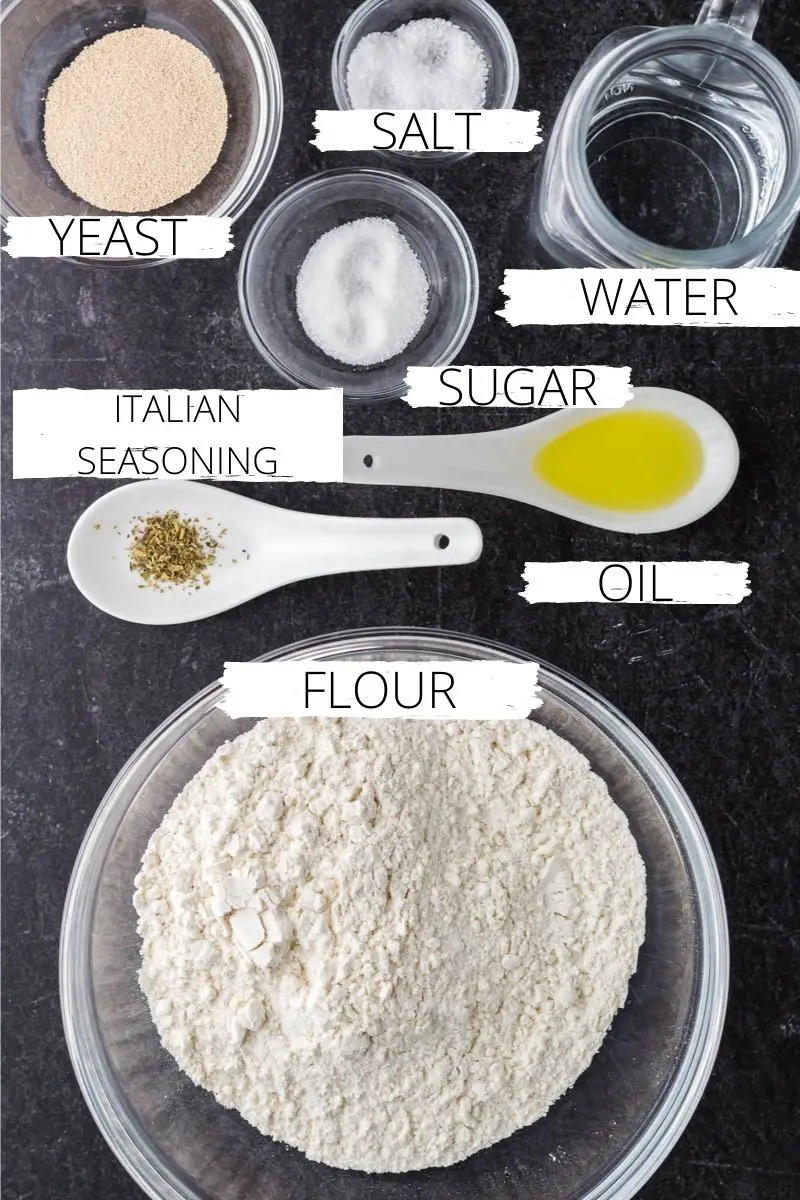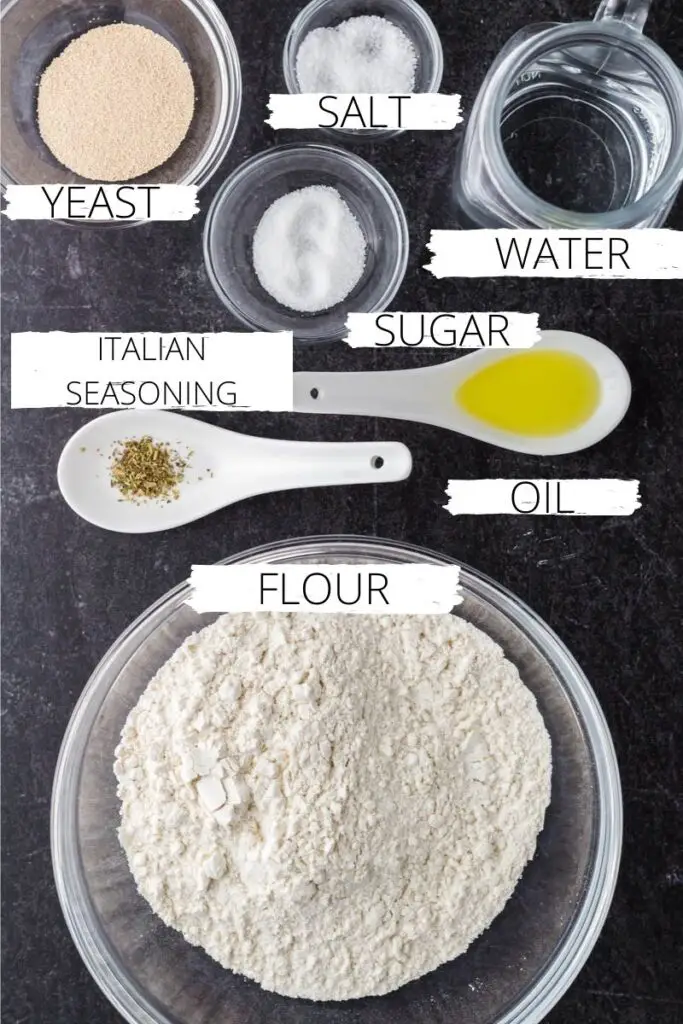 The temperature of the water matters.
You need to use warm water so that the yeast dissolves properly. If the water is too hot, it will actually kill the yeast and the dough won't rise at all. I like to use tap hot water. A good rule of thumb is that if the water is too hot to touch, it's too hot for yeast.
All-purpose flour makes a delicious pizza crust.
All of you die hard double-zero flour people- come at me. For the rest of you who are wondering if double-zero is an action movie you missed, don't worry about it!
Double zero flour is what a lot of recipes call for. It does give the crust a distinct chew, but honestly, I am not a fan of recipes that require a different type of flour. We always have all-purpose in the pantry, so I created a recipe that only requires that.
Instant yeast speeds up the recipe time.
Instant yeast is also sold by Fleischmann's at Rapid Rise yeast. The difference between instant yeast and active dry yeast is that instant yeast comes already activated- meaning you can mix it straight into other ingredients and it will rise.
Active dry yeast must first be activated in water for a few minutes before adding flour and other ingredients. If you botch this step, your dough may never rise which is quite disappointing. Instant never fails in that way.
From my experience, active dry yeast also rises more slowly than instant yeast does. Using instant yeast is a time saver during both the prep and rise times and helps keep the recipe fail-proof.
Is a stand mixer necessary to make pizza dough from scratch?
I'm not going to lie. A stand mixer certainly makes dough from scratch easier. If you're interested in one, I have linked to one below. That being said, I know it is a significant investment and takes up a lot of counter space. You can definitely still make pizza dough at home if you don't have a mixer.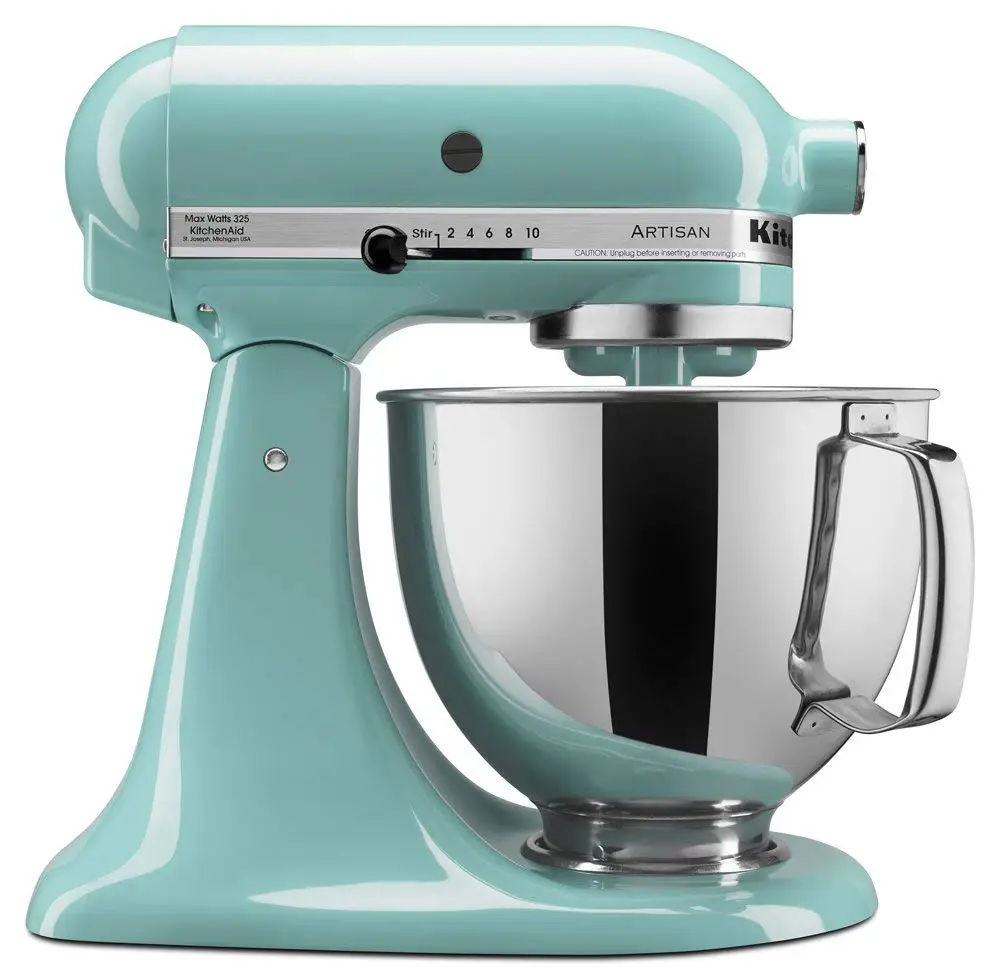 To make the dough without a mixer, you will need to work the dough for the final 2-3 minutes by hand. As soon as the dough comes together after adding the olive oil, turn the dough out onto a lightly floured work surface. Gently knead the dough for the remaining two minutes until the dough feels elastic and smooth in texture.
Here is a great tutorial video if you're just learning to knead dough by hand.
Where to let dough rise
Dough should be left to rise in a warm place but not hot. Yeast is sensitive and much like hot water can kill your yeast, too hot of temperatures when rising is not good for the dough. During the summer, room temperature is sufficiently warm enough, but during the winter I like to use my dryer. I learned this tip from another blogger, and I love it!
First, make sure your dryer is empty. Turn the dryer on for 5 minutes on medium heat with nothing inside. Stop the dryer after five minutes and place the bowl containing the dough inside and quickly close the door. Don't turn the dryer back on! Let the dough rise in the dryer with the door closed (no peaking) for 45 minutes.
When is the pizza dough ready?
When the dough has doubled in size, the dough is ready for pizza toppings. I like to use a bowl that is double the size of the unrisen dough ball. That way, you know the dough is ready when the dough fills the bowl.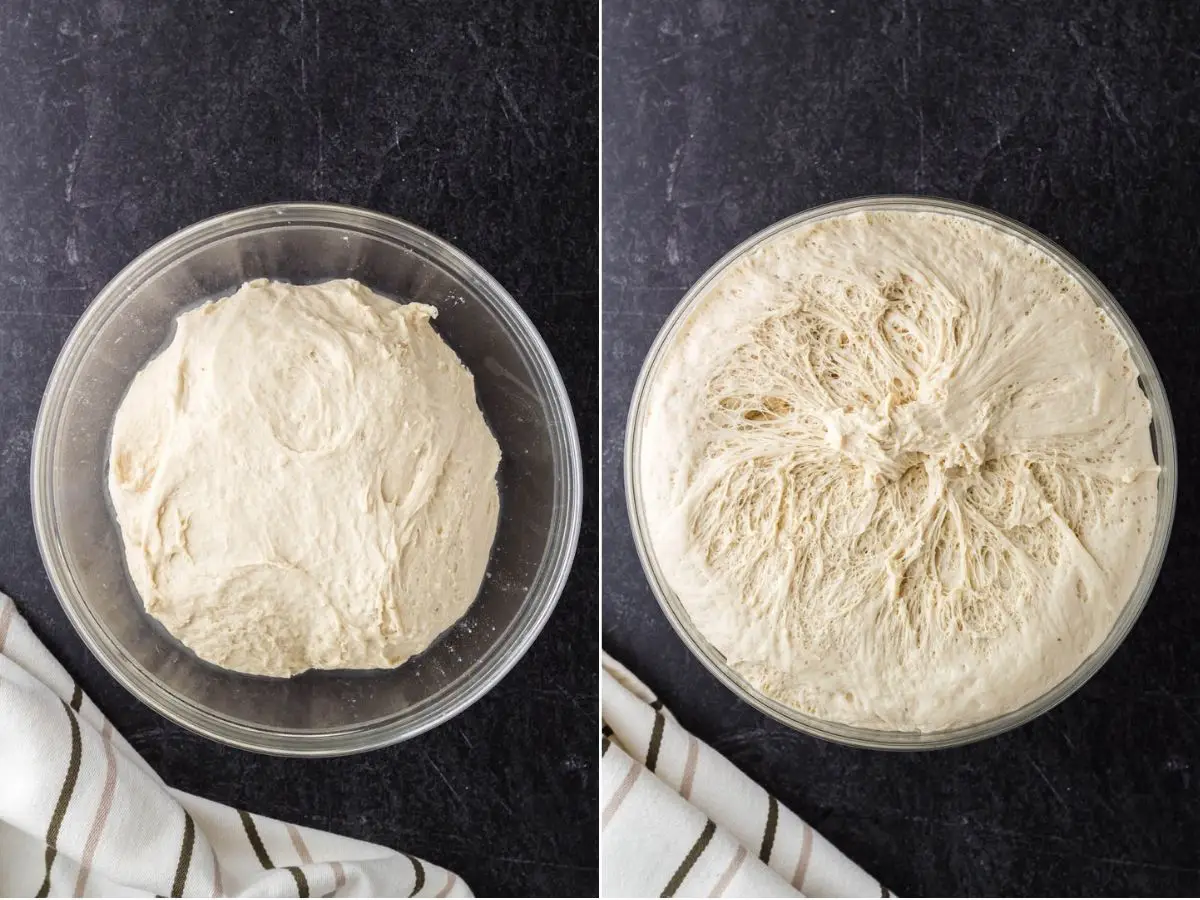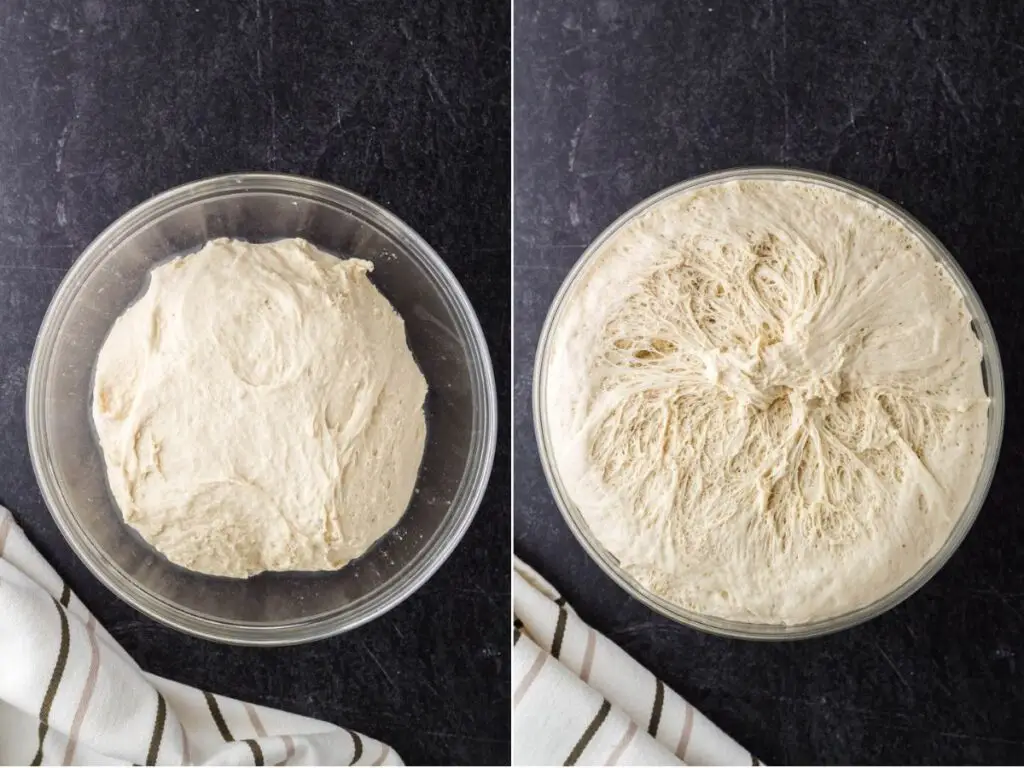 Pro tip: Spray the side of the plastic wrap that will be touching the dough with a bit of baking spray before placing on top of the bowl. You can see what happens in my image above when the dough sticks to the plastic wrap. Not a big deal, but it's easily avoided with this extra step.
How long will the dough last
Pizza dough can be kept in the fridge for up to 48 hours. Just place the bowl sealed with plastic wrap in the fridge. The dough will rise some in the fridge but not fully. Plan to let the dough rest at room temperature for an hour before baking.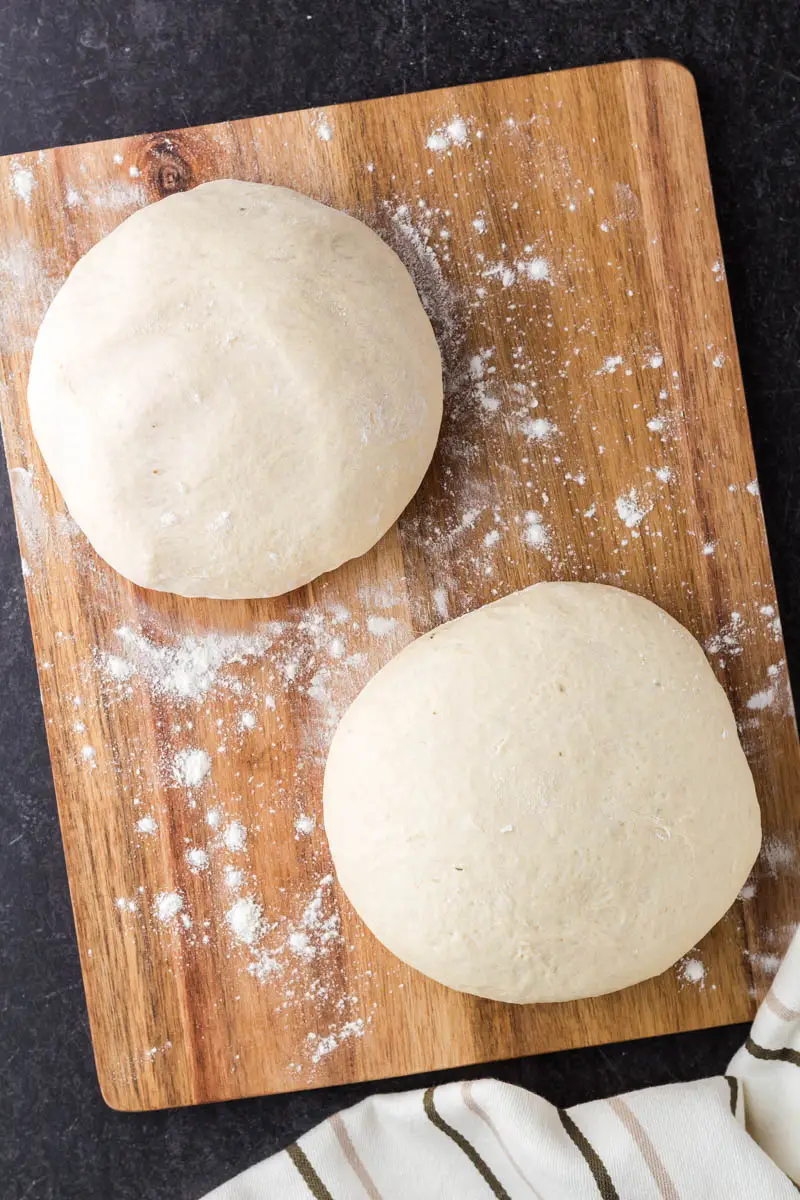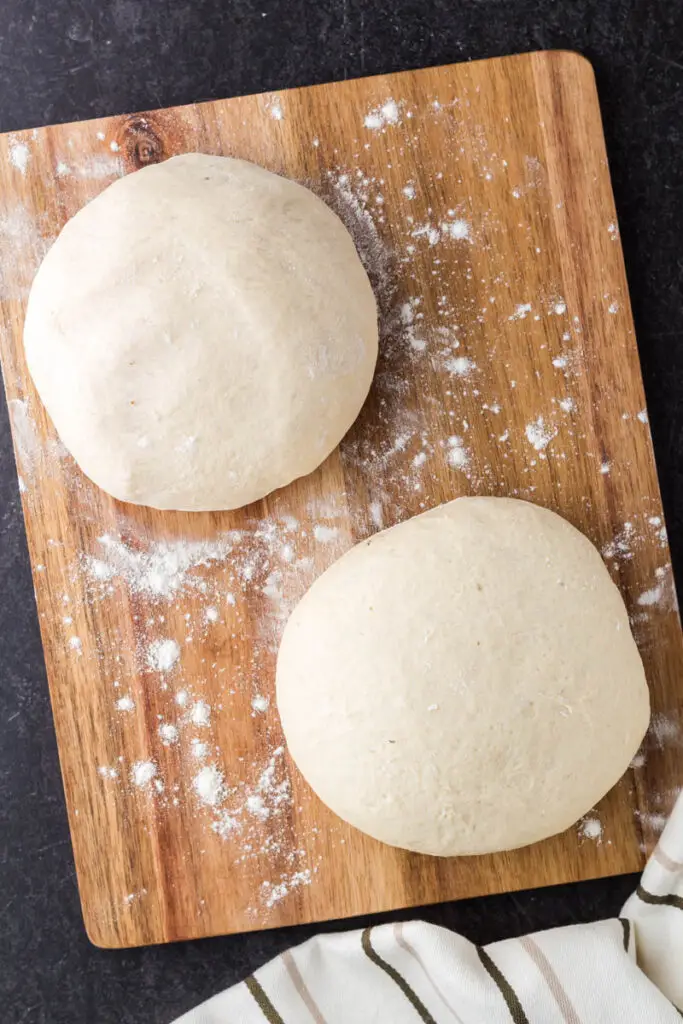 Can pizza dough be frozen?
When freezing pizza dough, you will want to let the dough rise first. After the dough has risen, form into the desired size crust and freeze. The crust will need to thaw in the fridge overnight and then come to room temperature before baking.
I promise that once you start making homemade pizza, delivery pizza will be a thing of the past. Homemade pizza is almost a weekly occurrence at our house because it is that simple and delicious.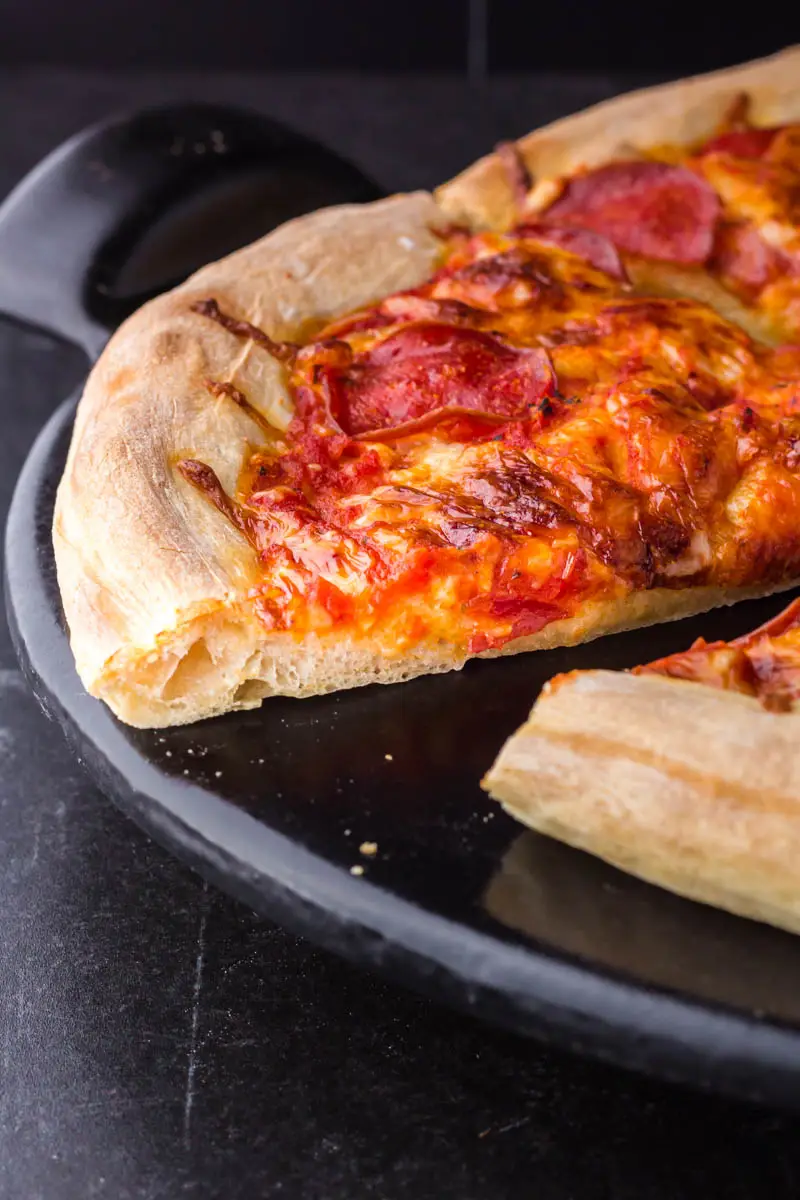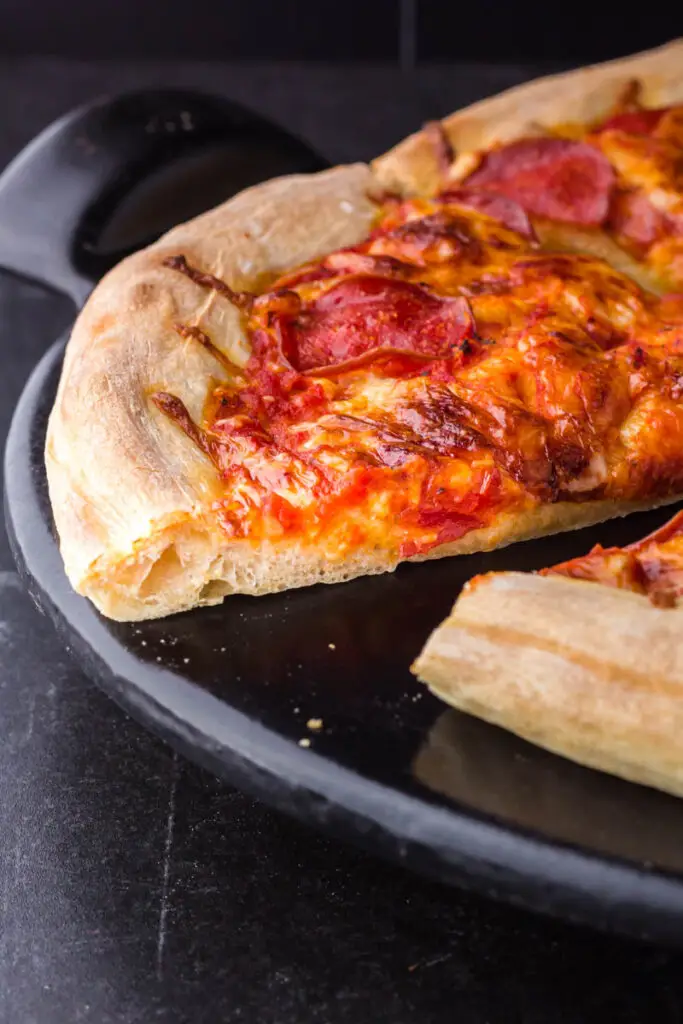 If you're looking for a new pizza to try, be sure to check out my Prosciutto and Arugula Pizza with Cantaloupe. It's like no pizza you've had before!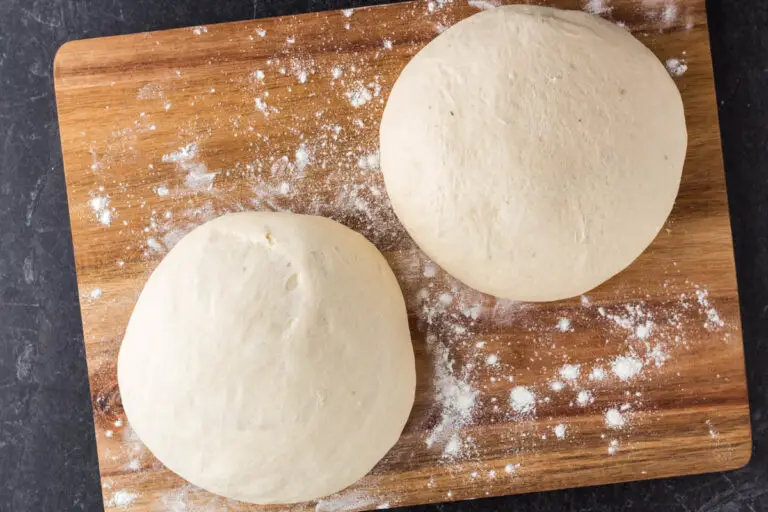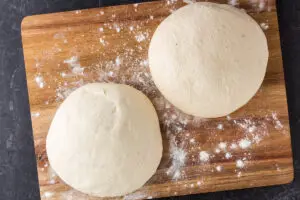 Easy Homemade Pizza Dough
Easy Homemade Pizza Dough is quick and you probably already have all of the ingredients in your pantry right now. The crust is chewy with a crisp edge- perfect for homemade pizza!
Ingredients
⅞

C

warm water

approx. 110 degrees

1

packet

instant yeast

or 2¼ tsp

1

tsp

white sugar

1

tsp

kosher salt

2

C

all-purpose flour

1

Tb

olive oil

⅓

tsp

Italian seasoning

optional

baking spray
Instructions
Add the water, yeast, and sugar to a stand mixer bowl fitted with a dough hook attachment. See details above on how to make if you don't have a stand mixer. Mix on medium to combine.

Turn of the mixer and add flour, salt, and Italian seasoning. Mix on low until the dough starts to come together. If the dough looks dry after a full minute on low, add more water 1 Tb at a time until the dough comes together.

A dough that is slightly sticky is favorably to a dry dough. If the dough is dry, the crust will be tough. It's okay if the dough is slightly sticky to the touch. It will become less sticky after rising.

Work the dough on low speed for 2 minutes before drizzling the olive oil around the edge of the bowl with the mixer on. Continue to work for another 30 seconds. Turn the mixer off.

Prepare a large clean mixing bowl with baking spray so that the dough doesn't stick after rising. Remove the dough from the stand mixer bowl, gently forming into a ball shape, and place into the prepared clean bowl. Cover the bowl tightly with plastic wrap.

Allow the dough to rise for 45 minutes to an hour in a warm (not hot) place until it has doubled in size.

If making two 12-inch pizzas, be sure to split the dough into two equal portions before placing on baking sheets.

Prepare your pan or pizza stone with a spritz of baking spray before placing dough out onto the pan. Press down the dough gently with your hands to knock the air our and then stretch the dough from the center outwards to fill the pan.

Using a fork, prick holes in the center area of the dough where the toppings will be placed to prevent the crust from bubbling up. Top with sauce and desired toppings.

Bake at 425° for 15-18 minutes depending on the amount of toppings and desired doneness.
Notes
* This recipe will make one sheet pan size pizza or two 12-inch round pizzas.
The following two tabs change content below.

Hey-ooo! I'm Hailey, and I'm a number cruncher by day and cussing cook by night. I created this site to share my love for delicious food that feeds the soul as well as the belly. I hope my recipes have you running to the kitchen to cook some damn good grub!