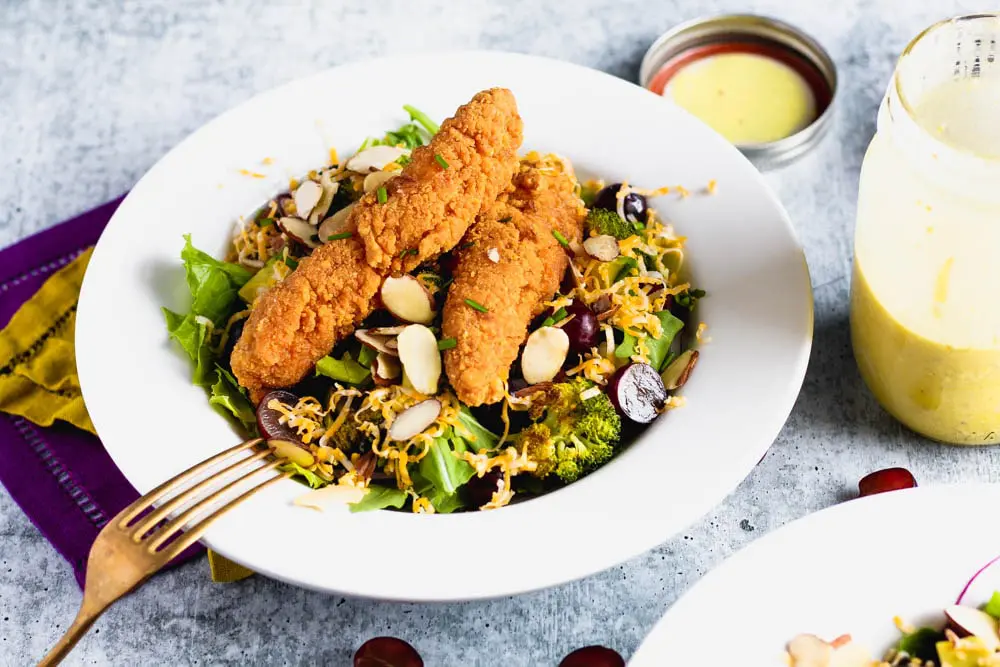 Crispy Chicken is easily one of my favorite things on the planet so matter what brand or style, but I also try to make sure my diet is balanced with plenty of fresh fruits and veggies. My Crispy Chicken and Broccoli Salad is a recipe with both decadence and sustenance.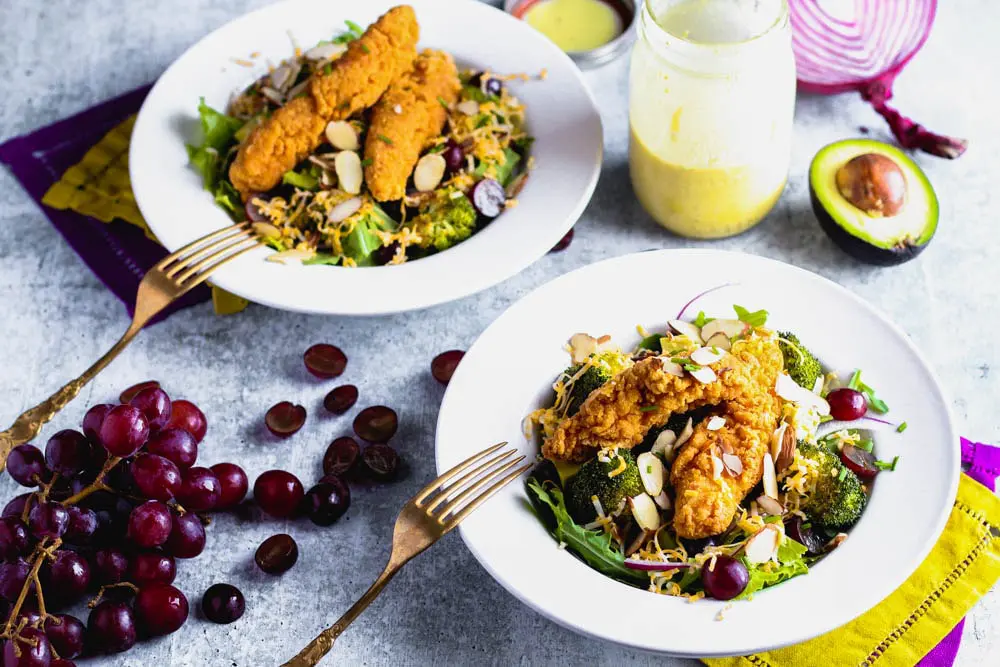 Roasted broccoli and chicken are a very common dinner choice, at least around my house, but I wanted to spice up this classic dinner fare. I'm also always looking for ways to mix up my salad game and eat more of it at home. I came across this recipe in an old Cooking Light magazine (RIP, you were one of my favorites) and have been making different versions of it ever since.
Let's break down the ingredients in this super fast and simple salad. First, crispy chicken…if you read this and thought you were going to have to fry or even bread your own chicken, you were wrong.
Instead, I use a shortcut of frozen chicken strips or nuggets in this recipe.
There are so many quality options out there or inexpensive ones if that's more your focus when planning your weekly dinners. Either will work just fine, just pick out a brand you like. If you feel strongly about avoiding processed foods, then I would recommend making my Corn Flake, Almond and Sesame Chicken Strips for your salad.
But if you're always in need of a little extra time in your day, go with the frozen chicken strips and keep it moving. Roasted broccoli is another game changer for this salad. I think the secret is pretty much out at this point, but roasted broccoli totally kicks steamed broccoli's ass, every time!
Roasting broccoli adds a whole new layer of complexity to the flavor and ensures the broccoli maintains some of its crispness after cooking too. I'm not a fan of super soft veggies, especially not in a salad where I think everything should add some texture to the dish.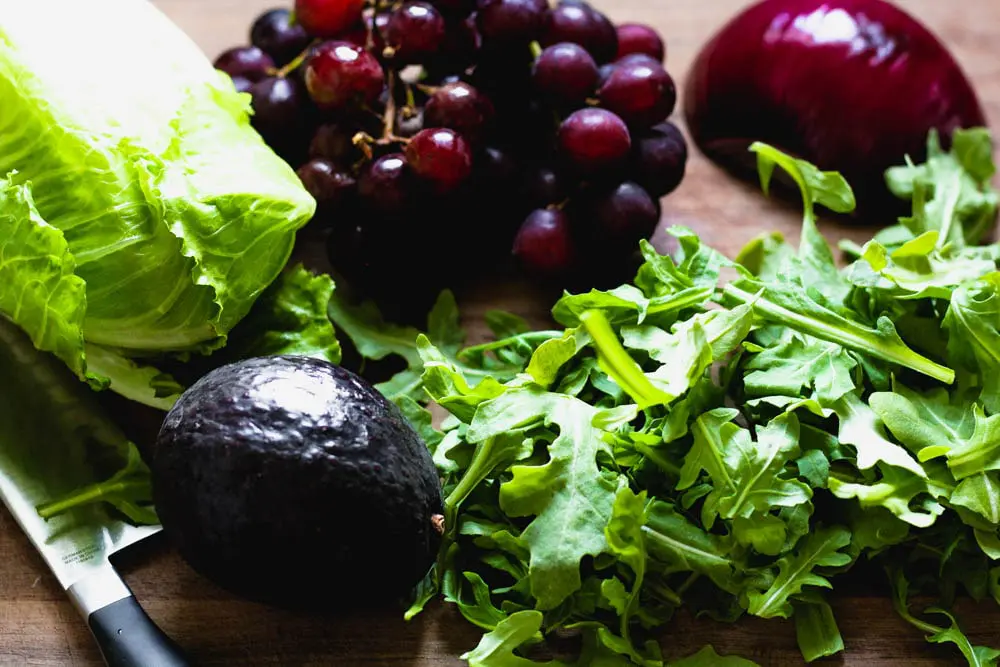 A homemade dressing can also go a long way to upping your salad game.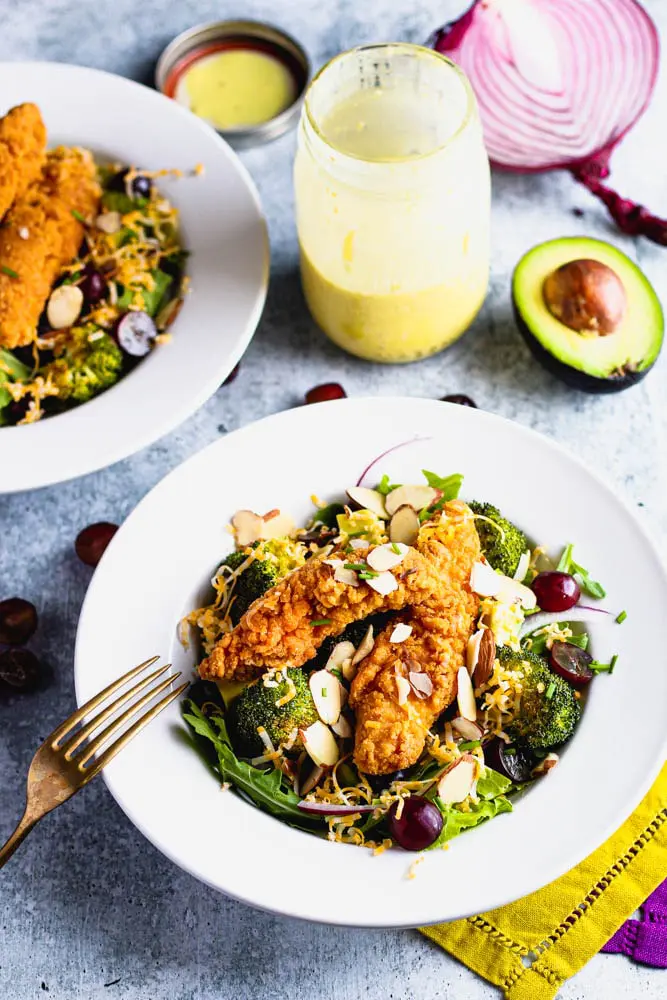 I top my Crispy Chicken and Broccoli Salad with a homemade honey mustard dressing. My honey mustard has plenty of vinegar which means plenty of tang and a nice pourable consistency.
You can also control the balance of honey to mustard when you make your own dressing. I don't like mine too sweet so I use one tablespoon of honey, but you should taste it after adding one tablespoon and decide your preference. If you want more sweetness or honey flavor, add another tablespoon…no judgment. It's your damn dressing!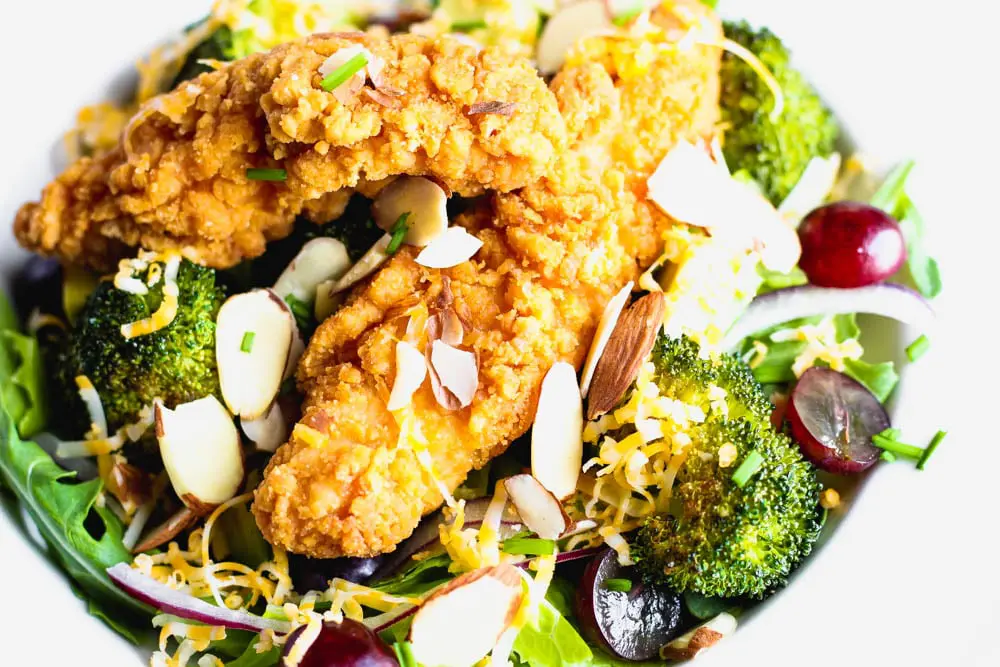 Everyone knows that the toppings on a salad are what really make it, and this recipe is no exception. Instead of croutons (which I f*cking love btw), I went with a healthier contributor of crunch with sliced almonds. The grapes also add a nice pop of texture… not exactly a crunch but you get my drift.
Diced avocado and shredded cheddar cheese give the salad the creamy, rich notes any good salad needs. I actually thought that bacon would be pretty dang tasty in this recipe too, but I showed some restraint in my addition of fatty goodness here. ?
Crispy Chicken and Broccoli Salad is a regular in my dinner rotation for several reasons. First, it's a really easy and fast weeknight dinner option. Second, crispy chicken is the best, period. If you don't agree, well, I'm sad for you. Last, it's a dinner you can really feel good about eating! Try this recipe out with your family, and you'll see just what I mean!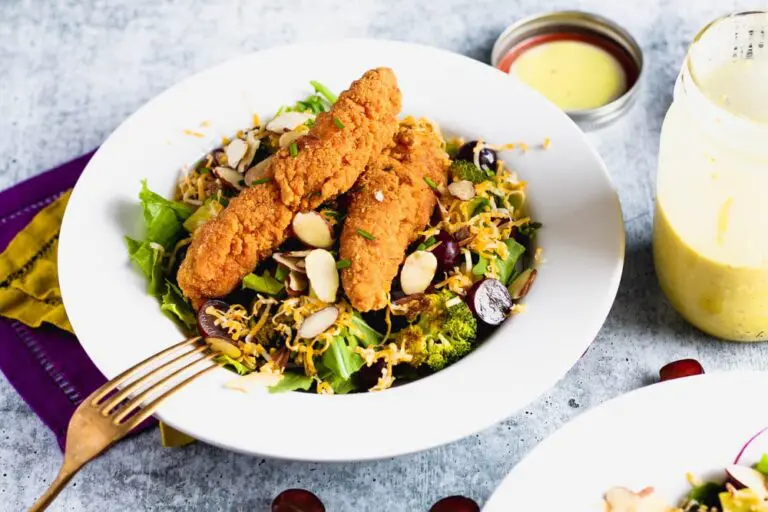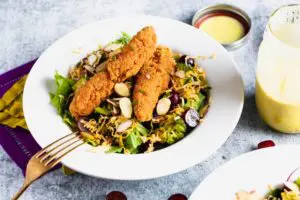 Crispy Chicken and Broccoli Salad
Store-bought chicken strips and humble roasted broccoli are combined with a homemade honey mustard dressing and a delicious mix of sweet and crunchy garnishes to create an easy-to-make and delicious salad. This salad makes a fast weeknight dinner and is perfect for lunch meal prep
Ingredients
Dressing
¼

C

mayo

2

Tb

yellow mustard

1

Tb

stone ground or Dijon mustard

1-2

Tb

honey

2-3

Tb

apple cider vinegar

2

Tb

olive oil

pinch

salt

pinch

black pepper
Salad
1

bag frozen chicken nuggets or strips

1

lb

broccoli crowns

2

Tb

olive oil

1

romaine lettuce heart

2

C

arugula

½

red onion

1

avocado

1

C

red seedless grapes

¼

C

shredded cheddar

¼

C

sliced almonds

chives

optional
Instructions
Preheat oven to the temperature called for on your chicken strips. For mine, it was 400 degrees. Line two baking sheets with nonstick foil for easy cleanup.

Place the chicken strips on one baking sheet. Trim the broccoli from the stems and cut into bite-size pieces. Place the broccoli on the other baking sheet and coat in 2 Tb olive oil and a sprinkle of salt and pepper. Cook the chicken according to package instructions.

Below are cooking times for the broccoli to accommodate the common temperatures most frozen chicken products will require. Turn both the chicken and the broccoli over halfway through the cooking time.

- 350 degrees- 30 minutes

- 375 degrees- 25 minutes

- 400 degrees- 20 minutes

- 425 degrees- 15 minutes

While the chicken and broccoli cook, prepare the other salad ingredients and make the dressing. Cut the romaine lettuce into bite-size pieces and combine with the arugula. Thinly slice the red onion. Cut the avocado in half and remove the seed. Dice the avocado and remove from the skin. Remove the grapes from the stem and slice in half. Thinly slice the chives.

To make the dressing, whisk together the ingredients in a small mixing bowl. Start with 1 Tb honey and 2 Tb of apple cider vinegar, mix ingredients, and taste the dressing. If you like more acidity or sweetness, adjust the amount of honey or vinegar as needed.

To serve, start with a bed of romaine and arugula. Add the red onions and sliced grapes. Place the chicken strips on top and top with avocado, cheese, almonds, and chives. Serve with honey mustard dressing.
The following two tabs change content below.

Hey-ooo! I'm Hailey, and I'm a number cruncher by day and cussing cook by night. I created this site to share my love for delicious food that feeds the soul as well as the belly. I hope my recipes have you running to the kitchen to cook some damn good grub!