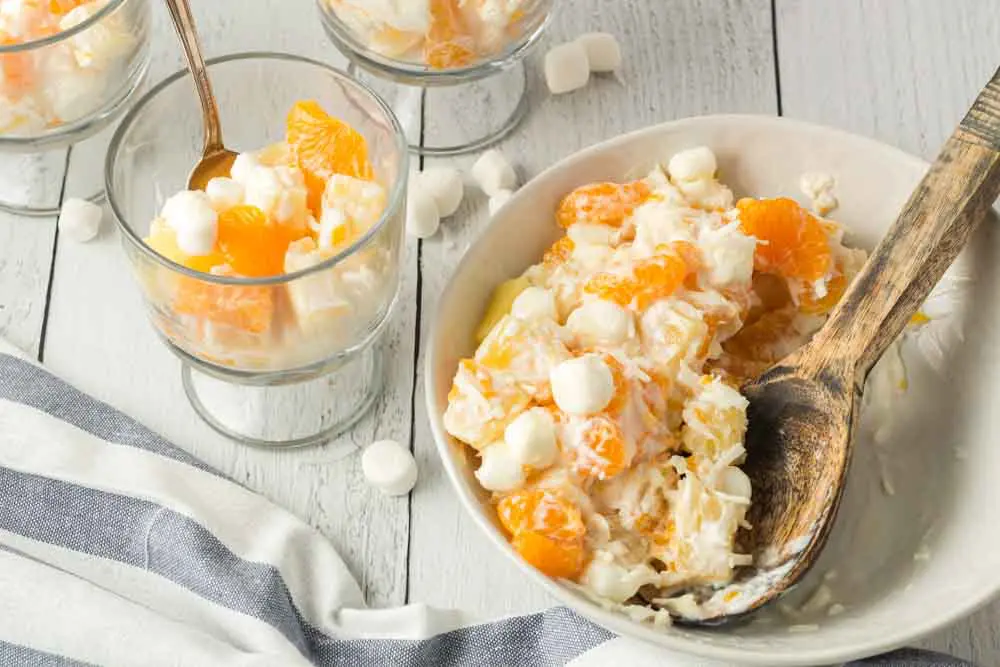 5-Cup Salad is essential for Christmas, and it could not be easier to make. 5-Cup Salad is my family's version of ambrosia, a classic Southern fruit salad that also includes shredded coconut and mini marshmallows.
For those of you who are thinking, what the f*ck…fruit and marshmallows?! Just chill and trust me. This fruit salad is sweet and tangy with a little added tartness from sour cream.
You will be surprised at how much you like it once you try it.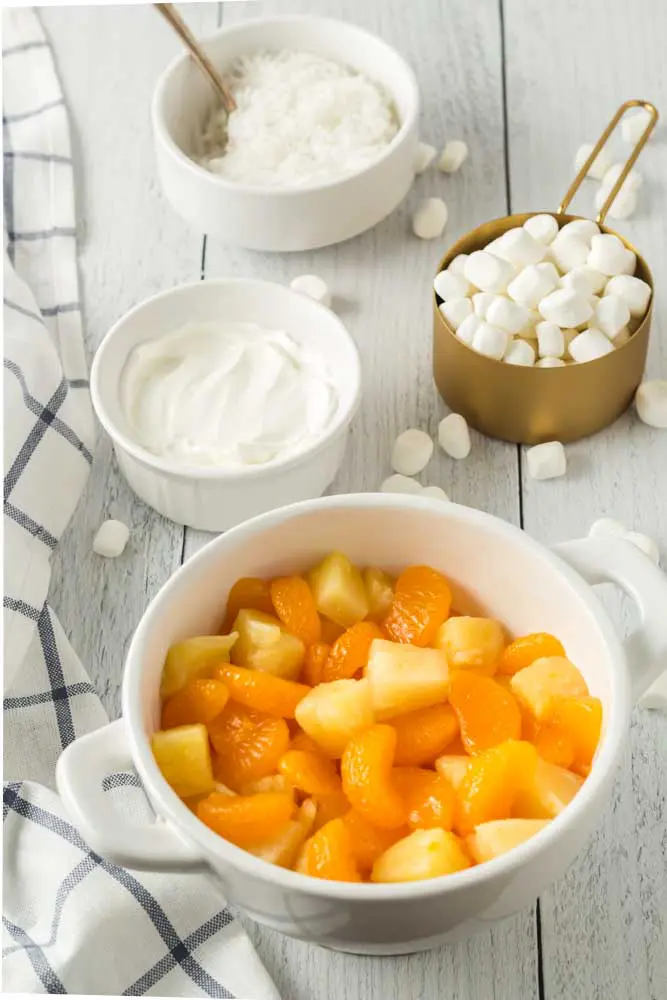 I realize that ambrosia salad is in a class of foods that includes Jello salads and generally really freaks people out, but I just couldn't resist posting this recipe before Christmas. I can't deny that my family loves this shit in all of its simple glory!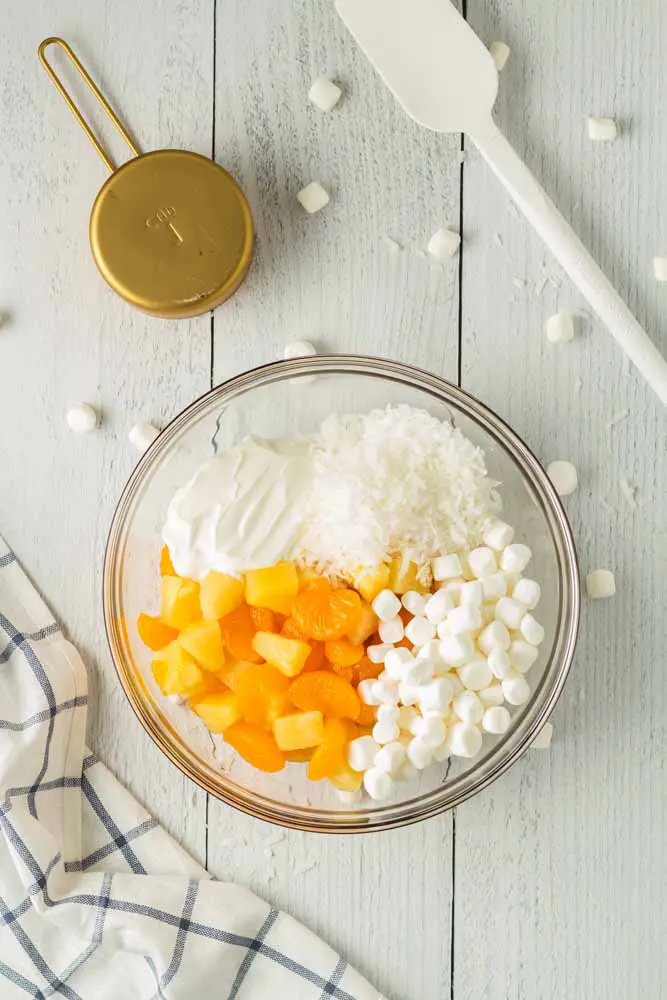 We always have 5-Cup Salad at holidays like Christmas and Easter. It's the perfect sweet and citrusy addition to the typical holiday dinner. Not only it is scrumptious right after being made, but it's also even better once the salad has sat in the fridge overnight. My sister, mom and I have been known to have it for breakfast the next day.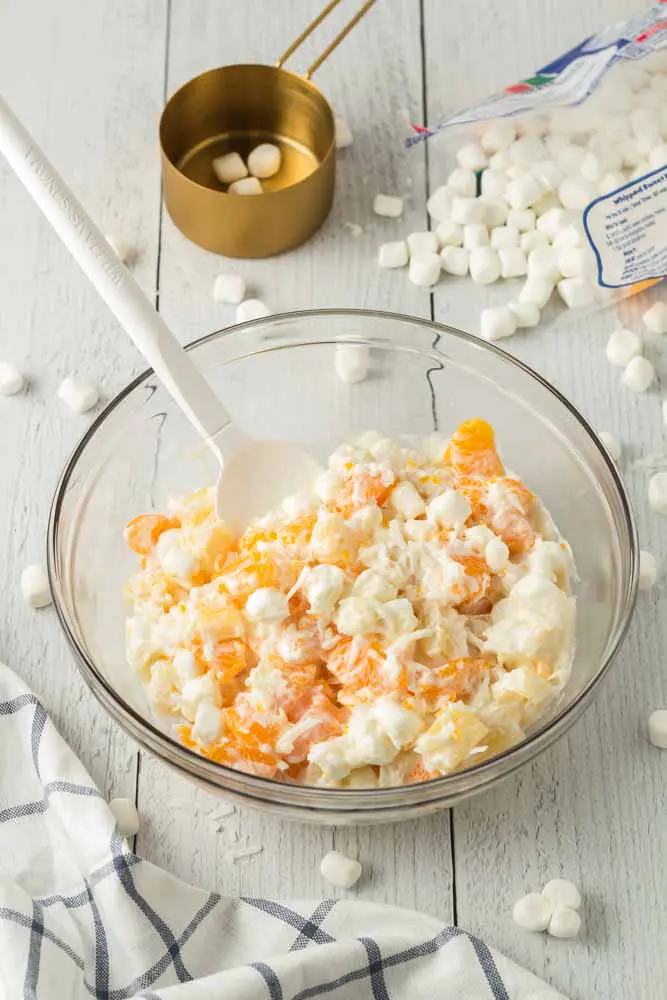 Because this recipe is so low maintenance, it's also a great one to have on Christmas morning with some crispy bacon and homemade Buttermilk Biscuits. Be sure to check out my biscuit recipe- they are incredible!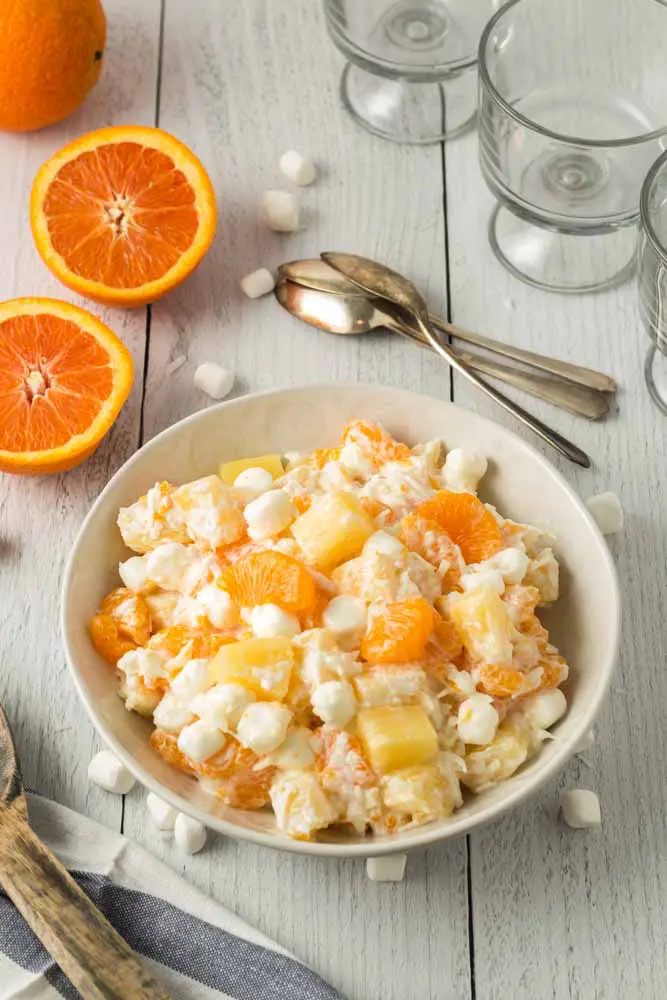 If I'm being totally honest, I made this salad, took the pictures and then ate half of it (don't judge me…I went HAM…Hard As a Mofo….this morning at spin class) all in less than an hour today. Assembling the recipe takes less than 5 minutes and zero effort is required.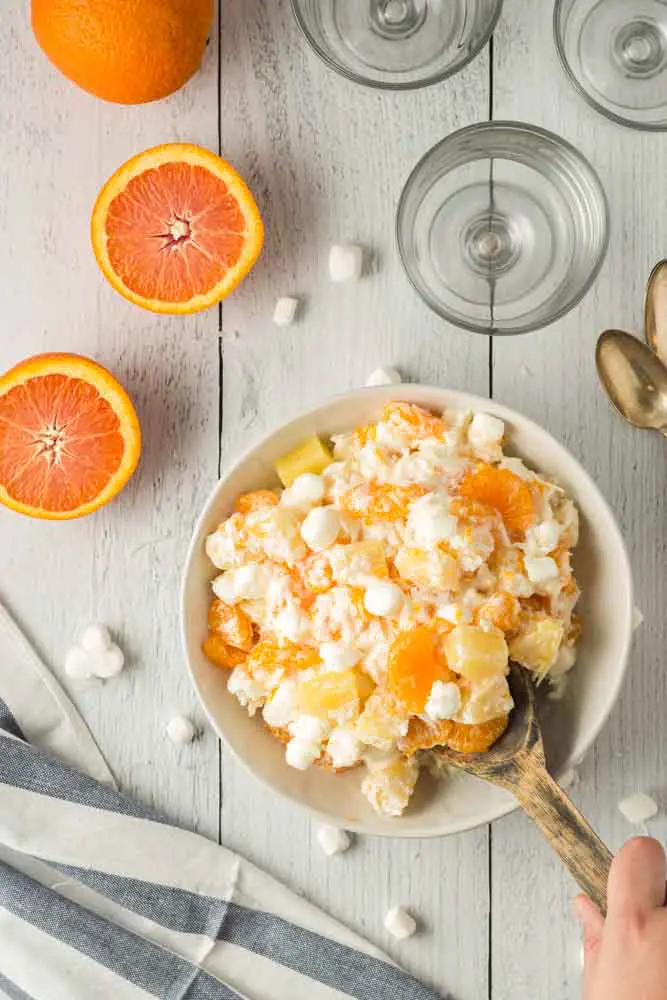 As the name implies, there are five ingredients and a cup of each one in the recipe. You mix all five of the ingredients together and that's it!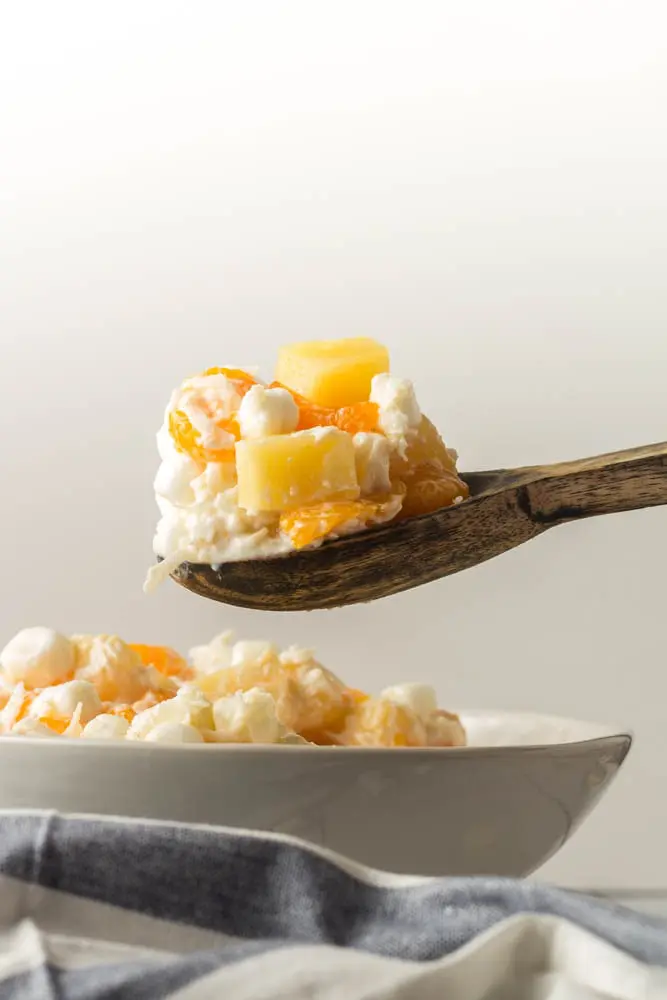 It's shamelessly easy to make, so easy in fact that you'll be tempted to make it for yourself in celebration of no holiday at all.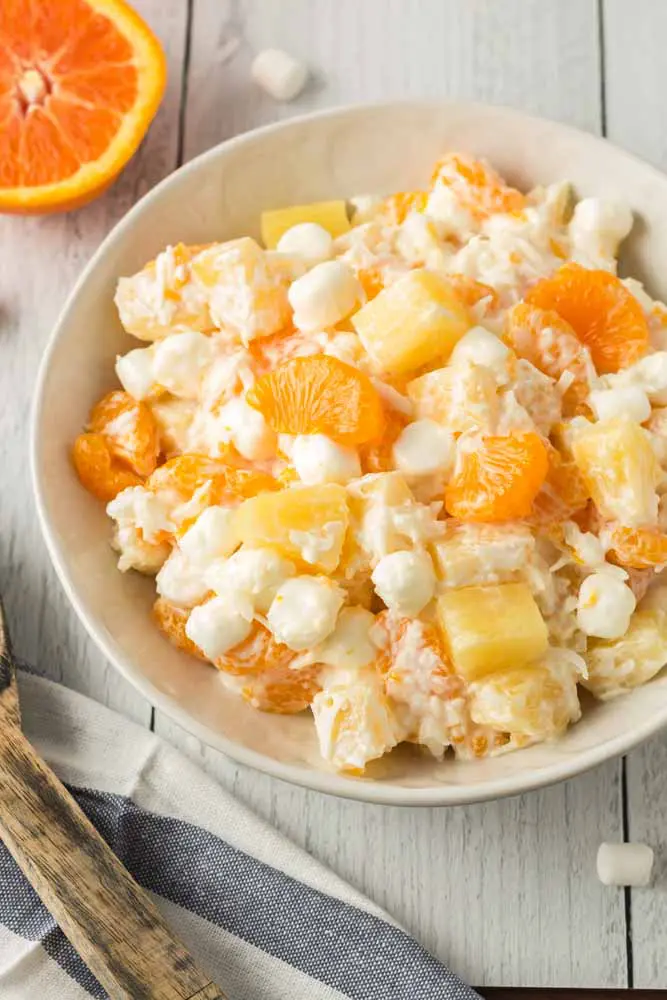 If you've never had ambrosia fruit salad before, you have to give 5-Cup Salad a try. You will love it and so will your friends and family, young and old. It's a classic recipe for a good reason.
I can't wait to hear whatcha' think! Post your feedback in the comments section below.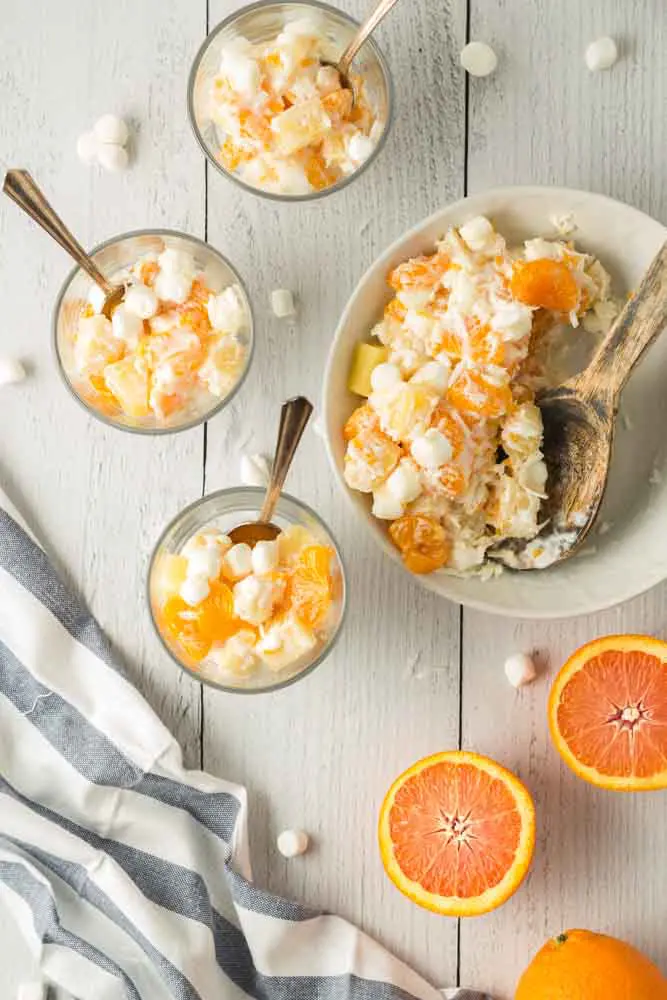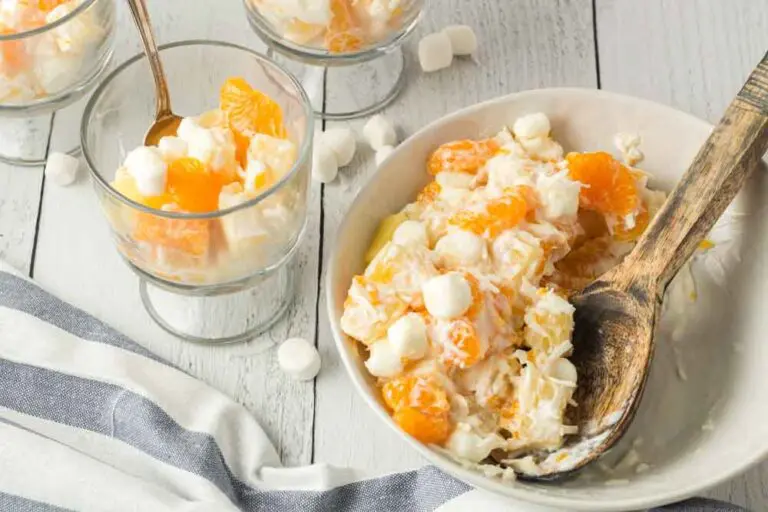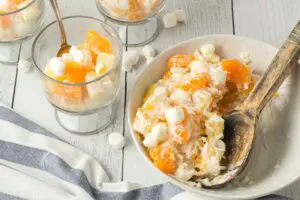 5-Cup Salad
Ambrosia fruit salad with five ingredients that takes less than five minutes to make. 5-Cup Salad is sweet and tangy and shamelessly easy to make. Its the perfect addition to your holiday table especially since it can easily be made ahead or right before a meal.
Ingredients
1

C

mandarin orange slices

canned

1

C

pineapple chunks

canned

1

C

sour cream

1

C

sweetened shredded coconut

1

C

mini marshmallows
Instructions
Drain the mandarin oranges and pineapple chunks. Combine drained fruit with remaining ingredients. Mix gently with a spatula until thoroughly combined. Try not to break up the fruit as you mix. Keep refrigerated.
The following two tabs change content below.

Hey-ooo! I'm Hailey, and I'm a number cruncher by day and cussing cook by night. I created this site to share my love for delicious food that feeds the soul as well as the belly. I hope my recipes have you running to the kitchen to cook some damn good grub!