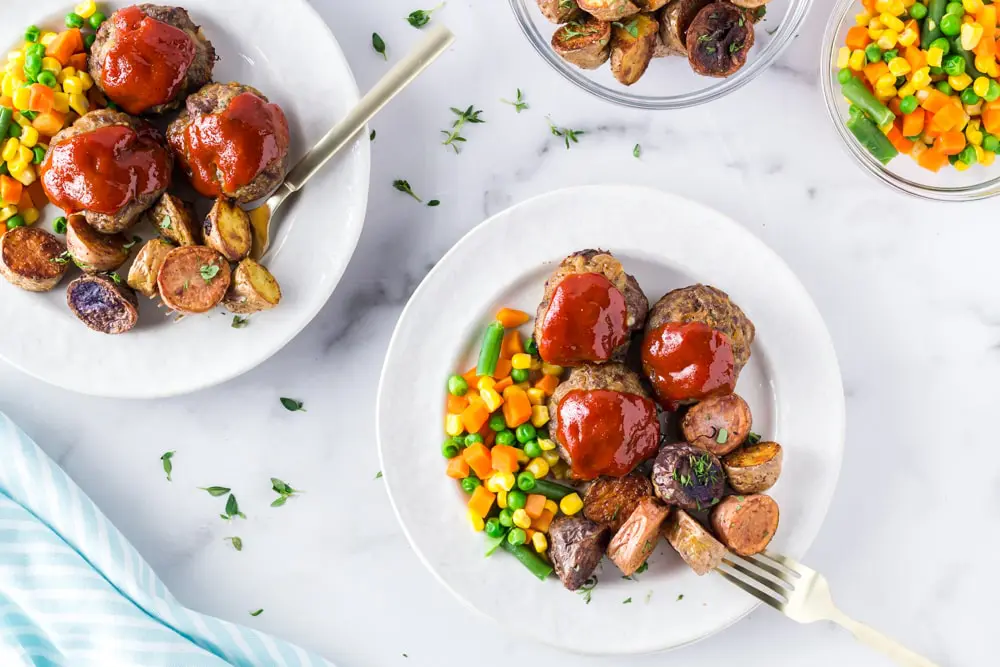 Onion Burgers and Meatloaf are two all-American classics that are adored by every Oklahoman and are also delicious. Being that I'm an Okie by marriage and education (GOOOOO SOONERS!), my love for these two dishes is strong so I decided to do a little mashup I like to call Onion Burger Mini Meatloaf.
Now, meatloaf may be centuries old with roots to dishes like scrapple, but Onion Burgers really are a child of Oklahoma. If you'd like the full scoop, check out this article by the Hungry Travelers that covers the history of Onion Burgers.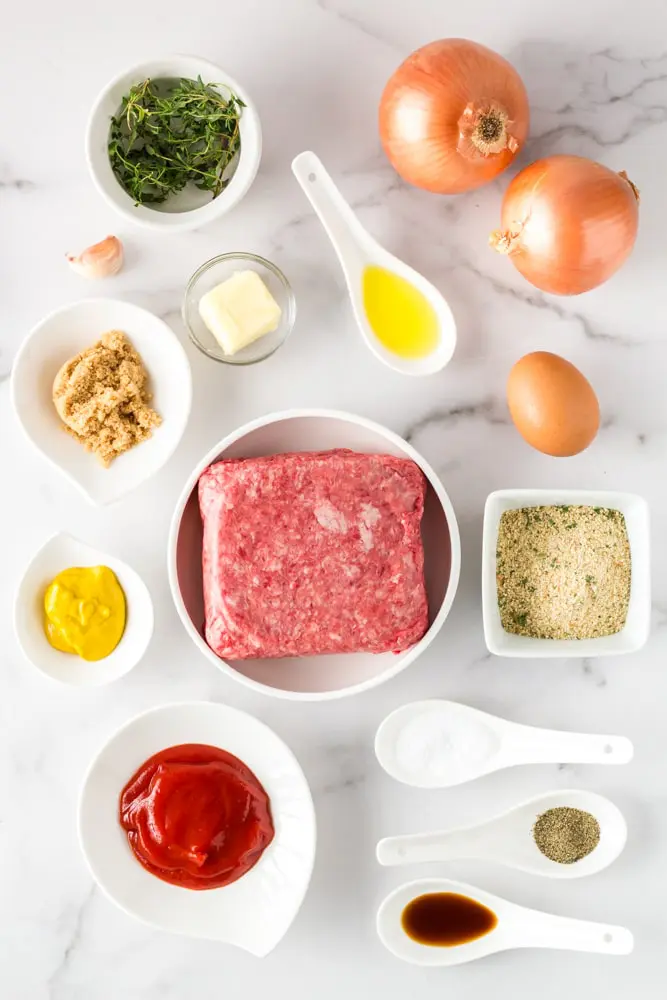 The gist is that Onion Burgers were first made in El Reno, Oklahoma on the now famous Route 66 at a place called the Hamburger Inn. The cook there piled half an onion on top of a burger patty, pressed them together, and the Onion Burger was born.
If you've never had an Onion Burger, then let me fill you in on what makes them so damn tasty. The mixture of the hearty flavors of ground beef and the sweet onion marmalade that forms after plenty of caramelization can't be beaten. You might be thinking, "So it's just a burger with caramelized onions?"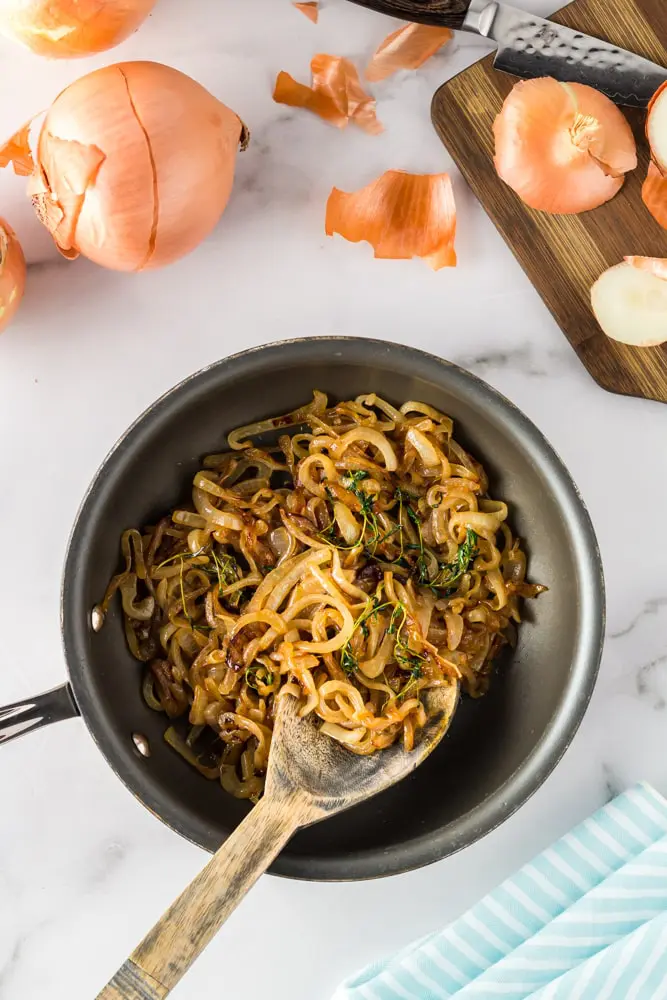 Sort of, but not quite. It's the quantity of onions to burger that really makes an Onion Burger, and I've kept that ratio when making my Onion Burger Mini Meatloaf recipe. It's not all that unusual to find diced veggies, including diced onions, in a meatloaf recipe along with maybe peppers or celery.
My Onion Burger Mini Meatloaf is PACKED with onions.
If you're starting to get worried about the onion-fire-breathing dragon you might become after enjoying this recipe, fret no more! There are 2 onions in the meatloaf recipe, but I wouldn't dream of including them in the raw. If I did, this meatloaf might bring a tear to your eye.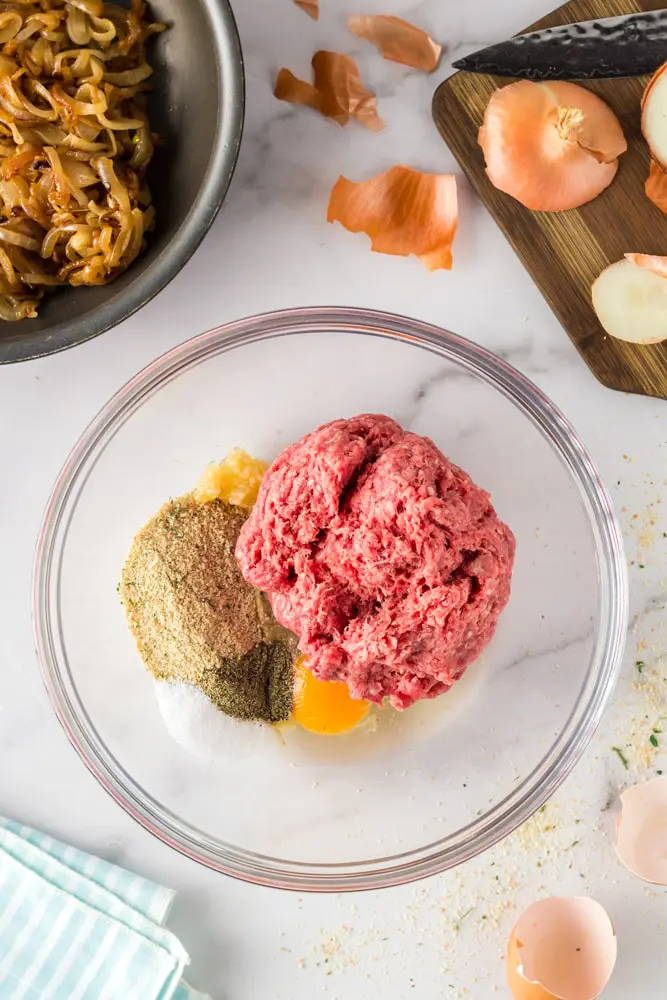 Instead, I cook the onions down for about 30 minutes, first over medium heat to start the browning process and later turning the heat to low for a final caramelization process. This is when the onions go from your standard sautéed onions to buttery, sweet, jam-like onions.
This process ensures that the Onion Burger Mini Meatloaf has all the qualities you love about caramelized onions and none of the traits you hate about raw onions. The addition of caramelized onions to the meatloaf also makes for a super moist meatloaf!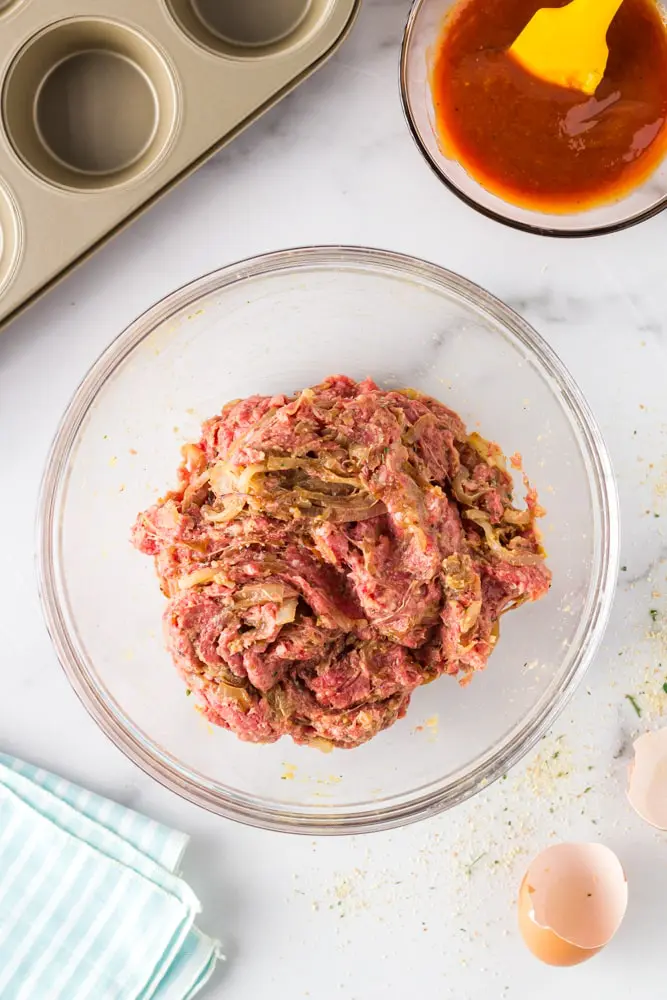 I really love the traditional ketchup-based sauce that is usually served over meatloaf, so I tend to stay pretty close to the original no matter what kind of meatloaf recipe I'm dreaming up. For my Onion Burger Mini Meatloaf, I spiced up the sauce with another classic burger condiment, mustard. A healthy dose of yellow mustard gives the sauce just the right added zip.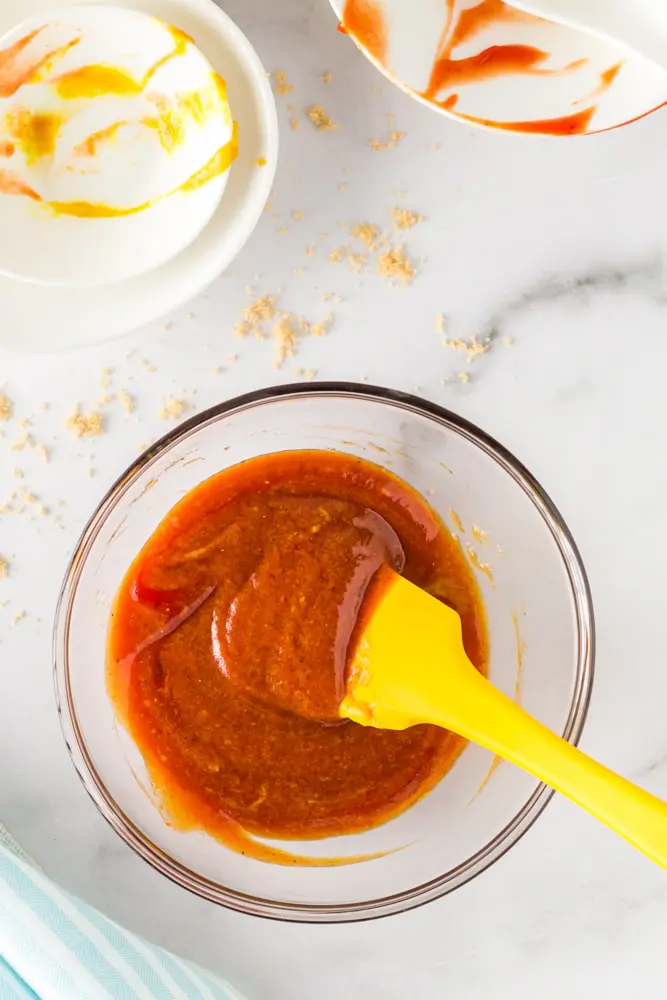 Your options for side dishes that would pair well are pretty much endless. I made the recipe with herbed roasted potatoes and green beans when I tested it on my nieces. At home, we had them with baked sweet potato fries and a salad.
Tips for making Onion Burger Mini Meatloaf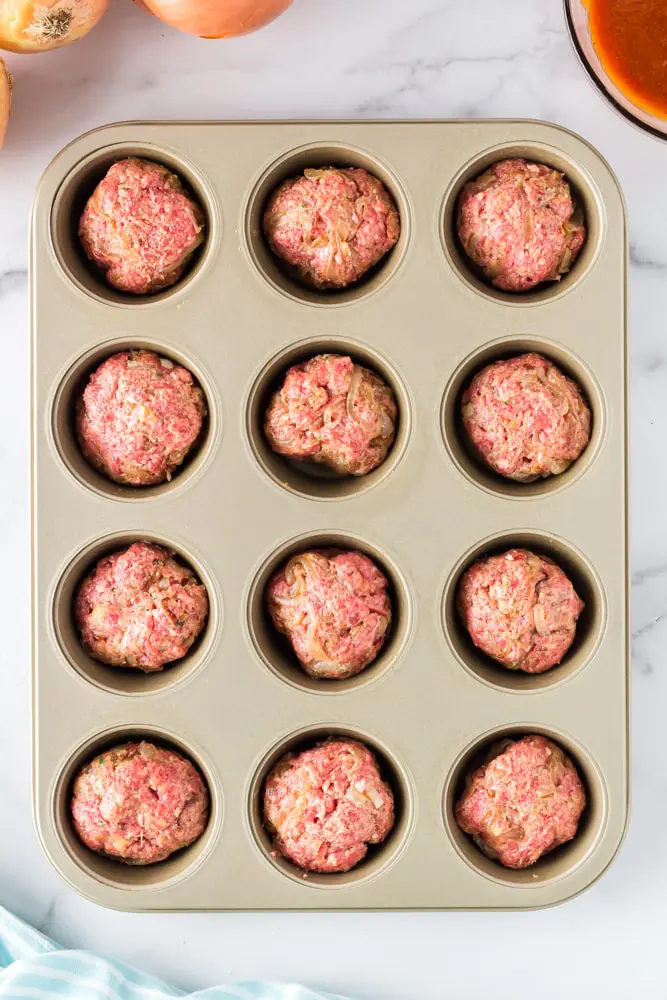 Take the time to caramelize your onions correctly. Don't rush the process and burn the onions. That bitter flavor is not the most pleasant in a burger.
Make sure you let the caramelized onions cool thoroughly before mixing them into the meatloaf mixture.
Mix the onions well throughout the meatloaf mixture. You want every meatloaf to have plenty of caramelized onion flavor. The best tool for meatloaf mixing is your hands. Try gloves if you're squeamish about touching raw meat.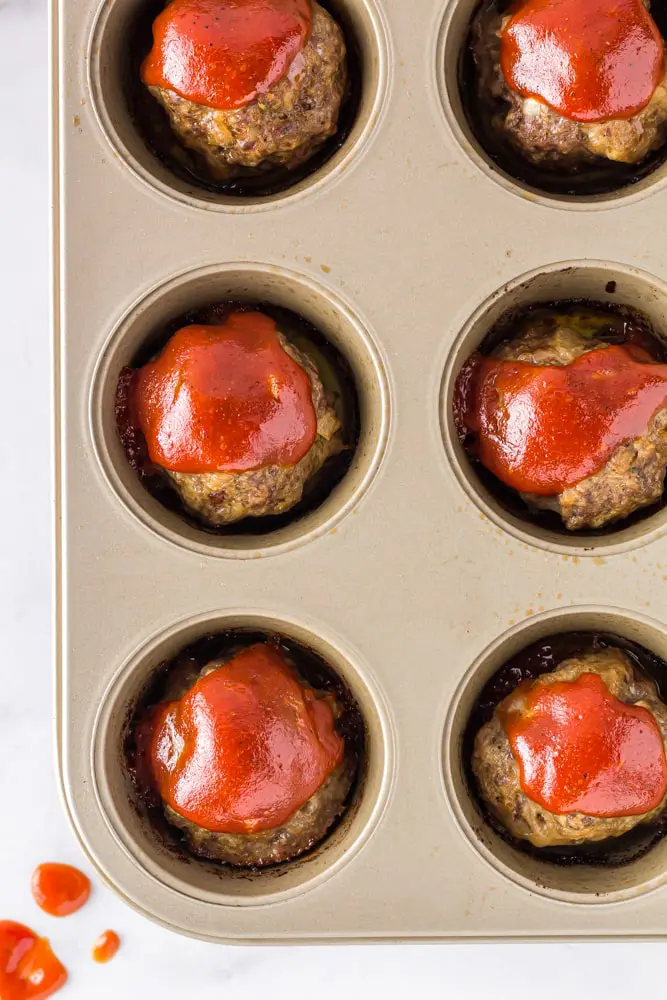 Can the recipe be made ahead?
Caramelizing the onions is the only part of this recipe that takes any time. If you want to speed the recipe, try cooking the onions ahead of time. They will keep well in an air-tight container in the fridge for up to 5 days. You could also mix up the meatloaf; the mix will hold in the fridge for up to 3 days.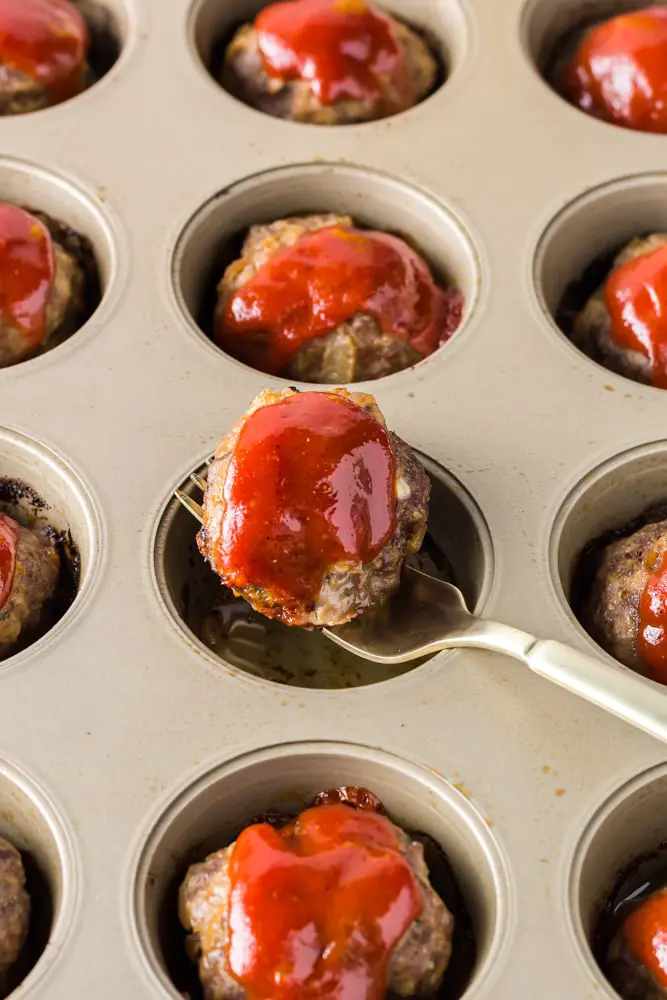 This recipe is a sure-fire family favorite that is easy and quick to make. Give the recipe a try and let me know what you think.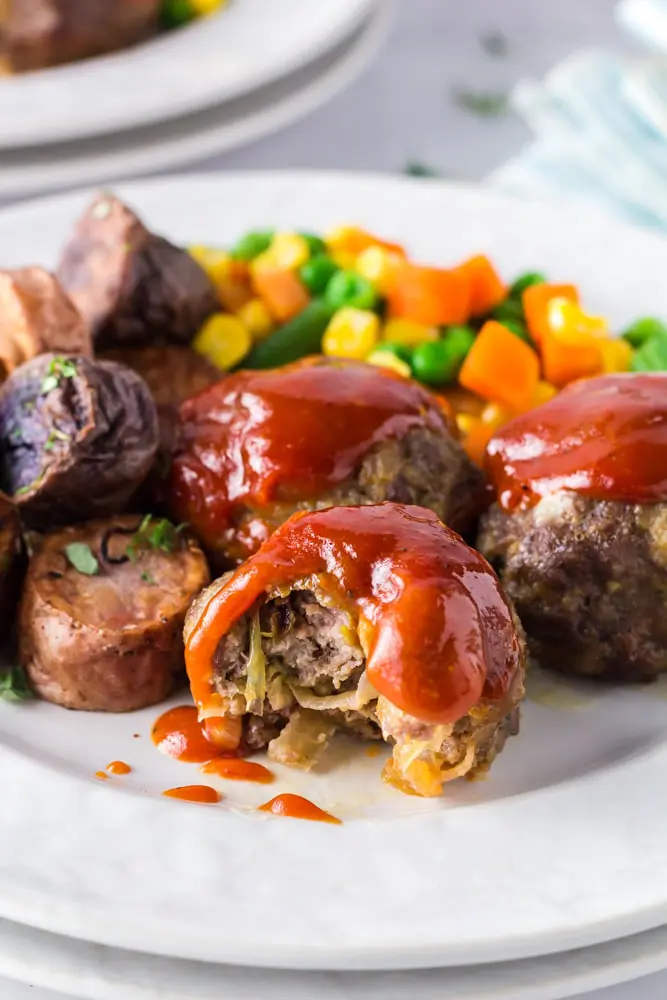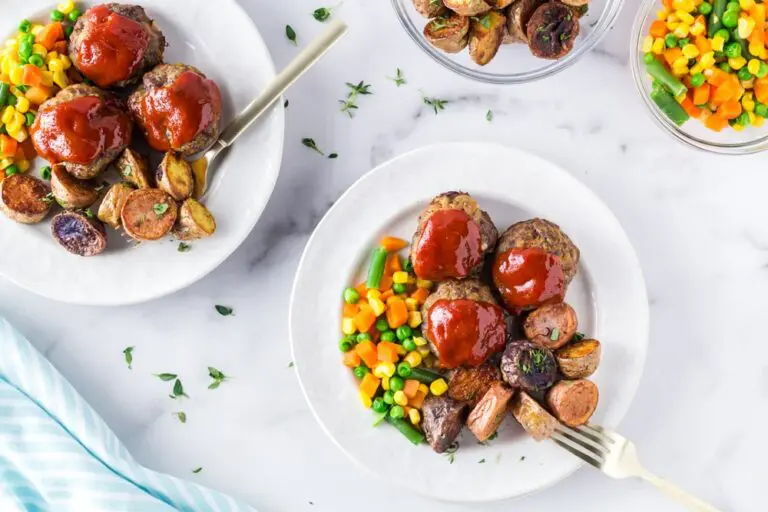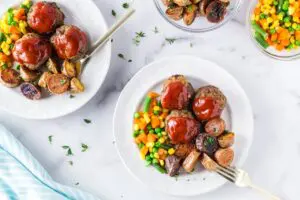 Onion Burger Mini Meatloaf
Sweet caramelized onions are combined with ground beef before baking for a moist, delicious meatloaf I call Onion Burger Mini Meatloaf. This recipe is cheap to make and kid-friendly too.
Ingredients
Meatloaf
2

sweet onions

2

Tb

butter

1

Tb

olive oil

3

sprigs thyme

1

tsp

salt

½

tsp

black pepper

1

lb

85/15 ground beef

1

tsp

minced garlic

1

egg

¼

C

Italian seasoned breadcrumbs
Sauce
¼

C

ketchup

1

Tb

yellow mustard

1

Tb

brown sugar

1

dash of Worcestershire

black pepper to taste
Instructions
Caramelize the onions using the technique outlined in my Caramelized Onions post. Add thyme sprigs whole to the onions while cooking.

Once caramelized, remove the thyme sprigs and pour the onions out evenly on a plate. Put the plate in the fridge for about 10 minutes or until no longer hot to the touch.

Preheat the oven to 400 degrees and spray a muffin pan liberally with baking spray.

While the onions cook, prepare the sauce. Add the ketchup, mustard, brown sugar, Worcestershire and black pepper to a small mixing bowl. Mix well to combine and set aside.

Place the ground beef, egg, breadcrumbs, salt, pepper, and garlic into a large mixing bowl. Once the onions are cool to the touch, add them to the bowl and mix all the ingredients until well combined.

Divide the mixture into 12 even balls and place in each spot in the muffin pan. Press down gently, Bake for 12 minutes.

Remove from the oven and top with 1 heaping teaspoon of sauce for each meatloaf. Reserve the remaining sauce for dipping. Place the meatloaf back in the oven for 5 minutes or until the sauce is warm.
FREQUENTLY ASKED QUESTIONS
Can the onions be cooked ahead of time?
Yes. They will keep in an air tight container in the fridge for up to five days.
What should I serve with Onion Burger Mini Meatloaf?
Potatoes and meatloaf are always good friends, so I think my Boursin Butter Potato Stacks would be delicious with this recipe. Add a green salad or steamed veggie and dinner is served.
The following two tabs change content below.

Hey-ooo! I'm Hailey, and I'm a number cruncher by day and cussing cook by night. I created this site to share my love for delicious food that feeds the soul as well as the belly. I hope my recipes have you running to the kitchen to cook some damn good grub!