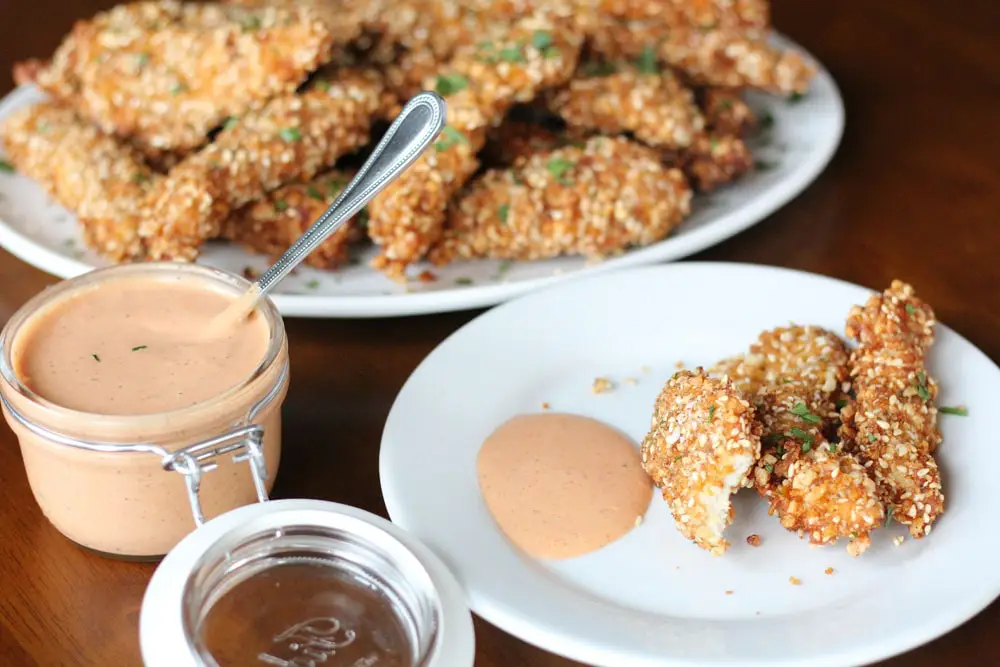 I can promise that these chicken strips will be some of the most delicious and memorable chicken strips you've ever put in your mouth. The breading for these little strips of joy are a combination of Corn Flake crumbs, ground almonds, and sesame seeds, and the combination is DYNO-MITE!
Really though the Corn Flake crumbs have such a nostalgic feel and offer the crunch of panko with more flavor. The almonds provide an ever-so-slightly sweet note that brings a nice balance to the strong, nutty flavors of sesame seeds. Altogether these flavors will have you dreaming of these chicken strips instead of Chick-Fil-A.
Oh, how do I count the ways that I love fried chicken? Hands down, fried chicken would be my first choice for my last supper. It was the first thing I requested after coming home from my time studying abroad, and it's what I always crave after a super stressful day or if I just want to treat myself. It's also the perfect party snack for watching your favorite sporting event.
But here's the thing…there are so many f*cking places to buy fried chicken these days that I think you need to make chicken strips that are truly unique and something special if you're going to take the extra effort to make them at home. These chicken strips fit that description fo' sho'!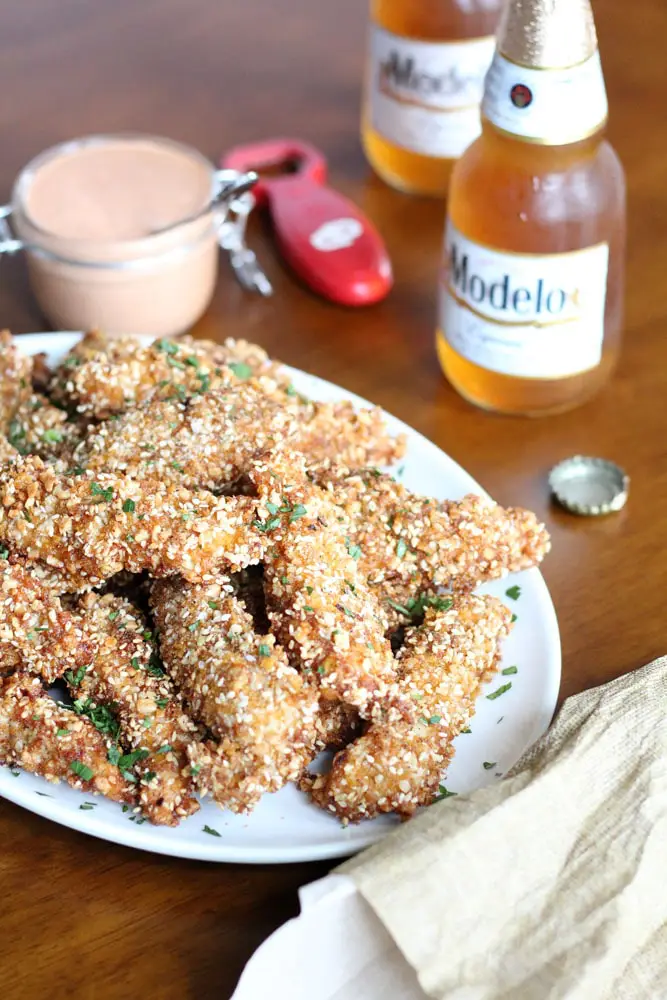 The idea for these chicken strips came from way back in my childhood memories.
The mom of one of my best friends growing up was an amazing cook. She was always making original recipes that were so different than the foods I had tried before. In hindsight, she was probably one of my earliest influencers in the kitchen. I still often think of her food and try to recreate it. Shout out to Mrs. Graf!
In this instance, Mrs. Graf used to always make homemade chicken strips with sesame seeds in the breading. I'm not quite sure what else she included so I have tried different combinations to achieve just the right balance of flavors as her original recipe did. I think I've done it!
You can easily eliminate the sesame seeds if you have super picky eaters at home because they do have a distinct flavor that is stronger than your standard flour-only breading, but I encourage you to try the recipe as is. Even my nieces who often refuse to eat any dish with even a drop of sesame oil gobbled up these chicken strips in total silence, a sure sign they thought they were badass.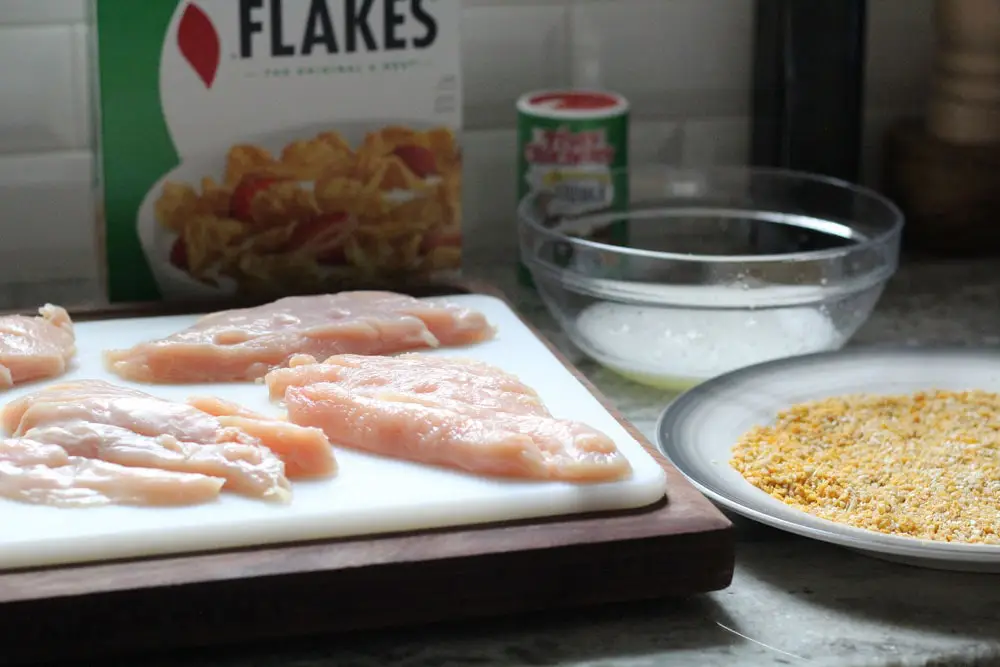 I also particularly love this recipe because the breading sticks so well without any chilling after breading. I don't know about you, but I struggle to make well breaded fried chicken without a deep fryer at home, and really, pan frying is so much f*cking easier! For these chicken strips, I use frothy egg whites as the binder for the breading, and it sticks perfectly even when frying straight from the breading station.
If I am going to buy chicken strips from a restaurant, there is one place that always comes top of mind and that's Raising Cane's. Their chicken is great, but their sauce is f*cking EVERYTHING. I have tried to recreate the sweet, smokey, and spicy flavors of that sauce in my copycat recipe below.
I hope you get a chance to try out this awesome recipe and make it part of your rotation of dinner favorites. Please let me know what you and your family think of the recipe in the comments section below!
Helpful Utensils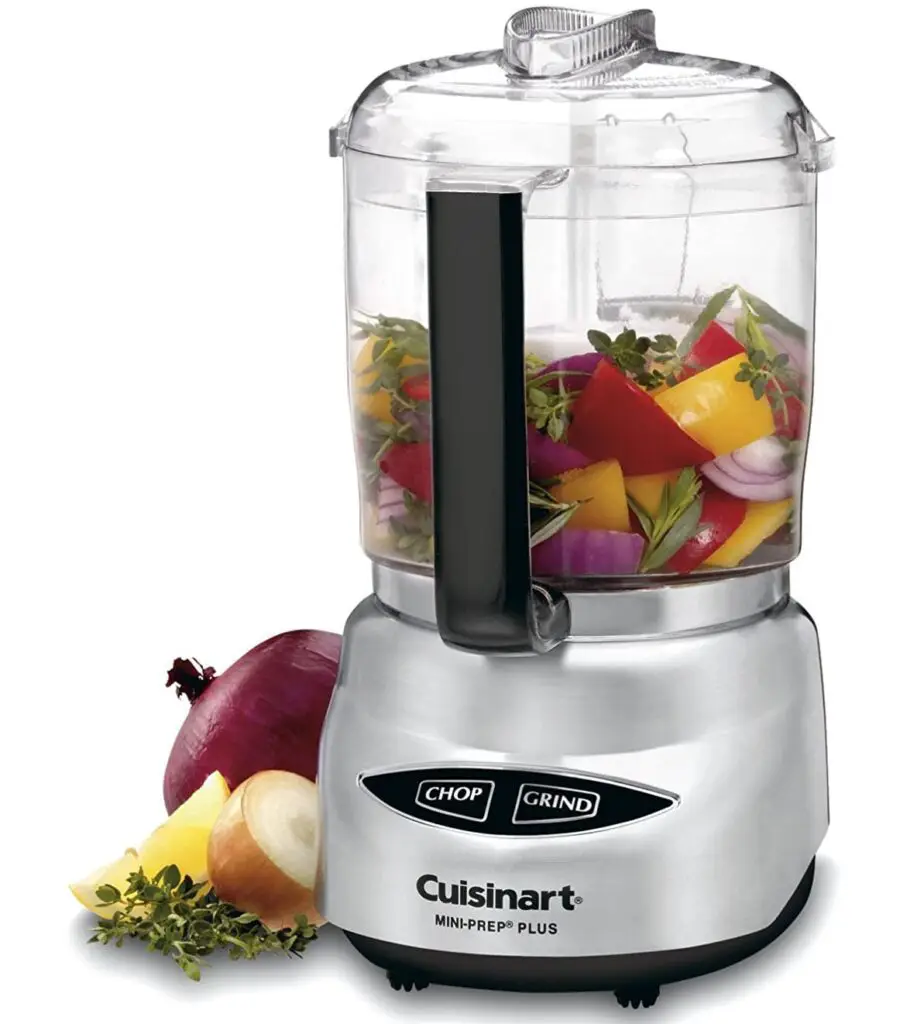 Cuisinart 4-Cup Food Processor
A small food processor makes jobs like finely dicing the almonds in this recipe a breeze. I use my small food processor constantly when making breading like the one in this recipe. It's also a great piece of equipment for small batch sauces and salsa or even for crumb toppings for desserts. The uses are almost endless. You can also find this item on my Kitchen Essentials page.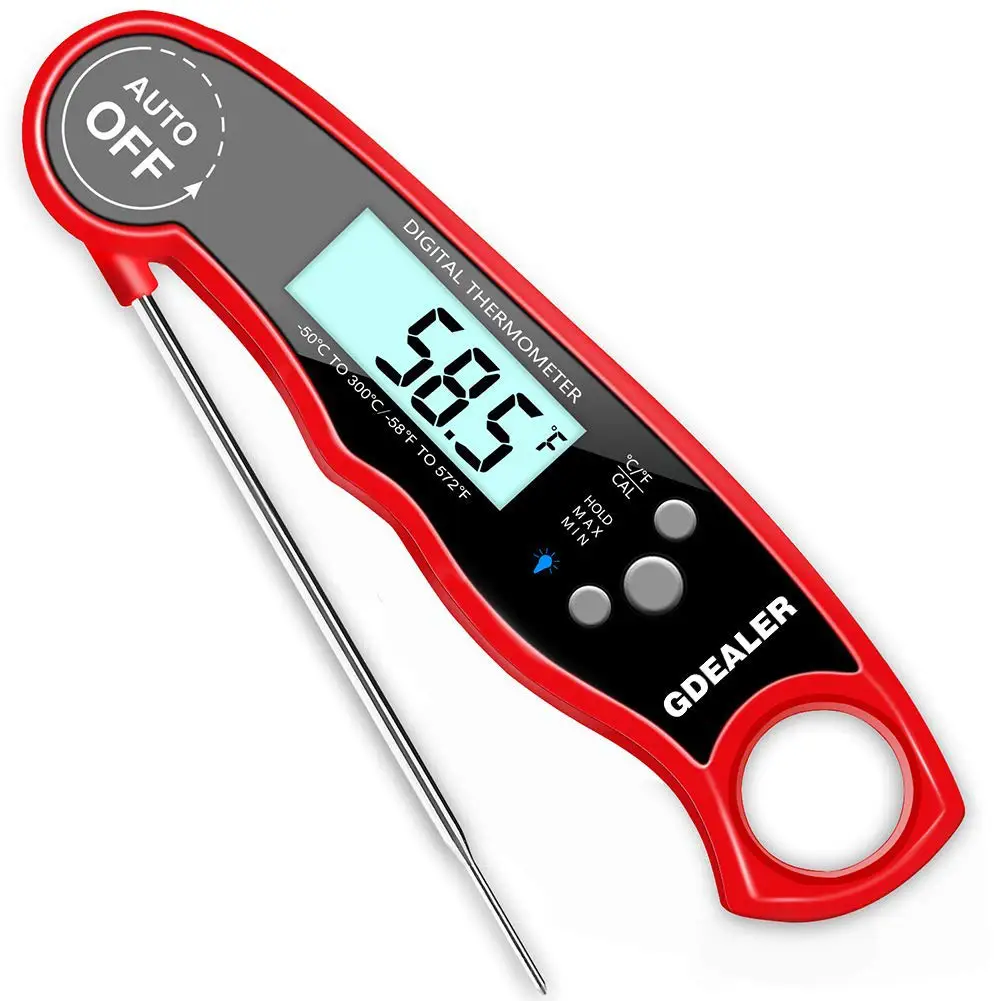 I always found the idea of guessing if my oil temperature was right for frying like an unpleasant game of chicken so I really enjoy this handy digital thermometer. It can also take the guesswork out of cooking steaks to a certain temperature, the perfect time to remove your caramel from the heat, or when that Thanksgiving Turkey is cooked all the way through. It's a great utensil to invest in!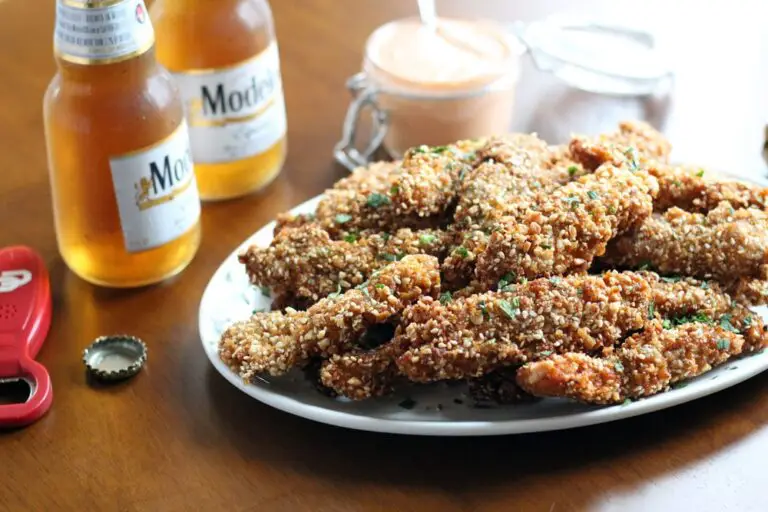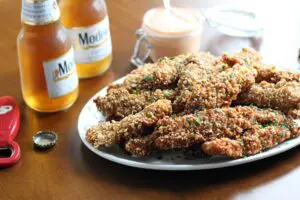 Corn Flake Chicken Strips with Sesame and Almonds
Crunchy and jam-packed with flavor, these chicken strips are something special. The combination of crunchy Corn Flakes, slightly sweet ground almonds and nutty sesame seeds create a flavor worth taking the time to make at home. Served with a side of Raising Cane's copycat sauce.
Ingredients
Chicken Strips
1.5

C

Corn Flake crumbs

1

C

slivered almonds

finely diced

1

oz

sesame seeds

1

tsp

Tony Chachere's seasoning

1

tsp

pepper

3

egg whites

1

lb

chicken breast

thin sliced
Cane's Copycat Sauce
¼

C

mayonnaise

2

Tb

ketchup

½

tsp

pepper

1

tsp

paprika

½

tsp

Tony Chachere's seasoning

dash of Worcestershire
Instructions
To make sauce
Blend together all ingredients. Set aside for at least 30 minutes to allow flavors to meld.
To make chicken strips
You can purchase Corn Flake crumbs on the baking aisle, but it's also super simple to make your own crumb from the whole flakes. Just measure about 3 cups of whole flakes and add to a gallon size plastic bag. Crush first gently by hand to get the process started and then crush into fine crumbs using a rolling pin.

For almonds, you can dice by hand or use a small food processor (there's a link for a great one above if you don't already have one). If using a food processor only pulse to the point the almonds resemble panko breadcrumbs in size. If you let it go too far, you'll have almond paste.

Mix together Corn Flake crumbs, finely minced almonds, sesame seeds, and Tony Chachere's seasoning. If making the recipe for kids, I use half the amount of sesame seeds called for so that the flavor is not too strong.

Cut chicken strips into thin strips. I tend to cut them on an angle so I end up with pieces that are relatively equal in length. Beat 3 egg whites in a medium-size bowl until frothy. Place half of the cornflake mixture on a plate. I like to work in batches with my crumb so it doesn't get soggy for the later batches.

In small batches of 5-7 strips, dip chicken strips into egg white, allowing each strip to be fully coated. Remove strips one at a time from egg white, allowing the excess to shake off, and place on to the plate with the cornflake coating. Roll and press chicken strips gently into the coating to ensure each strip is fully coated.

Preheat a large nonstick skillet over medium heat. Add about a half-inch of oil to the bottom of the pan. Be sure to leave plenty of room as the oil will rise as you add the strips and begin to fry. Allow oil to reach 350 degrees. If you don't have a thermometer (I love my digital thermometer and linked it above), then feel free to test the old fashion way by adding a pinch of the Corn Flake crumb to the oil. If the crumb rises to the top and starts to sizzle immediately, you're ready to start pan frying!

Pick up strips, one at a time, from the cornflake crumb and shake off any excess gently. Then lay each strip into the pan, being sure to start closest to your body and end away from yourself. That helps any splash go away from you and not towards you. Never forget how dangerous hot oil can be!

Fry for 2-3 minutes per side or until a dark golden brown color. Watch closely as the nuts and sesame seeds can quickly go from the perfect shade of dark golden to burnt. When fully cooked, place the chicken strips on a wire rack over a paper towel to allow to drain. Season with a pinch of salt as soon as you remove from the pan. Serve warm.
Notes
You can also bake these chicken strips if you want to make them without frying. Just bake for 12-15 minutes at 350 degrees. Disclaimer though, the breading will not get as golden brown as it does with frying, but they will definitely still be crunchy and delicious!
The following two tabs change content below.

Hey-ooo! I'm Hailey, and I'm a number cruncher by day and cussing cook by night. I created this site to share my love for delicious food that feeds the soul as well as the belly. I hope my recipes have you running to the kitchen to cook some damn good grub!