Vegetarian Fried Rice is a quick and easy dinner recipe that can be the main course or a side dish. Either way, it is delicious and a breeze to put together. Eggs and rice are two of the humblest ingredients out there, and the perfect foundation for any weeknight dinner.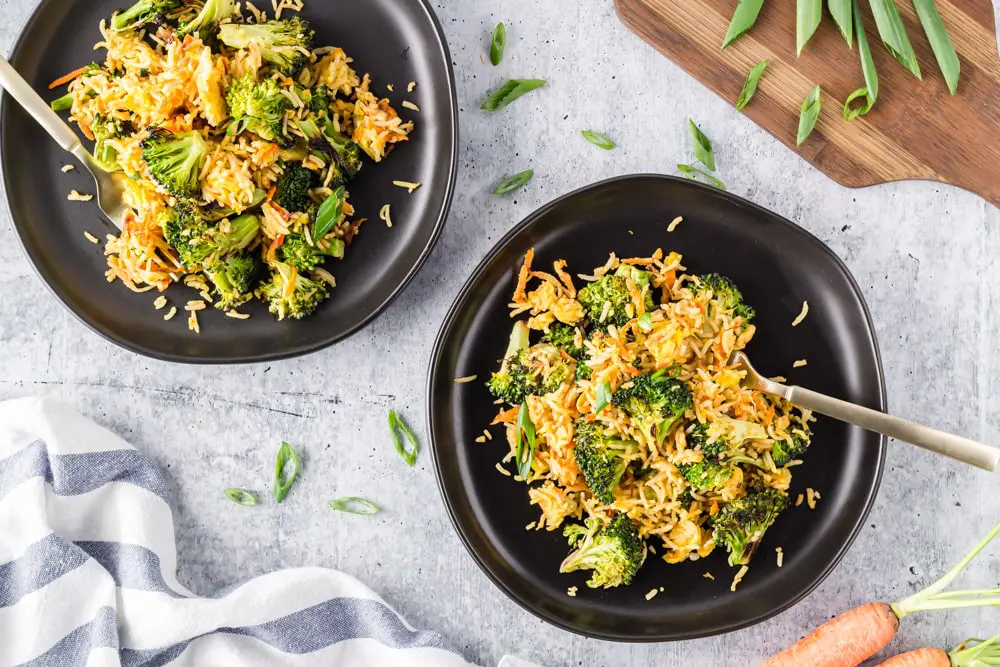 I am in no way claiming to be the fried rice expert. There are a ton of recipe out there for fried rice… seriously, a shit ton of them. I am, however, a practiced home cook with a specialization in non-boring dinner (hence the blog's tagline).
This recipe is approachable- the ingredients are simple and easy to find. It is also super flavorful and offers something unique to your weeknight dinner routine. With just a few ingredients and less than 30 minutes, you can make homemade Vegetarian Fried Rice that is comforting, healthful and tasty!
Tips and tricks for making Vegetarian Fried Rice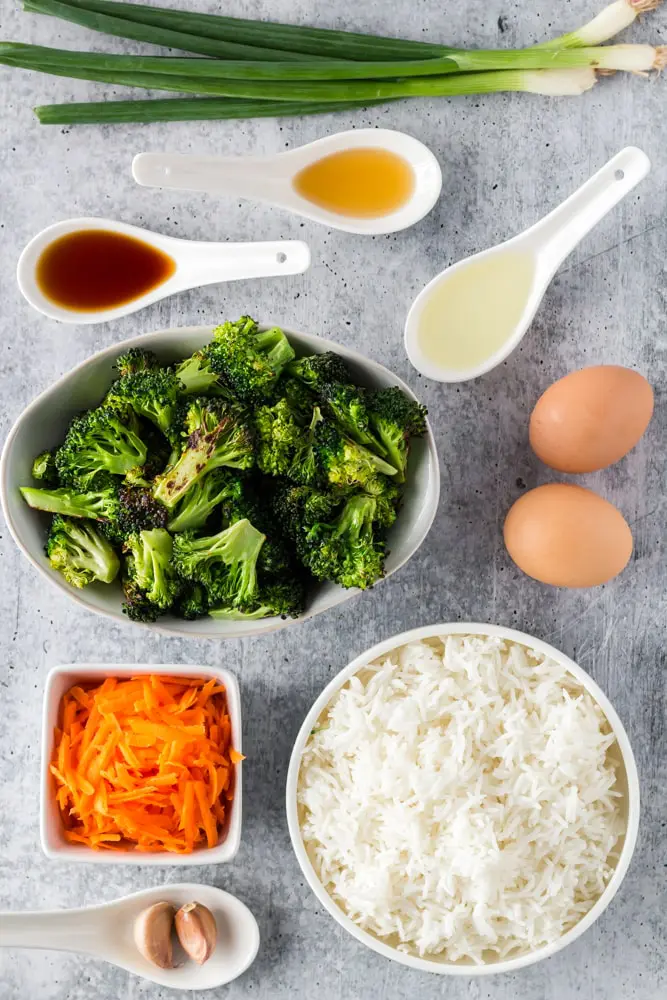 Roast the broccoli before stir-frying.

Yes, I know this is an extra step and it does add a little bit of time to the recipe, but it makes a big difference in the flavor of the fried rice. I didn't even like broccoli until I had it roasted. The charred edges offer a bitter note to the flavor of broccoli that makes it taste WAY better than the steamed variety. You can use the microwave-in-the-bag broccoli if you're in a time pinch, but I would argue that roasting only adds ten minutes.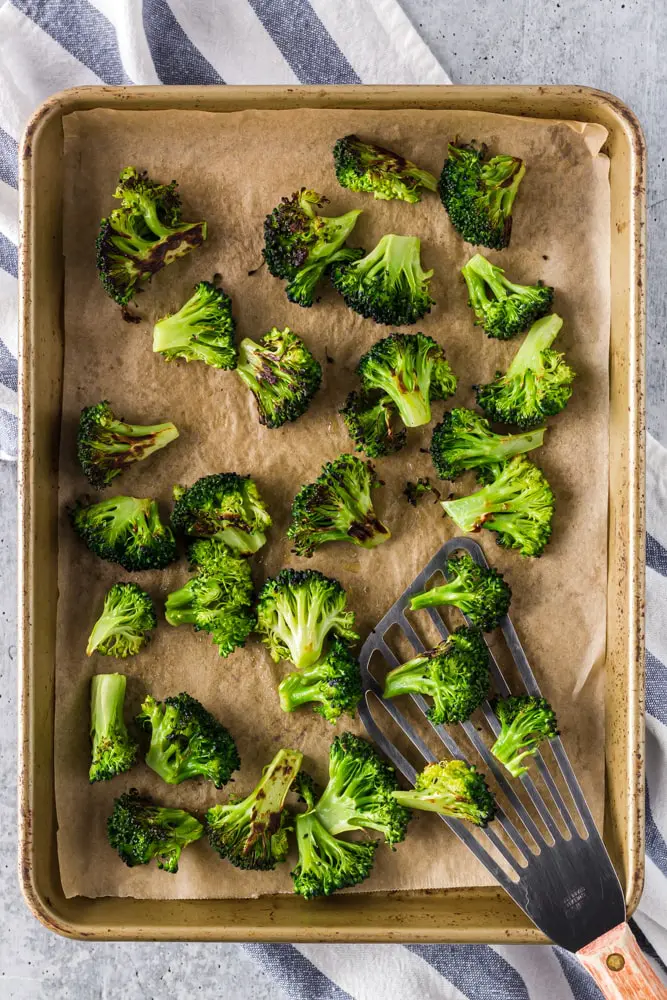 Cut the ingredient into small, consistently sized pieces.

There is nothing worse than watching your perfectly fried rice overcook so that your vegetables are tender. You want to make sure your vegetables are small enough to cook quickly and all cut the same size so they cook at the same rate. That's why I choose to grate my carrots instead of finely dicing. The cuts are consistent, and the carrots are thin enough to cook in a few short minutes.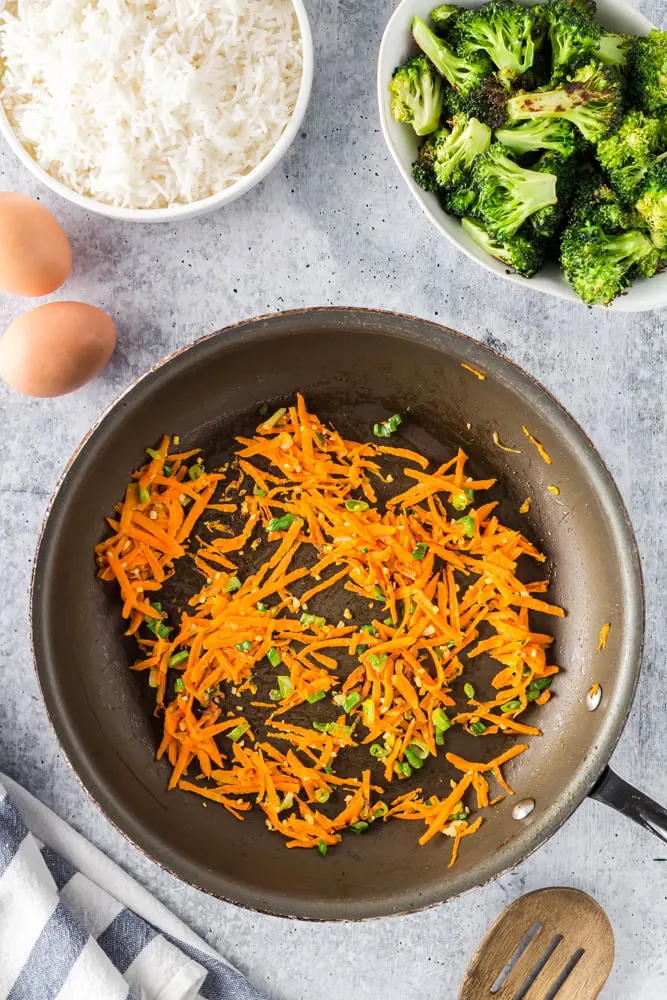 Cold rice is the most important part of the Vegetarian Fried Rice equation.

If you've ever tried to make fried rice with steaming hot rice, you already know what a flop it is. Allowing the rice to become completely COLD (notice I didn't say room temperature or cool- it needs to be cold like your refrigerator) ensures your fried rice granules get golden crisp edges when stir-frying. Leftover rice is perfect for fried rice or make it the night before. Check out my Perfect Basmati Rice recipe if you want fool-proof rice every time.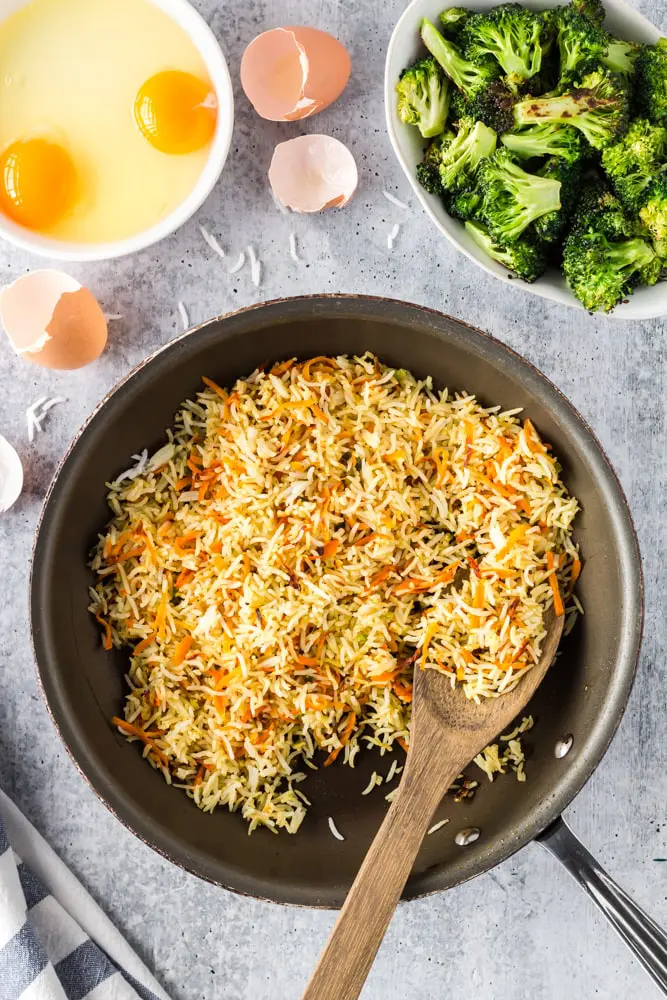 Fresh veggies and eggs are key.

When the ingredient list is short and simple, it's so important to make sure your ingredients are fresh and of high quality. With less than ten ingredients in Vegetarian Fried Rice, there is nowhere for crappy vegetables to hide. Fresh, quality eggs are also key to fried rice. Believe it or not, when eggs are high quality they have tons of flavor. That flavor is the backbone of fried rice.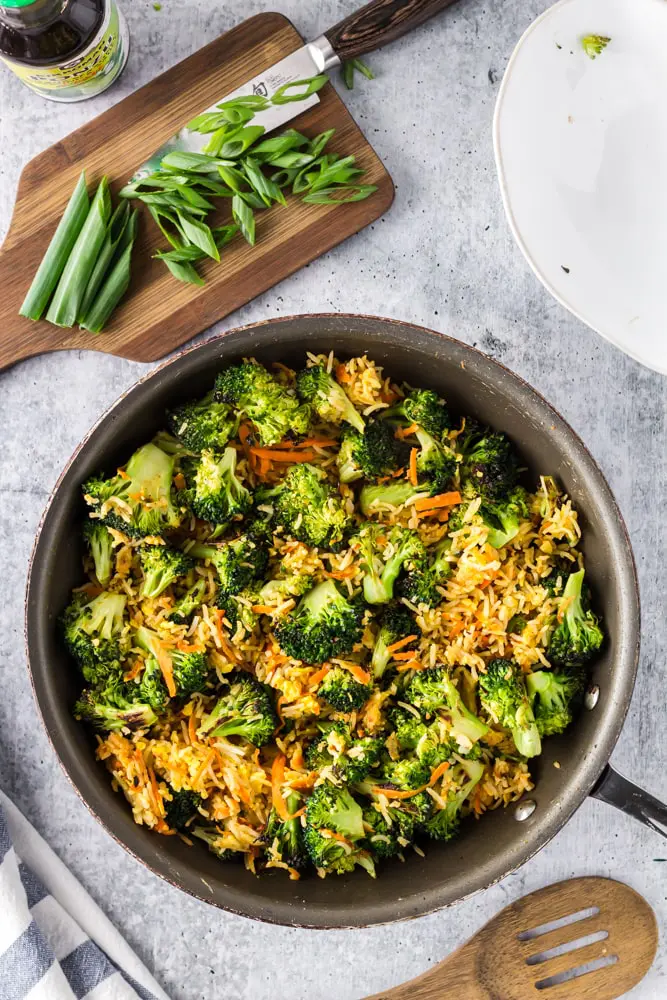 Get your pan hot and have your ingredients ready before you get started.

Everything about fried rice happens fast. That's what makes it the perfect weeknight dinner recipe. You want to have all of your ingredients chopped/grated/prepared before you start to heat up the pan. Once it's hot, the next steps in the recipe come rapid-fire!
Ponzu versus soy sauce
Ponzu is a close relative of soy sauce with a bright, citrus flavor that is the perfect addition to Vegetarian Fried Rice. It is less salty than soy sauce and milder in flavor so that it's not as overpowering as soy can be. Feel free to substitute soy for ponzu if you prefer or don't have any ponzu on hand, but take it easy on the salt.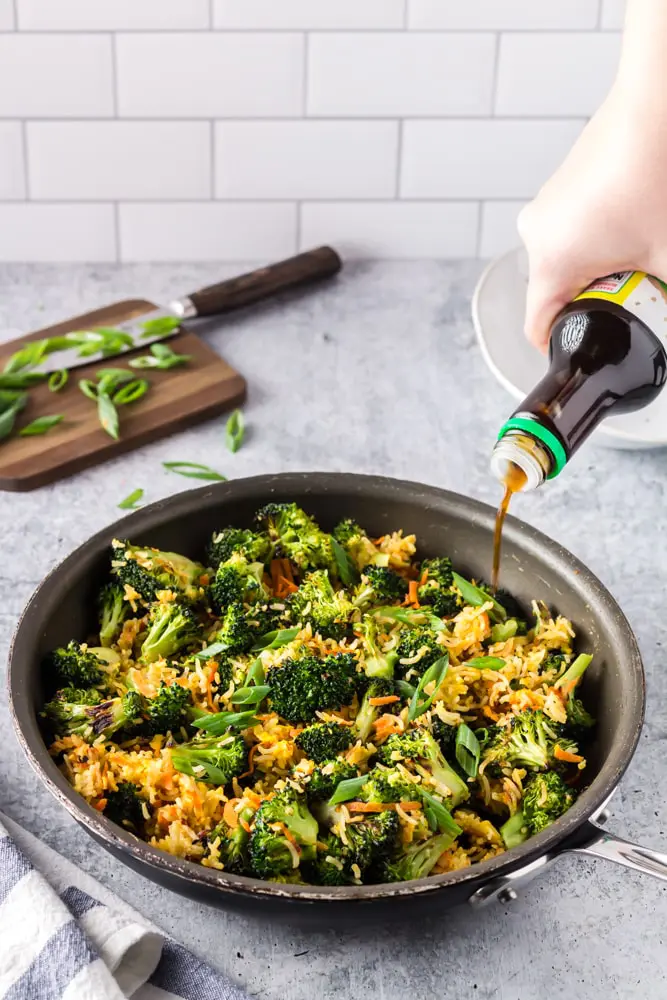 Vegetarian Fried Rice is a recipe you will return to regularly and not just because it's incredibly easy to make. This recipe is delicious and versatile. You can make it spicier with the addition of chili sauce, crunchier by adding peanut or cashews, or more protein-packed by including chicken, shrimp, or tofu. The options are limitless.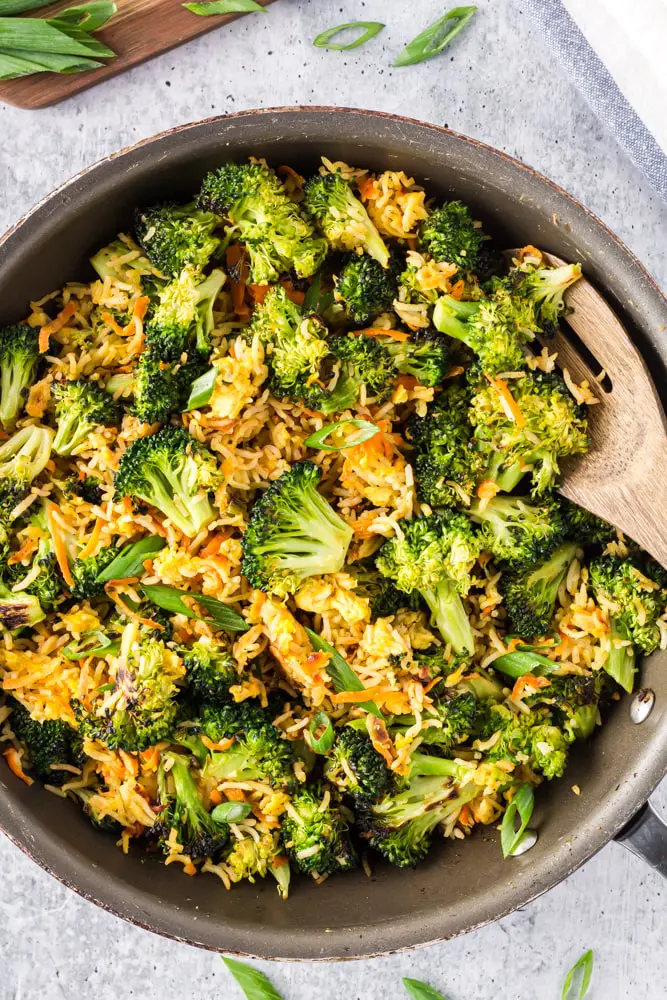 Give this recipe a try, and let me know how it goes in the comments section below.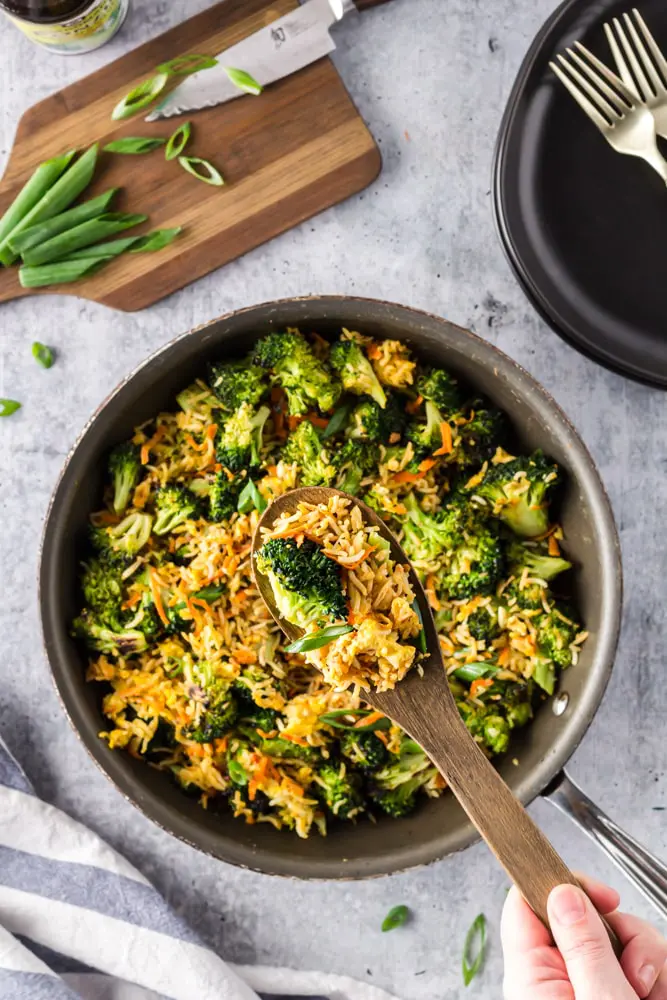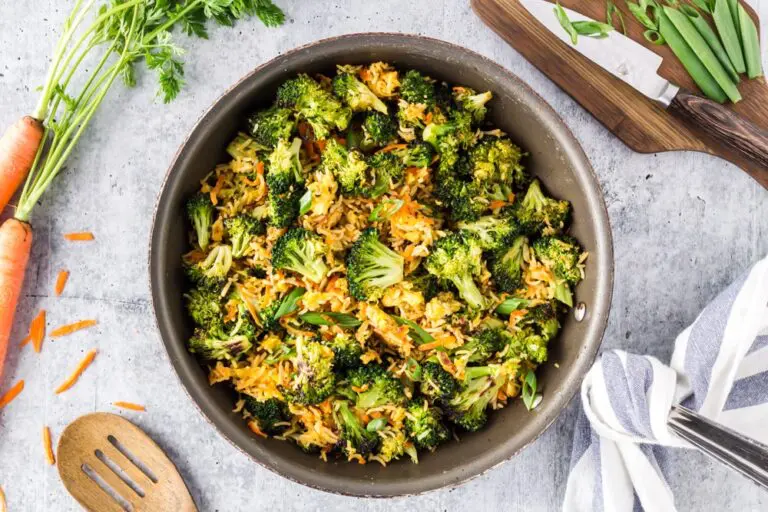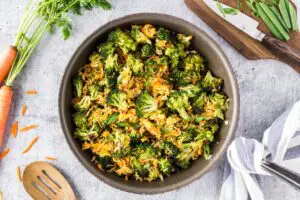 Vegetarian Fried Rice
Quick, easy and satisfying- Vegetarian Fried Rice is full of flavor and nutrition. This is fast food you can feel food about.
Ingredients
1

large broccoli crown

3

green onions

½

cup

grated carrots

2

cloves

garlic

minced

2

Tb

oil

divided

2

cups

prepared rice

cold

½

tsp

sesame oil

2

eggs

2

Tb

ponzu sauce
Instructions
Preheat the oven to 400 degrees. Cut the broccoli into small bite-size pieces. Toss lightly in 1 Tb oil and a pinch of salt and pepper. Pour onto a sheet pan prepared with parchment paper or foil for easy cleanup. Roast for 10-12 minutes.

Finely dice the green onions, grate the carrot and mince the garlic. Scramble the eggs in a small bowl. Add 1 Tb oil plus sesame oil to a large saute pan over med-high heat.

Once the pan is hot, add the white and light green portion of the green onions to the pan. Reserve the green portion for garnish. Add the grated carrot and saute for 2 minutes.

Add the minced garlic and saute for one more minute. Add the rice to the pan. Cook for 5-6 minutes, stirring occasionally but not too often.

Once the rice has formed crisp edges, clear a space in the center of the hot pan and add the egg. Leave it alone for 20 seconds before stirring into combine.

Add the broccoli to the pan and stir to combine. Once the broccoli is warmed through (~1 minute), add the ponzu sauce and mix. Spread the rice out into an even layer and leave alone for about 2 minutes or until a caramel crust forms.

Serve with an optional additional splash of ponzu
FREQUENTLY ASKED QUESTIONS
Does my rice have to be made ahead of time?
Cold rice is key to good fried rice. If you start with fresh warm rice, you will end up with super sticky fried rice. The rice has to be chilled, so I recommend making it the day before. 3-4 hours in the fridge is the minimum I recommend.
What is ponzu sauce?
Ponzu is a close relative of soy sauce with a bright, citrus flavor. Soy sauce can be used instead, but start with half the recommended amount. Soy is saltier and more intense in flavor.
The following two tabs change content below.

Hey-ooo! I'm Hailey, and I'm a number cruncher by day and cussing cook by night. I created this site to share my love for delicious food that feeds the soul as well as the belly. I hope my recipes have you running to the kitchen to cook some damn good grub!