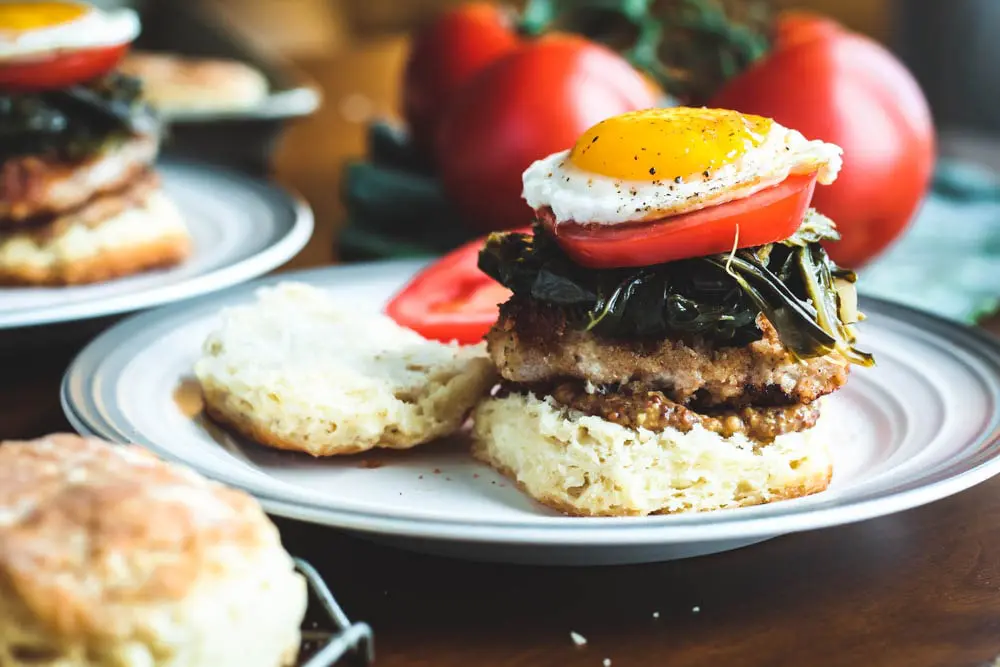 When I was dreaming up all the things I would love to put on my Buttermilk Biscuits, only one green thing came to mind, collard greens. Now greens on their own just wouldn't feel like a real biscuit sandwich, so I partnered up collard greens with a pork chop for a real southern biscuit sandwich experience.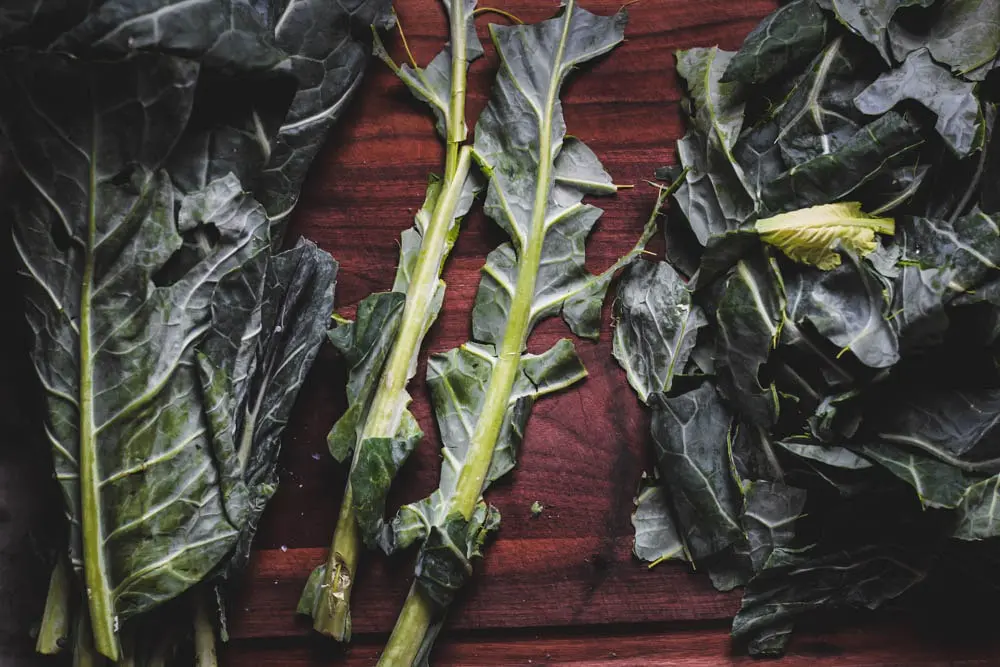 My Pork and Collard Greens Biscuit Sandwich starts with my Buttermilk Biscuit recipe. It's the perfect base for a sandwich because the texture is like a pillow inside, but the outside has enough crisp to hold together even with all of the delicious toppings this sandwich includes.
I will say that this sandwich is probably more a knife and fork experience, but if you're feeling like a savage and no one is watching, do your thing!
The layers in this biscuit sandwich include buttery biscuit, stone ground mustard, a crispy fried pork chop, tender collard greens, a slice of fresh tomato, and a sunny side up egg to top everything off. It's a combination of so many different flavors and textures that you'll keep going back for bite after bite to try and figure it out.
If you've never had collards greens before, then you're missing out on this classic Southern vegetable. Paired with a little pork and cooked down over a long period of time, they are perfection. Collards have a wonderful earthy and slightly bitter flavor that I love to pair with smoky, salty bacon. A little bit of sautéed onions also brings a bit of sweetness to the greens.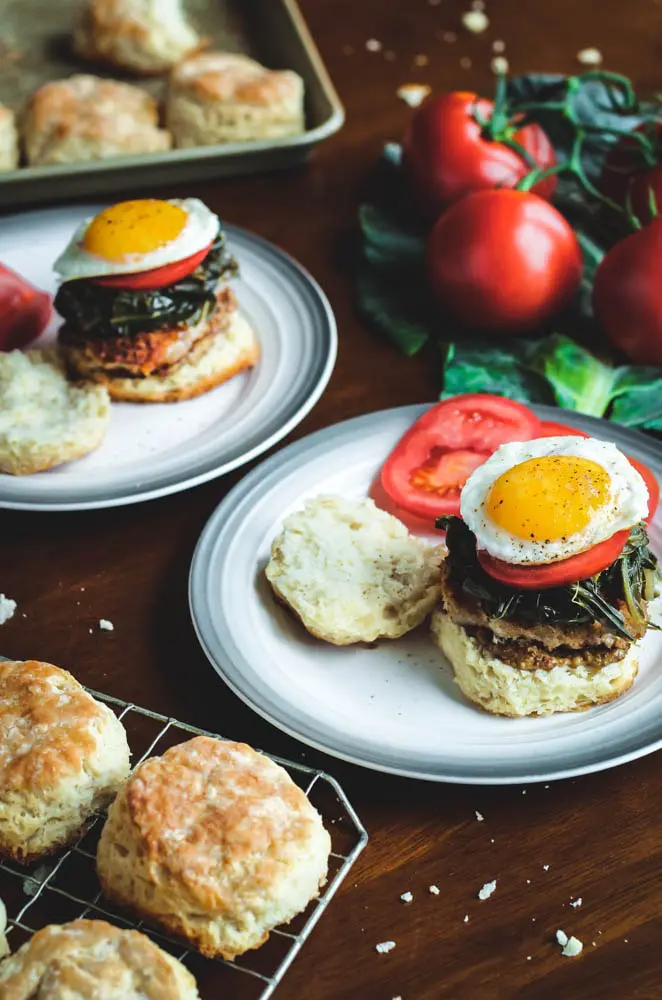 Collard greens take a little bit of time to reach the perfect soft texture, but they could easily be made up to a few days in advance so they're ready for your Southern brunch preparation. The remainder of the recipe is not too time-consuming.
The robust taste of the collard greens is perfect with the meaty pork chop and rich biscuit base. I chose a center cut pork loin for the short cook time and tender meat. If you'd prefer to not bread and fry your pork chop as I have, the biscuit sandwich would be equally good with a simply grilled chop too. I personally just love the added crunch from panko breading on my pork chop.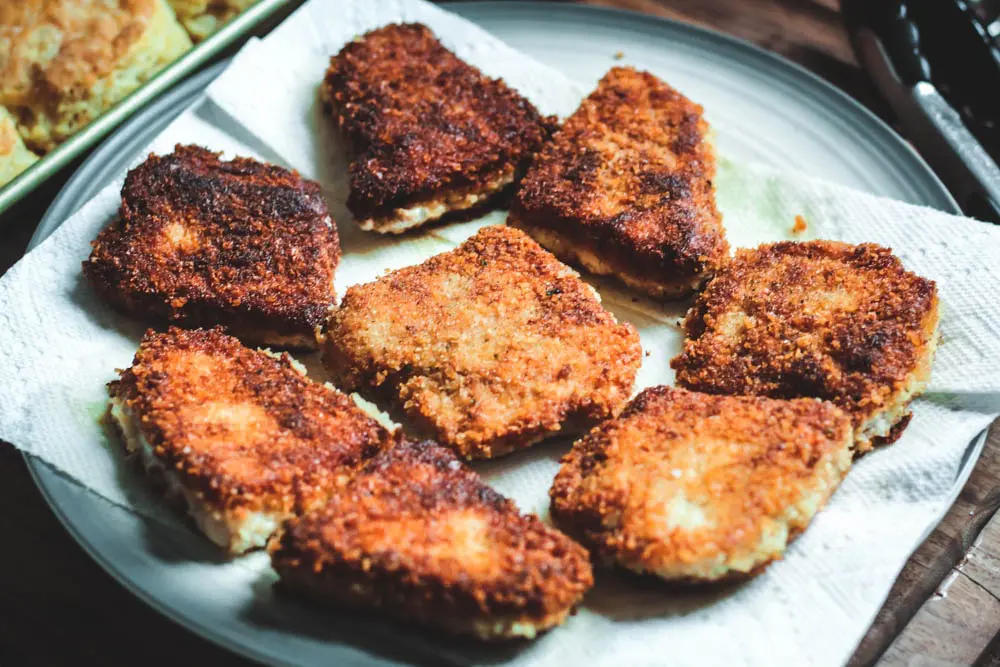 Last, the mustard and tomato add the acidity and freshness this dish needs to be balanced and bright.
I chose a nice stone ground mustard with lots of texture from mustard seeds, but a good Dijon would work as well. The sunny side up egg acts as a final sauce over the dish. As you break the egg yolk with your first bite, the runny yolk will bathe the sandwich making it super decadent. The egg is, of course, optional if you're not a fan of the soft yolks.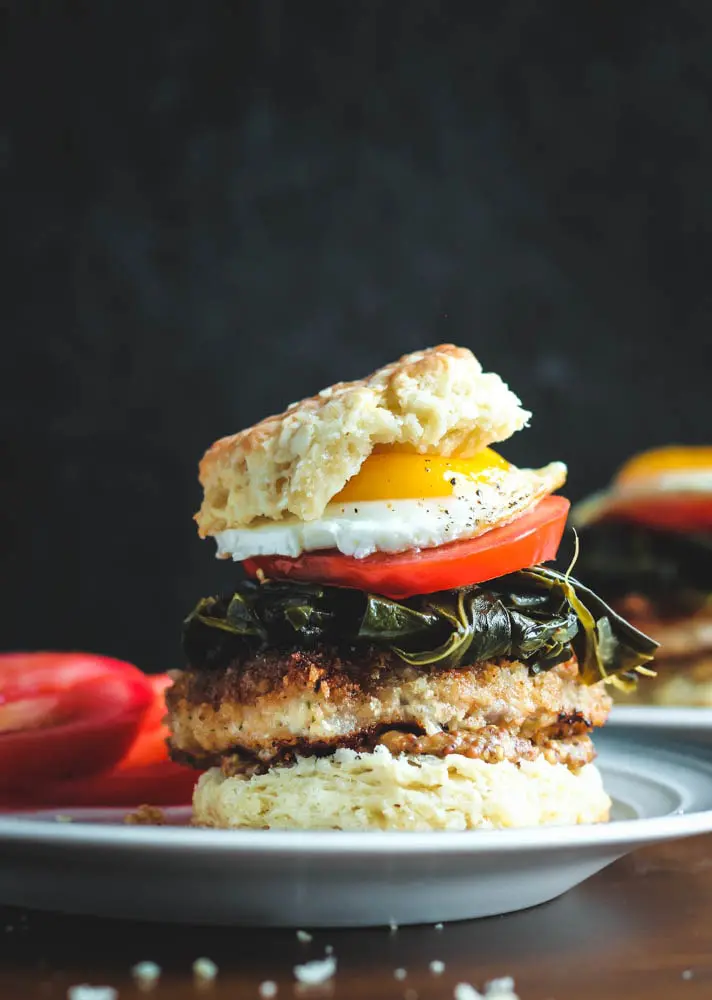 Pork and Collard Greens Biscuit Sandwiches emulate so much of what I love about Southern food. Yes, there is butter and a little something fried, but it's more than that. There is a combination of sour, sweet, salty, smoky, earthy and bitter flavors that all come together for an amazing breakfast experience. Make this your next weekend cooking project, and you won't be disappointed!
Helpful Utensils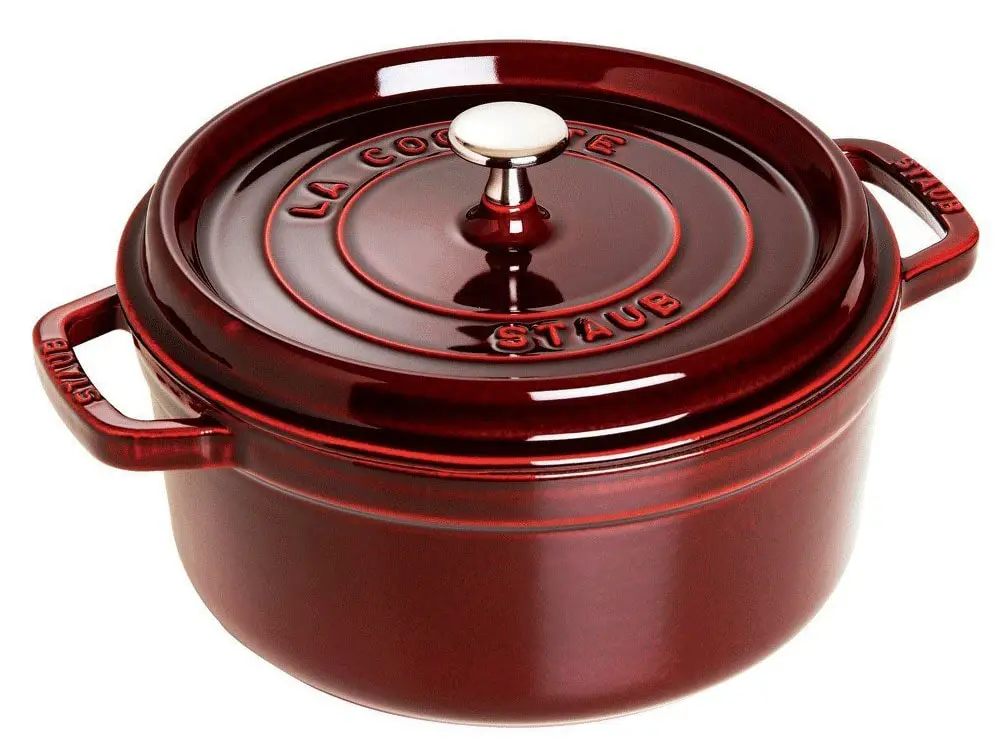 I absolutely LOVE my Staub Cocotte. It cooks anything and everything beautifully with even heat distribution and no sticking. This one is the perfect size for everyday use.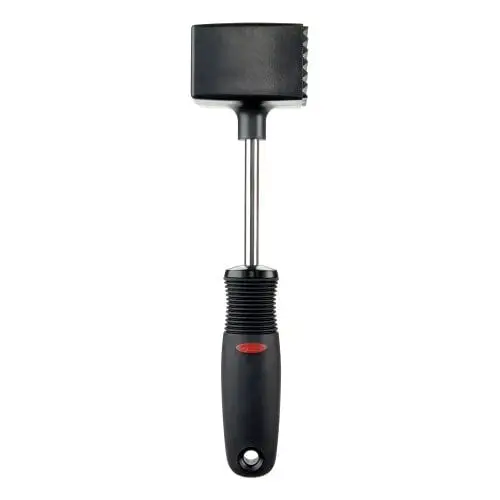 The best way to pound out the frustrations of your day, and you'll end up with nice, thin cutlets that are perfect for frying.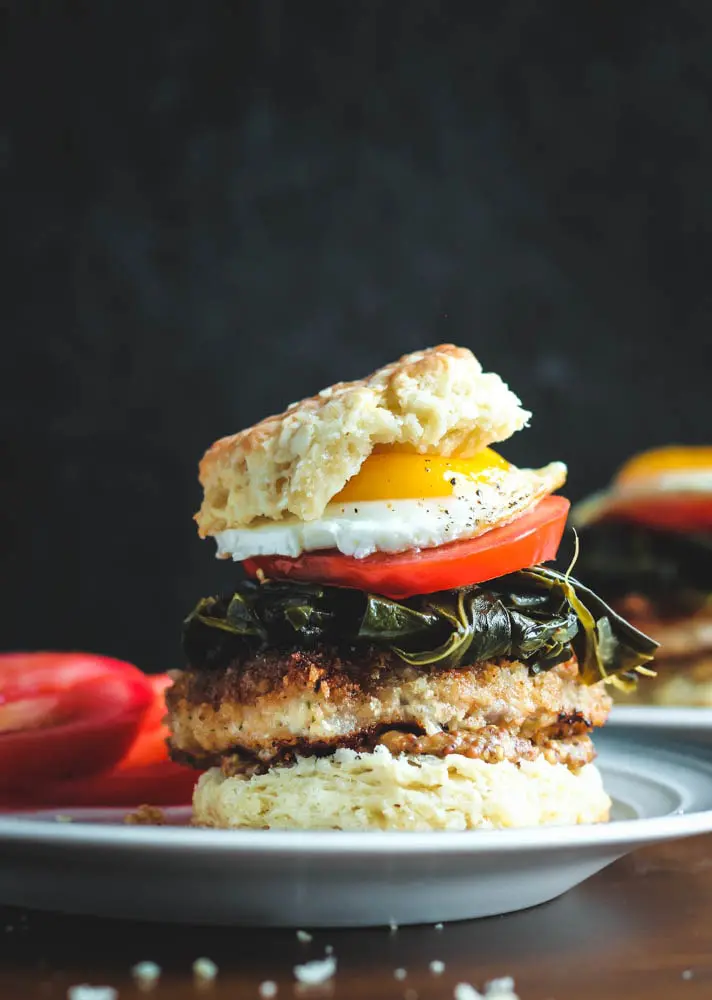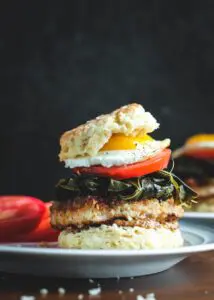 Pork and Collard Greens Biscuit Sandwiches
Fried pork chops and collard greens are a match made in heaven. Put them both on a buttery, flaky biscuit, and you've got amazing Southern comfort food. Stone ground mustard, a tomato slice and a sunny side up egg finish off this epic brunch recipe.
Ingredients
Collard Greens
1

bunch collard greens

2

Tb

bacon fat

1

yellow onion

2

C

chicken stock

½

tsp

salt

¼

tsp

ground black pepper

2

Tb

apple cider vinegar
Pork Chops
1

lb

boneless center cut loin chops

½

C

panko bread crumbs

½

C

Italian seasoned breadcrumbs

1

Tb

seasoned salt or Cajun seasoning

2

egg whites

canola oil

salt and pepper
Garnish
tomato

whole grain mustard

eggs
Instructions
To make collard greens
Begin by removing the leaves from the center stem of the collard greens. See the photo above for a visual reference. As you remove the leaves from the stem, tear the leaves into large or 2 to 3-inch pieces. The greens will shrink down considerably when cooked. Place the torn leaves in a strainer and rinse them well.

Half and then thinly slice the onion. Put a large saucepan or small Dutch oven over medium heat. The Staub Cocotte I've linked to above is such a worthwhile investment for slow cooking like this recipe. Add the bacon fat and allow the fat to become hot.

Once the bacon fat is hot, add the thinly sliced onions and saute for about 5 minutes or until softened. Add the rinsed greens and chicken stock and immediately place a lid over the pan to allow the greens to start wilting down. After 2 minutes, remove the lid and stir the greens and onions to combine well.

Season with salt and pepper and place the lid back on the pot. Turn the heat down to medium-low and simmer for 45 minutes, stirring every 15 minutes. After 45 minutes, add the apple cider vinegar and stir to combine. Lid the pot again and allow the greens to simmer for another 15 minutes. Turn the heat down on low to keep the greens warm until ready to serve.
To make pork chops
Cut each pork chop in half to create a more square piece. Using a mallet (like the one I've linked to purchase above), lightly pound each pork chop piece to about ¾-inch thickness. Season both sides of the pork with salt and pepper.

Create a breading station by first adding 2 egg whites to a small mixing bowl and whisking until frothy. Separately mix the panko, breadcrumbs and seasoned salt in a large shallow bowl and set aside.

Bread each pork chop by first dipping each piece into the egg whites. Flip the pork over to make sure all sides are thoroughly coated in egg white. Remove from the egg whites and shake off any excess. Then place the pork chop into the breadcrumbs and press down gently. Repeat on all sides until the pork chop is totally coated.

Heat a large nonstick pan over medium-high heat. Add enough oil to have ¼-inch across the whole pan. Test to see if the oil is hot by adding a few breadcrumbs to the oil. If the crumbs rise to the top and start to bubble right away, the oil is ready.

Fry the pork chops for 3 minutes per side. Turn down the heat if the breading starts to darken too quickly. Work in batches if necessary to make sure you aren't overcrowding the pan. Once the pork is browned on both sides, remove the chops from the pan and place on a plate lined with a paper towel to drain.
To make biscuit sandwich
As I mentioned in the post above, the sunny side up egg is totally optional, but it's a really lovely way to finish your sandwiches. For a sunny side up egg, heat a nonstick pan over medium-low heat and add about 1 Tb of butter per egg. Crack as many eggs as needed into the pan. Season the eggs with salt and pepper to taste.

As the egg white starts to cook, gently move the egg white to expose very small spots of the pan underneath and then allow the uncooked eggs whites to fill the gap. Repeat this process all around the egg white. and cook for a couple of minutes or until the whites are cooked but the yolks are still soft and runny.

Split a biscuit and first smear the bottom half with stone ground mustard. Next place a fried pork chop half and then top with a neat pile of cooked collard greens. Top the greens with a slice of fresh tomato and lastly the sunny side up egg.
The following two tabs change content below.

Hey-ooo! I'm Hailey, and I'm a number cruncher by day and cussing cook by night. I created this site to share my love for delicious food that feeds the soul as well as the belly. I hope my recipes have you running to the kitchen to cook some damn good grub!